Magento vs WooCommerce comparison: Which One is Better?
The Most Popular Extension Builder for
Magento 2
With a big catalog of
234+ extensions

for your online store
Choosing a suitable platform for an online store has never been an easy task for an e-commerce business owner. If you are looking for a self-hosted e-commerce platform which allows you to unleash the full potential of your online store and manage everything in the store site, WooCommerce and Magento are the great choices for you.
However, the question is, which platform is most suitable for your e-commerce site? Just spending a little bit of time on reading this article, you will know which solution, Magento 2 or WooCommerce, is right for you?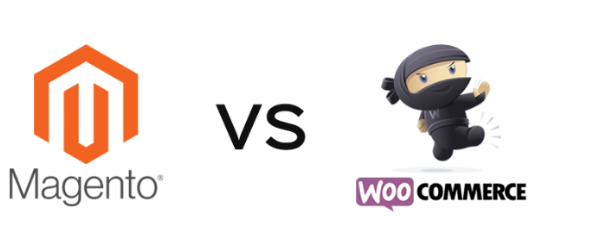 Read more: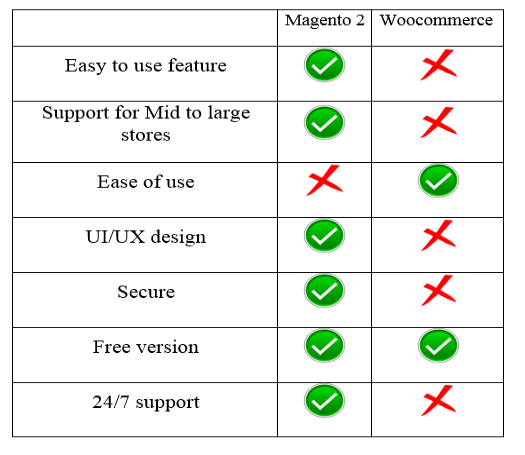 Magento And WooCommerce - Brief Overview
Both Magento and WooCommerce are open-source systems which can be developed by everyone from the community. Let go through the brief overview of the platform, and then we together put them into consideration.
Something About Magento
As one of the most significant e-commerce platforms in the world, Magento comes with a wide range of features and functionality. There are two available editions of Magento: Magento Open Source and Magento Commerce.
Magento Open Source: A free platform that provides basic functions needed to run an e-commerce store.
Magento Commerce: A premium paid edition of Magento that is loaded with rich, out-of-the-box features to keep your store ahead of complex commerce operations and growing customer demands.
A Little Bit About WooCommerce
Launched in 2011, WooCommerce is one of the most popular e-commerce platforms in the world. It is a plugin for WordPress, so everyone can quickly turn their WordPress website into an e-commerce site. As an extendable, flexible, and open-sourced platform, WooCommerce allows customers to build the store they need and define your style with the storefront.
Magento Vs WooCommerce - Comparisons
Despite that, both Magento and WooCommerce platforms have the great capacity to facilitate smooth selling as well as the expansion of the online store; each platform cannot be the winner in every situation.
Thus, we created the below table to give you a side-by-side comparison of both platforms so you can choose the right platform for your store.
|   | Magento | WooCommerce |
| --- | --- | --- |
| Ease Of Use | Lose | Win |
| Speed And Performance | Win | Win |
| Security | Win | Lose |
| Add-ons | Win | Lose |
We're going to judge both Magento and WooCommercein the following categories as we did in our above table:
Before we start making comparisons of Magento and WooCommerce, keep an open mind and always, always puts the needs of your business first.
Features Comparison
Both platforms allow you to add as many products as possible. You can add an unlimited number of products in your website
2. Discounts and Coupon Codes
You can create discount and import coupon codes in Magento out-of-the-box, Woocommerce has this feature but the very basic feature of it which doesn't solve this purpose.
3. Themes and Templates
Both platforms have many themes and Templates. You could find some of the themes are free and if you want more than what free themes have to offer, you have to pay.
4. Multi-Languages Support
Magento gets the edge here with support for several languages that come built-in. In Woocommerce, you have to buy WPML which allows you to run Woocommerce sites in multiple languages and multiple currencies.
5. SEO Capabilities
Magento is known for its SEO capabilities with SEO extension. Magento can go head to head in this department. Thanks to the power of SEO friendly, your store will raise the rank in the search engines and attract more and more traffic.
Price Comparison
Both Magento vs WooCommerce are open-source whose original code can be easily modified, improved to your requirements.
WooCommerce is a great option for a beginner level store and after a short time you will realize that it is limited in its capabilities. You may end up paying more of that cost if you opt for WooCommerce to give more features for your store. In contrast, you can download Magento 2 free version which makes it a great choice for most merchants who don't have huge budgets with all basic features for your store. However, merchants will also have to purchase a hosting solution for Magento which has the price of $1-$200 per month but I believe that you will be satisfied with this fee because of the advantage of it.
Security Comparison
According to a study recently, there are more than 30,000 sites hacked every day, so keeping your site secure is a challenging and vital task for any online store owners. Because your e-commerce website contains a lot of customer information as well as payment details, optimum security must be a top priority.
Both WooCommerce and Magento let you implement several security measures, but mostly through extensions and manual process.
WooCommerce is a great option for a beginner level store and after a short time you will realize that it is limited in its capabilities. You may end up paying more of that cost if you opt for WooCommerce to give more features for your store.
However, as compared to WooCommerce, Magento provide stronger security for online store with Magento Patches released frequently. It is the latest Free security scan tool which helps you monitor your site, update malware patches, and find out unauthorized access. Furthermore, you can easily add Magento 2 security extensions to protect your online store better.
That is the reason why Magento wins over WooCommerce in term of security.
Support Comparison
Both Magento and WooCommerce are open-source platforms that give them the advantage of attracting a large user base and community. Both platforms have a huge community from around the world that supports the users and if you run into any problem
Ease of use
One of the most crucial consideration when selecting your e-commerce platform is the ease of use. Most online store owners are not enough technical and coding knowledge, so they prefer ecommerce platforms which are easy and convenient to use.
Once you are getting started with Magento, its steep learning curve may make you feel complicated. To make the most use of the platform's potential, you have to learn at least some code and technical terms. There is a ton of useful features and functions available in Magento, but it requires professional users to make necessary configurations.
Being a WordPress plugin, WooCommerce comes with a simple installation process in comparison with Magento. Even a non-technical person who does not know much about the e-commerce platform can set up and run your online store without too much effort.
Furthermore, WooCommerce offers a setup wizard that makes the installation process more comfortable. You only need to take step by step and configure everything correctly.
Hence, regarding ease of use criteria, WooCommerce is the winner.
Magento vs WooCommerce: Speed And Performance
Speed and performance are the critical factors that decide which platform people choose for their online stores. If your website is slow-loading or sluggish, most of the site visitor will quickly leave your site, or even the customer will not come back to make further purchases. It is a substantial loss of your business.
Regardless of the platform, the speed and performance of the website depend on many factors, such as your Magento web hosting provider and whether your posted images are optimized or not. Additionally, the number of modules and extensions you use also affect significantly to the speed and performance of the e-commerce site. Overall, this round is a tie because you and your hosting provider are critical factors that decide the store performance.
Therefore, there is no clear winner in this situation.
Magento vs WooCommerce: Plugins And Extensions
No e-commerce platform is perfect. That is why the development team of e-commerce platforms allows third-party developers to create extensions and plugins for them. Magento and Woocommerce are well-known for a large number of add-ons that enhance the functionality and the appearance of the website.
Magento offers a mix of free and paid extensions for customer support; payments and security; marketing; accounting and finance; shipping and fulfillment; and even site optimization. Magento extensions are rich in features, so you can use them to discover new and customized functionality, in essential business categories, to accelerate your business. However, the minus point of Magento extensions is that you will need the help of Magento developers in installing the extension properly and making it work in case that you can not do it yourself.
Similar to Magento, WooCommerce also allows store owners to easily install a wide range of plugins to personalize or customize their website depending on the business requirement. It is far cheaper to buy some simple plugins for your WooCommerce store when compared with Magento 2. However, by costing more with Magento extensions, your Magento store will become more powerful than a WooCommerce store.
So, Magento wins over WooCommerce in this situation.
Magento vs WooCommerce: Who win?
Above is a quick comparison between Magento 2 and WooCommerce. Honestly speaking, each platform comes with its own strengths and weaknesses. In light of this, WooCommerce is a more user-friendly platform, while Magento is well-known for a variety of powerful extensions.
Hence, to decide which e-commerce platform is better, you always have to put the size as well as the needs of your online store into consideration.
Instead of looking for the best platform, you should choose the right platform which matches your requirements the most.
If you want to start up a small business with enough performance and easy to use, nothing can be more suitable than WooCommerce. In contrast, if you plan to scale your business up to be a global brand, Magento 2 is the rightest choice for you.
Hopefully, with this guide, you can choose the most suitable e-commerce platform for your business. Don't forget to share your opinion over these two platforms in the comment section!
Magento Support
& Maintenance Services
Make sure your M2 store is not only in good shape but also thriving with a professional team yet at an affordable price.
Get Started
New Posts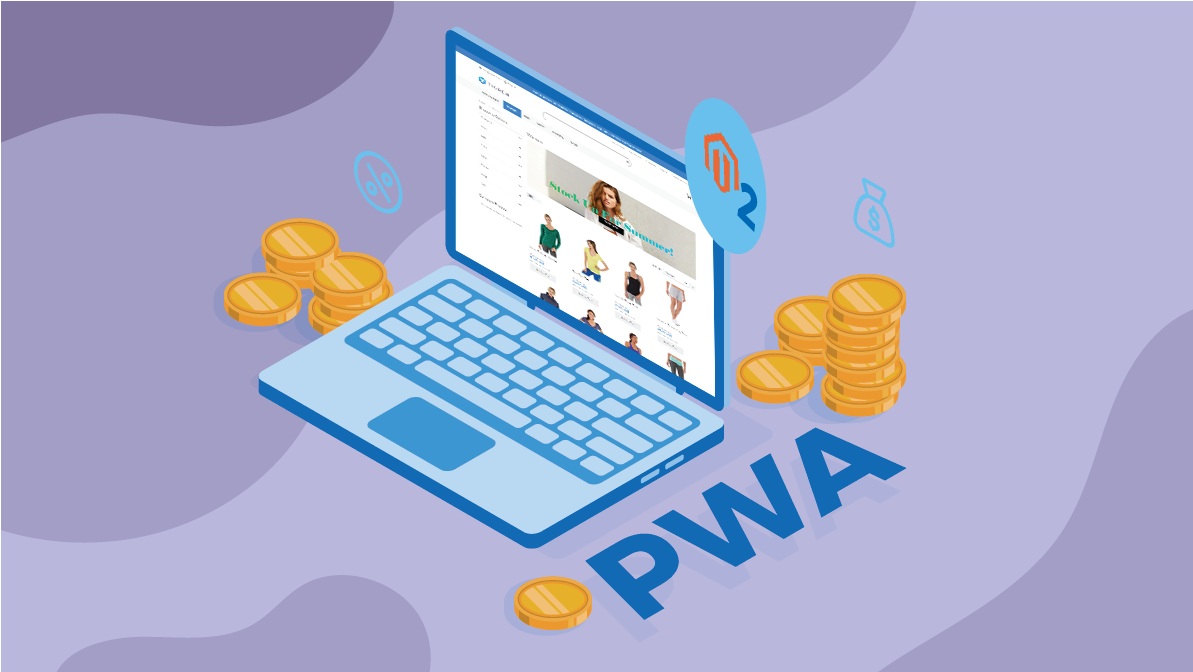 People also searched for
woocommerce vs magento
magento 2 vs woocommerce
woocommerce vs magento 2021
woocommerce vs magento 2
magento vs woocommerce 2021
magento vs woocommerce speed
magento or woocommerce
woocommerce vs magento performance
woocommerce or magento
difference between woocommerce and magento

magento vs wordpress woocommerce
magento vs woocomerce
wordpress woocommerce vs magento
magento vs woo commerce
magento woocommerce
magento vs woocommerce performance
magento and woocommerce
woocommerce vs magento speed
magento ecommerce vs woocommerce
why woocommerce is better than magento
compare magento and woocommerce

magento vs woocommerce 2021
magento oder woocommerce
woocommerce to magento 2
difference between magento and woocommerce
woo commerce vs magento
woocommerce magento comparison
wordpress vs magento
woocommerce to magento
magento woocommerce comparison
magento vs woocommerce vs shopify
what is the difference between woocommerce and ecommerce
2.2.x, 2.3.x, 2.4.x
Subscribe
Stay

in the know

Get special offers on the latest news from Mageplaza.
Earn $10 in reward now!