Magento 2 vs Wix: Which Ecommerce platform to use for online store?
Nowadays, there are many website platforms like: Magento 2, Wix, Shopify, 3dcart,…and anyone who starts an online business all has the same question to face: Which E- commerce should I choose to start my online business? The fact that there is no solution suitable for all. The choice is to depend on a few basic decisions such as: the size of your online store, your budget, your design website,…
In this article, we are going to focus on 2 major competitors in the E -commerce market: Magento 2 Vs Wix and I believe this article will help you to decide to choose what platform is right for your store.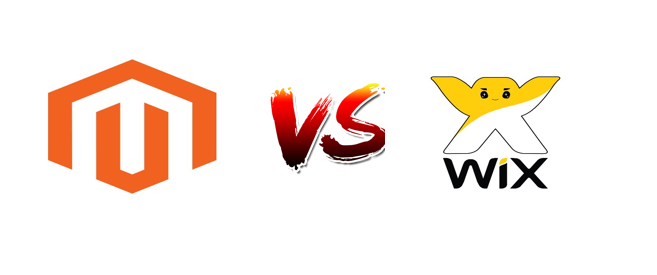 The basic comparison Magento 2 Vs Wix
Ease of use
Both Magento 2 and Wix are the most popular platform nowadays. The superiority of Wix over Magento 2 is you can have a beautiful site with all basic functionality without much design experience.
Wix is very popular cloud - based website development platform meanwhile Magento 2 is an eCommerce platform built as an open source which means the source code is freely and users right to view, modify, improve and upgrade. For this reason, Magento 2 is the top choice of large enterprises and Wix is perfect for small business and freelancers
Pricing
It is difficult to compare 2 pricing of 2 systems as they operate in different schemes. In Magento, you can have Magento Community Edition without fee - it's mean you can free download this version and thank to open source code it can be modified and improved more and more. This convenience makes Magento fit all online store and popularly in the world. Beside, Magento provides the Enterprise Edition which demands the cost that depends on size and needs of your website. However, in the case of Magento 2, merchants will need a dedicated hosting service. Hosting in case of Magento 2 will also have to pay a monthly fee but if you want to grow your store further away with higher traffic, you will need it.
In Wix, users have to pay a monthly fee to access Wix. Below is Wix pricing for each specific package:
Connect Domain – $4.08/month
Combo – $8.25/month
Unlimited – $12.42/month
eCommerce – $16.17/month
Wix also provides its potential customers with the 14 days free trial so if you are still confused between the choices, this is the good solution for you before making a decision.
Features
Capabilities
Wix is built primarily for the admin who has a little design experience. On the other hand, Magento 2 comes with a professional look, with well-organized information and categories, covering each aspect that could help you build an ideal store. Magento comes with very detailed content and information. Any category offers lots of options that will surely lead to a professional and a successful website.
Themes and Templates
Both Magento 2 and Wix support a large number of themes and templates with responsive design. Hence, your store always attracts and catches the eye. The goal of Magento 2 is large companies so the themes are all built to cater to you. Although WIX has quite a few online store themes, they aren't as pretty and there aren't nearly as many to choose from.
Multilingual capabilities
Both Magento 2 and Wix have powerful multilingual which turns your site into any language you want.
SEO capabilities Magento 2 is known for its SEO capabilities. SEO-friendly URL is not only well-organized for the high rank on the search engines but it is also easy to navigate and remember for the next search.
Community
Magento 2 is an open source which means it has a huge community from around the world that supports the users and if you run into any problem, you can simply ask the community and they'll help you with all the resources you need.
Conclusion
It is too difficult to say that which one you should choose. It depends on the size of your store. Magento is popular for large business and Wix is for small business and for those who are new to the development industry. If you just want to run a small shop, nothing can be suitable more than Wix. if you want your store bigger and bigger, you must definitely choose Magento 2.
Increase sales,
not your workload
Simple, powerful tools to grow your business. Easy to use, quick to master and all at an affordable price.
Get Started
New Posts


People also searched for
Magento 2

Wix
2.2.x, 2.3.x, 2.4.x
Subscribe
Stay

in the know

Get special offers on the latest news from Mageplaza.
Earn $10 in reward now!