Salesforce CRM Integration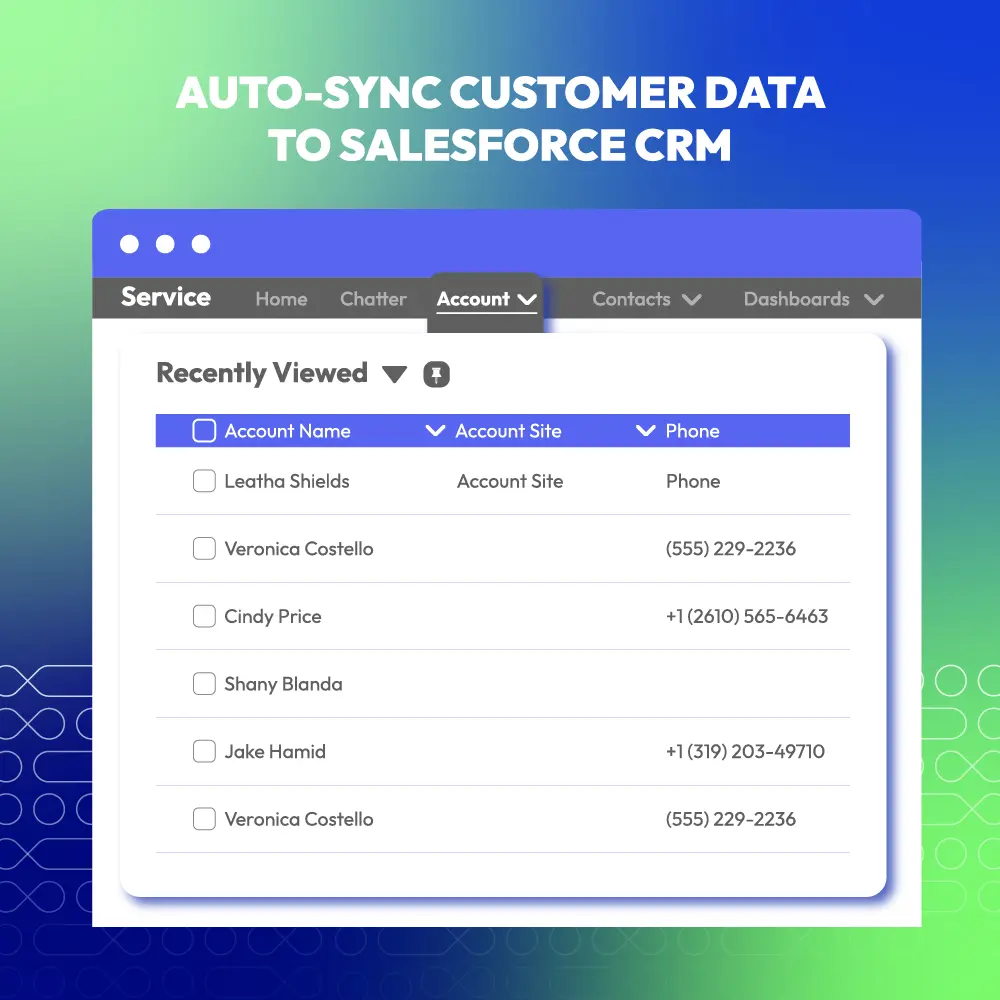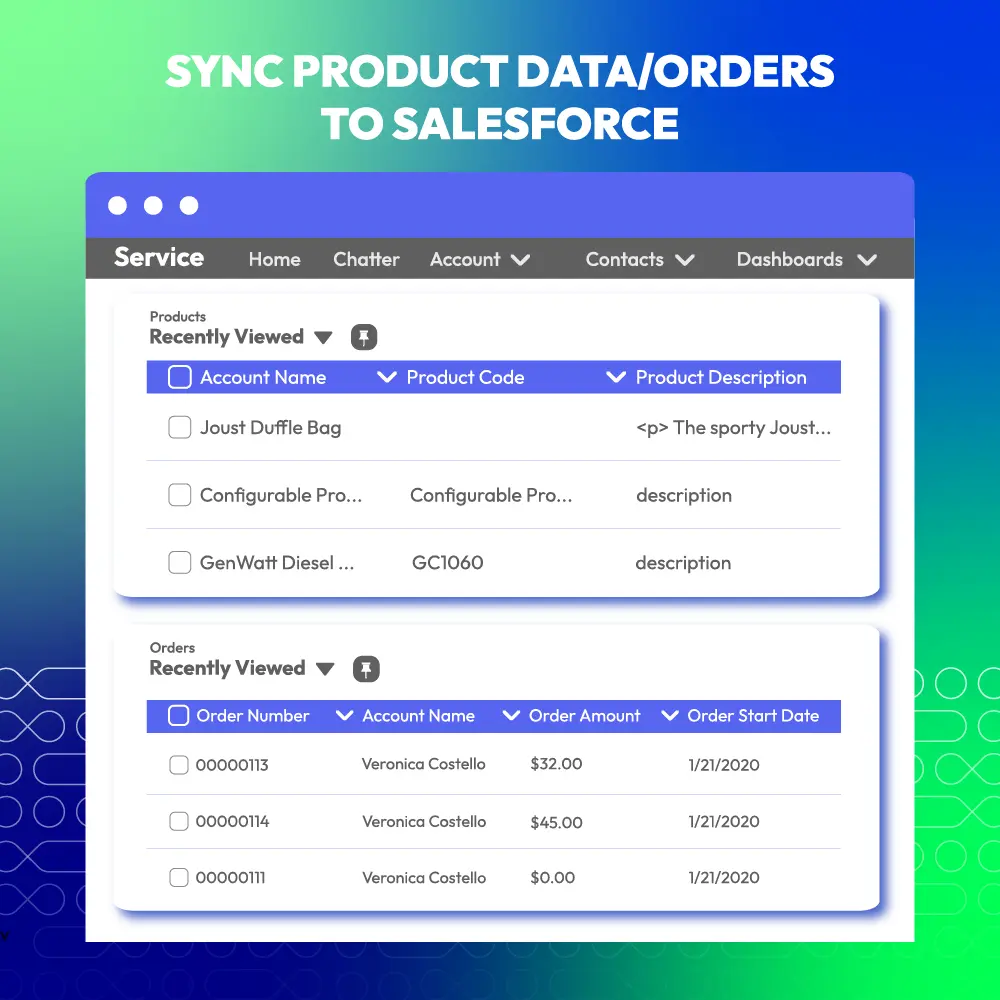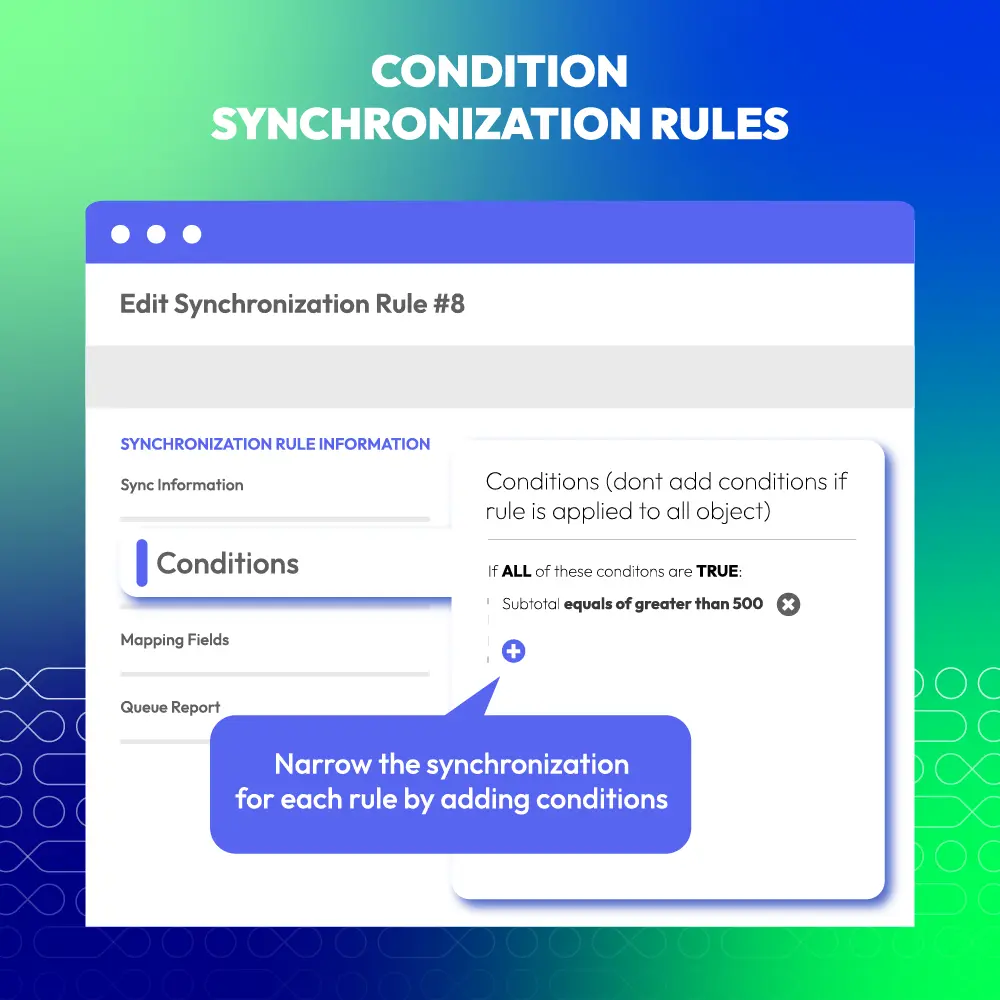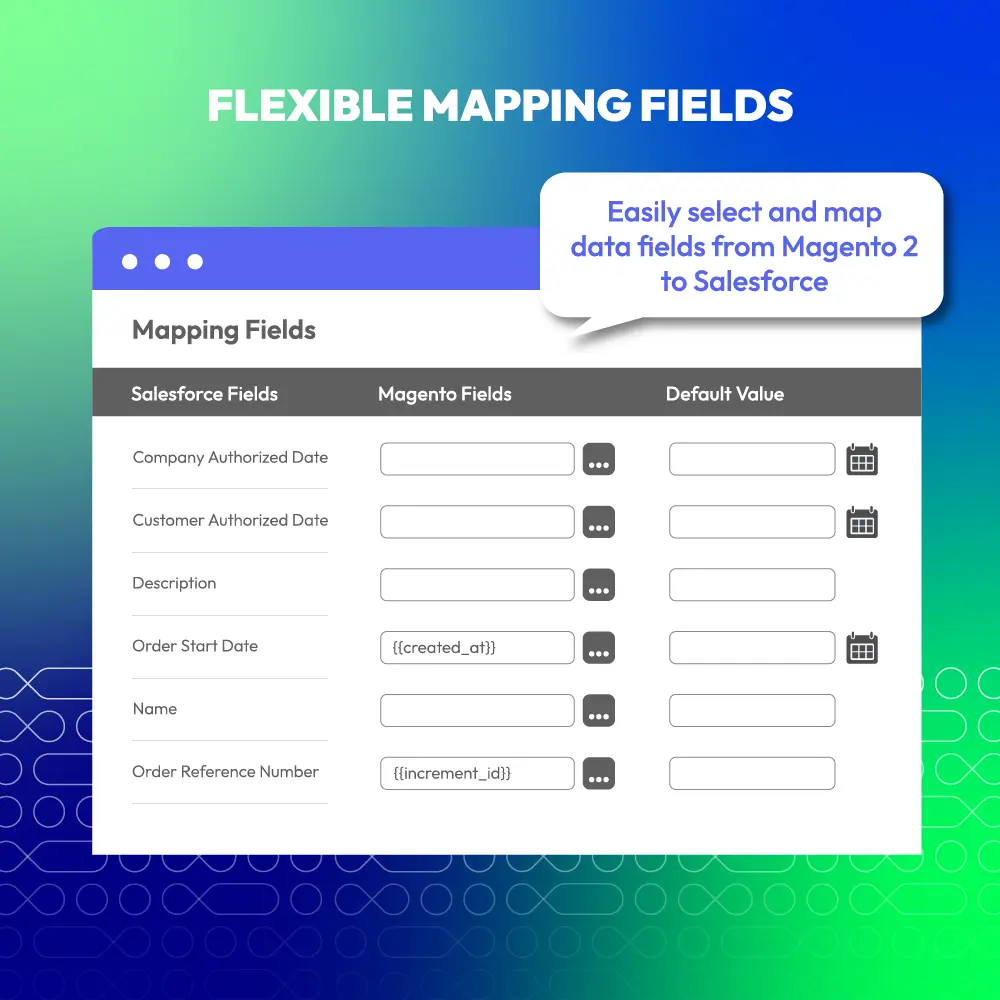 60-day Money Back
Frequent Update
365-day Support
Salesforce CRM Integration for Magento 2
v4.0.0
Magento 2 Salesforce extension connects Magento 2 stores to Salesforce and synchronizes both systems together. Salesforce module offers the ability to automatically synchronize primary Magento objects to Salesforce including Customers, Products, Orders, Catalog Price Rule.
CE/EE/B2B/Cloud/ Adobe Commerce 2.2.x, 2.3.x, 2.4.x
Chat now
Problems
Online shopping becomes more and more common these days, and customers prefer to buy anywhere. They tend to find more information about your products/services, interact more with your brand, and engage your site anywhere with any smart devices. To achieve this customer target, your site need to integrate well with a system managing customer, inventory, and marketing campaign, like Salesforce CRM.
Solutions
Manage store more conveniently. With Salesforce, you can get a complete view of your customers with all related activities. Salesforce also takes care of your leads and contacts to make plans converting visitors into buyers. Besides, for essential elements as products, orders, catalog price rules, the data is properly the same in Salesforce and makes it easy for store admins to view and manage. Especially, the shared database helps all departments, especially Sales, catch up with the store updates with such a condition.
Real-time updates. All the new or renewed data from Magento 2 can be automatically transferred to Salesforce instantly. It makes sure the unified information between Magento 2 and Salesforce platforms.
Mobile responsive. Salesforce is well responsive with mobile devices which helps store owners can stay in control of sales activities actively.
Auto-synchronization of customer data to Salesforce CRM
The customer information will be synchronized to the Salesforce platform automatically in three when there are any updates
Customers sign up a new account
Edit customer information
The customer information can be synchronized to three Salesforce objects including Leads, Accounts or Contacts.
Sync product data to Salesforce
Easy to sync data of all product types to Salesforce. The product information such as product name, SKU, price, quantity, and anything else is properly synchronized.
The auto-synchronization will occur when there is a new product or product editing.
Synchronize orders to Salesforce automatically
New orders from Magento are automatically sync to Salesforce Orders/ Opportunity.
Besides, if there are changes to the orders, the data in Salesforce will be updated accordingly.
Auto-synchronize Catalog Price Rule
Manage and execute your promotion campaigns more effectively in Salesforce.
Salesforce extension allows you to synchronize catalog price rules from Magento 2 to Salesforce campaign entity.
The module transfers such data as rule name, discount value, starting/ending date, etc.
Condition synchronization rules
You can narrow the synchronization for each rule by adding conditions.
Only customers/ orders/ products/ catalog price rules which meet the conditions will be synchronized to Salesforce.
For example, only transfer the orders equals or greater than $500 to Salesforce.
Flexible mapping fields
Easy to select and map data fields from Magento 2 store to Salesforce.
From the backend, store admins can select Magento fields to synchronize to Salesforce CRM fields. This means that one Magento field can be synchronized to multiple fields in Salesforce.
For example, customer email can be updated in Leads, Contacts, and Accounts simultaneously.
More Features

Check out more details of Salesforce CRM
Sync schedule
Able to activate Salesforce synchronization by intervals with cron schedule settings at the backend.
Rule report
The syn situation is reported detailedly in each rule (total requests, total pending, total success)
Queue management grid
Easy to manage all objects are in the queue via the queue management grid. The details and status are updated instantly here.
Mass action
Mass action to Add-to-queue or Sync-to-Salesforce multiple objects are supported in the module
Pricing

Choose your suitable edition
Community
Crafted for a great webstore start
$

349

first year
Supports for Magento 2 Community Edition
Enterprise
Great for an enterprise solution
$

549

first year
Supports for Magento 2 Enterprise Edition
Highest priority support
You can sync 4 Magento objects to Salesforce including Customer, Product, Order, Catalog Price Rule.
Yes, definitely. At the configuration, you can set the number of objects which can be synchronized per time easily from 1 to 1000.
The integration supports you both. You can set a schedule to automatically sync objects or manually sync at the queue grid.
Yes. You can set the time by days to clear the queue log at the admin backend.
Excellent
It can update real-time data automatically so we don't need to come back and forth to update manually anymore. Excellent module.
Brandon
-
Verified Purchase
EASY TO USE
Easy to connect my store with Salesforce CRM. Thanks for your support.
Vincent
-
Verified Purchase
Love
All of the data can be synced between two systems, which are great. It saves me lots of time because now I don't have to input the numbers manually. Totally recommended!
Amazing
This is the first time I used Mageplaza extension and I have been overwhelmed with instructions, but the support was amazing. I learned how to do things quickly and finally set things up on my own. Thank you amazing team.
Dan Ashby
-
Verified Purchase
Fit my business
I just wanted to leave Salesforce because it's annoying finding an extension for it. Thanks a lot for your amazing product. It fits my business and makes me want to purchase more from you.
Greyson
-
Verified Purchase
Don't see the features you are looking for?
Request feature
Submit your feature requests below
Want to do extension customization?
Custom request
Let us know your requirements
v4.0.0

13 July 2021

Compatible with Magento v2.4.2
v1.0.0

26 February 2020

Initial release
Salesforce CRM Integration's Full Features List
General Configuration
Enable/ Disable Salesforce CRM extension
Select mode: Sandbox or Production
Enter username, password, access token, and instance URL to integrate Salesforce
Manage Sync Rules
Add new a new sync rule with/ without condition
Select Magento 2 Object to retrieve Magento data to send to Salesforce
Select the Salesforce module correspondingly to the selected Magento Object
Select the website to get Magento Object data to send to the Salesforce Module.
Map Magento fields and Salesforce fields
View sync situation of each rule via Queue Report
Mass action: add all to queue, add specific objects to queue
Queue Schedule
Set the time to delete Queue Log by days
Set the schedule to auto-sync data from Magento 2 to Salesforce
Set the number of objects to be sent to Salesforce per time
Compatible with Mageplaza's extensions: Cron Schedule, Admin Permissions, Zoho CRM, RMA
Manage Queue
View all objects are in queue with specific status: Success, Pending, Error
Mass action: Sync selected objects
Why choose us?
Mageplaza provides consistent and customer-centric extensions for your Magento 2 store.
We don't sell products for one time. We provide lifetime solutions which help our customers thrive with their businesses.
60-day Money Back
Extensive 60-day money-back period. You love it or get a full refund no questions asked.
Extensive Support Timeframe
Mageplaza provides support 16 hrs/day, 5.5 days/week to guarantee the seamless operation of our extensions on your store.
Install via Composer
Simple installation via composer helps you save time and eliminates technical issues during future updates.
Frequent Updates
Intensive update roadmaps ensure great performance, bug-free, highly compatible, and innovative extensions.