Magento vs Volusion: Which one is better?

In a market as saturated as the e-commerce platform market, there are some outstanding platforms such as: Magento 2, Volusion, Shopify, Woocommerce,… If you are wondering to choose which platform for your online store, then chances are you have already run into this struggle at some point.
However, if you want to compare between Magento with other popular platforms, you can consult here:
In this article, we are going to focus on 2 major competitors in the E -commerce market: Magento 2 and Volusion. I hope this article will help you choosing which platform is right for your store
Magento vs Volusion: Features
Capabilities
If you are looking for a platform that offers a large selection of apps and add-ons then you should really go with Magento 2. Magento 2 provides over 5000 add-on extensions meanwhile Volusion only has around 76 apps and add-ons for you to improve your store. This comparison gives a huge advantage to Magento 2. Also for that reason, you receive related products, upsells and cross-sells, coupon codes, quantity discounts, new items, polls, newsletter management, wishlists, one page checkout, saved shopping cart, gift messages, and a full customer account dashboard and so on rather than Volusion
Themes and Templates
One of the many reasons people choose Magento 2 because they are not limited by templates and built in design. Meanwhile in Volusion, you receive access to 28 free themes and 88 paid ones.
Hence, if you're interested in a collection of themes that have unlimited expansion possibilities, Magento is for you
Multi-languages capabilities
A big advantage of Magento 2 and Volusion that you can translate it into any language which allows you to sell globally
SEO capabilities
Thanks to SEO optimization, potential shoppers can quickly see things such as star ratings, product pricing and stock status directly from the search engine results. Magento 2 also supports free and paid Better SEO extension to help admin easily configure and manage the SEO of their sites.
Community
Volusion provides 24/7 live support via phone, chat, or email. That said, the support is limited to the knowledge of the Volusion company and you can't be supported by professional developers and webmasters from around the world like Magento 2 Similar to other open source, Magento 2 has a huge community in the world. You can discuss and share the solution about the problem you have when you configure the store site. The Magento Community grows which includes of merchants, partners and developers will help you with all of Magento related issues.
Magento vs Volusion: Ease of use
This is a limited issue of Magento 2. Magento is by no means a platform for beginners and you need a lot of experience to set up a store in Magento 2. However, Volusion has the advantage when providing some awesome support videos in the dashboard which helps customers set up easier.
Magento vs Volusion: Security
In Magento 2, with your own hosting and CDN will help to speed up your website, support high traffic loads and protect it from invaders. You only just pay only from $3 per month to $50 per month to protect your store. Meanwhile in Volusion, you must sign up for a Volusion SSL security package before you start operations of your store with the price range between $89 for a year to $149 for two years. Or you also can try to use Our security extension for Magento store.
Magento vs Volusion: Pricing
Volusion offers four different pricing tiers for customers which mean customers have to pay a monthly fee to access the Volusion software. Volusion also provides its potential customers with the 14 days free trial which is quite helpful if you want to try this platform before the real start. Here are Volusion pricing for each specific package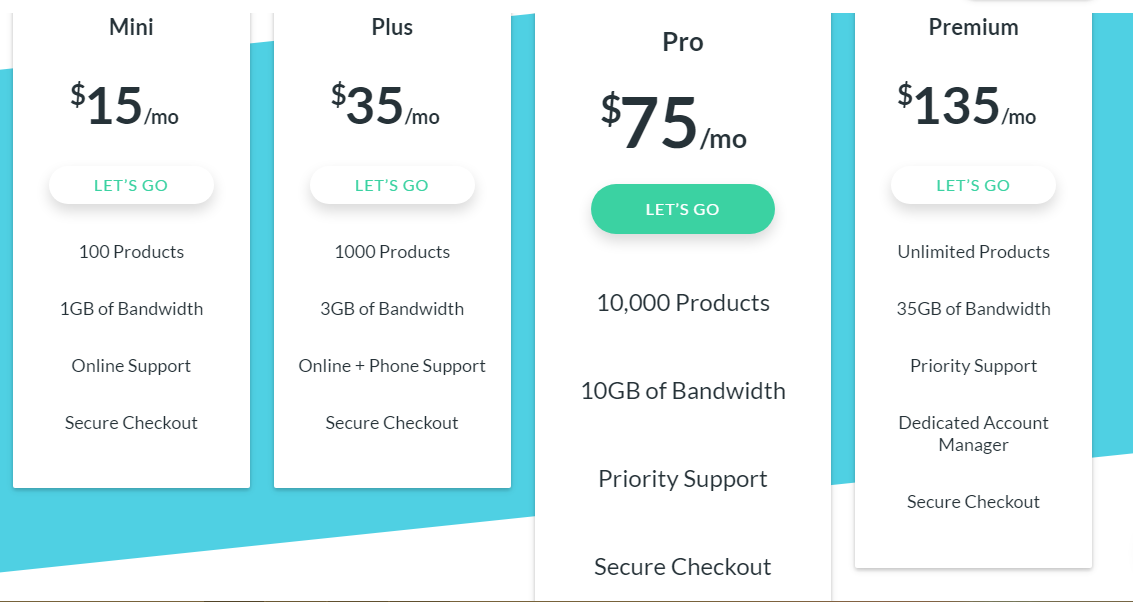 In contrast, Magento 2 provides a free version which makes it a great choice for most merchants who don't have huge budgets with all basic features for your store. If you want your store to become more professional, you can choose the Enterprise Edition package which demands the cost that depends on size and needs of your website. However, merchants will also have to purchase a hosting solution for Magento which has the price of $1-$200 per month but I believe that you will be satisfied with this fee because of hosting affects site speed, storage, and the number of products an online store can handle which is completely important to a store website.
Conclusion
It is the fact that you should determine your store size for the best platform choice. If you are looking for a small online store but you don't have real experience, Volusion is a great option. However, if your plans include scaling your business up, tightening your security over time, the choice is clear Magento 2.
Increase sales,
not your workload
Simple, powerful tools to grow your business. Easy to use, quick to master and all at an affordable price.
Get Started
New Posts

People also searched for
Magento 2

Volusion
2.2.x, 2.3.x, 2.4.x
Subscribe
Stay

in the know

Get special offers on the latest news from Mageplaza.
Earn $10 in reward now!