MAKE YOUR SALES BLOOM ALL YEAR ROUND!
Magento 2 Gift Card extension - Better design & Free Personalization
Short Overview
Clean and eye-catching design

Design gift cards with ease by drag and drop

Delivery via SMS, emails, mail

Buyers can personalize their gift vouchers
Mail, Print at Home, eGift cards

Export Gift codes to use offline

Easy to install and customize
Magento 2 Gift Card extension allows admins to create gift card samples and configure them with ease. Beside this, electronic gift certificates can be personalized by users and more interestingly. Furthermore, Gift Card extension can help store admins manage gift codes, discounts, gift card usage and other gift card features.
As a result, this motivates gift voucher users to buy more. Gift Card extension will be helpful for online stores this holiday season.
Tell me more
Why do you need Magento 2 Gift Card extension?
Considering gift cards as your extra services, you will gain more revenues by selling additional products. Besides that, vouchers will be used in your store later, hence it is effective to encourage new and repeat purchases. Also, users tend to pay more when using gift cards, so online merchants can increase the average order value significantly.
Today sending gift cards is becoming popular because of its convenience and personalization. Buyers are no longer burdened to choose a gift but afraid it is not the recipient's taste. If it is hard to meet the recipients directly, e-vouchers will be the great solution. Users are also able to apply vouchers online or offline, which simplifies the purchase process across platforms.
With Mageplaza Gift Card extension, customers can make their own gift cards thanks to the flexible designs. Multiple templates are provided along with editable gift messages and personal information. After selecting options, buyers can check how it looks in a preview.
In addition, the Gift Card extension by Mageplaza is PWA-ready, bringing quicker loading speed, app-like features, and instant updates.
FEATURED GIFT CARD!
View Mageplaza Gift Card on Actual Magento 2 Stores
HIGHLIGHT FEATURES!

Some of the features that are gonna blow your mind off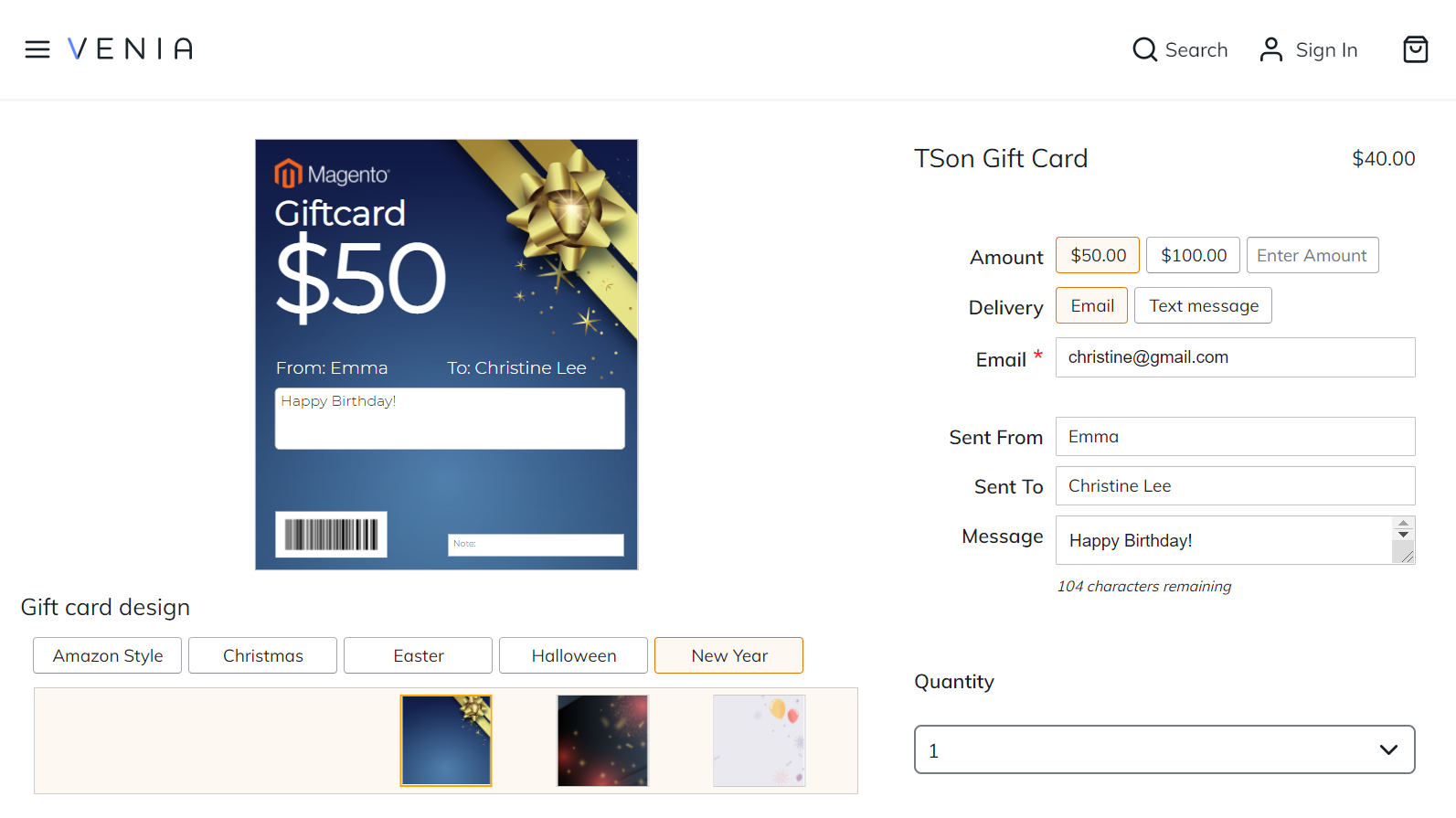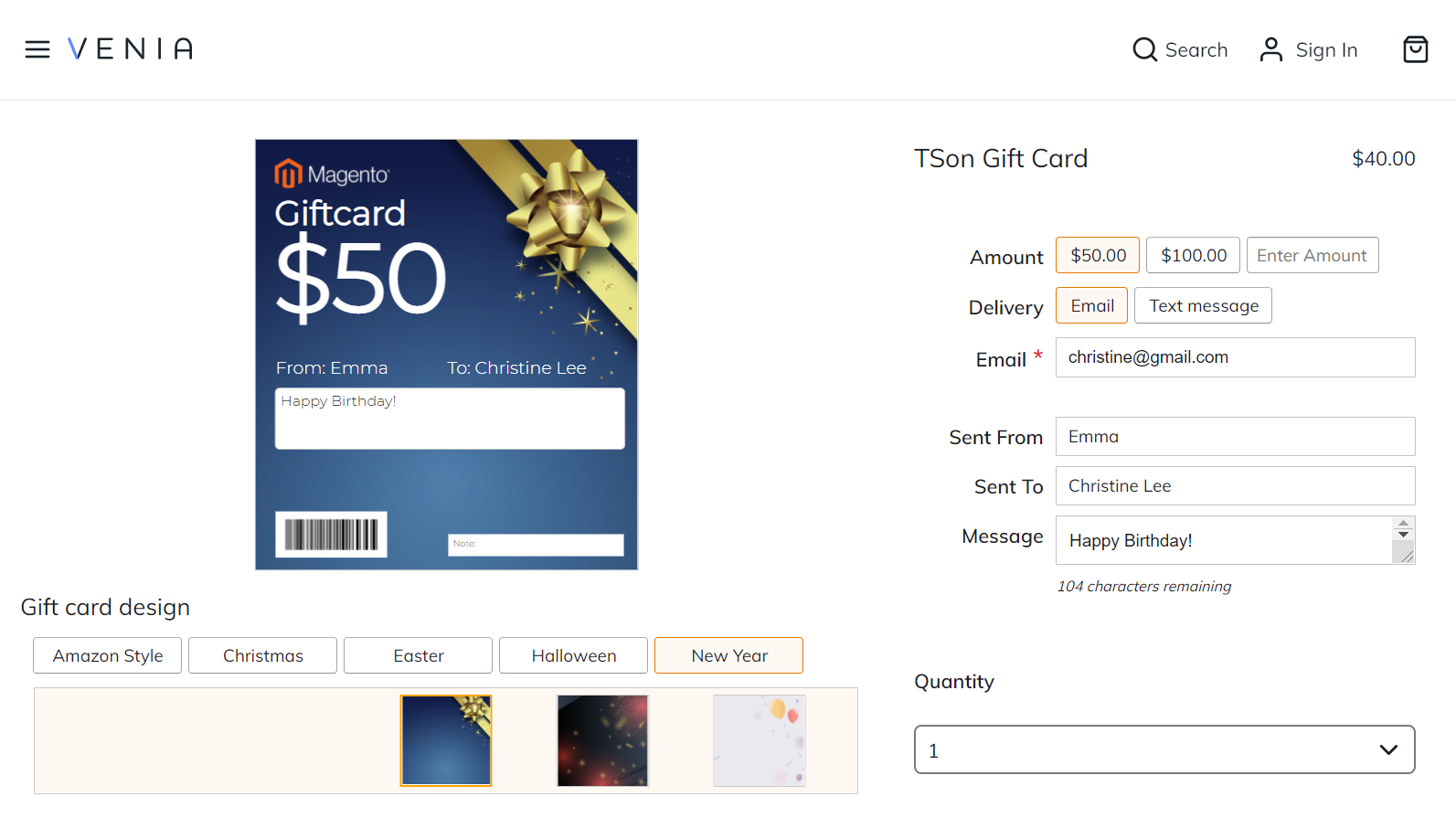 Mageplaza Gift Card PWA-ready
Optimize mobile shopping experience of the gift card features with the ready solution of PWA compatibility. Guaranteed to work smoothly on all screen types
Compatible with SimiCart PWA
Excellent mobile-friendly interface
Ready-to-use solution for PWA Studio storefront
Works perfectly with Magento Venia storefront
Personalized Gift Cards
With Gift Card extension by Mageplaza, even gift vouchers can be personalized using self-designed templates and personal messages.
Upload photos as gift card templates
Buyers are allowed to personalize their gift vouchers by using their own photos as templates. Photos in .gif, .png and .jpg types are supported.
Leave gift messages and personal info on gift certificates
Card buyers can leave their message and fill in their names along with recipient's information on cards. This feature satisfies senders' demands and enhances recipients' experience, which surely persuades customers to come back.
Drag and drop to design
Store admins are able to drag and drop blocks in the backend to design gift certificates. Additionally, admins can freely adjust the size of each block with ease
This saves time and effort greatly, which can reduce admins' workload when it comes to designing multiple gift cards at once.
Gift Card Design Made Easy
Ready-made, eye-catching design templates not only give customers more choices to design their gift cards but also shorten the design process significantly.
Pre-made templates
Your customers can choose pre-made templates that merchants designed to save time as well as ensure the aesthetics of gift cards. They just need to click on each design and it will be automatically loaded in the preview.
Beautiful designs
Mageplaza Gift Card extension provides some of the most widely used holiday templates so that every store can make use of them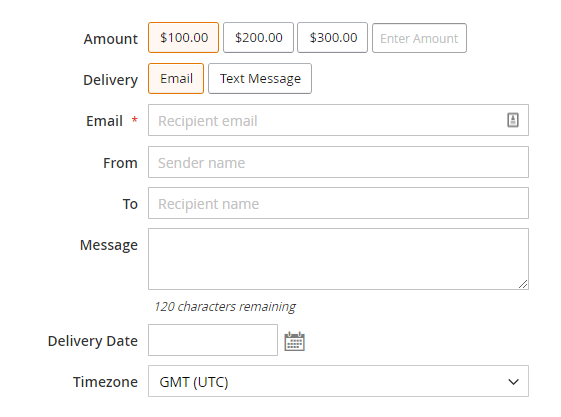 Gift Card Delivery
Buyers can choose to send digital gift vouchers by SMS, emails or via online messengers such as Whatsapp, Viber, Facebook Messenger or Tango. Otherwise, physical gift cards can be printed out and sent via the post office.
SMS Notification
Allows admins to send SMS to gift card recipients about the card's status. Messages can be customized to appear as personal SMS with customer name.
Print at home
Customers can use the coupon code or print the gift card at home to use at the local store. This feature is perfect to increase sales if the customers prefer to shop at physical stores.
Convenient gift card usage
Gift Card extension makes sure when receiving the code, the recipients can easily use it for shopping activities in your store right away, thanks to email notifications and flexible gift card code management.
Gift card email notifications
Gift card senders can rest assured that the gift card code will be sent straight to the recipient in a clear notification email. Recipients can copy the code to the coupon code field at checkout or view more details about the gift at their account page in the store.
Manage gift card codes easily
Shoppers can check the status or redeem gift card codes right from their My Gift Cards page.
From February 1, 2022, we are launching Product Subscriptions
Buy now to get 15% cashback and other appealing incentives.
Learn more →
FEATURED TESTIMONIALS

"Ready to be a part of us?"
What Mageplaza customers say about Mageplaza Gift Card extension.
I extremely impressed with the auto-suggest address functionality by this checkout extension. It is a great feature. Love it so much!
DONALD
https://www.emmeco.com
My customers even gave feedback that they were really satisfied with the flexibility in creating their own gift card templates.
... this extension can't be omitted in an online store ...
Vanessa
27 September 2017
... The extension can just as easily be used for handing out store credits to valued customers. The module is easily setup and is adjustable to a variety of whishes ...
MORE MAGENTO 2 GIFT CARD FEATURES

Some of the Features that are gonna blow your mind off
PREVIEW GIFT CARDS
Allows buyers to view gift vouchers and their usage before sending
GIFT CARD TRACKING
Allows buyers to keep track of the gift card's status and get notifications if there's any change
DISCOUNTED GIFT CARD
Store admins can set the gift card's price lower than the value it can be used for
USE GIFT CARDS OFFLINE
Mageplaza's Gift Card extension allows merchants to print out physical gift vouchers and use them offline
GIFT EXPIRATION DATES
Ability to set expiration dates for gift certificates and allow to show or hide them in the frontend
RESTRICT AND CONDITION GIFT CODES
Store owner is able to let admins limit the number of gift codes or/and set conditions for gift codes
USE USAGE CONDITIONS
Enable setting gift voucher usage conditions
FLEXIBLE GIFT CARD PRICE
Buyers are able to filter gift card's price by using a fixed value or using a price range
REST API
Rest API is well supported
---
PRICING

Choose your suitable edition
COMMUNITY
$

199
CRAFTED FOR A GREAT WEBSTORE START
Supports for Magento 2 Community Edition
View full feature list
ENTERPRISE
$

399
GREAT FOR ENTERPRISE SOLUTION
Supports for Magento 2 Enterprise Edition
High priority support
View full features list
How We Guarantee?
Better guarantee of maintanance from consistent & customer-centric policies.
We don't sell products for one time. We provide lifetime solutions which help our customers thrive with their businesses.
60-day Money Back
Extend your experience period to 60 days. Money-back guaratee with no questions asked
1-year Free Support
Get premium support for the first year to guarantee no conflicts, the best integration & stability..
One-time Payment
Pay only once and get the solution for a lifetime. No hidden cost.
Frequent Updates
Get technical updates every month for free without paying extra. Keep it best forever.
FREQUENTLY ASKED QUESTIONS

We have answered a wide range of questions for your convenience
Your customers can use gift card as a payment method for online and offline orders. With offline orders, recipients only need to present gift codes or print cards out as normal gift vouchers. It is so convenient, right?
No, it is one-time payment, and there is no hidden cost.
Gift Card layout will be chosen instantly in the frontend by CMS Static Block, there are some pre-made layouts that are available to pick. Moreover, admins can easily drag and drop to design new gift card layout templates.
There is no limit for gift codes. Your customers are allowed to add multiple codes as they have. In addition, the remove is so easy to implement.
Don't worry about that! The gift code is secured tightly by replacing the part of code by X symbol.
Of course, you can set expiration date, enable it to show up or hide it in the frontend. Check it out in the Magento admin.
The minimum number of gift codes you can generate at once is 10 and the maximum is unlimited. Therefore, please feel free to issue gift card codes in bulk
Yes.
Magento 2 Gift Card
is compatible out-of-the-box with Magento Open (Community), Magento Commerce (Enterprise), Magento Cloud 2.2.x, 2.3.x, 2.4.x.
SELLING MORE WITH GIFT CARDS
RISK-FREE solution. It's time to try NOW.
Buy now
Or
Talk to us
Gift Code Configuration
Easy to generate new gift codes
Ability to edit gift codes
Print Invoice (as default) or Print PDF Invoice (using custom PDF templates)
Ability to set general default gift code pattern and gift code pattern for each group
Allows admins to enable or disable gift card redeem ability
Allows admins to hide codes under characters like X
Ability to generate gift codes when an invoice is created or an order is completed
Ability to select store view(s) to apply gift code
Able to follow gift code history
General Configuration
Ability to configure gift cards as products in the backend
Ability to set gift card's lifetime
Ability to select information which goes with gift card: Gift card amount, Sender, Recipient, Delivery method, Message, Template,...
Enables admins to select gift card types: eGift, Print at home or Mail
Allows admins to set price and value separately for gift cards
Allows admins to restrict gift card's value and the proportion of gift card price to value
Delivery Options
Allows admins to select delivery methods for gift cards: Email, Text message, Print at home or Post office
Allows store admins to configure the buyers' ability of selecting delivery time and time zone
Enable shoppers to select sending methods (email, SMS, online messengers or post office)
Depending on the delivery method, necessary information including sender name, sender email, mobile number or others can be filled
Notifications
Ability to keep track gift card's status and buyers and recipients can get notified if any change is made
Allows admins to send notifications to recipients
Ability to send email notifications in cases: Gift card is sent, updated, is going to expire, unused or when the balance is changed
Ability to notify gift card recipients about updated gift card balance
Ability to send SMS to recipients about Gift card information
Ability to create messages and message templates in certain cases: Update notification and Before expired notification
Template Configuration
Ability to upload a logo for the gift card template or use the default logo
Allows store admins to select types of information displayed on cards
Ability to restrict the number of letters in gift message. Default: 120 characters
Ability to add/edit/use default note or to create a new one for each gift card
Allows admins to name gift card templates in the backend
Enables admins to upload images to use as gift card background
Allows store admins to configure the customer's ability of personalizing their own templates
Ability to select the font family for gift cards
Buyers are able to select pre-made gift card templates or create their owns by uploading images
Admins are able to design a new template only by "drag and drop" function
Admins are able to adjust sizes of fields shown on the card
Ability to use custom CSS in designing gift card templates
Allows admins to rearrange the order of appearance of templates
Allows admins to view gift card template information in a grid including status, thumbnail and created date
Gift Card Usage
Allows shoppers to leave names of themselves and their recipients on cards
Ability to leave a message on the gift card
Ability to display the Magento default coupon box or custom coupon box to apply gift card
Ability to redeem gift codes into gift card balance
Ability to use multiple gift cards
Allows multiple users to use gift code
Enable recipients to add gift cards to their lists by clicking the link attached to email
Allows sending gift codes and gift card's content in a printable PDF attached to the email
Ability to show gift card summary in the grand total block in a dropdown box
Ability to use gift card for shipping amount
Ability to enable customers to refund gift cards
Admins are able to import and export gift codes from a CSV file
Gift cards can be printed out to use offline
Show gift card image as item image on the Checkout page
Import Gift Codes to Pool
Set cart condition for Gift Code
Rest API is supported
owner
The gift card extension was discovered just in time for the holiday season. It takes the burden of manually creating gift card codes. It automates this process and frees up much needed time for our staff. Mageplaza created the module with more than just gift cards in mind. The extension can just as easily be used for handing out store credits to valued customers. The module is easily setup and is adjustable to a variety of whishes. For some minor details, we had to call in support but Ryan understood us very well and was very quick in answering our questions. Thank you again Mageplaza!
Marielle
-
Verified Purchase
Easy to use and powerful in its function
The gift card extension easily to integrate in our new Website, and the possibility for our customers to create their own gift cards is amazing. Thanks for the great extension. Which makes my live a lot easier.
Best gift card extension
I tried several gift card extensions before settling on this one. This one is the most flexible in design and application and works great. I like working with Mageplaza - probably the most responsive Magento extension provider I have worked with.
merance
-
Verified Purchase
Very appreciate
Very friendly and patient support, even though the holidays! Although in our case, it turned out that the problem was another extension.
Jan Hemmingsson
-
Verified Purchase
Great service
Desmond was awesome and very prompt with his response. He offered creative solutions to solve the problem. Thank you!
Dancor Solutions
-
Verified Purchase
Dev
I like the attention to details that Mageplaza put in all their modules. Highly recommended
Thumps up for guys
As always awesome :)
Oleg Kravenkov
-
Verified Purchase
Very recommended
We are very satisfied with the purchase of this extension. We had to ask for support due to an incompatibility problem with another extension and the support responded very well even during out-of-office hours since we have a lot of time difference between countries.
Nicolas
-
Verified Purchase
Exclusive Support Service
Thomas has been exceedingly helpful, correcting issues and customizing extensions to our needs in a very timely fashion. He clearly is very knowledgeable and eager to help and is one of the main reasons we elected to choose the Mageplaza Social Links extension. We intend to, in the future, look at more Mageplaza extensions as needed thanks to this wonderful service.
Bryce Chavez
-
Verified Purchase
President
Great product and great service! We had an issue on installation that was fixed very quickly by support.
This module is necessary for Holidays
Our shop was in need of this. We were able to get up and run with gift cards immediately, just in time for the holidays. Also, you can get the professional installation from them if purchasing their installation package.
Awesome extension !!!
Gift Card extension is very easy to use. I love it!! Customers can buy gift cards and send to friends!! It's still new, so I didn't see it in real action. It's exactly what I was looking for. I love the fact that we can now use it to apply the credit toward an account. Also, Mageplaza offers a great customers service and support.
LoveMagePlaza
-
Verified Purchase
Good product with the fast support.
I have seen a problem form our side. I got it rectified by the support. I recommend you should add this extension to your store for creating and managing gift cards.
N Pinnath
-
Verified Purchase
Excellent Thusfar
Support was very thorough. Took a minute to get past a few small issues, but seems well thought out. I like the options, and the balance of features is better than other brands I've used.
Great
Great extension that makes it really easy to Gift Cards. Now our online shop looks very professional. Simple installation and very good manual. I ordered more extensions and had a positive experience everywhere.
Claudio
-
Verified Purchase
It's worth every penny
I'm surprised by what this module has done in my store. All the functions mentioned work perfectly. And I'm 100% pleased with pre-made gift voucher templates, they look good and useful. I'm also glad to know that I can even drag and drop to design my own samples or let my customers create their owns. Moreover, Mageplaza support team did well to help me deal with some problems. Thank you much!
Samuel
-
Verified Purchase
Really impressive
I think this extension can't be omitted in an online store, especially when digital gift cards are becoming so popular worldwide. I've just installed it and the extension is really easy to configure. User-friendly interface and multiple features are reasons why I prefer this module from Mageplaza. With this reasonable price, I think it must be in wish list of every Magento 2 stores
Vanessa
-
Verified Purchase
A good extension
I have to send my compliment to Mageplaza for this extension. Everything is working well and precisely and we're looking forward to seeing a boom in our revenues this upcoming holiday shopping season. Some of my customers even gave feedback that they were really satisfied with the flexibility in creating their own gift card templates. So I hope you can optimize this feature more in the future! Thanks again!
v4.1.3

28 December 2021

Compatible with Magento v2.4.3-p1
Fixed minor bugs
v1.4.2

27 October 2021

Compatible Magento 2.3.7
Fix some minor bugs
v4.1.2

27 October 2021

Compatible with Klarna Payment
Compatible with Magento 2.4.3
Compatible with Magento 2.4.2-p1
Fix some minor bugs
v1.4.1

07 June 2021

Compatible with Mageplaza Product Alerts
Fix minor bugs
v4.1.1

19 April 2021

Compatible with Magento v2.4.2
Fix minor bugs
v4.1.0

08 December 2020

Added Gift Card Templates and improved template UI/UX
Compatible with Content Security Policies
Fixed XSS security error and other minor bugs
v1.4.0

08 December 2020

Added Gift Card Templates and improved template UI/UX
Compatible with Content Security Policies
Fixed XSS security error and other minor bugs
v1.3.4

25 June 2020

Hotfix: Gift Card API error
Fixed convert currency error when placing backend order
v1.3.2

29 May 2020

Compatible with Magento v2.3.5
v1.3.1

05 May 2020

Compatible with Magento v2.3.4
v1.3.0

19 February 2020

Supported RestAPI & GraphQL
Improved code style & performance
Fixed minor bugs
v1.2.0

13 December 2019

New feature: Show GC image as Item image on Checkout page
New feature: Import Gift Codes to Pool
New feature: Set cart condition for Gift Code
New feature: Rest API
Bug fixed: Cannot send email with attachment on Magento 2.3.3
Bug fixed: Error happen when add GC product to wishlist
Improve UI/UX & performance
v1.1.3

01 August 2019

Fixed Product page loading error on Magento EE
v1.1.2

08 July 2019

Compatible with Magento 2.3
Improved code style & performance
Fixed minor bugs
v1.1.1

09 October 2018

Compatible with Magento 2.3.1
Fixed minor bugs