B2B Signup for Magento 2
v1.0.0
Magento 2 B2B Sign Up - B2B Registration Form is the proper solution for e-commerce stores to optimize the sign-up procedure. Store admins can add unlimited attributes to collect customer information clearly and specify B2B customers from the registration form. Then, every registration is required to pass the admin's approval before the first login.
You've just added this product to the cart:
B2B Signup
You've just added this product to the cart:
B2B Signup Pro
The problems of the default customer registration
Magento 2 Default sign-up form is limited in filling information including:
Personal information: First name, Last name
Sign-information: Email, Password
Because the registration form is simple and lacks information, it is impossible to sort out the types of customers: B2B and B2C.
Therefore, it is hard to segment the two groups. Especially with B2B business, they would love to find the partners as wholesalers.
Due to the little information collected (emails and name), store owners find it not useful to implement marketing campaigns effectively.
This is because there is not enough information to personalize targeted customers.
The account registration of online stores with Magento 2 Default is uncontrollable.
Therefore, a store can face the issue of malicious accounts which is harmful.
All the new accounts of online stores based on Magento 2 Default currently are accepted totally without any consideration.
Therefore, the fact is that the number of accounts increase but are not qualified.
Collect every detail of from Registration form
With B2B Sign Up, you can collect unlimited information about new accounts from the registration step.
Add any additional customer fields Create many extra customer attribute fields on the sign-up form. The number of fields is not limited at all.
The field format is flexible and friendly to users Ask customers any questions in multiple formats. There are 11 input types to form any questions such as text, date, yes/no, dropdown, multiple select, file upload, etc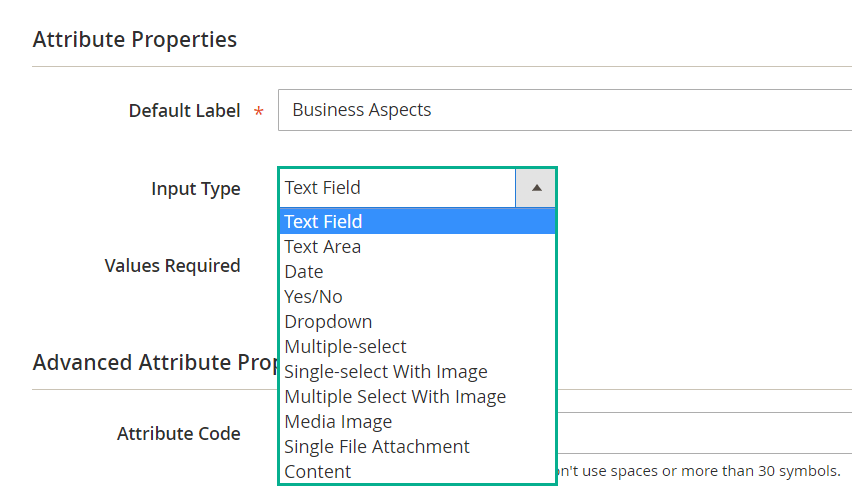 Recognize B2B wholesalers to build up partnerships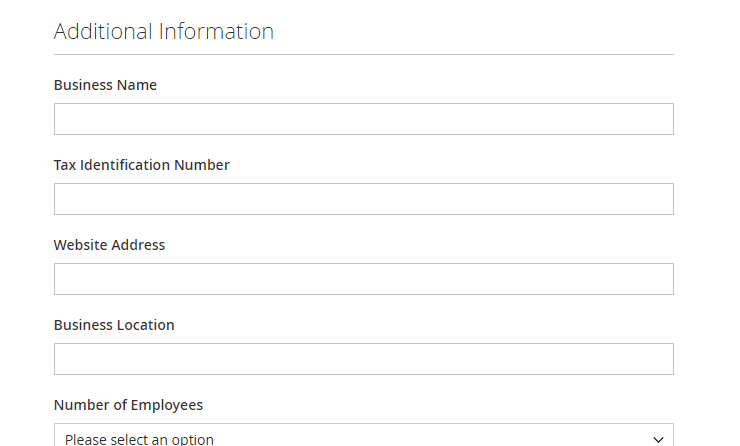 Easy to recognize a B2B account with a suitable and effective registration form.
Ask suitable fields to specify B2B customers
Think about some fields that can specify B2B business easily.
Tax Identification Number
Business Entity Type
Business Aspects
Number of Employees
Short Description, etc
A helpful registration form is a bridge to connect with valued partnership opportunities.
Pre-verify every newly-registered B2B account
After collecting details about a new B2B account, you can give it a pass ticket or rejection.
Approve or Reject B2B Sign Up will notice you about any new registration. Then, you view details of the new account, consider its trustworthiness, then approve or reject it.
The first safe login All registrations are required for approval before they can be used to log in, which to some extent keeps the store safer from the malicious or counterfeit accounts with potential risks.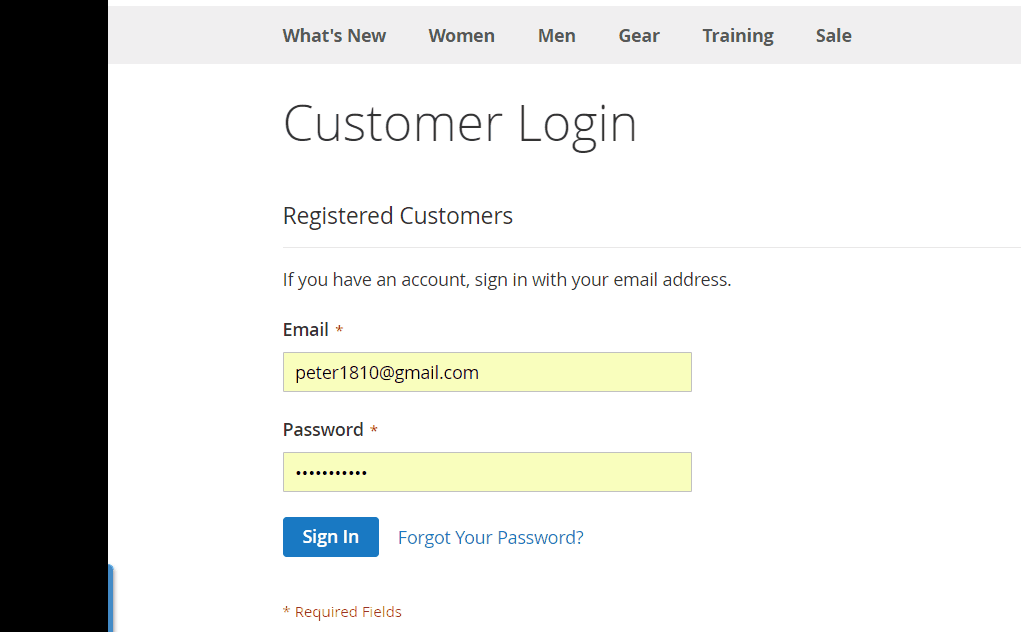 Easy to segment customers, B2B or B2C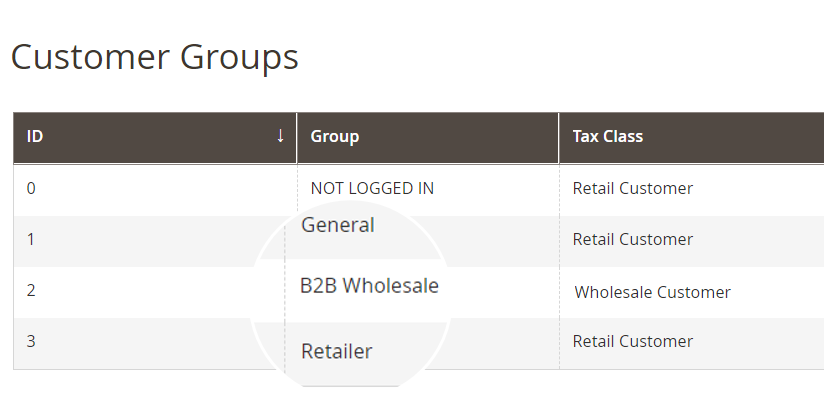 Support to customer segmentation With the details customers provide, you can easily segment them into specific groups based on:
Business types: B2B or B2C
Business aspect
Expectations
Potential level
Others
Support marketing and customer care You can create marketing campaigns with suitable targeted customers and a high success rate.
In addition, customer segmentation helps stores take care of shoppers better - during their whole shopping journey.
Full Features List
For store admins
Create unlimited additional fields for the sign-up form
11 input types available for various question formats text, date, yes/no, dropdown, multiple select, file/image upload, etc
Able to fill attributes at both frontend and backend
Support input validation to prevent improperly formed data
Well apply for default checkout page and One Step Checkout page
Approve/ Disapprove newly registered accounts
The content of notice at the frontend can be customized
Email notification for both admin and customer
Email templates are supported
Redirect customer to another URL during the waiting time for approval
Mass approve/ disapprove multiple accounts
Support API and command lines
Compatible with Mageplaza extensions: Customer Approval, Catalog Permissions, Hide Price Module, Membership Program,etc...
For customers
Able to give stores more personal details, requirements and expectations
More chance to be connected better
More chance to be taken care of better
FAQs
There are two main advantages of B2B Sign Up. Firstly, it helps the store admin to create unlimited attributes to the sign-up form. Secondly, store admins can approve or reject any new accounts. Two features optimize the registration procedure.
Yes, of course. B2B Sign Up supports 11 input types so you can create any field formats you want, including Text field, Text area, Date, Yes/No, Dropdown, Multiple-select, Single-select with image, Multi-select with image, Media image, File attachment and Content
Input validation is an advanced feature that prevents improperly formed data entered in the system. This helps the store owners collect the right format of each attribute type, such as letter, number, URL, email. For example, when a customer fills their email address, it is required that the input format needs the "@" symbol (e.g. [email protected]).
Yes, the extra fields will be added to the address section of the checkout page and the One Step Checkout page as well.
With B2B Sign Up extension, store admins will be noticed of every new account to approve or reject. The newly-registered accounts are kept pending before the approval/ rejection
Yes, of course. Mass action is supposed to help the store admin to give approval or rejection to many accounts at the same time.
Can't find your feature?
Are you looking for a feature in B2B Signup. Tell Elle your wants and needs.
Chat with Elle
Are you an agency?
Do you often visit us for purchasing extensions and technical support? Speak to April to learn about your exclusive benefits on Mageplaza
Chat with April