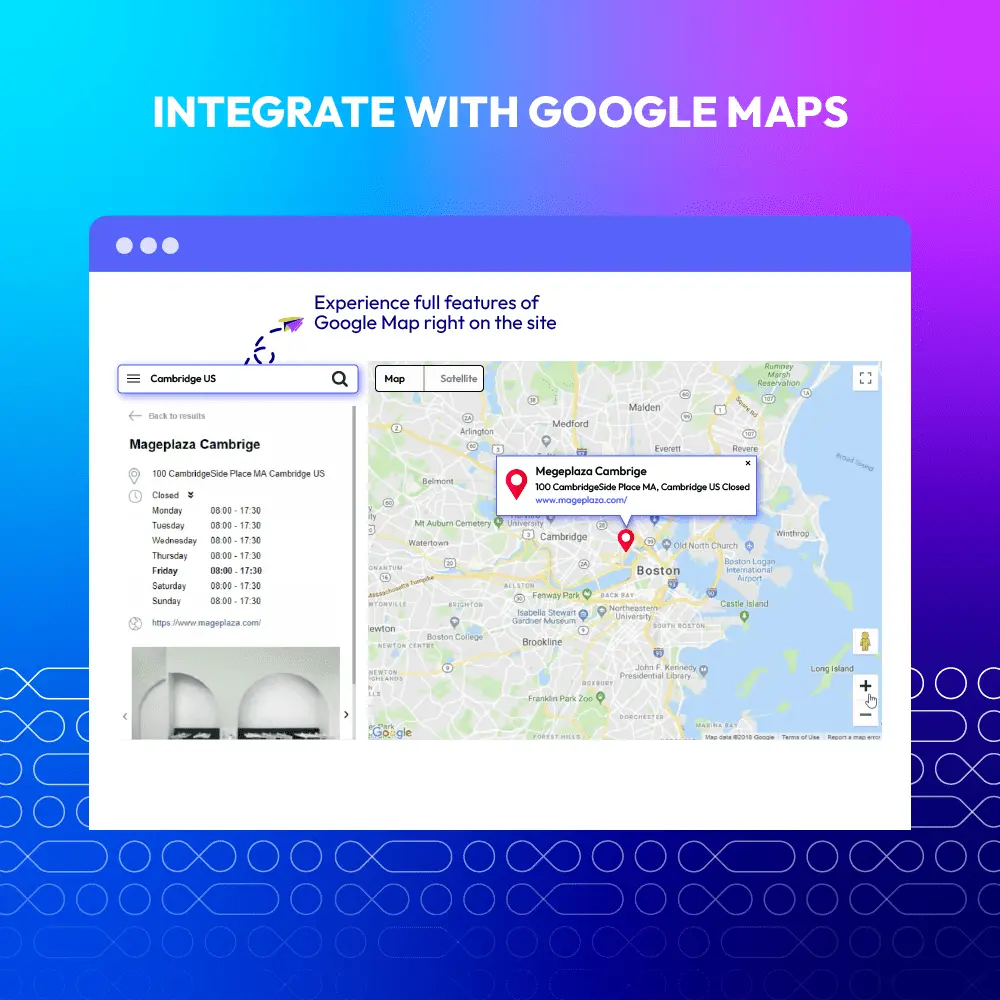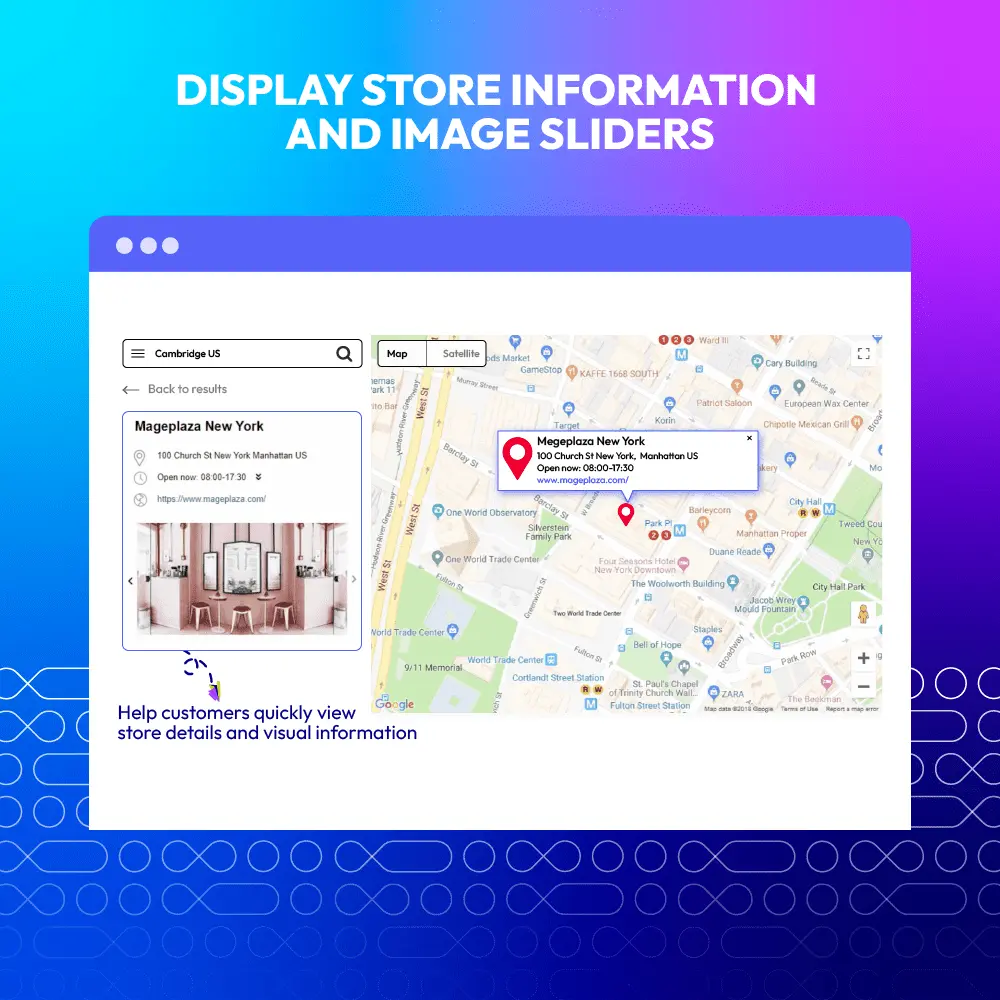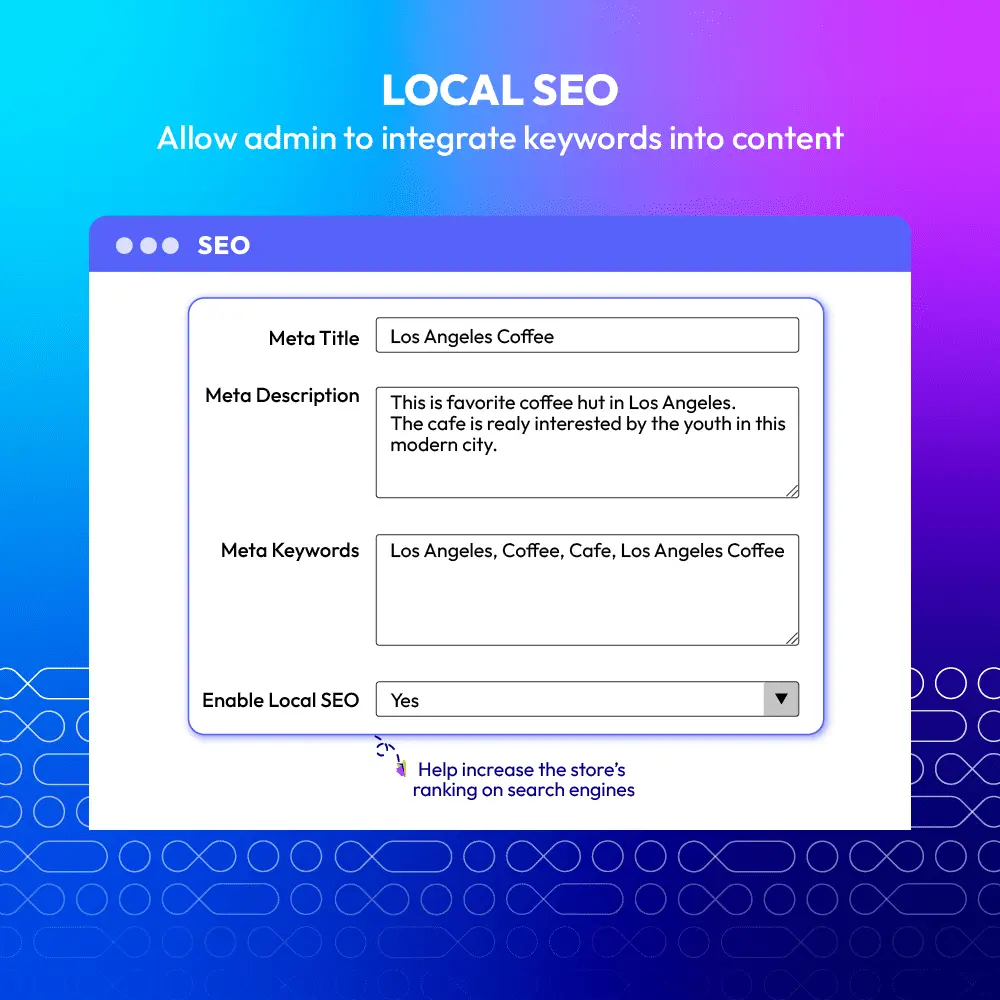 60-day Money Back
Frequent Update
365-day Support
Magento 2 Store Locator - PWA
v4.3.0
Magento 2 Store Locator extension helps customers locate all the stores by displaying unlimited store locations on a separate page. Incorporated with Google Maps, Store Locator brings more concise results for enjoyable experiences.
Customizing map display and store details, as well as integrating local SEO-friendly keywords can be done with ease. Moreover, you can say goodbye to answering repetitive questions about those physical locations. Thanks to Magento 2 Store Locator, online merchants can take advantage of their nearby stores, increase revenues and enhance customer satisfaction.
CE/EE/B2B/Cloud/ Adobe Commerce 2.2.x, 2.3.x, 2.4.x
Chat now
Most-Trusted Pick
Work perfectly together
Cost-effective
60-day money back guarantee
FREE installation for all
Featured Store Locator
View Mageplaza Store Locator on atual Magento 2 stores
Problems
Store owners desire to show the locations of their bricks-and-mortals on the website with Google Maps. However, they're disappointed to find out that there's no default tool to show their physical stores to customers. This may negatively affect the customer shopping process and customer experience.
Solutions
The Magento 2 Store Locator by Mageplaza offers you the following solutions:
Being equipped with the development of Google Maps and GPS
Automatic assistance of Google Map suggestion
Filtering locations based on customers' current position
Configure details such as working hours or holidays
Integrate keywords into location content for better SEO
Store Locator's Full Features List
Store Locator for store admins
Map/Info settings
Add Google Map API Key
Add store address: street, city, state, zip/postal code, country
Add new store manually or import store via CSV files
Get automated GPS coordinates
Manually add latitude and longitude
Add store contact: phone, email, fax, website URL
Upload store image
Select Map style
Get autoGeocode
Set zoom default
Set filter radius selection and default radius
Choose distance unit
Upload marker icon
Set store opening time: day, hour
Set holiday time: status, date, type
Set specific countries available for pickup
Set allowed payment methods for store pickup method
SEO configuration
Compatible with SEO All in one, Google Maps, Store Switcher, Delivery Time, Table Category View extension
General configuration
Enable/ Disable the extension
Set title for store locator page
Set description message
Upload a background image
Add URL Key
Set display for the link
Enable/ Disable to get direction
Enable/ Disable filter function
Enable/ Disable filter by current position
Enable/ Disable search by ares function
Management grid
Edit, manage store location via grid
Edit, manage holidays via grid
Store Locator for customers
View all store list and store location on Google map
Filter store by radius
Search stores by area (country, city and zip code) (New)
Find the nearest store
Select store, set appointment time to pick up the ordered items
Google maps suggestion address
Get direction guide from a location to any store
Get contact information of a store: address, phone, email, fax, website URL
Know the opening time and holidays of a store
View image of stores
Have better experience on site
Why choose us?
Mageplaza provides consistent and customer-centric extensions for your Magento 2 store.
We don't sell products for one time. We provide lifetime solutions which help our customers thrive with their businesses.
60-day Money Back
Extensive 60-day money-back period. You love it or get a full refund no questions asked.
Extensive Support Timeframe
Mageplaza provides support 16 hrs/day, 5.5 days/week to guarantee the seamless operation of our extensions on your store.
Install via Composer
Simple installation via composer helps you save time and eliminates technical issues during future updates.
Frequent Updates
Intensive update roadmaps ensure great performance, bug-free, highly compatible, and innovative extensions.