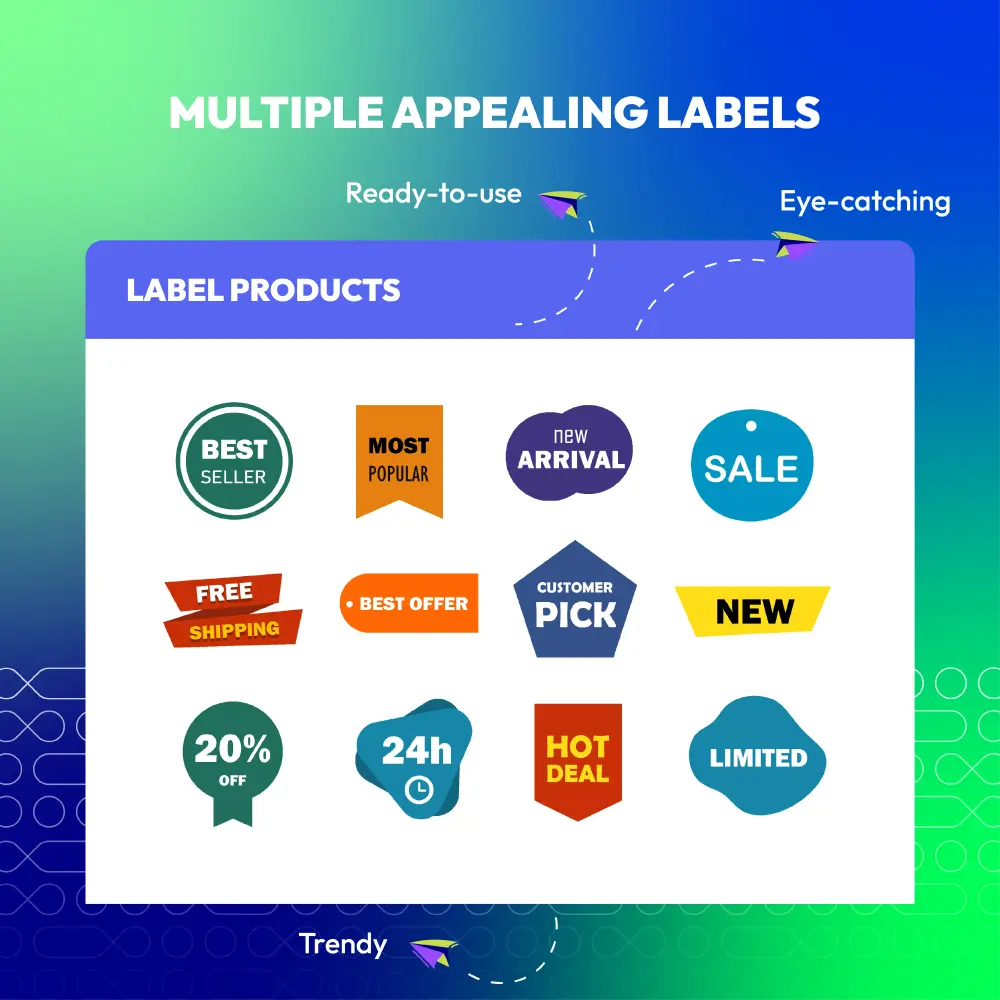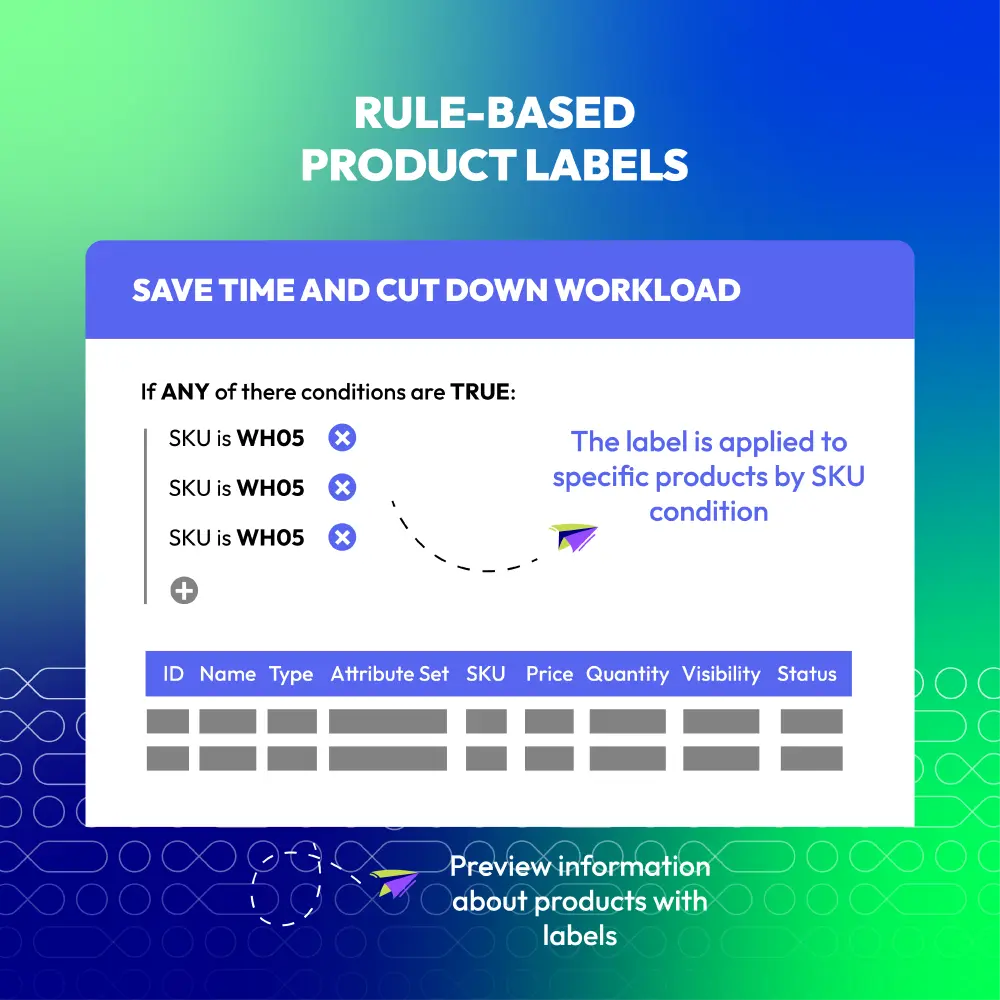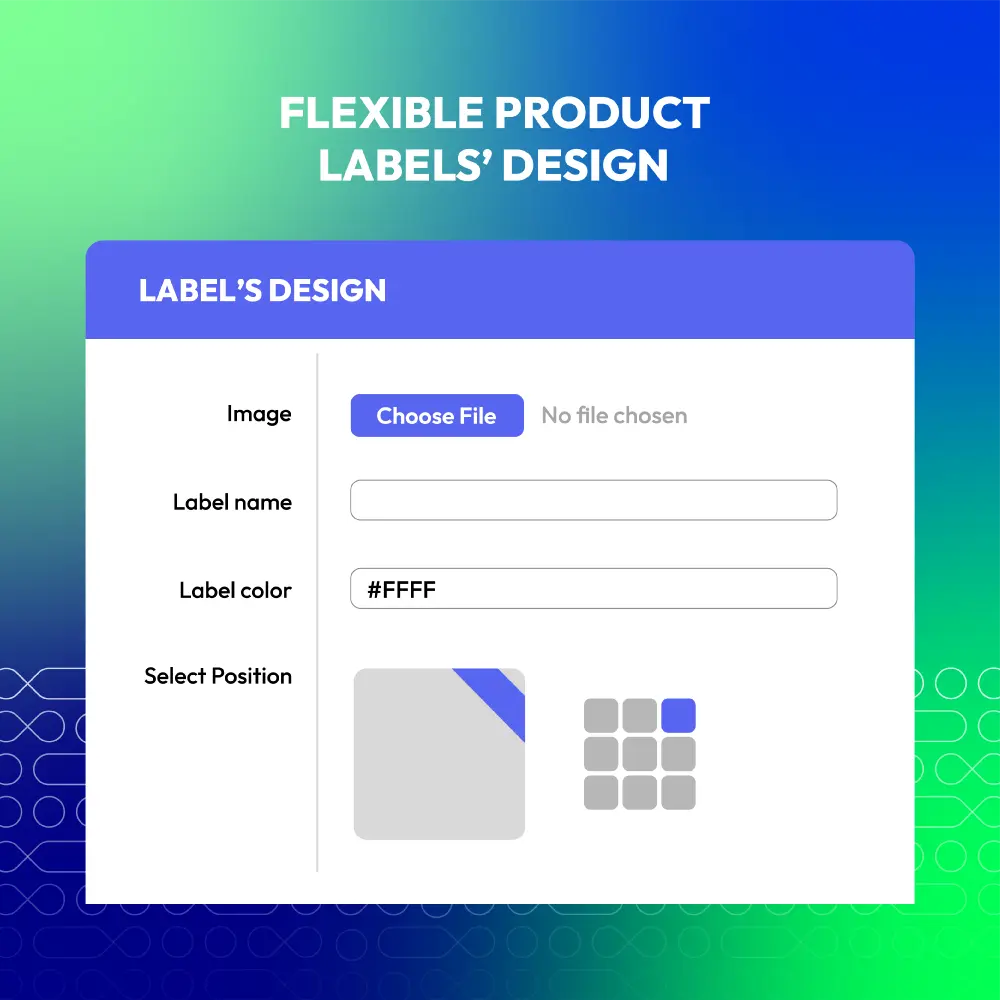 60-day Money Back
Frequent Update
365-day Support
Product Labels for Magento 2 - PWA
v4.3.2
Increase sales in your Magento 2 store with eye-catching product labels. Boost visibility and attract customers with promotions, new arrival, and best-seller labels.

CE/EE/B2B/Cloud/ Adobe Commerce 2.2.x, 2.3.x, 2.4.x
Chat now
Most-Trusted Pick
Work perfectly together
Cost-effective
60-day money back guarantee
FREE installation for all
Featured Product Labels
View Mageplaza Product Labels on actual Magento 2 stores
Problems
There is a fact that when a shopper visits an online store and approaches a huge quantity of product kinds, they can be overwhelmed and find difficult to make the purchasing decision. With the first-time visitors, they will feel curious about what is the most popular item in this shop, or with frequent shoppers, they will need to know what products have any discount or other deals.
Solutions
In this case, product labels are the excellent solution to notice and guide customers to products meeting their concerns. These useful badges help specific products stand out among a big stuff of others. As a result, customers can easily click to see more about these certain products and quicken their purchasing.
Product Labels' Full Features
Product Labels for store admins
Product labels configuration
Name product labels to distinguish from others
Enable/ Disable a label
Apply multiple labels on one product
Select specific active state for a label
Select store views for product labels
Show different labels to different customer groups
Set the time period to display a label
Set priority for labels to be displayed on products
Set condition applied for a label
Preview labels updates
Select pre-made templates
Choose the image to add on a label
Set image size
Choose predefined variables for labels message
Write new variables with a simple structure
Select font family for the label text
Select font size for the label text
Select background color for labels
Custom CSS is supported for design
Select and preview display position
Set same labels design for product listing page and product page
Display labels if Stock is lower than On Sale condition (discount amount, discount percentage), or New product condition (new from/to date, created date) [New]
Support Rest API & GraphQL
Compatible with orther extensions: Countdown Timer, Product Alerts Auto Related Products Product Reviews
General configuration
Product labels Management Grid
Manage Product Labels Management grid on the backend
Name the labels
Enable/ Disable labels
Set state running/queue/done for labels
Preview display on Product page
Preview display on Category page
See store view set for labels
View customer groups applied
View display priority of labels
Show labels on the Shopping Cart page, Mini cart, Checkout page and One Step Checkout page [New]
View future date set for labels
Edit the settings of labels
Delete labels
Hide Label when Variable equal to zero [New]
Product Labels for customers
View a product with multiple labels
Able to view product labels in both product page and product listing page
Be aware of the promotion level of products to make a suitable decision for purchasing
Why choose Mageplaza Magento 2 Product Labels
Mageplaza provides consistent and customer-centric extensions for your Magento 2 store.
We don't sell products for one time. We provide lifetime solutions which help our customers thrive with their businesses.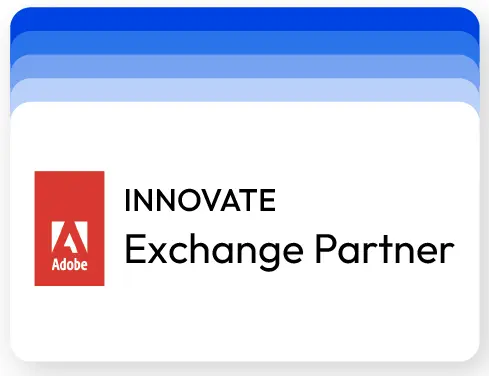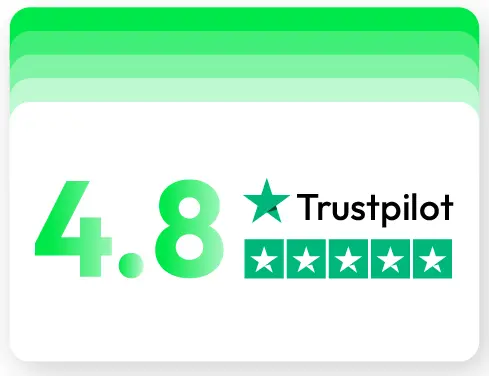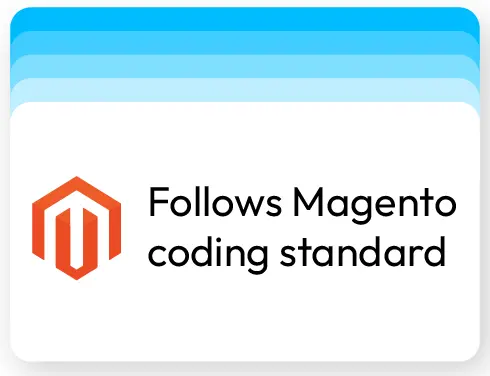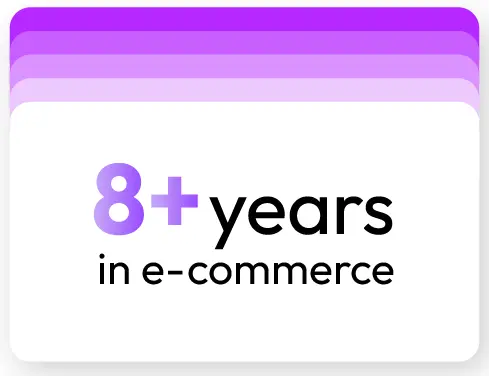 60-day Money Back
Extensive 60-day money-back period. You love it or get a full refund no questions asked.
Extensive Support Timeframe
Mageplaza provides support 16 hrs/day, 5.5 days/week to guarantee the seamless operation of our extensions on your store.
Install via Composer
Simple installation via composer helps you save time and eliminates technical issues during future updates.
Frequent Updates
Intensive update roadmaps ensure great performance, bug-free, highly compatible, and innovative extensions.