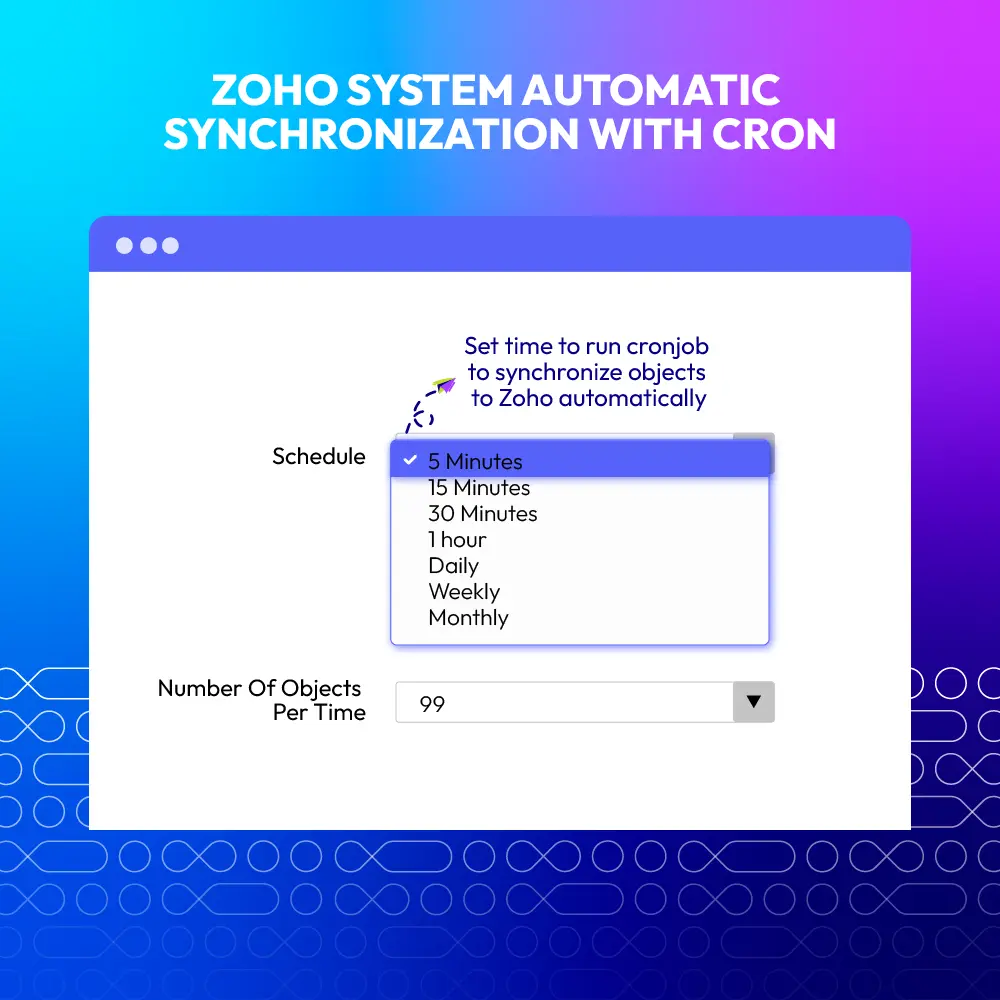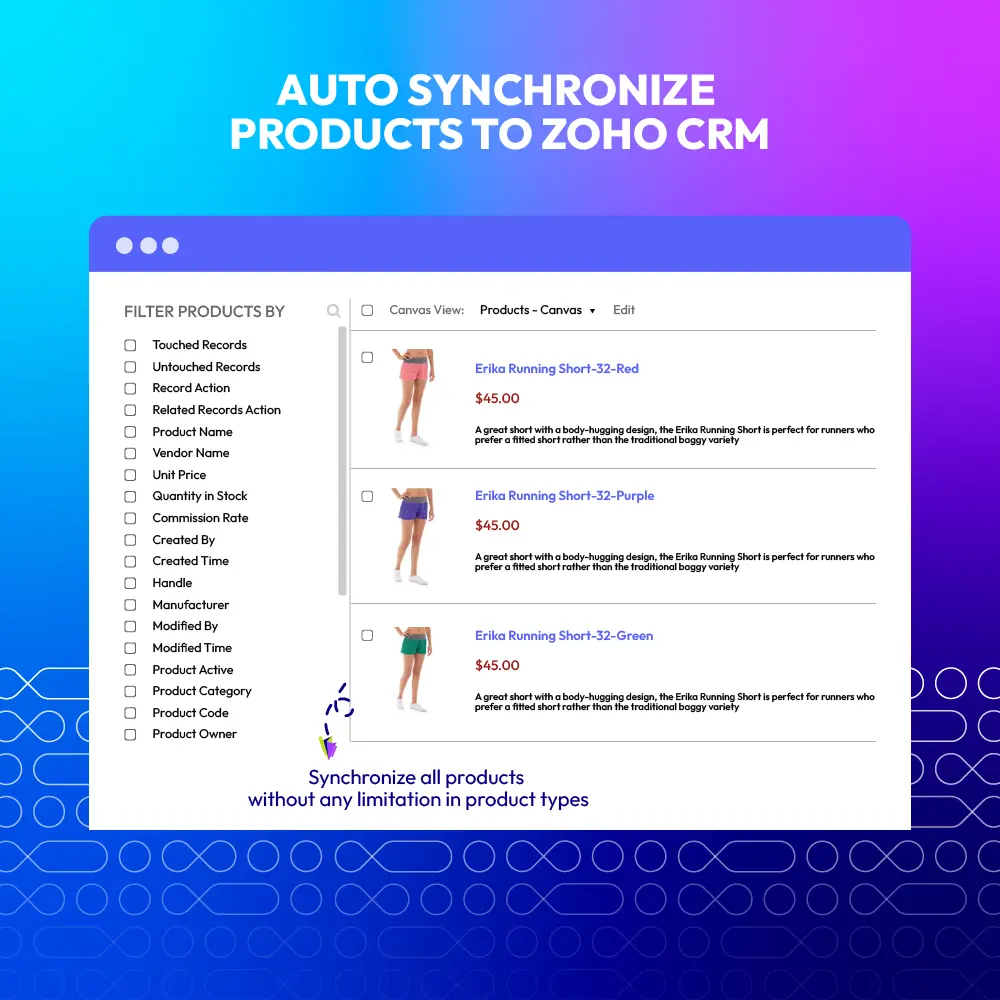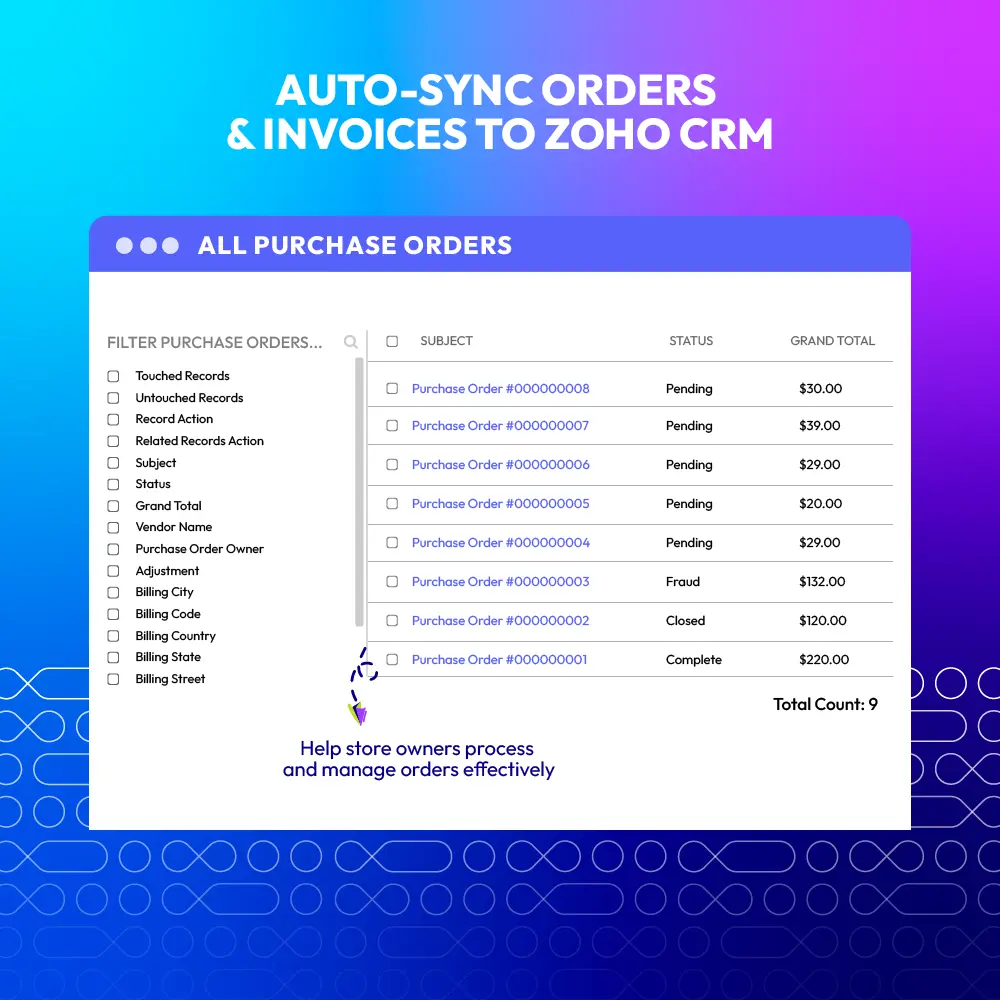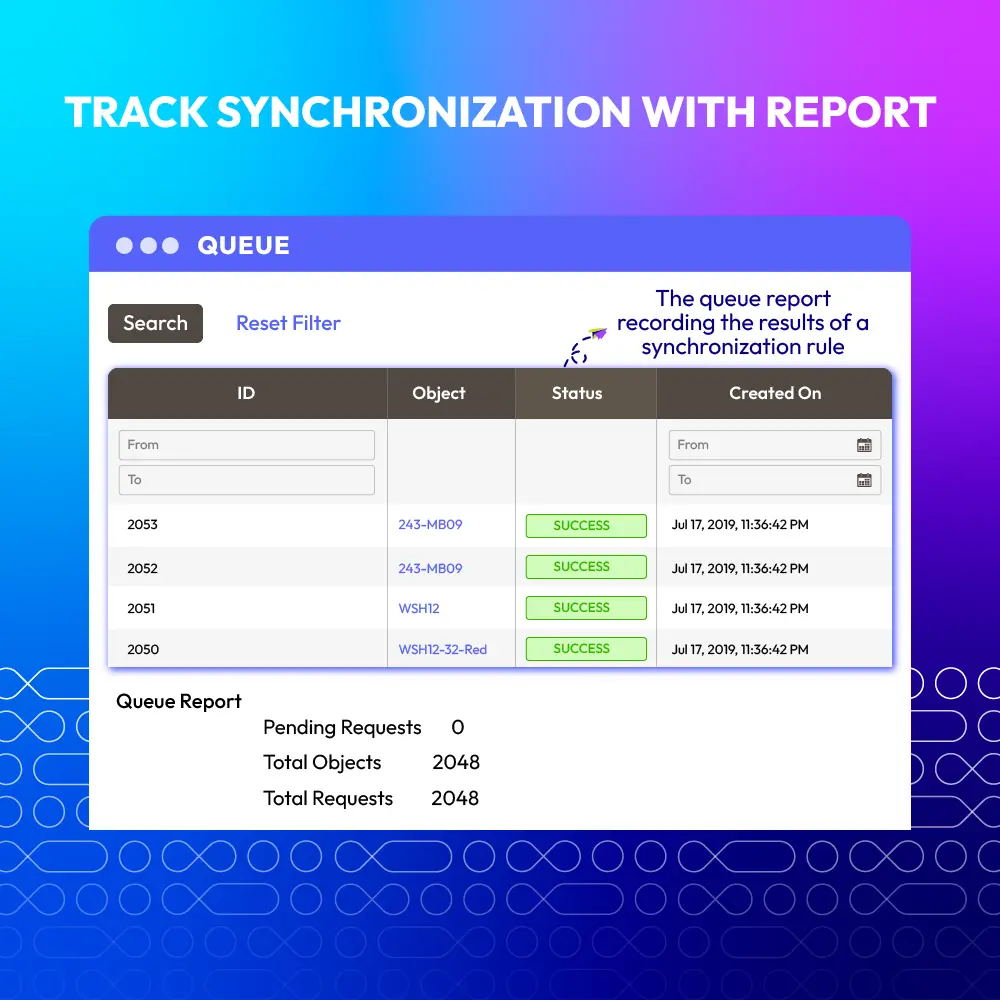 60-day Money Back
Frequent Update
365-day Support
Zoho CRM integration for Magento 2
v4.0.3
Magento 2 Zoho CRM extension is a powerful tool to sync Magento data such as Customers, Subscribers, Sales, Invoices, Products to Zoho CRM from your Magento 2 store so that stores can better create a smooth flow to maintain the customer relationship and organize business effectively.
Need API/GraphQL for Magento 2 Zoho CRM integration? Chat now
CE/EE/B2B/Cloud/ Adobe Commerce 2.2.x, 2.3.x, 2.4.x
Chat now
Problems
Most businesses face up with some sort of double-entry issue, especially those are using an online shopping cart like Magento. Why is this? It's because when customers place orders in Magento, store owners have to then transfer them to their CRM. This is a waste of time that only get worse the busier you are.
Solutions
Better manage sales operations. With Zoho CRM, the sales activities of stores are automated. Zoho will update constantly the data from Magento stores such as Products, Customers, Orders, Invoices, Shopping Cart Rules. Specially, Zoho CRM also allows store departments to manage customer accounts. All accounts from a shared database is easy to monitor and can be viewed across products, locations, account, and status. Especially, you can track the purchase history for cross-sell or upsell opportunities.
Opportunities with leads and contacts. Zoho CRM can follow customers' behaviors and categorizes them as leads and contacts to suggest for your stores. Depending on that, stores can take care the leads and convert them into potential customers, then purchasers.
Support mobile device to keep track of store activities Zoho is well responsive with mobile device which helps store owners can stay in control of sales activities actively.
Zoho CRM Integration's Full Features List
General Configuration
Enable/ Disable Zoho CRM extension
Enter the ID obtained in Zoho CRM into the Client ID field to connect to Magento
Enter the Client Secret obtained in Zoho CRM
Get Access Token to check the connection with Zoho CRM by clicking Get Access Token button
Queue Schedule
Manage Sync Rules
Add data to the queue via the grid
Add new, view or edit rule
Select Magento 2 Object to retrieve Magento data sent to Zoho
Select the Zoho module correspondingly to the selected Magento Object
Select the website to get Magento Object data to send to the Zoho Module.
Enter the fields of a magento object which are defined as the fields of a Zoho module.
Monitor situation of a rule running via Queue Report
Why choose us?
Mageplaza provides consistent and customer-centric extensions for your Magento 2 store.
We don't sell products for one time. We provide lifetime solutions which help our customers thrive with their businesses.
60-day Money Back
Extensive 60-day money-back period. You love it or get a full refund no questions asked.
Extensive Support Timeframe
Mageplaza provides support 16 hrs/day, 5.5 days/week to guarantee the seamless operation of our extensions on your store.
Install via Composer
Simple installation via composer helps you save time and eliminates technical issues during future updates.
Frequent Updates
Intensive update roadmaps ensure great performance, bug-free, highly compatible, and innovative extensions.