Image Optimizer for Magento 2
v1.0.0
Magento 2 Image Optimizer extension is the essential solution for Magento 2 store site to compress and optimize images. Optimizing images contributes to speed up page load, enhance user experience and increase conversion rate significantly.
You've just added this product to the cart:
Image Optimizer
Problems and Solutions
Around 90% of shopping sites are graphics dependent and therefore there are a large number of image files. As a result, when the images on site is too heavy in file size, it will affect the speed of page loading considerably.
More importantly, this worsens customer experience during their shopping on an online store. If a page takes more than 3 seconds to load, users are likely to abandon it. With online stores, the customers' impatience of waiting for page loading is one of the key factors of bounce rate and then lower conversion rates.
Therefore, every store site should equip with Image Optimizer tool to compress the images to make sure a good site performance.
In 2010, in Webmasters Blog, it is confirmed by Google that "Like us, our users place a lot of value in speed — that's why we've decided to take site speed into account in our search rankings." Therefore, it is clear that the faster websites rank better in the search results as compared to slower ones.
Fast-loading images are very necessary and can be achieved by Image Optimizer module.
When the site search ranking improves thanks to the image optimization, it can reach more users and potential customers, which opens great opportunities to attract visitors and boost conversion rate.
The first click on the store site URL is the first visit, the first impression of a customer. Fast-loading speed satisfies the instinctive impatience, provide overall good user experience and motivates customers to surf and view more products and services of an online store. Definitely, the more time on a shopping site, the more chances for sales.
Images often account for most of the downloaded bytes on a web page and also often occupy a significant amount of visual space. The lighter images, the fewer bytes the browser has to download, the less usage of bandwidth. The browser can download the images faster and render useful content on the screen for the viewers.
79% of customers who are dissatisfied with website performance are less likely to come back
64% of smartphone users expect page load time less than 4 seconds
47% of users expect a webpage to load less than 2 seconds
If a site makes $100,000/ day, 1 second increase in page speed brings $7,000 daily.
1 second delay in page load causes 11% decrease in page viewers
1 second delay in page load causes 7% reduction in conversions
Optimize multiple image types
Magento 2 Image Optimizer supports store admins to compress various types of images including PNG, JPG, GIF, TIF and BMP. These are the most popular image formats that all online stores are using to upload the pictures of products, services and more. Compressing the image size will optimize the performance of the store site.
With Image Optimizer extension, store admins can lighten the images on the site easily and conveniently right from the admin backend with some simple clicks. Compress to get light images to rocket the store site!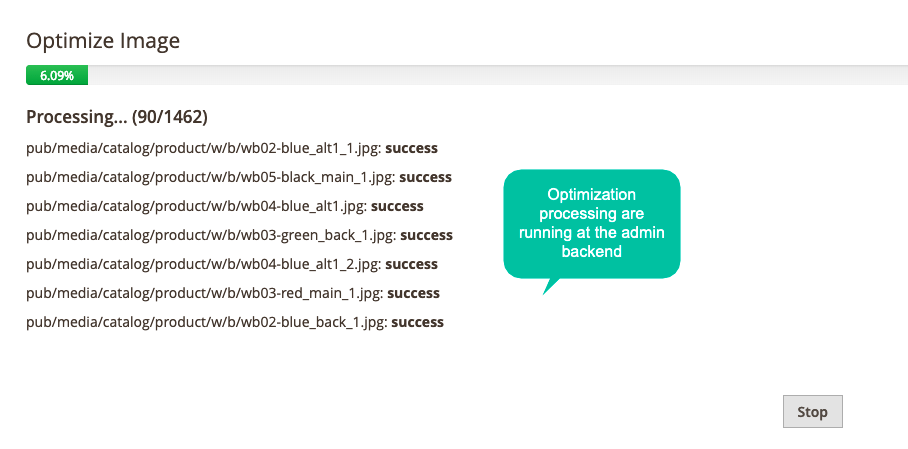 Image optimization quality - Lossless or Lossy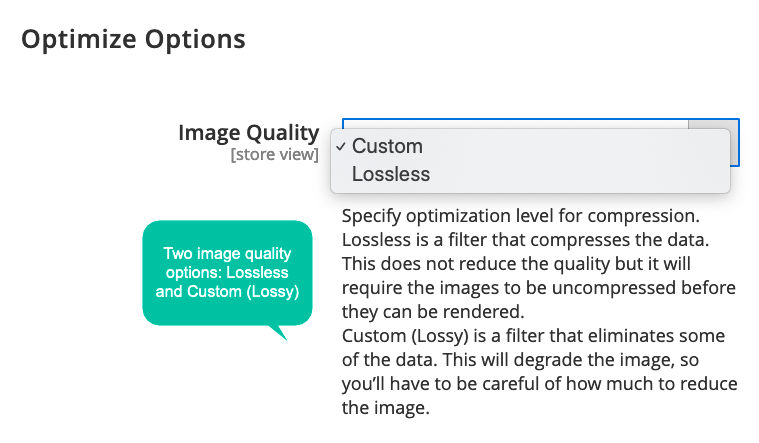 The most interesting feature of Image Optimizer is allowing store admins to set compression level. There are two compression options: Lossless and Custom (Lossy). Two types will bring out the difference in image quality and file size.
Lossless is a filter that compresses the data, which allows you to retain image quality while reducing the file size. Lossless will remove unnecessary meta data from image files. The trade-off is that there is little decrease in file size.
Meanwhile, Custom (Lossy) compression means that there is the loss of data of the original image file. The biggest advantage of lossy impression is the significant reduction in file size. However, the biggest con is the loss of quality. With Image Optimizer extension, the users can set the quality percent they would retain after the compression process with slight visible loss in image quality. The compression level as well as optimized image quality is under your full control.
Automated optimization process
The image compression can be activated on a frequent basis with the support of cron running. Store admins do not need to take time to compress manually when Cron function is enabled.
Magento 2 Image Optimizer will periodically scan to notify about the optimization status of available images. Then, the optimization process will be activated at a certain time frequently to compress the scanned images. Both scan and optimization actions can be auto-activated by cron, which saves a lot of time for store admins.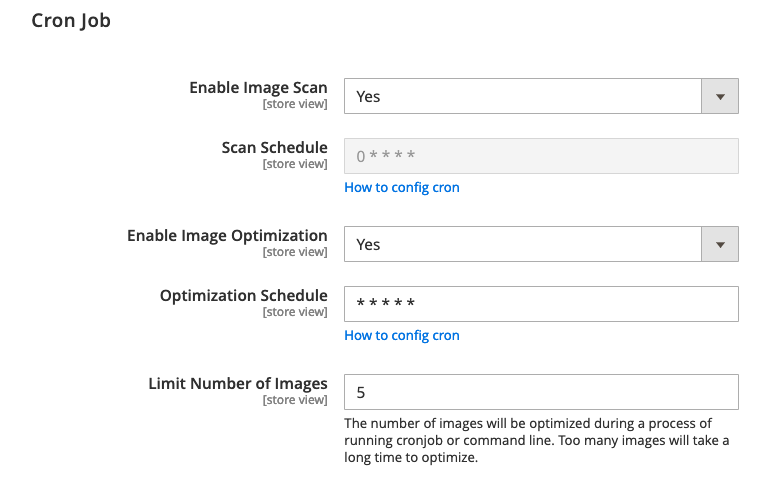 Back up original images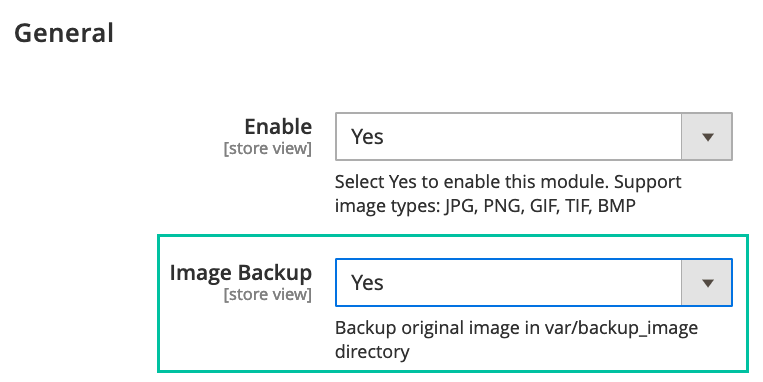 Making modifications should go along with backup. Automatic backup by Image Optimizer keeps the original images safely and support store admins to roll-back any image if necessary. All backup images are stored properly in a certain image directory, which is ready-to-use anytime.
The backup function helps store admins feel comfortable to try on image modifications without the worry about the loss of the original version.
Included and excluded image directories
The image scan can be assigned to specific directories of the store site. From the admin backend, store admins can set the included directories whose images are scanned and the excluded directories which are skipped to scan.
With directory separation, scan becomes time-saving and focusing. Some directories require original images with full quality will not be considered in the optimization process.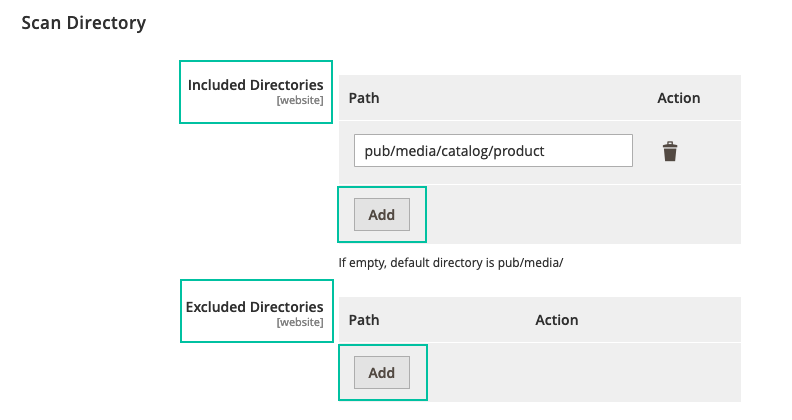 Full Features List
For store admins
General
Manage Images
View scanned image paths
View status after scanning and optimizing
View original and optimized file size
View optimization percent
View error messages in case there are errors during optimizing
Requeue images to pending status
Restore images to original images
View progressing percent by status: Pending, Error, Skipped, Success
Show popup when bulk compress multiple images or click on optimize button
Run command line to process optimizing quickly and conveniently
Optimize Options
Select image quality: Lossless or Custom
Select quality percent of images after being optimized
Allow/ Disallow skipping transparent images
Allow/ Disallow force file permission
Directory
Enter included directory which scan are accessible
Enter excluded directories which scan are not accessible
Cron Job
Enable/ Disable image scan
Set scan schedule
Enable/ Disable image optimization
Set optimization schedule
For customers
Access page information faster
Not waste too much of time wasting for page loading
Have better shopping experience
FAQs
Image Optimizer supports the most popular image types including PNG, JPG and GIF.
Firstly, the extension will scan all images (of the included directories). Then, the scanned files will be optimized.
Yes, definitely. With cron, you can set the schedule for image scanning and optimizing automatically on a frequent basis.
With Image Optimizer, you can select two types: Lossless or Custom. With Lossless, you can retain image quality (or maybe a very slight loss) while reducing the file size. With Custom, you will define the quality percent of optimized images. However, please consider this point that the smaller file size, the worsen image quality.