How To Synchronize Bank In Odoo
The Most Popular Extension Builder for

Magento 2
With a big catalog of 224+ extensions for your online store
Your clients can purchase any item that is sold in your traditional storefront simply by clicking a button on their computer screen. Small companies want an eCommerce platform that is safe and simple to use when it comes to supporting online sales and services.
To assist you in increasing your sales, Odoo can personalize a payment gateway solution for you. This solution will provide you the ability to synchronize and take payments by credit card or bank account in addition to alternative payment methods such as Apple Pay and PayPal.
Today's tutorial will show you how to synchronize bank in Odoo. It has been shown that a website's conversion rate is significantly higher if its payment system is straightforward. If you're worried that your payment gateway is causing you to lose business, Odoo can provide a scalable and simple solution.
Table of contents:
Benefits of synchronizing your banking accounts in Odoo
By synchronizing your bank account with your Odoo account, you will have direct access to your bank account and more effectively handle the financial transactions related to your business. You can maintain track of the financial movements in your bank account and associate them with the transactions recorded in your Accounting if you import your Bank statements into your Odoo account. This will help you to keep your Odoo account up to date.
Below is a list of some of the advantages that you will obtain by synchronizing your bank account with Odoo: Payments with credit cards: If you want to get paid swiftly, you should support online payment with credit cards. We support major payment channels such as Authorize.net, Ingenico, Paypal, and Adyen. Automated follow-ups: To make the process of collecting past due payments easier, Odoo will automatically suggest emails, follow-up letters, and tasks. Balance of accounts receivable after a certain amount of time has passed: This report section provides a concise summary of past-due payments and a treasury prediction. Customer Portal: Through their site, your customers will be able to monitor the status of their orders and their invoices and payments. Get clear reports on client statements and go through the papers quickly to comprehend every customer use case with advanced customer statements. QR codes: Your consumers may pay you by scanning a QR code with the banking app on their mobile devices. The QR code is shown on the payment screen of quotations and invoices, as well as on the PDF invoices themselves.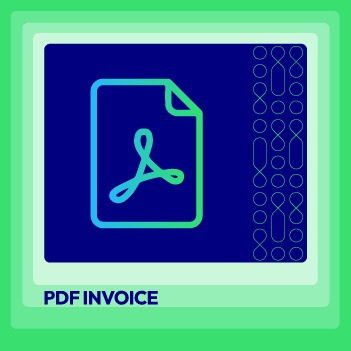 Impress your customers with professional PDF invoices that match your store's branding
Check it out!
How to synchronize bank in Odoo
Because Odoo is able to synchronize directly with your bank, you will be able to have all of your bank statements automatically put into your database. This will save you a lot of time.
To determine whether or not Odoo can assist your financial institution, navigate the Odoo Accounting Features page and select the option labeled "See list of supported institutions."
Over 20,000 organizations all over the world receive funding from this organization. The trial databases do not have access to the bank synchronization feature.
Odoo makes use of a number of different online services to establish a connection to the banks: Plaid: North America, specifically the United States of America and Canada Yodlee: Around the World Salt Edge: Europe (more clarification) Ponto: Europe (more clarification)
Step 1: Set up On-Premise users
You can't make use of this feature unless you have an active subscription to the Odoo Enterprise platform. Consequently, check to see if the database you want to use is registered with your Odoo Enterprise subscription. We also utilize a proxy between your database and the third-party provider; thus, in the event that you have a connection issue, please make sure that you are not blocking the following IP using a firewall or a proxy:
Step 2: Activate your First Synchronization
You have two options for initiating the synchronization process: navigate to Accounting* > Configuration > Add a Bank Account or use the configuration bar on the accounting dashboard.
You are now able to look for your financial institution here. To synchronize with it, choose it and then follow the on-screen instructions.
Note: In case you have any problems during the first synchronization of your account, please ensure that your web browser does not block pop-up windows and that any ad-blocking software is turned off.
Your account will not be fully protected unless you provide a valid phone number during the first synchronization process. We ask for such information because we don't want your data to fall into the wrong hands, and we don't want anybody else to access it either. Because of this, if we find anything fishy going on with your account, we will immediately stop processing any requests that originate from it. You will be required to reactivate it using the same phone number. In order for the third-party supplier to connect with your financial institution, they may seek additional information from you. This information is not saved anywhere on Odoo's servers under any circumstances.
Each month, a single bank statement is generated, and by default, any transactions that are collected from an online source will be pooled together and included in the same statement. Within the journal settings, you have the ability to modify the frequency with which bank statements are generated.
Simply navigate to Accounting > Configuration > Online Synchronization to get the complete list of all of your synchronizations.
Step 3: Synchronize manually
After the first synchronization, the newly generated journals will automatically undergo a synchronization cycle once every twelve hours. You have the option to do a manual synchronization by clicking the "Synchronize Now" button located on the dashboard of the application.
You also can go to Accounting > Configuration > Online Synchronization, choose your institution, and then click on the button that says "Fetch Transactions."
It is essential to note that some financial institutions do not enable the automated retrieval of transactions. If your financial institution is one of these, an error notice will appear during the process of automatically synchronizing your account, requesting that you turn off the automatic synchronization. You can find this message among the buzz occurring during your internet synchronization. In this particular scenario, manual synchronizations must be carried out.
Step 4: Configure issues
Problems with synchronization: If you want to inform the Odoo support team about a connection issue, navigate to Accounting > Configuration > Online Synchronization, choose the connection that did not work, and copy the error description as well as the reference.
Severed from synchronization: If your connection with the proxy has become disconnected, you can use the Reconnect button to establish a new connection with the proxy.
Please take note that the Odoo support may be responsible for this disconnection. In this particular instance, you will need to personally contact the support team and provide either your client id or a reference to the mistake that was discussed in the chatter.
Migration method for users having installed Odoo before December 2020
If you are running Odoo manually, you first need to check to see if the source you are using is compatible with the most recent version of Odoo.
Users who established a database before December 2020 will need to manually install the new module to take advantage of the newly added functionality.
To accomplish this, select Apps > Update Apps List from the menu bar, clear the default filter in the search box, and then type: account_online_synchronization into the field that appears. After that, you can install the new module by clicking the Install button.
Finally, remind all of your users to refresh their Odoo pages by hitting the CTRL+F5 combination on their keyboards.
Note that any initial synchronizations will be severed during the installation process and will no longer function afterward. They are conveniently located in the synchronization menu (Accounting Configuration Online Synchronization), where you can access them anytime. You will need to establish new connections because it is not feasible to resynchronize these existing ones.
It is imperative that you don't remove the online account sync, as this is the preceding module for online synchronization. The new one supersedes the previous one.
The account online synchronization component of Accounting is set up to be automatically installed by default.
Conclusion
You will be able to manage your company's cash flow better if you sync the bank account you use for your business with the accounting module in your Odoo software. This will provide you with rapid access to your bank account.
You will be able to maintain track of the monetary transactions that have taken place in your bank account and relate them to the transactions that have been recorded in your Accounting when you import your bank statements into the accounting module of your Odoo software.
We hope this article helps clear your mind on how to synchronize bank in Odoo. Bookmark our blog so you can return to it if you have any problems. Furthermore, if you encounter any issues with the Odoo software, don't hesitate to get in touch with our customer care team for assistance.
Increase sales,
not your workload
Simple, powerful tools to grow your business. Easy to use, quick to master and all at an affordable price.
Get Started
Recent Tutorials

Subscribe
Stay in the know
Get special offers on the latest news from Mageplaza.
Earn $10 in reward now!