Top 16 B2B eCommerce Companies and Websites in 2023
The Most Popular Extension Builder for

Magento 2
With a big catalog of 224+ extensions for your online store
B2B eCommerce companies are enterprises that engage in online commercial transactions between two or more businesses. This involves buying and selling goods, services, or information over the internet, specifically for the needs of businesses rather than individual consumers.
It is clear that we are currently in an era where B2B eCommerce is flourishing more than ever before. According to Forrester, B2B eCommerce is projected to reach a staggering $3 trillion in the US by 2027, while traditional offline B2B sales remain stagnant. Statista estimates that digital channels will generate 17% of B2B sales in 2023, a notable increase from 13% in 2019.
Faced with this trend, opting for an eCommerce solution is an undeniable choice for companies, especially when you consider that Garner predicts a striking 80% of B2B sales interactions between suppliers and buyers]() will take place in digital channels by 2025.
To provide a clearer picture, this article outlines 15 instances of successful top B2B eCommerce companies and how they have optimized customer experiences through their eCommerce investments.
Table of contents
Top 16 Successful B2B eCommerce Companies and theirits Websites
Bulk Powders
Bulk Powders, often referred to as Bulk™, is one of the most rapidly emerging players in the dynamic sports nutrition and supplements sector. With an extensive array of offerings, they provide a wide selection of sports nutrition and bodybuilding supplements, including protein powders, essential vitamins, and a diverse range of dietary products.
Every product in their portfolio is meticulously crafted to meet the unique requirements of athletes, dedicated bodybuilders, fitness enthusiasts, and individuals keen on improving their nutritional regimens.
Combine online and offline sales channels into one system
Bulk Powders boasts a diverse product catalog tailored to the individual needs of a wide range of customers. By utilizing Magento as their eCommerce website platform, Bulk Powders has seamlessly integrated both online and physical in-store products into a unified system.
This integration is made possible by the platform's ability to monitor the availability status of products across multiple locations combined with the use of an extension like Store Locator to use Google Maps to assist customers discover the nearest offline shop location. Additionally, Magento supports the integration of various sales channels by enabling connections with point-of-sale (POS) systems commonly used in brick-and-mortar stores, ensuring a smooth synchronization of product information and inventory levels between online and offline sales channels.
**

**
RedMed
ResMed is a global leader in medical equipment and software for sleep disorders and respiratory conditions. In addition to physical products, ResMed offers cloud-connected software that enables healthcare providers to remotely monitor patient therapy and progress. These platforms enhance patient adherence and results by providing vital insights.
Despite managing 9 million cloud-connected devices worldwide for remote patient monitoring, ResMed used to rely on manual B2B ordering.
Individuals or organizations placed orders via emails or calls, which were then recorded manually. This posed several challenges, as manual orders were unprofessional, time-consuming, and prone to errors. ResMed also missed orders due to email glitches or poor mobile connections.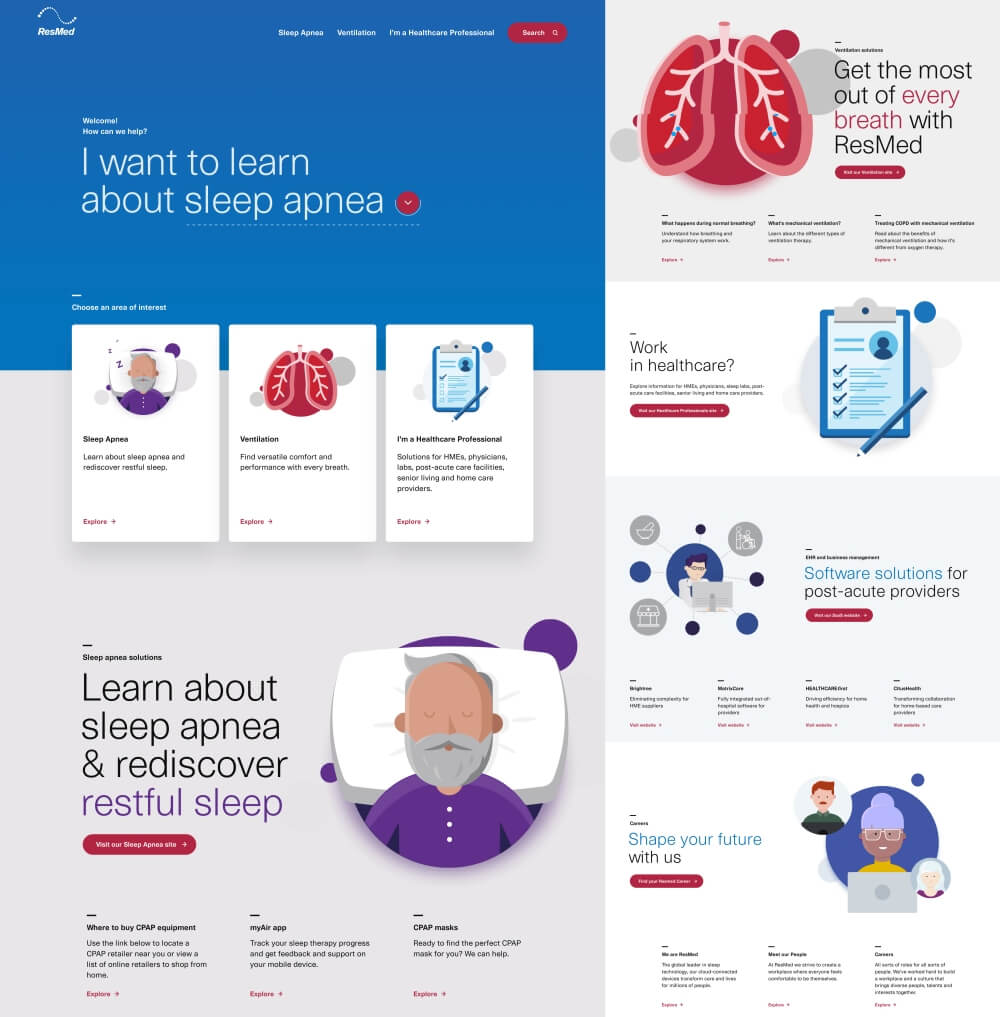 Customize interactions to suit different customer segments
When transitioning to eCommerce, ResMed opted for BigCommerce as its primary platform for interacting with customers on their website. This choice allowed ResMed to tap into the rich built-in features and functionalities of BigCommerce, which aligned well with their unique B2B business operations.
According to Rajiv Shanmungananthan, Head of Customer-Facing Applications at ResMed Asia, the most significant difference that the eCommerce investment brought to ResMed is the ability to grant access to distributors, create customer groups, offer service pricing, run promotions to incentivize larger orders, easily manage inventory, and extend credit to stores. This shift has made ResMed one of the leading B2B eCommerce companies in its field.
Berlin Packaging
Berlin Packaging is a leading company that specializes in the packaging landscape. It provides businesses with a comprehensive range of packaging products, services, and expertise to effectively showcase their products and meet their branding and logistical needs.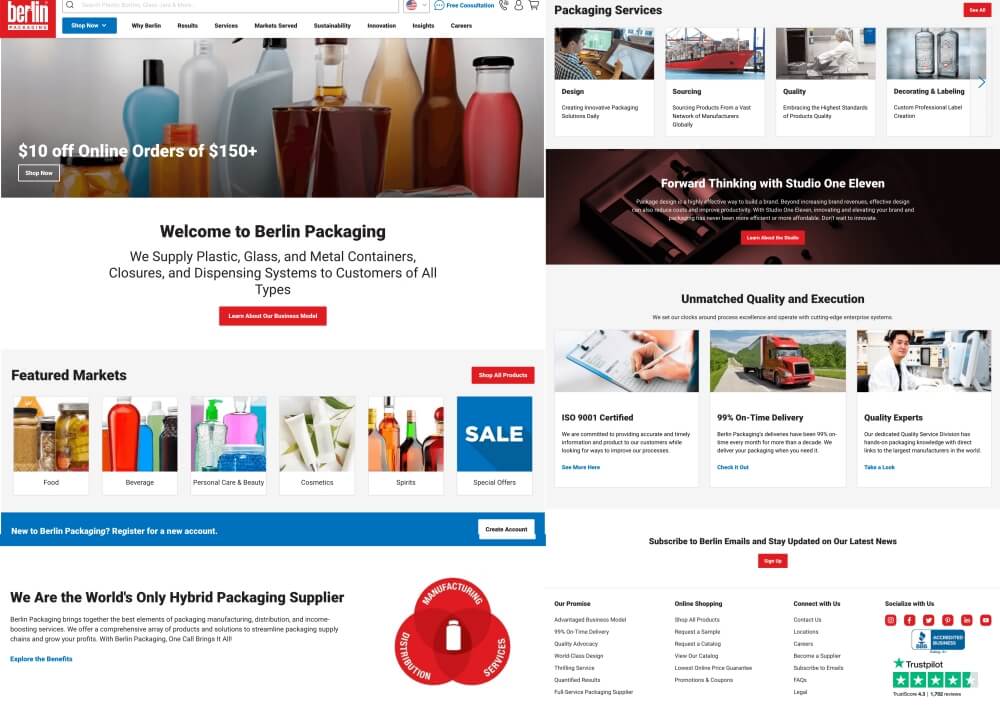 Delivering an easy search experience
To achieve success with their B2B eCommerce website, this company revamped the navigation, making it easier for B2B buyers to browse through their extensive product catalog using faceted search.
By utilizing multiple parameters, such as material type, color, shape, capacity, and functionality, customers can narrow down their search and find exactly the products they need.
Integrating ERP with platform to gain and protect data better
Berlin Packaging improved their operations by integrating their ERP system with their eCommerce platform. This integration not only enhances data accuracy, but also allows real-time tracking of inventory levels. By analyzing customer data, including information, order history, and interactions, the company gains insights for improved efficiency.
Furthermore, this integration ensures data integrity and security, particularly for sensitive information. Access control mechanisms are in place to safeguard sensitive data.
When customers reach out to Berlin Packaging for support, they simply provide their purchase order (PO) number. The company promptly accesses their profile, displaying everything from past orders to available credit balance.
Convenient shopping experience like a B2C customer
One notable achievement of Berlin Packaging's eCommerce website for its B2B customers is delivering a shopping experience similar to B2C.
As soon as customers enter the website, they are greeted with attractive deals and can easily browse through a user-friendly product listing interface. This ensures a seamless shopping journey. Of course, essential B2B features are also present, such as the ability to apply for credit or request a quote. This balance between B2C-like ease and crucial B2B functionalities enhances the overall user experience for their customers.
Lovesac
Lovesac is a furniture company founded in 1995, offering comfortable and innovative modern furniture, including bean bag chairs for adults and kids, modular couches, and home accessories. Lovesac is also known for embracing technology with their "StealthTech Sound + Charge" system. As a direct-to-consumer brand with retail showrooms, Lovesac has become a specialty furniture brand.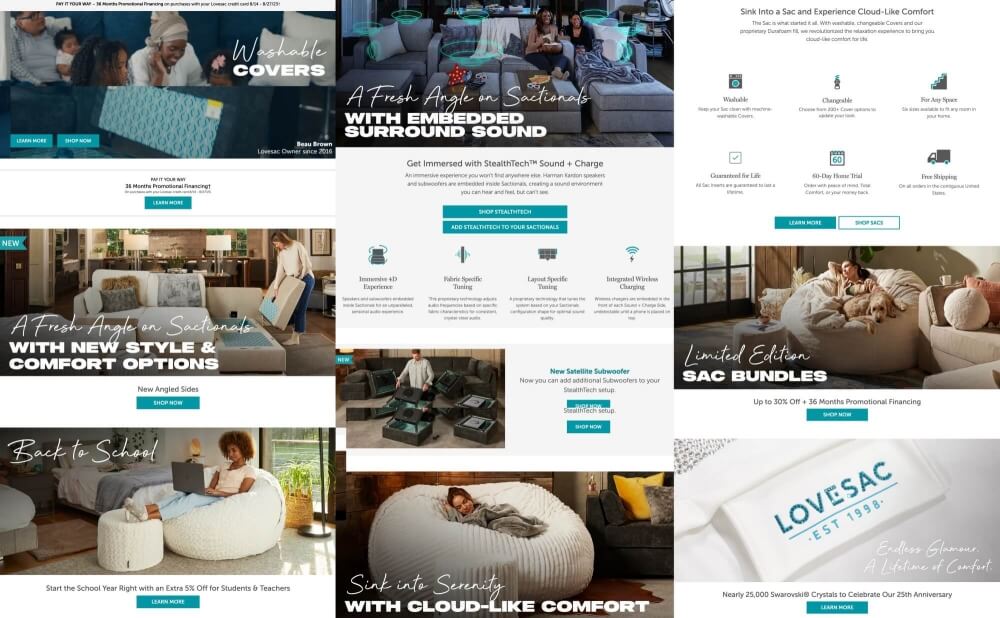 Using the visual merchandiser tool to elevate product presentation
Lovesac is a brand dedicated to providing customers with a premium experiential feel. Therefore, the company's eCommerce website must mirror this sense of luxury, similar to stepping into a Lovesac showroom. This concept has proven successful with the implementation of Magento and the visual merchandiser tool it offers. The fresh design places emphasis on educational content, helping visitors discover, select, and personalize their Lovesac Sactionals. This includes a rich array of resources such as videos, comprehensive product information, and user-generated content shared by fellow customers.
FoodServiceDirect
FoodServiceDirect is a cutting-edge online marketplace that is revolutionizing access to top-tier food and supplies in bulk quantities. Their platform caters to both businesses (B2B) and individual consumers (B2C), boasting an extensive catalog that houses an impressive selection of over 250,000 products sourced from a network of over 6,000 esteemed producers and manufacturers.
At its core, FoodServiceDirect serves as a vital bridge connecting producers, manufacturers, and discerning buyers within the foodservice industry.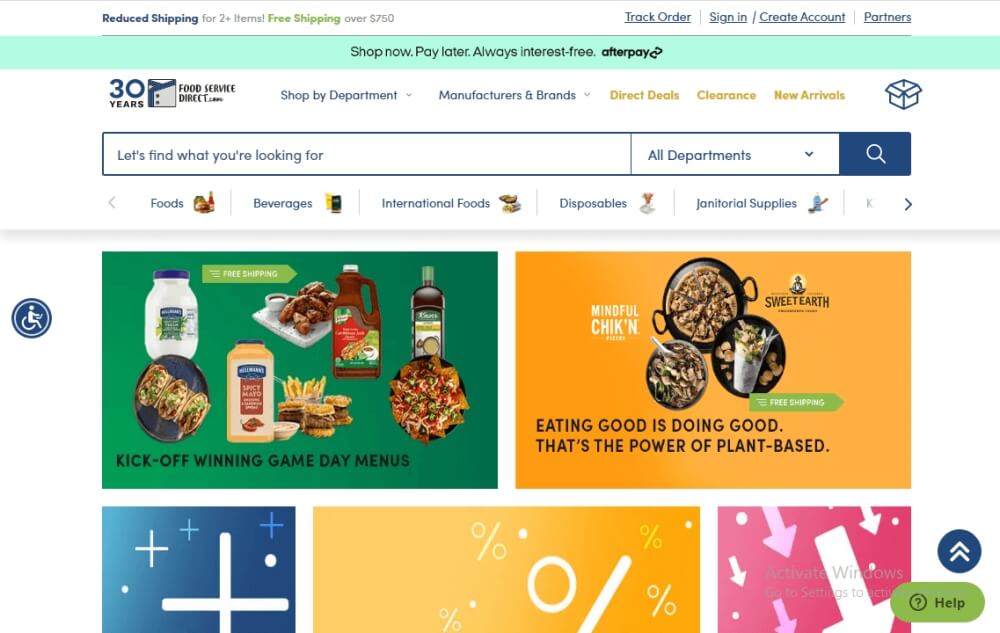 Improve online ordering experience with Magento B2B capabilities
The food service industry is fiercely competitive, where even a slight dip in customer experience can potentially lead to losing clientele to competitors. Recognizing this, FoodServiceDirect places customer experience at the forefront, right on their eCommerce website.
By leveraging the Page Builder feature of Magento, this B2B eCommerce company has tailored their website to meet the specific needs of their customers. This includes streamlining the ordering process for efficiency, offering customized quoting options, facilitating scheduling for deliveries, and enhancing the visual appeal with a vibrant array of images and colorful pages to showcase the delicious and diverse range of food offerings. This customer-centric approach ensures a seamless and appetizing experience for their clients.
Clarion Safety Systems
Clarion Safety Systems is a global provider of visual safety solutions for over 180 industries. Established in 1990, the company offers a wide range of standard and customized products, including machinery safety labels, facility signs, and pipe markings. They excel in risk assessment, compliance, and consulting services.
One noteworthy feature of Clarion Safety's approach is their integration of modern technology. Through their ClarionAccess platform, customers can efficiently access vital safety and product information, contributing to workplace safety.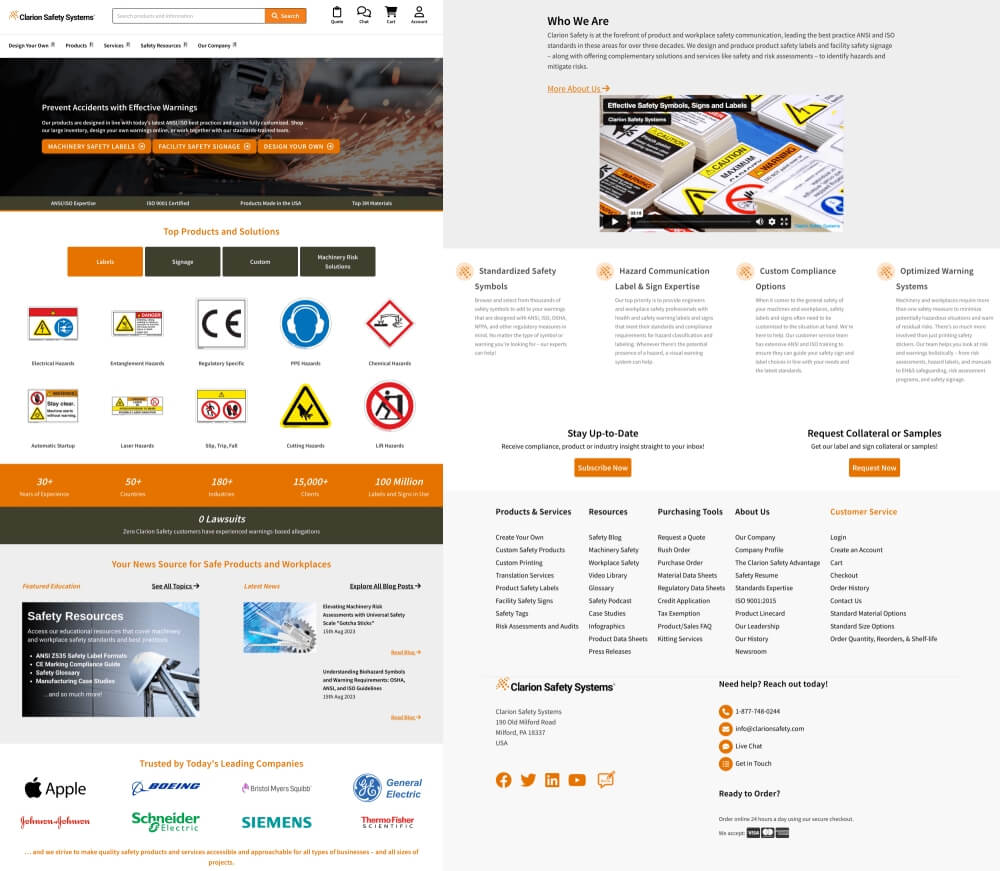 A safer website experience as a guiding principle
Clarion Safety Systems has embraced "Safety" as its guiding principle, which is evident from website integration to the customer buying journey.
As a B2B eCommerce company, Clarion Safety Systems emphasizes customer navigation to its 9,000 SKUs, with 75% of revenue originating from internal site searches. This has led to the enhancement of category structures for easier product access.
This B2B eCommerce site also offers abundant information, such as a vast safety video library, articles, data sheets, and FAQs, ensuring buyers feel secure in their choices from product research to checkout. Customers can utilize Clarion Safety Systems' customized quote tool for safety label pricing, and immediate support is available through live chat, credit requests, order placement, and wholesale inquiries.
Courts Asia
Courts Asia Limited stands out as a leading retailer specializing in electrical appliances, IT products, and furniture across Southeast Asia. With a rich history spanning over four decades, the company has continually evolved its product offerings to include a wide array of consumer electronics, IT equipment, and furnishings. Courts Asia is renowned for its commitment to delivering holistic home solutions, ensuring that customers enjoy a seamless and comprehensive shopping experience.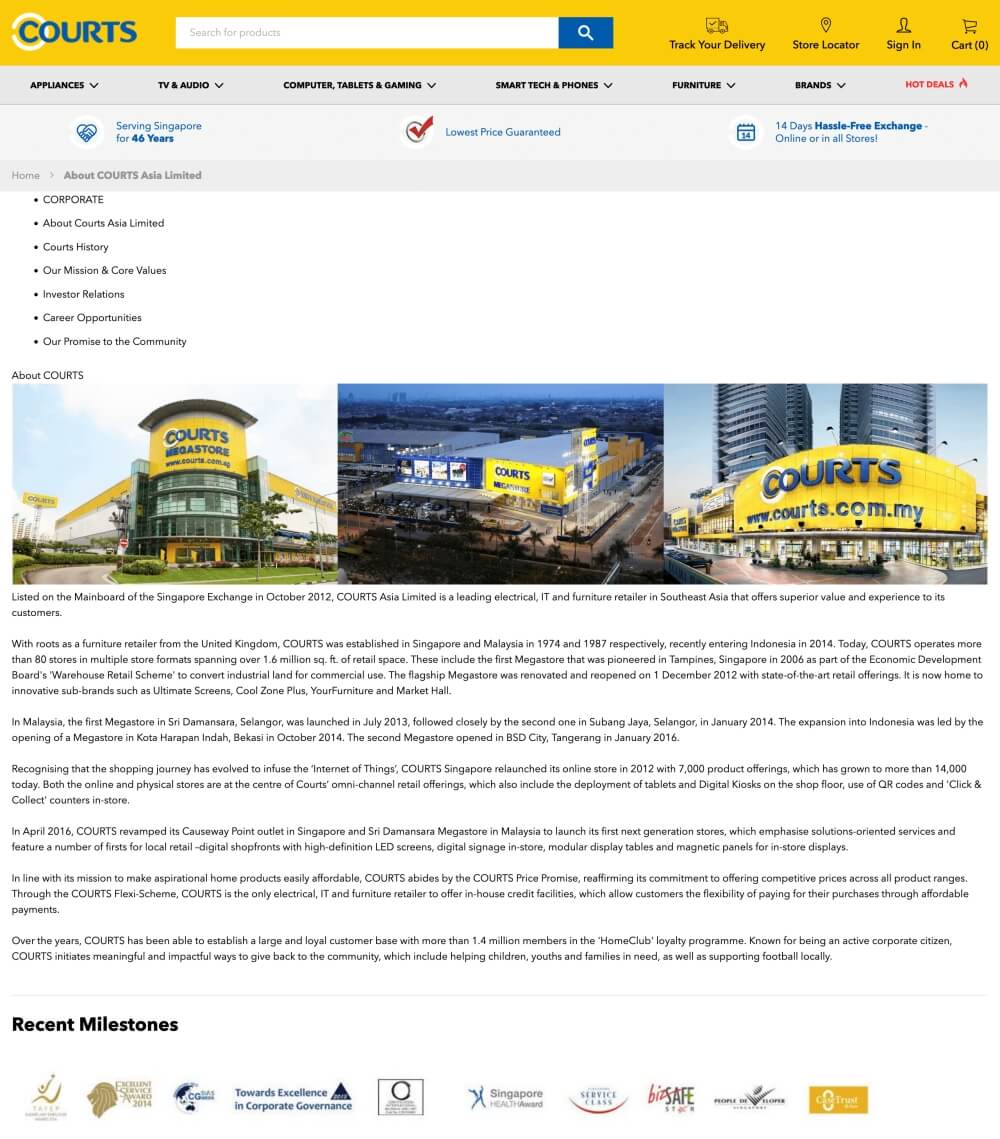 More languages to serve more customers
Courts Asia's growth has not been limited to Singapore and Malaysia; it has ventured into other Asia-Pacific countries and owns intellectual property rights to the "Courts" brand, among others, in 15 additional markets. To make this strategy successful, Courts Asia made their website available in multiple languages with the correlation feature from the Magento platform that the company uses for its eCommerce website.
This helped them serve their customers in different countries better, contributing to the company's aggressive growth plans and its reputation as a significant player in the retail industry in Southeast Asia.
Good Start Packaging
Founded in 2009, Good Start Packaging is a company dedicated to promoting sustainability through the use of compostable and eco-friendly food packaging products. Their product range includes a wide selection of eco-friendly compostable food packaging, such as cups, bowls, bags, utensils, and more.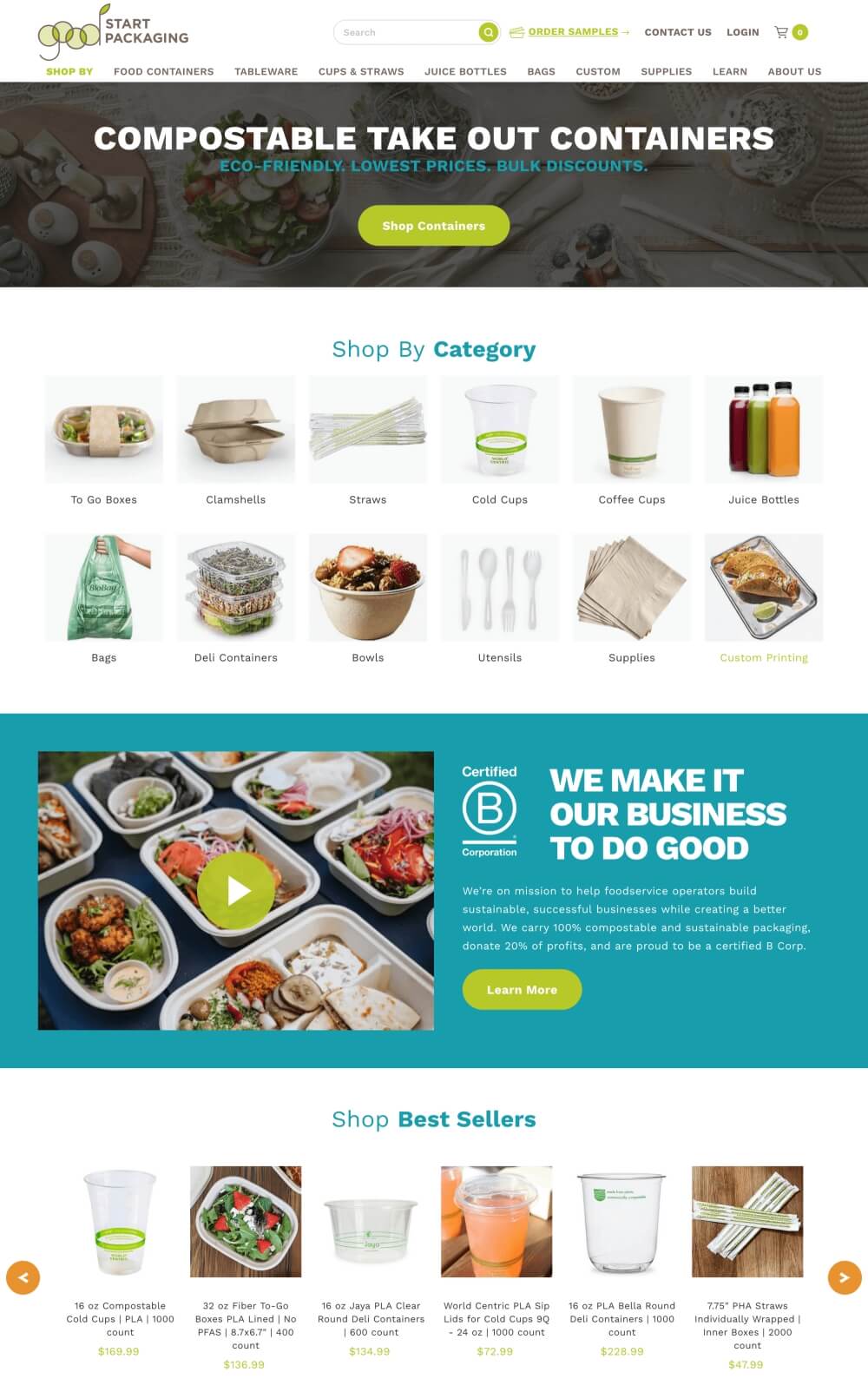 Establishing credibility through social proof
Good Start Packaging is committed to supporting the community and society, from their business operations to their mission. That's why their eCommerce website includes a button that links to Google Reviews. This demonstrates the connection between the company and the community interested in sustainable products.
On the other hand, social proof also enhances the credibility of B2B eCommerce companies by providing real feedback on the quality of their sustainable packaging and eco-friendly products. This is especially important in the B2B sector, where buyers often make significant trust-based transactions with companies that have a history of honest and reliable feedback from previous customers.
Learn more: 25 eCommerce companies use social proof successfully
Casey's Distributing
Since 1990, Casey's Distributing has distributed licensed sports collectibles and novelties to over 2,000 retail stores across the United States, providing sports fans and collectors with a wide range of high-quality products.
One remarkable feature of Casey's Distributing is their dedication to remaining at the forefront of their industry. They have become one of the top B2B eCommerce companies by adopting technology and utilizing BigCommerce as a wholesale hub, simplifying their processes and improving their productivity.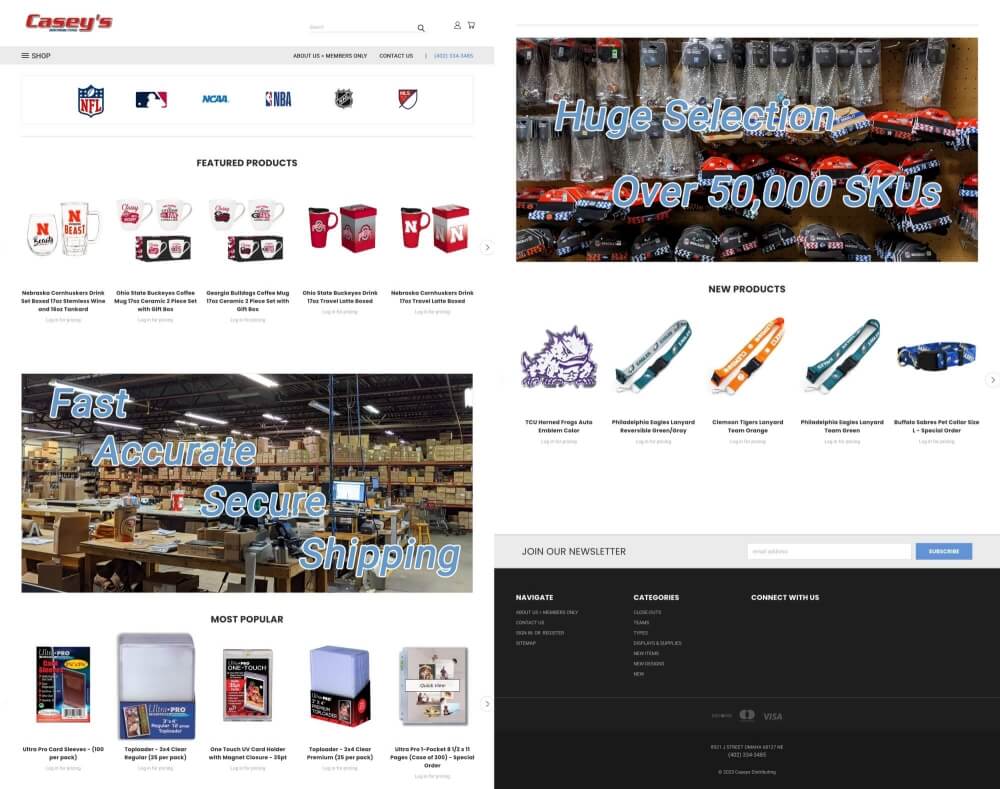 Increase productivity by automating order management processes
In addition to making wise investments in e-commerce, Casey's Distributing has reduced warehouse operation costs by automating the management of hundreds of thousands of orders. This has been achieved by utilizing BigCommerce's existing technologies and inventory management software, Brightpearl. The burden of manual labor associated with order management and tracking in both accounting software and warehouse management has been significantly alleviated, resulting in an eight-fold increase in efficiency.
Staples
Staples Inc. is an American retail company that specializes in office supplies, technology products, office furniture, and a wide range of business services. Established in 1986 and headquartered in Framingham, Massachusetts, Staples has grown to become a comprehensive one-stop destination for all office-related needs.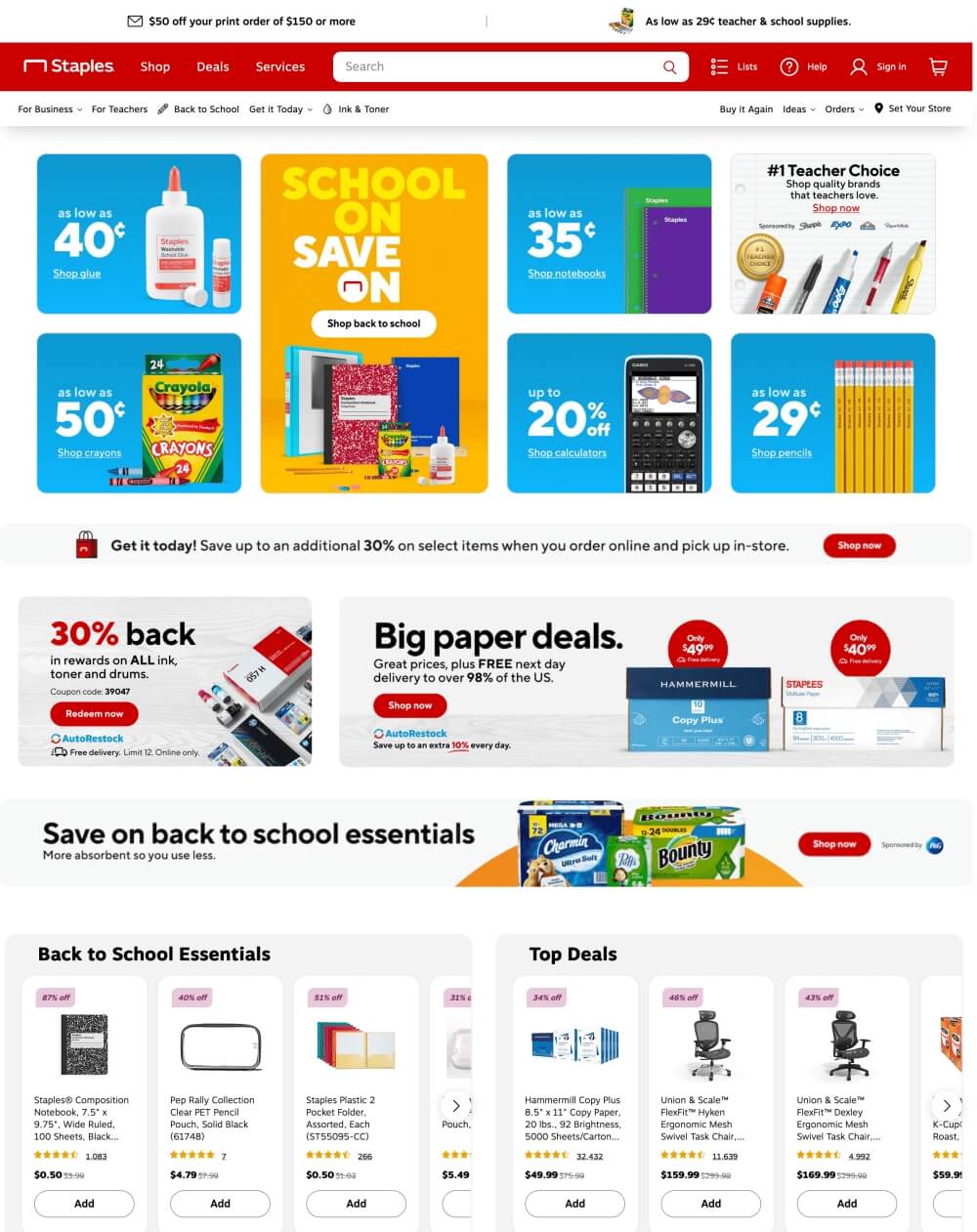 Deploy various promotional campaigns for increasing sales
Shopify offers a suite of features that serve B2B eCommerce companies well in running promotional campaigns and special initiatives to boost their sales. When Staples migrated to Shopify Plus, it streamlined its promotion efforts, saving valuable time. With Shopify Plus, Staples gained the flexibility to update or switch between sales campaigns as frequently as needed, in real-time, aligning with their preferences.
Leveraging Shopify Plus' adaptability, Staples could easily modify banners, pages, checkout processes, and customer communication via email. This allowed them to swiftly deploy click-and-collect strategies, enabling online shoppers to make purchases and pick up their items curbside at the nearest Staples store.
EcoEnclose
EcoEnclose offers sustainable packaging and shipping solutions, including eco-friendly mailers, boxes, poly bags, sealing tape, and shipping labels. They guide and support conscious businesses in achieving their sustainability goals and encourage environmentally friendly practices. These options help businesses reduce the environmental impact of their shipping materials.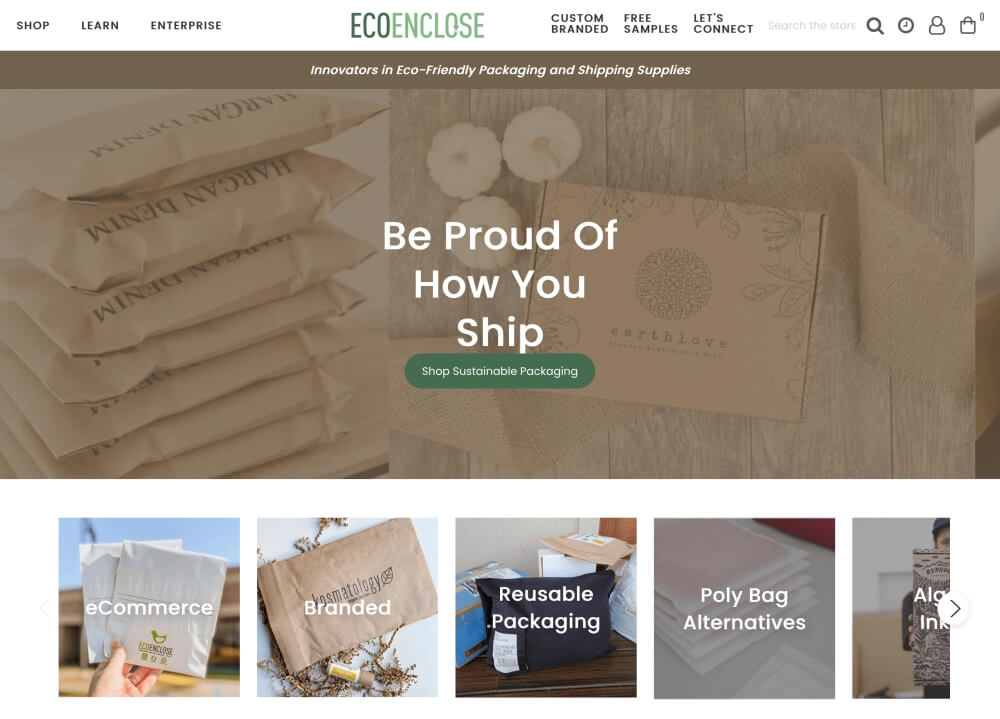 B2C-like shopping experience with easy and simple things
EcoEnclose caters to B2C eCommerce customers by providing an easy-to-use website with intuitive product segmentation, high-quality product images, and detailed specifications. Customers can buy in bulk without signing in or create an account for faster checkout and access to order history, new order tracking, multiple saved shipping addresses, and wishlist functionality.
EcoEnclose also offers a High Volume Quote option and allows users to customize their packaging, saving time in the manufacturing process.
Provide content that customers need
As an eco-friendly packaging solutions provider, EcoEnclose understands that its customers greatly value information on how packaging can impact the environment and how each component of packaging can influence their decision to purchase or use it. This is why EcoEnclose offers comprehensive details about its products, covering not only the origin of materials but also their lifecycle, potential environmental impacts, usage guidelines, and recycling applications.
EnSafeCo
EnSafeCo is a supplier that specializes in environmental, safety, and compliance products. They offer a diverse range of products designed to protect people, property, and the planet, including spill control solutions, spill kits, and containment products such as drum storage and dispensing stations. These products aim to help companies adhere to environmental safety and compliance regulations.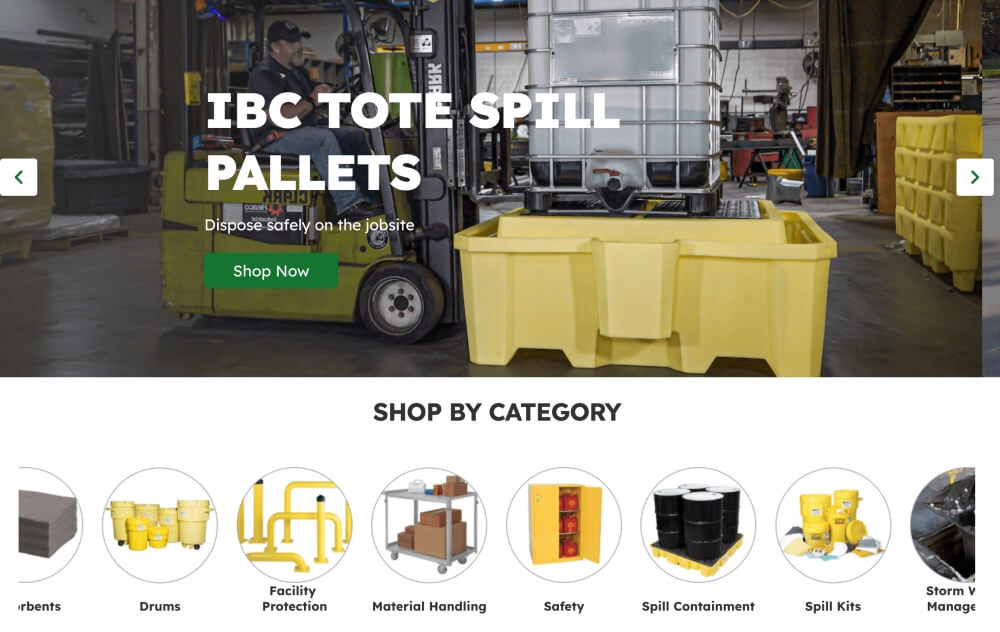 Responsive design caters to buyers' needs
Many professionals working in fields related to environmental safety and compliance are often on the move, whether they're in the field itself or using mobile devices. Understanding their user base, EnSafeCo has designed a user-friendly website that allows them to navigate, access information, and make purchases effortlessly without encountering any display or usability issues.
Moreover, product listings, technical specifications, and pricing information are presented clearly and effectively on screens of all sizes. This includes multiple product images, product videos, PDFs of paper catalog pages, and customer reviews, all tailored to meet the specific needs of professionals in these industries who depend on accurate information and easy access to products and resources to make purchases.
Bombas
Founded in 2013, Bombas gained attention for their innovative approach to giving back by creating a company that donates clothing items to those in need. Their core product has been socks, but they expanded to include T-shirts in 2019. Their commitment to social responsibility is shown through their one-for-one donation program for each item purchased.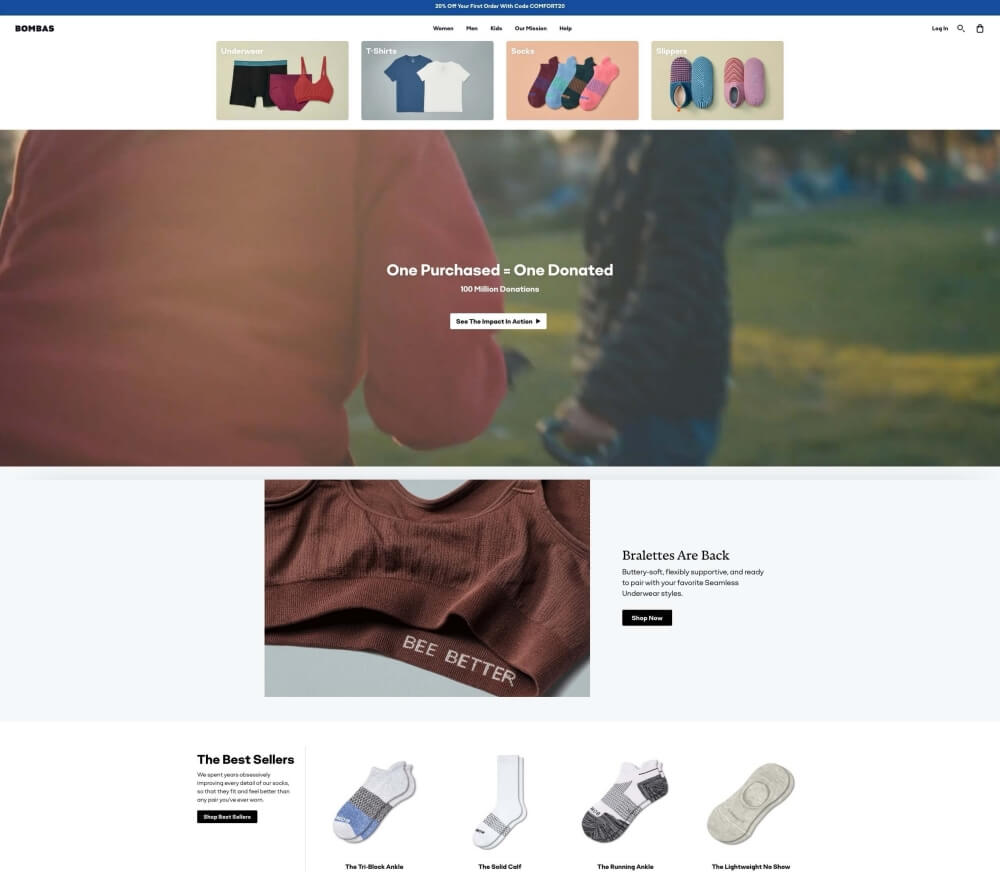 Expand website while maintain stability
In response to their ever-increasing sales volume, Bombas made a strategic investment in expanding their website to ensure a seamless and smooth process. Subsequently, the company implemented a system that allows for rapid mass product uploads across multiple eCommerce channels. This back-end system is both user-friendly and efficient, while maintaining the website's stability to ensure uninterrupted access for customers.
As a result, Bombas witnessed an impressive 300% growth in revenue compared to before the platform revamp aimed at enhancing website scalability.
Bulk Bookstore
Bulk Bookstore serves as a wholesale book supplier for a diverse range of customers, including schools, businesses, churches, event planners, and more. We offer an extensive range of titles, including both paperback and hardcover trade books, and guarantee the lowest prices when making bulk book purchases.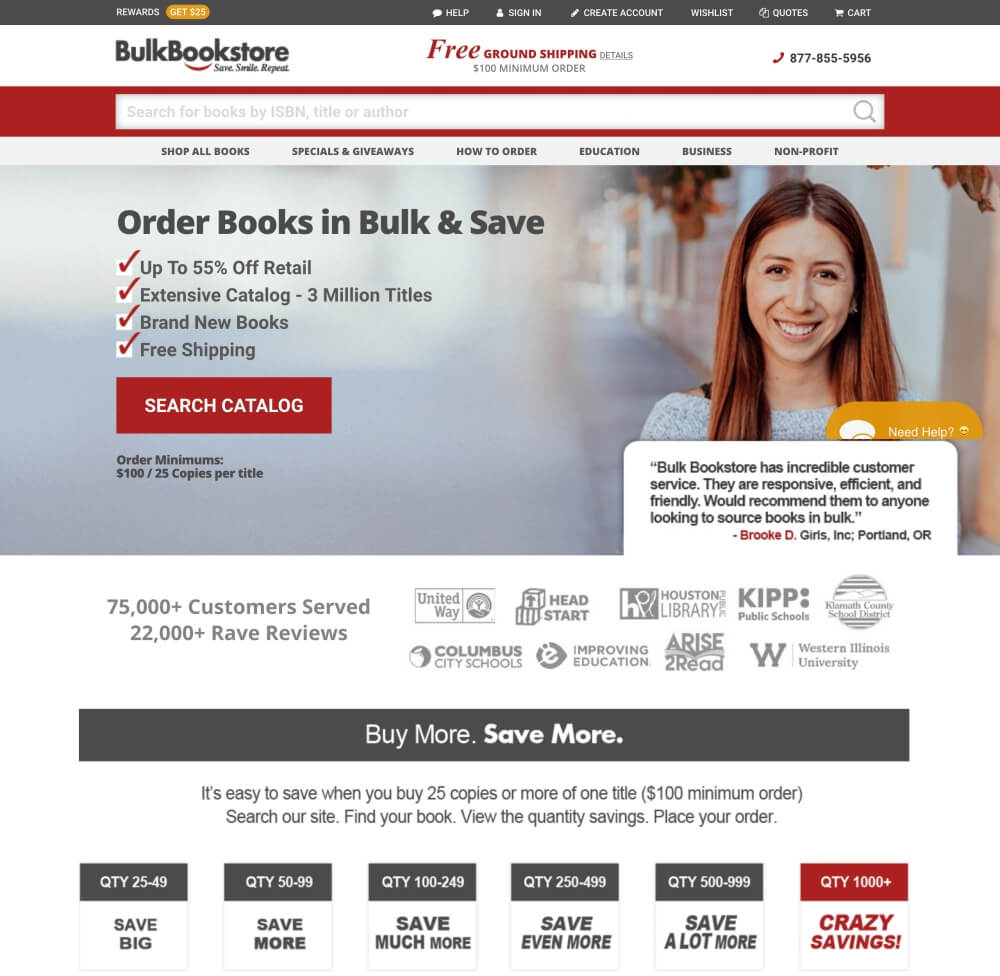 Allow customers to request custom quotes for their orders
Bulk Bookstore targets B2B customers, so the "Request a Quote" function is extremely important because it allows Bulk Bookstore to create a simpler ordering process instead of complex and time-consuming traditional shopping processes.
This feature not only provides convenience for customers but also enables them to submit special requests or negotiate prices for large quantity orders. Consequently, Bulk Bookstore can quickly tailor competitive quotes to secure these substantial orders.
Implement dynamic pricing strategy
Bulk Bookstore employs a highly effective, flexible pricing strategy, meaning that different price levels are offered based on the urgency, demand, and customers' capabilities at any given time. For instance, rare and sought-after books may have higher prices, whereas popular titles could be priced lower to encourage more purchases.
Folding Chairs and Tables
Folding Chairs and Tables is a well-established brand renowned for its premium and adaptable furniture solutions. With a specialization in folding chairs and tables, this brand provides an extensive array of products that are meticulously crafted to fulfill diverse seating and tabletop requirements.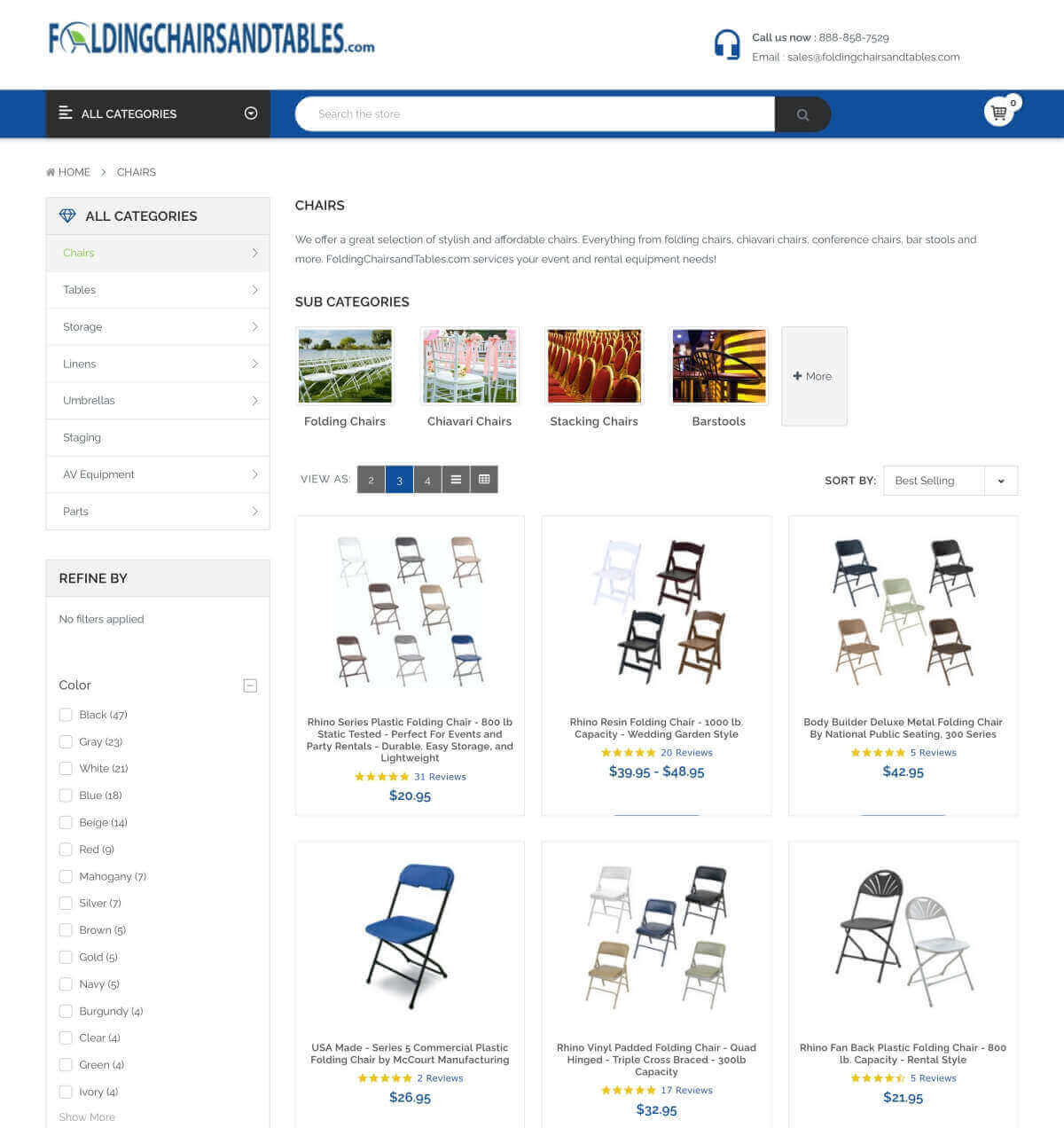 Expanding sales channels with omni-channel sales
Do you know that some eCommerce platforms allow you to sell directly on various other online marketplaces, such as Amazon, eBay, or Google? Folding Chairs and Tables has leveraged this feature to turn Amazon into a supplementary sales channel, boosting their revenue by up to 10%. This business utilizes BigCommerce as their eCommerce website platform and after carefully monitoring Analytics tool, they discovered which products sell best together. Consequently, they created enticing listings on Amazon, bundling tables and chairs at attractive prices that proved irresistible to customers.
However, the essence of Folding Chairs and Tables' operation lies in catering to what buyers in each platform genuinely need. On their dedicated website, they offer customized pricing for each purchase option, even providing individual prices for tables and chairs. In a competitive online marketplace like Amazon, they create combo packages to satisfy consumers' price-comparison tendencies, thereby driving sales and ensuring customer satisfaction.
Never Fully Dressed
Never Fully Dressed is a British clothing brand renowned for its creation of stylish and versatile women's fashion. Their collection features vibrant floral prints, bold color palettes, feminine patterns, and modern designs, catering to a wide spectrum of fashion tastes. The brand's dedication to inclusivity and empowering individuals has played a pivotal role in its rise to prominence and success within the fashion industry.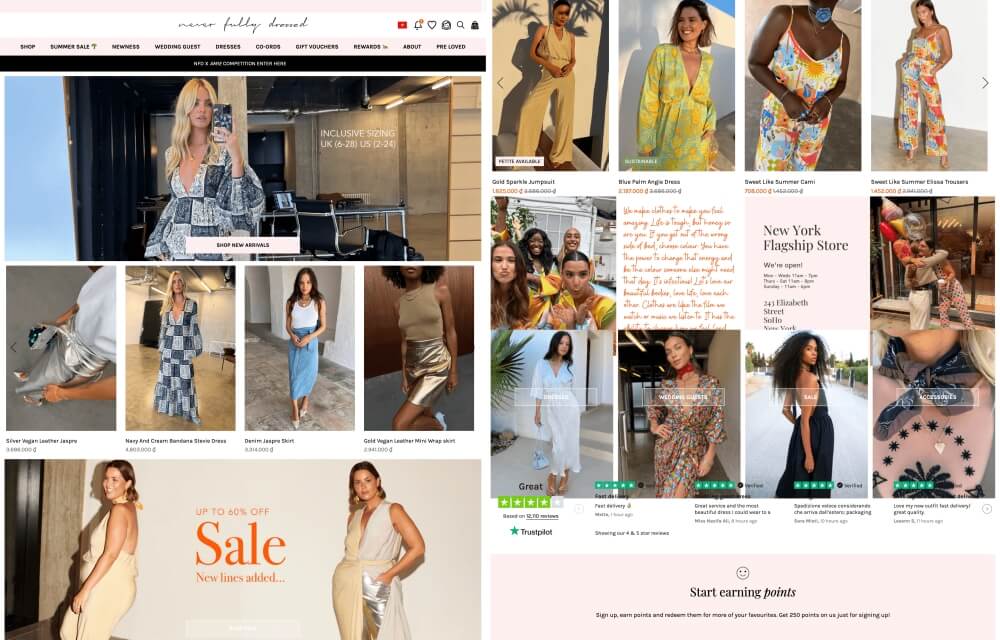 Cross-border sales capability for customers
After achieving a significant level of success in the domestic UK market, Never Fully Dressed expanded its horizons to the international stage, recognizing the vast pool of potential customers and numerous opportunities for profit. The company chose Shopify Plus, the world's largest eCommerce platform operating in nearly 175 countries. This strategic move empowered Never Fully Dressed to effortlessly serve customers worldwide, all without the need for an extensive team.
Built upon this platform, Never Fully Dressed established an international B2B website, enabling global retailers to browse products, place orders, and make payments just like retail customers. This initiative has made Never Fully Dressed one of the top B2B eCommerce companies in the UK domestic market.
4 Core Elements in Building Websites for B2B eCommerce Companies
Drawing from successful examples of top B2B eCommerce companies, we can identify several essential factors to consider when embarking on the journey of building a B2B website.
Clearly Indicate Your B2B Focus
If your business has primarily operated in B2C (business-to-consumer) or wholesale markets, potential B2B customers may not be aware of your products or services. To ensure a seamless transition into the B2B realm, make it easy for potential clients to recognize your B2B offerings.
This can be achieved through various means, such as adding quote request buttons or creating a dedicated portal for distributors or other B2B eCommerce companies to register for wholesale pricing. The goal is to make potential B2B customers feel comfortable and familiar when engaging with your company in a B2B context.
Flexible Customization Capabilities
Aesthetic appeal plays a vital role in helping B2B eCommerce companies evoking emotions and making customers' decisions. Breaking down this aspect further, a visually appealing website is often determined by factors like user-friendly layouts, visually pleasing typography, smooth imagery, and distinctive design elements that set your website apart from competitors.
By opting for eCommerce platforms that support extensive customization, both on the front-end and back-end, such as Magento or Shopify, you can create a highly adaptable, diverse, and customizable website that leaves a unique impression and is ready for necessary changes.
Learn more: What Makes A Good Website Design: Features And Principles
User-Friendly Navigation and Search
Customers do not have the patience to navigate through a poorly structured or complicated website with numerous confusing steps. When optimizing websites, B2B eCommerce companies should ensure users can find what they are looking for quickly and efficiently among a vast array of products or subpages. Meeting these user needs promptly is a challenge that must be addressed to optimize your website effectively.
Meeting Unspoken User Needs
It's well-known that optimizing the user experience is essential to B2B eCommerce companies when building their website. However, understanding and addressing the unspoken needs of your users is equally critical.
For instance, if trustworthiness significantly influences B2B purchasing decisions, showcase your reliability through means like customer reviews, feedback from past clients, social proofs, and case studies. Similarly, if users require specific information for product installation or use, provide comprehensive documentation directly on the website.
Learn more: 5 Tips to Make eCommerce Website Popular Through Instagram
Final Thoughts
With the robust global growth of e-commerce, B2B enterprises are compelled to find an e-commerce solution to ensure competitiveness and meet current and future customer demands. Every customer touchpoint in the purchasing journey is of paramount importance, and for B2B eCommerce companies, the website stands out as one of the most critical touchpoints that demands substantial investment.
If you're ready to embark on this journey, delve deeper into how to launch a B2B e-commerce website using leading platforms like Magento and Shopify, in collaboration with our team of experts.
Related Posts:
Website Support
& Maintenance Services
Make sure your store is not only in good shape but also thriving with a professional team yet at an affordable price.
Get Started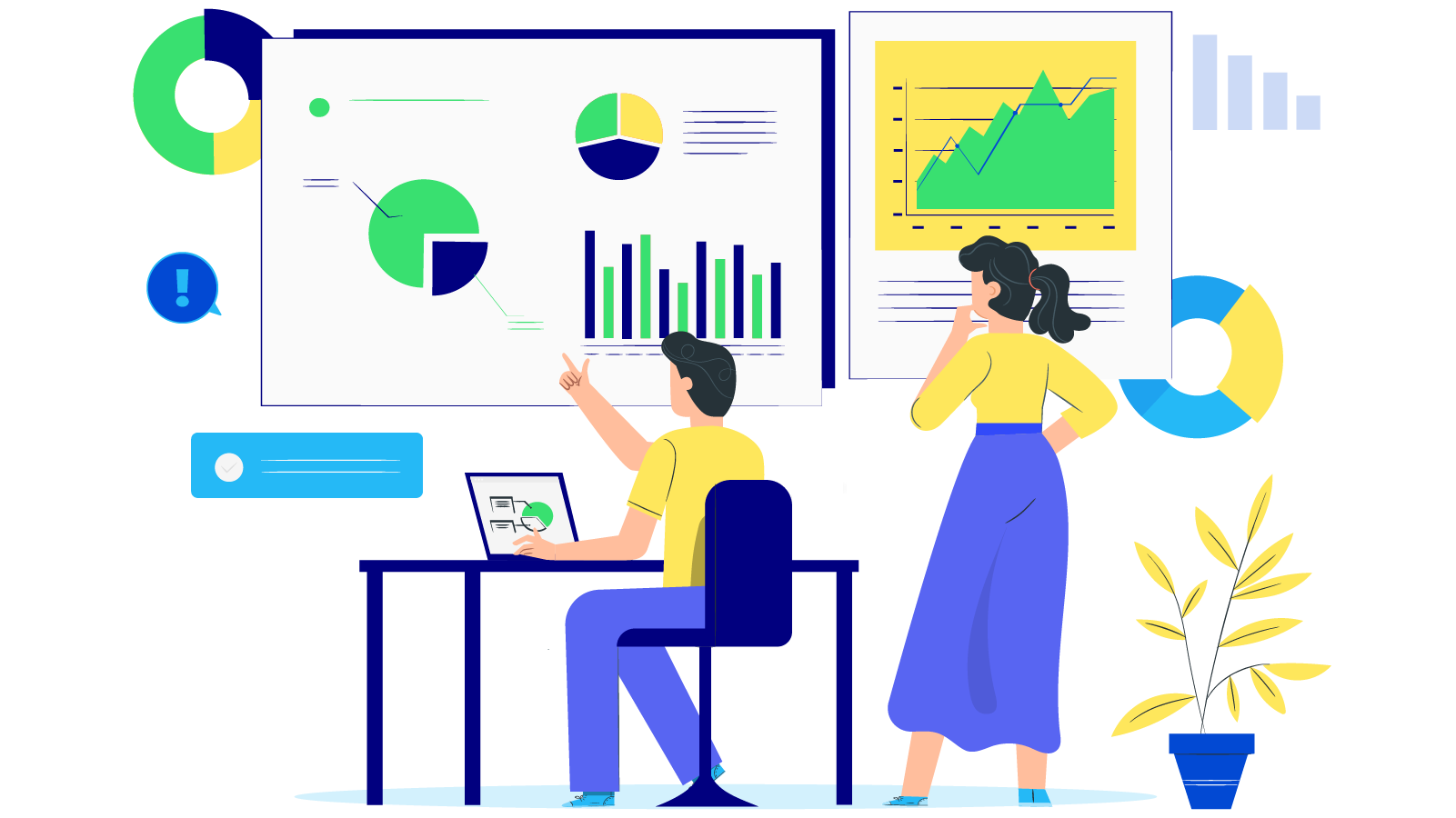 New Posts



Subscribe
Stay in the know
Get special offers on the latest news from Mageplaza.
Earn $10 in reward now!