Top 10 Best eCommerce Platforms in 2023
The Most Popular Extension Builder for

Magento 2
With a big catalog of 234+ extensions for your online store
Choosing the right ecommerce platform is one of the most difficult challenges for any online business. Building an ecommerce website is not that hard, but if you start with the wrong ecommerce platform, it's going to harm your business soon.
In this article, we will walk you through some of the best ecommerce platforms in 2022. We will cover their outstanding features, their pros and cons, what you can expect from them, and how to choose the right ecommerce platform for your business.
Let's dive in!
No time to read? Here are our top 3 picks:
Featured eCommerce Platforms in 2023
Our experts manually reviewed and picked the most popular ecommerce platforms
BigCommerce
The e-commerce platform that offers everything you need for growth
Best for fast-growing businesses and enterprises
Great for SEO
Flexible and scalable
Rich built-in features
Excellent management tools
Shopify
The all-in-one commerce platform. Trusted by millions of merchants worldwide
The best ecommerce platform overall - support a wide range of businesses
A complete solution designed specially for e-commerce
Fast, secure, scalable and easy to use
Ideal for dropshipping, print-on-demand, and retail businesses
Magento
A commerce platform that's endlessly flexible, extensible, and scalable
Suitable for medium and large businesses
Manage multiple sale channels, both B2B and B2C, in one place
Highly flexible (advanced coding knowledge required)
Complicated for beginners
Table of Contents
What is the best ecommerce platform?
The answer is really simple.
The best ecommerce platform is the one that suits your needs.
There are hundreds of ecommerce platforms out there, and each one has its own unique features, suitable for different types of business.
But to prevent you from analysis paralysis, we have created the list of top-rated ecommerce platforms below.
We hope that our guide will let you know what to pick in no time.
10+ best eCommerce platforms in 2022
Shopify
Shopify is one of the most popular eCommerce platforms in the world. According to BuiltWith, currently, there are nearly 4 million live ecommerce websites using Shopify. The platform is highly versatile and can support almost any kind of business, both B2B and B2C, both online and offline, and from side hustle stores to large enterprises.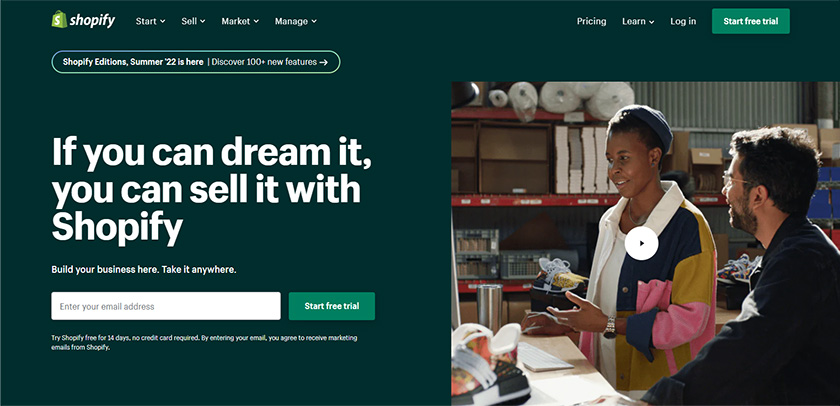 Features
What makes Shopify stand out from other platforms is its comprehensive set of tools and features that cover every aspect of running a business, from setting up an online store to multi-channel selling, order management, shipping and fulfillment, marketing automation, payment processing, etc. The Shopify team even developed a program called "Shopify Capital" to help merchants in need get funding more quickly and easily!
Shopify claims itself as the all-in-one commerce platform, which is not an exaggeration considering what the platform has to offer. Since we can't cover all Shopify features in a single article, and to keep things objective, we recommend you see it for yourself. Click here to visit their general landing page. But in case you need more than that, below are some highlighted Shopify tools and features for those interested:
All Shopify free tools to help you start and run your business
Shopify drag-and-drop website builder: build an online store in minutes without a line of code
Multi-channel selling: sell online and offline, on social media and on marketplaces
Shopify POS system: manage selling in-person and run your brick-and-mortar stores
Shopify Shipping: fast-forward shipping and get up to 88% discounted rates from USPS, UPS, and DHL
Shopify Market: sell internationally from a single store
Shopify Fulfillment: skip fulfillment to focus on growing your business. Pretty similar to Amazon FBA, but there are no storage fees if items are sold within six months.
Shopify Payments: support 100+ payment gateways and no transaction fees
Shopify Balance: a streamlined alternative to the traditional bank account. Get paid much faster and earn cashback while spending on growing your business
Shopify Flow: create workflows to automate your stores. Extremely helpful on big shopping holidays.
And there are a lot of other tools
That said, when running your business with Shopify in real life, you may find some default features not enough for your needs (we will cover both Shopify's pros and cons below). But that's when Shopify partners come into play. On the Shopify App Store, there are over 7,500 apps for you to choose from (way more than any other ecommerce platform). With such an extensive amount of apps and plug-ins, you can build and grow your store any way you want.
Despite being a powerful platform, Shopify is really easy to use. Even a beginner can set up a Shopify store in less than an hour. No coding knowledge is required. Its intuitive, user-friendly interface is an important reason why so many dropshippers, first-time entrepreneurs, and people who want to make money with their hobby choose Shopify to start their business.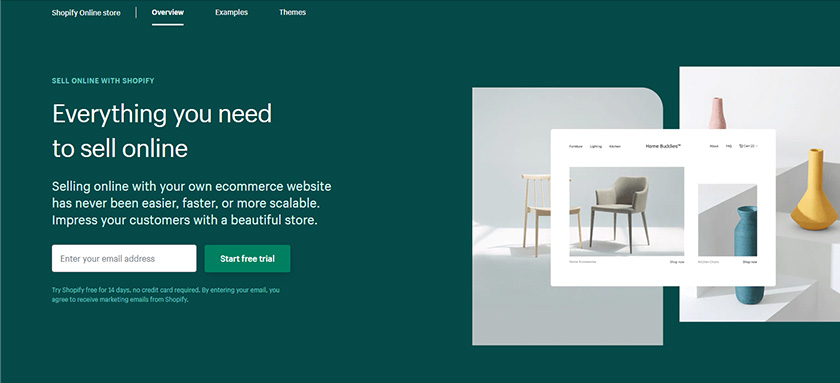 Shopify also has a strong community with millions of entrepreneurs worldwide. If you run into a problem with Shopify, you can easily find the solution on the internet yourself. Their customer support team is available 24/7 and is always ready to help.
Pricing
Shopify offers five pricing options for businesses of different sizes. The Starter Plan is only 5$ per month, allowing you to sell on existing websites, social media and messaging apps. On the other hand, Shopify Plus - the enterprise plan - can start at around 2000$ per month, giving you unlimited capabilities to grow and scale your business. You can visit the Shopify pricing page to learn more about all five plans.
Speaking of which, all new merchants are eligible for a Shopify free trial that lasts for 14 days. This trial will allow you to test all features of a paid subscription and decide whether Shopify is right for your business. No credit card details are required. And even when you subscribe to a paid plan during the trial, you won't be charged anything until the free trial ends.
Click here to get your Shopify free trial.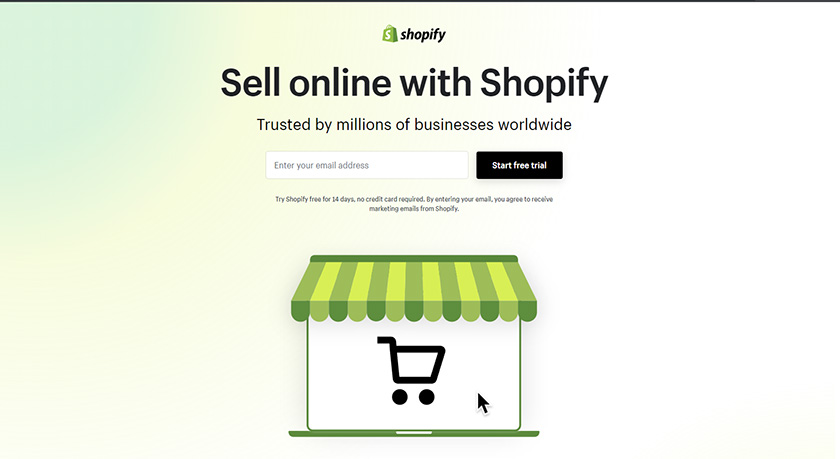 Below, we will break down the pros and cons of Shopify, why you should and should not choose it, and who Shopify is best for.
Shopify pros
A fully hosted solution with level 1 PCI-DSS compliance and SSL certificate
Unlimited storage, unlimited bandwidth, unlimited products
Fast loading time
The most user-friendly platform. Shopify knows how to make commerce faster and easier for everyone
Scalable and can support a wide range of businesses
Built-in marketing features, built-in blog CMS
Huge app store with over 7,500 apps
Extensive free learning resources to help merchants build a successful business
Shopify cons
Some default features are pretty basic, so eventually, you'll need to purchase different apps from the Shopify App Store. That's inevitable if you want to grow your business with Shopify. It's like if you have a WordPress site, then you have to use plugins.
Note: actually, this is a good thing if you want to let the pros handle the job so that you can focus on selling. On the Shopify App Store, you'll find many best-in-class solutions from experienced Shopify experts. They get their hands dirty so you don't have to.
Transaction fees are applied if you use a payment gateway outside of Shopify Payments. Luckily, Shopify Payments supports all the popular payment methods, and there are no fees for manual payment methods (COD, money orders, bank transfers,…)

Customization on the front end is not a big deal. However, it's a different story if you want to touch the back end. Deep customization often requires coding knowledge, buying an app, or working with a Shopify partner (this is not a real problem with Shopify Plus - the enterprise plan)
Why choose Shopify over other platforms?
Shopify is not the only ecommerce platform that offers great tools and features for selling online. BigCommerce is another good option that you can consider, but it has a learning curve and is more suitable for growing businesses and enterprises (more on that below). Magento is highly flexible but requires advanced coding expertise, and it's just too complicated for beginners. Shopify beats these two platforms for its set of commerce features yet easy-to-use interface.
Wix and Squarespace are great website builders - but that's also their problem when it comes to ecommerce. They're primarily site builders and lack many ecommerce functionalities compared to Shopify. Shopify can help you create a beautiful online store without sacrificing loading speed and vital ecommerce features.
WooCommerce is a popular choice for WordPress sites. However, WooCommerce relies heavily on plugins and extensions, while Shopify features are built-in and always kept up-to-date by the Shopify team. With Shopify, by default, you get a high-quality hosted solution with automatic level 1 PCI-DSS compliance, SSL certificates, unlimited storage, and more. Shopify also offers a Starter Plan (just 5$/month), which allows you to sell on existing WordPress sites.
Why Shopify may not be the right choice for you
Shopify, by nature, is a hosted solution. Therefore, if you want a tailor-made solution or complete control over every little thing of your online business, maybe you should go with a self-hosted, open-source ecommerce platform like Magento. That said, if you still wish to use Shopify, the enterprise plan - Shopify Plus - may somewhat solve the problem.
If you want to keep the pros of SaaS solutions but still want the flexibility of open-source platforms, then BigCommerce may be a more suitable option than Shopify. We will give you more details about BigCommerce in the next section, so just keep reading.
The two things we've mentioned above are mostly for established businesses with a decent number of sales. If you just started selling or have a small business, there's no need to worry about that. However, you may want to consider the cost of running your business with Shopify.
Shopify subscription plans are reasonably priced, considering the complete set of built-in tools and features Shopify offers by default. But it's not a cheap ecommerce platform, and the costs of installing Shopify apps can add up. If you're really tight on budget, you may want to go with some cheap platforms out there. Just keep in mind that you may have to face more limitations, some features are unavailable, and as your business grows, you will want to migrate to another platform.
So, who is Shopify best for?
If you are a first-time entrepreneur and just getting started, go with Shopify. Shopify is the fastest and simplest platform to set up your ecommerce website and sell online. Also, you'll get many benefits from Shopify Learn - a library of free learning courses from proven experts to help you run your business successfully.
If you're a non-techie and just want to focus on selling instead of burying your head in complex technical stuff, choose Shopify, and you won't regret it.
If you want to start a dropshipping or print-on-demand store, Shopify is the platform for you. In fact, the term "Shopify dropshipping" has even become a thing itself. Many dropshipping gurus also recommend Shopify as their go-to platform.
Shopify is widely recognized as the best ecommerce platform for small and medium businesses, so if you own an SMB, keep Shopify as the top priority.
For large retail businesses with multiple sales channels, Shopify may be a great fit too. Shopify POS system can help you handle your brick-and-mortar stores, and it can integrate smoothly with online sale channels to create a seamless shopping experience. You can also use Shopify Fulfillment to skip the tedious fulfillment process and focus on bringing in more sales.
Anyway, there is no way to know exactly if Shopify is the right ecommerce platform for you unless you give it a try. Shopify offers a risk-free 14-day free trial for new store owners (no credit card required, cancel at any time), and you can get your trial here.
If you have any questions during the free trial, you can search Google for a quick solution or contact the Shopify Support team for more dedicated support. They also have a Youtube channel with more than 100 videos to help you out.
As of November 2022, Shopify is running a special promotion that allows you to start selling with the platform for only $1 per month for your first 3 months. So, if you're interested in Shopify and want to try it, this is the best time. There's no information about when this promotion will end.
Read more: Shopify Review: All Pros & Cons
BigCommerce
BigCommerce is famous for being the world's leading open SaaS ecommerce platform. The platform is also known for its low total cost of ownership and highly flexible APIs.
If you like the hassle-free nature of SaaS but still want the customizability and flexibility of open source platforms, then BigCommerce is what you need. BigCommerce is a great balance of the two worlds. And because of that, the platform can adapt easily to meet your business's needs for growth and scaling.
Features
If you own an established enterprise with a legacy of software and tools, you know how beneficial it would be to keep everything in one place. And that's where the beauty of BigCommerce shines. BigCommerce's best-in-class APIs can help integrate smoothly with your existing system, synchronize data and centralize everything, and so much more. The Pro plan offers 60,000 API calls per hour, while the Enterprise plan gives you unlimited API calls! The platform can handle up to 400 API calls per second, which is an awe-inspiring speed. Learn more about what you can do with BigCommerce APIs here.
BigCommerce is also one of the most feature-rich ecommerce platforms. However, unlike Shopify, its built-in features offer way more flexibility and customizability, so you don't need to rely much on plugins and third-party apps. Take the SEO features as an example. BigCommerce allows you to have complete control over your URL structure, edit metadata, optimize for rich results, edit robot.txt file, etc.
Another great thing about BigCommerce is its ability to handle big complex catalogs. BigCommerce bulk editor tool can save you a ton of time and effort if you have an enormous inventory and a large number of orders. The platform also lets you add up to 600 SKUs/variants per product, which is way more than most stores need. Now you know why earlier in this article, we said that BigCommerce is suitable for fast-growing businesses and enterprises.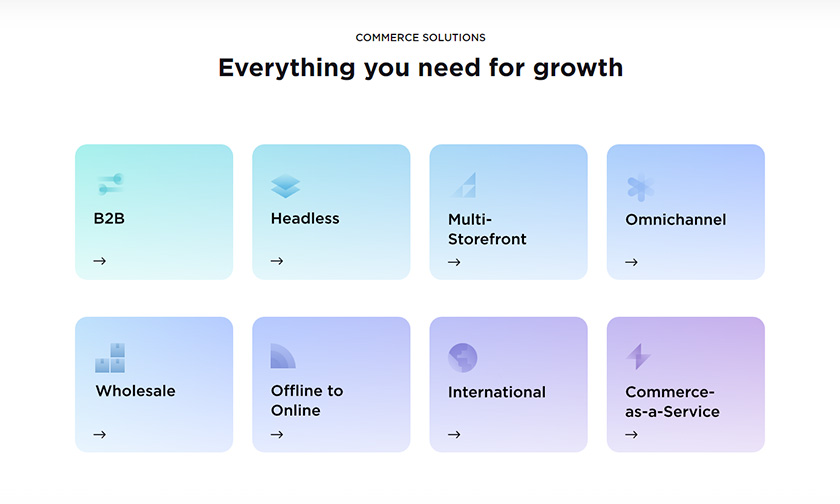 Other ecommerce platforms only give you basic analytic tools on the entry-level plan, and if you want more advanced analytics, you have to move to a more expensive subscription plan. However, BigCommerce offers professional reporting on all plans. This is something you can't find anywhere else.
BigCommerce doesn't charge any transaction fees - which is a really noteworthy feature. Still, just like other ecommerce platforms, there is a credit card fee paid to the payment provider.
Due to the complexity of built-in features, the initial learning curve of BigCommerce is higher than some other software-as-a-service platforms. However, it's still possible for a new brand to learn and use the platform quickly, thanks to the in-depth guiding documents and support team of BigCommerce. You can read this comprehensive BigCommerce review to capture the big picture of it.
Pricing
BigCommerce offers four different subscription plans, and the pricing structure is very similar to Shopify. One thing to note is that BigCommerce splits its plans into two versions: BigCommerce Essentials (Standard, Plus, and Pro, starting from $29.95/month to $299.95/month) and BigCommerce Enterprise (the enterprise plan for large businesses, custom quote).
Make sure you choose the right version for your needs when visiting their website (the homepage at https://www.bigcommerce.com/ is the Enterprise version by default). You can switch between these two versions by clicking on the tab above the site header.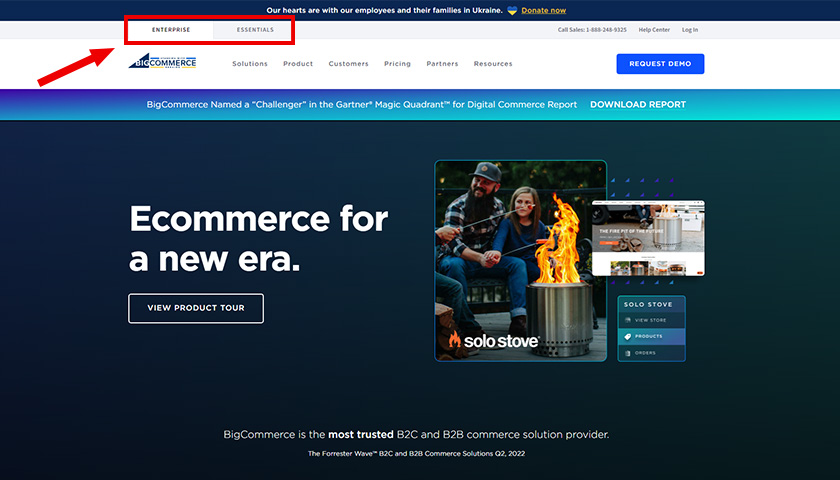 BigCommerce Essentials gives you 15 days free to try the platform, and you can get your free trial here. Meanwhile, if you have a large business and are interested in BigCommerce Enterprise, you can fill out the form here, and they will contact you for a custom solution. Sneak peek: you may be eligible for a free trial that lasts for months!
BigCommerce pros
An open SaaS platform that allows you to customize at ease
Rich built-in features
Complex inventory and order management
Industry-leading APIs
No transaction fees
BigCommerce cons
BigCommerce limits the annual sales you can make on each Essential plan. Once you reach the threshold, you'll automatically be upgraded to the higher plan. You can check their pricing page for more details (scroll down to the "Online sales per year" line). If you're making a considerable number of sales, this is just a small investment and is not something to worry about.
Although BigCommerce's interface is fairly easy to use, the complex built-in features can create a steep learning curve for beginners. And it can be overcomplicated for simple stores.
No native POS system
Some themes look pretty similar and can be improved in terms of design
Why choose BigCommerce over other ecommerce platforms?
BigCommerce and Shopify are close competitors in the ecommerce industry, and even their pricing structures are very similar.
BigCommerce's built-in features don't cover as many aspects of running a business as Shopify's. However, they are more powerful and effective. Therefore, you won't need to spend as much on plugins and third-party apps as with Shopify. BigCommerce also gives you more flexibility than Shopify, especially if you're into the technical side of running an ecommerce business.
Both BigCommerce and Magento are known for their flexibility and the ability to customize and integrate. But unlike Magento, BigCommerce doesn't tie you up to system maintenance, which means you'll have more freedom to focus on what matters most in doing business: getting more sales, not spending time and money to care for your tech stack. Plus, BigCommerce has a lower total cost of ownership and is much easier to use than Magento.
Why BigCommerce may not be the right choice for you
While the rich built-in features of BigCommerce sound great to some people, they could also be a great barrier for others. These features are often more than needed for a simple store or small business. And too much of something good can turn out to be a bad thing. It could make ecommerce more complex, not easier, for beginners. That's why we don't recommend BigCommerce for those who just started selling.
For most small businesses, Shopify is generally a better option than BigCommerce. And it's not my own opinion; the number tells it all. While the two platforms are close competitors, and they're both big names in the industry, Shopify has millions of customers while BigCommerce only has over 60,000. Now that doesn't mean Shopify is superior to BigCommerce; it just means they attract different types of customers. The number of first-time entrepreneurs, solo merchants, and small businesses is always much greater than that of established enterprises.
And, when visiting the BigCommerce website homepage, why is the default version shown to you is BigCommerce Enterprise, not BigCommerce Essentials? BigCommerce knows best who their potential customers are, right? Well, I guess you have the answer now.
So, who is BigCommerce best for?
In short, BigCommerce is best for big businesses.
Fast-growing businesses and large enterprises are the ones who benefit most from BigCommerce's flexible APIs. For your reference, I'll leave BigCommerce's landing page here, where they explain their API use cases.
The ability to manage large inventory and orders can also be beneficial to big stores with thousands of products or stores that are making a good amount of sales.
If you're interested in headless ecommerce, BigCommerce can be a great fit as well. Check out BigCommerce headless commerce solution here.
BigCommerce can work well for B2B, B2C, and D2C businesses. The platform also supports omnichannel and international commerce.
To get a deeper understanding of BigCommerce and what the platform can do for your business, I recommend you contact them to request a demo and start your free trial.
Magento Ecommerce
Magento (which is now Adobe Commerce) is one of the most used eCommerce platforms in the world. Although it is well-known for being incredibly complicated, this platform has significant benefits that make it deserving to be one of the best ecommerce platforms.
Besides, the launching of Magento 2 has taken the platform to a higher level, accelerating many providers to create more effective solutions for B2B eCommerce firms.
Some outstanding benefits of using Magento eCommerce:
Versatile content management: The backend and content management interface comply with the rule "what you see is what you get" allow store owners to build and customize features on their online stores on the fly.

Mobile-friendly configuration: Magento user interface and shopping carts design are responsive to smartphones, tablets, and other mobile devices.

Advanced search engine optimization: With SEO efficiency, it gives online stores have more opportunity to rank highly on search engines such as Google, Bing, and more.

Sturdy and spacious: The platform allows a site with up to 500,000 products, and handling 80,000 orders per hour.

Flexible third-party integrations: Magento enables your online stores to integrate with third modules or apps such as MailChimp, Google Shopping, and more efficiently.

Customizable security permissions: Magento supports you to customize multiple levels of security permissions, control internal access, and ensure your site's safety.

Save time and money: Magento is open-source and several custom extensions that can share between multiple Magento users. Through one instance of Magento, you can manage numerous eCommerce stores with various languages and various currencies.
The basic version of Magento is free, but the enterprise version can cost about $20,000 annually. If your brand is new to the eCommerce landscape and isn't all that tech-savvy, it's quite risky to choose Magento. As long as you have enough capacity to run your business with this platform, grow your business along with it.
May in your interest: Shopify vs Magento: Which one is better?
Elementor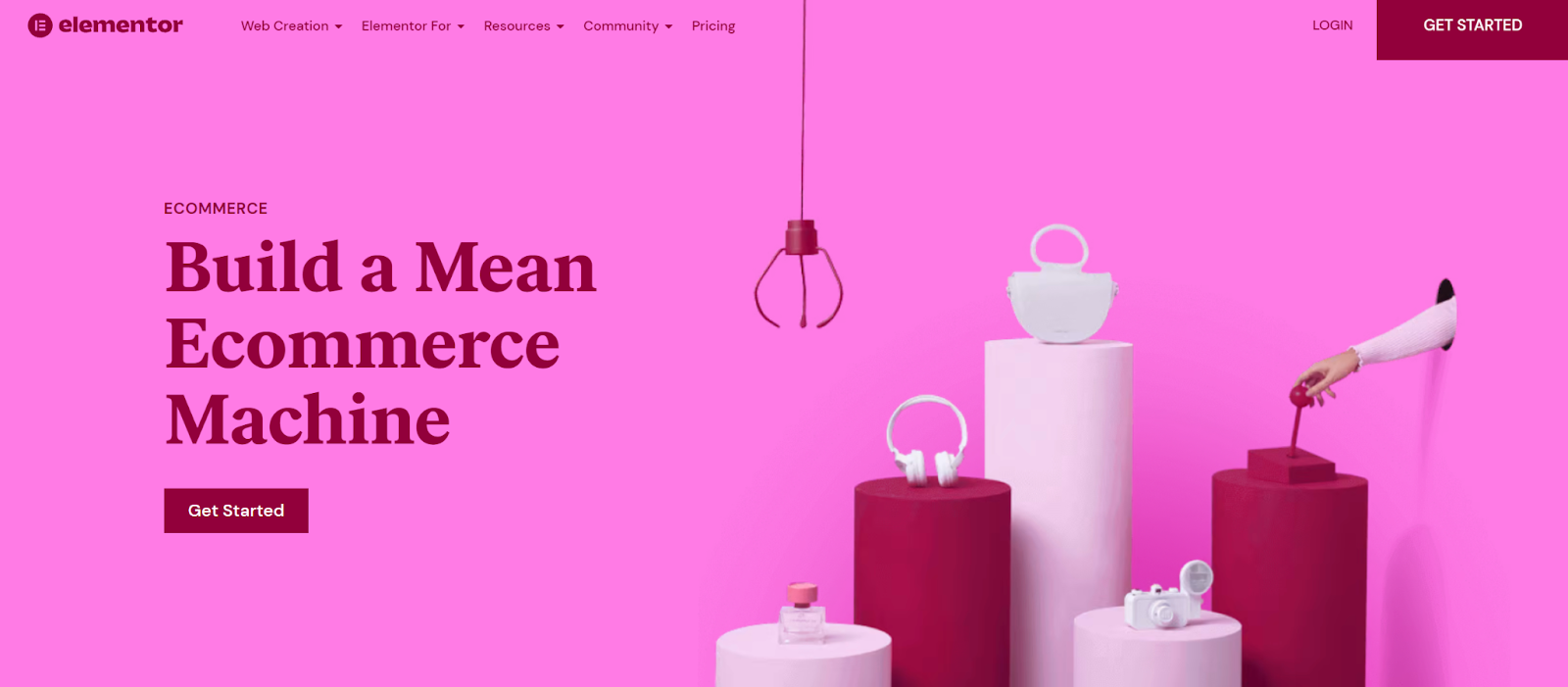 WordPress is far and away the most heavily-used CMS on the planet. Delivering websites that are both highly stimulating and technically comprehensive, WordPress is also the weapon of the choice for those looking to create an ecommerce website. WooCommerce, WordPress' flagship ecommerce theme is used in 23.5% of all online stores. But if you can't code, creating a WooCommerce site can prove extremely challenging. Well, that is unless you use Elementor.
A powerful website builder, Elmentor enables users to create stunning WordPress websites without having to write a single line of code. And, with powerful ecommerce features, Elementor can be used to create comprehensive WooCommerce websites, code-free.
Elementor' interface is intuitive; users can leverage dozens of features and widgets to create a one-of-a-kind online store. You can leverage 20 unique ecommerce widgets to build the store you've always wanted. These include 'Custom Add To Page', 'Product Rating' 'Product Breadcrumbs' and many more.
Plans start at US$49 per year
Pixpa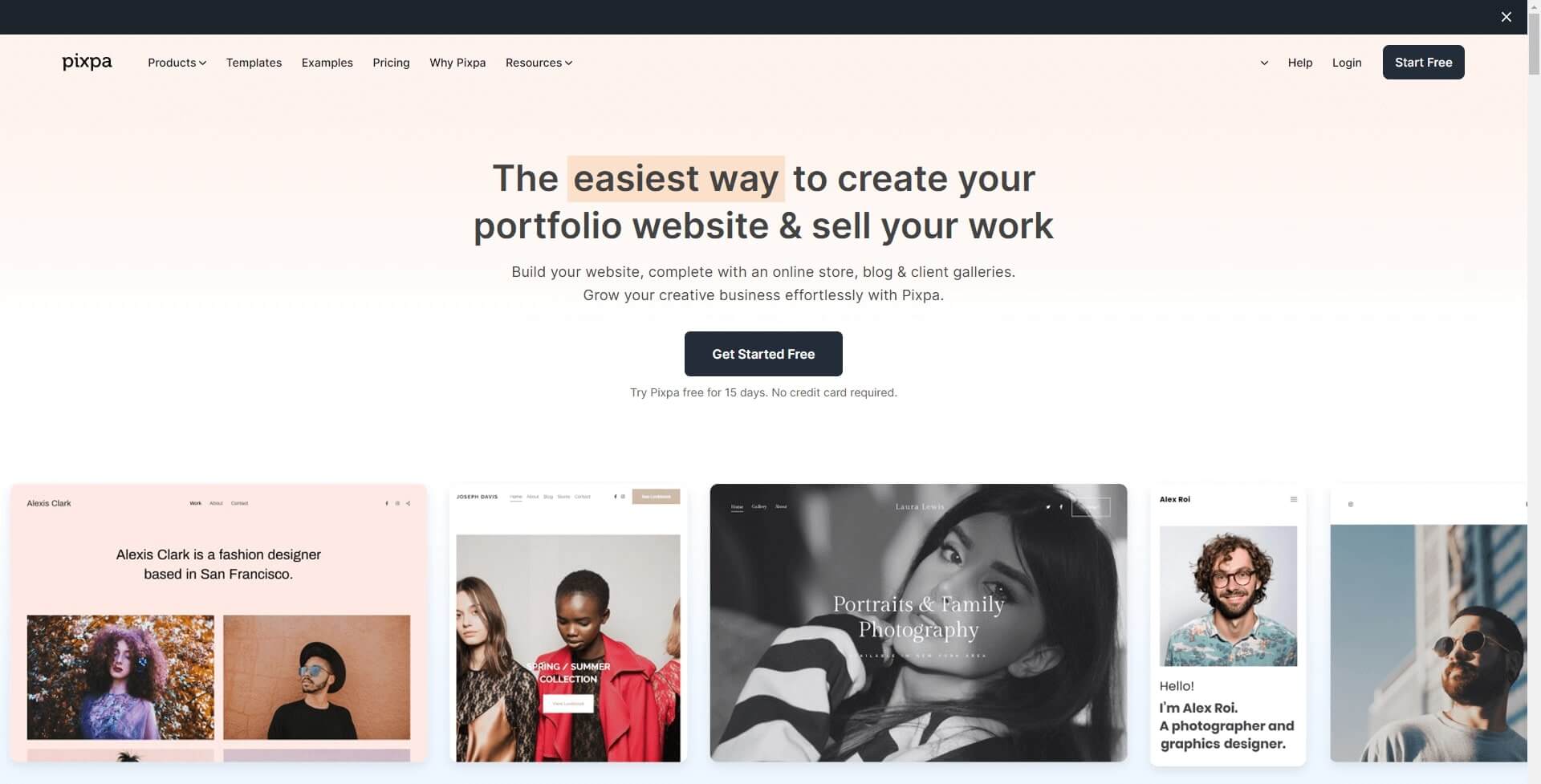 Pixpa is an all-in-one website builder that comes with easy to use e-commerce tools specially designed for the needs of business owners to sell their products, services or digital content, and grow their online business. With a beginner-friendly interface and a wide range of feature-rich, mobile-friendly and responsive e-commerce templates, Pixpa can help you create, maintain and manage a comprehensive, professional e-commerce website, without touching a single line of code!
Pixpa offers the following features:
No-code platform Allows you to create a full-featured, professional e-commerce website without touching a single line of code.
Affordable pricing E-commerce plans begin at just $7/month. No hidden costs.
Templates A wide range of professional, mobile-friendly and responsive e-commerce templates.
E-commerce Complete online store builder with advanced e-commerce features like inventory management, abandoned cart recovery, discount management and more. Sell products, services or digital downloads all in one place.
Ideal for creative businesses For photographers, artists and creative professionals looking for e-commerce and business management tools, Pixpa offers the ideal client proofing platform as well as options for selling artistic and photographic prints. Print orders can be self-fulfilled or auto-fulfilled through WHCC or Fotomoto
Blogging Complete blogging platform with a WYSIWYG editor to help you create, schedule and publish blog posts, all in one place.
SEO Comprehensive SEO manager lets you set metadata, generate automatic sitemaps and robot.txt and more to properly optimize your e-commerce website.
3DCart
3DCart is a powerful and secure eCommerce software that has served over 22,000 online businesses in 20 years of service. The company dedicates to help online merchants build online stores that rank higher and sell more.
3Dcart has over 200 built-in features, 50 free themes, offers SEO options and supports over 100 payment processors.
The platform provides intuitive features, mobile-ready themes, latest SEO standards, and marketing eCommerce tools to make your store convert higher and increase conversion rate.
With 3DCart, you can build an online store that contains all the following features:
All-inclusive: 3DCart gives you everything you need for creating an optimized eCommerce store with customizable features including design, shopping carts, and more. Regardless of selling physical or digital products, you don't have to add more eCommerce tools or services as hosting and domain names are available.

Customer-friendly: The platform supports you to create a website with the best customer experience. It allows you to use high-quality product images, and let your customers perform essential actions on your website.

Synchronized: 3DCart is flexible for selling on social media, multivendor marketplaces, and other channels.

Secure: 3DCart is completely secured with sitewide HTTPS, PCI Certification, two-factor authentication, and anti-fraud tools. Your customers' data will be safe on your site, which stimulates customers' trust and sales.

Scalable: The platform supports all size businesses and handles unlimited traffics and sales with built-in or integrated CRM software.

Reliable: With 99,94% uptime, 3DCart is confident to keep your website away from downtime and low-speed. You can look forward to flawless and seamless user experience.
More features come in this optimal eCommerce solution. Plus, 3DCart offers 24/7 expert eCommerce support.
Sell Products Online wih 3dcart. Free 15 day trial, then just $19.99/mo!
WooCommerce
WooCommerce is a free Wordpress plugin that enables merchants to turn their Wordpress sites into online stores freely and also offer additional paid features and integrating options to streamline the functionality of the shopping cart. You might be interested in reading a detailed WooCommerce review here.
This open-source platform is an ideal solution for small brands with Wordpress development resources as it will be easy to customize. Through its secure payment processor, WooCommerce ensures PCI compliance and secures communications between your customers and your server.
However, WooCommerce can slow down because it can't handle too much weight of themes, plugins, or products you add to your store. So if you want to scale up your business, it's better to choose another platform. If you plan to stick with WooCommerce, research the application in a bit more detail and learn as much as possible about it. It has a specific set of requirements, and if it is to perform as expected, you need to pick a WooCommerce-optimized hosting service that meets all of them.
In case of using this platform, be careful with everything you install that can impact your store performance. Choose the right hosting environment that determines the amount of traffic your store can handle.
Salesforce Commerce Cloud
Salesforce is well-known for its CRM solutions. The company claims to help you strengthen the relationship with customers and grow with the world's first CRM available with Einstein AI.
Formally known as Demandware, Salesforce Commerce Cloud is a cloud-based eCommerce platform tailored to both B2C and B2B merchants. It's a part of the Salesforce product suite. Therefore, it integrates many other CRM and marketing services, which helps you grow your business and build a good customer relationship all at a time.
Besides, Salesforce Commerce Cloud offers other features such as order management, commerce personalization with AI, globalization solutions for international businesses, and more solutions categorize by business type, needs, industry, and role.
Despite being able to handle high volumes of traffics and sales, Salesforce is not suitable for small brands or starters in selling online as its high price and complex technological requirements.
Squarespace
Squarespace is an easy-to-use and friendly platform that empowers users without any coding background to create beautiful websites. Whether you're a beginner or established brand, this all-in-one platform gives you everything you need to run and grow your business website.
They offer numerous features and tools for building an eCommerce website and provide hostings in all available packages.
Squarespace is famous for its award-winning designs, which makes it become the leader in the website design for world-class designers. You can use seamless templates and intuitive drag-and-drop tools to design your websites to your personal style.
Yo!Kart
Yo!Kart is a powerful standalone multi-vendor e-commerce platform. Yo!Kart is the best fit for business owners who are looking to start online marketplaces similar to Amazon, Etsy, or eBay. The platform has been used by 1000+ businesses that include startups, enterprises, & some Fortune 500 companies.
Yo!Kart is a fully customizable ecommerce platform that allows business owners to scale the business as per the requirements. It offers the right set of features and functionalities to launch future-proof multi-vendor ecommerce stores.
Yo!Kart's latest release V9.3.0 comes with extended ecommerce features such as split payments, pick up at store, Geolocation, & pre-integrated APIs for taxes & shipping management. To enable a business owner succeed in the competitive ecommerce landscape, Yo!Kart provides mobile apps and progressive web apps.
Unlike Shopify or BigCommerce, it is a self-hosted multi-vendor platform that comes with a lifetime license and zero recurring fees. Yo!Kart team provides free installation and 1-year free technical support on all packages.
Volusion
Volusion has been in the industry for almost two decades and is an all-in-one eCommerce solution that helps you easily create, manage, and expand your online store. The platform empowers users to build online stores with many handy features and intuitive functionality.
You can create your online store on your way with expertly-designed themes, a variety of navigation styles, custom domains, rich content editor, and more. All the functions will help you create a website with a stellar shopping experience for customers.
After completing your website design, this platform makes it easier for you to start selling. It offers eye-catching product pages, a comprehensive order system, a flexible payment process, high security, and more.
Also, Volusion offers features that are crucial to scale up your business. With powerful SEO tools, you can easily track and manage all your metadata to keep your pages, products, and categories SEO-friendly.
Social integrations are good to get your website's exposure and gain more leads. In addition, reporting features give you insights about everything happened on your store from abandoned carts, live carts to product and category views.
Prestashop
Prestashop is another efficient, innovative, and open-source eCommerce solution providing all features you need to build an online store and skyrocket your business. Prestashop has opened the doors of the eCommerce for over 300,000 merchants around the world.
The platform is freely accessible and downloadable. You will just have to pay for costs related to the hosting, SSL certificate, and something else similar.
You can build your website with Prestashop's professional-looking and fleek themes. It doesn't limit your creativeness and ideas in designing your own website. You can customize those themes to personalize your online on your own style and liking.
Besides, there is a wide range of addons and modules contributing to boost the overall performance of your online store. You can manage your products, orders, customer relationship, and get the report on real-time statistics. With Prestashop Modules Marketplace like PrestaHero, you will be able to find the most suitable modules for your store.
It's also easy to start a blog, write information packed articles, and share them on social networks to attract more visitors. The platform breaks any borders for your website by allowing you to present your store in several languages and currencies. You can expand your product selling to any kind of customer and country.
Notably, you can integrate dropshipping with your Prestashop store easily with a few steps to scale up your business without wasting time on inventory management.
Wix
Wix is one of the most easy-to-use eCommerce platforms providing simple alternatives to build a full-on website with serverless computing and hassle-free coding. It's the best fit for brand new online stores with affordable pricing, 72 free themes, and a super simple setup.
The platform gives you the freedom to create a website your way. You can select a template and customize anything you want to appear in your store. As your store grows, you can always add new features to improve your store performance.
Wix offers a mobile-optimized version of your store, which mutually benefits both you and your customers. You can switch to Mobile Editor to personalize the mobile interface.
In case, you want to improve your SEO performance, get a personalized SEO plan by answering a few questions about your website, your location, and keywords.
By using Wix, you can effortlessly capture leads, build customer relationships, and accept payments right from your website. However, due to its simplicity the lack of important tools for selling, the platform is not viable for fast-growing or large-scale online businesses.
Quick eSelling
Quick eSelling is a SaaS ecommerce platform that enables global business owners to start an online store for free. The platform is used by 25,000+ B2B & B2C merchants successfully all across the globe. Using Quick eSelling Ecommerce software, you can build, launch, and manage your ecommerce store to harness the online & sales channel without any coding experience.
It is a fully managed & hosted ecommerce platform that comes with a powerful CRM to manage orders, inventory, and customers from a single CRM. Also, the platform is integrated with popular payment gateways and third-party APIs such as PayPal, PayU, QuickBooks, SAP, etc. Also, Quick eSelling supports all kinds of customization in-case you want to change the look and feel of your ecommerce store.
There is a 1000 products cap in the free plan, however, if you want to add more products to your online store, you can opt for its paid plans.
MyDukaan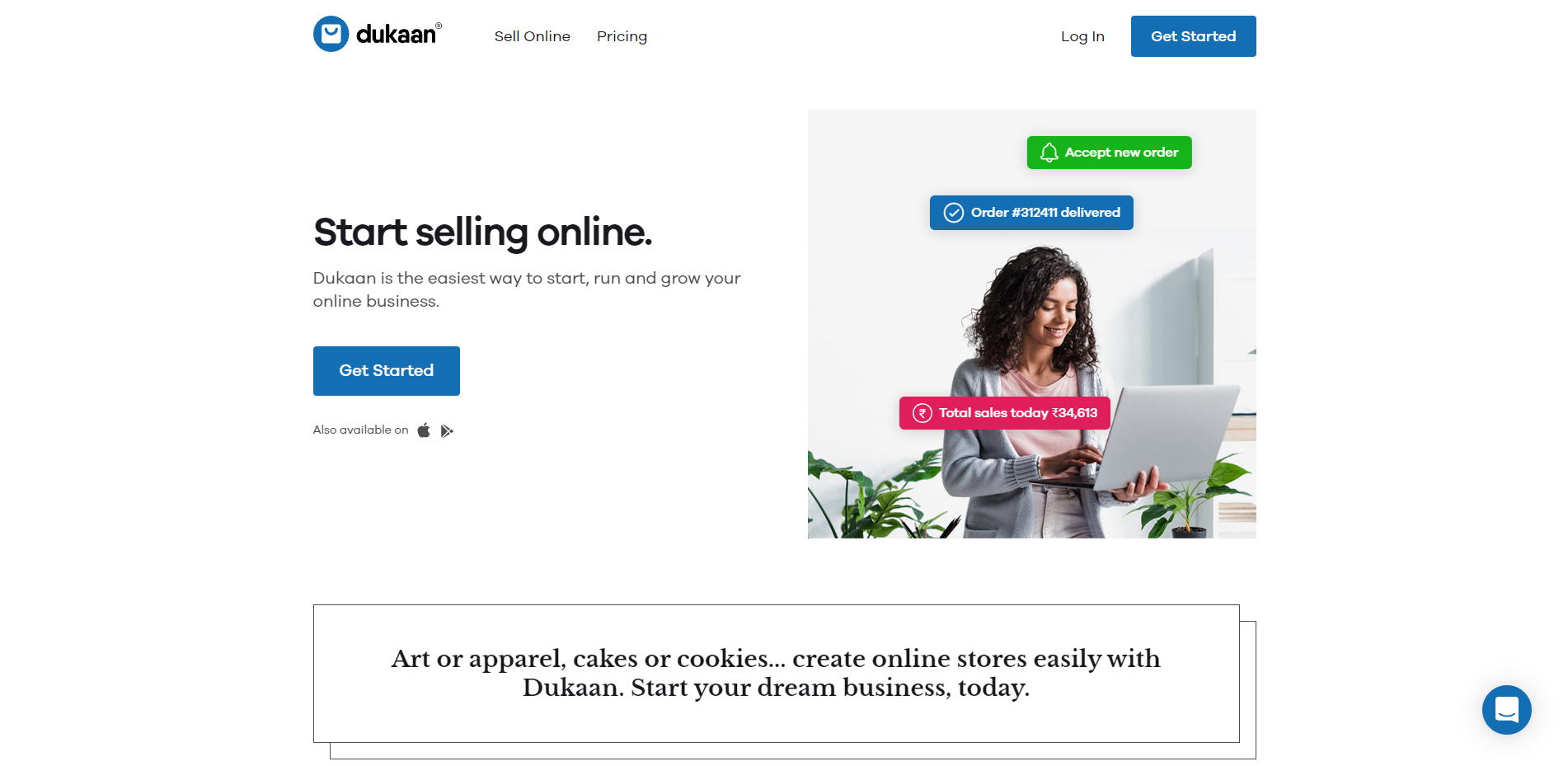 MyDukaan is the most simple and easiest way for businesses to sell online, grow, and scale their online business. Whether you run a retail or dropshipping business, the platform offers a big variety of tools to help craft and boost business productivity online. Moreover, the Dukaan team offers an individual approach to each user and each business so that they can only benefit.
With Dukaan you can add information about your products, change the appearance of your eCommerce website, manage overall business operations, and much more. Additionally, you can install different plugins to help track other specifics on your website. Even though the platform offers many tools, the interface is still simple, comprehensible, and easy to navigate through. This helps users avoid the guessing game which is an advantageous feature.
Dukaan is a leading eCommerce platform for many reasons: from excellent client support and a friendly team, to a variety of business tools and seamless experience with the platform.
Online shopping becomes even more enjoyable and easy to set up with Dukaan. Why? Because it comes with additional tools you can use for a more professional business approach. Whether you need to generate an invoice, Terms and Conditions, or make a slogan for your store, Dukaan has it all. Also, if you ever lack creativity when it comes to product description, they got it covered.
One of the advantages of working with Dukaan is that you can get a custom domain name for your online store. So, start, launch, and grow easily with Dukaan.
Instamojo
With their free online stores, Instamojo allows small and micro businesses to start online businesses on their own terms. These ready-to-use stores come fully equipped with crucial marketing tools and features, an integrated payment gateway and shipping services. You will be able to launch your own business in 5 minutes!
Features:
You can choose from 30+ themes to build a functional online store that is true to your brand identity

All eCommerce websites are mobile optimised for the best conversion rates

Ship to 26,000+ pin codes with the integrated shipping services

Understand your consumers with in-built analytics

Stay in control of your cash flows with instant payouts on Instamojo

Easily integrate your online store with your social media to get more orders

Automate your business with the help of 40+ apps available on the Instamojo app store

Build a strong professional identity with your own custom domain and mailbox
Appy Pie Website
Appy Pie is known for its mission to democratize technology by making it accessible and affordable for everyone. Appy Pie's no-code website builder lets anyone with an internet-connected device create their own website in minutes. The platform has a lego-like architecture where the platform users can choose an eCommerce block and add it to the website without coding. That's it! Your eCommerce website is now ready to go live on the Internet.
Appy Pie Website offers the following features.
The platform is entirely no-code which means the users do not have to acquire any new skills or hire skilled resources for app development.
Appy Pie's website builder offers multiple attractive and functional eCommerce website templates.
The website builder has a fun drag-and-drop interface that kind of gamifies the entire website development process. It allows anyone to pick the eCommerce feature block and drop it into the website.
Cross-platform accessibility
This website builder can be used on any internet-connected device, from a smartphone to a tab, a laptop to a desktop computer. There is no need to acquire any special equipment or device or even download any special software. Also, the websites built on the platform are compatible with all the core platforms and devices.
The platform makes it easy to integrate other web services, like Slack, MailChimp, etc., into the website. It only takes a few minutes to implement these integrations and enhances the power and functionality of the website manifold.
The unique Lego-like architecture of Appy Pie's no-code website builder lets the users pick the eCommerce feature block and create a fully-functional website. Each such feature block has some common functionalities that can be repurposed to create more solutions.
Appy Pie's website builder has an inherent ability to offer scalability to the platform users. The websites built on this platform are built to absorb an increase in customers, traffic, business, or any other changes in business strategy and evolution.
Multiple payment gateways
Payment gateways are critical to the smooth running of an eCommerce website. Appy Pie Website lets you add multiple different payment gateways and methods. The more options you offer on your website, the more people will be comfortable buying from you!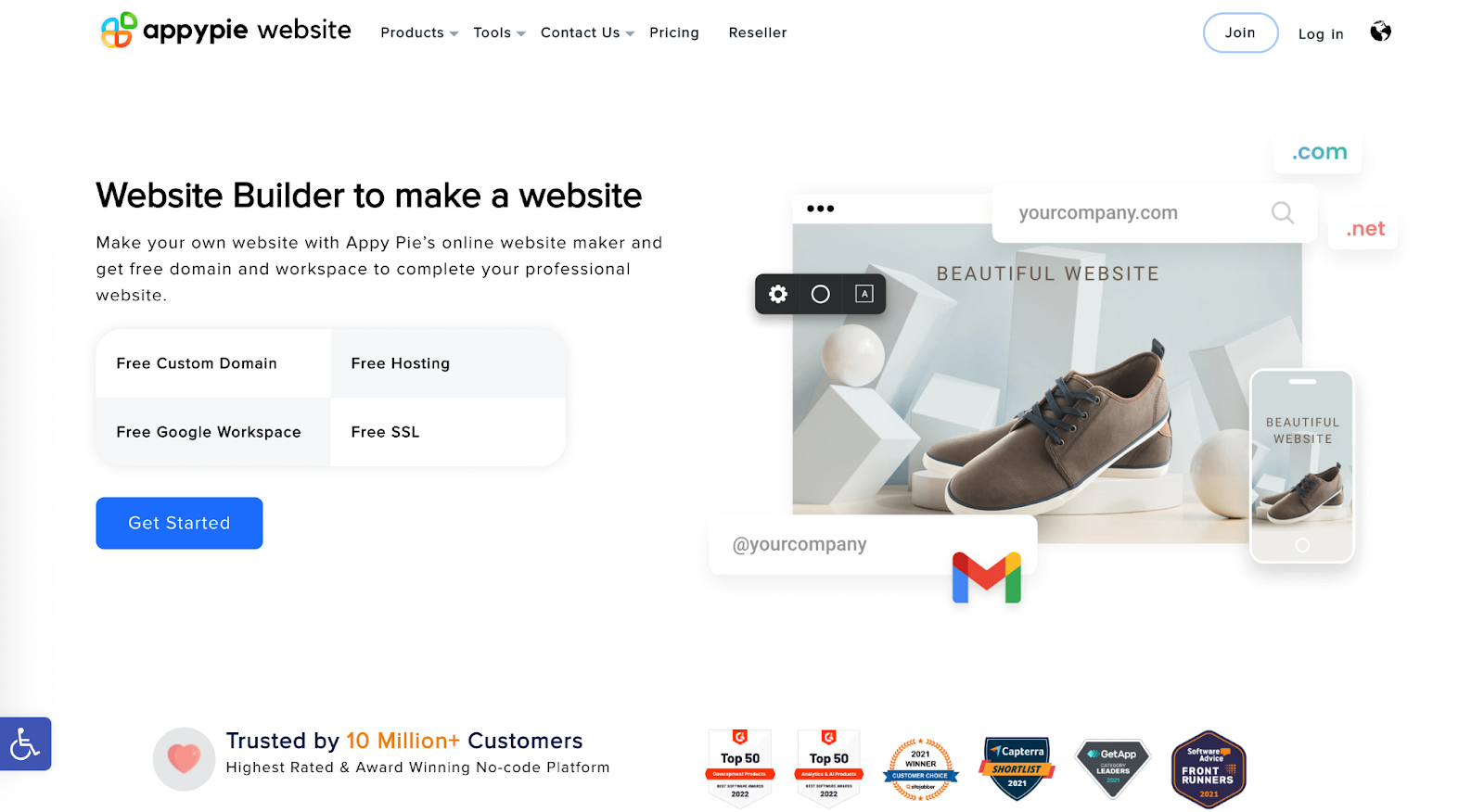 What is a platform?
A platform is a business model that creates value by facilitating exchanges between independent groups, which usually brings together customers and producers. Platforms create communities and markets that allow users to interact and transact through network effects. The shift to digital and advanced technology in commerce has changed the way we do business, create both resources and opportunities for business doers.
Those who want to seize this opportunity can't ignore the application of digital and technology in selling products. Given that, online stores are sustainably replacing brick and mortar stores.
Brands strive to succeed with their first online stores, but the results don't come in expectation. One of the worst mistakes they made is to partner up with the wrong eCommerce platform.
Fundamentally, an eCommerce platform is the backbone of an online retailer. An eCommerce platform is a software in which businesses launch, host, and manage their online stores. The platform provides features that allow merchants to build a branded online storefront to locate and sell their products and services.
An online business, like all other businesses, needs additional software to manage backend functions such as accounting, order management, inventory management, and customer service.
It's possible to piece together many different software solutions to create a complete platform, but the process is quite complicated and causes your website frequent maintenance and inefficient functions.
Fortunately, ecommerce development services can solve this problem by integrating all essential commerce and business functionalities into a single platform.
When it comes to the eCommerce platform, there is a critical term you need to understand, "platform design." The platform design isn't just about considering technical factors. It's about understanding and creating features for the whole business operation.
It creates value for both users and stores as well as build a network around them. Remember that an eCommerce platform is a business model, not just a piece of technology.
A platform has four core functions:
Audience building
Matchmaking
Providing core tools and services
Setting rules and standards
8 Key features of an eCommerce platform
Though different platforms offer different features. So many platforms out there with countless features and functions available can get you overwhelming.
Among the sheer number of choices, always remember that an average eCommerce platform provides you with the unification of core business processes to achieve complete visibility across your company and ultimately satisfy the most discerning customers.
It's sometimes hard to say that which eCommerce platforms will offer the function you want, or it will still be cost-effective as your store is scalable.
To choose a winning eCommerce platform, you can rely on the following features:
Run on a single, unified platform: an eCommerce platform should provide natively unified eCommerce, accounting, POS, inventory, and order management, marketing, customer service, financial, merchandising on a cloud-based platform.

Offer a complete customer view: a good eCommerce platform should deliver consistent experiences, targeted marketing, and excellent customer service. All customer interactions and transactions should be in a single view across all the touchpoints and channels.

Intelligent order management: create the most convenient way for customers to purchase, fulfill, and return the products. Centralize the order management to maximize profitability. It's optimal to have a single view of the inventory across all channels and units in the supply chain of your company.

Provide superior customer experiences: choose a platform that creates responsive, friendly, personalized and rewarding mobile, web, and in-store experiences for customers if you want to make your store stand out and live up to customers' expectations.

Support bottomless expansion: fully support multiple business models, brands, channels, locations, currencies, and languages all on the same platforms.

Site security: if you're a new store owner, terms like "PCI compliance" or "eCommerce SSL certificates" might give you a head-spinning. But you will be familiar with them soon. Choose a platform that offers an SSL certificate and PCI compliance to assure the security of your store and customer data it contains.
Many platforms offer additional security packages. You can consider these packs depending on your demands, your store's future needs, and your budget.
Easy to create content: you should look for platforms that allow you to easily create content on new or existing pages, also new pages, and contact forms. It should be a snap to create and publish content on your store. If your store doesn't have strong supporting content, it will suffer much in Google searches.
You can think about a platform with a reputation for having a reliable content management system (CMS).
Highly dedicated support and document: your platform provider should provide help whenever you need it. Companies often offer support via many channels such as email, live chat, ticket support, or direct phone calls. Choose which one is the best for you, then you can reach out to your platform provider if you have any problems related to the platform.
Also, take a look at their available document, tutorial, such as user guide, FAQs, how-to blog posts, knowledge base posts. You might find solutions before contacting the providers.
Why are eCommerce platforms important to brands?
Imagine a house without a solid foundation; it's terrible like an online store without a good platform. An eCommerce platform doesn't just support, but it enables the growth of an online store.
Put simply, eCommerce platforms are crucial to the business success of any online retail enterprise.
Back in the 20th century, people mostly came in brick and mortar locations to facilitate exchanges. Now, after many years, thanks to connected technology and the Internet revolution, platforms are created to facilitate the exchanges of value from decentralized networks of individuals.
Accordingly, the platform has grown exponentially, and the ability to enable value exchanges has reached an unprecedented level. Regardless of being hosted on-premise or in the cloud, eCommerce platforms guarantee the scalability and security protection of your data, offer a wide range of operational benefits and business tools, including:
A product management suite
Merchandising
Search capabilities
Pricing
Promotions
Personalize sales and services to your prefers
Using eCommerce platforms, you can customize your product information to fit your online business needs best. It's beneficial for both store owners and customers.
Conclusion
Different eCommerce platforms offer different features and prices. Whichever route you rely on when building your website, always think about below factors carefully:
The platform you choose must ensure your website is constantly updated and managed
Choose a good web hosting
Intuitive and seamless payment processors and shopping cart
Good for customer service and user experience
Ensure security for your site and customers' data
You should implement the first setting-up of your website diligently, especially looking for your website's foundation.
Mageplaza Blog hope this article will help you choose the best eCommerce platform for your business.
Magento Support
& Maintenance Services
Make sure your M2 store is not only in good shape but also thriving with a professional team yet at an affordable price.
Get Started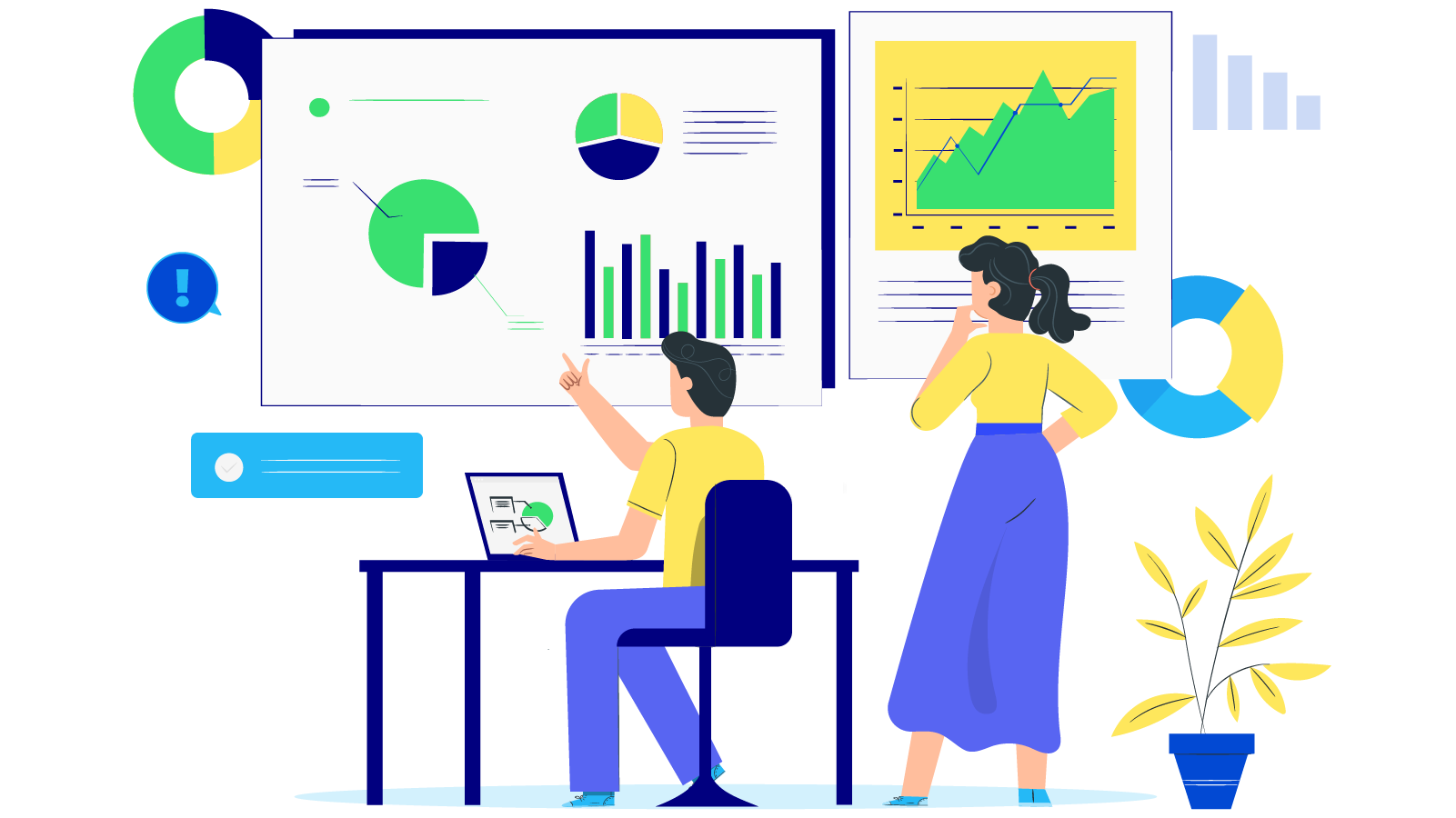 New Posts


Subscribe
Stay in the know
Get special offers on the latest news from Mageplaza.
Earn $10 in reward now!