Magento Visual Merchandiser Guide For Newbies
The Most Popular Extension Builder for

Magento 2
With a big catalog of 224+ extensions for your online store
The complications in building a web are undoubted. This difficulty even comes to a new level when it comes to an online business. You will have a robust system to manage product categories, promotions, digital transactions, and logistics.
All these components play an integral role in a business operation. However, with the complication and high requirements from e-retailers, Magento has to release powerful features to keep its position in the market.
Magento Visual Merchandiser is what you will discuss in this post. What makes Magento Visual Merchandiser a robust tool to perform your store in its best possible way.
Let's dive in!
Table of Contents
About Magento 2 Visual Merchandiser
As one of the world's leading eCommerce solutions, Magento does its best on offering the user community a variety of tools and features to scale a business online. However, we can't deny the fact that Magento is way too complicated for non-tech-savvy people.
Magento gives eCommerce businesses a playground with unlimited possibilities. Still, an open-source platform comes with high involvement of coding knowledge. Understanding these downsides, Magento does release more and more features normal users can configure easily at the backend.
Visual Merchandiser is on that list. It's a set of advanced tools that allows you to create and merchandise all the products in the category listings easily and in the most intuitive manner.
The only downside of Magento Visual Merchandiser is that it's only available for Adobe Commerce users. In other words, only businesses who subscribe to the paid edition of Magento can use this feature at the backend.
Access the Magento 2 Visual Merchandiser
To access the Visual Merchandiser toolset, you will have to:
Log in to your Magento admin account

Then in the Admin sidebar, navigate to Catalog > Categories

Here, you can see the whole category tree. What to do next is click on the category you want to use Magento Visual Merchandiser on

Expand the Products in the Category section

Click the "View as Tiles" button to display the products as a grid
Till this step, you can start using Magento Visual Merchandiser to reposition all the products in the selected category. Now, we will go to the next part - How to change product positions with Magento Visual Merchandiser.
How to configure Visual Merchandiser in Magento 2
Changes on product position manually using Visual Merchandiser
Magento Visual Merchandiser goes along with 2 methods the store admin can use to change the product positions in a category. They are:
Drag and Drop. You need to grab the Drag button (in the upper-right corner of the product title) and then drop the product into your wanted position. Each product comes with a number, which automatically adjusts to reflect its current position

Set Position Value. All you have to do is enter your wanted number (in the Position field) corresponding to a product position. The smaller the number you fill in, the higher position that product display in the list
Finally, when complete, tap on the Save Category button.
Create category rules for Visual Merchandiser
What makes Visual Merchandiser an incredibly supportive tool for store admins is the availability of Magento Category Rules. In addition, you can activate the automatic change of the product selection via a set of conditions.
Highlight notes of Magento Category Rules:
Each category comes with only one category rule. And a rule can have multiple conditions so that users can add unlimited conditions to describe the products that they want to include

Each condition consists of a value, attribute, and logical operator as well

For the attribute settings, only those that are activated the function "Use in Product Listing" can be used in category rules

Though Date attributes aren't available, you may set a date or a range of dates using the Date Created or Date Modified attributes for category rules
For instance, by setting up a category rule for a specific usage category, products with the same functionality will automatically be added to the list.
The purpose of Category Rules is to boost the process of assigning products to specific categories. And the Smart attributes in Visual Merchandiser configuration, along with Category Rules, is a powerful combination.
Step 1: Configure the Smart Attributes
As mentioned above, to make sure all the attributes are available for the Visual Merchandiser configuration, you need to:
Set their "User in Product Listing" storefront property = Yes

Ensure the attribute you select is not a multi-select Input Type
Then, you need to complete the configuration of Smart Attributes that are about to be used with Visual Merchandiser.
Step 2: Configure Smart Attributes for Visual Merchandiser
One of the best things about Magento Visual Merchandiser is that it allows you to:
Set the attributes used in the merchandising window and the minimum stock threshold as well

Enables identifying the attribute for both color and the order of color values
To configure Smart Attributes, go back to the Admin sidebar and open Stores > Settings > Configuration > Catalog > Choose Catalog underneath. Next, expand the Visual Merchandiser Options and complete the following steps:
Attributes for Category Rules. Select attributes that you want to use for visual merchandising. In addition, you can select multiple attributes at the same time

Minimum Stock Threshold. Here is where you set the Minimum Stock Threshold for a product that will appear in the Visual Merchandiser window.

Color Attribute Code. The default value is "color." In case your catalog uses a different attribute, you just need to that attribute name, plus in lowercase

Color Order. Enter the color value on a separate line and in sequence. Plus, you can determine the priority of each color via the inserted value
When complete, click Save Config.
Step 3: Create Category rules
Back to the category tree, click on the one that you want to edit

In the Products in Category section, set Match products by rule = Yes. Then, the automatic sorting and condition options appear

Click on the Add Condition button
Choose the Attribute that you want to be the basis of the condition

Next to the Operator, specify your rule with 7 values: Equal, Not Equal, Greater than, Greater than or equal to, Less than, Less than or equal to, and finally Contains. When done, enter your wanted Value on the Value column

Repeat this process for each attribute

Visual Merchandiser also offer Automatic Sorting, where you can apply a sort of order to the generated product list

When you complete all the settings, click Save Category
The bottom line!
eCommerce is more complex than selling and distributing a product or service online. In fact, many issues go on behind the scenes of businesses when it comes to selling online.
And Visual Merchandiser offers Magento Commerce users a wide range of tools to customize product listing on category pages based on their marketing purposes.
Looking for
Customization & Development Services?
8+ years of experiences in e-commerce & Magento has prepared us for any challenges, so that we can lead you to your success.
Get free consultant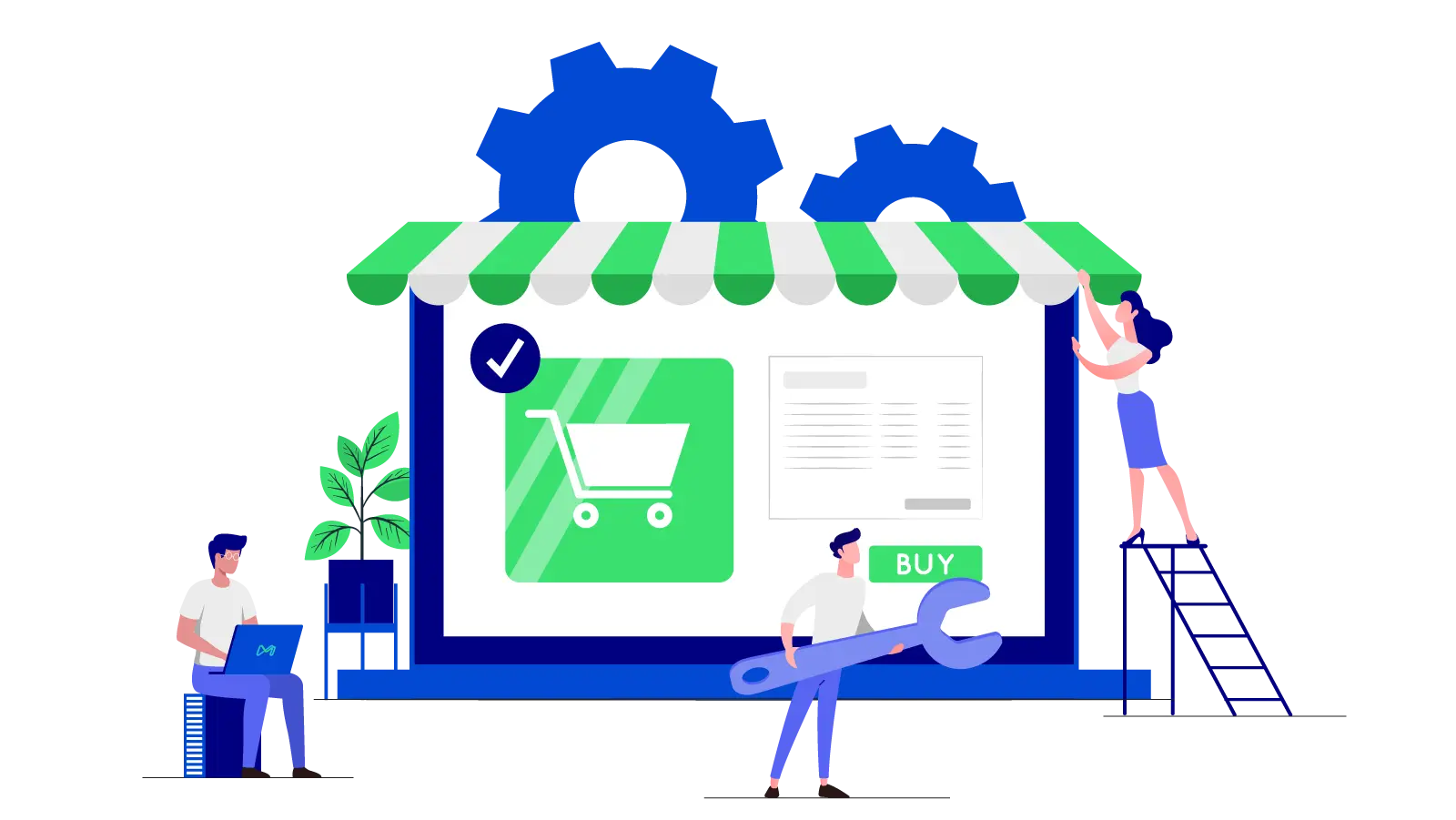 ---
---
As a content executive at Mageplaza, Mia Hoang understands the value of content marketing lies in the engagement between the customers and companies. Her wish is to bring a unique voice, different perspectives, and new light for every audience.
Recent Tutorials

Subscribe
Stay in the know
Get special offers on the latest news from Mageplaza.
Earn $10 in reward now!