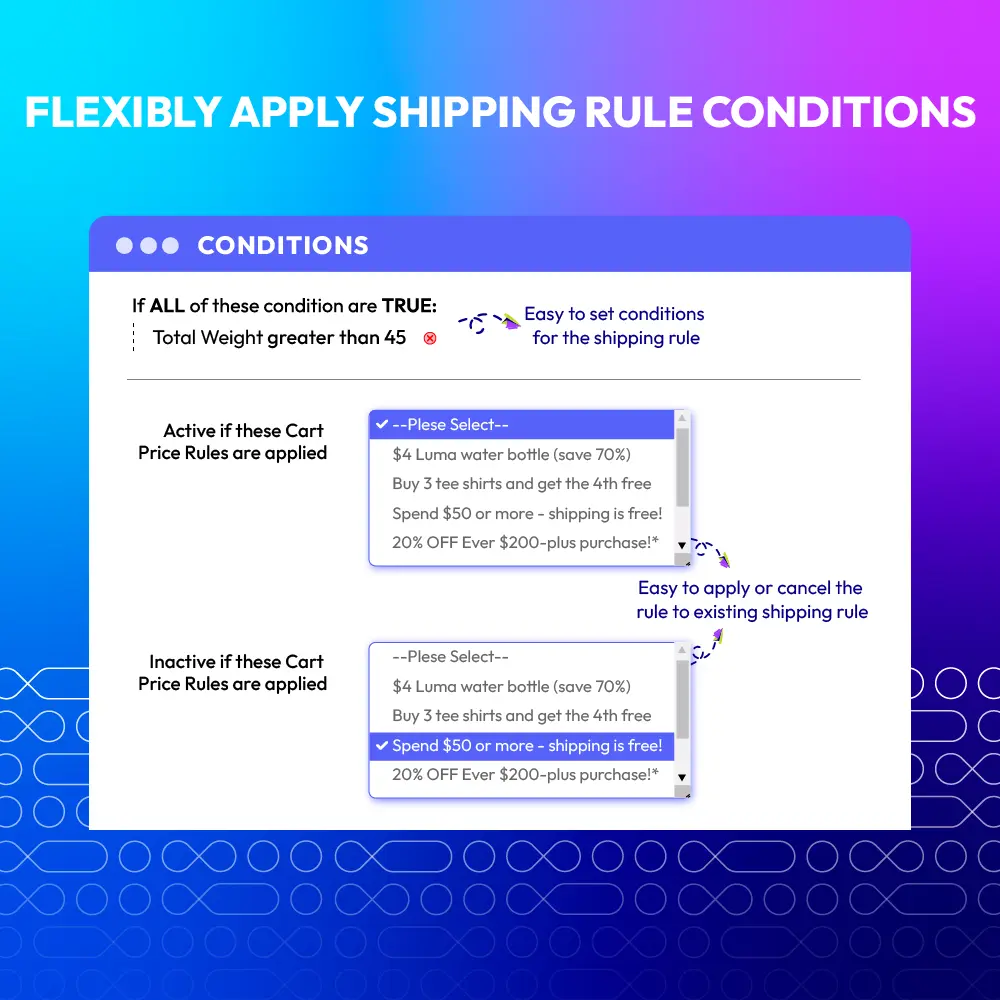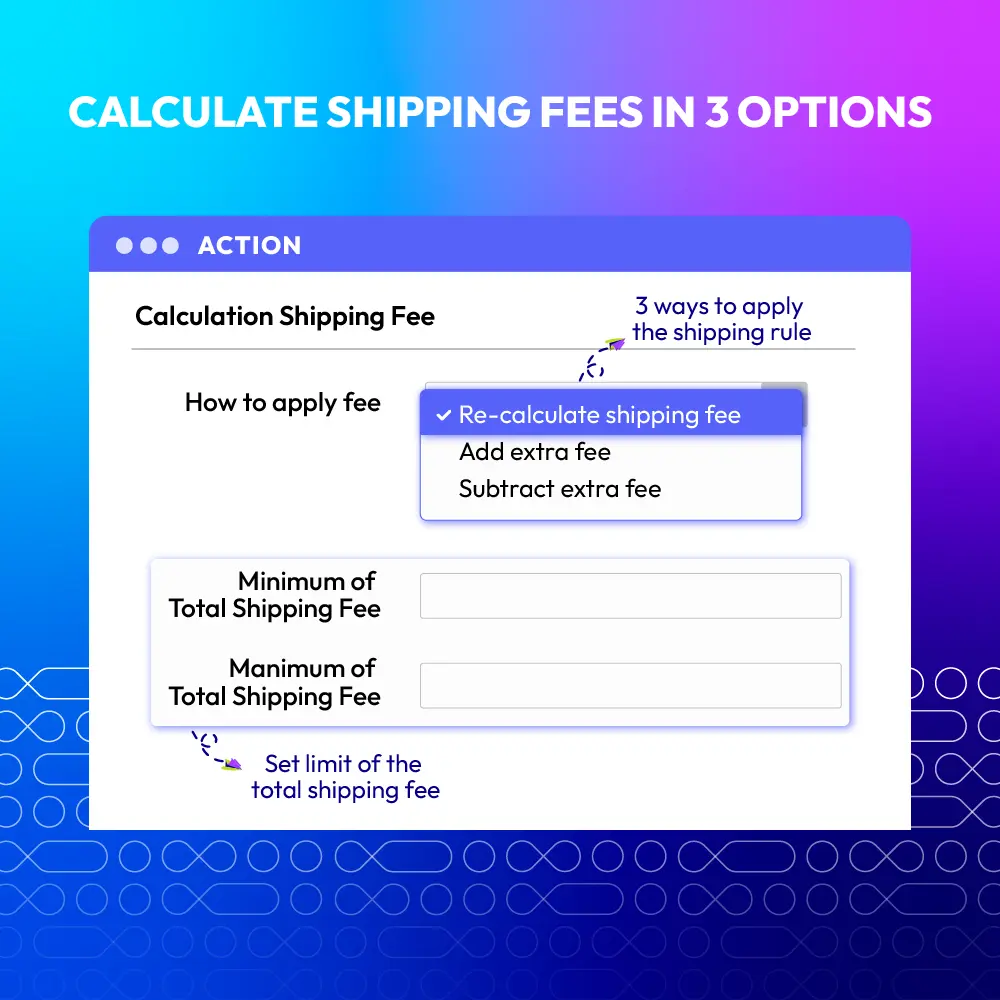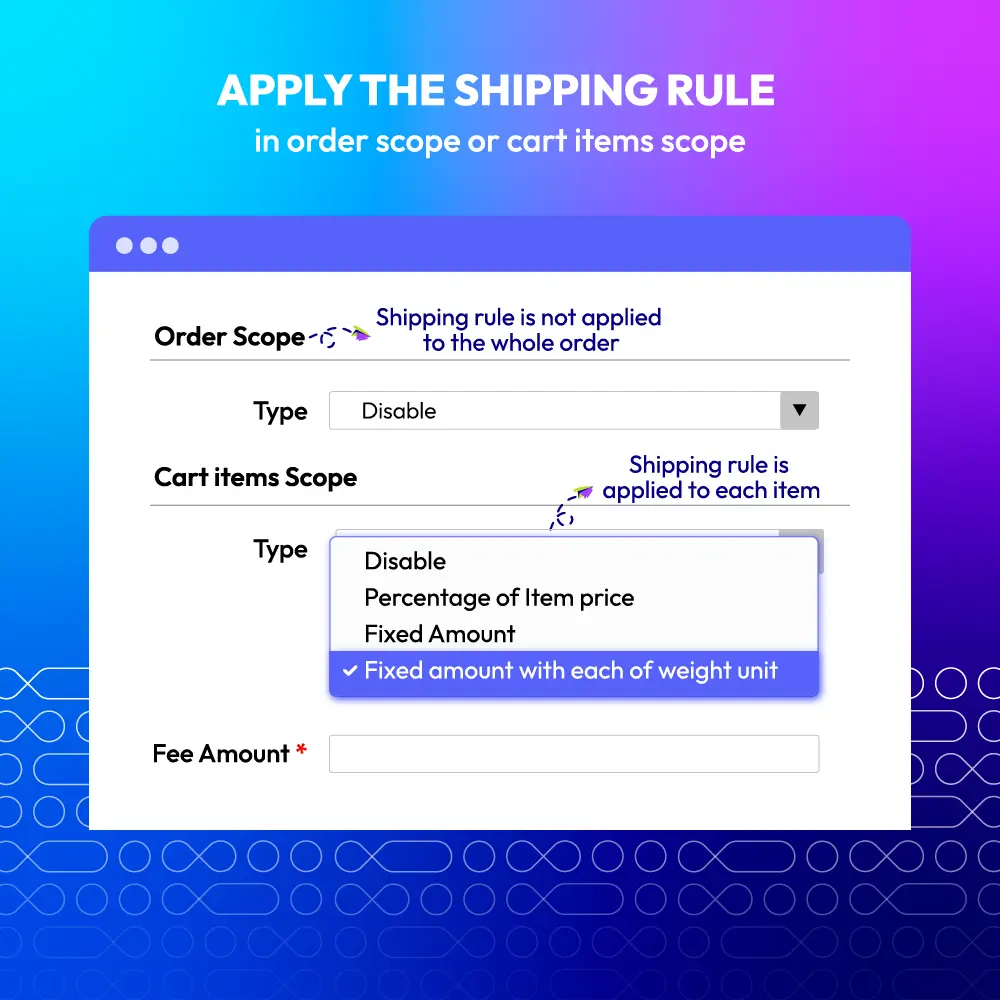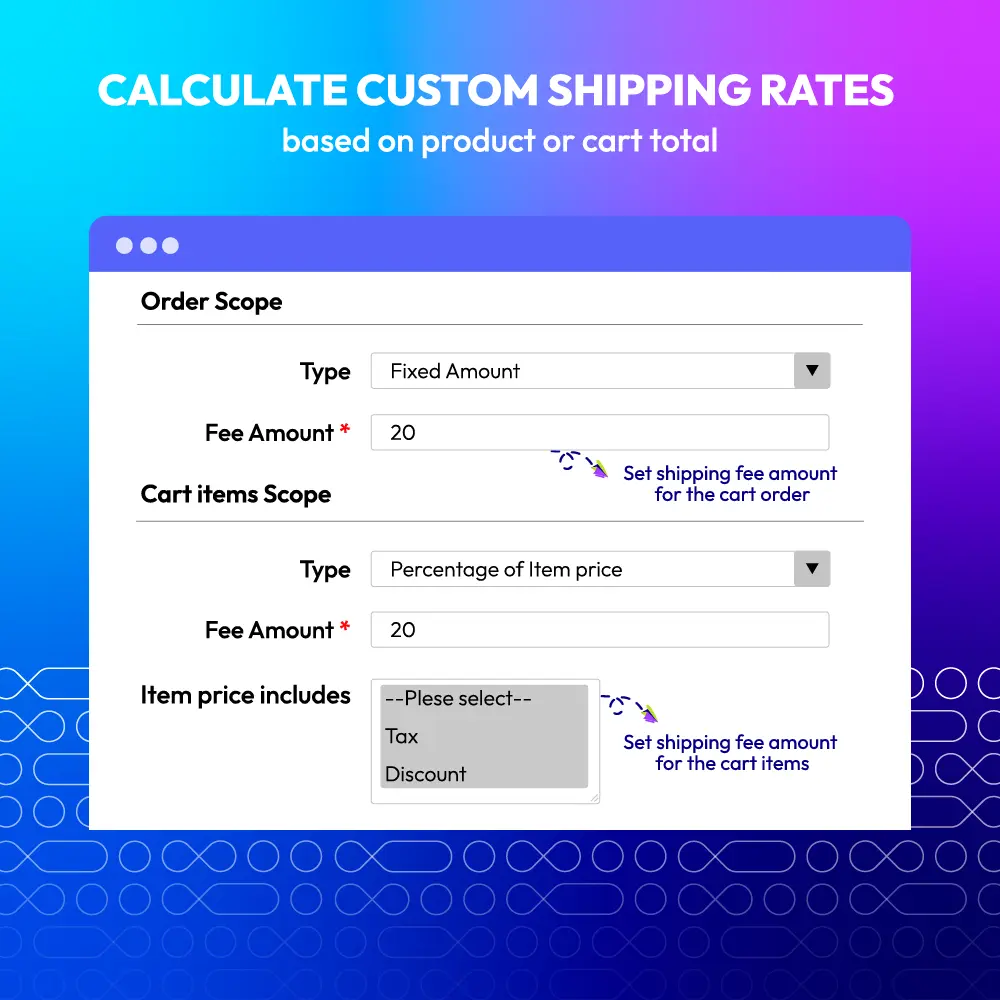 60-day Money Back
Frequent Update
365-day Support
Shipping Rules for Magento 2
v4.0.3
Magento 2 Shipping Rules extension allows you to create sets of conditions which control the way your orders are shipped to customers. It includes rules about weight, value, destination-based, SKU based, box and so on. Shipping Rules extension help store owners adjust shipping cost suitably and fairly to particular situations.
CE/EE/B2B/Cloud/ Adobe Commerce 2.2.x, 2.3.x, 2.4.x
Chat now
Most-Trusted Pick
Work perfectly together
Cost-effective
90-day money back guarantee
FREE installation for all
Problems
Currently, in Magento 2 Default, shipping methods are fixed by a selection list. Online store owners are unable to create new shipping rules based on the diversity of item conditions, shopping cart attributes and particular purchasing situations as follows:
Specific shipping rate for specific cart attributes: subtotal/item quantity/weight
Specific item attributes: category/colour/...
Solutions
Magento 2 Shipping Rules extension is the proper solution to create unlimed shipping rules to meet the specific expectation of store owners.
Pricing

Choose your suitable edition
Community
Crafted for a great webstore start
$

179

first year
Supports for Magento 2 Community Edition
Enterprise
Great for an enterprise solution
$

379

first year
Supports for Magento 2 Enterprise Edition
Highest priority support
Good
The rules are easy to set up and use. A good extension overall.
Beverly
-
Verified Purchase
SATISFIED
Quick and accurate instruction. Very satified.
Good extension
it's help me a lot to change the shipping rates based on attributes. amazing job guys.. keep the good working. Thanks
Mohammed Ibrahim
-
Verified Purchase
Good customer service
After installation, we experienced some problems and bugs. The rules were not applied and no effect was taken place in the checkout. But luckily the technical service did a good job and helped us solve these problems. Now we can the rules would a problem and we can offer the shipping methods exactly as we require. Thank you
Marcel
-
Verified Purchase
Good
Very Good Support. Dedicated team. Thank you Mageplaza.
Hardikm.cirkleinc
-
Verified Purchase
Highly recommended
Mageplaza's Shipping Rules extension has quickly allowed us to streamline our shipping process and optimize our delivery schedule. It was easy to integrate and the UI is simple and intuitive to set up all of the rules we needed. I would recommend for anyone looking to expand on the default Magento 2 shipping options available.
Jim Hughes
-
Verified Purchase
Love this service here
Thank you Shin for the great support! You have clearly proven that Mageplaza cares about their customers!
Lasse Wilk
-
Verified Purchase
Don't see the features you are looking for?
Request feature
Submit your feature requests below
Want to do extension customization?
Custom request
Let us know your requirements
v4.0.3

24 June 2022

Compatible with Magento v2.4.4
v4.0.2

26 October 2021

Compatible with Magento 2.4.3
Fixed bugs with Mageplaza Store Pickup
Fixed minor bugs
v1.1.4

09 July 2021

Compatible with Magento 2.3.7
Fixed minor bugs
v4.0.1

05 April 2021

Compatible with Magento 2.4.2
Fixed error with Paypal Express and other payment methods
Fixed error with multi store
Fixed minor bugs
v1.1.3

09 September 2020

Fixed minor bug while applying cart price rule
v1.1.2

16 July 2020

Compatible with Mageplaza One Step Checkout
Fixed minor bugs
v1.1.1

19 June 2020

Compatible with Magento v2.3.5
Fixed error with Paypal payment method
Fixed minor bugs
v1.1.0

04 October 2019

Compatible with Magento 2.3
New Feature: apply multiple rules
v1.0.0

15 January 2019

Initial Release
Shipping Rules' Full Features
For store admins
Enable/ Disable the module
Allow/ Disallow applying the rule for backend order
Set name for the rule
Set description to explain the rule
Set status for the rule
Select shipping methods
Set conditions for the rule based on cart price rules
Set the way to apply fee
Set minimum and maximum for shipping fee total
Set counting type, fee amount for shipping fee for the whole cart
Set counting type, fee amount for shipping fee for each item
Allow/ Disallow applying the shipping rule for free shipping items
Include/ Exclude tax and/ or discount
Compatible with Mageplaza's extension: Extra Fee, Shipping Restrictions, Multiple flat rates shipping, Free Shipping Bar.
For customers
View shipping rates on Shopping Cart Page
View shipping rates on Checkout One Page
Why choose us?
Mageplaza provides consistent and customer-centric extensions for your Magento 2 store.
We don't sell products for one time. We provide lifetime solutions which help our customers thrive with their businesses.
60-day Money Back
Extensive 60-day money-back period. You love it or get a full refund no questions asked.
Extensive Support Timeframe
Mageplaza provides support 16 hrs/day, 5.5 days/week to guarantee the seamless operation of our extensions on your store.
Install via Composer
Simple installation via composer helps you save time and eliminates technical issues during future updates.
Frequent Updates
Intensive update roadmaps ensure great performance, bug-free, highly compatible, and innovative extensions.