Magento 2 Shipping Restrictions
v1.0.1
Magento 2 Shipping Restrictions helps store owners to restrict the application of shipping methods based on specific conditions such as cart/ product attributes, payment methods, shipping locations and more. This creates highly customized and individualized shipping options for customers.
The extension optimizes shipping process by only allowing effective shipping methods & gets rid of risks and eliminate shipping issues
You've just added this product to the cart:
Shipping Restrictions
You've just added this product to the cart:
Shipping Restrictions Pro
Problems, Solutions and Applications
By Default, Magento 2 comes with limited possibilities to set various rules for shipping methods. This causes the inconvenience for store owners in many real situations which some shipping methods should be restricted to customers.
In some special occasions, store owners would like to offer shipping methods such as free shipping fee, fixed rate to attract customers. However, in Magento 2 default, this is impossible.
With Shipping Restrictions extension, store admins can set any rules for shipping restrictions without any limitation. This creates the great convenience for stores in many necessary cases.
Set new rules on special occasions such as holidays, celebration days, sales campaigns to motivate customers' purchase. Customers will feel more willing to pay money when they find satisfied with shipping service.
Narrowing shipping methods to use in specific conditions will help the delivery process of online store become more effective. The shipping procedure will be more systematical and professional.
Customers are suggested with the suitable methods list so that they can quickly select the best one as they think. This facilitates customers' shopping process and provides a better shopping experience.
With loyal wholesales customers, they are offered with Free Shipping in all orders.
If the cart value is less than 20$, the fixed rate 5$ is applied. Otherwise, if the value is more than 500$, the shipping is free. Other values are based on the table rate.
The items in category A is luxury and high-value. Customers are offered with shipping methods from high-class shipping service: FedEx or Express Priority.
If the payment method is Paypal, the shipping method is FedEx or Express. If the payment method is Cash on Delivery, the shipping method is Home Delivery.
Only apply FedEx, DHL for the orders from foreign countries. Other shipping methods are applicable to domestic orders.
A new branch has been opened in a city. The store owners would like to offer free shipping to all orders within the first opening week.
Set shipping restrictions based on cart attributes
With Magento 2 Shipping Restrictions by Mageplaza, the store owners can segment shipment methods depending on cart features including:
Subtotal: Total value of the shopping cart
Total items: Total item quantity of a shopping cart
Total weight: Total weight of all items in a cart
For example, with the order of more than 200$, customers will get free shipping and with the order of less than 20$, the fixed rate is 5$ is applied.

Limit shipment by payment methods

If customers use different payment methods, they will be allowed to select different shipping methods.
For example, if customers select payment via Paypal (the international payment method), the shipping method should be Worldwide FedEx or Express. Otherwise, if customers select payment is Cash on Delivery (for domestic delivery), the shipping method should be Home Delivery.
Restrict shipping methods by shipping locations
Depending on different shipping information, specific shipping methods will be visible to customers and ready-to-use. The shipping information which decides shipping methods including:
Shipping postcode
Shipping region
Shipping state/ province
Shipping country
For example, if the shipping locations is the inner city, the shipping fee is free. Otherwise, customers from city outskirts will be charged.

Restrict Shipping depending on product attributes

Specific product attributes can be conditions to determine shipping methods accordingly. With the high-value or limited items which store owners would like to prevent risky possibilities, the shipping methods should be high-class one such as FedEx, Express.
The appropriate shipping methods will support store owners to make sure the proper delivery to customers' locations.
Schedule to activate shipping methods
One of the most noticeable of Shipping Restrictions for Magento 2 is the activation schedule function. The store can set the time to activate the rules based on specific time. The details of the running schedule include start/end date, weekdays, start/end time so store owners can apply the shipping rules at the exact time as they expect easily.
This feature is helpful to stores on special holidays and occasions to suit various marketing campaigns. For example, free shipping for all orders in the inner city at Store's Birthday celebration.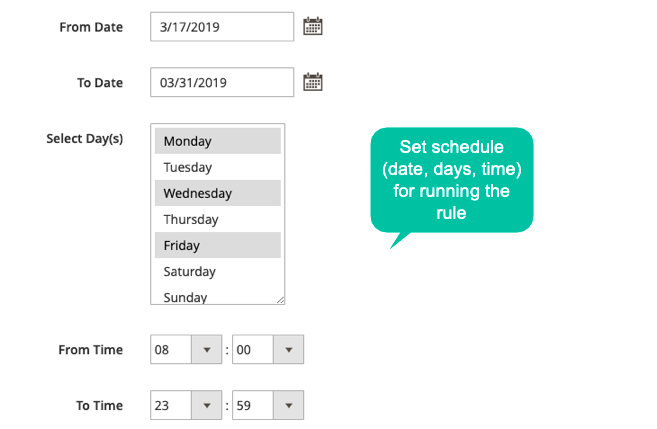 Apply both for backend orders and storefront purchases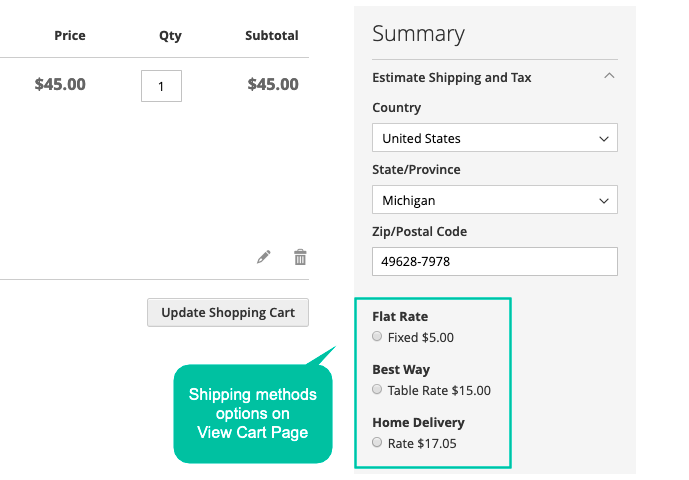 The flexibility of Shipping Restrictions is that it allows the shipping restriction to apply for both the backend orders (for admin only) and storefront purchases.
From the storefront, the shipping methods can be displayed at View Cart Page, Checkout Page and One Step Checkout Page (if One Step Checkout is installed).
The application for backend orders is used in some cases. Customers would like to change the shipping methods and the store admins will update from the backend. Another case may be for exceptional orders with very high value or from a special customer, and the shipping methods should be visible by store admins only.
Full Mageplaza Shipping Restrictions Features
Shipping Restrictions for store admins
General Configuration
Enable/ Disable the extension

Store admins can activate Shipping Restrictions extension by click Yes at the enable field in the admin backend. If they want to disallow this module, they can easily click No.

Add a new shipping rule from the grid

With the support of Shipping Restriction for Magento 2, it is able for store admins to set new shipping rule from management grid.

Set the name for the shipping rule

Admins are allowed to put any name they want for the shipping rule.

Add internal description

Admins can easily add the description for the rule. This description is for internal use and visible to admins only.

Select status: active or inactive

If the admins want to disallow the shipping rule, they can click on Disable status from the admin backend. Otherwise, they can activate the shipping rule by selecting Enable status with ease.

Select store views to apply the shipping rule

Mageplaza Magento 2 Shipping Restriction extension supports store admins to limit the shipping rule application by store view.

Select customer groups to apply the shipping rule

Store admins are able to restrict shipping methods by particular customer group(s). For example, wholesalers customers are offered with free shipping in all orders.

Set the validation date for the rule: start date and end date

One of the most striking features of Strong>Mageplaza Shipping Restriction Magento 2 is that store owners can active shipping rule based on specific time such as the start and end date of the shipping rule.

Select the weekdays to apply the rule

Running the rule in specific weekdays is possible with the support of Shipping Restriction module.

Select the start time and end time of the rule

It is convenient for store admins to set exactly clock time to run the rule from the admin backend.

Set the priority for the rule

If there are several shipping rules, store admins can apply the priority for these rules.
Conditions
Set the conditions for the rule

Mageplaza Magento 2 Shipping Restriction allows store admins to narrow shipping methods by using specific conditions.

Cart Price Rules will override the conditions

If any Cart Price Rules are applied, they will be allowed to override the condition above.

Select actions for the rule: hide or show shipping methods

By simply clicking Show or Hide option, store admins can make shipping methods rule visible or invisible to customers.

Select shipping methods for the rule

There is a variety of shipping methods which store admins can choose to apply for the rule.

Select location for the rule: Backend Orders or Storefront Purchases

Shipping Restriction Magento2 can be applied for both backend orders and storefront purchases. The shipping methods can be shown in the storefront. In some specific cases, the application for backend order (for admin only) is extremely useful.
Shipping Restrictions for customers
To be suggested with appropriate shipping methods

With the help of Mageplaza Shipping Restriction, customers can quickly select the suitable shipping methods based on specific conditions such as cart/ product attributes, payment methods, shipping locations, etc.

Have better experience during shopping time

Thanks to customized and individualized shipping options, customers can process their orders quickly and feel satisfied when they go shopping on online store sites.
FAQs
There is no limitation at all. You can set the rules based on various conditions: cart attributes, product attributes, payment methods, shipping information, customers groups and store views
Firstly, please add the coupon off 70% to the Cart Price Rule section. Then, at the configuration section of Shipping Restrictions, please select this cart price rule, which will override the above conditions you set. All the orders meet cart price rules will not be applied to other conditions.
At the storefront, shipping options are displayed on View Card Page and Checkout Page so customers can view clearly and select easily.
Can't find your feature?
Are you looking for a feature in Shipping Restrictions. Tell Elle your wants and needs.
Chat with Elle
Are you an agency?
Do you often visit us for purchasing extensions and technical support? Speak to April to learn about your exclusive benefits on Mageplaza
Chat with April