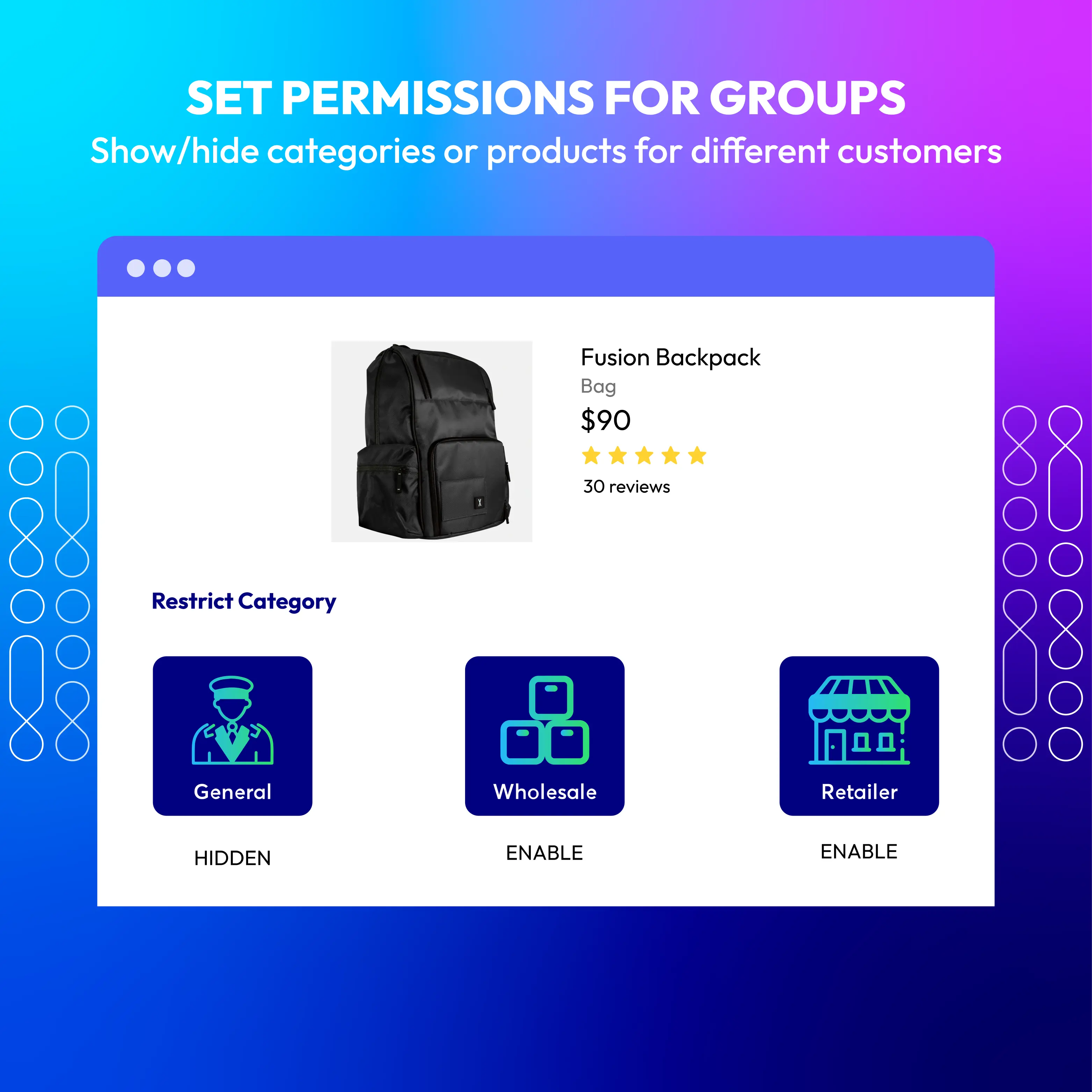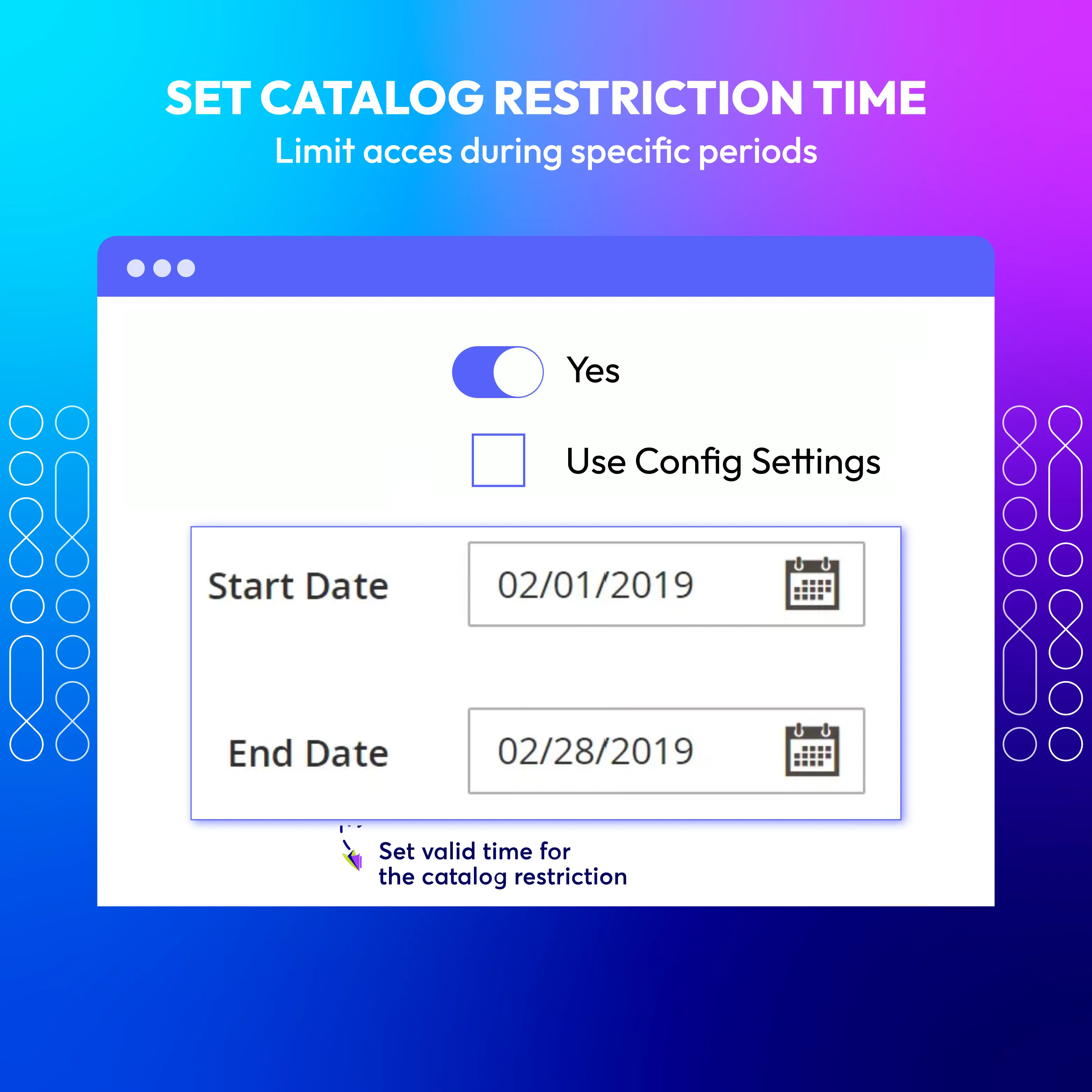 60-day Money Back
Frequent Update
365-day Support
Catalog Permissions for Magento 2
v4.1.1
Magento 2 Catalog Permission extension allows limiting access to specific categories, products and static pages/ blocks by customer groups. Catalog Permissions supports stores owners with business strategies and brings better shopping experience to customers.
Need API/GraphQL for Magento 2 Catalog Permissions? Chat now
CE/EE/B2B/Cloud/ Adobe Commerce 2.2.x, 2.3.x, 2.4.x
Chat now
Problems
With the products whose prices are good or discounted, the store owner would like to give the priority to only wholesalers. Therefore, only the wholesalers can see and access the information about these products and make purchases. This works as a way for a store owner to express the appreciation and maintain the relationship with the loyal and important customer groups.
The catalog restriction allows store owners to set visibility to suit the business situation and shopping seasons. For example, when the stock quantity of a product is small, these products will be visible to only important customer groups.
Customers can view appropriate categories, product or page information when they go shopping on the store site. Hence, they can focus better and avoid being distracted and confused by a number of irrelevant factors.
Solutions
Give access priority to build up the relationship
Target products to relevant customer group(s)
Apply suitable sales strategies in different situations
Share sensitive information with particular customer groups
Focus on relevant information
Gain purchase priority on special occasions
Have better shopping experience
Pricing

Choose your suitable edition
Community
Crafted for a great webstore start
$

199

first year
Supports for Magento 2 Community Edition
Enterprise
Great for an enterprise solutions
$

399

first year
Supports for Magento 2 Enterprise Edition
Highest priority support
Customers can select among 3 selection types: Radio, Checkbox, and Select.
You can set the priority level for each fee by numbering them. The smaller the number is, the higher priority it has. If you want the quick delivery fees to be at the top priority, set it as 0.
You can show extra fees on multiple locations in the frontend, such as Order, Credit Memo, Invoice, Shipment, PDF, Email, Cart Summary, and Payment Method. It is also possible to be viewed at the Order, Invoice, Shipment, and Credit Memo in the backend.
You can set the fees as fixed amount for each item, fixed amount for the whole cart, or percentage of the whole cart.
Yes, you can set up the extra fee to include a discount, shipping surcharge, or product tax. Go to Stores > Extra Fee > Configuration, choose the General section, and select the included value.
Quick support
We have tried other modules from Mageplaza so this is not our first time, but still amazed by the quick support. Thanks guys.
MORE THAN I EXPECTED
I was confused at first and Elsie has been so helpful. 5-star support. So far very happy with Mageplaza service. Highly recommend!
Don Hawes
-
Verified Purchase
Good quality
This one works well on my site, letting me have more control over the customer groups. No issue until now. The support is amazing. I have figured out how to do it on my own. Highly recommend this.
Works as expected
This is a very nice extension, it works great and we didn't have any issue with it. Gook work!
Alejandra
-
Verified Purchase
Incredible support
The support is incredible - can't fault it at all! Dedicated, responsive, friendly and supportive - the team really cares about making sure the extensions work with each site particularly. Thank you so much!
Annette Cmela
-
Verified Purchase
Don't see the features you are looking for?
Request feature
Submit your feature requests below
Want to do extension customization?
Custom request
Let us know your requirements
v4.1.1

13 July 2022

Compatible with Magento v2.4.4
v1.1.0

29 December 2021

Add a new feature Custom Notice Message
Fixed minor bugs
v4.1.0

29 December 2021

Add a new feature Custom Notice Message
Fixed minor bugs
v4.0.1

27 October 2021

Compatible with Magento 2.4.3
Compatible with Magento 2.4.2
Fix some minor bugs
v1.0.4

01 August 2021

Compatible with Magento v2.3.7
Fix minor bugs
v1.0.3

27 May 2020

Compatible with Magento 2.3.5
v1.0.2

29 April 2020

Compatible with Magento v2.3.4
Fixed minor bugs
v1.0.1

22 May 2019

Compatible with Magento 2.3.1
v1.0.0

19 March 2019

Initial Release
Catalog Permissions for store admins
General Configuration
Enable/ Disable the extension
Select customer groups to hide catalog search
Input IP(s) and IP range(s) which is excluded from restrictions
Restrict Category
Enable/ Disable category restriction by customer group(s)
Input URL to redirect restrict customers to another page
Hide/ Show category menu on store frontend
Restrict Product
Enable/ Disable product restriction by customer group(s)
Input URL to redirect restrict customers to another page
Hide/ Show restricted products on Category and Widget
Restrict Page/Block
Catalog Permissions for customers
Access relevant information
Be redirected to suitable content
Get notified about catalog permissions
Go shopping easily and avoid information confusion
Why choose us?
Mageplaza provides consistent and customer-centric extensions for your Magento 2 store.
We don't sell products for one time. We provide lifetime solutions which help our customers thrive with their businesses.
60-day Money Back
Extensive 60-day money-back period. You love it or get a full refund no questions asked.
Extensive Support Timeframe
Mageplaza provides support 16 hrs/day, 5.5 days/week to guarantee the seamless operation of our extensions on your store.
Install via Composer
Simple installation via composer helps you save time and eliminates technical issues during future updates.
Frequent Updates
Intensive update roadmaps ensure great performance, bug-free, highly compatible, and innovative extensions.