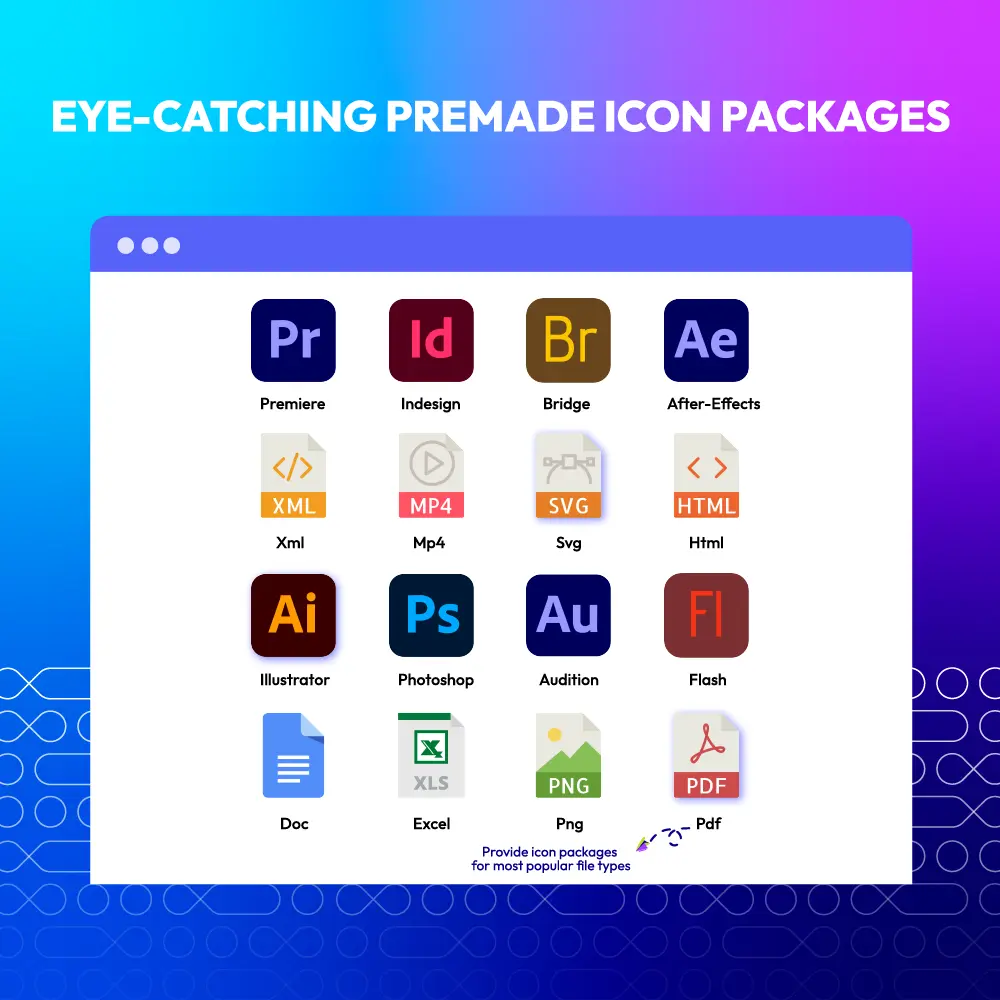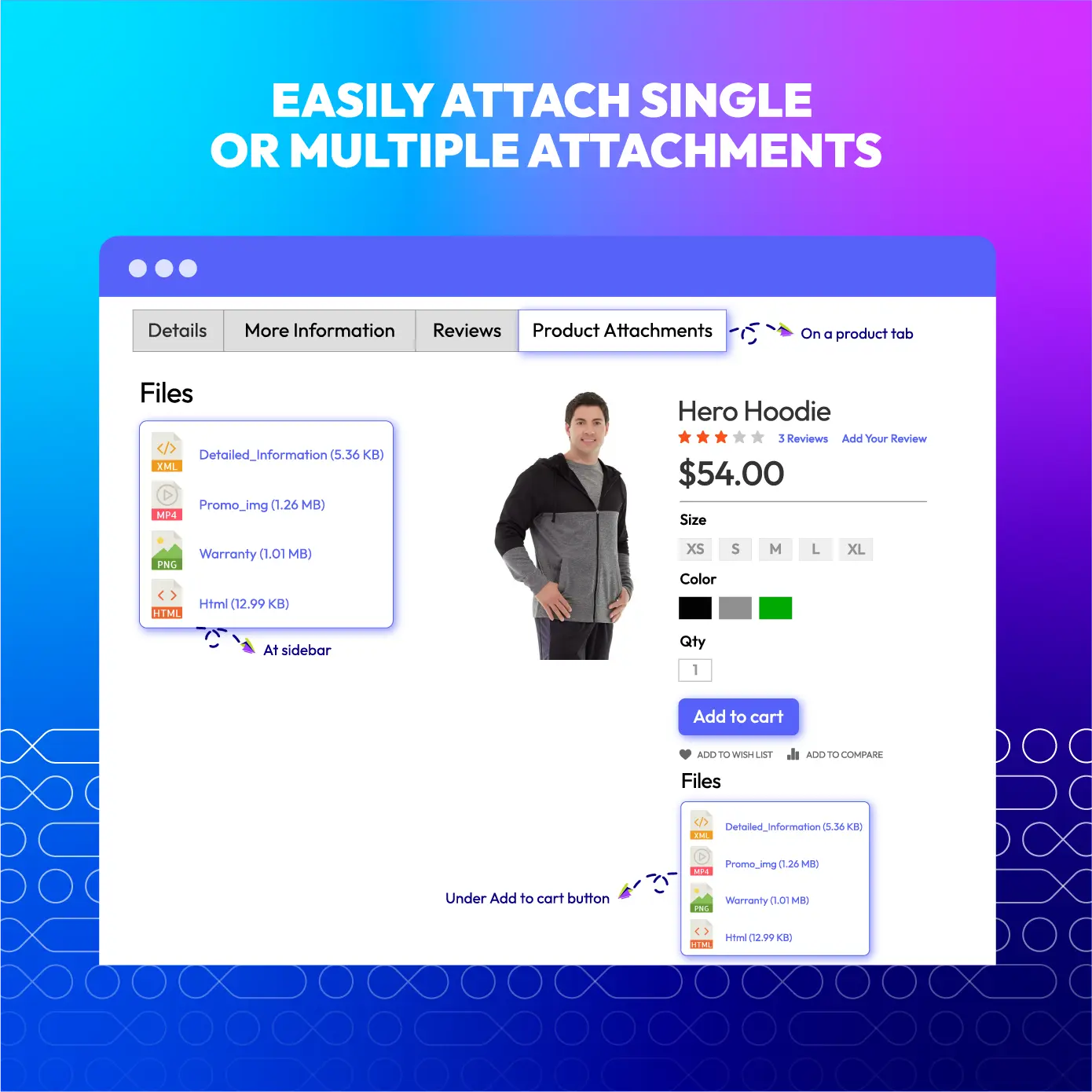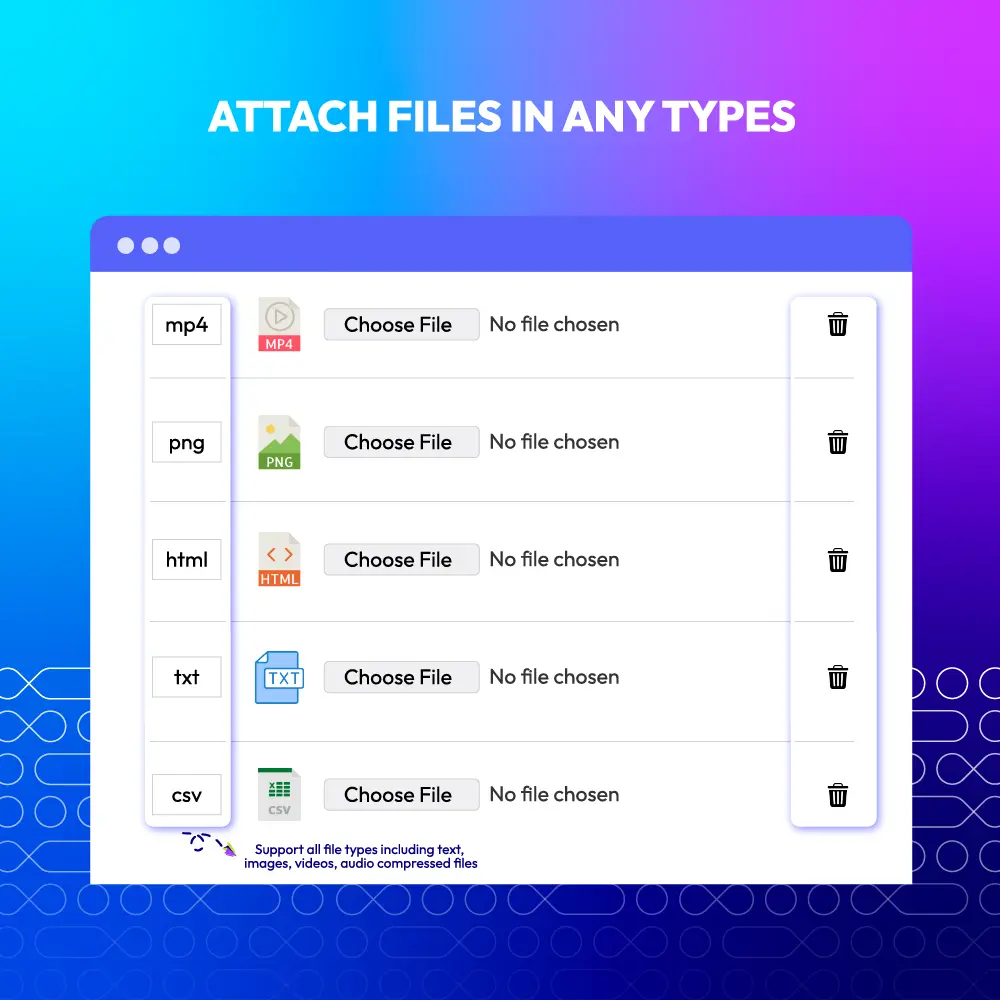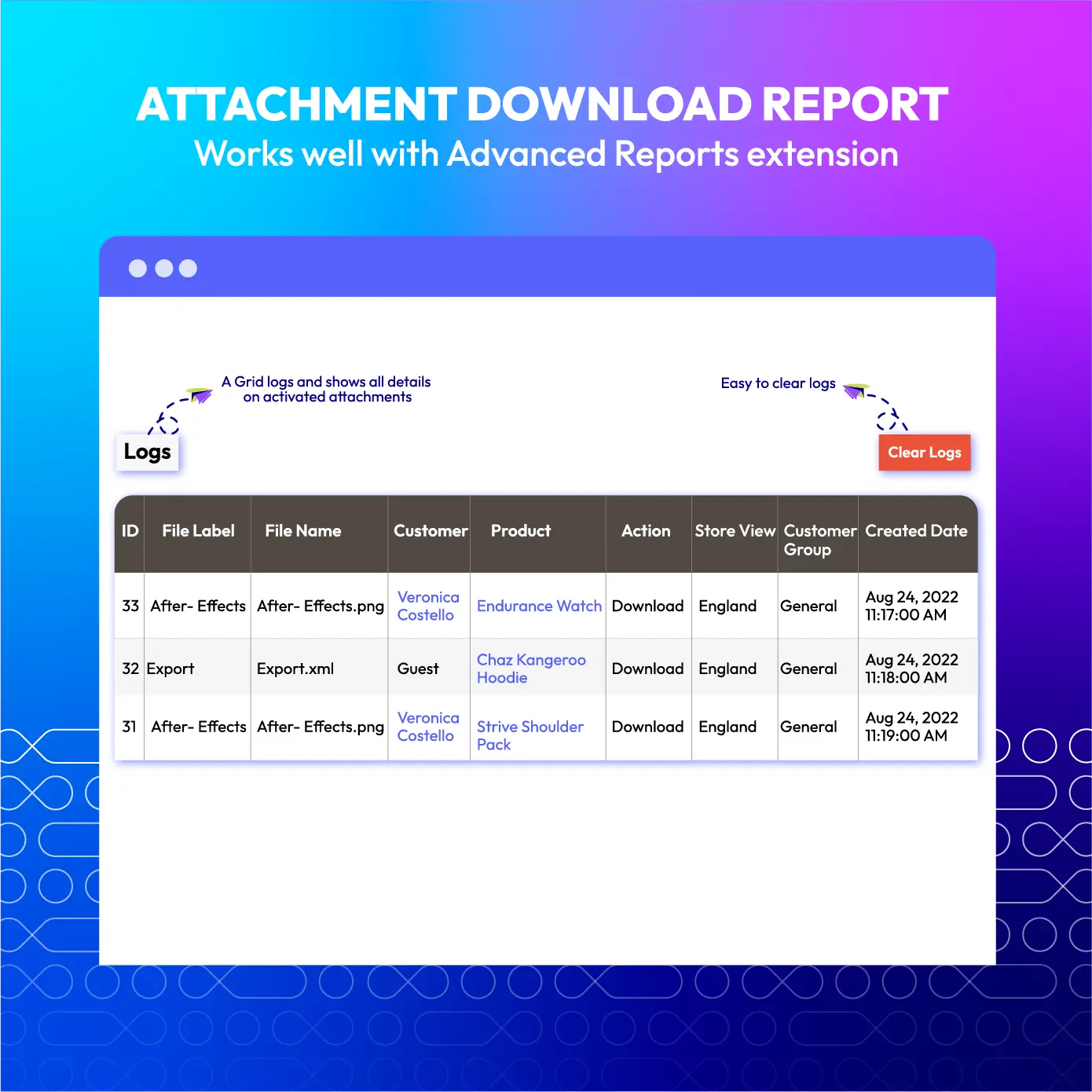 60-day Money Back
Frequent Update
365-day Support
Product Attachments for Magento 2
v4.1.4
Magento 2 Product Attachments extension allowing admins to attach single or multiple informative files to every product in any formats. Admin can drag and drop to quickly upload attachments as well. Attract your customers by eye-catching file icons and well-documented attachments.
CE/EE/B2B/Cloud/ Adobe Commerce 2.2.x, 2.3.x, 2.4.x
Chat now
Most-Trusted Pick
Work perfectly together
Cost-effective
90-day money back guarantee
FREE installation for all
Featured Product Attachments
View Mageplaza Product Attachments on actual Magento 2 stores
Problems
In Magento 2 Default, there is no way to show detailed information without losing much space. For complext products, it's hard for customers to access full documents, e.g., full description, installation guide, or warranties, before they buy. The lack of in-depth understanding about products can cause mistakes in using them. Consequently, your products can end up being abandoned or returned.
Solutions
Attachments are downloadable and viewable. The downloadability and viewability of product attachments can be configured by admins. For customers' convenience, you may want to let them view the attachments online if possible or let them save in their devices for future reference.
Easy to configure attachments visibility. Not every attachment is supposed to be accessible to every customer group. Thus, Mageplaza Product Attachments extension allows you to set the restriction on the file visibility. This helps you hide important/sensitive information from non-verified viewers as well as make your attachments additional valuable assets.
Attach single or multiple attachments
Magento 2 Product attachments allows you to attach one single file or multiple files to the product. These files provide extra information for your customers which can be anything from a user guide, videos, audio or even a zip file. Hence, there is no restriction on the number of attachments which are allowed to appear on a product page.
Drag and drop to upload attachments
Save a lot of time for admins to upload attachments. You can just drag and drop the selected attachment. With a user-friendly module configuration panel, attaching files becomes much easier.
Attach files in any types
Attachments can be uploaded in any file types to help you share information in any forms.
Attach image types
JPG
JPEG
PNG
EPS
GIF
Attach video types
avi
flv
wmv
mov
mp4
Attach document types
pdf
doc
docx
pptx
xlsx
txt
readme
Attach compressed file types
zip
rar
Attach audio types
mp3
And many other file types.
Besides attachment by uploaded files, Magento 2 admins can also attach URL(s) on products. The URL(s) can be Youtube link, Dropbox, Drive URL, or any link.
Pre-made icon packages
Mageplaza Product Attachments for Magento 2 already includes pre-made icon packages for the most popular file types which are most likely used.
These icons are indicators for customers to know which kind of attachments they are about to view or download. This helps them select appropriate software to open these files.
Attachments download report
Mageplaza Product attachments extension works perfectly with Advanced Reports extension to provide you an advanced report on attachment downloads. This report features all important information to help you analyze and manage downloaded files such as product ID, file names, file types, the number of downloads and created dates.
Bulk attach files in CSV
Product attachments Magento 2 allows you to add multiple files in CSV, which is really time-saving for store admins.
More Features

Check out more details of Product Attachments
Preview products
Products which attachments are assigned to are instantly displayed after admin filters them by catalog rules.
Quick upload
Quickly upload attachments in a popup window when admin accesses the product attachments grid.
Display anywhere
Files can be displayed in a sidebar, under the Add to cart button, in a product tab or anywhere by inserting a snippet.
Attachment priority
Product attachments can be prioritized to be shown. A file with a higher priority is displayed in a higher position.
Upload file type icons
Apart from using Mageplaza premade file icons, you can actively upload more icon images from the backend.
Auto-identify file type
Once an attachment is uploaded, its format will be identified and its file icon will be automatically selected.
Online viewability
Admin can configure the online viewability for attachments which allows customers to see files online if possible.
File downloadability
Admin can configure the file downloadability which allows customers to download product attachments.
Pricing

Choose your suitable edition
Community
Crafted for a great webstore start
$

129

first year
Supports for Magento 2 Community Edition
Enterprise
Great for an enterprise solution
$

329

first year
Supports for Magento 2 Enterprise Edition
Highest priority support
Definitely, you can upload multiple files like images, documents, compressed files, and others by using product attachments extension by Mageplaza.
Yes. You can only allow your customers to view the attachments online and disallow downloading.
There will be a notice which is visible to these customers to remind them of this.
Product attachments extension does not allow attachments which exceed 2MB.
Yes, you can view this figure in a report on your dashboard
Yes, you can upload an image to use as an icon and define a file type for it. After that, when a file in that format is uploaded, the icon will be automatically selected and displayed with the attachment.
Best
We sell technical products and customers often ask for detailed guides. This extension works best for stores like us, long specification and installation guides can be attached and downloaded.
Walter
-
Verified Purchase
FULLY MET OUR EXPECTATIONS
The extension fully met our expectations. Also, it is easy to use. And the support team is amazing.
Sandra
-
Verified Purchase
VERY USEFUL
very good extension, very easy to use. A must have !
Raphael
-
Verified Purchase
Nice module & Support
This add-on was easy to integrate, and Mageplaza support is great. Thank you guys!
Gabriel
-
Verified Purchase
Highly recommend!
Really fast and good support. Based on my experience with their support I have ordered multiple modules by Mageplaza for my Magento 2 shop! A clear difference in terms of service and speed compared to some of their competitors! I can advise everybody to consider Mageplaza for modules!
Wesley Isenborghs
-
Verified Purchase
Great
Thanks for your support. Shin was great and helpful for my issue!
Flameluck1129
-
Verified Purchase
Great Products
This is ok for what I need. Easy to install and customize. Great if you want to upload files like catalogs, specifications, brochures etc
Useful extension!
Thank you so much for this kind extension. I am really keen on this module because of its support. It helps me to attach a lot of useful information to our products, then I can show to customers. My customers feel satisfied! It's really great!
Florence
-
Verified Purchase
Don't see the features you are looking for?
Request feature
Submit your feature requests below
Want to do extension customization?
Custom request
Let us know your requirements
v4.1.4

21 July 2022

Compatible with Magento v2.4.4
v1.3.1

26 February 2022

Change id upload attachment input on product edit page
v4.1.2

26 February 2022

Compatible with M2-EE.
Change id upload attachment input on product edit page.
v4.1.1

27 October 2021

Compatible with Magento 2.4.3
Fix some minor bugs
v4.1.0

16 July 2021

Added order status for each attached file
Added Import File Sample
Added group column in Logs
Fixed minor bugs
v1.3.0

16 July 2021

Compatible with Magento 2.3.7
Added order status for each attached file
Added Import File Sample
Added group column in Logs
Fixed minor bugs
v4.0.1

08 April 2021

Compatible with Magento v2.4.2
Fixed minor bugs
v1.2.0

20 January 2021

Added feature: Import product attachment with SKU
Fixed bug: Cannot save attachment while create new product
v1.1.2

30 July 2020

Compatible with Magento v2.3.5
v1.1.1

23 June 2020

Supported Catalog Product Rest API
Compatible with Magento 2.3.4
v1.1.0

14 February 2020

Added attachments by URL
Improved UI/UX & performance
Fixed minor bugs
v1.0.1

01 August 2019

Compatible with Magento 2.3
Fixed minor bugs
v1.0.0

22 October 2018

Initial Release
Product Attachments' Full Features
Product Attachments for store admins
General configuration
Enable/disable the module
Name the block which contains product attachments
Select where to display product attachments
40 premade file type icons are ready to use
Admin can upload images to use as file type icons
Easy to manage the icons
Admin can configure the file visibility on specific store views
Admin can configure the file visibility on specific customer groups
Admin can hide product attachments from non-login customers (Compatible with Mageplaza Social Login)
Admin can hide product attachments from non-verified customers
Allow/disallow customers to view product attachments online
Allow admins to insert a snippet to display product attachments anywhere in product details
Attachment management and report
Easy to manage all information on attachments in a grid
Attach any link on product grid
Attach any link on Edit product page
Easy to acknowledge and analyze important figures of attachments
View the number of downloads of each attachment
Compatible with Products Preselect, Size Chart, Email attachments, Force sign-in
Product attachment upload
Add/edit file name/file label
Easy to enable/disable a product attachment
Restrict store view(s) to display an attachment
Restrict customer group(s) to display an attachment
Choose the attachment type: File upload or URL
Auto-identify attachment format and display the file icon
Ability to set a priority for the product attachment
Select products to assign the attachment to by catalog rules
Instantly preview assigned products after each filter
Quickly upload attachments in a popup window from the product grid
Drag and drop to upload files
Attachment importation
Bulk import attachments in CSV files
Apply default Magento 2 importation feature
Import product attachment with SKU
Product Attachments for shoppers
Be well noticed about the availability of product attachments
Be noticed about the format of each attachment by its icon
View product attachments online
Download product attachments
Easy to find product attachments in product details, the sidebar or under the Add to cart button
Why choose us?
Mageplaza provides consistent and customer-centric extensions for your Magento 2 store.
We don't sell products for one time. We provide lifetime solutions which help our customers thrive with their businesses.
60-day Money Back
Extensive 60-day money-back period. You love it or get a full refund no questions asked.
Extensive Support Timeframe
Mageplaza provides support 16 hrs/day, 5.5 days/week to guarantee the seamless operation of our extensions on your store.
Install via Composer
Simple installation via composer helps you save time and eliminates technical issues during future updates.
Frequent Updates
Intensive update roadmaps ensure great performance, bug-free, highly compatible, and innovative extensions.