How to Customize Email Template, Transactional Email in Magento 2
The Most Popular Extension Builder for

Magento 2
With a big catalog of 224+ extensions for your online store
Transactional Email is the short message that is sent by the system as a response to customer's activities on your site while a default template for the body content is supported and associated with the header and footer template for a completed email. Especially, because the format of the content is HTML and CSS, it is flexible to customize the email template for Magento 2 store to fit with each website or each store view. It is easy to customize by inserting variables and saving it in the backend, your custom email template will be available to use. To make sure it is sent to customers' inbox, you should enable SMTP.
The email template contains your logo and store information, so there is nothing more for you to edit or design. Follow this tutorial, you can get the guides in detail to edit email templates or create a new one Transactional Email, follow up email. Moreover, to ensure that your customization is right as you expect, you should tap Preview links to check before sending them to the customers.
Discover Follow Up Email extension for Magento 2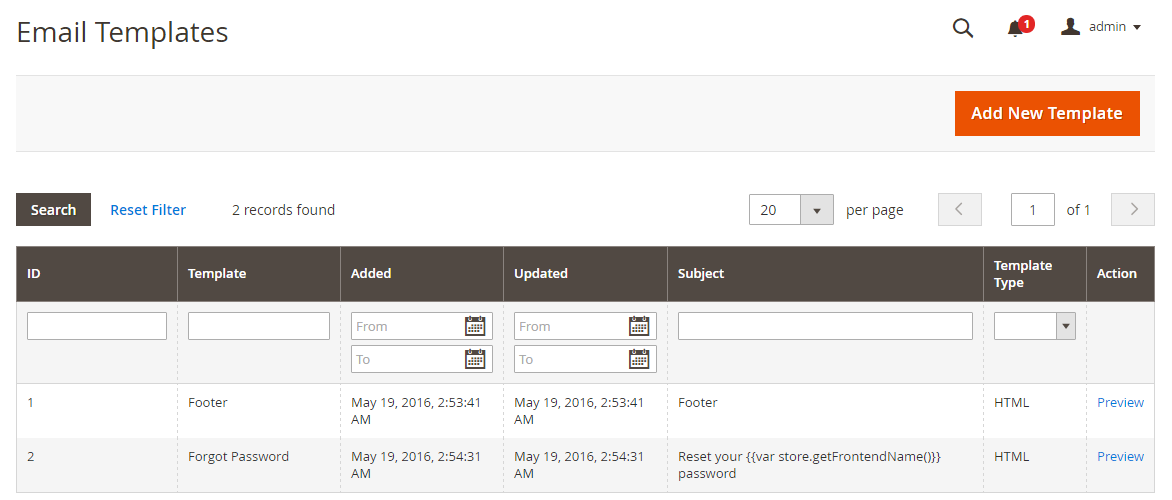 As mentioned above, the email is divided into three elements: Header, Body, and Footer.
Header Template: The Header is the top of the email that is sent to customers, simultaneously, it attracts the viewer's sight very well, so your logo is placed there and linked directly to your store. This is a great idea to drive more traffic to your site.

Footer Template: The footer template includes the conclusion and the signature of the sender. Feel free to edit the content of the footer, and also to add more information as company email, number or address.

Message Template: The message template is referred to as the body of the email and the customization is similar when you do with the header and footer template. However, with the message template, it is different when you apply different activities or events. Magento provides you the corresponding templates to use or modify how to be suitable for your brand. For example, you can start with the main information related to the recipients.
Therefore, to customize a transactional email template, let scroll down the topic:
4 Steps to Customize Email Template in Magento 2
Step 1: Load the Default Template
First, you have to select and load the templates:
On the Admin Panel, Marketing > Communications > Email Templates.
Click on Add New Template,

Choose the types of the Template: Header, Footer, or Message Templates.
Click on Load Template, the corresponding format will appear.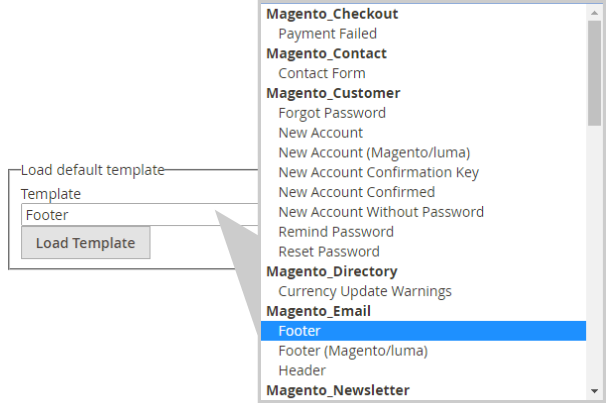 Step 2: Fill out the Template Information
In this step, you can add information for the Template, such as Name, Subject, Content, Variables, and Styles.
Name for the new template in the Template Name field.
Insert the Template Subject for the organization of the templates. The list of templates can be sorted and filtered by the Subject column.

Customize the HTML as you need in the Template Content box.
Click on Insert Variable to insert a variable in the Template Content box.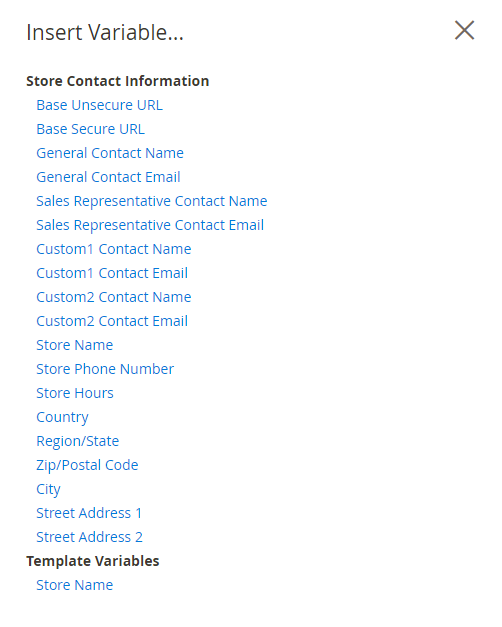 With the inserted variable, you can custom it directly into the template.
If you want to declare any CSS, enter the styles in the Template Styles box.
Step 3: Preview the Template
After making changes, let's take a look at how the changes look like in reality via the Template Preview:
To ensure that the template is applied correctly as you expect, click on Preview Template to adjust if needed.
Save Template to complete.
Each completed new template is auto-updated in the list of available Email templates.
Step 4: Apply the new Template
This is the last step to launch the new email template. Complete these settings and you will be ready to go:
Footer/ Header Template

Go to Magento Admin, follow the path: Store > Configurations > General > Design, open Email section.

Set name for new Footer/Header Template
Save Config to complete.

Message Template

Go to Magento Admin, follow the path: Store > Configuration > Customers > Customer Configuration

Based on where the template is placed to open the relevant option, for example, the template belongs to Create New Account Options:

Set the new template for Welcome Email.
Save Config to complete
Transactional Email with better results: Marketing Automation solution
Creating transactional emails in Magento 2 may seem confusing to you, or do you need more than what the platform offers? Don't worry, we've got everything handled for you by the Marketing Automation solution by AVADA. Let's check out what you can gain using it:
Save time with ready-made email templates for all needs
Optimize the email sending process with automatic email workflows
Create effective marketing campaigns thanks to appealing and shoppable branded emails
Retain customers via segmented email campaigns
Reduce time spent to customize emails and optimize transactional email usage, what a deal, isn't it?
The bottom line
Sending transactional emails to customers is a necessary action to maintain the communication and show the professional image. This tutorial hopefully gives you knowledge of how to customize email templates of transactional emails for your store. However, we understand that it may be troublesome to customize it on your own in the default Magento 2. Hence, why don't you try this Email Marketing solution, where the templates are ready made and customization is easy and quick? You can contact us for more details, or comment in the box below for further discussions.
Explore Marketing Automation tool for your store now
Related topics
Looking for
Customization & Development Services?
8+ years of experiences in e-commerce & Magento has prepared us for any challenges, so that we can lead you to your success.
Get free consultant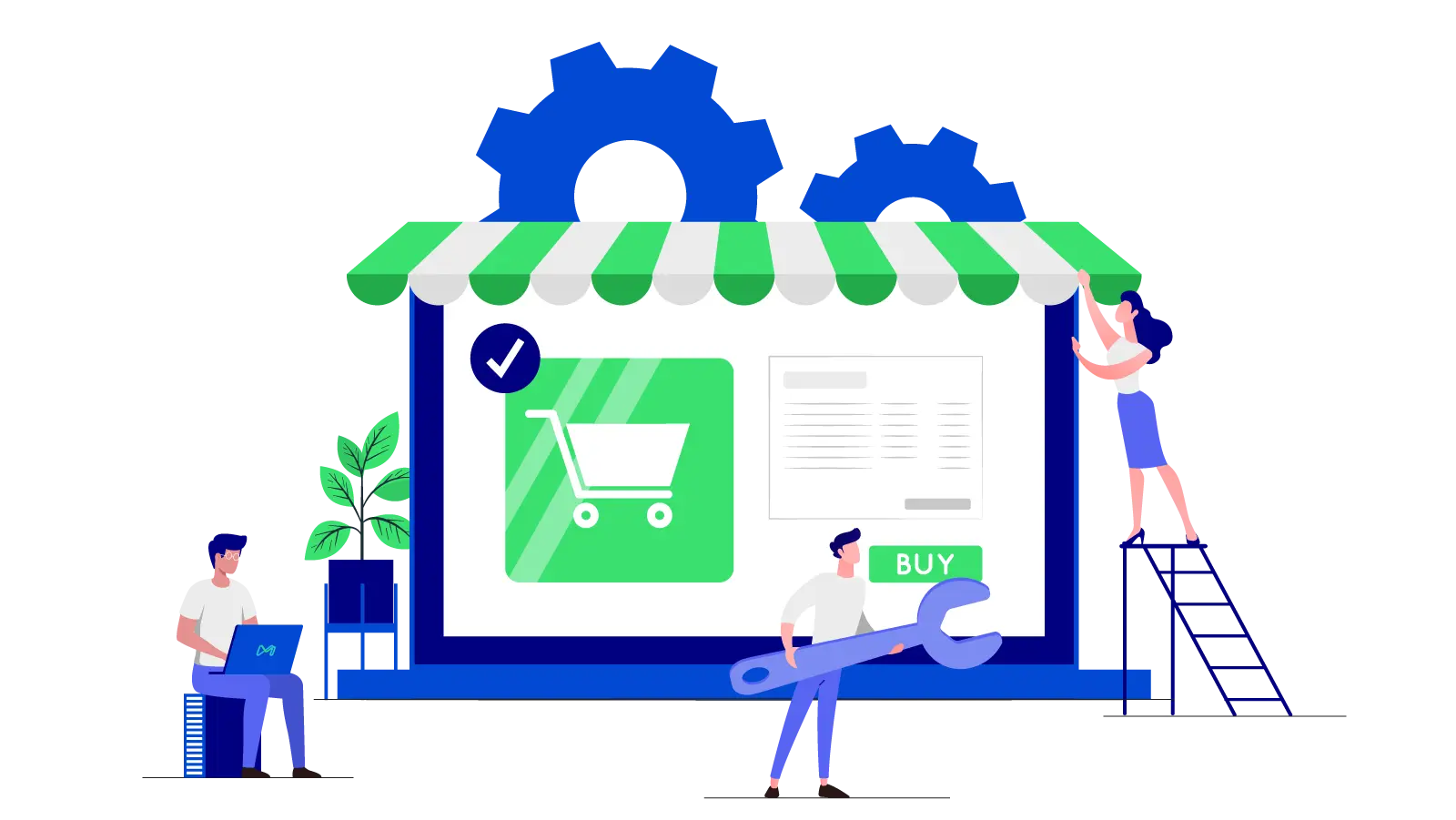 Recent Tutorials

People also searched for
magento 2 change email template
magento 2 change email header template
magento 2 edit email templates
magento 2 email template variables
magento 2 customize email templates
magento 2 email footer template
magento 2 default email templates
magento 2 create email template
magento 2 custom email template
magento 2 order email template
magento 2 create custom email template
magento 2 change order email template

magento 2 email header template
magento 2 email templates location
magento 2 transactional email templates
template config_path= design/email/header_template magento 2
magento 2 create new email template
magento 2 override email template
magento 2 email template styles
magento transactional email template files
magento custom email template
magento 2 design/email/header_template
email template is not defined magento 2
magento 2 change order confirmation email template
magento 2 email template if condition

magento 2 new order email template
magento 2 style email templates
magento new order email template
magento transactional emails template styles
magento email templates location
magento change email template
magento edit email templates
magento custom email template variables
magento email templates variables
magento change order email template
magento email template tutorial
magento template config_path design email header
magento reset password email template
2.2.x, 2.3.x, 2.4.x
Subscribe
Stay in the know
Get special offers on the latest news from Mageplaza.
Earn $10 in reward now!