Follow Up Email for Magento 2
v1.1.1
Magento 2 Follow Up Email allows creating a chain of emails sent to customers automatically based on their activities. Send cart abandonment emails, subscription confirmation emails, etc. to motivate customers to come back to your store and make purchases.
You've just added this product to the cart:
Follow Up Email
You've just added this product to the cart:
Follow Up Email Pro
Why is Follow Up Email a must-have for the e-commerce store?
By Monetate, email marketing drives more conversions than any other marketing channels, including search and social. In details, 4.24% of visitors from email marketing buy something as compared to 2.49% of visitors from search engines and 0.59% from social media
By McKinsey, email is 40 times more effective to acquire new customers than Facebook and Twitter
By MarketingSherpa, 72% of users prefer to receive promotional content through emails while only 17% prefer social media
Sending emails to customers is an effective way to launch/ maintain the connection to customers. This is a good way to take good care of customers during their shopping journey.
For example, from the first time a visitor signed up an account in your store, they would be welcomed. Then, they placed an order, they would be taken care of.
The shopping journey of a customer is counted by days, months or years. Therefore, the follow-up emails are a motivating tool to take care of customers and convert their consideration into their purchase.
Follow-up emails are typically effective in turning the abandoned carts into purchased ones because the emails remind shoppers timely about their forgotten items at the store.
Follow Up Email not only follows/ reminds customers about their activities but also support promotions such as attaching up-sell/ cross-sell products. Besides, the emails can give customers auto-generated coupon codes to motivate their further purchases.
Trigger emails related to events
5 event types Follow Up Email offers online store 5 types of events to trigger notification emails related to order, abandoned cart, customer, wishlist, and date.
The 1st trigger - order With order-related events, the notification emails will be triggered when order/ shipment/ invoice/ credit memo is created. And when there is any change in the status of the orders.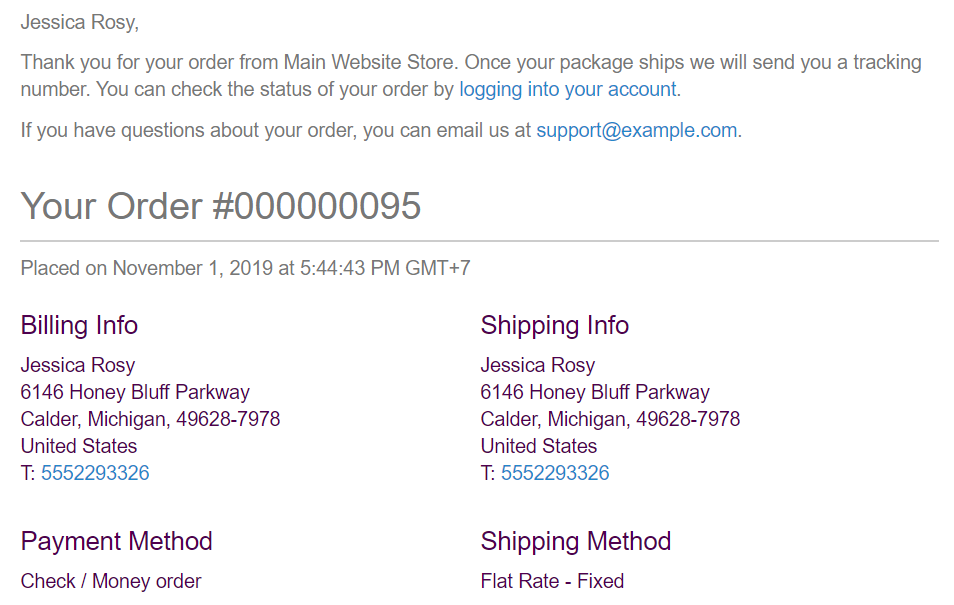 Customer-related follow-up emails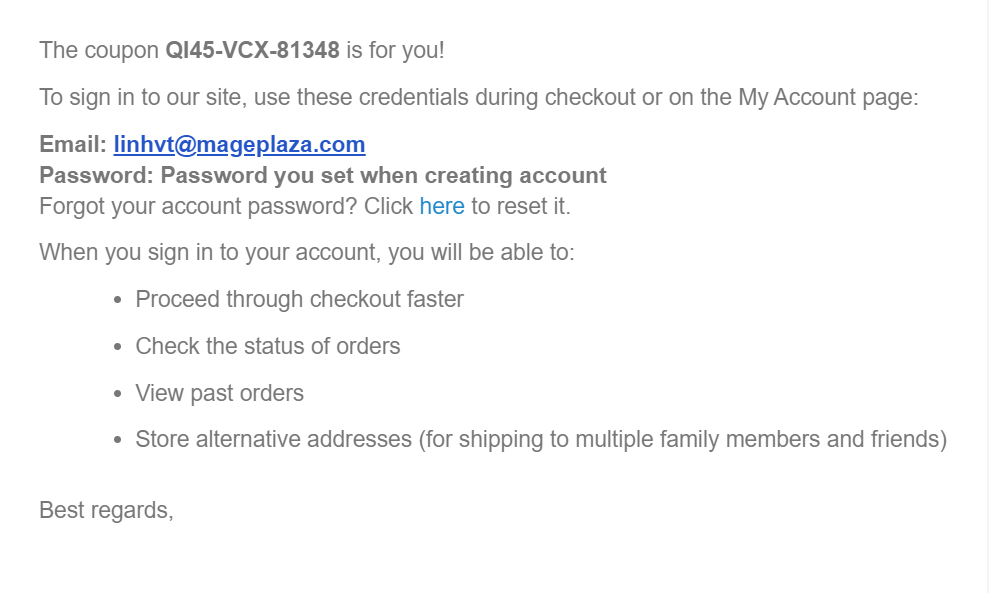 Customers are updated instantly with the events they are interfered with. In details, the customers are notified when:
Register a customer account
Subscribe for newsletter
Unsubscribe for newsletter
Submit a review
The review is approved
Customer's birthday
Customer's group change
No activity for a time
Wishlist follow-up emails
Customers' wishlists should be taken good care because the wishlists are potential orders of customers in the future. Therefore, it will be a wise idea when the stores notify customers of the events related to their wishlists:
Email customers when a wishlist is created
Email when a product of the wishlist is on sales
Email when a product of the wishlist is back to stock
Email when customers share their wishlist to others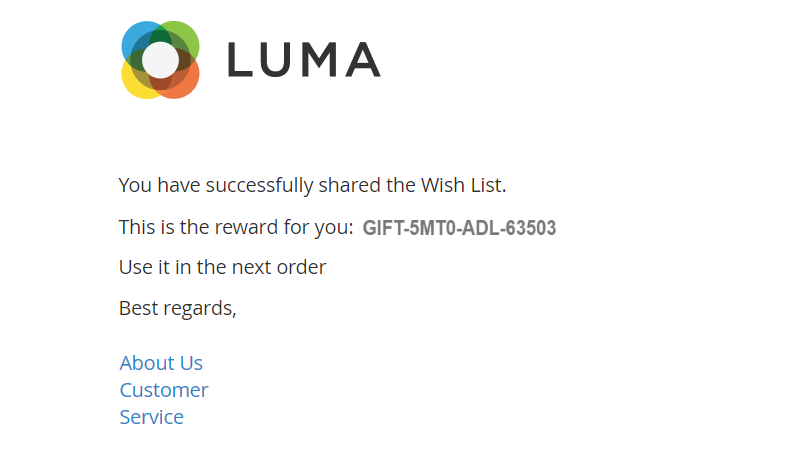 Follow up abandoned carts with emails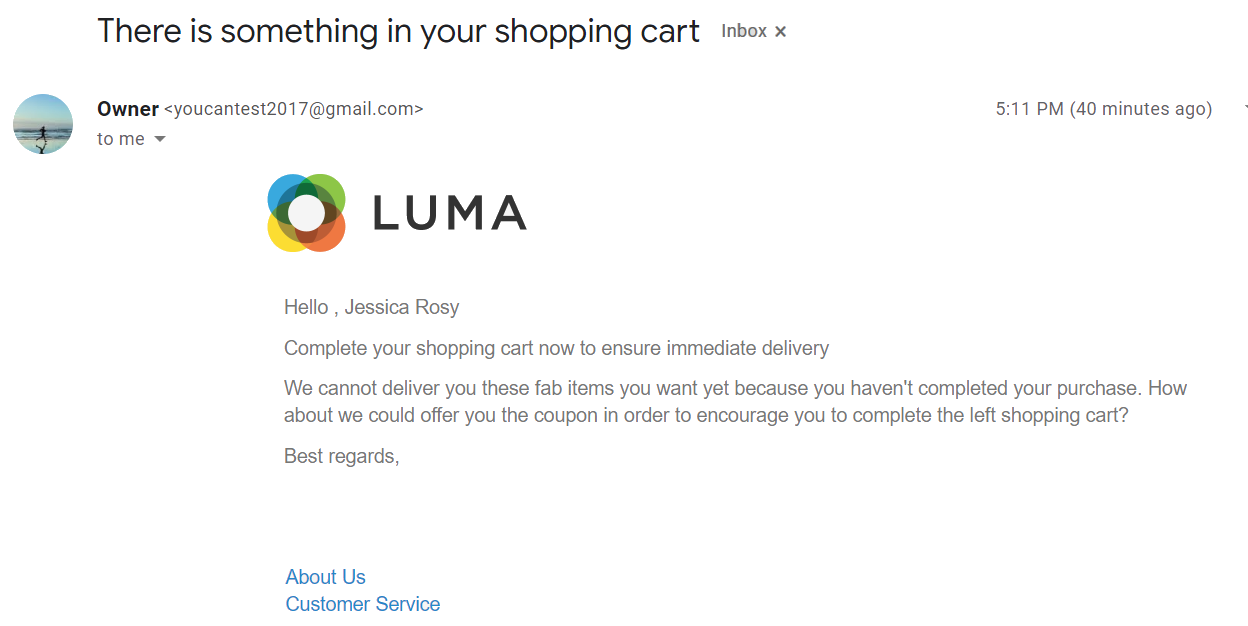 Remind of abandoned carts with the follow-up emails It is unable to prevent customers from leaving their cart deliberately or indeliberately. However, you can call them back with the follow-up emails to remind them of their incomplete carts.
Make customers remember their missing The email will make customers remember their missing or forgetting their shopping cart. They will be more likely to back to the store site to complete their shopping with a proper checkout.
Settings Follow Up Email on popups
Configure via popup For each campaign, store admins can create multiple events to send corresponding follow-up emails. Therefore, optimize the actions of settings, Follow Up Email extension supports the configuration of events and emails via popup.
Improve admin's experience The popup is open when the store admin clicks to create any events and emails. Popup improves the working experience of the admin at the backend.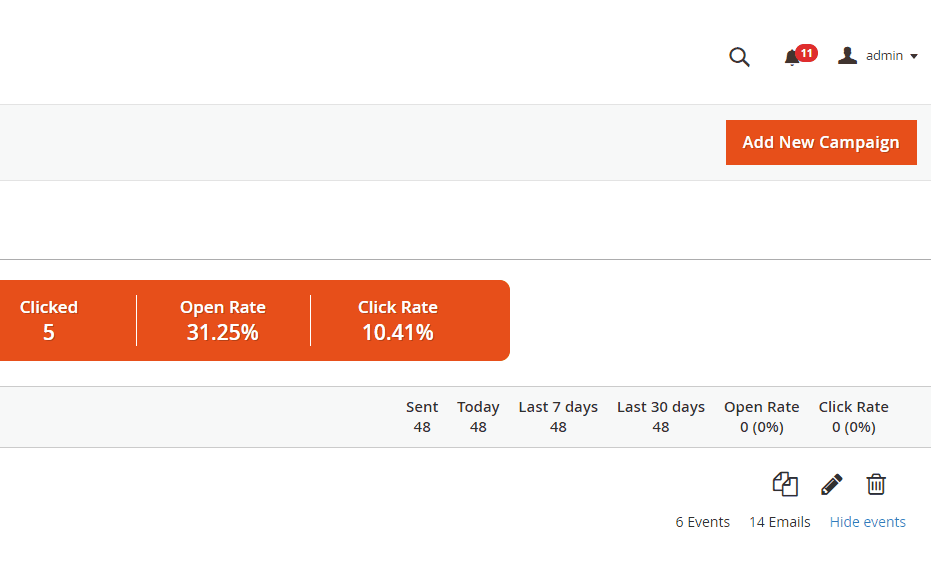 A/B Testing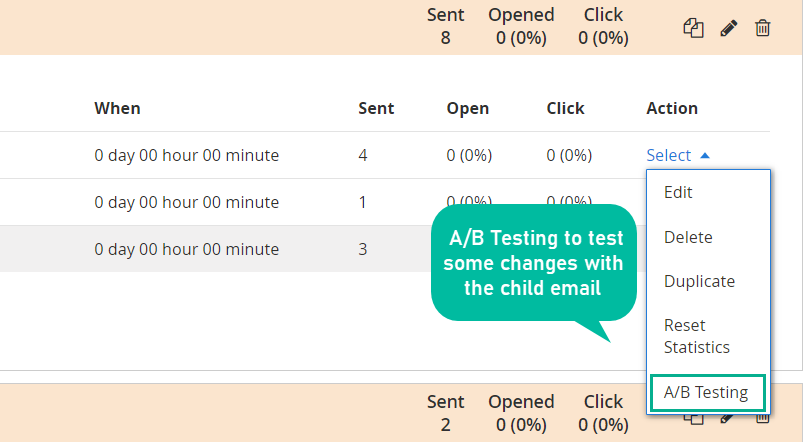 Testing to optimize To optimize the effectiveness of follow-up emails, the module supports stores to test 2 versions of an email with the A/B testing technique.
Compare results The store admin can make a change to the parent email to create the child one. Then two versions are implemented in the real situation and compare the results.
Detailed Reports
For each email, the analysis statistics are reported to the store admin at the backend. In details, the admin can know:
The number of emails sent
The number of email-opens
The number of email-clicks
Open rate
Click rate
Depending on that, the store admin can know exactly the effectiveness of the emails to maintain or adjust the content or/and design appropriately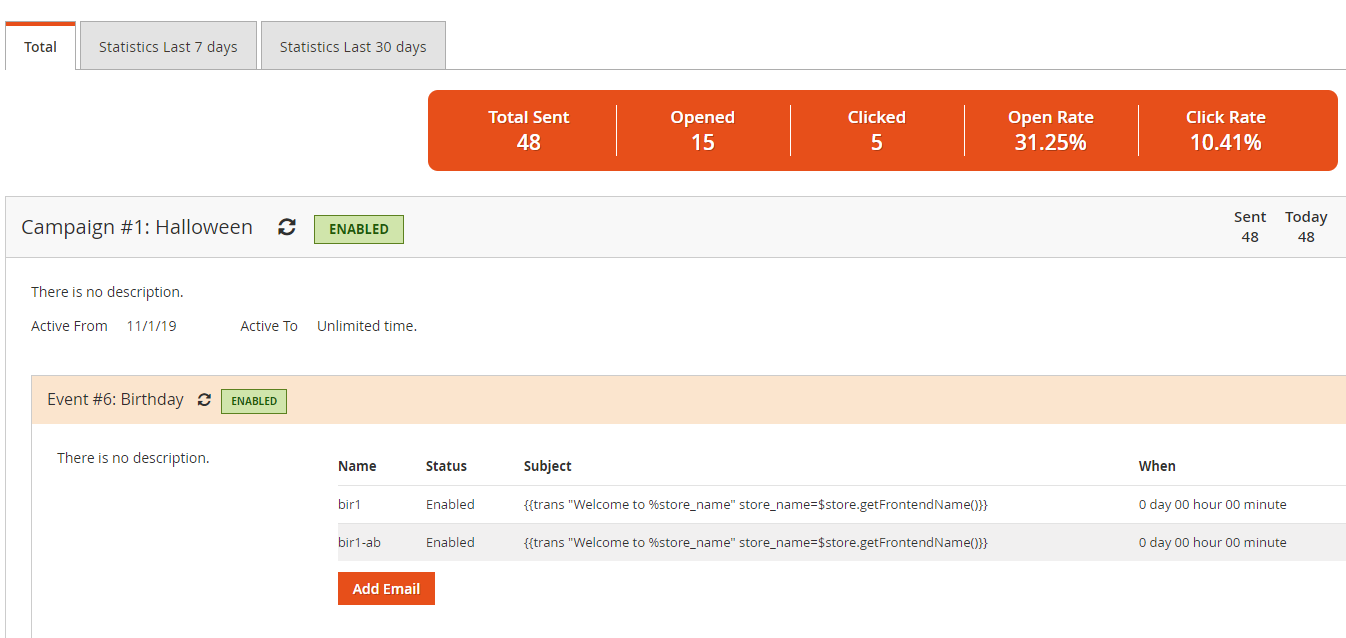 Condition to start or stop an event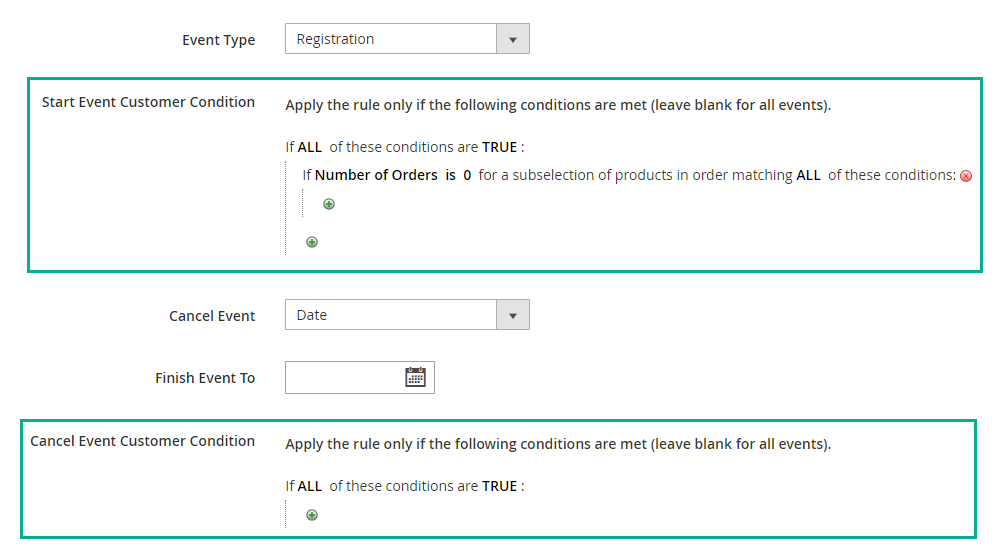 The event will be activated or stopped if the customer's order meets specific conditions. The condition list is corresponding to each event type.
Order attribute conditions for order events
Customer, order and product conditions for customer events
Product attribute conditions for wishlist events
For example, only start sending a follow-up email for the customer's review if the order number is at least 1.
Full Features List
For store admin
Enable/ Disable Follow Up Email extension
Set the time to define the abandoned cart
Set default sender name
Set default sender email address
Select sending copy email method
Enter emails to receive copy emails
Set time and order status condition to clear email log
Add a new follow up email campaign: Name, status, description, start & end date
Add a new event: Name, status, description, Event type, Cancel event
Enable only sending follow up emails to newsletter subscribers
Add a new follow up email: name, status, send after,
Select cart price rule and add coupon code
Enable suggesting related products, up-sells, cross-sells
Compatible with other Magento 2 extensions: Abandoned Cart Email, Better Wishlist, Google Analytics, Better Reports
For customers
Be reminded about their activities
Have better shopping experience
Can't find your feature?
Are you looking for a feature in Follow Up Email. Tell Elle your wants and needs.
Chat with Elle
Are you an agency?
Do you often visit us for purchasing extensions and technical support? Speak to April to learn about your exclusive benefits on Mageplaza
Chat with April