How to configure Magento 2 Contact Us form & Contact email address
The Most Popular Extension Builder for

Magento 2
With a big catalog of 234+ extensions for your online store
The Contact Us link placed at the footer of the Magento 2 store allows customers to send a message directly to you by completing the form. Thanks to this contact method, any requests or concerns can be resolved effectively, which assists the customer support better. Hence, online businesses can build a close and long-term relationship with customers.
The Contact email address indicates the email recipient to which the forms are sent, and the email sender by which the store replies to customers. Magento sets [email protected] as the default email address, but you may want to change it to your own here. To make sure it send to you inbox, you should enable SMTP. In addition, you also can customize the email templates, and upload your brand email logo here.
Why are Contact Us form and Contact email address essential for your online store?
Contact Us form can:
Be a useful channel for customers to get in touch with the business
Ensure the emails not get lost because of wrong address
Save time when all important information is collected beforehand
Store the conversation in the email inbox for future management
And rather than using the default email by Magento 2, contact email address configuration can:
Be easier to remember
Assign different emails for different purposes
Assist the branding strategies
Here is the Contact us form in the frontend, visitors/customers can send you an email via this page.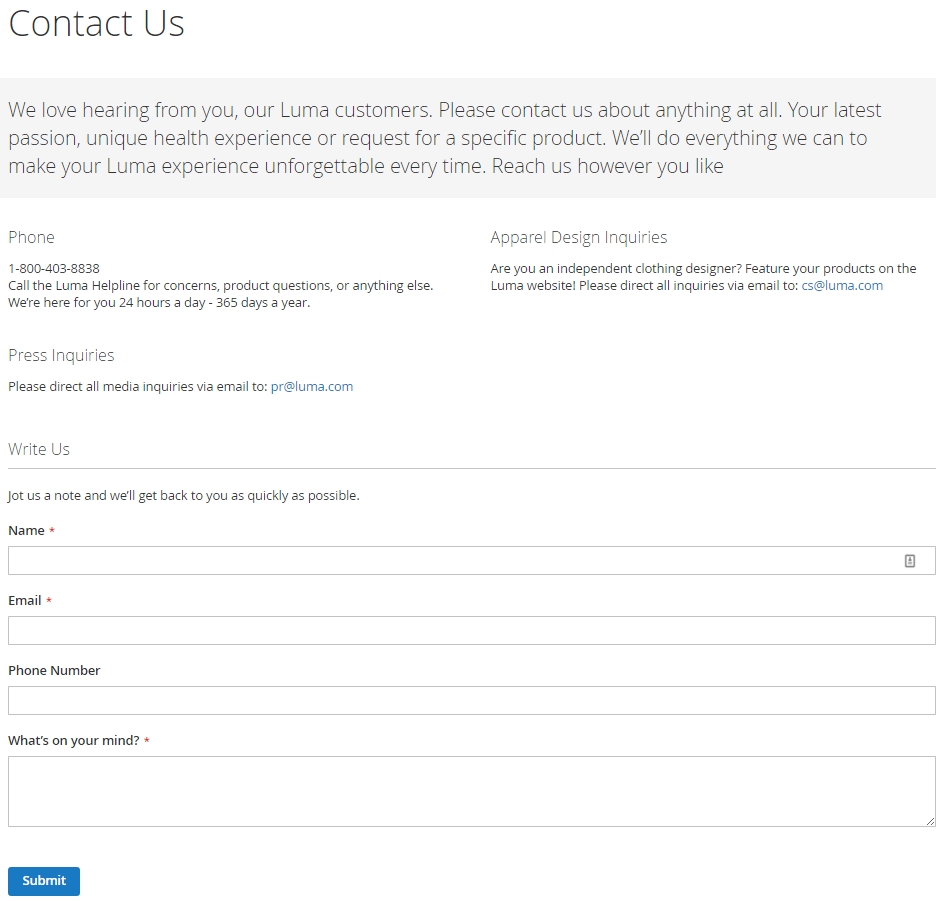 After the form is submitted, a thank-you message appears. The contact-us-info block contains the form, and can be easily customized.
Related Post
4 steps to configure Contact Us form in Magento 2
This tutorial will guide you through 4 steps to set up the Contact Us form:
Step 1: Login to your Magento 2 backend
On the Admin sidebar, click Stores. Then under Settings, choose Configuration.
In the panel on the left under General, choose Contacts.
Step 2: Configure Contact Us form
After logging in the backend, now you can set up the Contact Us form, as well as configure the Contact email address as you wish:
Expand the Contact Ussection. If necessary, set Enable Contact Us to "Yes"
Expand the Email Options section. Then, do the following:

In the Send Emails to field, enter the email address where messages from the Contact Us form are sent.
Set Email Sender to the store identity that appears as the sender of the message from the Contact Us form. For example: Custom Email 2.
Set Email Template to the template that is used for messages sent from the Contact Us form.

When all the steps aren't done, click Save Config.
Step 3: Customize Contact Us form
Contact Us form is also an opportunity for you to provide essential information for your customers. You can include this content with ease after following these steps:
On the Admin sidebar, click on Content. Then under Elements, choose Blocks.
Find the Contact Us Info block in the list, and open in the Edit mode.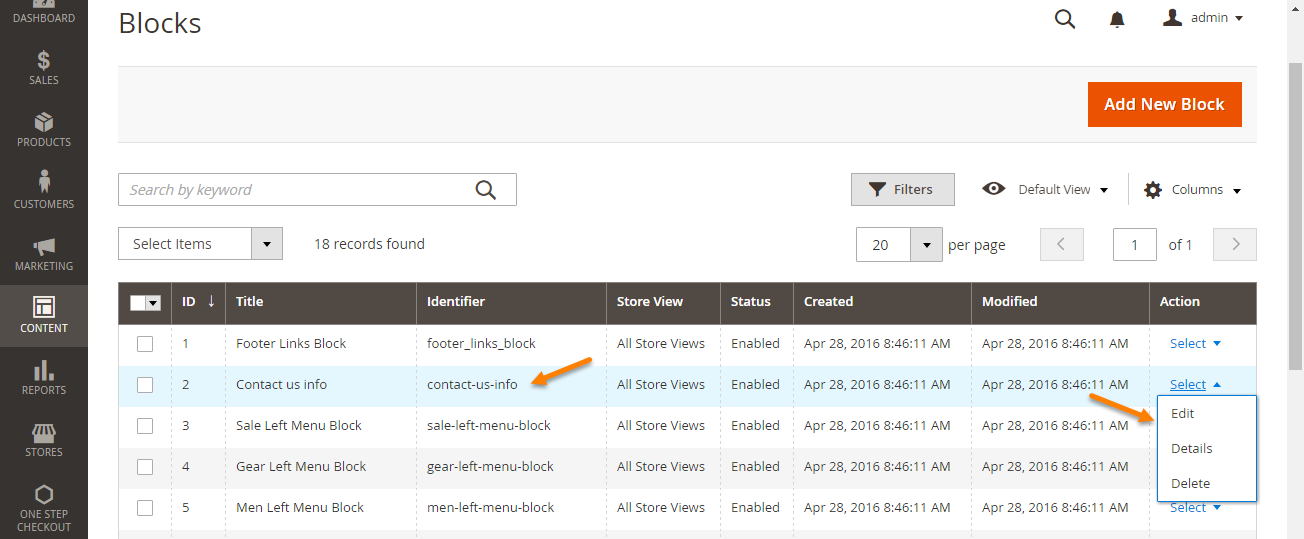 Scroll down to the Content field, and make any changes necessary.

Use the editor toolbar to format the text, and add images and links.
Click on Show / Hide Editor to work directly with the HTML.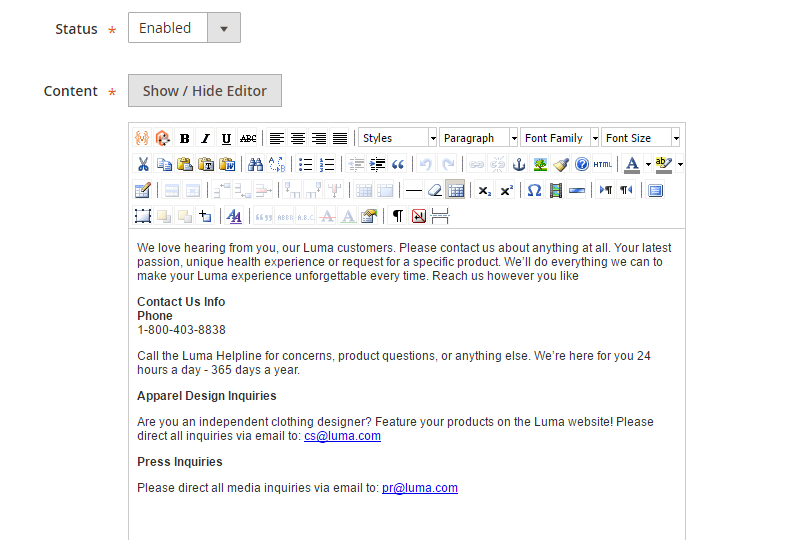 Step 4: Check the result
After setting up everything, click on Save Block to get all done.
Explore Magento 2 Custom Form Extension
The bottom line
That is all you have to do to enable the Contact Us form, edit its content and the Contact email address. Obviously, it is vital for online stores when it comes to business and customer communication. This is general guidance, so if you have more questions, you can leave the comment in the comment box and we will reply as soon as possible.
Related Topics:
Looking for
Customization & Development Services?
8+ years of experiences in e-commerce & Magento has prepared us for any challenges, so that we can lead you to your success.
Get free consultant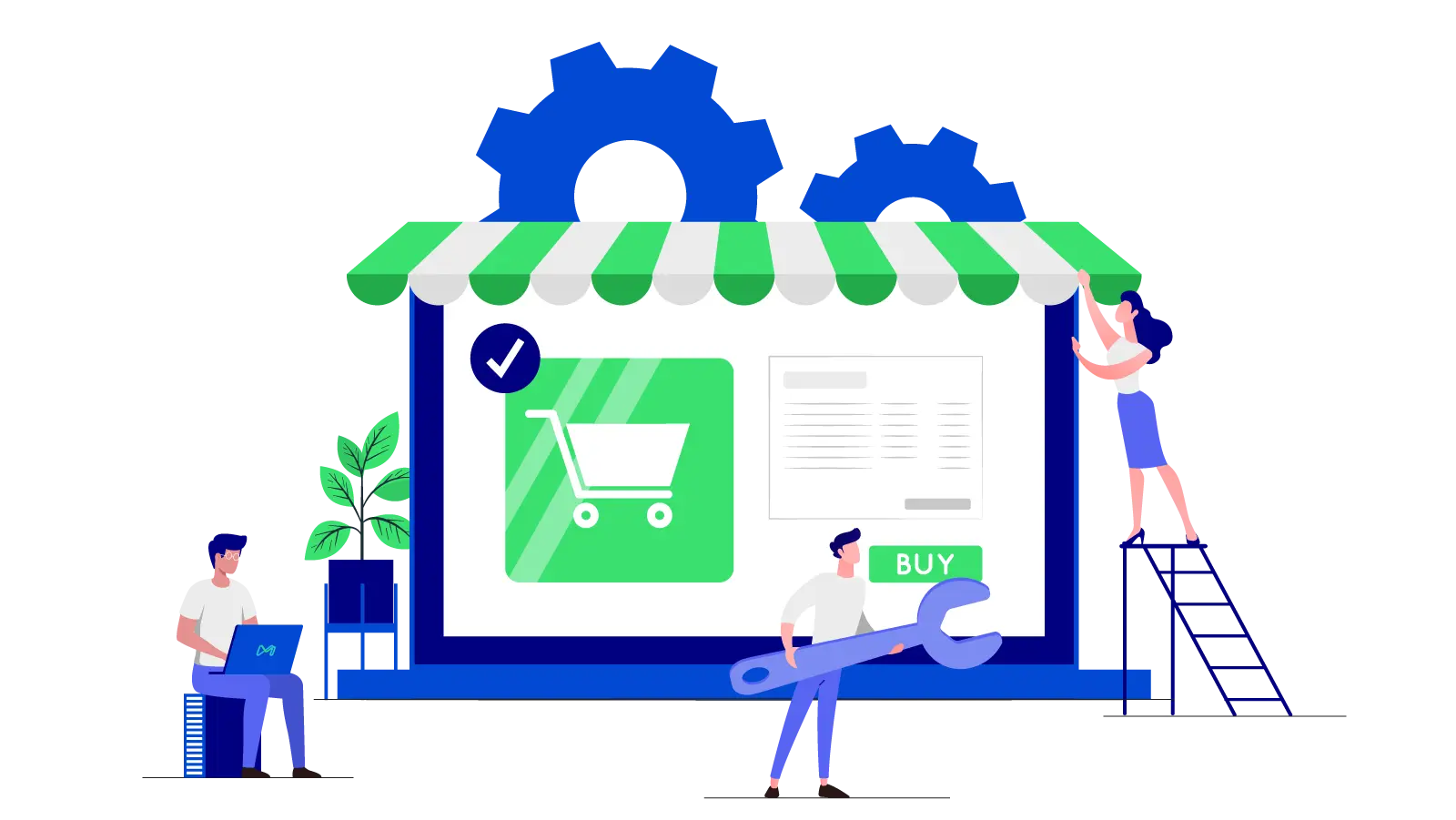 Recent Tutorials

People also searched for
magento 2 contact form
contact form magento 2
magento 2 contact us page
magento 2 contact us form
magento 2 contact form email
contact form in magento 2
magento contact form email
contact us email template for admin
magento 2 contact page

magento 2 contact us page url
magento 2 get general contact email
magento 2 custom contact form
magento 2 contact us block missing
magento 2 contact form not sending email
magento 2 contact form not working
magento 2 contact us
magento contact us form
magento2 contact form
magento 2 contact forms

contact us magento 2
magento contact form
magento contact form email template
magento contact
magento contact us
contact page magento 2
contacts form
contact form magento
custom contact form magento 2
magento2 contact us page

magento 2 create custom contact form
2.2.x, 2.3.x, 2.4.x
Subscribe
Stay in the know
Get special offers on the latest news from Mageplaza.
Earn $10 in reward now!