How to configure Newsletters in Magento 2
The Most Popular Extension Builder for

Magento 2
With a big catalog of 224+ extensions for your online store
Configuring Newsletter in the backend is required if you want to create newsletters for your site. Newsletters are important documents to inform clients regularly of your store's activities particularly as promotions, discounts or loyalty programs. It also is an effective method to communicate with your customers in a personalized approach. Thanks to that, you can attract new customers and recall current ones about the brand. Thus, setting up newsletters is the perfect step for customer loyalty.
Within the configuration, you can give a confirmation link that the customers need to click on to complete the subscription process. The process that requires customers to take a secondary step to verify the subscription is called the double opt-in1 method. Applying this method will reduce the spam to your newsletters.
Tip: Using FREE Newsletter popup extension of Mageplaza can boost loyalty customer by email subscription.
Read more on How to manage your Newsletters campaigns in Magento 2
Steps to set up the Newsletter Subscription Options in Magento 2
On the Admin Panel, Stores > Settings > Configuration.
Under Customers tab, select Newsletter
In the Subcription Options section, you need to do:

Set the email template and sender to Success Email, Confirmation Email and Unsubscription Email that suscribers will receive.
To require the customer's confirmation, choose Yes in the Need to Confirm field.
Allow guests who don't have Magento account on your site receive newsletters, set Allow Guest Subscriptions to Yes.

Save Config to complete.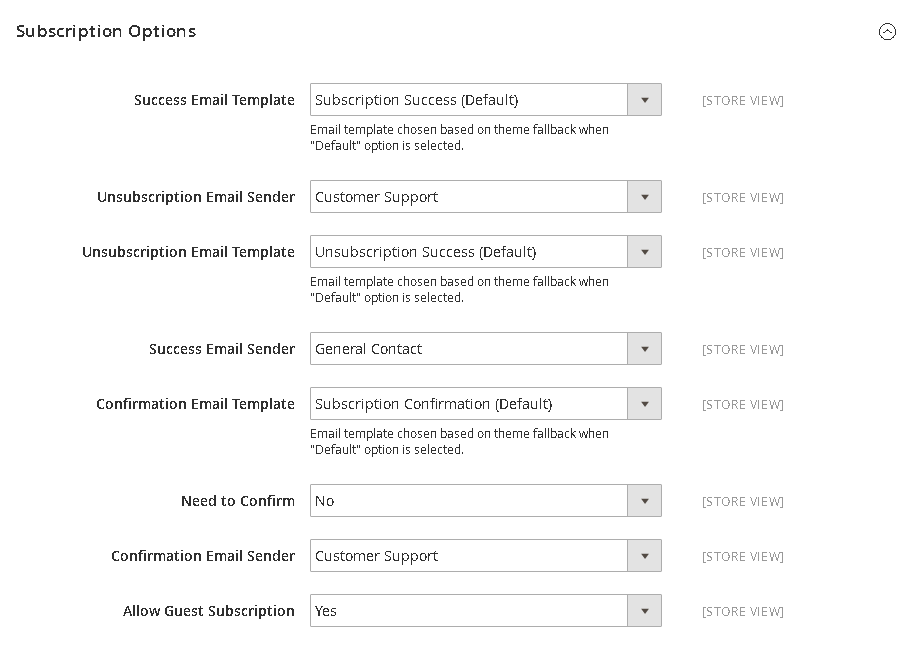 8 Tips to create a good Newsletter campaign in Magento 2
Make it standout: The first step is collecting emails, so they should be made attractive. You can consider showing notices in homepage, bars or popups.
Motivate customers to subscribe: Give customers rewards to motivate their subscription. For example, you can give them extra discounts, free gifts, or reward points.
Control the frequency: Maintaining the communication flow is also a good way to remind customers of your brand. However, too much can backfire you, so consider thoroughly to see how frequently you should send the newsletters, usually monthly or every other week is acceptable.
Personalize messages: Although Newsletters are to announce general updates, you should still show how friendly you are by simple personalization like calling them by their names.
Use diverse content and design: To strike interest and maintain the engagement, you should consider diversifying the content as well as newsletters' design.
Include Call-to-Action: In the Newsletters, you can place call-to-action buttons that direct readers to your homepage or specific products.
Track the results regularly: To optimize the newsletters and make sure that they are effective, check their activities regularly via reports.
Use Mageplaza Newsletters Popup that offers different functions such as newsletter popup display, custom content, regular reports, and various timing to excel your results
Read How to send Newsletters to customer groups
Final words
Newsletters are usually used to deliver the latest news, offers and campaigns of an online store, so it is considered one of the most essential methods to promote your products, reach out to customers, as well as remind them of your brand. Configuring Newsletters in Magento 2 only requires stores to take simple steps as above, hence we think you can do it without any doubt. If you have concerns, please contact us or write down below.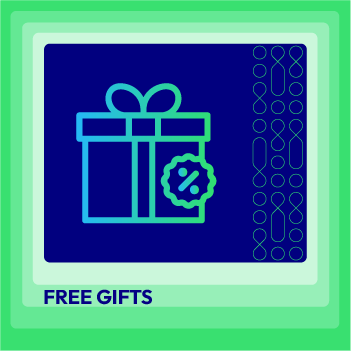 Retain customers and boost sales easily by offering free gifts
Check it out!
Related topics
Looking for
Customization & Development Services?
8+ years of experiences in e-commerce & Magento has prepared us for any challenges, so that we can lead you to your success.
Get free consultant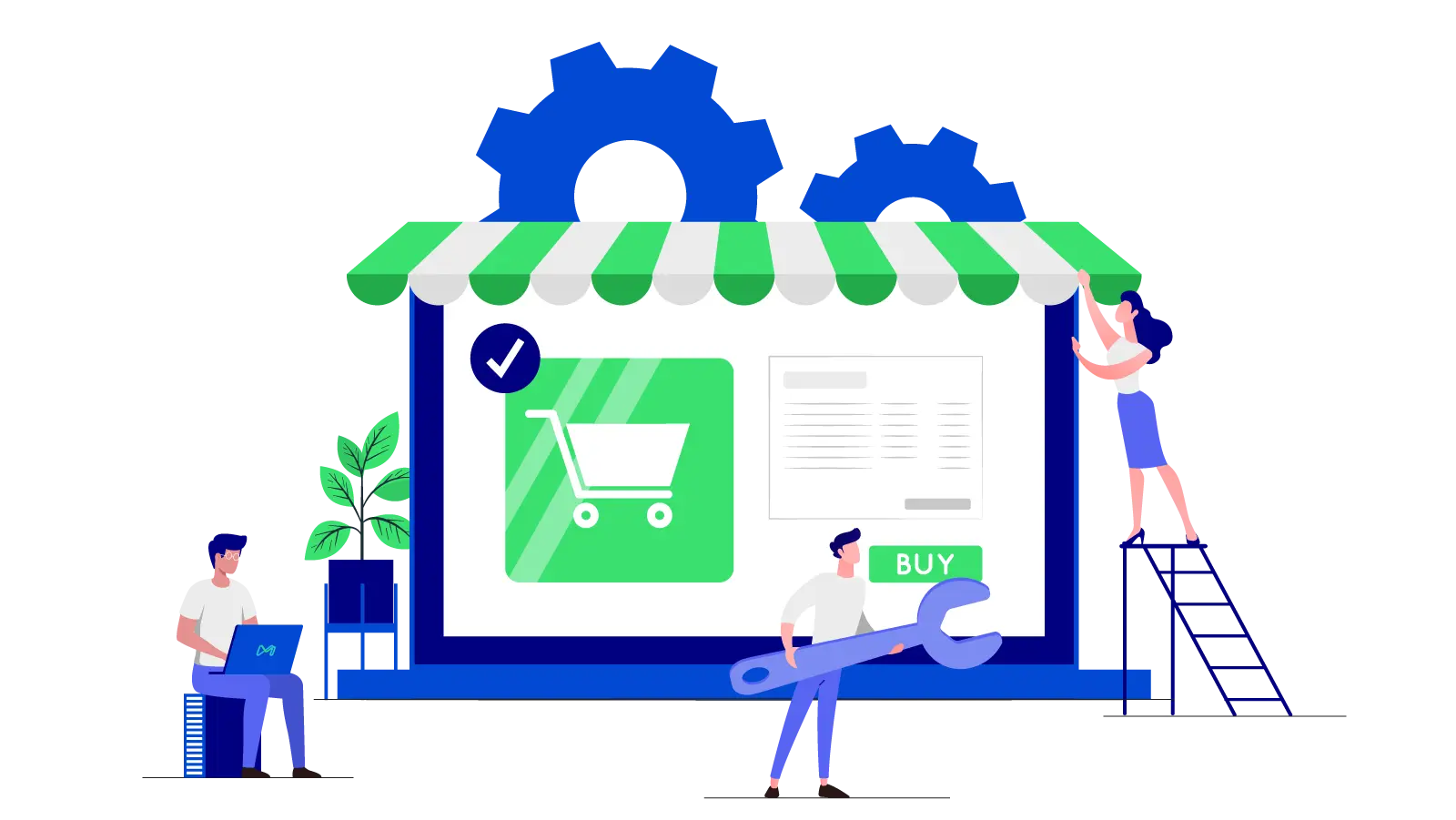 Recent Tutorials

People also searched for
magento 2 newsletter
magento 2 newsletter subscription
newsletter magento 2
magento newsletter
magento 2 disable newsletter
magento 2 newsletter subscription success email not sending
magento 2 newsletter subscription not working

disable newsletter magento 2
magento 2 newsletter template
magento newsletter subscription
magento 2 disable newsletter subscription success email
magento disable newsletter subscription success email
magento subscribe to newsletter
magento 2 newsletter block
magento newsletter spam

magento 2 send newsletter
configure newsletters magento 2
magento 2 subscribe to newsletter programmatically
newsletter subscription email template
magento 2 check if customer is subscribed to newsletter
magento 2 disable newsletter module
magento 2 disable newsletter subscription
how to setup a newsletter
2.2.x, 2.3.x, 2.4.x
Subscribe
Stay in the know
Get special offers on the latest news from Mageplaza.
Earn $10 in reward now!