Loyalty Program for Magento 2
v1.0.1
Magento 2 Loyalty Program extension is a must-have tool for every store that is building effective discount programs for loyal customers. This module helps store owners create multiple exclusive discounts for loyal clients based on order and customer data
You've just added this product to the cart:
Loyalty Program
You've just added this product to the cart:
Loyalty Program Pro
Most-used Loyalty Program Case Studies
Customers who have spent over $500 in the most recent 30 days will be offered free shipping in the next 5 orders
Customers who have spent from $2000 in a year is VIP customer. VIP customers get a fixed 20% discount on every order over $100 and a fixed 10% discount on every order below $100
Customers who have purchased 10 times on store with the average order value being equal or over $100 will be offered a fixed $50 discount on the next purchase (the 11th order)
Customers who have purchased at least 4 times on store in one month will be offered buy 2 get 1 free program
Offer special discount by order & customer data
Create special discounts based on order data including:
Number of orders
Total order amount
Average order amount
Create discounts based on order subselection including:
Order status
Period (days) after order placed
Discount created according to customer attributes. Mageplaza Customer Attributes extension is integrated into Magento 2 Loyalty Program module so you can take advantage of this to release personalized loyalty programs which fit individuals and specific customer groups. These customer attributes can be: email address, date of birth, gender, TAX/VA, etc.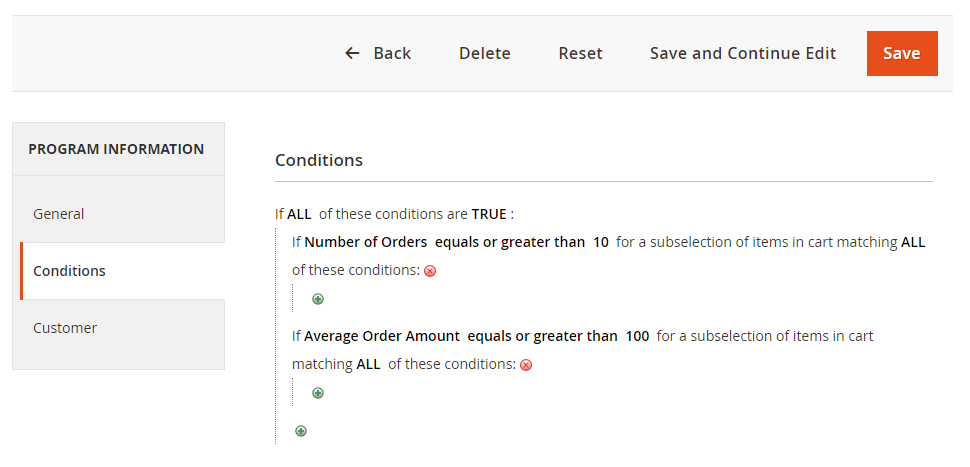 Discounts designed based on purchase history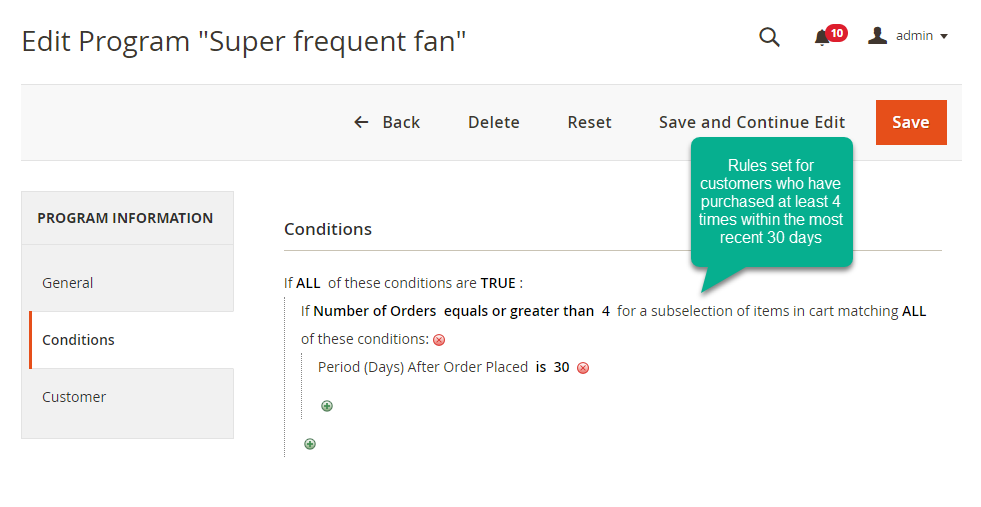 The customers' purchase history such as the frequency, purchase times, shopping period on your store can be used to create special discounts. This encourages loyal purchasing behaviors and motivates customers to shop more frequently on your store.
Emails to loyal customers
2 types of emails can be sent to loyal customers as a means to announce them about their loyalty programs. Admins can enable or disable these emails and select email templates for each. These emails also work to motivate customers to rejoin a loyal program when it expires for some reasons.
Announcement emails when customers successfully joined one loyal program
Announcement emails when customers are no longer enabled to access a loyalty program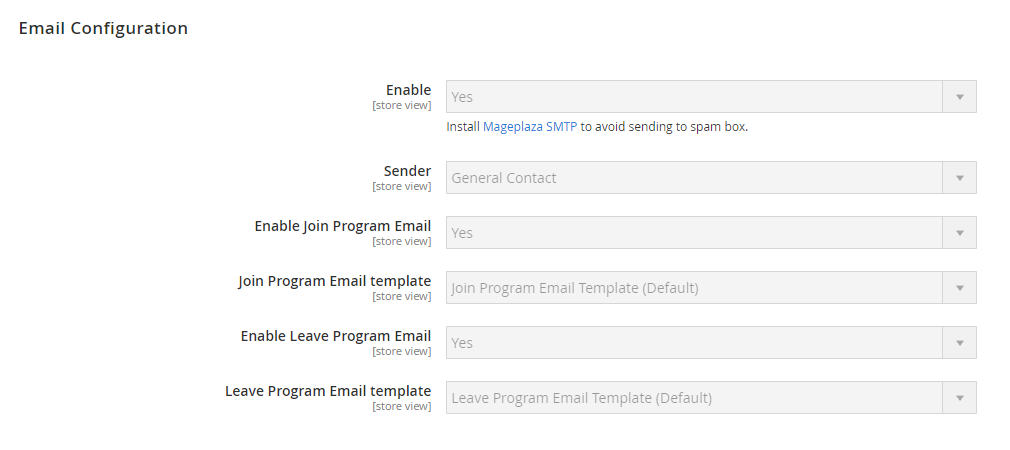 Create a loyalty program page with details and statistics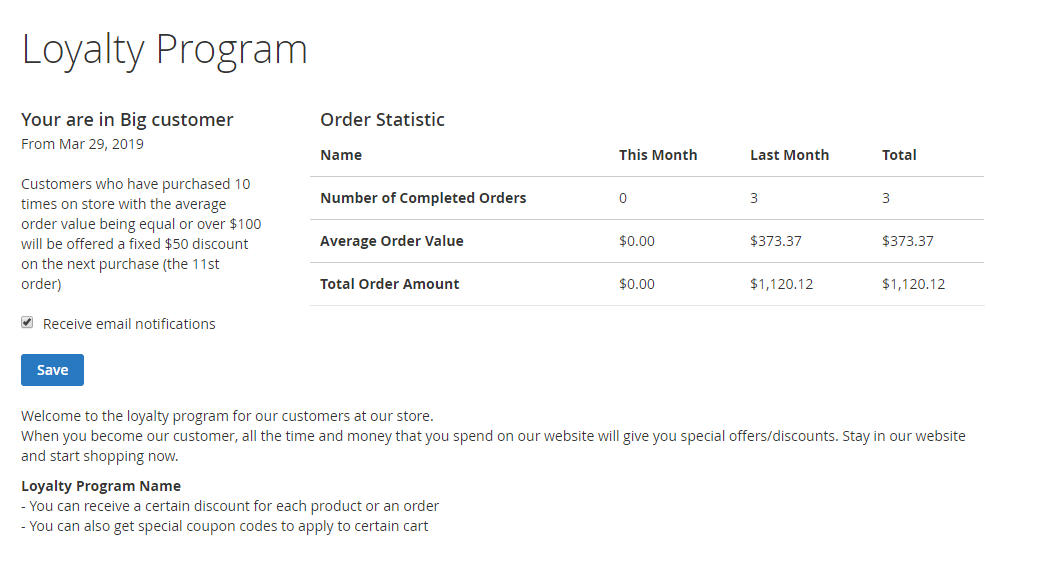 A loyalty program page is created in customer's account page so they can keep themselves posted to special discounts that you offer. On this page, all details and statistics of their current loyalty programs will be featured. Moreover, the estimated expiration date is displayed
Notification settings are displayed on this page also. Customers have rights to enable or disable one or both 2 emails from your store about their loyalty program notification.
A static block about loyalty program's benefits is featured on this page too. This block can be turned on from the backend.
Manage loyalty levels by grid
All loyalty programs are displayed in a grid where you can perform quick changes on names, status and priority.
From the grid, admin can also click to edit the rules in details.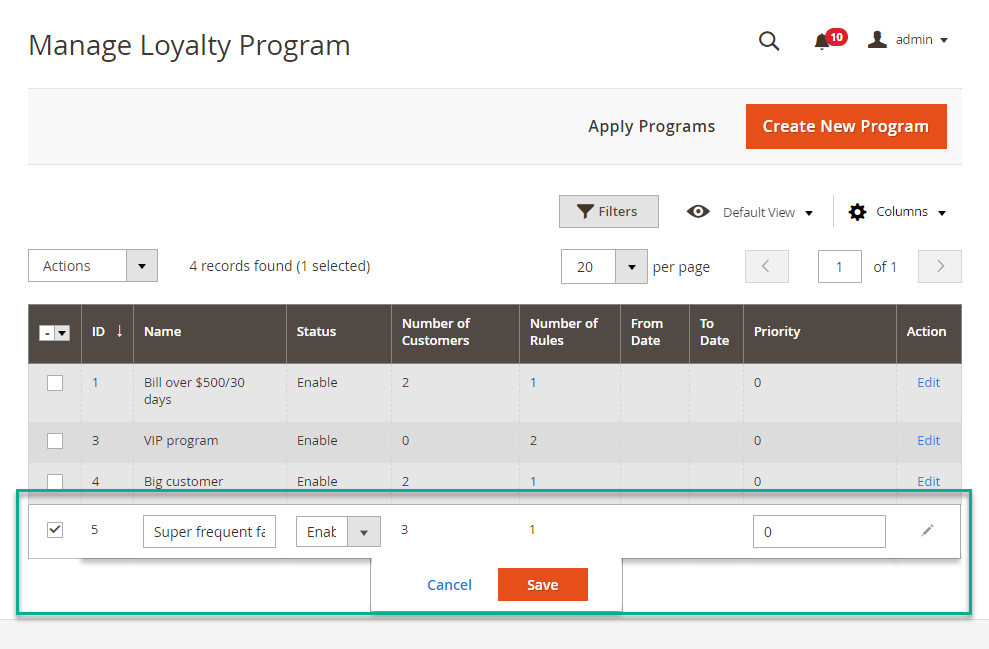 Estimate and display expiration date (upcoming feature)
Customers can see their loyalty program's expiration date in their My Account page. This feature works as a reminder to the participants about their benefits. Also, this creates urgency for them to upgrade, renew or make more commitment to qualify themselves for the loyalty program.
FAQs
Yes, you definitely can! You can install Magento 2 Loyalty Program extension as any other modules. You should follow our instruction here. Otherwise, you can buy our installation service, our experts will help you get the module installed on your website within 24 hours and solve any issues during the installation.
No. It is one-time payment and no hidden cost.
There is no restriction on the number of members in a loyalty program. Loyalty programs are built based on customers' data and their purchasing history only.
When a member no longer meets the requirements of a loyalty program at the time it expires, the member will be checked if they can join lower-level programs and moved to the lower program with the highest priority.
At the time the loyalty program expires, a member meets the requirements of a higher level will be upgraded to the higher program with the lowest priority.
Can't find your feature?
Are you looking for a feature in Loyalty Program. Tell Elle your wants and needs.
Chat with Elle
Are you an agency?
Do you often visit us for purchasing extensions and technical support? Speak to April to learn about your exclusive benefits on Mageplaza
Chat with April
Really necessary extension!
Loyalty Program is really helpful to my stores with very long-term customers. They help me to take care of loyal clients with sales or VIP special programs. The feature I like the most is creating programs based on conditions, so I can modify my loyalty programs easily and suitably. Very useful extension, I recommended it to everyone.
Antonio
-
Verified Purchase