How to Setup Google Shopping Feed for Magento 2?
Table of Contents
What is Google Shopping?
Google Shopping is a popular e-commerce website which allows customers to seek for your product with ease. By using Google Merchant, online stores can upload their stores' data and products' information on Google Shopping in order to boost their marketing and sales performance.
Since the product data fields in Google Shopping and Magento 2 are fully compatible, online stores can definitely apply these fields to their product data, generating Product Feed. Nevertheless, Magento 2 now does not support feed generating, we need Google Shopping Feed Module to be in charge with. Using the extension will allow webmasters to export product data on the site then synchronize it with their Google Merchant account quickly.
Countries using Google Shopping:
America
Australia
Europe
Middle East
United Arab Emirates
South East Asia
Google Shopping Template fields:
Required fields

id
title
description
link
image_link
availability
price
google_product_category
brand
condition
shipping
tax
gtin
mpn
item_group_id

Optional fields

additional_image_link
country
product_type
identifier_exists
mobile_link
sale_price
sale_price_effective_date
cost_of_goods_sold
excluded_destination
included_destination
custom_label_0
custom_label_1
custom_label_2
custom_label_3
custom_label_4
min_handling_time
max_handling_time
tax_category
Create Google Shopping Feed in Magento 2 step by step
Since Magento 2 does not support to generate product feed, in this article, we introduce the Product Feed extension by Mageplaza.
Step 1: Create a product feed
To begin with, go to Products > Catalog > Product Feed > Manage Feeds > Add New Feed
Step 2: Insert full data needed in General information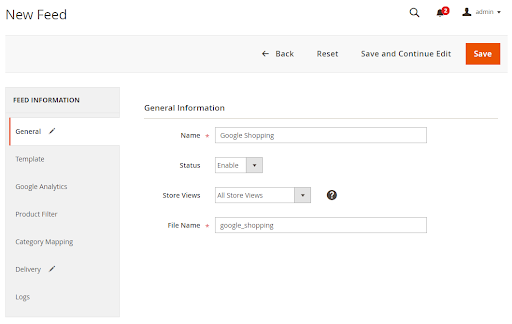 Step 3: Choose Google shopping template: XML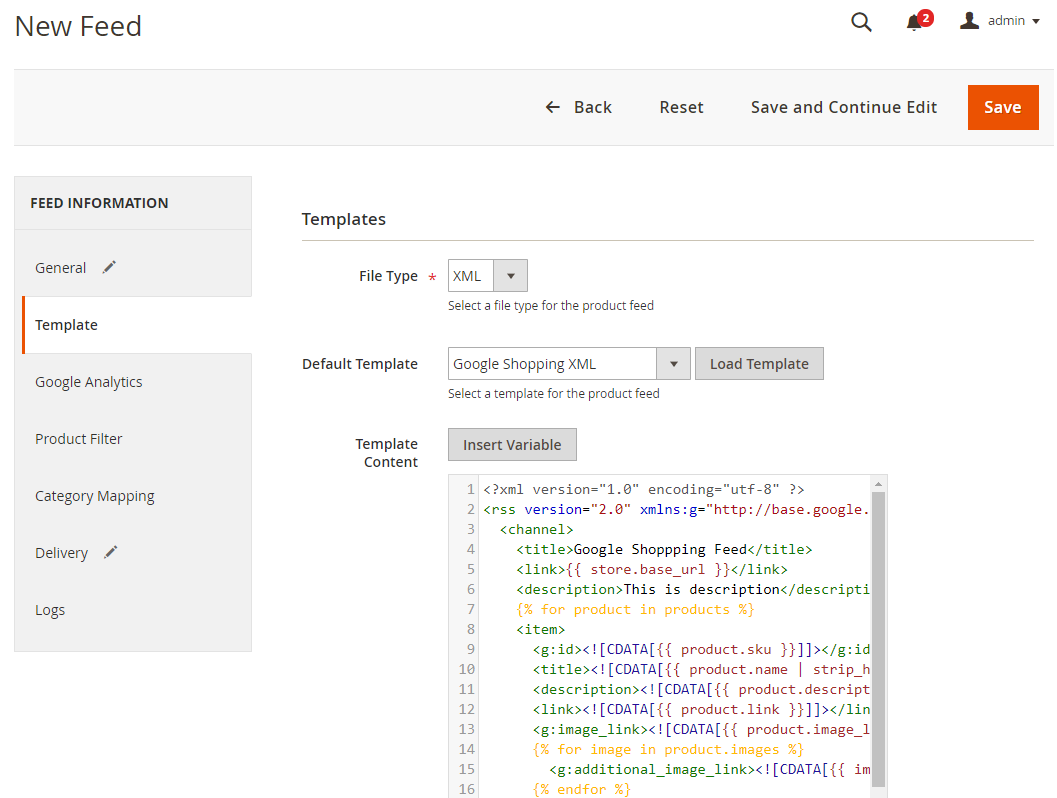 Step 4: Insert information in Google Analytic field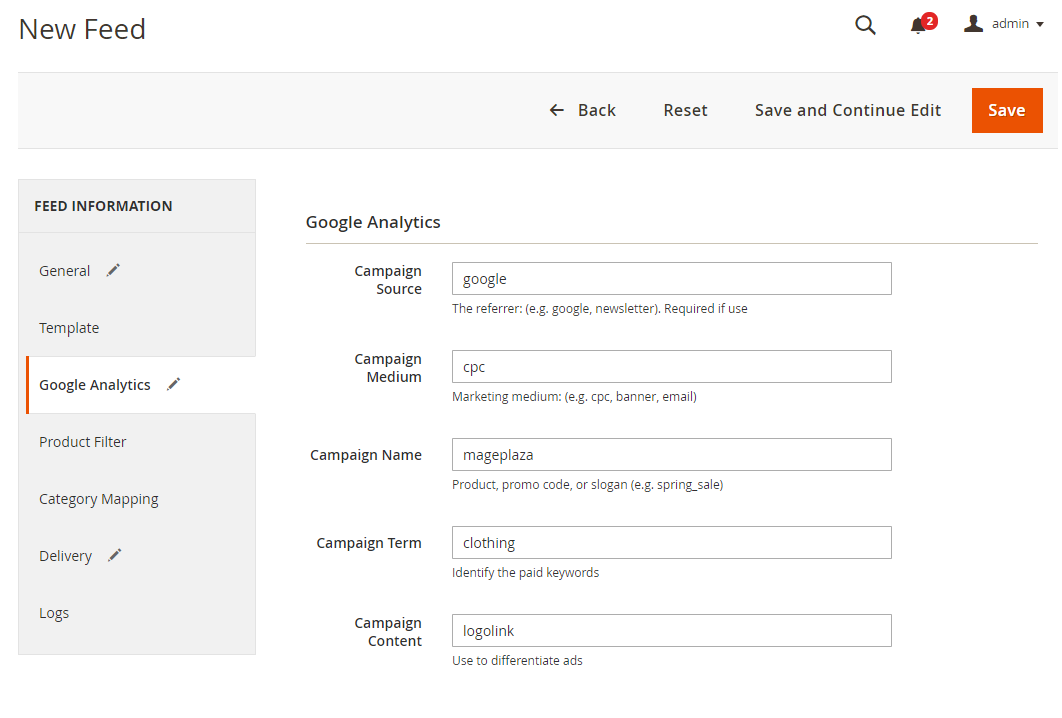 Step 5: Select the conditions to export files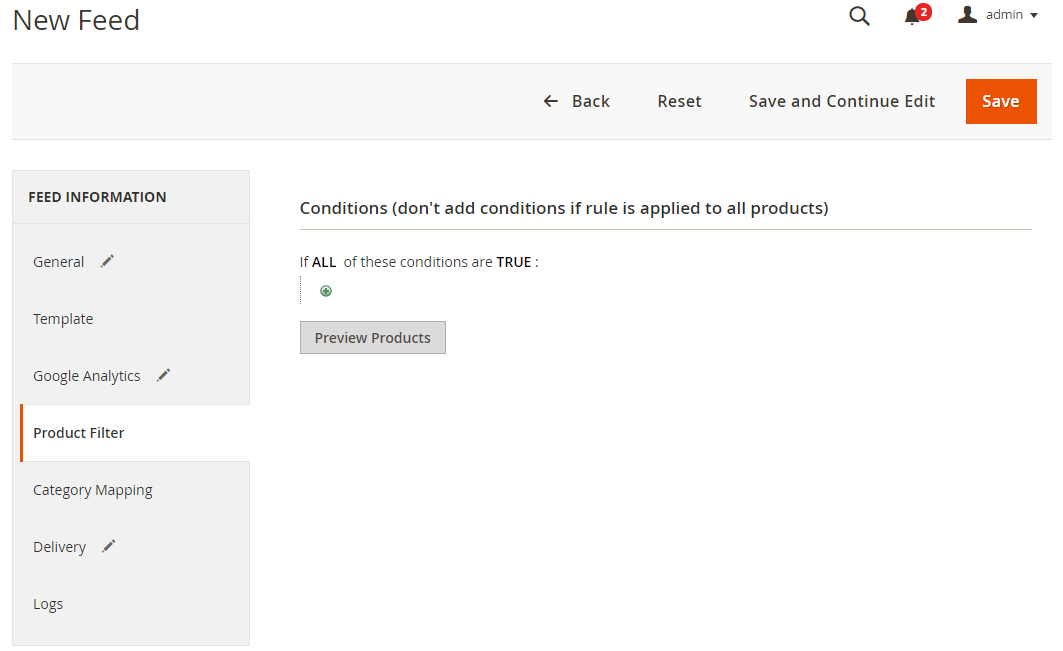 Step 6: Delivery configuration
Choose the delivery protocol: SFTP or FTP.
Select either Manual or Cron job to generate feeds.
Save the configuration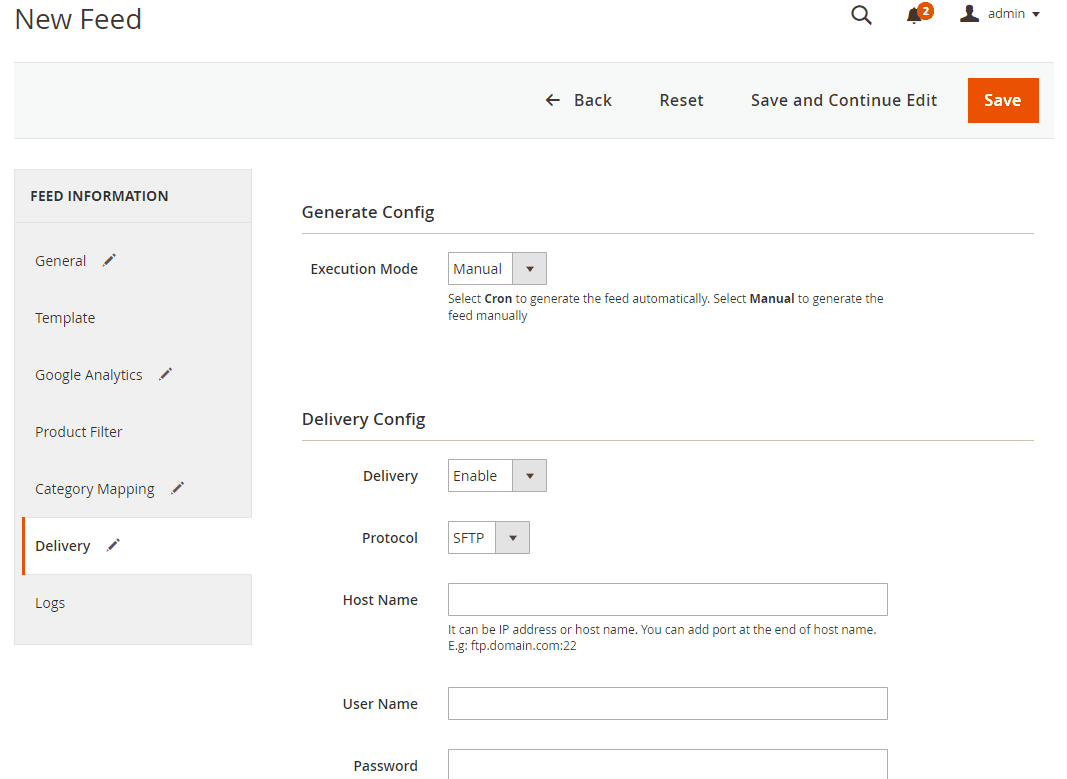 Step 7: Generate to export and upload files
Click Generate to export and upload files to the server. Then download files from the server or Manage Feeds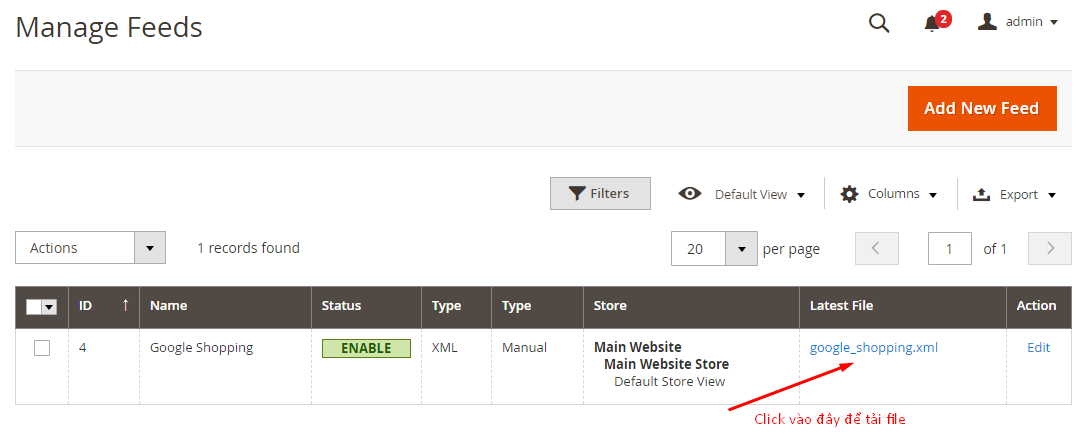 The results after using Product Feed extension is as below:

How to import product feed to Google Merchant
Step 1: Register and use Google Merchant
Access to merchants.google.com, log in by your Google/Gmail account to use Google Merchant.
1.1 Create Google Merchant account
In Business Information menu, you can see:
Business display name
Website
Business address
Customer service contact
1.2 Verify and claim your website
You can verify your website using HTML tag, Google Analytics, Google Tag Manager, which is similar to Google Webmaster tool verification.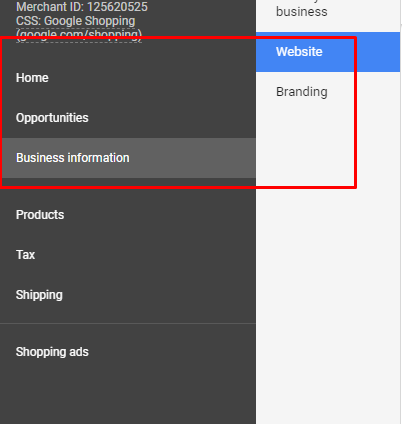 Step 2: Upload Google Shopping Feed to Google Merchant
2.1 Add a new primary Google Shopping Feed
Go to Menu > Products > Feeds > Click to plus symbol "+"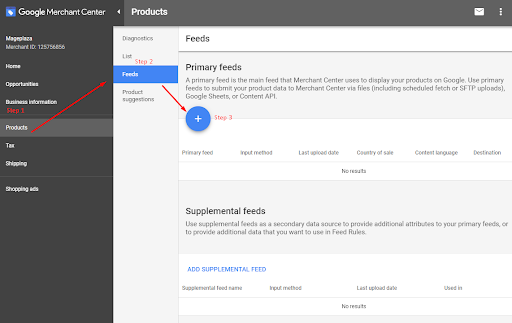 2.2 Insert the information at New primary Google Shopping Feed
Country of sale: Select countries in which you want to sell/ship your products.
Language: Choose the language of content on your feed
Destinations: Choose the shopping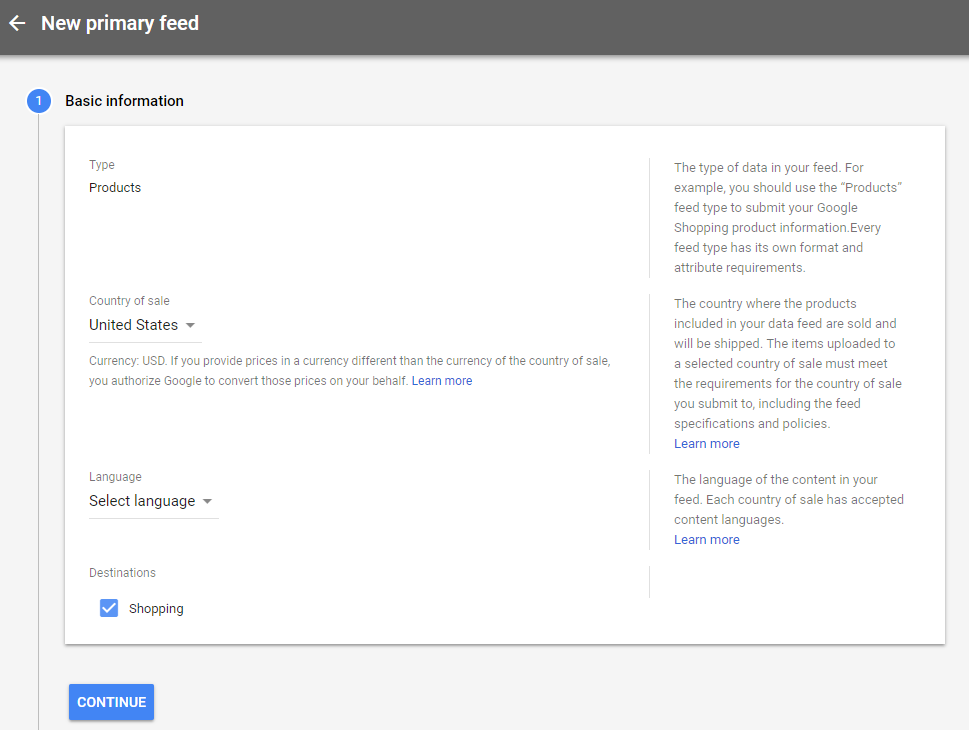 2.3 Primary Google Shopping Feed name and input method
Name your feed
Choose input method
There are four methods: Google Sheets, Schedule fetch, Upload, Content API. In this guideline, we would like to introduce Schedule feed and Upload methods.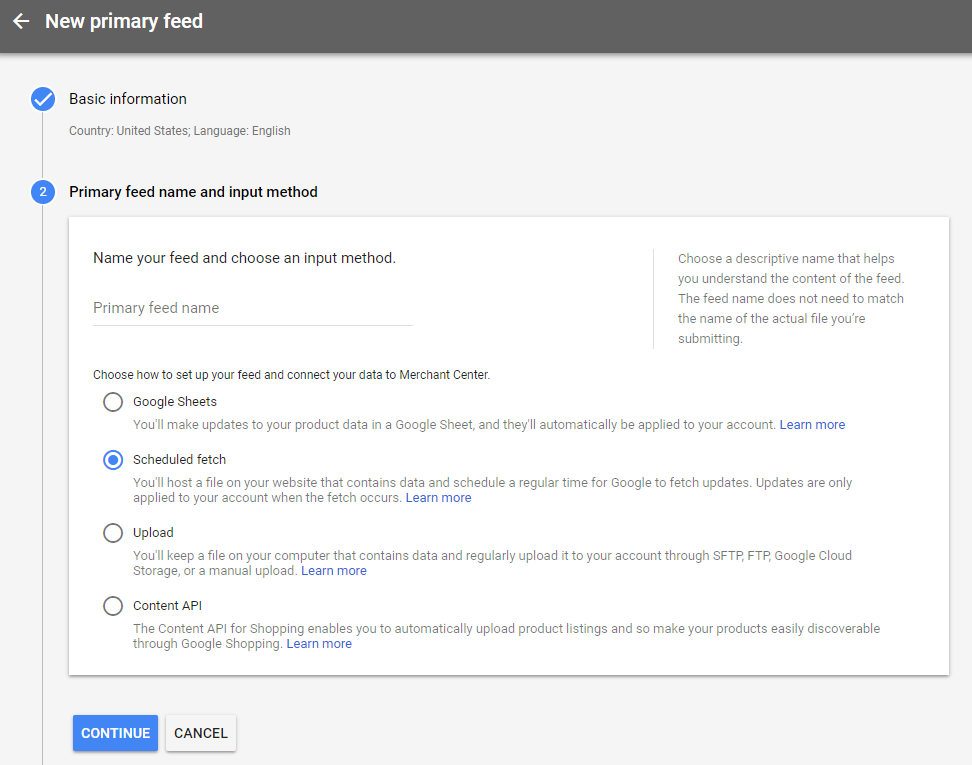 2.4 Upload Google Shopping Feed to Google Merchant
Schedule fletch method
Google provides you an SFTP, FPT or Google Cloud Store account by which you can upload your feeds. Click on Menu (three dots) then choose SFTP / FTP / GCS to access to your SFTP, FTP, Google Cloud Storage.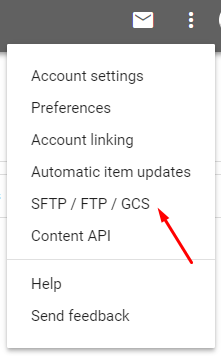 Here is the information used to generate FTP, SFTP, Google Cloud Storage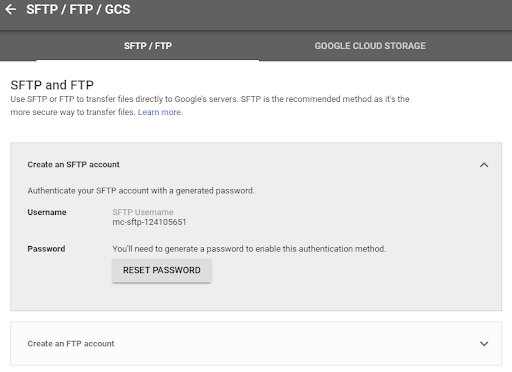 Name of your feed file must be the same as the file name in the server
Select the feed frequency
Select feed time and time zone
Insert URL to access your file
If your URL is password protected, provide your login information
Click Continue to complete Feed Upload process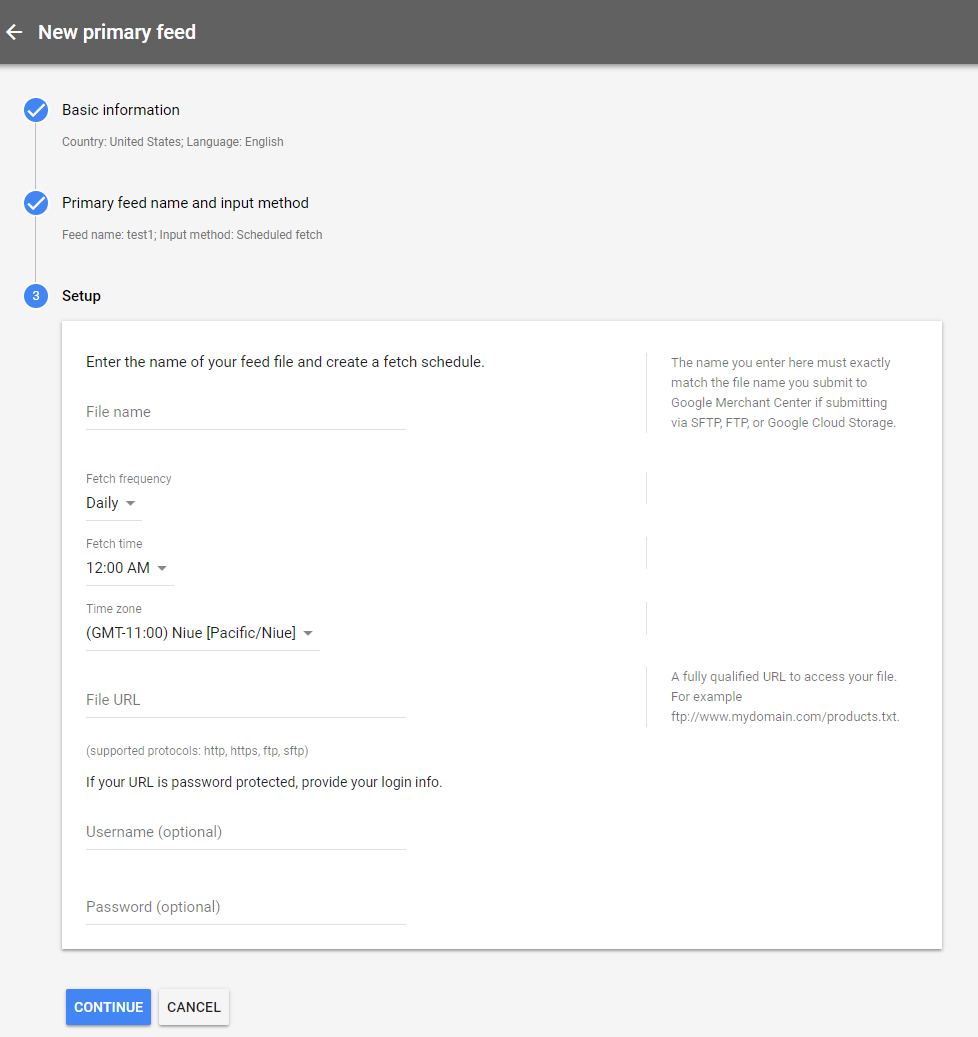 Upload method
Choose Browser to select a file from your computer. Then click Continue to complete feed uploading process.
Result
Here is your feed after successful uploading: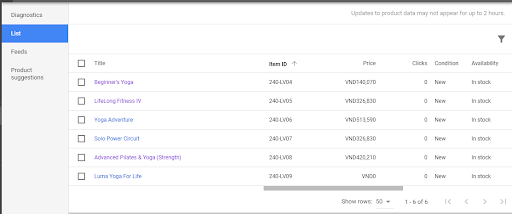 Conclusion
In this tutorial, we introduce how to create a feed using the Magento 2 Product Feed and how to upload it into Google Merchant. You can refer the full features of this module here. Also, be noticed to recheck your feed after uploading to Google Merchant because Google Shopping requires certain conditions for specific products.
Related Post
---
Back
Ask Mageplaza
---
Looking for more information?
magento-2-tutorial
how-integrate-google-shopping