As far as we know, Magento 2 Configurable Products is a useful tool for both customers as well as store owners. If the products are configurable, it means that the customers can purchase them according to their needs, hobbies or the requirements from a list of available options easily.
Generally, Magento 2 allows the creation of import configuration products quickly. In addition, it can adjust details and create files to create desired configurations in Magento 2. Clearly, Magento 2 import configurable products seems to be more flexible and approachable data upload tool.
In this article, we will show how to import configurable products in Magento 2. It is implemented as three following steps.
Some related posts:
How to import configurable products in Magento 2
To import configurable products:
Step 1: You need a CSV file
Step 2: Fulfill CSV file
Step 3: Import CSV file
Step 1: You need a CSV file
You need your Magento 2 admin panel before downloading a sample CSV.
Log into the backend and navigate to System > Import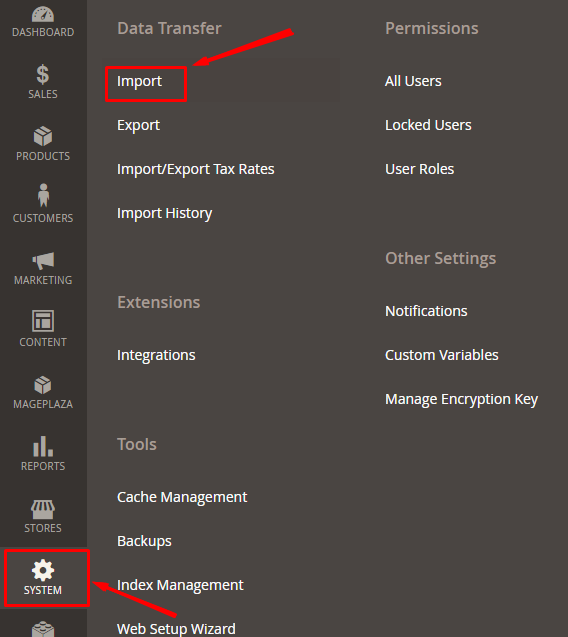 In here, the Import Settings tab will be displayed

In Import settings field, choose products > click Download Sample CSV as image below: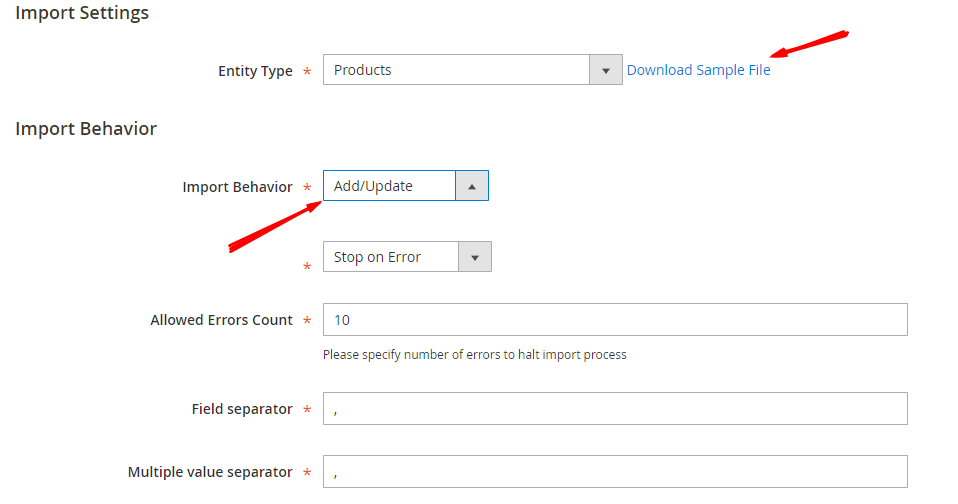 In Import Behavior tab, choose Add/Update to import configurable products as the image above.
All other configurations, set up as available default.
In case you already have CSV file, you can skip this step.
Step 2: Fulfill CSV file
The sample configurable products after downloading:

Some notes you need to know before filling in the CSV file:
Need to list all children products before configurable product.
Make sure that the value in the 'attribute_set_code' column always matches the name of the Attribute Set.
You should list all the values of the attribute set for each child product from in the 'additional_attributes' column.
Follow the pattern in the file as the set of SKUs and Options in the 'configurable_variations' column.
Get the correlation between the Attribute code and the Label name in the 'configurable_variation_labels' column.
Step 3: Import CSV file
Now, navigate to System > Import
In File to Import field, click on Choose File to upload your CSV file.
Then, click on Check Data button on the right corner.

There will be a notified message if your CSV file has no errors like the image below:

Next, click Import button, a successful notification will be shown as below:

Finally, go to the frontend to check again.
To include
This is the fastest way to import configurable products in Magento 2. Be an intelligent store owner to meet the satisfation of the customers with only three simple steps. Do not hesitate anymore, follow those steps now!