6 Best eCommerce CMS for Online Businesses in 2023
The growth of e-business is increasing like never before and it is expected to boom in upcoming years. To build an online website, considering an eCommerce content management software platform is a wise choice. From the article, we introduce the most outstanding platforms that are used popularly. Building a strong foundation from the beginning will help you boost sales and hit business success quickly.
No time to read? Here is our top 3 picks:
Featured eCommerce CMS in 2023
Our experts manually reviewed and picked the most popular ecommerce CMS for you
BigCommerce
Everything your business needs for growth
Best for growing businesses and enterprises
A great SEO-friendly eCommerce CMS
Built-in blog CMS
Powerful features
Excellent management tools
Flexible and customizable
Shopify
The all-in-one commerce platform. Trusted by millions of merchants worldwide
The most easy-to-use eCommerce CMS
Suitable for both small and large businesses of any kind
Built-in blog CMS
Manage multiple sales channels in one place, both online and offline
A complete platform for commerce with tons of built-in tools
Fast, simple, scalable, and secure
Magento
A commerce platform that's endlessly flexible, extensible, and scalable
Suitable for medium and large businesses
Manage multiple channels, both B2B and B2C, in one place
Complex for beginners, but that's what makes it endlessly customizable (advanced coding knowledge required)
Huge marketplace with thousands of extensions
Table of Contents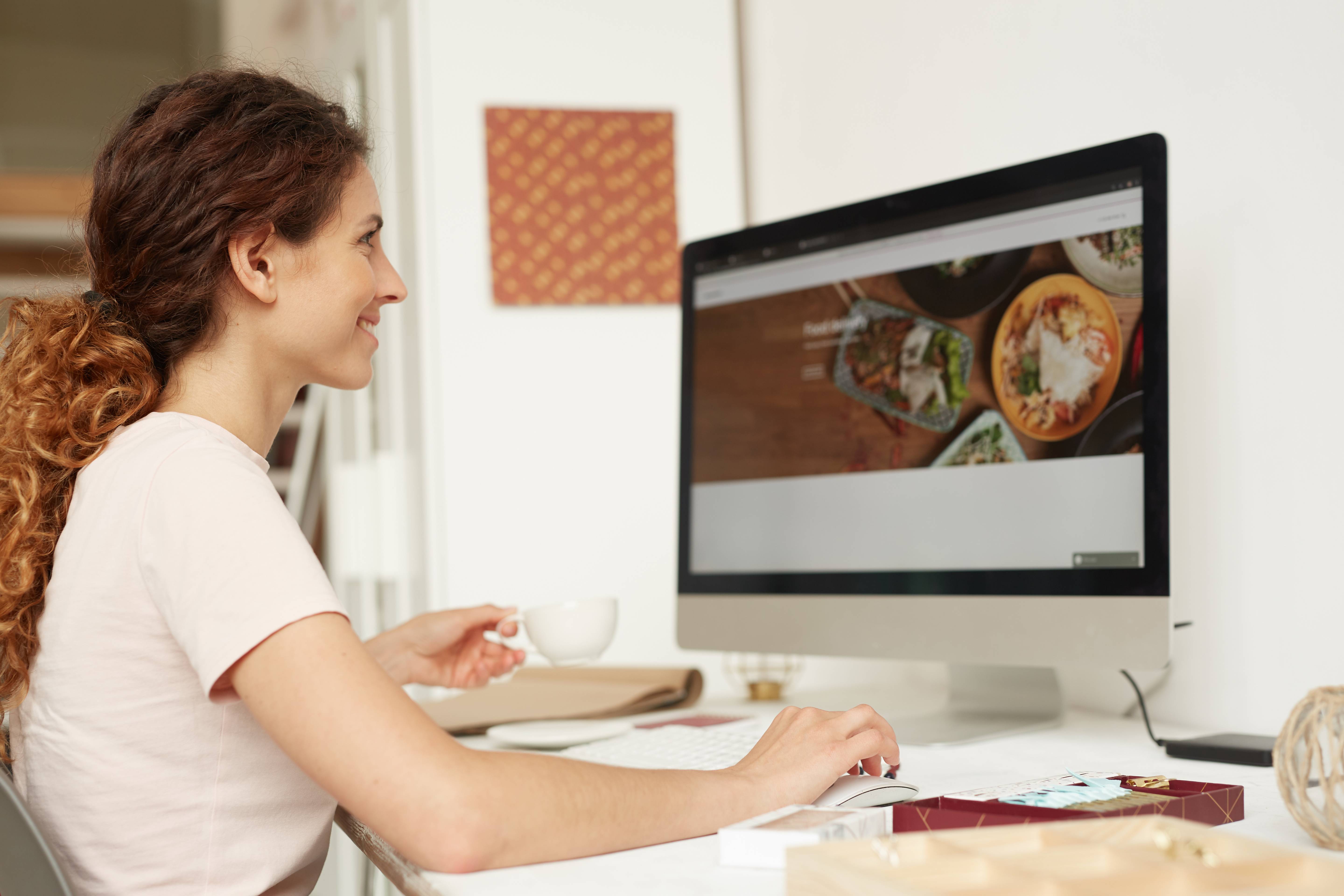 What is CMS?
CMS is an abbreviation of the content management system. The primary responsibilities of CMS are to manage the generation and adjustment of digital content. The system assists store owners to place and manage the content easily. The digital content includes images, videos, documents, marketing materials, etc.
When discussing an eCommerce content management software platform, it's understood that these are CMS solutions tailored for building an online store, from the user interface to the internal operations. The features provided by these eCommerce CMS aim to build, launch, and efficiently operate a successful online business.
Why is CMS a Need for eCommerce sellers?
When operating a website, you need to consider both the external interface, including how posts, images, and videos are displayed, and the internal components, which consist of data and functionality running in various programming languages like PHP, Python, etc. Without CMS software, managing all of this can be quite challenging.
With a CMS, you can simply use a user-friendly interface to create categories, posts, menus, and quickly edit product information, all with just a few clicks, saving you time and effort.
3 Common Types of CMS
Open-Source CMS
Open-source CMS provides essential features for users from the beginning. The advantages of open-source CMS are ease of use, cost-effectiveness, and time-saving, making them suitable for those with limited coding knowledge.
Some popular open-source CMS options include WordPress, Drupal, Joomla, HubSpot, SilverStripe, among others.
Custom-Built CMS
With a custom-built CMS, you build everything from scratch and tailor it to your specific requirements. If you lack programming knowledge, you can hire a team, freelancer, or agency to develop it for you.
Compared to open-source CMS, custom-built CMS tends to be more expensive and highly dependent on your specific requirements. However, it's valuable for those with long-term plans for their eCommerce store.
Pre-Built CMS
An optimal cost-effective approach to ensure quality content management is to use pre-built and paid CMS solutions. These eCommerce content management softwares are already designed and built by website design experts.
All you need to do is purchase the CMS and replace the content to have your own website. During operation, if you encounter system errors or require upgrades, the website design entities will provide direct and efficient support and solutions.
Main features of CMS
More and more types of eCommerce content management softwares are emerging, and with them, businesses have more options with customizable features to suit their specific needs and purposes.
For example, a CMS designed for writing blogs will require different features compared to a CMS intended for creating landing pages for companies. Therefore, when searching for a CMS for your upcoming eCommerce store, please take note that the CMS should have these features:
User-friendly admin dashboard
The admin dashboard should allow you to manage most essential tasks without having to navigate to too many different pages and is user-friendly.
SEO
The SEO features are the 'launchpad' that help your eCommerce store reach more potential buyers through search engines like Google or Bing. Specifically, some SEO features that CMS should have include:
Customizable on-page SEO elements (Page title, Header tags, Meta title - description - tags…)
Internal linking tools.
301 redirect capability.
Responsive themes that include drop-down menu, grid layout, carousel sliders, customizable color schemes.
Image optimization.
Integration with social media platforms and measurement tools
Similar to reaching potential customers through search engines, social media is an indispensable channel if you want to boost sales for your eCommerce store.
An eCommerce content management software or platform that provides readily available social media sharing buttons for key content without the need for coding, or ensures content optimization across different platforms, will undoubtedly make your customers more comfortable sharing on social media.
Regarding integrated measurement and analytics tools like Google Analytics, they are crucial features that allow you to continuously enhance content quality and outreach strategies for your store.
Version and back-up management
An eCommerce store typically deals with a lot of important data, so it's beneficial if the content management software or platform provides features that allow you to revert to an old version of your content.
Moreover, automatic backups will naturally boost your confidence in using the system and alleviate concerns about potential interruptions in the information storage process.
Customized templates
The templates created by eCommerce content management software are great, but it would be even better if they allow you to customize and create truly unique templates for your eCommerce store.
Multi-language functionality
Features that support multilingual capabilities remove language barriers, allowing customers to access products in your store without worrying that they might not understand any details.
Robust publishing tools
While it's true that all CMS have publishing functionality, not all of them provide features that allow you to schedule posts for specific times, schedule multiple posts across multiple sites, or target different reader segments for different posts.
User and group functionality
These features will categorize your potential customers into groups or segments based on common characteristics like age, gender, country, used devices, spending habits, usage frequency, interest… to personalize content tailored to each group effectively.
Audit logs
Audit log is an important tool for tracking user and customer representative account activities, with time-stamped reports.
By using the audit log, users can review, verify, and analyze past activities, ensuring system stability and prompt response to any irregularities.
Security
For eCommerce websites catering to sales, a cybersecurity breach can result in significant losses. You need to find a CMS that can automatically suggest updates when security vulnerabilities arise and has multiple layers of security to prevent unnecessary breaches.
Learn more: 11 Ways to Strengthen Your eCommerce Store's Security
Essential benefits of CMS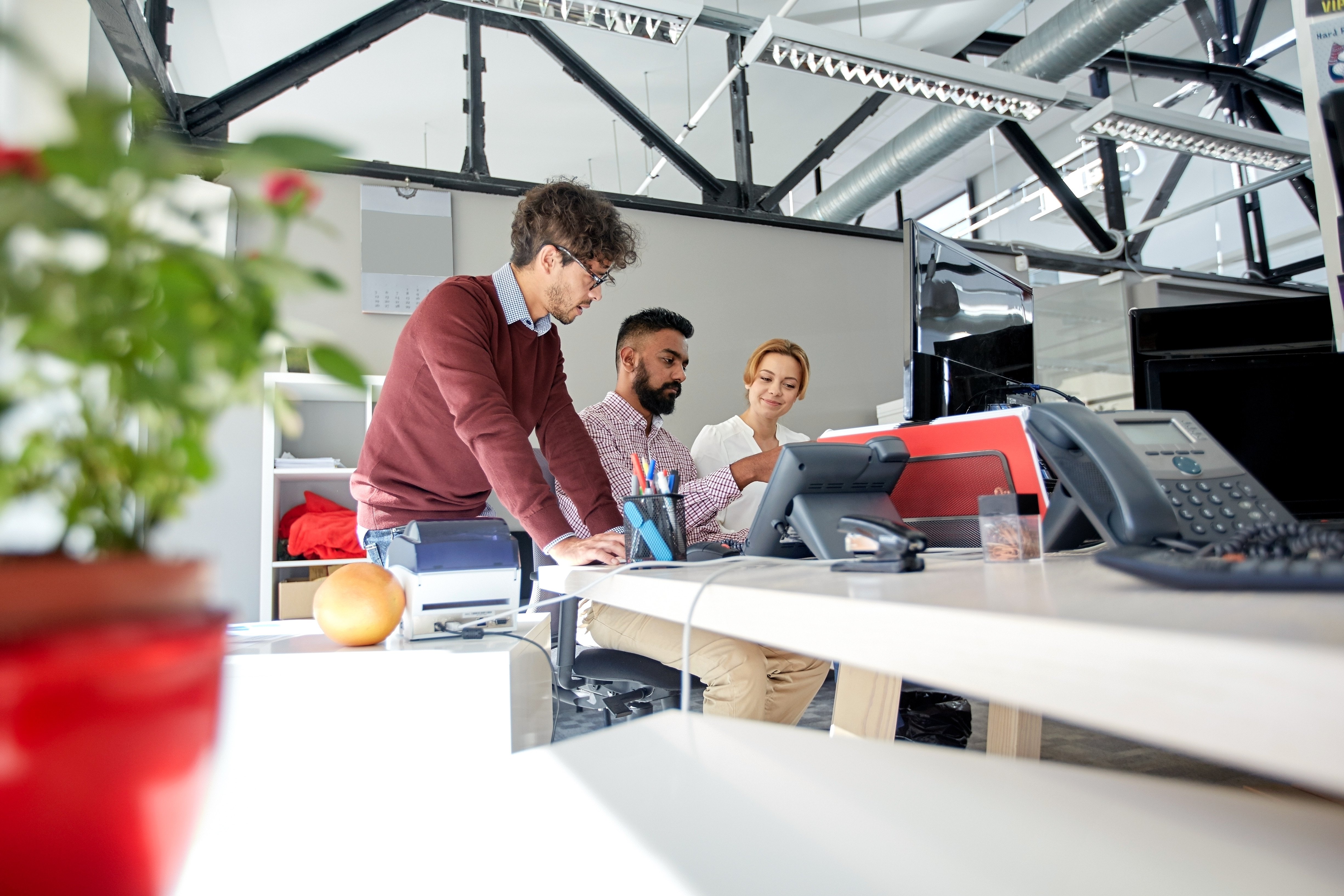 There are some vital benefits of using the content management system to power your business website:
For any business sizes: ECommerce content management software is considered an excellent solution for any business need. The system brings flexibility, simplicity, and scalability to all business sizes (small businesses, mid-market, and enterprises). It enables store owners to organize and keep track of the content on their websites with ease.
Friendly with users: The content management system is a user-friendly program that enables admins to upload any file and data in the blink of an eye. CMS requires no complex process with the aim of content optimization.
Smooth and quick integration: CMS brings a simple and fast process of content integration through your website. CMS sites are integrated with dynamic web content that supports information to be updated or published as required. You can also make use of web hosting CMS for your content that includes a blog, photographs, videos, or an ecommerce store.
Accessibility from anywhere: Because the interface is usually browser-based, an eCommerce content management software can be accessed from anywhere by anyone. The only thing administrators need to do is to use a computing device connected to the Internet. In the hustle and bustle of daily life, the outstanding feature of CMS enables store owners to do remote work, surpassing their goals from wherever they go.
In case you want to transfer your Magento 1 site to Magento 2 site, you can continue your research with Magento 2 Data Migration
Top 6 eCommerce content management softwares and platforms for online stores
Shopify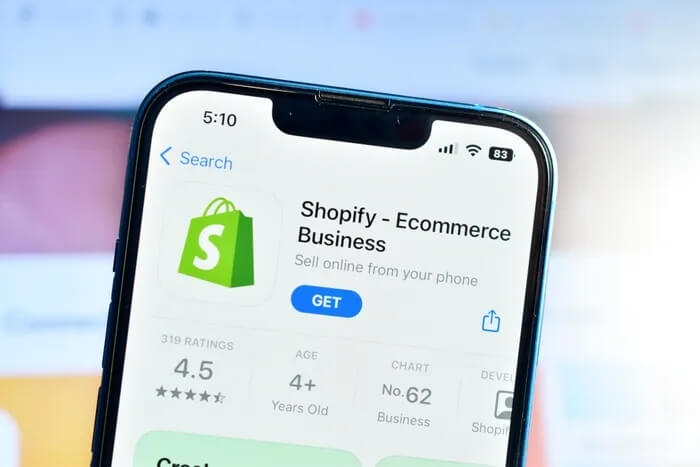 Exclusive Offer: Get Shopify 93 days for just $3 + The Online Store Starter Kit
Start a 3-day free trial, then get Shopify 3 months for $1/month plus the premium package designed especially for new Shopify merchants!
Start Free Trial
Shopify is a flexible eCommerce platform with tons of stand-out features. The platform is trusted by millions of businesses worldwide, generating billions of dollars in gross merchandise volume.
Shopify is regarded as an all-in-one eCommerce platform. Merchants can set up their online stores, manage their products, and handle all orders in a single dashboard. Shopify also allows you to manage multiple sell channels, including your own store, online marketplaces like Amazon and eBay, social media, and retail locations.
The platform offers blog CMS by default - which is great if you want to drive traffic to your store with SEO.
Features
Easily customize storefront with templates' intuitive settings
Get full access to the HTML and CSS of your website
Enable mobile commerce shopping cart
Use your own domain name
Access to a full-featured content management system
Use Shopify app to manage your store on the go
Fulfill multiple orders with only one click
Enable gift cards, discounts, social media integration
Enable Facebook selling
Import/export products via CSV files
Pros
Shopify is considered to be one of the most easy-to-use platforms for eCommerce businesses
Provide several beautiful, professional, mobile-friendly themes
Empower users with many apps covering a wide range of aspects, including marketing, accounting, inventory management, shipping, shipping, and more
Shopify offers 24/7 support
Cons
Compared to other self-hosted platforms, Shopify is not flexible enough to offer more functionality for your store
Many Shopify themes request payments
You might need an expert's help to get extensive theme customization
Accelerated Mobile Pages (AMP) feature is helpful, but it only available in a paid app
Pricing
Basic Shopify (for new businesses): $39/month
Shopify (for growing businesses): $105/month
Advanced Shopify (advanced features for scaling your business): $399/month
Shopify also offers 2 more plans called "Shopify Lite"(Shopify Starter) and "Shopify Plus". Check out Shopify's full pricing and features here. There is also a Shopify free trial, which lasts for three days. After that, you can pay $1 for three months of full access to Shopify's features.
So who should use Shopify?
Shopify is a great option for those who want to start an eCommerce website in the fastest and easiest way possible. The platform is highly versatile, and it supports a wide range of businesses. Even if you're new to website development or have a start-up with a business idea only, Shopify is where you can build a well-functioned website without hassles.
Magento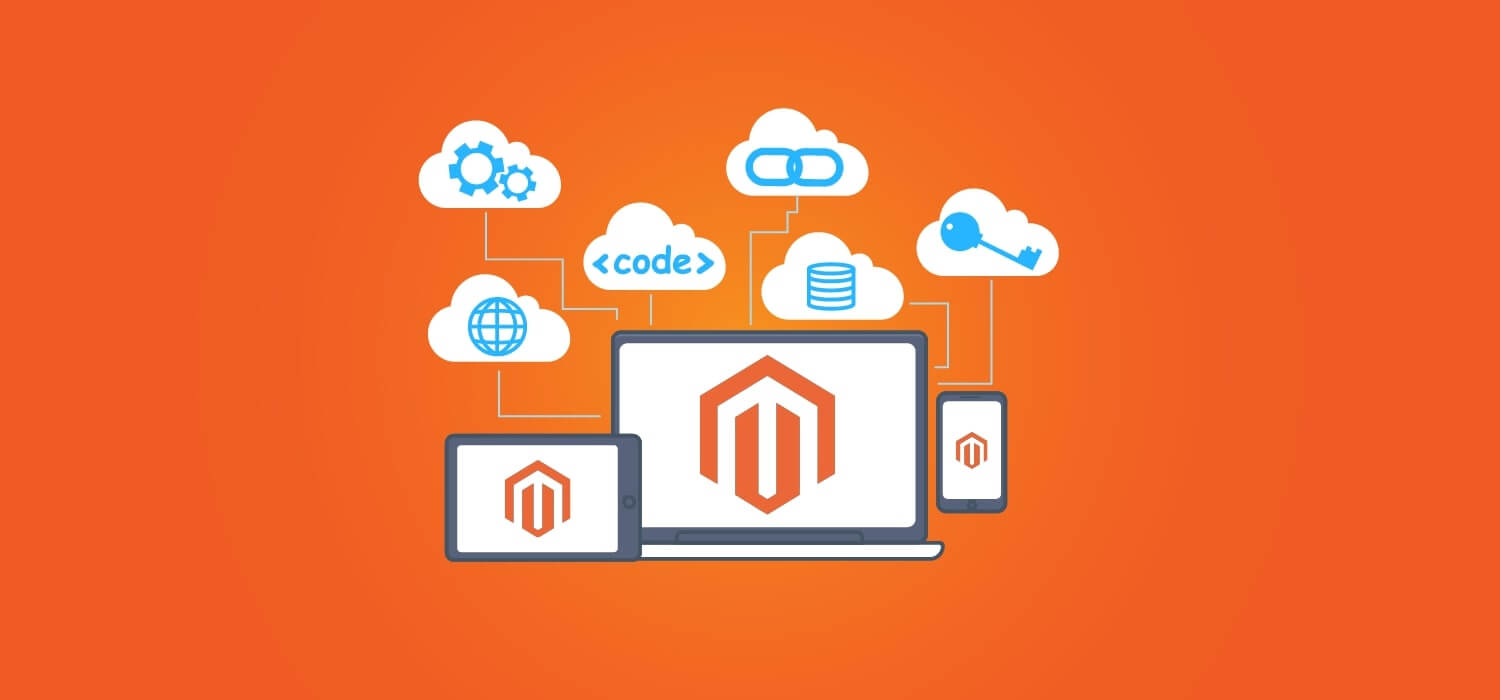 Magento is famous as the leading open-source eCommerce platform. The system is developed in PHP that enables store owners to build their online businesses with ease. The platform supports all business sizes and meets business needs for B2B, Omnichannel, Mobile Commerce, etc. Besides, Magento allows integrating with multiple extensions from the third parties, creating distinct digital retail experiences.
The world eyewitnesses over $100 billion in gross merchandise volume handled annually by Magento. Magento has built a thriving community with more than 300,000 Magento developers on the globe. Furthermore, it offers the large Magento Marketplace where multiple extensions are available to download. If you own an online shop that sells goods, Magento is surely worth checking out.
Mageplaza is proud to be a partner of Magento (Magento 2 Premier extension builder) and one of the leading extensions providers for the Magento 2 platform. Experience tons of Magento 2 extensions here.
Learn more: How to create an eCommerce website using the Magento 2 platform?
Features
Simple drag and drop solution for eCommerce website builders
Personalize content and promotions
Easy to drive engagement and sales with relevant product recommendations
Create a personalized customer shopping experience
Easy to create, preview and schedule content
Manage stores through an intuitive and user-friendly interface
Use built-in themes responsive and SEO-optimized to any device
Integrate with B2B functionality
Update and manage data from multiple sources in one place
Support multi-channel marketing
Intelligent inventory management and order management
Pros
Magento is a powerful and feature-rich platform
Magento is SEO-friendly and fast-loading
Users can customize almost every functionality on a Magento store
Store owners can get all information, including orders, customers, and products with many advanced reporting features
Magento offers solutions to scale with clients' businesses
Magento has a big community with 360,000 forum members. You can get advice, FAQs, documents, or anything essential to understand this platform.
Cons
Magento is complicated, so it's quite difficult for non-technical people to use
Magento's plans are expensive compared to other platforms
Magento websites need hostings
Pricing: Starting price: $1988/month
So who should use Magento?
It's undoubtedly that Magento is suitable for large-scale online business. If you're running multiple storefronts and want to manage all of them through a single backend, Magento is the best choice for you.
BigCommerce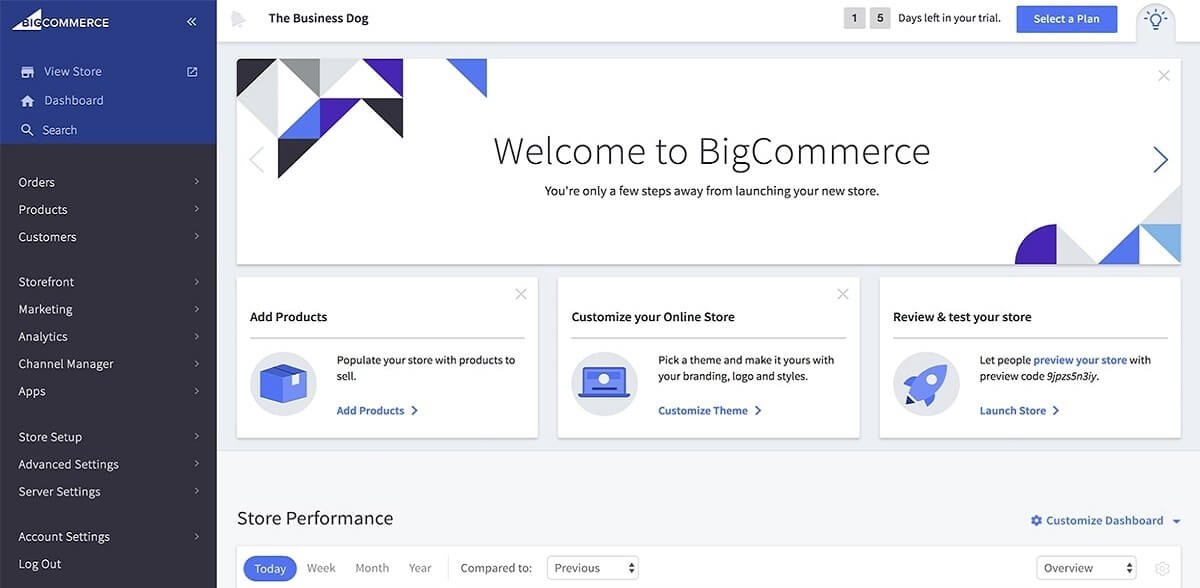 Among numerous eCommerce software suppliers, BigCommerce is a prominent star for you to start an online business. With multiple built-in features and customization options, BigCommerce has attracted over 55,000 merchants of all sizes. Specifically, famous brands such as Toyota, Natori, and Martha Stewart have trusted and used this platform for years. BigCommerce is a powerful platform to boost large and fast-growing businesses into the big leagues.
In addition to providing extreme scalability for e-stores, BigCommerce offers advanced SEO and multi-channel integration. Store owners quickly raise their brand awareness across social channels. They also have the chance to access millions of potential customers worldwide. In case you need a comprehensive review of Bigcommerce, we've got it right here for you!
Features
Easily to create and edit pages with drag and drop solutions
Easy checkout customization
Make your site mobile-optimized
WordPress integration
Support over 70 native discount and promotions
Speed up your site loading with Google Cloud Platform infrastructure, Google AMP, and Akamai Image Manager
Product recommendations
Sell on multi-channels
Enable B2B functionality
Support cross-border fulfillment
Sell in multiple currencies
Click here to learn more about BigCommerce's features
Pros
Ease of use
Fast-loading eCommerce site
Wide variety of theme options
Work well for SEO and organic search results
Helpful customer service
Integrate out of the box with multiple third-party extensions or apps
Built-in blog
Easy to customize fields
Unlimited staff accounts
Cons
BigCommerce's pricing is a bit more expensive than other platforms
Annual online sales are limited, and if you need to upgrade to a more costly monthly plan to get more
The built-in blog does not facilitate RSS feeds
Pricing
Standard: $29/month
Plus: $79.95/month
Pro: $299.95/month
Enterprise: Request for price
Check out BigCommerce's pricing plans here
So who should use BigCommerce?
BigCommerce is good for both small and large businesses. If your big online business is growing, BigCommerce offers the scalability to grow with you. For small businesses, BigCommerce has enough impressive features to optimize and scale up the store without hurting the limited budget of small business owners.
WooCommerce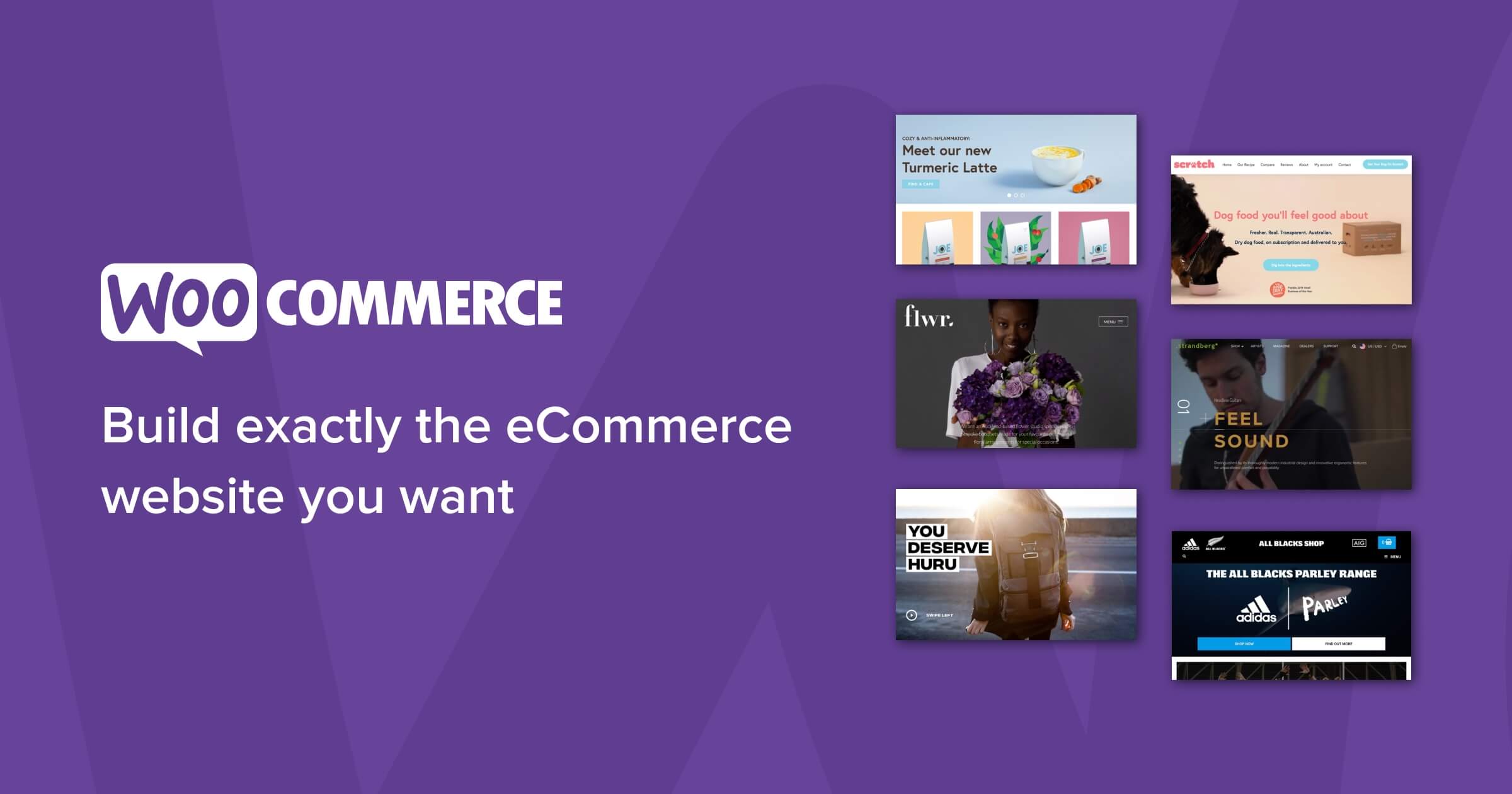 WooCommerce is one of the major eCommerce platforms today. Following the statistic of Barn2.co.uk, the market share for WooCommerce in 2021 is 22% of the top 1 million sites using eCommerce technologies. The result shows the tremendous growth of WooCommerce in recent years.
WooCommerce supports transforming a WordPress website into an e-store. The platform has attracted a large number of users as it provides numerous extensions and themes for free. The notable advantage of these plugins is they can enable various features to the basic WooCommerce in a single click. Also, you are free to get support from WordPress' massive user community.
See the comparison between Magento 2 and WooCommerce to find the best platform for your e-store.
Features
Simple store set-up
Flexible and secure payments
Accept various major credit card, payment gateways, and support deposits
Easy to manage order with a modern and neat interface
Provide mobile app for iOS and Android
Provide a huge collection of free and paid extensions covering from store enhancements, marketing integrations, multichannel to point of sale
Unlimited customization
Easy to manage product categories
Pros
Give multiple free features to the basic WooCommerce software
WooCommerce is a free WordPress plugin
WooCommerce is simple and easy to use compared to other complicated CMS solutions
Easy to customize themes
WooCommerce websites work fast with essential features needed in a specific time
Unlimited products
Provide a large number of extensions
SEO-friendly
Full control of the content
Familiar with WordPress users
Cons
Request the store admin thorough knowledge about both WordPress and WooCommerce
The installation of some extensions is not free
Users need to pay for hosting and domain alone
WooCommerce plugin sometimes can't adapt to frequent updates of WordPress
The platform only works with WordPress themes
Pricing: Downloading and installing the plugin is free of cost
So who should use WooCommerce?
With the ease of use along with powerful features and flexibility, WooCommerce is a great platform for new eCommerce merchants. Especially, if you're already familiar with WordPress, this platform will help you take advantage of all your existing knowledge about WordPress to create a robust store. And if you can afford self hosting, go ahead with WooCommerce.
Learn more: BigCommerce vs. WooCommerce: Which Platform Wins?
OpenCart
OpenCart is well known because of its open-source and easy-to-use eCommerce platform. It is unnecessary to pour a massive amount of money to develop your new store. Also, OpenCart brings the e-business community a useful and customizable plugin without monthly fees. All you need are to install, choose the template, and add products.
OpenCart offers over 14,000 extensions and themes to e-businesses of any size. Moreover, it integrates with more than 20 payment gateways and over eight shipping methods. In short, even coming with a small budget, your store still thrives on the OpenCart platform.
Features
Get a full overview of total orders, sales, customers, sales analytics via administrator dashboard
Separate access for users and user groups
Manage multiple stores from one admin interface
Add different product variables
Provide an inbuilt Affiliate system
Offer discounts, coupons, specials
Allow setting up your own back-ups and restorations
Pros
OpenCart 3.0.3.3 is free
An ideal option for clients who want specific shopping cart functionalities
Flexible to work with various payment processors and payment gateways
Easy and fast to set up and configure a new simple shopping cart website
User-friendly administration for non-tech savvy
Cons
OpenCart document is not the easiest compared to other platforms
OpenCart wholesale functionality is not good enough
The platform is quite buggy and security-lacked
Not an ideal choice for larger eCommerce stores, outdated themes/templates
Some developer skill needed sometimes as an admin
Pricing
Free
Paid support from OpenCart's approved partners
So who should use OpenCart?
Opencart is quite difficult for beginners or non-technical people to customize the site. Hence, if you want to build a simple website and can afford to hire a developer, you can go with OpenCart.
PrestaShop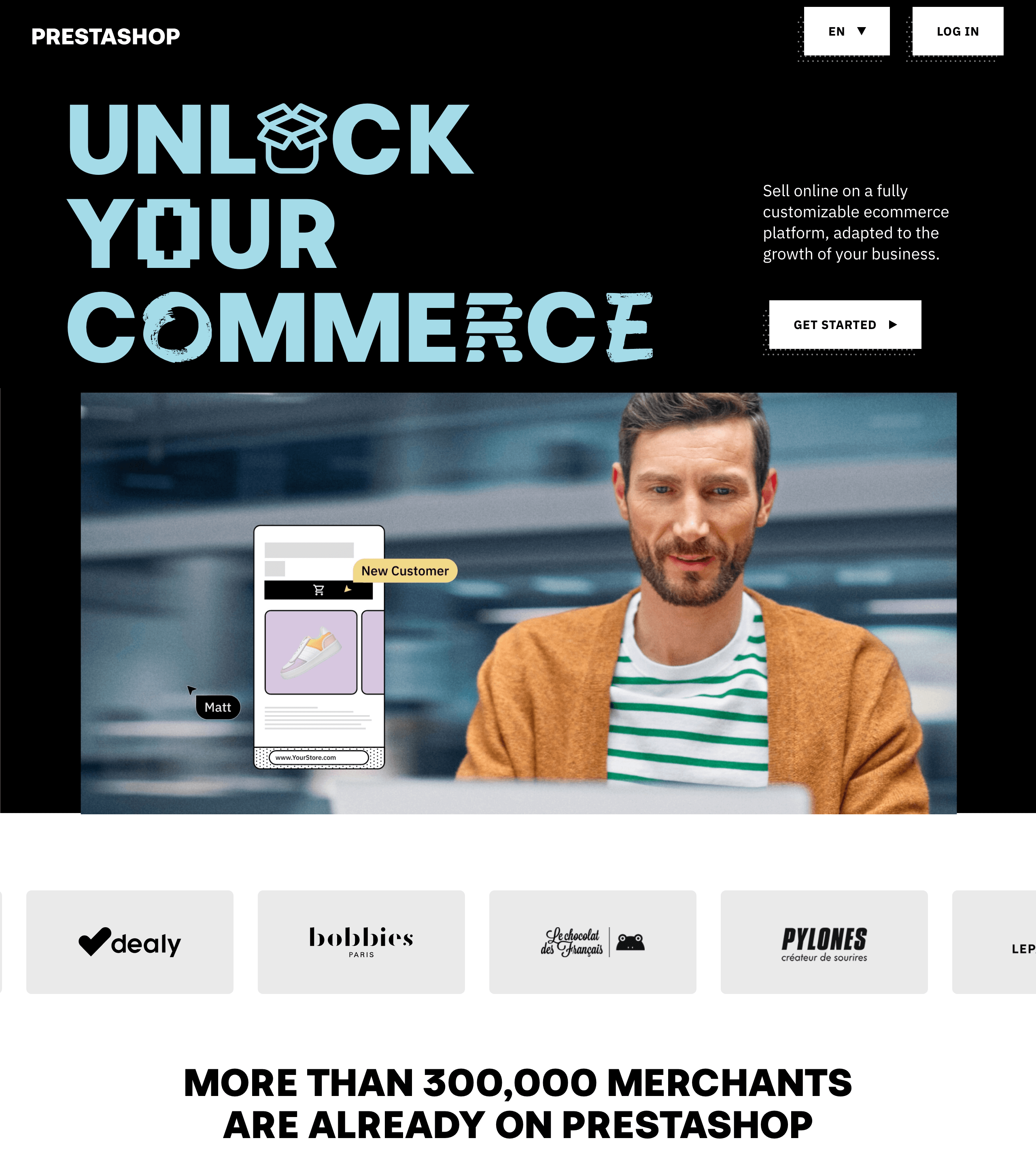 PrestaShop is a freemium, open-source eCommerce content management software to online merchants. According to the PrestaShop statistics, over 300,000 e-businesses worldwide use its technology. The platform is used commonly as stores install and customize the software with ease. You are free to select a fully-hosted or self-hosted version. Hence, you can determine your level of technical control.
Aside from the built-in functionality of PrestaShop, business owners can extend the platform by using plugins and themes. However, PrestaShop consists of all stores needed; hence, it is not essential to equip any additional extensions. With the aim to develop world-class eCommerce software through open-source innovation, PrestaShop is an ideal platform for you to achieve business success.
Features
Quickly create products and packs of products with nice menu and layouts
Allow customers to upload files to sell customizable products
Add products with variants from list of attributes
Limit the quantity to purchase for some products and set out-of-stock messages
Easy to create product categories and subcategories
Customize your store with ease: configure payment, shipping methods, display of products
Configure the checkout page
Pros
Easy to install and configure
PrestaShop open-source shopping cart is free
PrestaShop's design is user-friendly for non-technical users
Easy to customize features
Support secured and reliable payment gateways like Paypal and Google Checkout
Cons
PrestaShop is suitable for small and medium store due to its limited scalability
PrestaShop has no official built-in support team, instead of their partners
The design of PrestaShop is not ideal for large-scale store
Addons are a bit expensive
Pricing: Free
So who should use PrestaShop?
PrestaShop is an ideal option for new online merchants, even without any existing technical experience due to its simplicity, user-friendly interface, and functionality. However, the fact that Prestashop's features for online stores are limited makes it a default best fit for small and medium-sized businesses.
Pixpa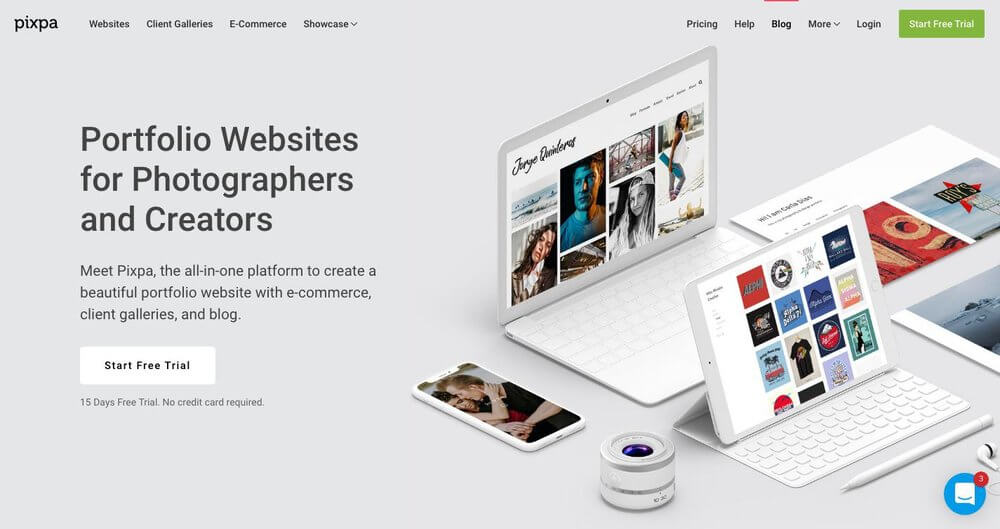 Pixpa is an all-in-one website builder platform for business owners, creative professionals and freelancers. Pixpa can help you create feature-rich, professional websites complete with an online store, eCommerce galleries, blogging platform and more, without touching a single line of code.
Pixpa offers a wide range of features including product and inventory management tools, abandoned cart recovery, shipping and discount management, built-in marketing and SEO tools and more. What sets Pixpa truly apart from the competition is the stellar customer support with an average response time of under 3 minutes.
Features
Easy to use, no-code platform allows you to build a feature-rich eCommerce website without touching a single line of code.
Wide range of professional, mobile-optimized and responsive eCommerce website templates.
Create a full-featured online store to sell products, services or digital downloads. eCommerce tools include product and inventory management, shipping, taxes and discount management, abandoned cart recovery tools and more.
eCommerce galleries can be used to sell prints or digital downloads. Pixpa also has options for more traditional online stores..
Extensive and integrated SEO and marketing features including pop-ups and announcements.
Pros
Affordable pricing. Pixpa's pricing plans are among the most inexpensive on the market. Offers the option for using custom CSS and HTML code for advanced customization.
Pixpa charges zero commissions on sales made through your website.
24x7 customer support with a response time of under 3 minutes.
Free one-time, website set-up service with Expert and Business tier pricing plans
Free SSL security on all websites.
Cons
Custom domain names must be purchased from a third party. No built-in options for purchasing a custom domain.
Pixpa is a paid service, it is not open source and does not offer a freemium model or free plans.
Pricing:
Light - $3 per month
Personal - $7 per month
Expert - $10 per month
Business - $16 per month
So who should use Pixpa? Pixpa is perfect for businesses that want a versatile eCommerce website to sell products, services or digital content. It is also a great business solution for creative professionals like artists, photographers, designers who would like to sell images as prints or digital goods through their website. If you want an easy to use and affordable solution for your eCommerce needs then Pixpa would be a great choice for you.
Final thoughts
To make full use of the robust growth of eCommerce, online stores need careful preparation for their performance in the extreme marketplace. Top 6 eCommerce content management softwares and platforms are introduced to help you find the most suitable platform.
It is hard to say what eCommerce content management software or platform is the best because your business needs will determine which feature benefit you the most. Just decide on the CMS that can lay a firm foundation for your online store and help you achieve business goals.
Related Posts:
Website Support
& Maintenance Services
Make sure your store is not only in good shape but also thriving with a professional team yet at an affordable price.
Get Started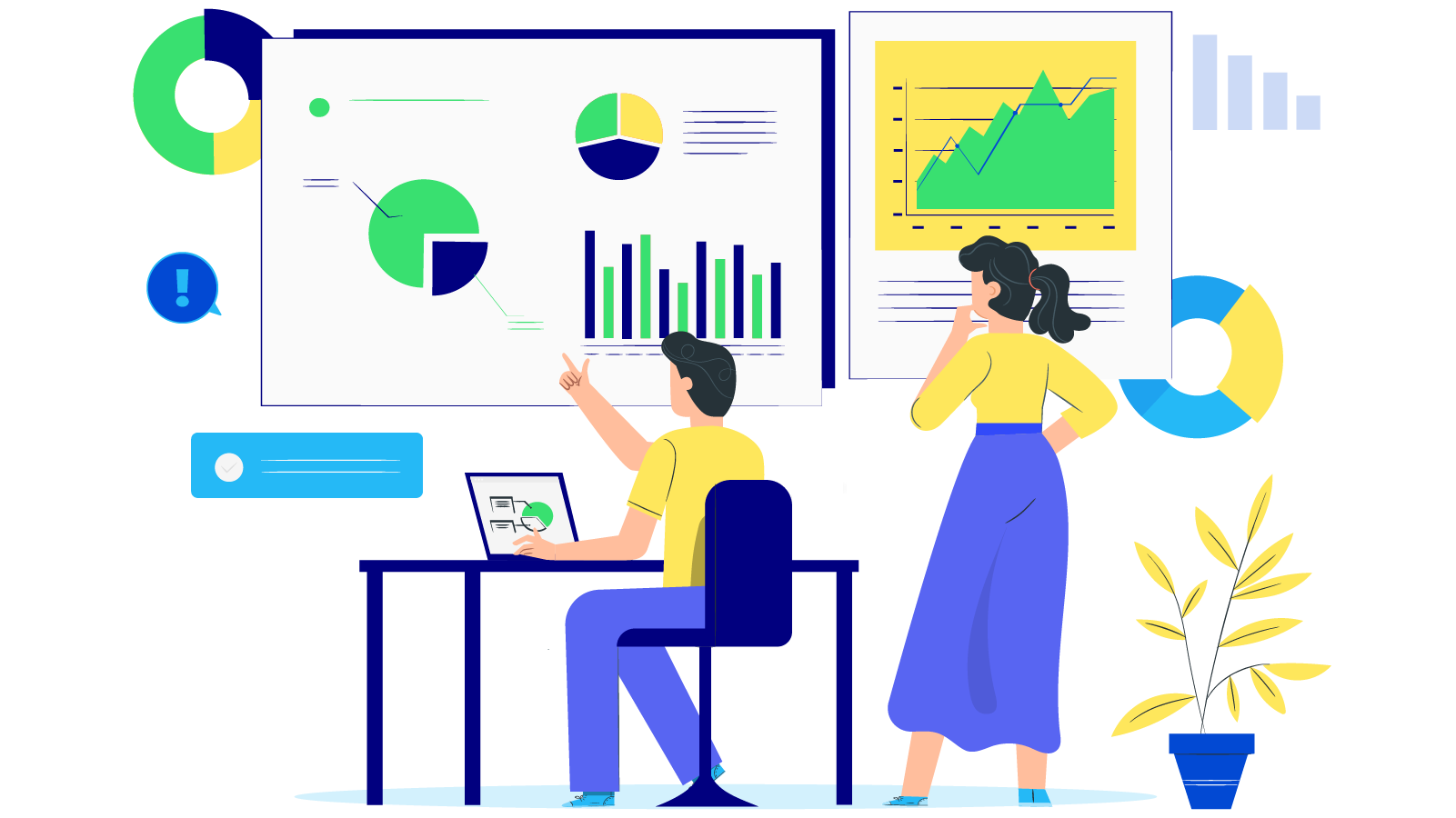 ---
---

Sam is the CEO and Founder of Mageplaza, pursuing a simple and healthy lifestyle. He is a friend, a husband, and a father to two children. As a trainer and an aspiring influencer, he is also a big fan of sports and travel. Sam is exceptionally knowledgeable about e-commerce, especially Magento and Shopify, with 10 years of experience in the field.
New Posts



People also searched for
ecommerce cms
best cms for ecommerce
best ecommerce cms
best ecommerce cms 2021
cms for ecommerce
eshop cms
shop cms
top ecommerce cms
best eshop cms
best cms ecommerce
online shop cms
cms store
best webshop cms
cms e commerce
ecommerce cms platforms

best cms for ecommerce website
best cms for online store
free ecommerce cms
online shopping cms
the best cms for ecommerce
shopping cms
cms online shop
most popular ecommerce cms
cms for online store
webshop cms
cms for eCommerce
simple ecommerce cms
cms for ecommerce website
best eCommerce cms
ecommerce cms comparison
cms online store

ecommerce content management system
cms and ecommerce platform
top cms for ecommerce
best online shop cms
ecommerce cms systems
best ecommerce cms platform
cms and ecommerce
best content management system for ecommerce
best cms for webshop
best cms for online shop
cms with ecommerce
best e commerce cms
which cms is best for ecommerce site
content management system ecommerce
what is the best cms for ecommerce
2.2.x, 2.3.x, 2.4.x
Subscribe
Stay in the know
Get special offers on the latest news from Mageplaza.
Earn $10 in reward now!