Shopify Starter Plan review: How to Sell on Shopify for Only $5
What is shopify starter plan?
Shopify Starter is a Shopify pricing plan for merchants who want to sell products on social media platforms, including Facebook, TikTok, Instagram, WhatsApp, and more.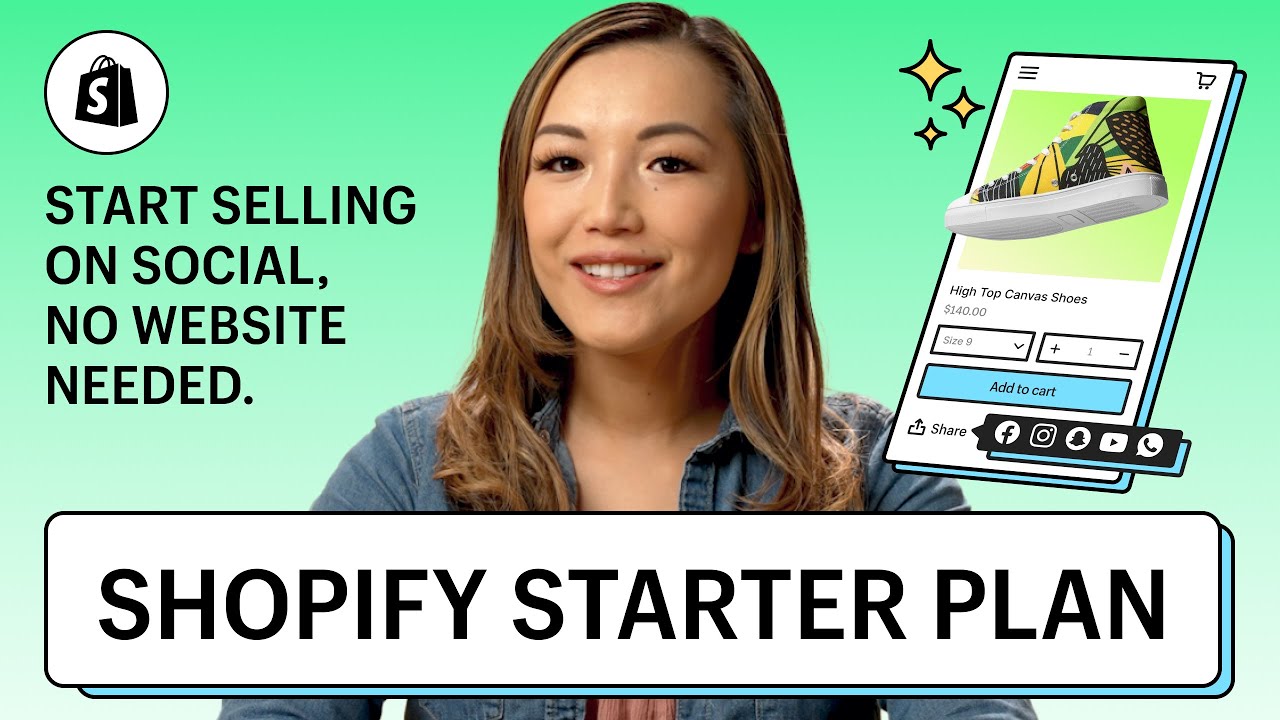 How Much Does the Shopify Starter Plan Cost?
The Starter Shopify plan costs $5 per month and includes everything you need to start selling your products on social platforms or add a "Buy Button" on their other sites.
Shopify Starter replaces Shopify Lite to become the cheapest e-commerce Shopify plan. Of course, you can upgrade to higher tiers, including the $39 per month Basic plan, the $105 per month Shopify (Standard) plan, and the $399 per month Advanced plan.
Note: The pricing changes depending on your store location. Make sure to check Shopify pricing in your country here before starting a Shopify store.
Like the other Shopify plans, the Starter plan comes with Shopify Payments, Shopify's built-in payment system. Once activated, it removes the transaction fee on each sale. However, Shopify applies a credit card fee for every online purchase.
Credit card rates (online): 5% + 30¢ USD
Transaction fees: 0% (Shopify Payments) - 5% (other payment processors)
Does the Shopify Starter Plan Offer a Free Trial?
The answer is Yes. There is a 3-day standard Shopify trial, which provides you full access to your selected Shopify plan (the Starter plan) and its features at no cost.
And when your standard trial period expires, you'll get 3 months of Shopify for only $1/month on select plans (the Starter & Basic plans).
You can sign up for a Shopify account with the $1/month deal here.
During your free trial period, you can upload your products and check how the product pages and Buy buttons work on your social media platforms. All your changes will carry over if you pay for the full plan.
Exclusive Offer: Get Shopify 93 days for just $3 + The Online Store Starter Kit
Start a 3-day free trial, then get Shopify 3 months for $1/month plus the premium package designed especially for new Shopify merchants!
Start Free Trial
Shopify Starter Plan Features
Shopify Starter offers a good amount of features at a small fee. Here is a quick overview of its features.
Simple storefront
Support for unlimited product pages
Fast and secure checkout module
Customizable contact page
Shopify order management
Access to Shopify App Store
Full access to Linkpop (a Shopify media link tool)
Now that you have a glimpse of what comes with the Starter Shopify plan, let's dive deeper.
Linkpop by Shopify
Linkpop is a link-in bio tool that's powered by Shopify and designed for e-commerce purposes.
As the name suggests, "link in bio" refers to the clickable URL you can add to your social media profile. The main idea behind "link in bio" is to get visitors to click on the link that leads them to your Shopify store or product pages.
Linkpop is one of the newer features in the Shopify Starter plan and offers a good amount of features, including:
Support for digital wallet
Media support
Landing page customization
Mobile Optimization
Creating shortened bio links to your social bios
Creating monetized links to Shopify product pages
Links to your blogs and podcasts
Effective Selling on Social Media
According to a recent study, social buyers in the US saw a dramatic increase from 60 million in 2019 to an estimated 97 million by 2022. Here is how the Shopify Start plan helps with social selling.
Shopify offers a backend to manage your inventory. You can upload product images, add descriptions, and set a price. You also can take your product pages anywhere online, including social media platforms.
You can create a small online store on your social networks. From here, you can add and organize your products. When customers click through your links, they will be redirected to the product pages, where they can check out and edit their cart.
Support for Customer Service
The Shopify Starter plan can integrate with WhatsApp and Facebook Messenger, allowing you to collect customer questions.
Sales Analytics & Order Management
The Shopify Starter plan offers an excellent tool for inventory management at a low price. Specifically, you can view and manage your orders from the Shopify admin dashboard.
The Starter plan also comes with an analytics page to track your performance and learn about product sales.
What's Missing from the Shopify Starter Plan?
While the Shopify Starter plan is a great tool for ecommerce newbies, it comes with certain limitations. They are as follows:
Full online store: the Shopify Starter Plan does not include a full online store.
Blogging: The Starter Shopify plan does not include blogging functionality which is essential for generating traffic via inbound marketing.
Theme customization options. You are given one theme only for creating your product links, and you cannot edit it.
Enjoy 93 days of Shopify for just $3
Try Shopify risk-free for 3 days, then start selling for $1/month
Start my free trial
Migrating from Shopify Lite: What's Different?
The Shopify Starter plan replaces the Shopify Lite plan to become an entry-level ecommerce plan for merchants who want to sell on Shopify.
The Starter plan retains most of the features from the Lite plan while introducing a more affordable pricing tier.
If you switch from the Shopify Lite plan, a few of its features did not make the cut in the newer plan. These features include:
Sending invoices
Sell anywhere with swiping cards
How to Sell on Social Media with the Shopify Starter Plan?
To start selling on social media, you need to create a Linkpop landing page. To do it, go to Linkpop.com and sign in with your Shopify account details.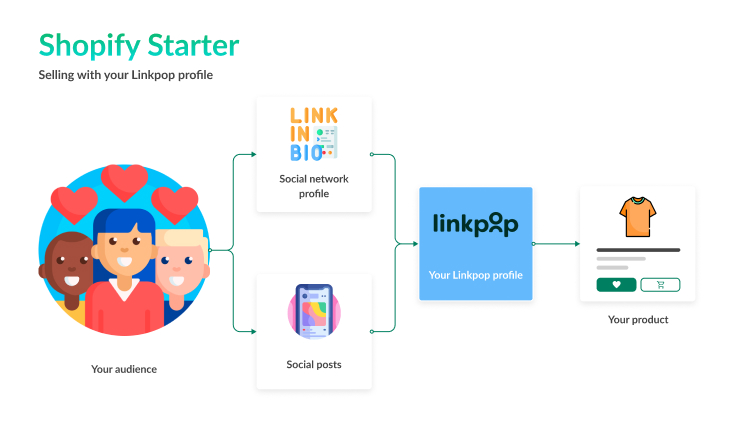 Step 1: Set up your profile
Once you are in, hit the Create Page button to get started. From the Page info page,
Enter the URL for your profile page, which can be Linkpop.com/yourstorename. This URL cannot be edited once it's been created.
Enter the profile name for your landing page, which could be your store name.
Enter a description for your profile.
Once done, hit the Create Profile button.
Step 2: Link your Linkpop account to your Shopify account
To create shoppable links on your landing page, you need to connect Linkpop to your current Shopify account and set it as a sales channel.
Click Add Shoppable link from the Linkpop admin page.
On the next window, click Take me to my store.
From the Log in to your Shopify store window, enter your Shopify store domain and click Log in.
On the next page, click Add sales channel > Go to Linkpop.
Step 3: Create shoppable links
You can now create shoppable links for your Linkpop landing page. Here is how to do it.
Click Add Shoppable link from the Linkpop admin page.
Click Browse products and choose the product you want to create a link for, and click Select.
Step 4: Customize your profile
In the Profile tab, you can customize how your Linkpop landing page looks, such as changing the font color, background color, and font. You can also add a logo for your profile and then fill in a bio.
Step 5: Add your social channels
In the Social media tab, you can link to your social media platforms, including Facebook, Instagram, Twitter, Snapchat, YouTube, and TikTok.
Shopify Starter Plan vs Basic Plan: Should You Upgrade?
If you are considering an upgrade to the Shopify Basic plan, check out the comparison chart below.
| Features | Shopify Starter | Shopify Basic |
| --- | --- | --- |
| Customer profiles | | |
| Order & inventory management | | |
| Mobile POS and hardware support | | |
| QR code support | | |
| Store locations | | |
| Gift cards support | | |
| Different payment methods support | | |
| Access to Shopify's dashboard | | |
| Sales button in other | | |
| Personalized customer support | | |
| Online store | | |
| Multiple sales channels | | |
| Free SSL certificates | | |
| Support of up to 4 store locations | | |
| 2 user accounts | | |
How to Add a Live Chat to Your Shopify Store?
With the Shopify Starter plan, you can sell your products through direct messages on WhatsApp or send a link to your products during live chats on Instagram if you have already linked your Linkpop landing page to your social media platforms.
Is the Shopify Starter Plan Right for You?
Whether the Shopify Starter plan is right for you depends on your budget, business scale, and goals.
The Starter plan is a great option for businesses who want to sell online on social media platforms and messaging apps or to add a "buy button" on their existing websites.
Or if you already have a website and your product catalog is small, Shopify Starter is a suitable match. It is an affordable tool and can turn any social media platform into a selling system, with numerous options to reach out to customer inquiries.
On the other hand, if you need a fully-editable online store, go for one of the other Shopify plans.
Wrapping Up
That's everything you need to know about the Shopify Starter plan. The Starter plan does not offer a complete solution for creating and managing an online store. Instead, it's more like a low-risk, lightweight plan to test out new products or launch a startup without needing a complete eCommerce website.
Website Support
& Maintenance Services
Make sure your store is not only in good shape but also thriving with a professional team yet at an affordable price.
Get Started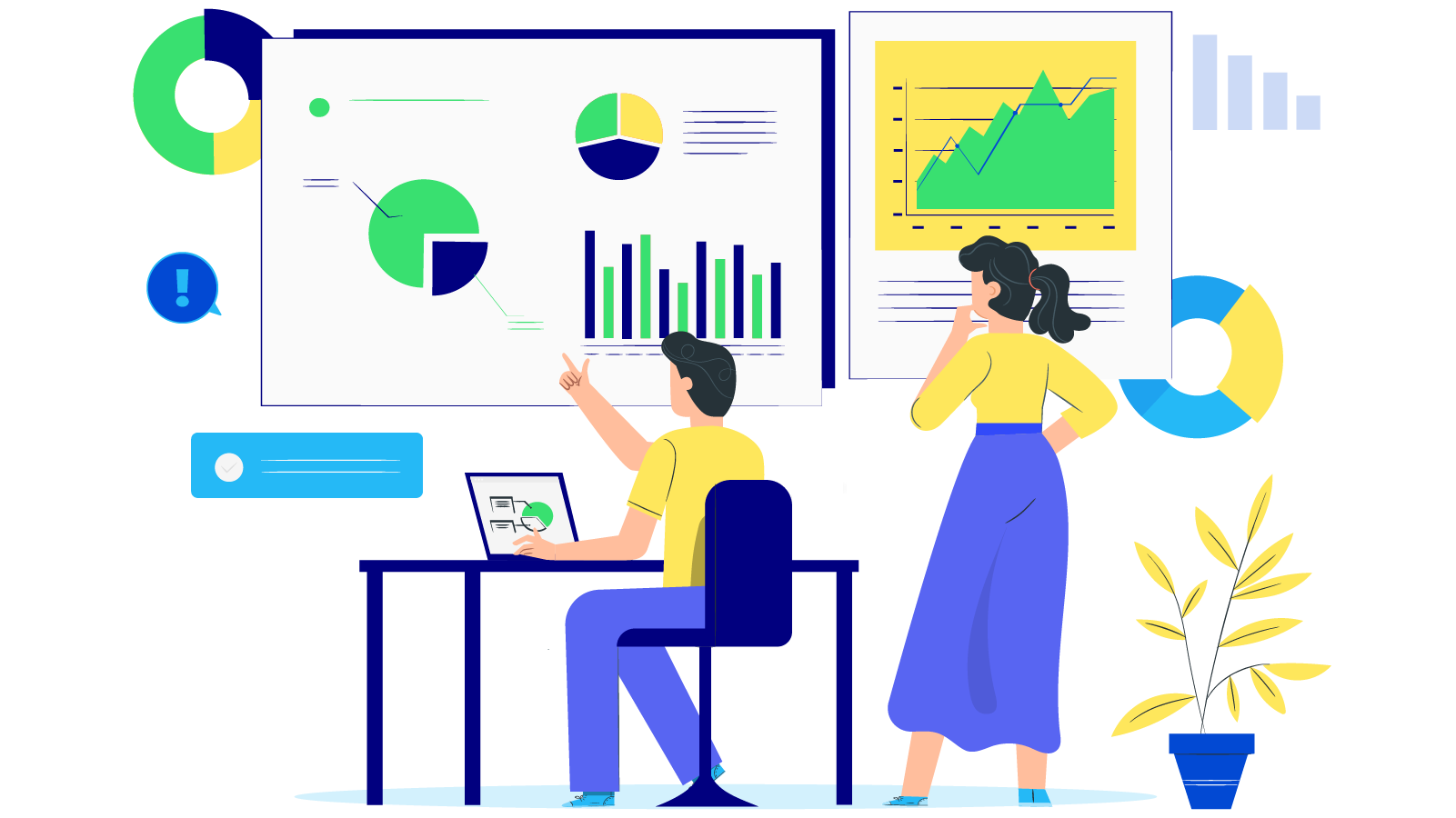 ---
---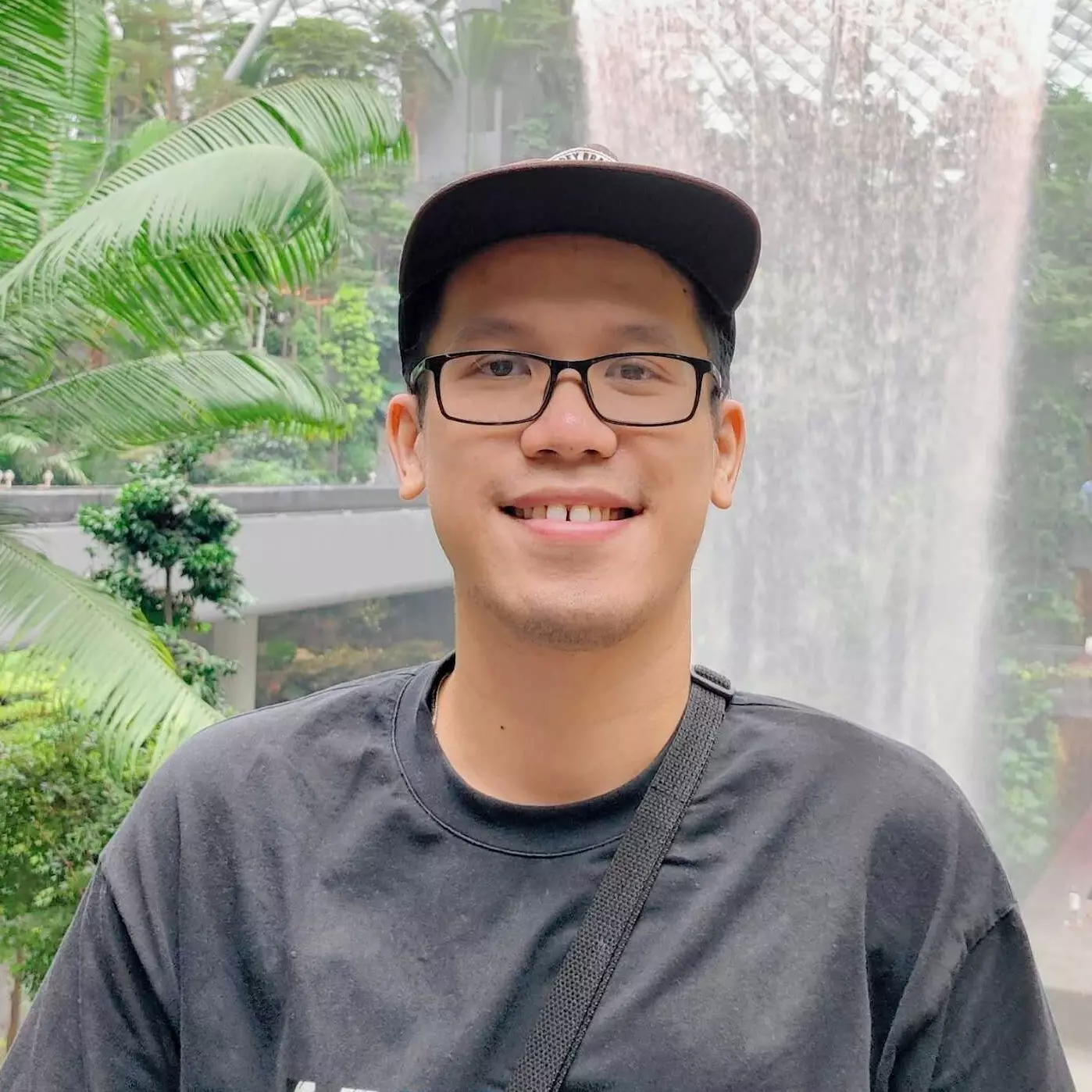 Mike is a content writer at Mageplaza, with a love for video games, gadgets, and software. He has been writing about the industry now for over 7 years. He likes to keep up-to-date with the latest software releases. He's also an avid reader, and he enjoys spending time outdoors with family and friends. When he's not working, you can usually find him playing video games or exploring new outdoor activities.
New Posts



Subscribe
Stay in the know
Get special offers on the latest news from Mageplaza.
Earn $10 in reward now!