Must-know Magento 2 Features for Your Business Success
The Most Popular Extension Builder for

Magento 2
With a big catalog of 224+ extensions for your online store
While Magento 2 offers numerous advantages as a feature-rich platform, skipping its key features and failing to optimize them can lead to significant missed opportunities for your store. This article will explore essential Magento 2 features that can enhance your business workflows and help you make the most of this powerful platform.
Table of Contents
Magento 2 Features
Efficient features in Magento 2 can become sharp weapons to help a person conquer the e-commerce market. The point is to know how to take advantage of them. Having a competitive strength is excellent, but only using them properly can lead to success.
Let's discover some excellent highlights of Magento 2 features! See how they are different from other platform functions.
Open architecture: offer a flexible framework for easy integration with third-party solutions, enabling businesses to operate at scale.
Enhanced productivity: empower merchants with a user-friendly admin panel design, saving time and improving efficiency in day-to-day tasks.
Quick load time: handle high traffic volumes and supports full-page caching, resulting in improved performance and faster page load times.
Secure payment gateways: offer a range of secure and well-known payment gateways, ensuring safe and convenient transactions for users.
High performance: improve performance through enhanced indexers, Varnish caching integration, and a performance toolkit for testing and optimization.
Scalability: provide scalability through full-page caching and multiple admin user capabilities, allowing for improved performance and efficient management of orders and products.
The platform indeed brings a lot of useful functionalities to its user. However, we will focus on the most critical features today. Let's see what they are!
1. Managing Catalog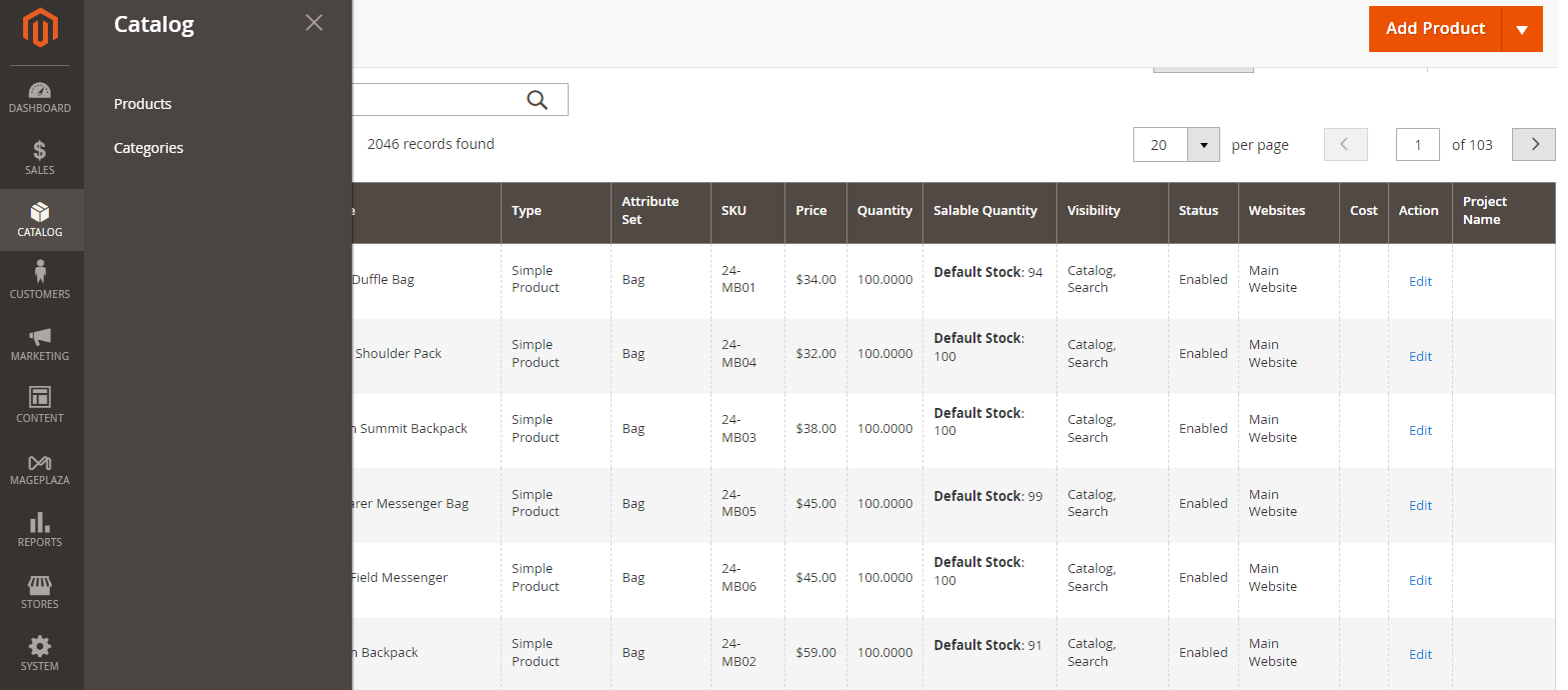 Magento provides a range of tools for effective product catalog management. To make it easier to navigate the store, you can add items and create categories.
Additionally, product images and videos are rendered in various device sizes, ensuring that users can see the pictures on any device.
The platform also allows you to add product types and specify product data through attributes.
Another benefit of this feature is the price change scheduling ability. With the help of advanced pricing tools, online businesses can provide the most competitive rates for their products.
The catalog management functions include:
Product grouping by size, color, and other attributes
Price points
Virtual product downloads
Product attributes
Automatic image resizing
Advanced pricing options
Product tags and reviews
2. Promoting Products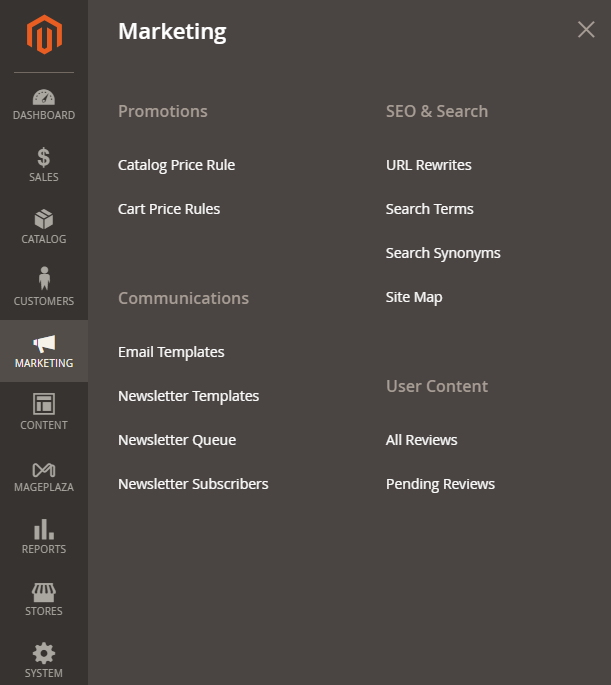 Magento has native marketing features designed to enhance customer engagement and boost sales.
The Shopping Tool allows you to add wish lists and customer feedback to your product pages, making it easy for customers to interact with your store.
With the promotions tools, you can set up price rules and offer product discounts, including special promotions like free shipping for specific customer groups.
Magento also enables you to design emails and newsletters about your products, and it allows you to integrate your store with social media accounts.
To enhance user experience, Magento offers advanced search features such as Live Search, Catalog Search, and Search Terms, ensuring that customers can quickly find what they're looking for.
Additionally, Magento provides SEO features to optimize your site's content, helping you rank higher in search engine results and drive more conversions.
Some Magento 2 promotion features include:
Related items, upsells, and cross-sells
Coupons and discounts
Cheap Advertised Price
Recently viewed and compared items
Promotional tool for new products
Social media accounts
Free delivery options
Email wishlists and blogs
3. Handling Inventory and Orders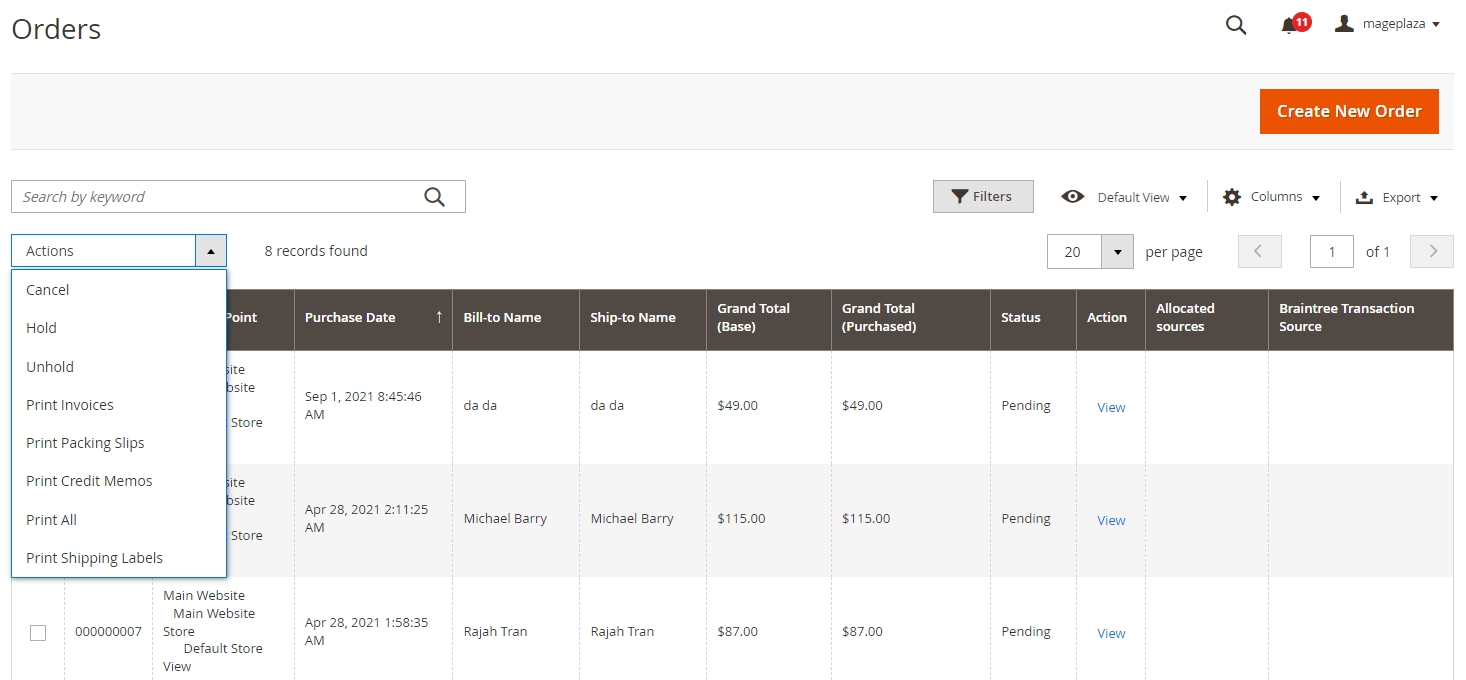 Another Magento efficient feature is managing inventory, including features for single and multiple warehouses, pick-up locations, and drop-off centers. These tools help you maintain product quantities, track available stock, and streamline order management processes. With Magento, you can easily handle order workflow, manage invoices and shipments, and create a seamless checkout experience.
Inventory and order management features include:
Merchandise amounts and sources
Single & multi-source support
Stocks and bulk actions adding
Shipment management
Order fulfillment from the admin panel
Invoice and credit memo creation
Customization of order status
Re-order creation
Email notifications for orders
4. Business-to-Business
Magento provides native B2B functions that improve the shopping experience. Admin can easily add company accounts and manage many buyers.
Customize catalogs specifically for your business customers, ensuring they receive contract terms during the purchasing process. Additionally, you can add payments to purchasers' accounts directly.
With the ability to create order forms and requisition lists, these features increase repeat orders and customer loyalty.
The B2B features include:
Company account and quote management
Multiple buyers
Payments on accounts acceptance
Catalogs customization
Quick ordering
Requisition list creation
Re-ordering from previous orders
B2B report on the dashboard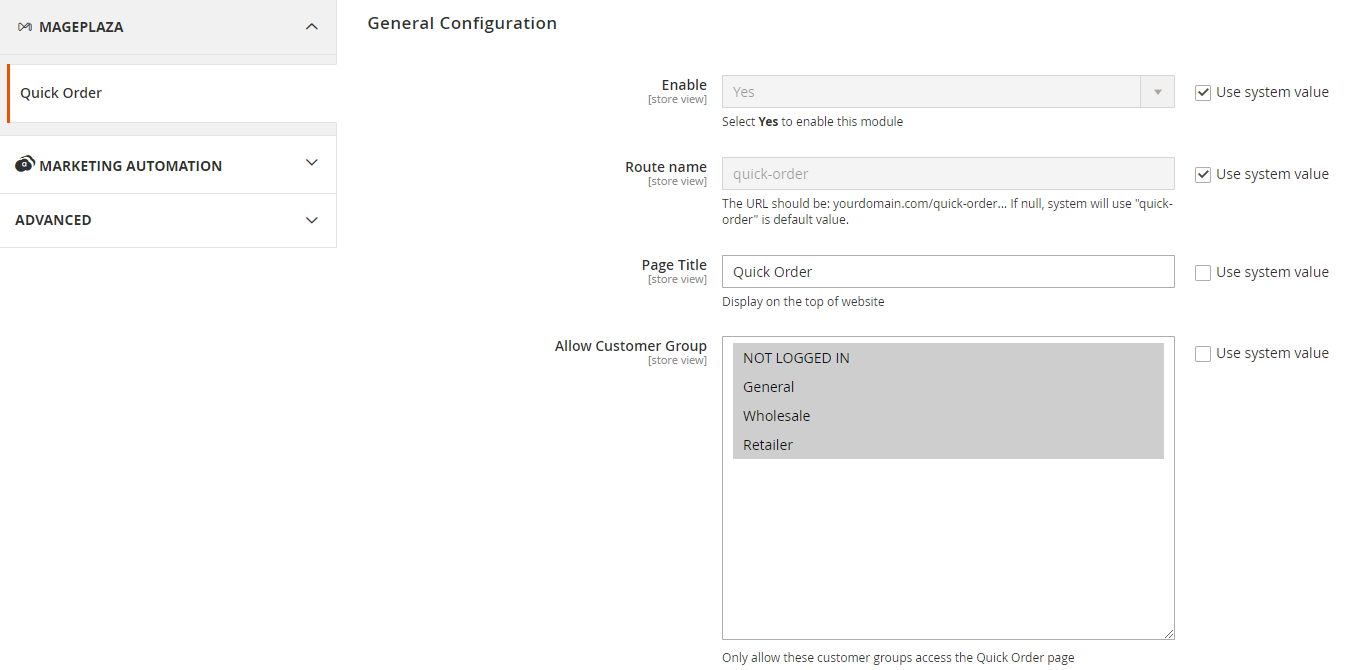 5. Headless Commerce
Headless e-commerce involves separating the frontend and backend of an e-commerce store, allowing for personalized customer experiences across various touchpoints.
Thanks to this innovation, while the backend layer handles complex processes, the frontend can be customized without disrupting the backend system.
Headless Commerce Advantages:
Customizable front-end
Consistent branding across channels
GraphQL API integration
Front-end modifications without backend upgrades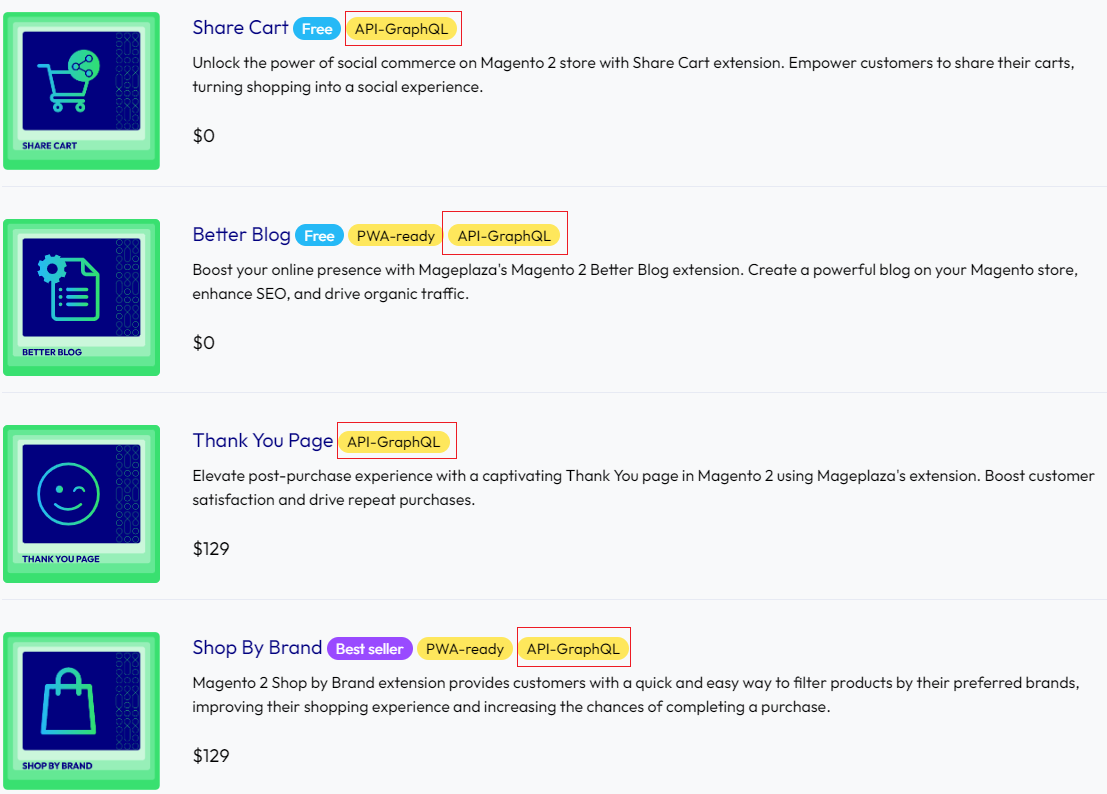 6. Progressive Web Applications
Progressive Web Application (PWA) is an advanced web technology that enables app-like shopping experiences, offering optimized content on both mobile and desktop devices.
As more customers turn to mobile shopping, Magento's PWA Studio becomes a great solution, helping maximize mobile commerce by allowing you to create tailored content and visuals for smaller screens.
Progressive Web Application benefits:
PWA storefront customization
Performance optimization
Responsive website design
User-friendly mobile interfaces
Offline content delivery
Easy social media sharing
7. Payments and Financing
Magento provides a wide range of global payment options for store owners, including well-known methods like PayPal Express Checkout and Braintree.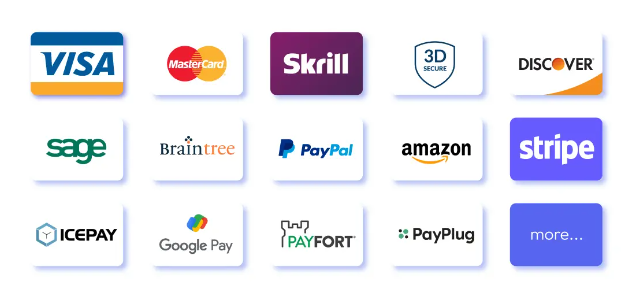 Easily integrate multiple payment gateways into your store and benefit from built-in offline payment options such as COD (Cash on Delivery).
Moreover, with Magento's support for PCI Compliance guidelines, you can safely send credit card data directly to the payment gateway, bypassing the Magento system and keeping sensitive information secure. Outstanding features include:
Multiple payment methods
Famous payment options like PayPal Credit
Money orders acceptance
Bank transfer payments acceptance
Conversion boost with PayPal Smart Payment
Access to PCI compliance guidelines
Ability to add secure payment gateways
8. Reporting Data and Business Intelligence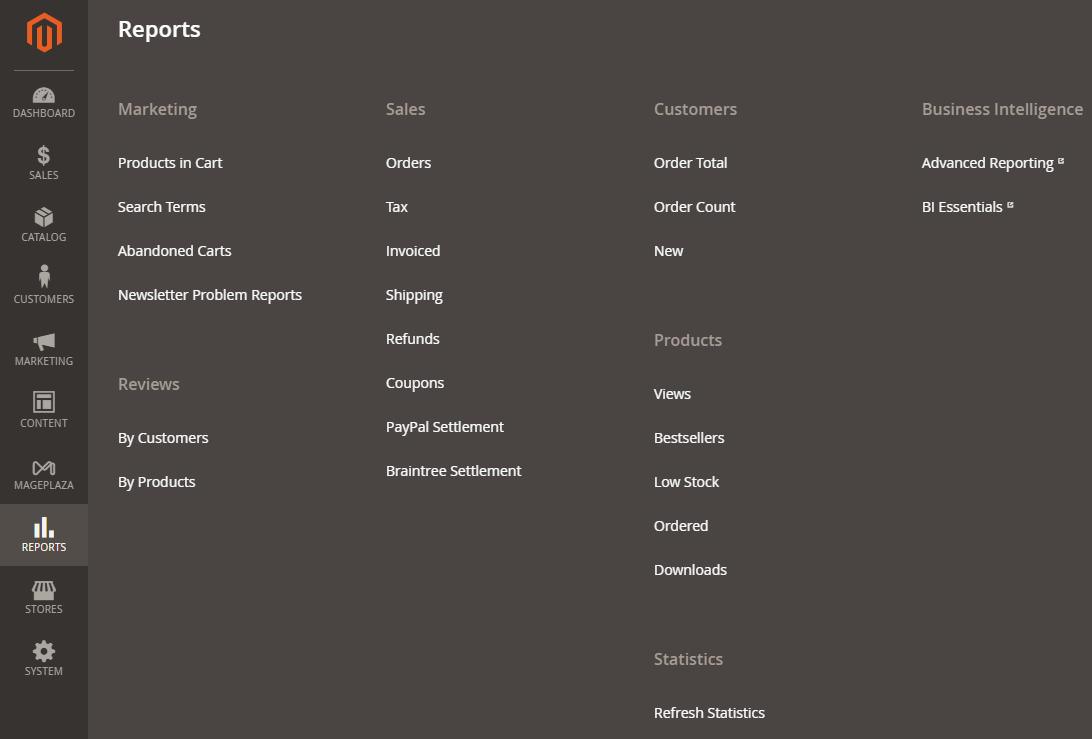 Magento Open Source simplifies the conversion of tracking data into visual reports. The reporting feature provides store owner metrics like sales reports, customer behavior, etc. The admin dashboard offers a comprehensive overview of reports for quick analysis. Furthermore, Business Intelligence provides real-time insights, allowing you to track retention rates and sales performance. It enables you to leverage data to enhance the customer experience and centralize data analysis while eliminating data-related obstacles.
Reporting features:
Google Analytics
Sales report
Tax report
Highest-viewed products
Low stock and searched product report
Sales invoice total
Abandoned cart report
Report overview
Business Intelligence features:
Business metrics customization
Insights collecting
Pre-built reports for data visualization
Scheduled and emailed analysis
Tips for Magento 2 beginners
For those entering the world of Magento 2 e-commerce or small business owners taking their first steps, it's crucial to proceed cautiously. There are two points that you need to pay attention to.
Apply essential features to your store: Ensure your store has enough essential functions that help improve customer satisfaction, as relying solely on the default Magento features may lead to disappointment.

Select suitable features only: Avoid buying too many extensions to build your store in this early stage. You may not be able to afford such a fee yet. Instead, choose wisely and select the most essential modules that meet basic needs first. As your revenue grows, you can invest in further development to enhance your store later.
In order to address these needs, we recommend exploring the Starter Pack for Magento 2.
What's in the Starter Pack?
One Step Checkout Ultimate: Improve customer satisfaction and reduce cart abandonment with a user-friendly and efficient one-step checkout page.
Special Promotion: Flexibly create and manage special promotions, discounts, and offers to attract and engage customers.
Ajax cart: Enhance the shopping experience with a dynamically updating cart that allows customers to add and remove items without page refresh.
Layered Navigation Ultimate: Improve navigation and search functionality by enabling customers to filter products based on various attributes and specifications.
SEO Ultimate: Optimize your online store for search engines to improve visibility and drive organic traffic to your website.
Significant benefits of the Mageplaza Starter Pack:
Comprehensive Solution: The Starter Pack offers a comprehensive set of extensions that cover various aspects of your online store, including checkout, promotions, navigation, and SEO. This means you have all the essential tools in one package, simplifying the process of setting up and managing your store.

Cost Savings: By purchasing the Starter Pack, you enjoy significant cost savings compared to buying each extension individually. The discounted package price allows you to access multiple advanced features while staying within your budget. Currently, the pack is off 25% at only $1,121.

Time Efficiency: With the Starter Pack, you don't need to search for and evaluate multiple extensions. The pack includes carefully selected and highly functional extensions that have been designed to work seamlessly together. This saves you time and effort in finding and integrating separate extensions.

Seamless Integration: The extensions in the Starter Pack are developed by Mageplaza and are designed to work seamlessly with Magento 2. This ensures compatibility and reduces the risk of conflicts or compatibility issues when adding new features to your store.

Dedicated Support: As a Starter Pack user, you receive enthusiastic support from Mageplaza's technical team. This means you can reach out for assistance, guidance, and troubleshooting whenever you encounter any issues or have questions about the extensions included in the pack.

Continuous Updates: Mageplaza is committed to providing regular updates and improvements to its extensions. With the Starter Pack, you can benefit from these updates, ensuring that your store remains up to date with the latest features, security enhancements, and performance optimizations.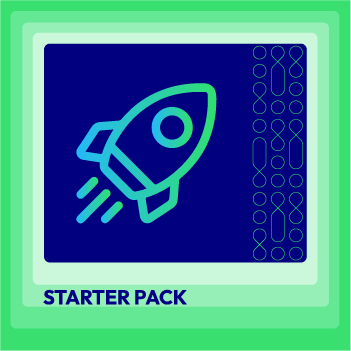 Get all the essentials you need to launch your business with our ready-made pack
Check it out!
Conclusion
Magento 2 is a highly effective e-commerce platform that offers a wide range of features for efficient order and product management and effective online business promotion through various marketing tools. With numerous advantages to explore, Magento 2 features provide ample opportunities for success. To optimize Magento, check out The Top Magento 2 Extensions by Mageplaza - innovative modules to enhance Magento beyond its default functionality. We hope that after this article, you now have a deeper understanding of these great features you can't skip in Magento 2. Please feel free to contact us or leave a comment if you have any questions.
Website Support
& Maintenance Services
Make sure your store is not only in good shape but also thriving with a professional team yet at an affordable price.
Get Started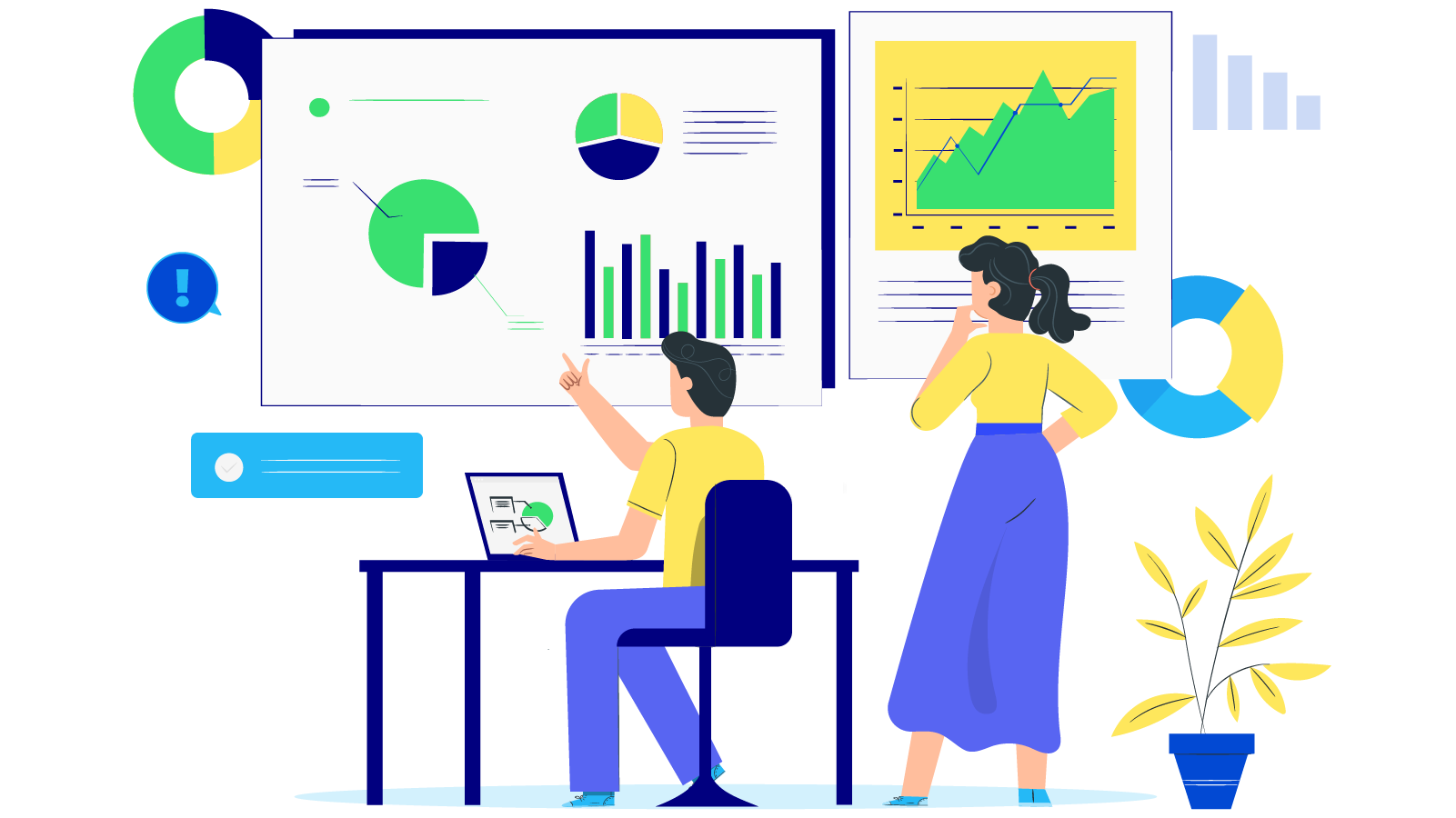 New Posts



People also searched for
Magento 2 Features

must-know Magento features
2.2.x, 2.3.x, 2.4.x
Subscribe
Stay in the know
Get special offers on the latest news from Mageplaza.
Earn $10 in reward now!