Customer's Reviews represents the quality of products as well as your service, especially, influences the awareness of new customers about the products.The satisfaction of the users is also recorded by Ratings on your website.
Therefore, Managing the reviews and ratings plays an important role to every businessman. You can manage the features, what views the visitors can see on your website and the criteria which can be benefit for rating your stores. For example, it is possible to add, delete and manage all of them by Magento 2.
Related posts:
How to add, delete and manage the reviews & ratings in Magento 2
There are 2 steps:
Step 1: Add a new Rating Criteria
Step 2: Add a new Review
Post- service is very necessary so it is important to be willing to recieve the customer's reviews.
In the first step of managing the reviews& ratings, we need consider to adding the new Rating Criteria like Delivery service that customers have submitted many reviews.
Step 1: Add a new Rating Criteria
On the Admin Slidebar, select Stores
Select Rating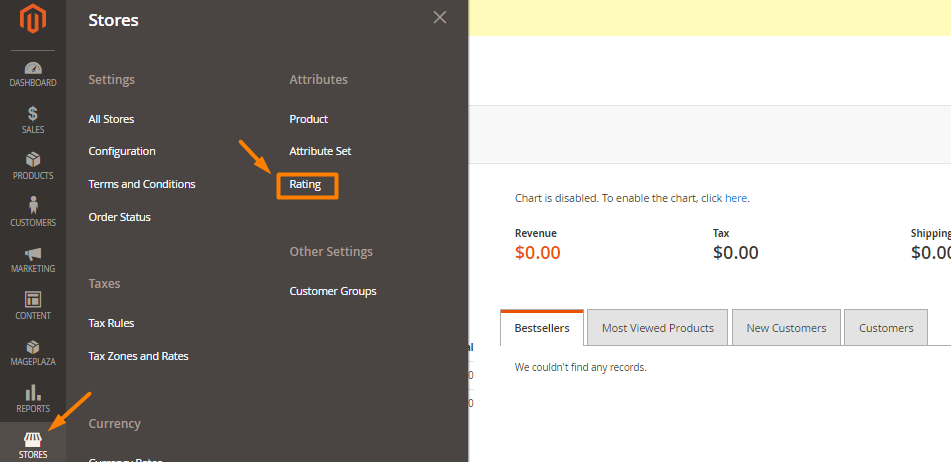 Type the name of criteria Default Value of RATING IMFORMATION box Delivery

Then set the Rating Visibility in Default Store View
CLick Save Rating
You also can add the Review by yourself from any social meia or email just following these steps
Step 2: Add a new Review
On Admin Slidebar, Choose Marketing
Select Reviews


Check the Review Detail box you will have imformation including Product, Author, Detailed Rating, Status


THINGS TO REMEMBER
Should consider about spelling and grammatical mistakes to be sure the profession on your website
The Reviews and Ratings will appear on the front-end of your web