AJAX Cart for Magento 2
v1.0.4
Magento 2 AJAX Cart extension which not only allows customers to preview the information of products faster but also enables them to add the items which they preferred to their carts without having to leave the current site. This solution will help improve the shopping experience of customers and increase conversion rates.
You've just added this product to the cart:
AJAX Cart
You've just added this product to the cart:
AJAX Cart Pro
Problems and Solutions
Customers like to compare different products directly on the Product Listing Page or Home Page. Therefore, customers want to quickly view the main features of several products before paying attention to some specific products.
When customers are shopping, they do not want to be navigated to another site whenever they add items to their shopping cart.
Customers want to customize the attributes of selected items in their carts without having to go back to Product Pages.
Customers would feel inconvenient and impatient if they have to wait so long for new pages such as Product Detail Page or View Cart Page to be loaded.
On Default Magento 2, the function existing interfaces are monotonous and unappealing.
AJAX technology should be included in Add to Cart/ Add to Compare/ Add to Wishlist
Customers can quickly view the details of products without leaving the current page by using A Product Detail Popup.
By using an Add-to-Cart Popup customers are able to add products to their cart while still continue shopping.
A Review Cart Popup can be used to display the updated cart information such as quantity or subtotal to customers.
Enable selecting the attributes of an item quickly without leaving the current page through a popup.
Improve the customer experience by adding more animation effects and color to function buttons.
Ajax improving shopping experience
AJAX is the advanced technology to helps cut down a deal of time on whole-page loading, which creates inconvenience and annoying feeling towards the users. Instead, the server only loads the chosen components appointed by customers and takes no action to the others.
With the application of AJAX technology, this extension ensures to enhance customer experience on a user-friendly shopping site significantly.
Ajax add to cart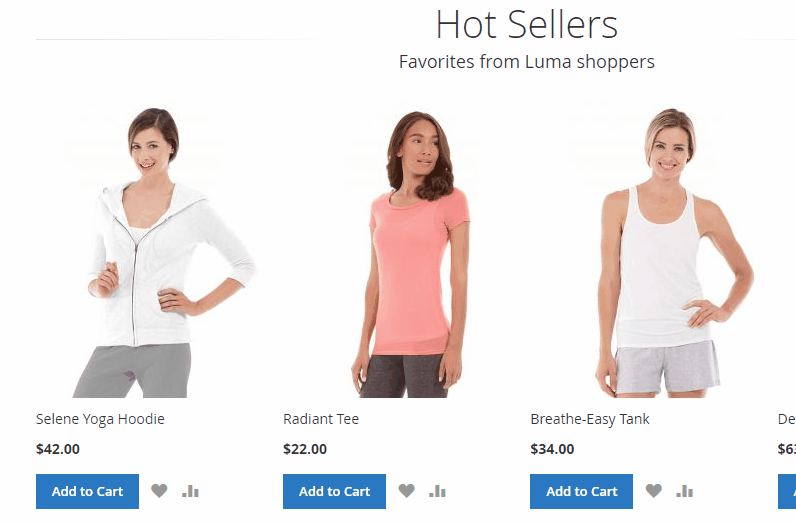 AJAX supports customers to place the favorite items quickly and conveniently without being redirect to another page.
Customers will view product details via a pop-up quickly, select product attributes such as color, size, quantity and add the item to cart right via the pop-up
AJAX Add to Wishlist /Compare
Now customers can conveniently add their preferred items to WishList or Compare List easily and conveniently thanks to Ajax support.
Via just a click on icon Add to Wishlist or Add to Compare, the item is already put in the list while the customer is still kept on the current shopping page. A notice will appear to notify them after adding successfully.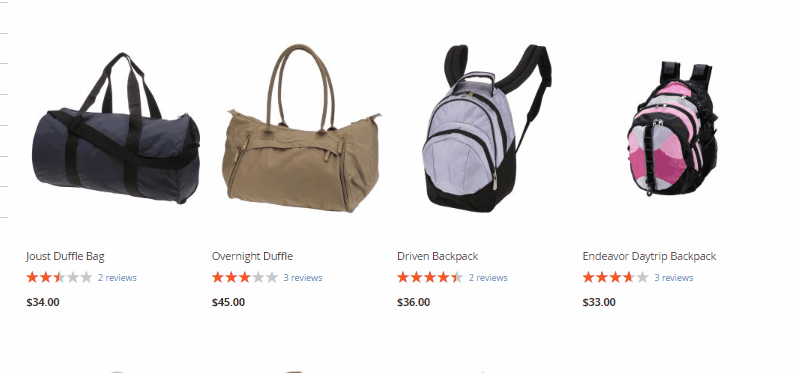 Quick view pop-up supported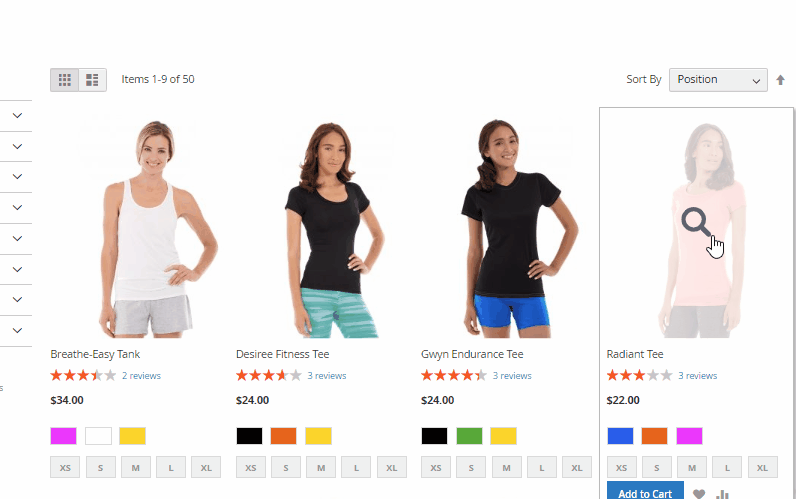 The noticeable function of Magento 2 AJAX Cart extension is quick preview function. Customers do not leave the current site and view product information via pop-up. They can make comparison quickly before making the purchase decision.
Besides, customers can edit product attributes easily to add to their cart instantly on the pop-up. This feature intends to save time and bring convenience to customers.
Lively animation effects
Various effects are included to make the site look more lively and attractive. With pop-up, there are various opening stypes such as zoom, newspaper, horizontal move, move from top.
Meanwhile, when customers AJAX add an item to the cart, the item will fly to Minicart very impressively thanks to the eye-catching effect.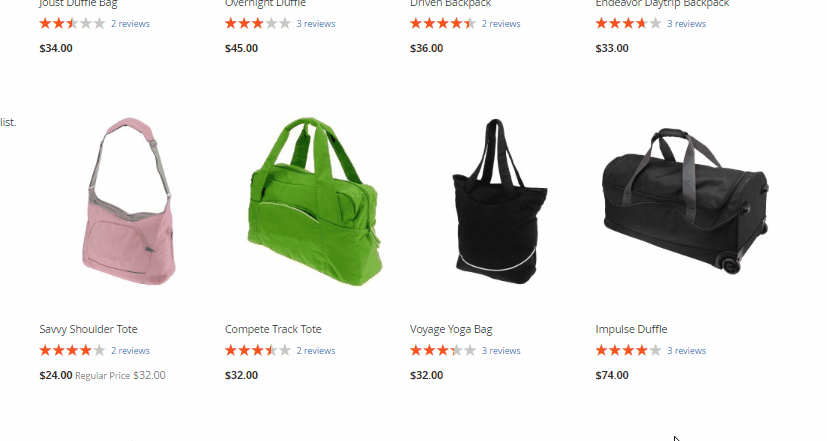 Customize pop-up display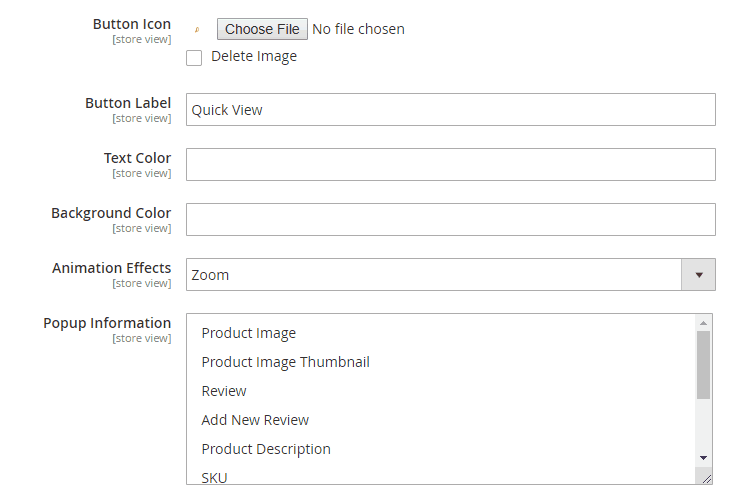 Store admins can easily design the pop-up appearance to match well with the store themes.
The label of buttons
Upload image as quick view icon
Text color
Background color
Select information on the pop-up (color, size, quantity)
Animation effect to open the pop-up
The combination of suitable content, eye-catching color, and animation effects can definitely make the pop-up become more appealing, which enhances the experience of customers significantly during their shopping.
Full Features
For store admins
Activate/ Deactivate the module
Activate/ Deactivate Quick View feature
Choose pages to employ Quick View
Upload symbol for Quick View
Set the text and background color for Quick view label
Choose animation effect style for Quick View pop-up
Decide which information is displayed on Quick View popup and Edit Cart Item pop-up
Allow displaying AJAX Cart
Choose pages to employ AJAX Cart
Choose actions to display on Add to Cart pop-up
Activate animation effect for Add to Cart pop-up
Set the restriction time to display Add to Cart popup after being clicked on.
Design Quick View widget and place at any place on site.
Compatible with Mageplaza extension: Quick view, Fast Order, Product Reviews, Chang Qty...
For customers
Quickly view the details of products on the current page
Choose product attributes through Quick View and Add to Cart pop-ups
Include items to Wishlist or Compare directly on Quick View pop-up
Customize selected items in carts quickly through the pop-up
Improve shopping experience on the website
FAQs
Yes, it is. This is a mixture extension which not only allows customers to preview the information of products faster but also enables them to add the items which they preferred to their carts without having to leave the current site.
Yes, surely. From the admin backend, you can use the current label or upload the new icon for Quick View. Then, you can set the text color, background color.
Well, you can add more animation effects. The extension offers a variety of effects including zoom, newspaper, horizontal move, move from top, 3d unfold, zoom out, etc.
AJAX Cart for Magento 2 allows a pop-up to appear whenever you click Add to Cart. You can then pick quickly product to add to cart, wishlist or compare list without being navigated to another page. Once you turn off the pop-up, you can continue shopping on the current page.
Yes, you can select any attributes, quantity that you want for the previewed item directly on the Quick view pop-up.
Yes, there is. Because the pop-up is also supported to customize the chosen items on the Shopping Cart page, you can quickly edit and quickly checkout without being sent to the Product Page.
Can't find your feature?
Are you looking for a feature in AJAX Cart. Tell Elle your wants and needs.
Chat with Elle
Are you an agency?
Do you often visit us for purchasing extensions and technical support? Speak to April to learn about your exclusive benefits on Mageplaza
Chat with April