How to Custom Order Number in Magento 2
The Most Popular Extension Builder for

Magento 2
With a big catalog of 224+ extensions for your online store
In Magento 2 default, stores can create an order increment ID by a 9-digit number which starts from 00000001. However, this order number system, in many cases, results in the ineffective management of stock. Therefore, store owners want to change this number structure as well as other invoice documents. As you can not do it with the original Magento 2, you may need another tool.
Magento 2 Custom Order Number exactly is what you need. This extension helps your stores set your order ID system flexible and consequently improve the sales management.
Related Topics
Why you need a custom order number?
The order number by Magento 2 default present the number of products sold only. Whereas, with this extension, store's owners can use this number as a data file, which means that it can describe other meaning of product such as the time it's in stock, the store code or ID if you have multiple stores.
Besides, some local government requires systematic invoice numbers strictly. Customer Order Number module by Mageplaza help stores meet any local invoice number requirements by allowing adjusting suitable templates.
Moreover, when your stores migrate from others platform to Magento 2, you need to change the order number system so that it matches the previous rules.
Mageplaza Custom Order Number features
Flexibly customizable order numbers
At the backend, each order number can be generated by a template called "pattern" using syntax. In this field, admin can set up their specific variables of an order number such as the counter, the date information and the store code. For example, here is an order ID you can make: ORD-[4AN]-[4A]-[4N]-[6C]-[storeCode]-[storeId]-[yy]-[mm]-[dd]-[orderID].
Unlike in default setting, this plugin allows creating unlimited order number with a counter step which can be increased by separated stores.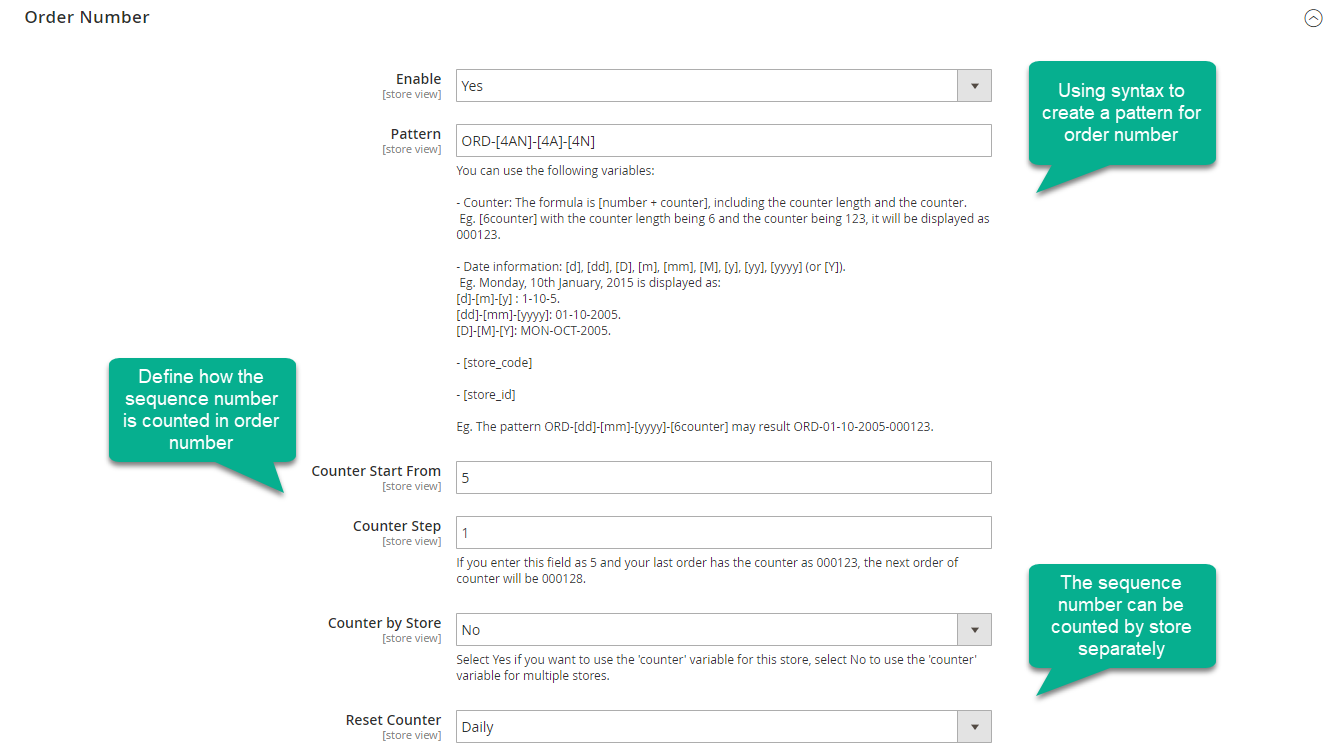 Other documents configuration
Beside order number, this plugin also allows other documents including invoice number, credit memo, and shipment numbers as well. They can be customized similarly as order number by a click or each one can be uniquely set up.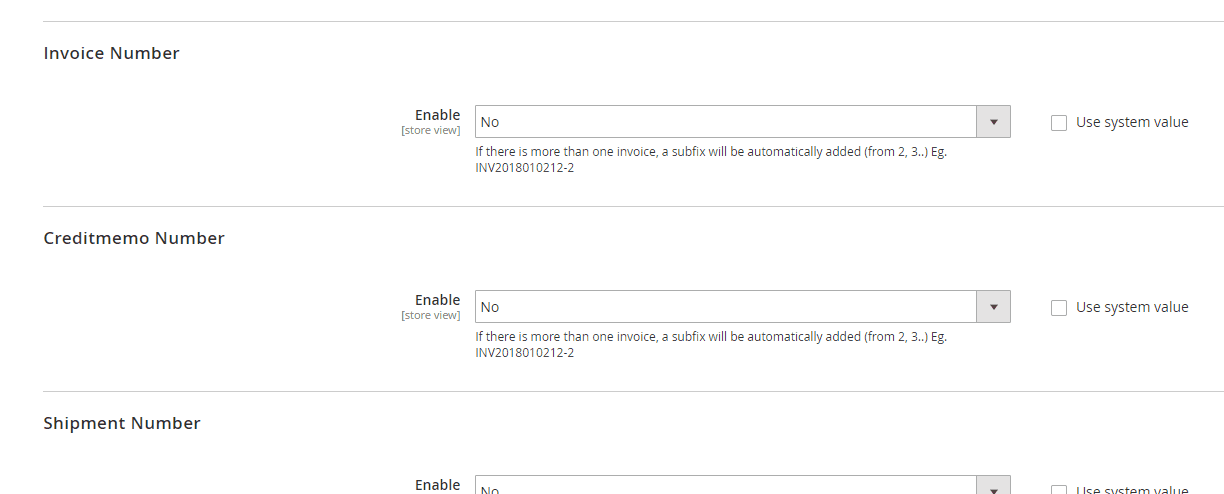 Send an email to admin
Magento 2 Custom Order Number allows the customers to send emails to stores' admin whenever they get issues with their payment. These emails will help the owners know where they get wrong and fix it in time.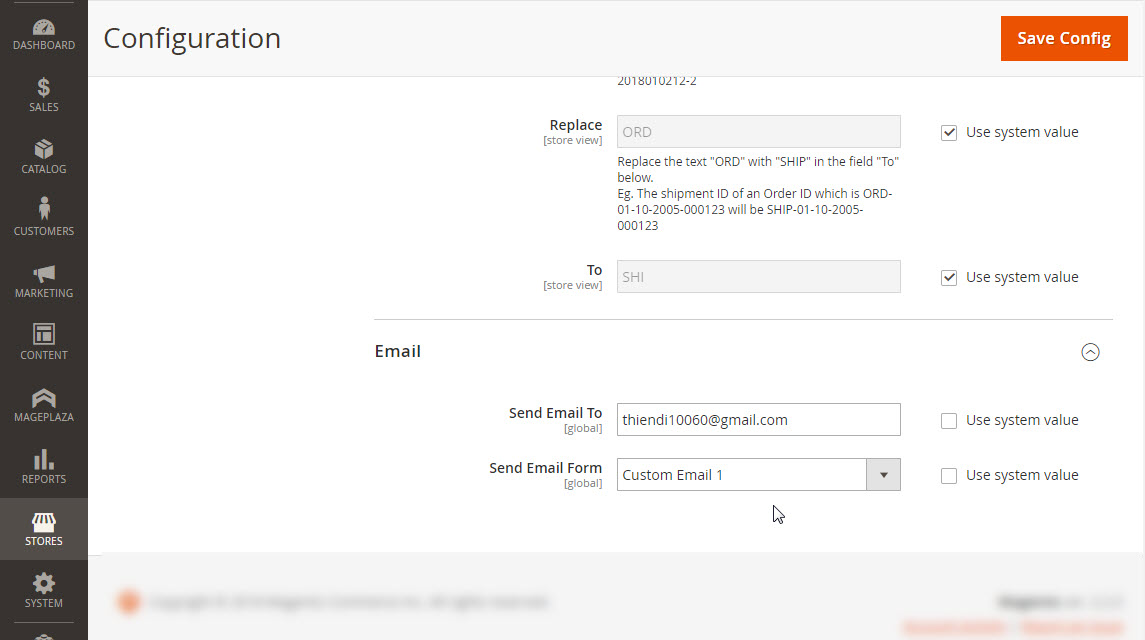 Compatible with Mageplaza PDF Invoice
Magpelaza Custom Order Number extension for Magento 2 is fully compatible with Mageplaza PDF Invoice. It supports your stores easily in generating accurate order numbers, invoice numbers, credit memo numbers and shipment numbers with proper formats in billing documents.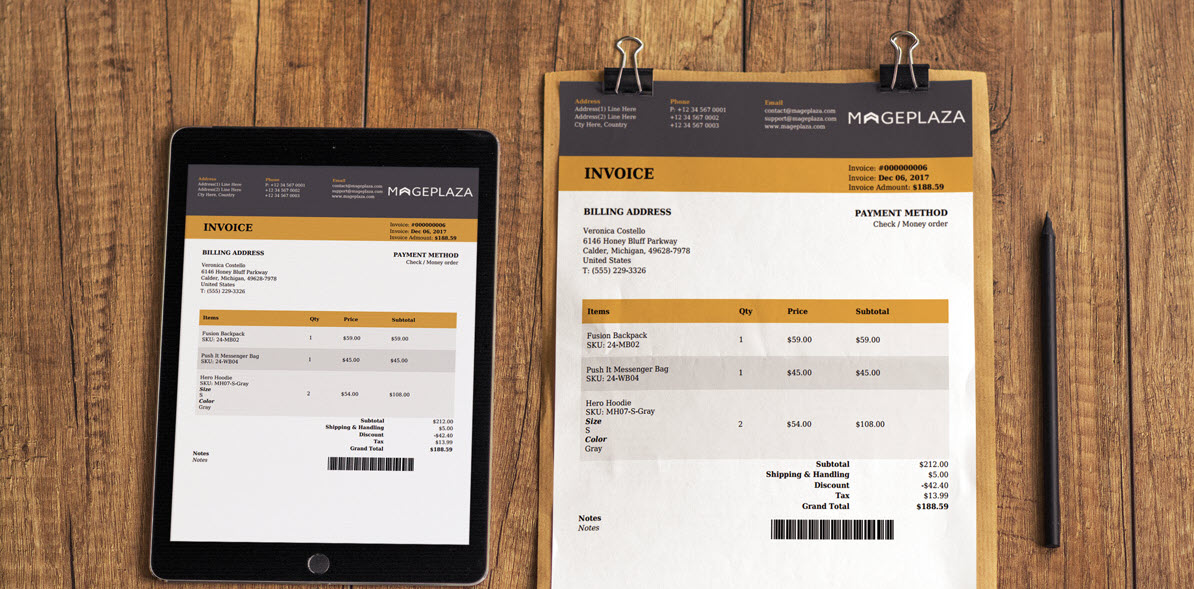 More features
Limit order number padding
The padding of each number string is restricted to a certain length by allowing admins to define numbering formats in billing document numbers.
Install the counter by store
The counter can be set separately by store, and the sequence number will increase numerically by counter steps in each store.
Reset the counter
With a simple click, admin can reset the counter at the backend. It will start again as the initial counter setting.
Customize by Syntax
Order number structure is customized easily by using syntax. For example: ORD-[4AN]-[4A]-[4N]-[6C]-[storeCode]-[storeId]-[yy]-[mm]-[dd]-[orderId]
Configure order number prefix
Order number prefix is customized in the pattern. Besides, admins can change the prefix of other billing document numbers while keeping the rest of the structure the same as order number' s.
Hide real order number ID
Stores' owners can hide the order number ID by creating extra numbers/symbols in the order number patterns while they are still able to recognize it by understanding the number structure.
To understand more about this extension, you can look for the user guide here
Get Magento 2 Custom Order Numbers!
Vanessa is a content executive at Mageplaza. Cooking and reading books are her passion. Her particular hobby is travelling, helping her discover all around. She is an energetic marketer with the hope of making her words magical.
Website Support
& Maintenance Services
Make sure your store is not only in good shape but also thriving with a professional team yet at an affordable price.
Get Started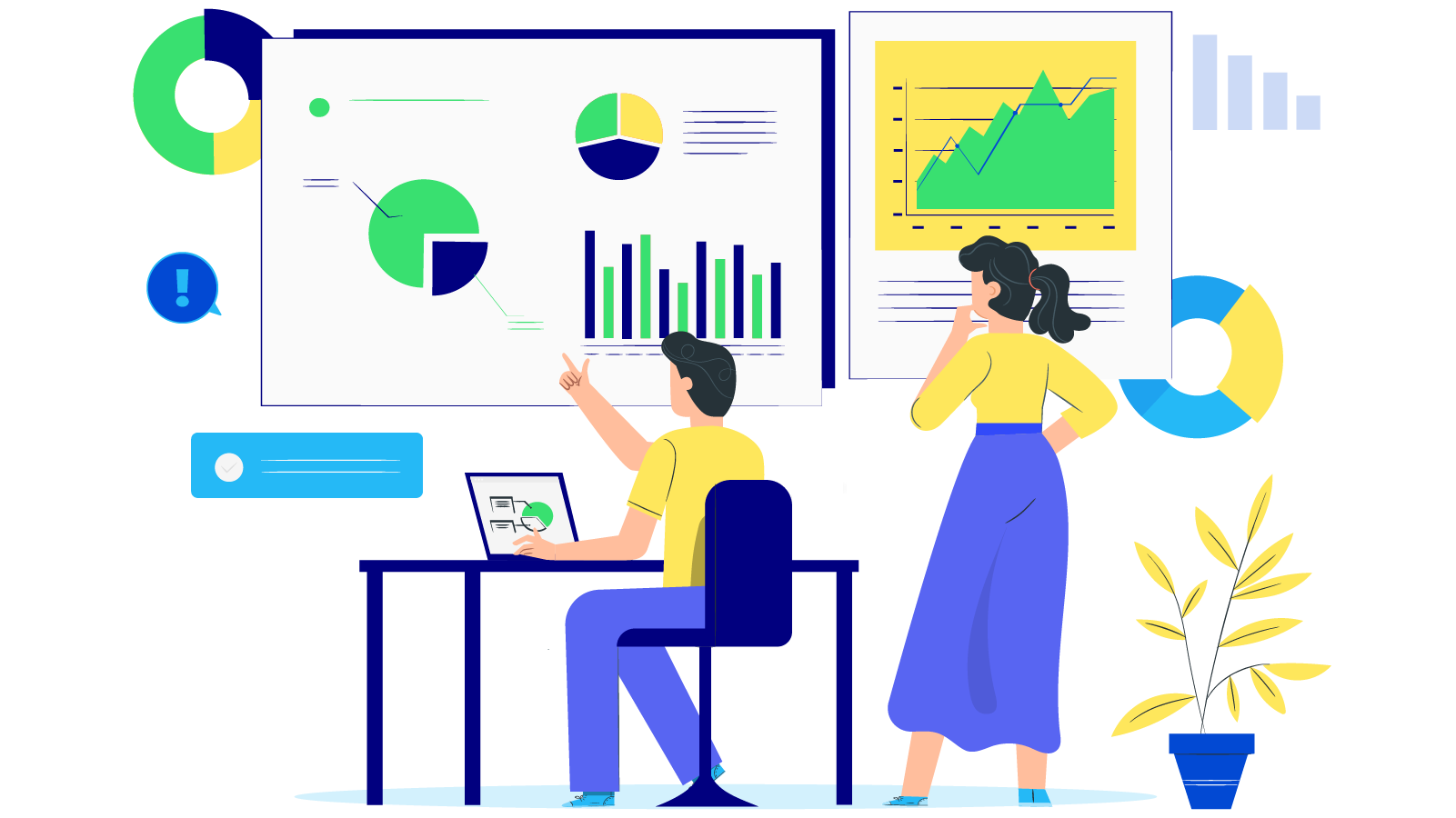 New Posts



Subscribe
Stay in the know
Get special offers on the latest news from Mageplaza.
Earn $10 in reward now!