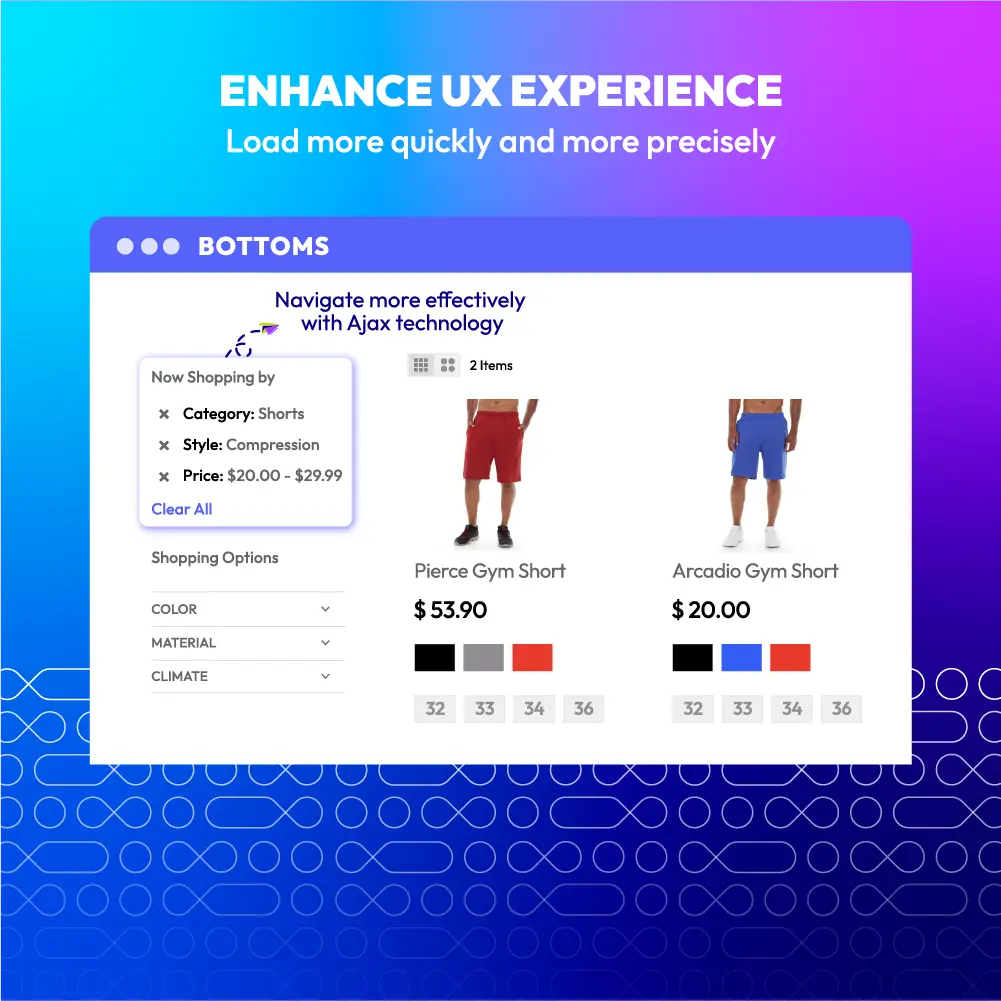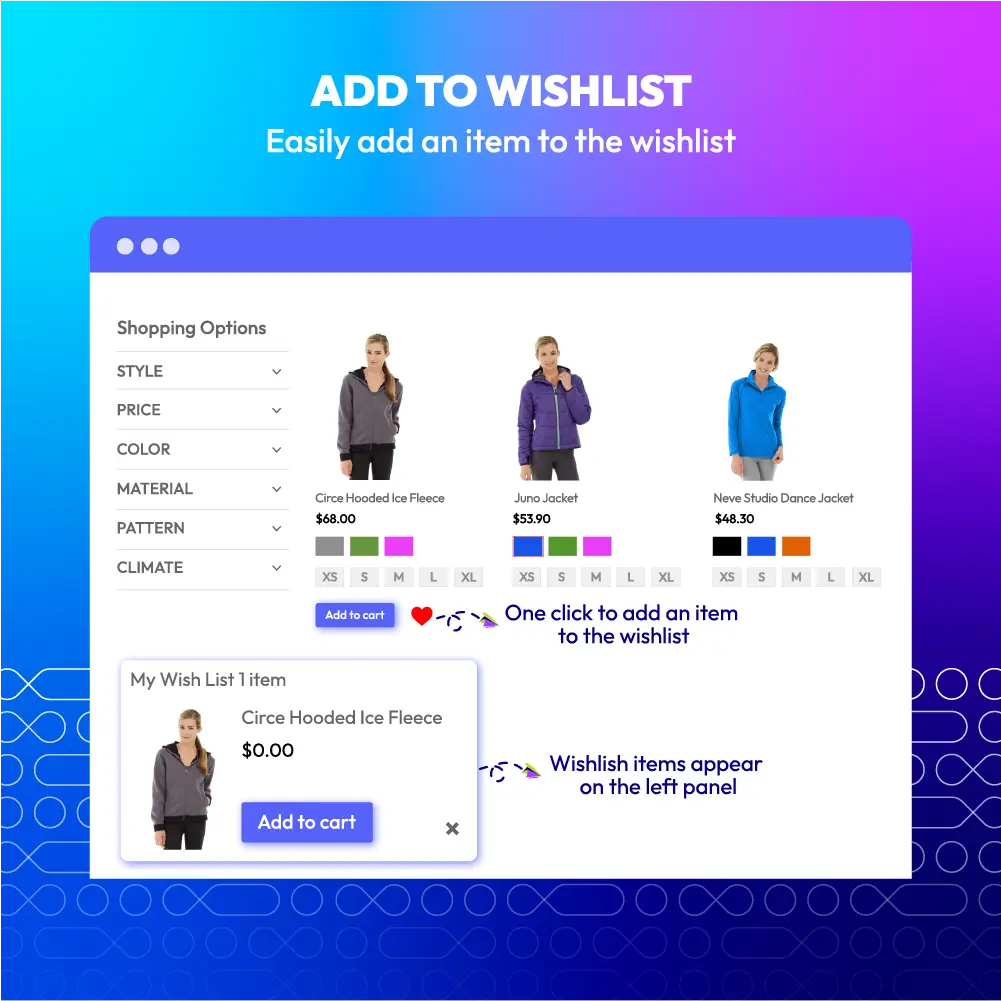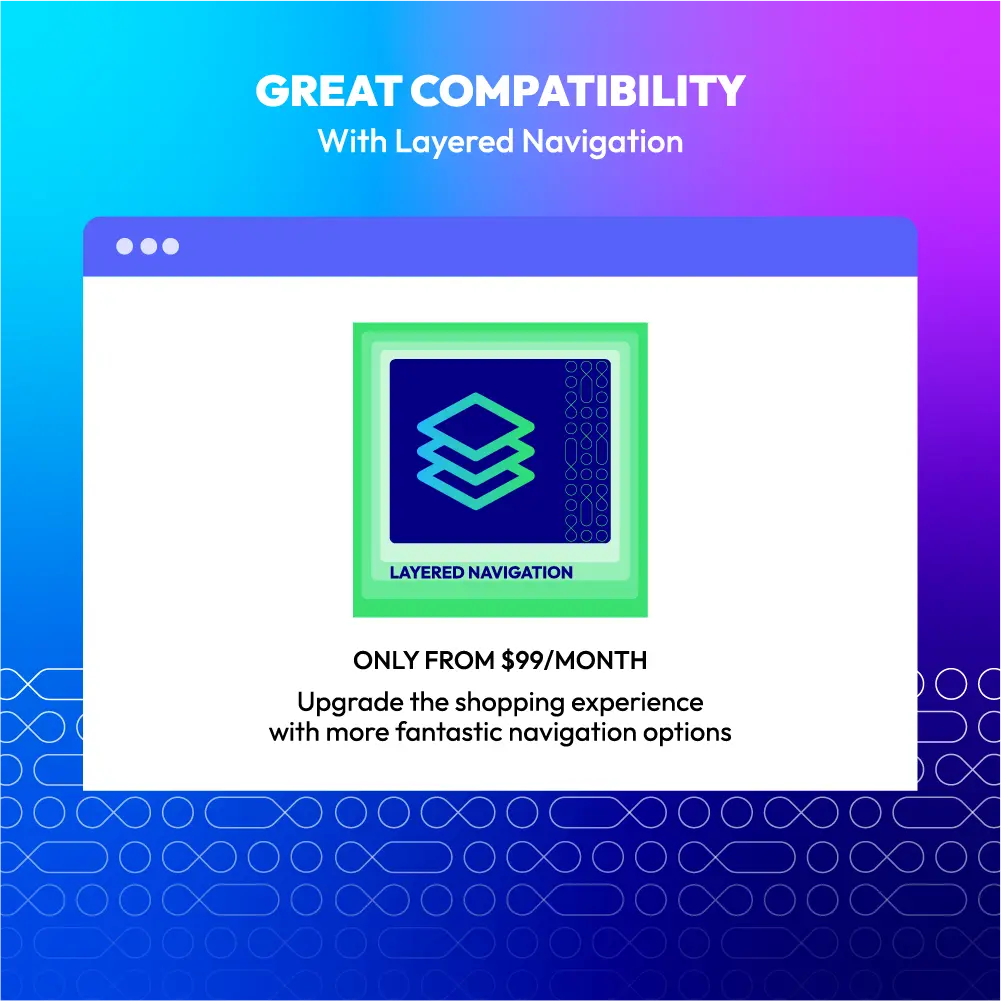 60-day Money Back
Frequent Update
365-day Support
Ajax Layered Navigation for Magento 2
Magento 2 Ajax Layered Navigation by Mageplaza is a clever solution to improve user experience during their shopping on online stores. This extension applies the modern AJAX technology to enhance the filtering systems to boost the satisfaction of customers towards every filtering action on pages.

CE/EE/B2B/Cloud/ Adobe Commerce 2.2.x, 2.3.x, 2.4.x
Chat now
Problems
In default Magento 2, when customers pick only one small attribute of a product such as color or size, it is likely that the whole page has to be loaded. It leads to the fact that traffic travels between customers and server are too many. Due to the long wasting time for loading filters, customers feel exhausted and tend to abandon shopping. As a result, the bounce rate will increase significantly.
With Ajax Layered Navigation, customers will no longer have to wait for the whole page loading to see the items with their favorable attributes. Also, when clicking to Add to Wishlist button, the page will not be redirected to a Wishlist page. Customers are still on the current page to continue shopping as well as view their wishlist right on the page.
Solutions
Speed up server traffic
Save time for buyers
Process only the necessary filters
Enhances response time
Stops reloading when a small change is updated
Increases the performance of shop browsers
Enhance user experience
Boost sales number
Enhance UX by Ajax Technology
Free Magento 2 Ajax Layered Navigation Free released by Mageplaza brings a great benefit of improving user experience significantly. Using Ajax, online stores can cut down a deal of time on whole-page loading and customers' wasting time, which creates inconvenience and annoying feeling towards the users.
Instead, the server only loads the chosen attributes appointed by customers and takes no action to the others. As a result, the site becomes much more user-friendly and boosts the shopping experience of visitors.
Lightning-fast Ajax Navigation
Mageplaza Ajax Layered Navigation allows automatically loading and displaying a filtered attribute at a glance after a filter performance is taken, while other parts of page keep constant. The exhausting wait for loading the entire page has been eliminated thanks to this excellent Ajax technology. Some main features of products such as product name, product image or description are fixed to facilitate the loading of other attribute selections like the color and size.
Therefore, the shopping time and checkout process become speedy effectively.
Ajax Add to Wishlist
While in Magento 2 Default, when customers feel interested in specific products and click on Add to wishlist button, they will be navigated to the wishlist page, which is not necessary for customer purpose. Ajax Layer Navigation extension will keep logged-in customers staying on even with their "Add to wish" being clicked.
Pricing

Choose your suitable edition
Community
Crafted for a great webstore start
FREE
Updates and Technical support is NOT included - please buy support package if needed
Supports for Magento 2 Community Edition
Enterprise
Great for an enterprise solution
$
200
first year
Supports for Magento 2 Enterprise Edition
Highest priority support
Great extension
Great extension for the great layered filters experience
sushma
-
Verified Purchase
Layred Navigation
It's very important for filter products on catalog pages. User can easly filter products according to requirments. Ajax no need to load full page.
Great extension
I am always say mageplaza the best Also here they provide great layered nav
zekeriya
-
Verified Purchase
Amazing
I always say Mageplaza the best also they add great layered nav
zekeriya
-
Verified Purchase
Works with minimal configuration
This extension saved our customers a lot of trouble in filtering products. Very useful and nice
Nice Usefull Extension
-
Verified Purchase
Ready for Layered Navigation
Easy to set up and quite straightforward. I decided to try this free add-on before buying the whole Layered Navigation, now I think I'm ready for the full deal.
Francis
-
Verified Purchase
PERFECT
easy installation and nice add on for my store
Best free Ajax layered navigation
It works perfectly, I was struggling on the AJAX product attribute filter then suddenly came across this extension that made the development a lot easier, saving a bunch of time. Thank you Mageplaza! I think I'm gonna update it to the premium version!
Nice
It is a very useful extension. Thanks for this extension as in free. easy to use and clear coding easily understandable.Thank you so much.
Nice Extension
Ajax Layered Navigation is a very nice product, simple to install and configure in admin, which directly displays the layered navigation in listing page for filters the products
Harsha
-
Verified Purchase
Good extension
No problem on installing, works like a charm, exactly as we are expecting Keep close to see if it will work fine in time, hope everything will work well
bumbu100
-
Verified Purchase
Great Ajax Layered Navigation
It is an essential part of our Porto theme, without it that theme would not look as good. That's great. Simpler navigation always pushes sales out of the way. Keep up the good work guys!
Mahesh
-
Verified Purchase
Exellent Module
It is a useful extension. We can change the setting easily. This is an excellent extension for me surely. So I suggest you should use this extension. Thank you Mageplaza.
Very nice product
Ajax Layered Navigation is a very nice product, I've been using this product for a long while and find it a really good one, nice work by Mageplaza. I am just trying to learn Magento, so it's very easy to say this is a perfect product,
It's a wow
Wow, this is something that our clients complained a lot. They could not find all data they needed so fast. When we installed this module it worked like a charm. Out of the box. Clients are happy and we have less complaint. Recommended and have to have!
Marina
-
Verified Purchase
Get it free while you can
It is an essential part of our Porto theme, without it that theme would not look as good. That's great. Simpler navigation always pushes sales out of the way. Keep up the good work guys!
Marina
-
Verified Purchase
Great Ajax Layered Navigation
This is a good extension! It's so easy to install! Besides, it works very well ;) I highly recommend this extension for all online stores. Fast & friendly support is the best factor. I'm very impressed. Thank you very much for your help! It's a perfect extension. Good job, Mageplaza!
Want to do extension customization?
Custom request
Let us know your requirements
There are no release notes.
Cut down filtering time and eliminate wait time
Result products are automatically loaded after each filtering
Product is added to wishlist without navigating to the Wishlist page
Stay on page after adding products to wishlist
Enhance customer experience during shopping time
Compatible & Included in Layered Navigation Magento 2
Why choose Mageplaza Magento 2 Ajax Layered Navigation
Mageplaza provides consistent and customer-centric extensions for your Magento 2 store.
We don't sell products for one time. We provide lifetime solutions which help our customers thrive with their businesses.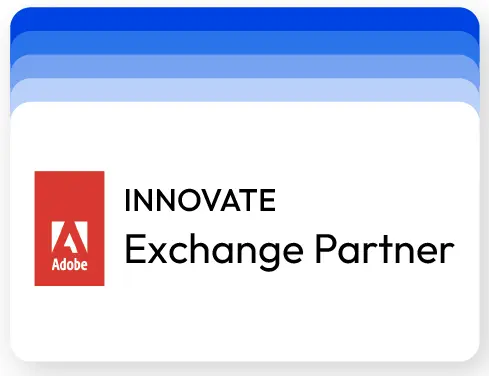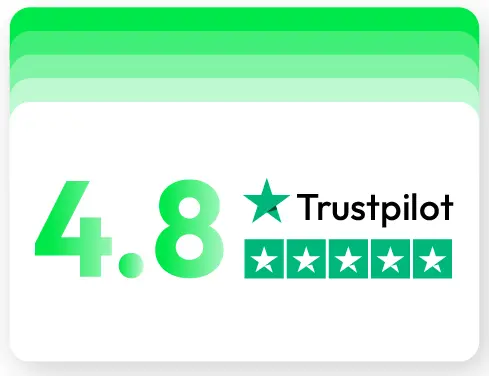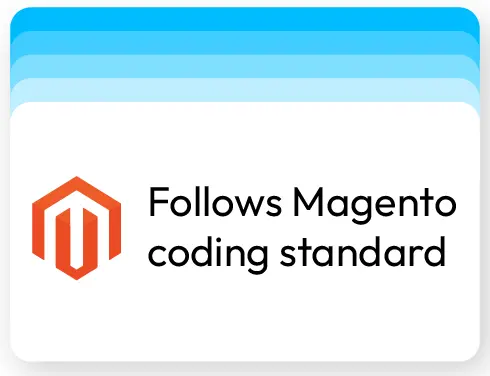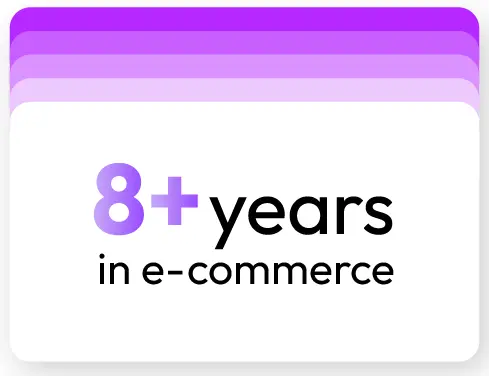 60-day Money Back
Extensive 60-day money-back period. You love it or get a full refund no questions asked.
Extensive Support Timeframe
Mageplaza provides support 16 hrs/day, 5.5 days/week to guarantee the seamless operation of our extensions on your store.
Install via Composer
Simple installation via composer helps you save time and eliminates technical issues during future updates.
Frequent Updates
Intensive update roadmaps ensure great performance, bug-free, highly compatible, and innovative extensions.