How to integrate Facebook with Magento 2
Digital business of nowadays quite requires business doers to widen customer segments in order to gain as much attentions as they can. And sharing among social networks is one of the most natural approach to learn and entice customers notice your store. This is especially prevalent amongst Facebook community - one of the strongest social networks that is favourable by more than 100 million people are active on this platform. The number of customer target is too fascinating so obviously online merchants shouldn't give this segment a pass. Even now you can login by Facebook network right at the Magento 2.
Do you know that by a quick integration actions, you can combine Facebook to your Magento 2 store that when consumer click on one of your products, they'll be redirected to your online boutique automatically? The point is they cannot shopping at Facebook, so assemble them to your store is the key need to be done.
Related Post
How to integrate Facebook with Magento
Following steps to learn how to integrate Facebook with Magento 2:
Friendly note that Magento Social only supports choosing product from a specific category, not from the catalog individually. So you should gather your wanted products into a special category then later, we will pick products from that category up to display them on the Facebook page. (remember not to set them displayed on the frontend of Magento 2).
Step 1: Permit browser to enable popups for Facebook connector
When connecting to Facebook, you should be noticed by popup messages appearing at the upper-right corner of the screen. By adding an URL whitelisted, and in case your browser is disabling essential popup box to be displayed, you can take those steps on to allow it appear properly.
This example will have Chrome as an example for the performance, and other browsers will have the same actions to deal with.
Go to your Chrome Settings at the upper-right corner by clicking on three dots icon , you will be redirected to the setting page, scroll down till the end and expand Advance section

Continue to follow Privacy and security > Content Settings > Popups
Below the Allow section:

Add your store link on Magento 2
Add another one
Step 2: Enable Magento Facebook Social
Back to your Magento 2 backend, follow Marketing > Social: Connect to Facebook, do these following actions:

Click on Integration Page button. After clicking, you will be directed to Integration grid, click Active of Magento Social line.
You need to approve the access of these API resources, click again on Allow button.

The successful message is triggered. Back to Integration grid, the status of Magento Social is "Active" now.
Note: In case "Unable to Connect" message displayed, please scroll to the end of this article to fix the issue, then you can go back and take actions from this Step 2.
Step 3: Integrate Facebook store
While opening the Magento 2 backend, open a new tab to access your Facebook's account. Log in properly.
Back to the tab of Magento 2 backend, click on the Launch Store button. This infographic box will appear

Tab Connect Magento to Facebook
The data will be synchronized and the tab which is opening your Facebook account is waiting for your approve of access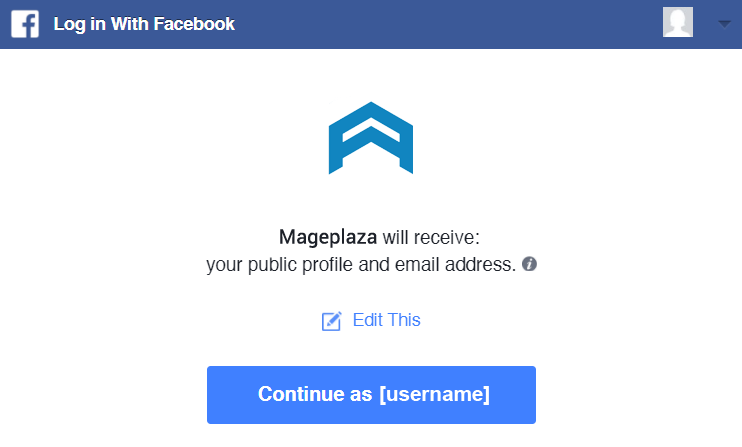 Click Continues as then OK like a normal approving process.
Back to the Magento 2 tab, click on Create a Facebook page.

To display product on the Facebook page, choose Brand or Product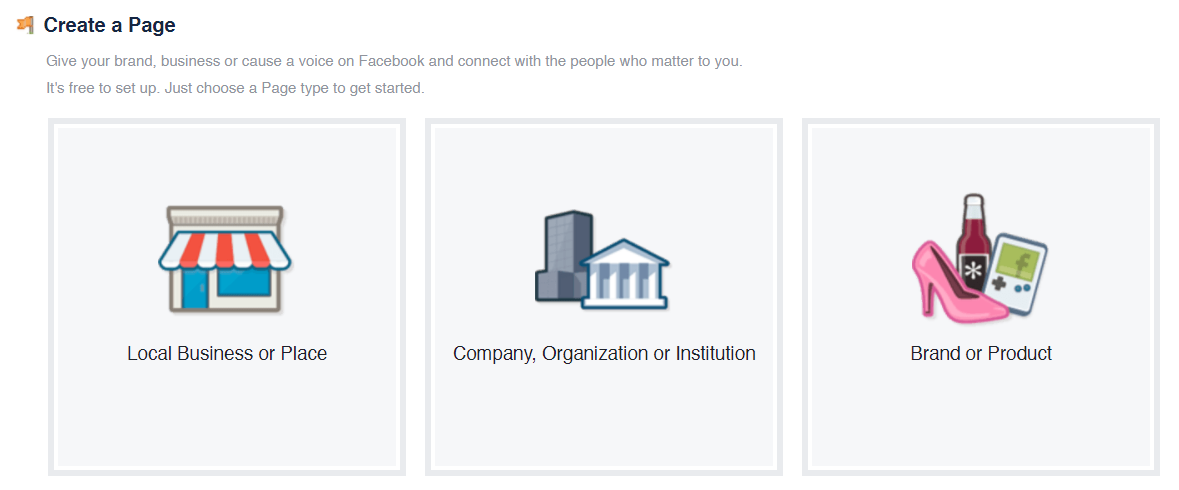 At Choose a Category, select App page then select the category which contains the product you want to display it on the Facebook page.
Type a name for your Magento Social, then click Get Started button
Return to the Magento 2 tab, click Head to Facebook and Refresh. Successful message will be delivered.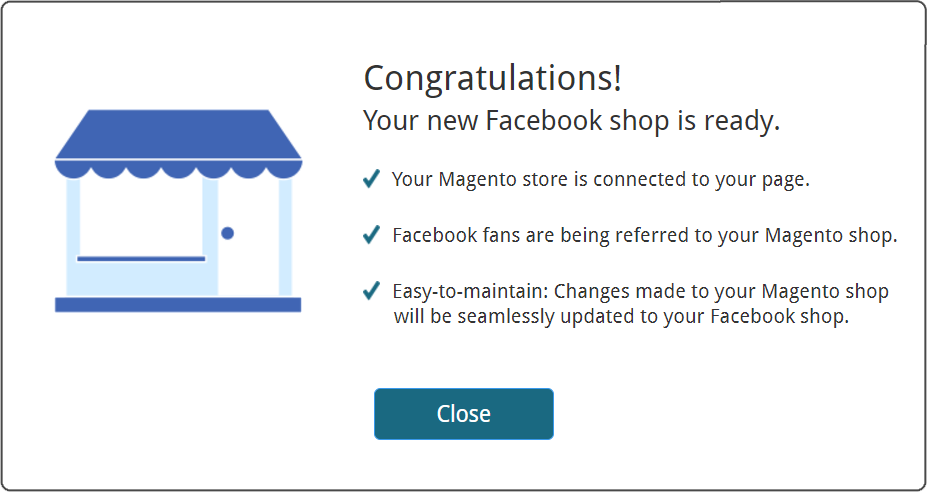 You can make your way back to the new facebook page to upload the avatar, cover and description of your boutique to decorate it look more professional.
Step 4: Upgrade your Magento Social if necessary
A free Magento Social account allows only 9 products to be added on your Facebook shopping page, so in order to unlock this limited storage, upgrading the Magento Social account is required.
Check at the left sidebar, See more > Store

Point and click See plans and pricing here of the green message. There're 3 packages for you to upgrade the Magento Social account with different limitations of featuring products. Choose your favourable one and proceed with the checkout process.
Troubleshooting If you're encountered this error, you need to refresh your request and enable your token back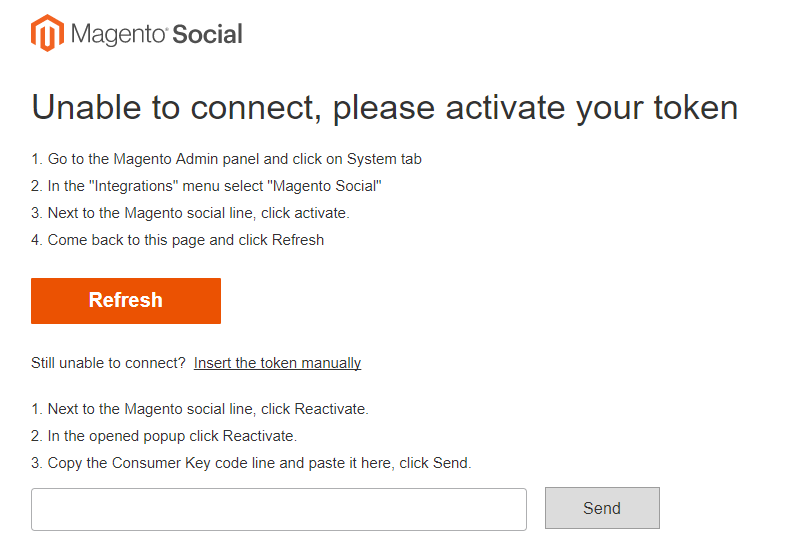 There's no need to be worry. You can
Follow System > Extensions: Integration, then find Magento Social in the list of extensions.
At the Current User Identity Verification field, enter your password.
Expand Integration Details, copy (Ctrl+V) the line in Consumer Key.
Back to the "Unable to connect" page, paste to the field that requires it. Then click to send.
Now you can go back to the Step 2: Enable Magento Social and overview the tutorial again.
Learn more: How to create Facebook Product Feed for Magento 2
Increase sales,
not your workload
Simple, powerful tools to grow your business. Easy to use, quick to master and all at an affordable price.
Get Started
Recent Tutorials
Comments for How to integrate Facebook with Magento 2
---
---
People also searched for
facebook magento 2
magento 2 facebook
magento 2 facebook store integration
magento 2 facebook integration
shopial facebook magento 2
magento 2 facebook shop
facebook shop magento 2
magento facebook
magento 2 facebook shop extension

facebook magento integration
facebook shop magento
magento facebook integration
magento 2 facebook store
magento facebook shop
magento social integration
magento facebook shop integration
facebook store magento extension free
magento to facebook shop
magento facebook extension

magento facebook plugin
facebook for magento
facebook connect magento
magento social media integration
facebook magento extension
how to set up a facebook store
magento facebook marketing
magento social shopping extension
magento 2 facebook plugin
2.2.x, 2.3.x, 2.4.x
Subscribe
Stay

in the know

Get special offers on the latest news from Mageplaza.
Earn $10 in reward now!