8 Tips Options of Magento 2 Customer Configurations
The Most Popular Extension Builder for

Magento 2
With a big catalog of 224+ extensions for your online store
Customers benefit your business; therefore, Manage Customers plays an important role in success of your Stores. It will decide the loyalty as well as the level of consumer's sasifaction or the visitors who are the potential customers for your stores in the future. However, there will be a problem when you have thousands of customers or even more. You cannot manage all of them.
By Magento 2, this problem can solve easily. Customer Configurations can store all the information, preference and the needs of customers. Whenever you need, you can use these data from your system. Futhermore, Magento 2 provides you different options to configure customers such as:
Online Customers Options
Account Sharing Options
Name and Address Options
Login Options
How to Customer Configurations in Magento 2, follow 4 steps:
The process to configure customers, we follow all these steps
Step 1: Access to Configuration
On the Admin Slidebar menu, select Store
Select Configuration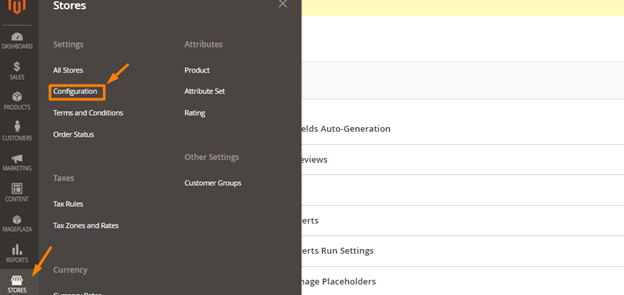 Step 2: Access to Customer Configuration
On the Configuration menu, Down-list Customer
Click Customer Configuration

Step 3: Set options
Option 1: Online Customers Options

On the menu of Online Customers Options, Online Minutes Interval-the time that customer access the backend page of website

Option 2: Account Sharing Options

You can set Share Customer Account into Global public information of customers or Per Website the information is restricted to the website that account was created

Option 3: Create New Account Options

Enable Automatic Assignment to Customer Group : Select the group in Default Group then Yes to automatically assign customer to this group

When you select Yes based on VAT ID, customers will be changed automatically to Default Value

Show VAT Number on Storefront: If Yes, customers can see the VAT number in the frontend

Default Email Domain: Set default email domain

Default Welcome Email: Set the template for email to welcome

Default Welcome Email Without Password: Set welcome email template for new customer accounts which are created by admin and don't have an assigned password yet.

Email Sender: Set the store contact for sending welcome email

Require Emails Confirmation: Choose Yes to require customer confirmation when creating an account

Confirmation Link Email: Set the email template for confirmation email

Welcome Email: After confirming the account, set the email template for the welcome email

Generate Human-Friendly Customer ID: Select Yes to set human-friendly customer ID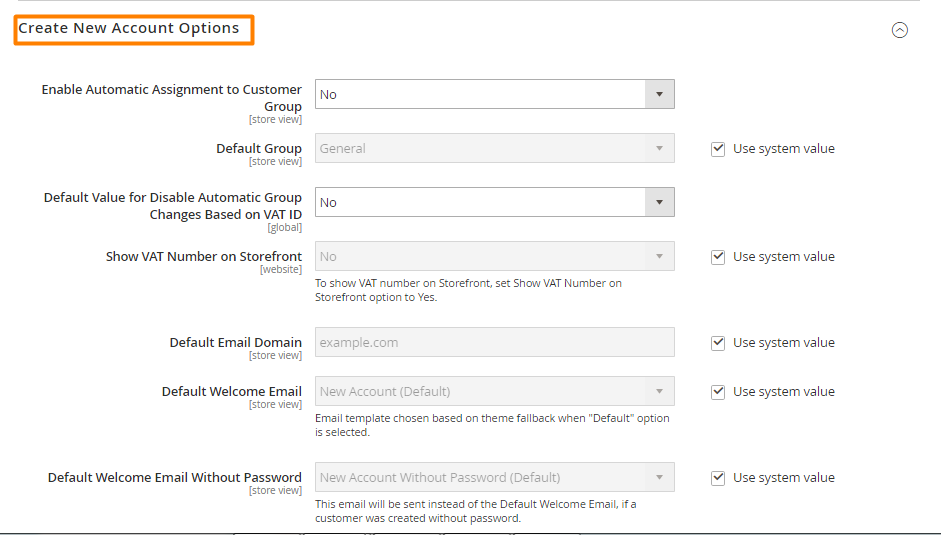 Option 4: Password Options

Password Reset Protection Type: Set the method to reset a customer password. If select None, only admin can reset the password

Max Number of Password Reset Requests: Limits the number of password reset requests per hour. Entering 0 is unlimited requests

Min Time Between Password Reset Requests: Limit time between password reset requests. Entering 0 is unlimited requests

Forgot Email Template: When customer forgot password, set the password

Remind Email Template: When customer receive password reminder/hintSpecify the email template

Reset Password Template: when customer reset password, Specify the email template

Password Template Email Sender: Select the store contact as sender for password-related emails

Recovery Link Expiration Period (hours)

Number of Required Character Classes

Maximum Login Failures to Lockout Account

Minimum Password Length

Lockout Time (minutes)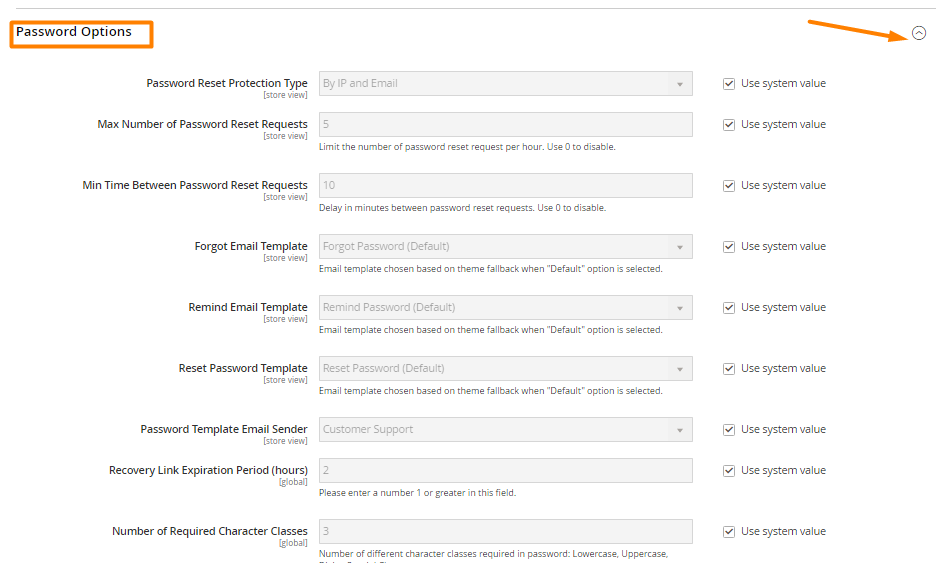 Option 5: Name and Address Options

Number of Lines in a Street Address: If the field is blank, the default street address of two lines is used
Show Prefix
Prefix Dropdown Options
Show Middle Name (initial)
Show Suffix
Suffix Dropdown Options
Show Date of Birth
Show Tax/VAT Number- Show Gender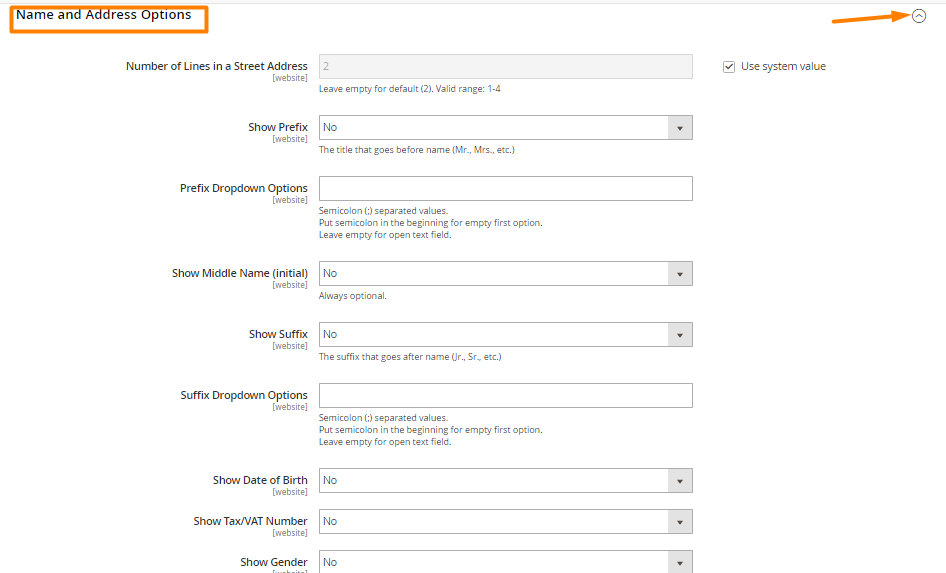 Option 6: Login Options

Set Yes in Redirect Customer to Account Dashboard after Logging in

Option 7: Address Templates

Text: All addresses that are recorded
Text One Line: The address will be ordered from the customer's shopping cart address book list
HTML: It is under the Customer Addresses area and on the Add New Address page when a customer creates a new bill
PDF: Billing and shipping addresses will be displayed in the printed invoices, shipments, and credit memos

Step 4: Save Config
THINGS TO REMEMBER
Setting Consumer Configuration makes your stores can manage customers more effective.
Related posts:
Looking for
Customization & Development Services?
8+ years of experiences in e-commerce & Magento has prepared us for any challenges, so that we can lead you to your success.
Get free consultant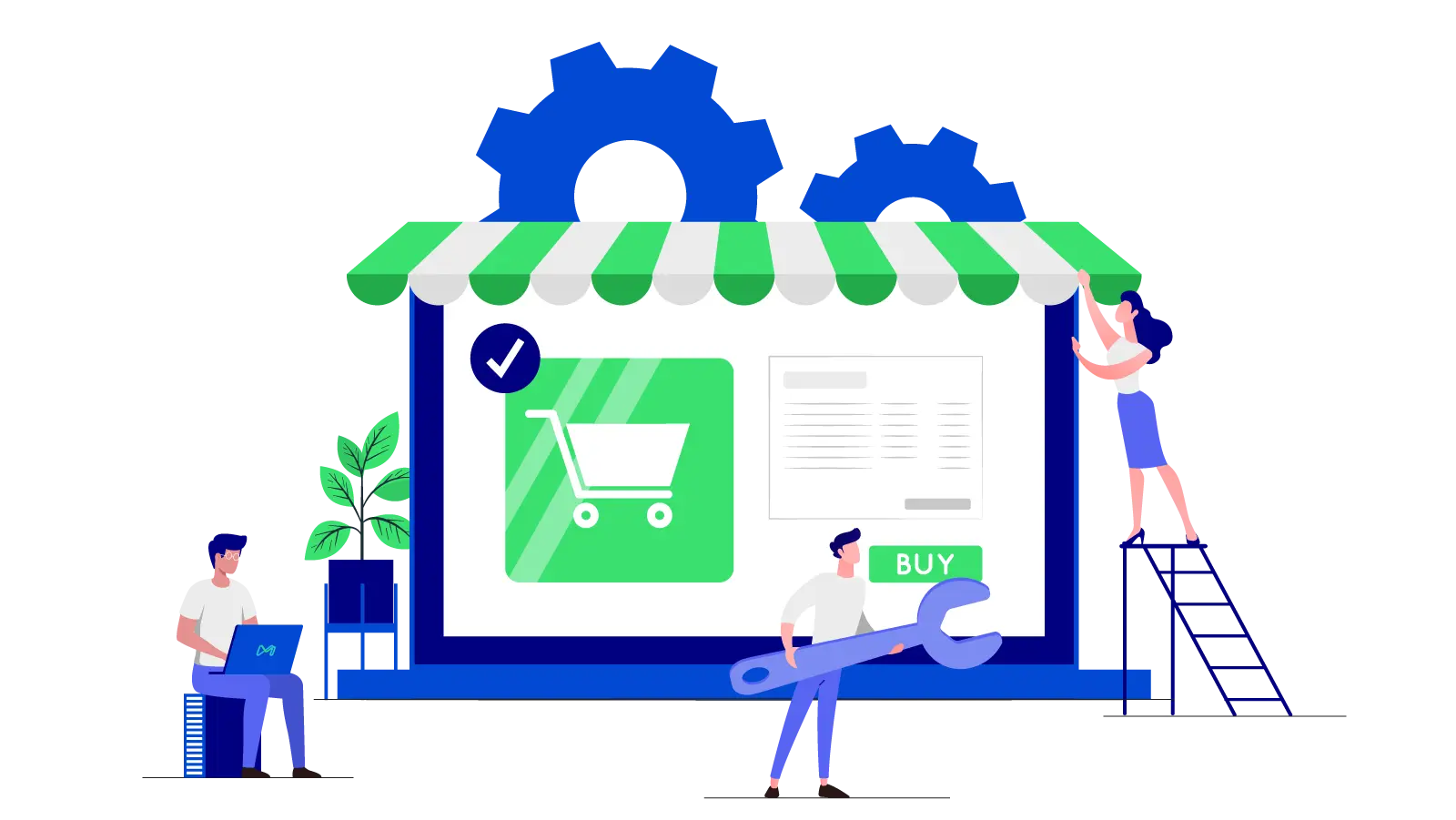 Recent Tutorials

People also searched for
Magento 2 Customer Configurations

Customer Configurations
2.2.x, 2.3.x, 2.4.x
Subscribe
Stay in the know
Get special offers on the latest news from Mageplaza.
Earn $10 in reward now!