12 Best Platforms to Sell Your Products Online
Before the emergence of the Internet and E-commerce industry, if you wanted to sell brand new or used items, you were limited to some local places, such as garage sales, bazaars, flea markets, or consignment. Nowadays, with a wide variety of websites and apps, you can make extra dollars selling anything, without having to leave your house.
But do you know which platform suits your business best? Building an E-commerce website is not a difficult task, but if you start with an inappropriate platform, it can harm your business sooner or later.
In this article, we will compile a list of 12 best platforms to sell your products online. So, there's no need to worry about that. Just scroll down to find what you need.
No time to read? Here is our top 3 picks:
What is an online selling platform?
An online selling platform is an e-commerce site that allows individuals and companies to create stores and publish their products online. Some of the most common online marketplaces include Amazon, Alibaba, Shopify, eBay, Etsy, Google Express, Walmart, etc. Moreover, many e-commerce platforms provide online courses, online tech solutions, and virtual assistance which can help you achieve your task virtually.
Besides, there are many niche marketplaces such as Ruby Lane, Bonanza, and Newegg; fashion-focused marketplaces like Fullbeauty and Zalando; bargain-biased sites like Tanga or Tophatter, and so many more.
In fact, there are more than 100 online marketplaces available for you to reach potential customers all around the world. But remember that you need to decide which channels are the best for your brand.
3 benefits of selling on online platforms
Most of us have heard of major online selling platforms, but do you know they offer the following benefits to sellers?
Get started easily. Getting launched as a seller on online platforms is quite easy and straightforward. When already approved as a third-party seller on marketplaces, you just need to upload your product listing and begin selling.

Take advantage of established programs. Most of the largest online marketplaces use programs to assist you in navigating the flow of marketing, trading platform, and fulfillment. For example, sellers on eBay, Amazon, and Google can access eBay Promotions Manager, Amazon Advertising, and Google Shopping Actions. These digital marketing programs play an integral role in getting your products in front of all the target customers at the appropriate times.

Utilize a large customer base. A lot of online E-commerce websites have a massive built-in base of customers, who surf these websites on a regular basis. You might be surprised to know that there are about 500 million active visitors per month between Amazon, eBay, and Walmart alone.
Top 12 Best Platforms to sell your products online
Set up your own online store
Building your online store comes with its own set of challenges, but it can be extremely profitable and fulfilling if done well. The biggest challenge is that you have to market yourself, create a digital catalog and drum up your own traffic to your site. However, your profits are yours - there are no transaction or selling fees.
If you're planning online selling, you should care about data privacy, for example, you can use UK VPN to develop your online business without any cyberthreats.
1. Shopify
When it comes to building your own store to sell online, Shopify appears to be the easiest to use and most trustworthy name. Up to now, Shopify has powered more than 2 million active users worldwide.
Why we rate Shopify as the best platform overall
Shopify is the most user-friendly platform on the market. Anyone can easily set up a beautiful online store and start selling in minutes without knowing a single line of code. There's almost no learning curve with Shopify.

Shopify is universal and scalable - no matter what kind of business you have or what size it is, you can still build a great online store with Shopify. Some platforms are only suitable for specific types of business. For example, you don't want to jump into Magento if you've just started selling.

Unlike some platforms that began as site builders and then moved toward the e-commerce space, Shopify is a platform that's dedicated to commerce and entrepreneurship since their first days. They focus on what they do best: making it easier to start, run, and grow a business.

Shopify also offers huge free learning resources to help you with every step of your business journey - which is something that other platforms still have a long way to go

Their customer reviews speak for themselves: being a leading platform with over 2 million online merchants, Shopify has received thousands of 5-star reviews.
Key features
Shopify is a fully-hosted solution, which means you'll get fast, secure, unmetered hosting without paying extra money, and you don't need to worry about setting up or maintenance.
Drag-and-drop store builder with free beautiful themes
Unlimited products
Sell on multiple channels - online store, social media, online marketplaces, in person, and more
Shopify Markets offer great tools to help you sell internationally
Built-in SEO features, built-in blog CMS, automated marketing tools
Abandoned cart recovery
Quick and secure Shopify Payments; supports over 100+ external payment gateways
Built-in POS system
Huge app stores with over 6,000 apps
Extensive free high-quality learning resources
Shopify Pros
A simple but powerful platform to sell online
Fast, reliable, and secure
Easy to use
Support a wide variety of business
Low startup costs (more on that below)
Shopify Cons
No platform is perfect, and Shopify does have some limitations. Many people say that Shopify is harder to customize compared to other platforms. But it's not a big deal unless you want a ton of customization for your online store.
Shopify does indeed let you customize your store. If you're a non-techie, you can still easily change layouts, colors, effects, styling and things like that. Before you begin customizations, make sure you've learned all the basics of this CMS in Shopify tutorial for beginners. However, if you want a higher level of customization, you have to edit some code (Shopify uses a template language called "Liquid"). You can hand-code yourself, install an extension, or hire a Shopify expert.
But in most cases, that level of customization is unnecessary since Shopify themes are already well-optimized for conversion. So we only recommend you do so only if you are a pro - and you know what you're doing.
Shopify is for you if:
You don't want to waste time searching for the perfect platform to sell online. Any business can use Shopify, so it's the safest choice to start with
You're looking for a fast, simple, and affordable platform to sell online
You want to sell on multiple channels - both online and offline - at the same time
You want to run a retail, dropshipping, or print-on-demand business
You want to sell internationally to maximize profit
You've just started selling online and don't have much experience
Shopify Pricing
Shopify Starter: $5/month
Basic Shopify: $39/month
Shopify: $105/month
Advanced Shopify: $399/month
Pricing changes depending on Shopify's policy and where your store is based. The pricing above is for USA-based stores. Click here to check the current pricing, and scroll down to the bottom right corner to change your location.
For just 39$ per month, you'll get your own e-commerce website, unlimited bandwidth, built-in blog CMS, SSL certificates, abandoned shopping cart recovery, multiple online sales channels, POS system, and many other tools. Some platforms have a lower price than Shopify; however, you may have to pay for all of this, and your costs will eventually add up.
There is no initial set-up or hidden fee unless you use a different payment gateway besides what Shopify provides.
So my two cents is that selling online with Shopify has pretty low startup costs - especially when you consider all the great tools the platform offers by default.
For beginners, you'll get a Shopify free trial after signing up (no credit card needed). This will allow you to play around with the tools, build your demo store, test some basic features, etc. and decide whether Shopify suits your business. If you don't purchase a plan before the trial ends, your demo store will be canceled automatically, and you'll not be charged for anything. So, there's no risk involved in the signing up process.
As of January 2023, Shopify is running a special promotion that allows you to start selling with the platform for only $1 per month for your first 3 months (the normal price is $39 per month for Shopify Basic). If want to try Shopify, this is the best time to do it, since there's no information about when this promotion will end.
Read more: What is Shopify? How to Start Your E-commerce with Shopify?
2. Magento
Launched in 2007, and then replaced by Magento 2.0 in 2015, Magento is one of the most well-known open-source E-commerce platforms in the world. The platform is best known for its high customization, flexibility, and scalability.
Some top brands, including Samsung, Ford, Nike, Nestle, Christian Louboutin, and many more, all opt for Magento. This powerful platform allows users to build online stores that they can fully control and adjust. Besides, you can use more POS system for Magento to manage your online store better and save.
Magento's price:
Magento Open Source free to download and use. However, you need to pay for everything else associated with the site, such as hosting, themes, add-ons, etc.
Magento Commerce: the enterprise-level solution. Prices are often quoted by a sales rep, and are reported to run anywhere, ranging from $15,000 to $50,000 per year.
Learn more:
3. Yo!Kart
Yo!Kart is a leading provider of readymade solutions that allow entrepreneurs or enterprises to launch their own multi-seller marketplace like Amazon. It offers no-code marketplace builders and needs no coding knowledge from the business owner's end. These are self-hosted solutions that make setting up a marketplace easy, fast, and affordable.
Yo!Kart offers purpose-built solutions for both popular business models ― Yo!Kart and Yo!Kart B2B, for B2C & B2B marketplaces respectively.
Both versatile solutions come with a range of eCommerce-specific features for easy management by the Admin, a pleasing buying journey for the buyers, and intuitive selling features for the vendors.
The software also comes with multiple business APIs and leading payment gateways pre-integrated.
There is also a multitude of marketing, reporting and analytics support that makes it easy to market and analyze the performance of your business.
The license for Yo!Kart use is available in one-time payment packages. These packages also include upto 1 year of free technical support, source code ownership, and others.
Yo!Kart Features:
Multilingual & Multi Currency support Individual vendor storefronts Multi-cart and secure checkout. Multiple conversion-driven features like Abandon cart SEO-ready with result-driven marketing features Extensive reports and analytics In-built RFQ, bulk discounts, MOQ, and other B2B features in Yo!Kart B2B
Yo!Kart Pros
Multivendor support out of the box, no plugins needed Customizable and scalable In-house team for customizations and after sales support Lifetime ownership with one-time payment Licenses Multiple revenue streams supported Rich Features and exclusively developed solutions
Yo!Kart Cons:
Limited out-of-the-box support for themes Extensive features take time to learn.
Sell on marketplaces
4. Amazon
Amazon is undoubtedly a reliable and go-to website that attracts more than 20.6 million people each month. Selling on Amazon automatically creates a sense of trust and comfort for your customers. Besides, such a huge number of visitors means that your items are more likely to be seen. By simply following the basic Amazon product photography guidelines, you can sell online faster and with better monthly income.
Anyone that sells almost anything will be able to manage a business on Amazon. You just have to be sure that your price range is competitive enough to be a contender without sacrificing a lot of your profit margins. If you're a small business owner, it might be a little bit more challenging, as others are selling in large quantities, making pricing very competitive.
Amazon's price:
Individual: $0.99/ item sold plus additional selling fees. This plan will be appropriate for you if you sell less than 40 items per month.
Professional. $39.99/ month plus additional selling fees. This will become your best option if you sell more than 40 items a month.
Read more:
5. Bonanza
This Seattle-based company is a relatively new face in the E-commerce world; however, it's doing incredibly well. With more than 50,000 sellers and 35 million different items, Bonanza is a large and thriving community of online shops. In 2016, it was recognized as one of the "Best Entrepreneurial Companies in America" by Entrepreneur.com.
Bonanza is suitable for any merchants who have something to sell online. Besides, the fees for selling on this platform (called Final Offer Value) are relatively reasonable when compared to the competition. They actually provide a really helpful guide for calculating the fees, so that's definitely worth checking out.
In addition, they offer 3 different membership pricing options as follows:
Gold (for beginning sellers): $25/ month
Platinum (for most sellers): $55/ month
Titan (for high-volume sellers): $167/ month
6. Chairish
As the name suggests, Chairish is specially designed for selling home furnishings and art. All you need to do is snap a photo of your furniture, create a listing with a title and description, and eventually set your price.
When you list your products on Chairish, curators will review them to make sure that they meet their requirements. Then, they touch your provided photos and make the items available on sale. Chairish also takes charge of the shipping logistics, so there is no need to worry about shipping bulk pieces of furniture. You can also select your own shipping method if it suits you.
Chairish's price plans: Chairish has 3 selling options for you to choose from. For each of their selling price and commission rate, you can read their detailed guide here.
Consignor (less than 10 active listings)
Professional (10 or more active listings)
Elite
7. Craigslist
Launched in 1995 by Craig Newmark, Craigslist was originally developed to provide local information around the San Francisco Bay area. It is now a go-to online selling website for many individuals and businesses.
This online selling platform requires no fee for listing or selling, and it is best suited to merchants who are selling locally and prefer to operate their transactions personally. It can be an excellent option for selling items that are too bulky or expensive to ship, such as furniture.
Some users like Craigslist because they can meet the people they're selling to, so there is a small social element. Besides, you can get cash-in-hand, and you don't have to pay shipping or network fees. However, if you are paranoid about getting scammed or don't want to be personally involved with the transaction, Craigslist might not be for you.
8. eBay
With nearly 25 million sellers and 170 million active buyers, eBay is one of the largest and most diverse all around the world. Established in 1995, this online marketplace is perhaps well-known as an auction site, but its "Buy it now" option lets you sell items right away at fixed prices.
There is almost nothing that you can not sell on eBay, from books and electronics to furniture, jewelry, and essential oils. Just like Amazon, eBay's massive size means there is always a risk of getting lost in the crowd.
eBay's seller fees:
Insertion fees (listing fees). You get 50 free per month, and beyond that, the cost for listing in most categories is $0.35.
Final value fees. They're a percentage of an item's total sale price. For most sellers, it's 10% or lower.
These fees vary and are calculated according to what your product is, what kinds of categories it is listed in, how many, as well as shipping. For more information, you can read their guide right here.
9. eWorldTrade
As per its name, eWorldTrade is a global platform which facilitates buying and selling. It is one of the largest platforms with astounding features for its millions of buyers and sellers. Unlike other niche platforms eWorldTrade deals in every product from every industry. Whether they are clothing, shoes, electronics or sports goods can be sold. All the buyers on eWorldTrade are verified by the platform with a robust directory. Secondly, eWorldTrade also has decent process ranges when compared to other platforms. If a seller does not know how to utilize eWorldTrade, their consultants, and representatives help in every matter. Listing products on eWorldTrade is an undisturbed process which makes it easier to trade for every party.
eWorldTrade Selling Fees
E-LITE: Their E-LITE premium service costs $399 with a profile listing and showcases product posting.
Gold: The gold premium features cost $1399 with other extensive services like H2H and digital services
Platinum: Platinum members can avail of services at $2499 with its distinct premium features.
10. Etsy
Unlike the broad-based appeal of eBay and Amazon, Etsy is a unique site for creative sellers who want to list handmade goods, art, collectibles, and antiques. This online selling platform is accessed by nearly 40 million active shoppers globally and enables individual sellers to compete against each other rather than battling out with big brands.
If you're an online seller who either produces your own unique products or source items that suit this market, this platform is exactly what you're looking for. Besides, it provides you with outstanding features specifically designed for creative masters, such as an easy-to-use interface, built-in analytics, sales tools, and access to potential customers.
Etsy's selling fee: Etsy charges a $0.20 listing fee for each product. The product stays in your shop for four months or until you sell it, whichever comes first. When you sell a product, there is a 5% transaction fee and 3% plus $0.25 processing fee.
11. Facebook Marketplace
Facebook Marketplace is a section within Facebook where users can explore, purchase, sell, and trade items with other people in their area. People can access Facebook Marketplace via the Facebook app or on the Facebook website.
Facebook Marketplace allows users, 18 years old and plus to:
Look for items to purchase
Find for-sale products by category and/or location
Create product listings
View previous and current transactions and messages under a "Your Items" section
Contact sellers/ buyers via Facebook Messenger and arrange to close the deal.
Explore: How to set up Facebook Product Feed for Magento 2
Created in 2016, Facebook marketplace has brought hundreds of million people from 70 different countries worldwide together to buy and sell. The interesting point about Facebook Marketplace is that the company has been supporting E-commerce giants a lot. Facebook has partnered with major online selling platforms, such as Shopify, to promote online merchant presence on this platform.
Facebook Marketplace's selling fee: There are no listing fees, but there are specific guidelines and requirements that you must follow as a seller on Marketplace.
12. Nextdoor
Similar to Craigslist, Nextdoor is an online version of your community and neighborhood. It is a platform where neighbors can freely share information about what's happening in their communities - from announcing a block party in the neighborhood to complaining that someone isn't bringing in their trash cans in a timely fashion.
Beyond being a community forum, Nextdoor also provides a free place for selling your stuff online. Like Facebook Marketplace and Craigslist, there are no listing or membership fees required, but you have to meet your buyers and exchange in person.
This online selling platform feels a little safer than Craigslist as you need to sign up and create an account. Therefore, it tends to be more private and have fewer scams.
To list an item for sale, you choose the plus sign at the bottom of your Android or iPhone screen, create a new message, and select the "For Sale and Free" section. Next, you fill in details like price, description, and photos. As with similar apps, it's up to you and your buyer to facilitate pickup and payment.
13. Newegg
Newegg is a California-based online marketplace with distribution facilities across Canada and North America and globally reach into over 50 countries. It claims to be the "#1 marketplace for everything tech," meaning electronics, computers and parts, smart home, entertainment, and gaming products.
It's also easy for sellers to create informative and detailed product pages, and approach up to 36 million customers. Newegg's target audience is mainly aged from 18 to 35, so if it's your target market, Newegg might be a brilliant option for you.
To help you succeed with your business, Newegg recommends taking advantage of its merchandising vehicles, such as daily deal emails, as well as its various seller programs. More than that, make sure you're providing excellent customer service and not listing any prohibited items.
Newegg's selling fee: In addition to a commission rate of between 8% and 15%, Newegg offers 3 tiered membership options, including:
Standard: Zero fees
Professional: $29.95
Enterprise: $99.95
14. Ruby Lane
Ruby Lane has been designed to bring sellers and buyers of art, antiques, vintage collectibles, and jewelry together - quite similar to marketplaces like Etsy and Bonanza. This online selling platform has 1.1 million unique visitors per month, which is impressive for a niche marketplace.
Most website visitors are located in the US, UK, Australia, Canada, and Germany, but it has a global reach. 85% of users are women aged over 40, and most of them describe themselves as a "collecting enthusiast," so if it suits your target market, Ruby Lane might be an excellent option.
Ruby Lane seems to attract more educated and purposeful buyers who might be willing to spend more money than anyone who is scouring eBay for bargains. Moreover, you can count on timely and high-quality customer support and a quick resolution of issues here.
Ruby Lane's selling fee(: While there is no commission, Ruby Lane charges sellers $0.19 per listing and a tiered "maintenance" fee that starts from $79 per month for small sellers, to $0.01 per item for major ones. There's also a one-off $100 set-up cost.
15. Pixpa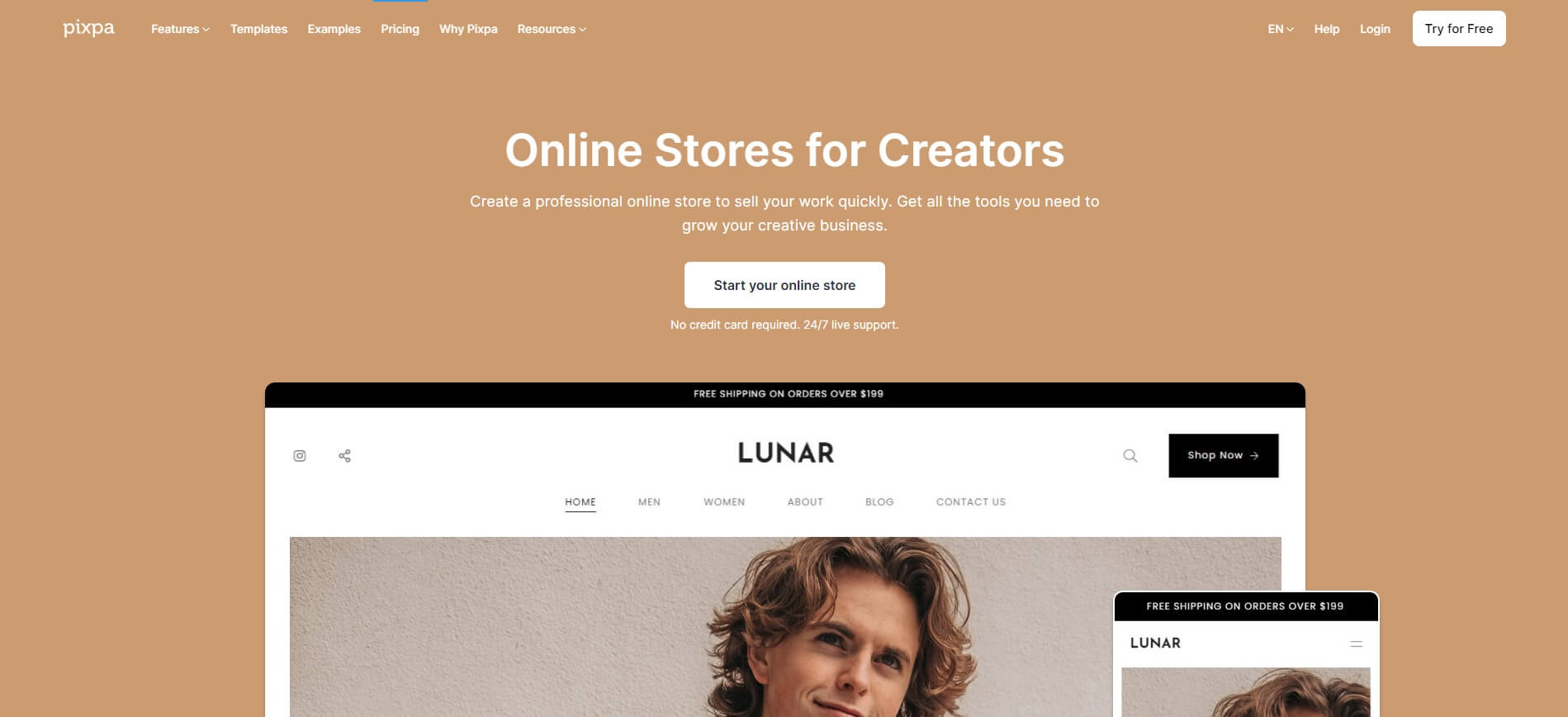 Pixpa is an all-in-one website builder that empowers business owners and creative professionals by helping them build feature-rich, professional websites easily and without touching a single line of code.
Pixpa comes with easy-to-use eCommerce tools that every business owner needs to sell their products, services, digital content, and grow their online business. You get a full-featured online store builder with tools like product and inventory management, shipping, taxes and discount management, abandoned cart recovery tools and more. Along with this Pixpa also offers built-in marketing tools including announcement bars, cookie consent bars, marketing pop-ups and more. The SEO manager lets you generate automatic sitemaps, set metadata and alt tags etc to ensure your e-commerce website can get good organic reach.
Pixpa's selling fee:
Light - $3 per month
Personal - $7 per month
Expert - $10 per month
Business - $16 per month
Related post:
10 Best eCommerce Platforms for Dropshipping in 2023
5 small tips to successfully selling your products online
Once you've chosen an online place to sell your stuff, you might wonder how to earn money quickly, as well as stand out from the competition. Then, the 5 small but powerful tips are for you!
1. Optimize your product content
There are product listings visitors see, and product listings they buy.
What makes the difference?
It's all about your product content. Your titles and descriptions need to be concise and clear, display the condition of the item (brand new, like new, second-hand, etc.) and include a size chart if it is a clothing item. Many buyers will also want to know whether your item is from a smoke-free or pet-free home.
Besides, spend time choosing the right keywords, write attractive appealing product descriptions, and optimize them. And finally, some people don't read your descriptions carefully and ask you questions that you have already answered. When it happens, just remember to respond friendly!
2. Be ready to advertise
Almost all product pages are facilitated by advertisements. However, these are not the same as banners and popups that customers tend to ignore. These will get clicked.
If you want to gain attention on marketplaces, you'll need to spend on at least a little digital marketing to promote your products. For example, you can try using an exit intent popup which will appear every time your visitors will browse to close your page. This will help you make your visitors stay on your page and therefore increase your conversions and sales.
3. Make the checkout process simple
Do you know that one of the most popular culprits making customers abandon a shopping cart is the checkout process? No matter how great your products are, if you don't manage your site well, they can easily navigate away from you.
So, try to make the checkout process simple and straightforward. The more information and steps requested, the greater friction, and the more sales you will lose as customers abandon their purchase. You can imagine buying your product as a prospective buyer would. Can you do it easily and quickly without too much thought?
Learn more:
4. Diversify your shipping strategy
A whopping 96% of customers now expect free shipping, and 26% are likely to discard a shopping cart if shipping is too slow.
Without a reasonable way to ship on these demands, fulfillment costs could take up a large number of your profits. So, it's essential to access the most competitive carrier pricing and shipping choices.
A combination of various methods can make sure the fastest and most economical choice for each order. In this situation, you can take advantage of private carriers like FedEx and UPS for some orders, and USPS for others.
You might feel interested in:
5. Provide great customer service
33% of Americans say that they will think about switching companies after just one poor customer service. When consumers consider buying something from a website, they are looking for reassurance. So, help them shop with confidence.
Regardless of whether the business is brick-or-mortar or online, one technique for selling is to guarantee that if the consumer is not satisfied, you will refund them with no questions.
Besides, be sure that your support team is well-trained, friendly, polite, and patient. You can ask your customers to review your support team's performance, so that you will know how to improve it.
The bottom line
Whether you're starting out as a new E-commerce business, or have been in the game for a while, online marketplaces should be a key part of your campaign. We hope that with the list of 12 Best Platforms to Sell Your Products Online, you can easily choose the most appropriate platform for your business.
If you find another interesting platform, you can share it with us in the below comment box. We're always willing to discuss it with you!
Website Support
& Maintenance Services
Make sure your store is not only in good shape but also thriving with a professional team yet at an affordable price.
Get Started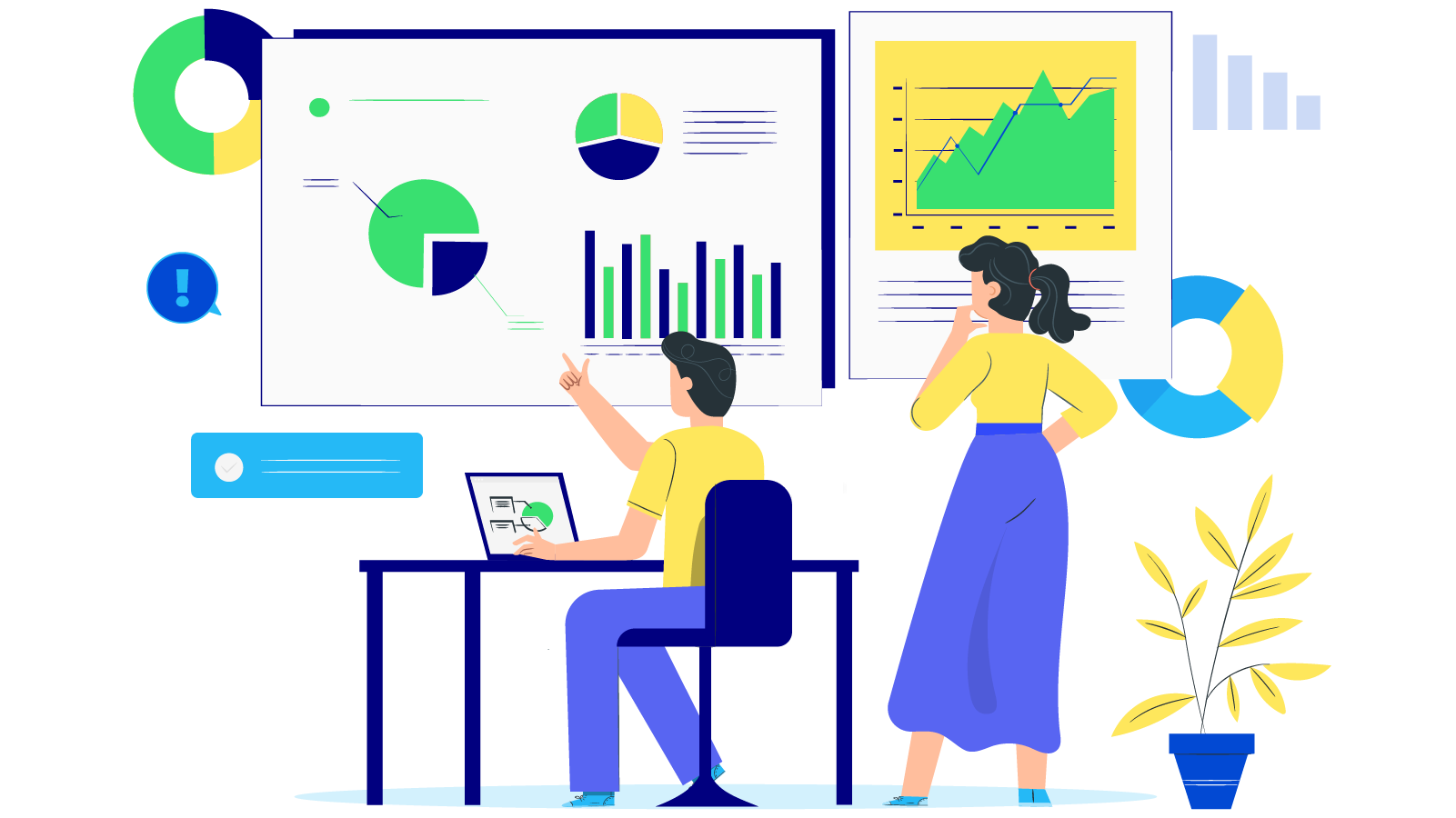 ---
---

Sam is the CEO and Founder of Mageplaza, pursuing a simple and healthy lifestyle. He is a friend, a husband, and a father to two children. As a trainer and an aspiring influencer, he is also a big fan of sports and travel. Sam is exceptionally knowledgeable about e-commerce, especially Magento and Shopify, with 10 years of experience in the field.
New Posts



Subscribe
Stay in the know
Get special offers on the latest news from Mageplaza.
Earn $10 in reward now!