Top 30+ Must-have Shopify Apps in 2023
Shopify is a powerful eCommerce platform that helps you build and easily start an online store. Now only that, it has a whole lot of necessary tools and apps that help you meet your business objectives. Most of these apps can be found in the Shopify App Store, which has over 4000 apps developed by both Shopify and third-party companies. There are still many more apps being developed and expanded by passionate app developers, like us, Avada.
These apps (both free and paid) are powerful to enhance your store's functionality in marketing, inventory management, shipping methods, SEO, dropshipping, secure checkout, speed optimization, and much more. A vast ecosystem makes sure Shopify stores of all sizes and industries can find what they need. With so many options present, it can be overwhelming to figure out which best suits your business.
Luckily, I've put together a list of 30+ must-have Shopify apps to assist. I categorized them from marketing to customer rewards, from support to inventory management, and from SEO to sales boosters. These are all much-needed aspects of an online store.
So, if you are ready, let's get started!
Must have free Shopify apps
SMS & Email Marketing Automation
If you are on a tight budget and don't want to spend much on utilizing, free Shopify apps are the way to increase sales at no cost. Let's take a look at the must-have free Shopify apps for your online store.
SMS & Email Marketing Automation is a powerful app for those who want to maximize the potential of email marketing. Offering both automation and mass sending campaigns, AVADA can help you create and send relevant messages to segmented customers.
With multiple proven automated workflows and beautiful premade-email templates supported, online merchants can launch their email campaigns and convert customers easily. Besides, store admins can create eye-catching exit-intent popups and spin to win wheels to deliver promotion and collect leads with ease.
The app also supports comprehensive reports on the overall and detailed performance of each campaign. Therefore, you can evaluate the effectiveness and execute proper adjustments in time.
Pricing:
Free plan for 1,000 contacts and 15,000 emails/month.
Pro plan starts from $9, with a 14-day free trial.
Homepage: https://avada.io
Joy: Rewards, Loyalty Program
Joy: Loyalty Program app - the secret to keeping loyal customers with an attractive reward system. Not taking much time and effort for e-businesses to make marketing strategies, the Loyalty Program offers appealing earning and spending rules to grab customers' attention and engagement without hesitation. Also, customers can get reward points from leaving feedback, building their loyalty to your store.
One more thing, don't miss the point redemption and expiration functions in the Rewards, Loyalty Program as they are intelligent ways to encourage customers to place orders and generate sales dramatically. And most importantly, store admins can manage and adjust customers' reward points via their activities. So you can easily track the effects of each reward campaign created.
Pricing: Free plan available
SEO Suite - SEO Image Optimizer
SEO Suite & Image Optimizer is an all-in-one solution for store owners to implement on-page SEO practices effortlessly. The app comes with a bunch of critical features for an optimized Shopify site.
The app helps improve the site loading speed and user experience by compressing images to reduce the file size without compromising their quality, playing preloading instant pages, and adding HTML sitemaps. Other functions, such as image alt tags, meta tags & rules, Google structured data, SEO analysis, etc., make your website more friendly to search engines; and, thus, get a higher ranking.
Seo Suite by AVADA has a user-friendly and straightforward interface that allows non-tech users to boost site rankings, traffic, and sales in just a few clicks.
Pricing: Free
PickyStory
PickyStory is a one-stop shop for adding bundles, deals, and AI-based product recommendations to your store. With PickyStory's full suite of tools to increase your AOV and conversions, you can create the best deals and offers suited to your products, brand, and customers.
Use PickyStory to add "frequently bought together" style bundles to your product pages (or as popups), or give customers the option to create their own bundles. Inspire customers (and sell more products) with Shop the Look galleries, and use PickyStory's advanced discount engine to offer tiered discounts, BOGO offers, and much more.
Pricing: Free plan available
PDF Invoice: Order Printer+
PDF Invoice: Order Printer is a convenient tool to help create attractive billing documents, invoice templates, and packing slips. This will make your business look more professional and allow shoppers to print their own billing documents for any purpose.
Paperwork always is a time-consuming task for admins, so AVADA PDF Invoice can cut down the workload and let your business work more efficiently with fewer mistakes. With four ready-to-use templates, you can apply and create documents instantly. Customers can also feel safe and relaxed thanks to the bright and good-looking billings.
Pricing:
Droplet plan: Free for all features and unlimited invoices
Pond plan: $9 to get a prioritized ticket and live chat support plus removable branding.
AVADA FAQs
It is AVADA FAQs app , one of the best app you cound find on Shopify to create and customize your own FAQ system to save time for both your company/ employees and your customers to find the answers for most common question.
This app is user-friendly with great design and very easy to use. You will get in right aways when you log in and it has all the ready-made templates for you to choose from with few clicks.
Pricing: Free plan available
AVADA Cookie Bar
The must-have application you have to have for your Shopify shop.
Standard like GDPR or CCPA is what you have to follow when collecting and gaining access to contact customer. This app is the mean to help you do that by collecting the approval of customers for your business to contact them through email, promotion notification, text…
This app is super easy to use with dozens of ready-made templates that all you have to do is choose the theme, customize your message and put it on your pages with a click. Check it out yourself!
Pricing: Free plan available
EComposer - High Converting Page Builder

EComposer Page Builder is considered the next generation of Shopify page builder apps. What are the differences from others?
First, the EComposer page editor is super user-friendly with clean UX, UI which is suitable for even dummies, and beginners in eCommerce. Second, EComposer has Section builder that allows you to create any section on any page, and add it to any theme. In other words, the app works perfectly with Shopify themes, giving you the flexibility of designing your page the way you want.
Also, EComposer has a huge extension and app integration library. Only install the add-ons that you need to use - which helps optimize page performance. Plus, you can chat with support 24/7 if you have any questions or issues while using EComposer.
Pricing: Free plan available
Read more: Best Shopify Free Shipping Bar Apps
Wiser - Personalized Recommendations
Wiser Shopify app built by Expert Village Media is a Personalized Recommendations and Product Upsell app that allows Shopify stores to show recommendation products in different types: Related items, Trending Products, Top Selling Products, Recently Viewed, Frequently Bought Together, Also Bought, Similar Products, etc. This smart app will definitely increase your store's revenue by 20 - 30% through these upsell and cross-sell product widgets.
Wiser analyze the user's browsing activities and shows automated recommendations based on that to increase personalization. Also, multiple preset templates available to choose from to match the store branding. Highly customizable and more.
Pricing: Wiser offers a Free plan and three other paid plans. In the free plan, you will have Recently Viewed Products, Featured Products, Analytics to track sales, Home, Product & Cart Page Placement and Customize Widgets.
Shopify App Development
Let's build your Shopify App in the way you want, for your needs!
Learn more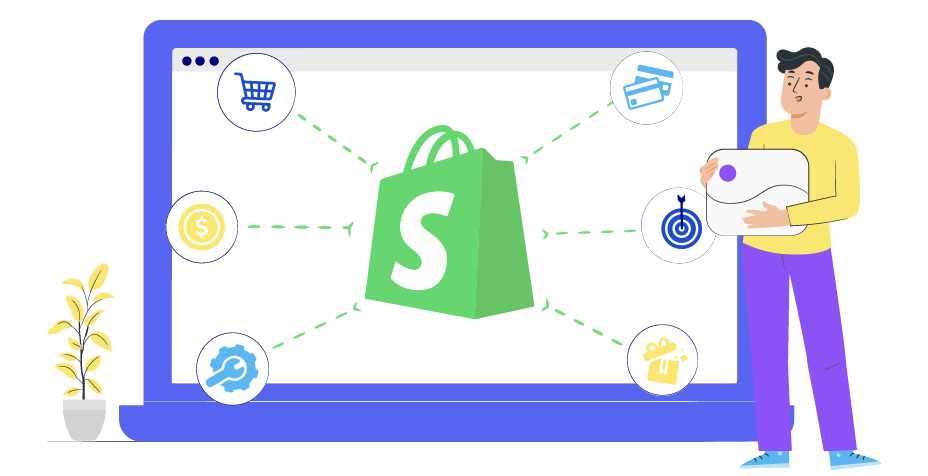 Spocket - US/EU Dropshipping
Spocket is a dropshipping platform that houses dropshipping suppliers from the US, EU, and globally. With a range of products that offer faster shipping and unique products, they help you stay competitive in the age of Amazon and high customer expectations. All of their suppliers are pre-vetted and reliable so that you mitigate the risk of cancelled orders or missing deliveries.
The dropshipping suppliers on Spocket have applied a generous discount of 30-60% to their products so you can gain a competitive advantage in your niche and maximize your profit. Spocket allows you to "Sample Orders" and incorporate Branded invoicing so that you can try the products you want to sell beforehand, and use your own brand logo on invoices to build your brand.
Spocket also has 24/7 customer support, which gives you peace of mind and support whenever you need it, night or day.
Pricing: Spocket has a basic free plan that allows you to browse dropshipping products. Their cheapest plan starts at USD$19 and their completely unlimited packages with bulk checkout and an account executive are USD$299/month.
Oberlo - Aliexpress dropshipping
If you are doing dropshipping and have a hard time finding what to sell, Oberlo is a highly efficient app to dropship from AliExpress - one of the biggest marketplaces in China. Oberlo is developed by Shopify, so it seamlessly integrates into your store. It can help you import products from supplier sites and start selling immediately. It also keeps your inventory and prices updated, so you don't have to worry about the sudden price change.
With the network of Chinese suppliers, you can ship your products to the customers straight from the supplier's warehouses. This is great since you can find items at extreme discounts and avoid storage costs. The trade-off is your products having long shipping time since they are sent from Asia.
Pricing: Oberlo is free with unlimited orders if you have less than 500 products in your store. If you add 10,000 products, the price increases to $29.90 per month, and if you have 30,000 products, it reaches $79.90 per month.
Yotpo - Customer reviews
Yotpo is a unique cloud app that helps you build social proof and online reputation. As mentioned above, social proof is one of the most effective methods to convince your audience that your products are loved by many. Yotpo allows you to showcase that by giving access to customer reviews and ratings.
You can collect product reviews, photo reviews, site ratings, and more by using on-site Yotpo widgets or emails. Showcasing good reviews on your website can help increase traffic and sales immediately since it shows other customers' satisfaction. You can set up Yotpo with a single click and import all your existing reviews from different sites instantly.
Pricing: Free up to 50 monthly orders. There is a Growth Plan at $29 per month for up to 800 monthly orders and a Prime Plan at $299 per month for up to 1,000 monthly orders.
Printful - Print on-demand app
A leading application in the print-on-demand industry, Printful is the easy access pass to open and run your own clothing company. The advantage of print on demand is that you don't have to start from the scratch, you can use the app to create custom clothing instantly and have them shipped to your customers from the manufacturing place.
With Printful, you can do dropshipping with print on demand products easily, as well as get access to a fulfillment warehouse and your own order-creation warehouse. As a well-known Shopify app being used by almost three thousand Shopify merchants, Printful seamlessly integrates with your Shopify store.
You can even use Printful technology if you are selling through online marketplaces like Etsy, eBay, or Amazon. It is a great option for creative folks who want to sell their own lines of clothing products.
Pricing: Free to use with 24/7 customer support. You only pay per each order's product.
Auto Currency Switcher - Currency converter
If you are selling worldwide, you should make it as easy as possible for customers to make a buying decision when browsing your products. Auto Currency Switcher will automatically display your visitor's location currency depending on their geographic location right next to your store's items. Customers can also switch between currencies for their own convenience. The design is customizable, which is a bonus.
Pricing: Free to use. There is a Premium plan at $9.95/month to add Country flags, IP based country detection, and Round converted prices.
Digital Downloads - Sell digital products
If you are selling online, there is a high chance that your products are online as well. So if you are selling digital products, you can install the Digital Downloads app to attach digital files to a product and start tracking sales or downloads. Much like the Apple store, customers can receive and use digital products instantly right when they purchase. Customers will also receive automatic updates if you upgrade the products.
The app is provided by Shopify, so it should integrate with your store easily.
Pricing: Free to use.
Google Shopping - Sell with Google
An eCommerce business owner will need many channels to promote their products, and Google Shopping is an effective one to generate more sales. This Google Shopping app will link your Shopify store with your Google Merchant Center account and show your products on the Google Shopping page. It will also keep everything up to date with prices and stock levels on both ends automatically.
The app is trusted by over 2,000 merchants and has over 1,500 five-star reviews.
Pricing: Free to install and use
Tagembed - Social Media Feed
The competition in marketing is getting fierce. One of the first ways to survive and stand out from your competitors is by engaging with the audience and adding functionality & appeal to your store. The simplest way to do it? - Embedding social feeds using Social Media Feed Widget by Tagembed.
Now, improve the visuals and functionality of your website at one go, with a short, simple, and coding-free process.
Social Media feeds apps help you collect the social media posts and content from 18+ social platforms and display them beautifully on your Shopify store. The vibrant and elegant social media posts improve the visuals of your store.
While using the custom CTA to add the "buy now" button can help attain more sales and fulfill your business goals.
Moreover, with the customization option, you can even personalize your social media widget by changing the layout, themes, and more to make your widget match your website's style. Also, with the moderation feature, you can remove unwanted posts from your feed and maintain the quality of your store.
And that is not all, custom CSS, analytics, custom posts, dedicated theme settings, hashtag highlighter and more, and that too free of cost. In addition, the app provides a Free-forever plan, making it an ideal tool that fits every budget.
Pricing: Free to install and use
EPROLO - FREE Dropshipping app
EPROLO is a dropshipping platform with over 300 thousand products and 100 categories. With warehouses in China and overseas, EPROLO is available to provide competitive prices and fast shipping to all over the world. What's more, the platform supports product sourcing from multiple eCommerce wholesale websites, for example, AliExpress. People can submit sourcing requests by pasting product links. Or, they can use the EPROLO Chrome extension to import products.
EPROLO also helps with branding. People can order custom package boxes, gift cards, and tapes on the platform. Plus, EPROLO has launched a POD app for store owners. People can use it to find POD products and design their own items. After importing the items to the store, people can start selling.
Pricing: Free to use.
Chargeflow
Chargeflow is a chargeback automation platform that takes a more modern, sophisticated and scalable approach to chargeback recovery.
After analyzing millions of chargebacks and feeding them into its AI-based system, Chargeflow created ChargeResponse®, the world's first science-based chargeback response system. ChargeResponse® analyzes your business and then creates personalized, tailor-made chargeback responses to be submitted on your behalf. A team of Dispute Experts with years of experience human-proofs and QA's every chargeback response before sending it to the bank to ensure every chargeback representment is airtight.
Founded in 2021 by two eCommerce entrepreneurs, Chargeflow maintains one of the highest win rates in the industry - averaging at around 80%.
Pricing: You pay 25% of the recovered revenue. However, you don't carry any monthly fees, integration costs, or contracts.
Must have Shopify apps for marketing
Marketing will always be an essential part of any eCommerce business, so if you want to increase your marketing power and bring more awareness to your business, these Shopify apps can help tremendously.
AVADA SMS & Email Marketing Automation
SMS & Email Marketing Automation is a powerful app for those who want to maximize the potential of email marketing. Offering both automation and mass sending campaigns, AVADA can help you create and send relevant messages to segmented customers.
With multiple proven automated workflows and beautiful premade-email templates supported, online merchants can launch their email campaigns and convert customers easily. Besides, store admins can create eye-catching exit-intent popups and spin to win wheels to deliver promotion and collect leads with ease.
The app also supports comprehensive reports on the overall and detailed performance of each campaign. Therefore, you can evaluate the effectiveness and execute proper adjustments in time.
Pricing:
Free plan for 1,000 contacts and 15,000 emails/month.
Pro plan starts from $9, with a 14-day free trial.
AiTrillion - Loyalty Program, Email, Review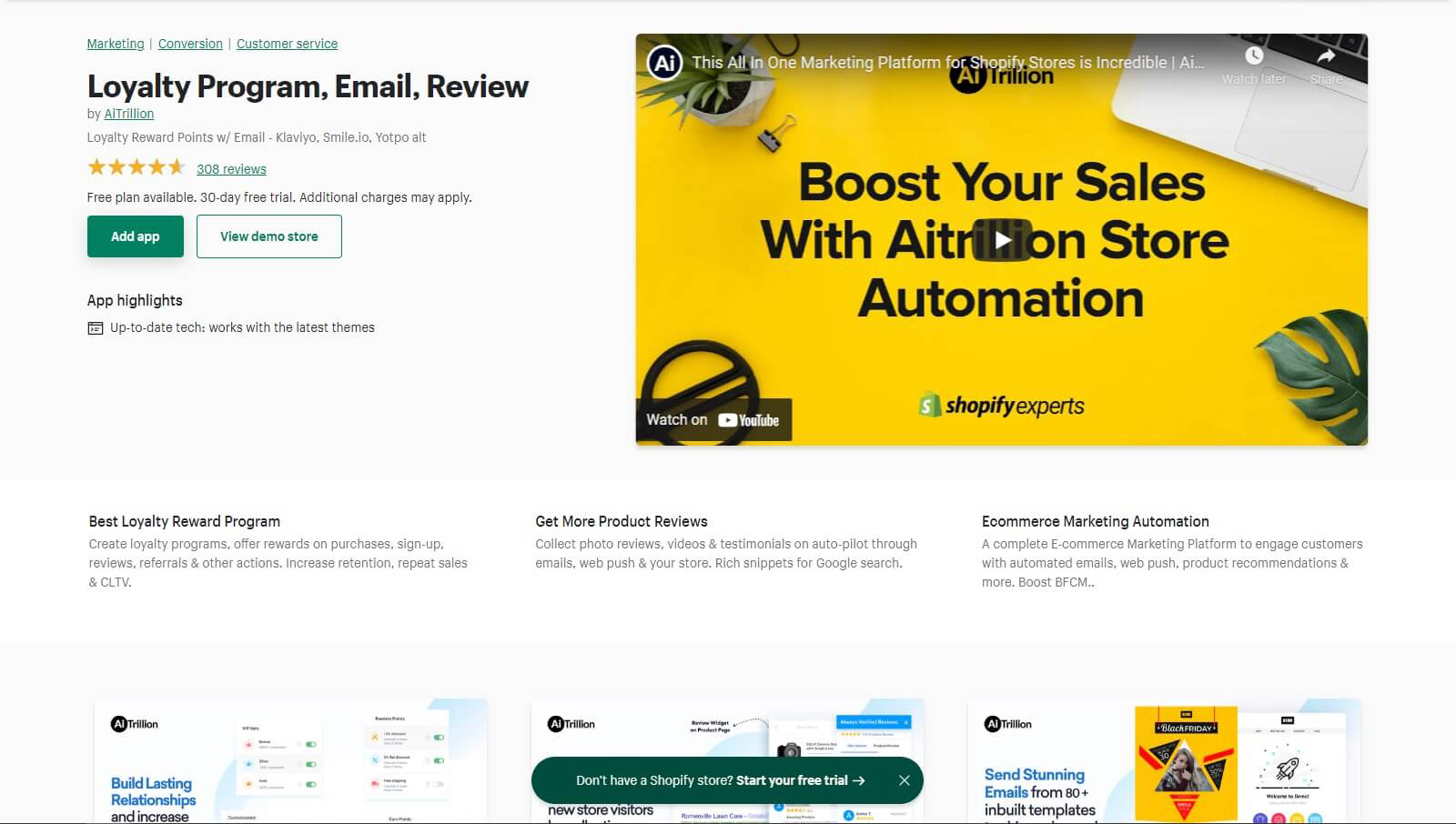 AiTrillion is the only marketing solution you need to boost your ecommerce sales. It provides all the essential features any Shopify store requires to grow.
From building loyalty programs, collecting reviews, sending push notifications, email marketing, and more, you get to reach your customers via all important marketing channels via just 1 app. This helps you to reduce your store load time, go deep inside the analytics, and get a unified view of how your campaigns are performing to increase sales.
With 10+ apps rolled into one, AiTrillion is a recommended app for all Shopify stores.
Pricing:
30 Days Free Trial
New: $49/month, all features included, upto 5000 customers
Growth: $99/month, all features included, upto 10,000 customers
UpPromote: Affiliate Marketing
UpPromote is the top recommended affiliate/referral app on Shopify App Store. With this all-in-one solution, you can easily build and manage your marketing campaign. UpPromote is serving more than 60 thousand users globally with over 375M revenue generated.UpPromote is suitable for all business sizes with the price from FREE to $139.99/ month. Furthermore, UpPromote implements customization upon request for Enterprise customers.
No technical knowledge is required. You can easily build your affiliate team through the quick onboarding and guideline system. Suppose you want to grow your team on a large scale. In that case, the customer referral feature allows your customers to refer your products to their friends and family and earn a small commission. This helps to boost your sales while building a network of loyal customers. On the other hand, UpPromote highlights that you can list your offers on UpPromote marketplace to approach more ambassadors.
In addition, if you are worried about managing your affiliate performance, UpPromote helps you analyze and report visually with details of affiliate clicks, sales, orders, and purchased products. Furthermore, all your affiliate referral orders will be recorded automatically and instantly via accurate and real-time tracking systems.
Pricing:
Free plan: Basic features and reviewing up to 200 referral orders/month.
Growth plan: $21.99/month with more features and reviewing up to 300 referral orders/month.
Professional plan: $69.99/month with valuable features and reviewing up to 600 referral orders/month.
Enterprise plan: $139.99/month with unlimited features and reviewing unlimited referral orders/month.
Loox - Photo reviews
Loox is a review app that allows you to add photo reviews of customers to your online store. Products with photo reviews can increase the conversion rate significantly because photos are powerful social proof. Loox lets you show photo reviews on any page of your store (like below a product) or even a dedicated review page.
It can help you send automatic emails that ask customers to leave reviews. In exchange for the valuable reviews, you can offer discounts or promotions each time buyers submit photo reviews. The app has a 4.9-star review on Shopify and is used by over 4,000 store owners.
Pricing: 14-day free trial
Basic plan: $9.99/month for 100 monthly review request emails.
Advanced plan: $29.99/month for 500 monthly review request emails and advanced customization.
Pro plan: $59.99/month for 1,500 monthly review request emails and all Loox integrations.
Enterprise plan: $99.99/month for 10,000 monthly review request emails and all Pro features.
Omnisend - Email and SMS Marketing
Simply put, Omnisend is one of the best email & SMS marketing apps on Shopify. The app easily integrates with Shopify, so it takes minutes at most to get your email marketing campaigns ready to roll.
Plus, you get a massive suite of easy-to-use features to help you get more sales. These include drag-and-drop email and forms builders that link directly to your Shopify store, a huge library of pre-designed email templates, dozens of pre-built automation workflows, smart audience segments that update in real-time, and much more.
Finally, you get award-winning 24/7 customer support that works day and night, rain or shine, including such busy days as the Black Friday/Cyber Monday weekend.
Pricing:
Free plan: available for up to 250 contacts and 500 monthly email sends
Standard plan: Starts from $16/month and includes chat & live support
Pro plan: Starts at $59/month and includes free SMS credits equal to the dollar value of your plan
PushOwl - Web push notifications
Abandoned carts are a big problem for online sellers, and you would definitely want to recover sales from those already-engaged visitors. If you use web push notifications with PushOwl, you can remind the potential buyers about their abandoned carts and encourage them to return and purchase. You can do this by special discounts just for their carts, for instance.
PushOwl lets you send tailored campaigns and reminders, such as back-in-stock notifications or review notifications once a product is shipped. You can customize the notifications with images, buttons, and messages. It is having a perfect five-star rating on the Shopify app store.
Pricing: Free to install and start with up to 500 impressions, After that, paid Business plans start at $19 per month for 10,000 impressions.
Growave - All-in-one marketing app
If you need to reach, engage, and convert visitors in the most efficient way, then Growave is the choice for you. You can get an all-in-one app package to increase customer retention, boost social sharing, and grow your brand. Additionally, you can use its advanced review features to create personalized automated coupons based on reviews to enhance the store's credibility.
Growave claims to be 4-7 apps in one that includes Loyalty and rewards, Wishlists, Reviews, Social sharing, Community, Questions & answers, Notifications, and more. It currently has a 4.9 star rating on the Shopify app store.
Pricing: 14-day free trial
Starter plan: $19/month for stores with up to 100 orders/month
Small plan: $29/month for stores with up to 250 orders/month
Medium plan: $49/month for stores with up to 500 orders/month
Growth plan: $99/month for stores with up to 1000 orders/month
Enterprise plan: $299/month for stores with up to 3500 orders/month (30-day free trial)
Kit - Intelligent Facebook ads
Kit is a personal assistant that can help store owners manage their Facebook and Instagram ads. It acts like a chatbot that can allow you to set up dynamic ads and boost sales significantly. The app is designed by Shopify so you don't have to worry about learning about Facebook ads extensively since all are managed by Kit. By the power of AI, you can run successful business campaigns while you are sleeping.
Pricing: Best thing about Kit is it is free.
Octane AI - Messenger & SMS marketing
Facebook Messenger and SMS marketing have proven their powers to boost conversion and customer retention for eCommerce stores significantly. This is what Octane AI focuses on. It allows you to manage online messages, recapture lost carts, recommend products, and send push notifications with announcements to your customers. This is indeed one of the must-have Shopify apps for your store.
Pricing: 30-day free trial
Basic plan: $9/month for all main features
Pro plan: $209/month for main features + VIP Support, Advanced Targeting, Custom flows, and more.
Sumo - Grow email list
To increase your conversions and sales, growing your email list is really important. And Sumo is a state-of-the-art Shopify app that can help you with that. This marketing and sales tool helps you reduce cart abandonment with effective incentives to find more leads and gain email subscribers. You can send thrilling deals to customers and encourage actions while viewing the results through a robust statistics dashboard.
Additionally, you have dozens of extra features such as customer support and visitor targeting. The app is also compliant with GDPR so you won't have to worry about regulation or rules. Your site can get a better rank with the app too since it follows SEO guidelines from Google.
Pricing: Free to install with 10,000 emails/month and $500 Sumo-driven revenue. The Pro plan is $49/month or $39/month for an annual subscription, with this you get unlimited emails and unlimited Sumo-driven revenue.
PixelPhant - Product Image Editing Service
PixelPhant is the best eCommerce product image editing service, ensuring you get the best images of your product on your stores.
Over the years, PixelPhant has worked with more than 300 eCommerce and delivered the best product image editing results. With their PixelPhant Shopify app, you can upload your images, track the progress and download the image back with the same dashboard with no trouble at all.
Retouching your product, removing the background, clipping path, ghost mannequin editing or more. Choose the service you require and get your images with a turnaround time of 24 hours. Moreover, the cost you pay is as low as $0.80 per image.
Getting the image edited by the experts trained over the years at cost less than a dollar within turn around time of 24 hours. Hence the best product image editing service for your eCommerce.
Pricing: Get a free image editing trail to start with, after which it would cost you $0.80 per image.
Read more: Best Shopify Email Marketing Apps
Adwisely - High‑ROAS ads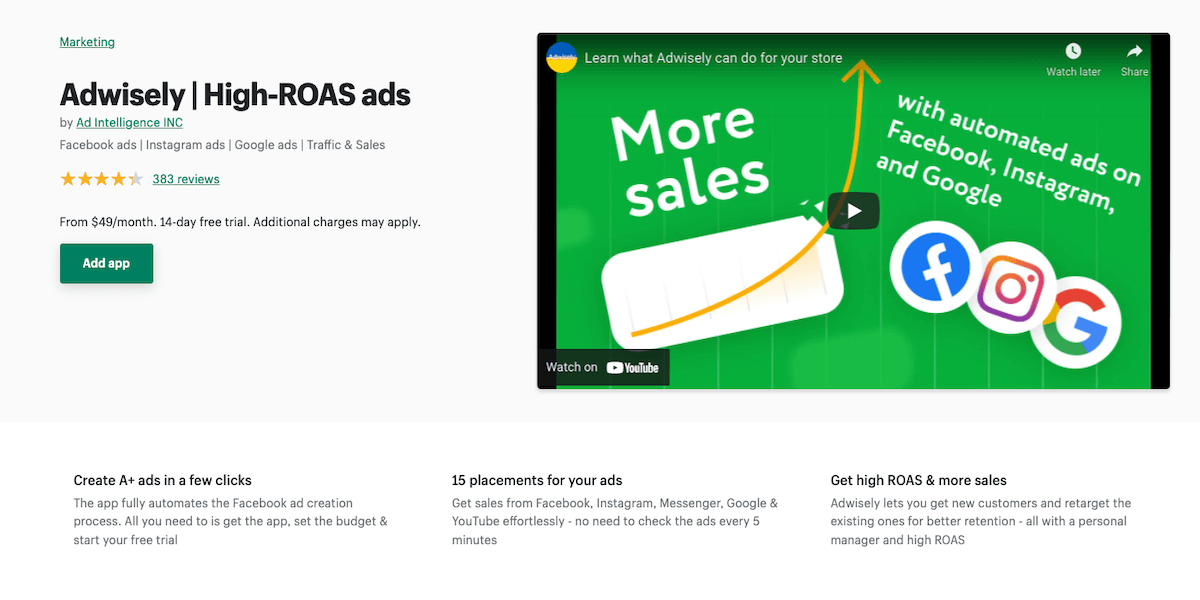 Adwisely is an online ad automation platform for eCommerce stores. It helps online store marketing managers create and manage efficient ads on Facebook, Instagram, Google, and YouTube. Once you sign in, you can either set up a campaign by yourself - this should only take you a few clicks - or contact their support team if you have questions or need help.
Adwisely combines the ad automation with human expertise & work with a wide range of markets and products categories. The account manager they provide can monitor the ad results, provide improvement suggestions and send regular reports on ad activity. As a result, Adwisely users get high return on ad spend - on average, their ROAS is 600%-700%.
Pricing: Fees start at $49/30 days of service. 14-day free trial.
Firepush — Email, SMS, and Push Notifications for Marketing
Firepush is one of the top-rated marketing apps for Shopify stores with thousands of monthly visitors. It's a marketing platform that you can use to convert traffic with email, SMS, and/or push notification campaigns, all from one simple dashboard.
The suite of features make Firepush useful for all stores. A new Shopify store can use Firepush to build a target audience and share marketing offers to drive traffic. Fast-growing stores can benefit from mass email campaigns and detailed analytics to nurture and convert leads.
You can also use Firepush to send transactional SMS for product delivery updates, payment confirmations, refunds, etc. Automatic abandoned cart emails will help to recover sales. Templates for both transactional and marketing messages are easily available in a large library.
Pricing: free for 100 push notifications and basic analytics. A paid plan for small businesses with emails, pushes, and SMS costs $15/mo. Growing businesses can choose a $29/mo plan with advanced campaigns, segmentation, and analytics. A 14-day free trial is available.
Must have Shopify apps for SEO
If you are selling online, SEO is a must-have aspect. In case you don't know, Search Engine Optimization (SEO) is a process of improving a site's ranking on Google search results. So, the better you are at it, the more traffic and customers your store can attract. Here are the Shopify apps for SEO that you need to install for your business.
SEO Suite - SEO Image Optimizer
SEO Suite & Image Optimizer is an all-in-one solution for store owners to implement on-page SEO practices effortlessly. The app comes with a bunch of critical features for an optimized Shopify site.
The app helps improve the site loading speed and user experience by compressing images to reduce the file size without compromising their quality, playing preloading instant pages, and adding HTML sitemaps.
Other functions, such as image alt tags, meta tags & rules, Google structured data, SEO analysis, etc., make your website more friendly to search engines; and, thus, get a higher ranking.
Seo Suite by AVADA has a user-friendly and straightforward interface that allows non-tech users to boost site rankings, traffic, and sales in just a few clicks.
Pricing: Free
Must have Shopify apps to boost sales
Last but not least, these are the must-have Shopify apps to increase your sales numbers. Needless to say, this is what every eCommerce store wants, so install these apps as soon as possible.
AVADA Boost Sales 14 in 1
AVADA Boost Sales 14 in 1 is definitely a robust solution to boost your conversions and sales. The app shows dynamic customer interactions via sales pops, creates a sense of urgency and scarcity with countdown timers, and strengthens customers' trust with trust badges Those practices help remove customers' hesitation and speed up their purchase process.
Furthermore, with plenty of new stunning features added, including inactive tab, sticky add-to-cart, add-to-cart animation, content protection, hide dynamic checkout button, AVADA Boost Sales proves itself the right choice for every Shopify store owner.
Pricing: Free
SMART Bundle Upsell - Smart upsells
A powerful app with excellent reviews, SMART Bundle Upsell helps you reward customers with a discount or free shipping if they add enough items into their shopping carts. You just need 30 seconds to set up and start increasing the revenue instantly. The app tracks every single item that customers have in the carts so the upsell products would automatically match their buying behaviors.
Pricing: 7-day free trial, then $27/month
VITALS - 40 apps in one
So, this may be a bit overwhelming, but I found an app that contains over 40 other apps inside it, and you absolutely have to try it out. The app is called VITALS and it aims to boost sales by increasing your store's conversion rate and decreasing loading time. The apps included are product reviews, currency converter, wheel of fortune, product bundles, pre-order, discounted pricing, and many more. I haven't tried every feature, but the app is having a perfect 5 star rating on the Shopify app and nearly 700 users, so it can't hurt to try.
Pricing: 30-day free trial, then $29.99/month
Xporter - Data export tool
Are you using spreadsheets to track the inventory? Well, many of us do, so Xporter is great since it is an app that can help export data from your store into a CSV or XML document. This is really convenient to organize things and have a better understanding of data to grow your business. The dashboard has a simple checklist to choose what needs to be exported, and you can export reports online, send through email, or access in Google Sheets.
Pricing: 7-day free trial and plans start at $7/month to a maximum of $45/month
Shopney - Mobile app builder

More than 80% of eCommerce activities take place on mobile globally and a native mobile app is the single best tool to get the most out of this trend. Shopney is the best-rated Shopify mobile app builder. It enables you to convert your Shopify store into a mobile app in minutes without any code or design skills.
With Shopney, you can choose the most fitting theme among various options to make sure your product seems impressive for easy selling. Then you can increase your Shopify conversion rate by up to 5x by providing an excellent mobile experience, push notifications, fast checkout, and in-app live chat with your customers. Shortly, with Shopney you can convert, engage and boost your sales on mobile!
AI Language Translate - LangShop
LangShop - language translation & currency converter solution for Shopify stores. Along with the typical types of content, like products, collections/categories. LangShop can translate checkout, Shopify notifications, images and tags in 4 ways: machine AI, manual, agency, pro translation (Google API and DeepL Pro). LangShop offers 100% SEO-friendly "Server-Side Rendering" translation without coding.
Dialogue AI Personalization
Dialogue is an ecommerce personalization and conversion optimization platform that uses artificial intelligence to assist online merchants in increasing their profits.
Dialogue's technology enables online retailers to increase Average Order Value (AOV) by delivering relevant content to each visitor at each stage of the sales funnel. With its drag-and-drop tool, brands can quickly and easily create personalized shopping experiences and drive conversions.
With Dialogue, you'll be able to create smart product recommendations (both automatically and manually), cart & checkout page upsells, product bundles, shoppable stories, personalized content, promotions with segments, product sliders, banners and more.
Dialogue collaborates with a wide range of well-known brands, including L'Occitane, Sabon, Kiko-Milano, Gade, Nununu, WallaShops Group, A.L.M Group, and many more.
Pricing
Free plan for Shopify merchants and two additional paid plans:
Self serve plan with more features that starts at $19/month and is based on usage.
Managed plan that starts at $699/month and is based on the store's size.
iCart Cart Drawer Cart Upsell
iCart Cart Drawer Cart Upsell is an all-in-one Shopify cart enhancement app designed to boost your e-commerce store's sales and give your customers an unforgettable shopping journey.
With iCart, you can seamlessly create a cart drawer and leverage upselling techniques to maximize revenue, enhance user engagement, and create a personalized shopping experience. You can show upsell, cross-sell, bundle, progress bar, discounts, and many more selling options in both cart drawer and full cart with the iCart app.
Pricing: iCart provides a 14 days free trial. Then this app has 3 different plans such as $9.99/month for stores with Shopify basic plan, $19.99/month for the Shopify plan, and $39.99/month for Shopify advanced plan.
Must have Shopify apps for reviews, loyalty, and rewards
Once you have promoted your business well enough and start getting customers, you will need creative ways to retain their loyalty. By asking for feedback, giving rewards, and representing special member benefits, your business will be able to gain frequent buyers and, more importantly, brand lovers. These are Shopify apps for product reviews, loyalty, and rewards.
Smile - Loyalty program
Smile provides timely incentives to your customers and gives them rewards for loyalty. It provides a platform for customers to write reviews and share your products with friends and family. It has three styles of rewards program to choose from:
The referral program
The loyalty points program
The VIP program
Through the app, you can create programs to increase customer engagement and increase revenue. Not to mention, these also let shoppers spread the word about your business. The app currently has a 4.7 star rating on the Shopify app store.
Pricing: A free plan is available with upgrades starting at $49/month
Form Builder - Unique forms to research
If you want a bridge to close the communication gap between you and the customers, having a form may be a good way to do that and collect customer's information as well. The Form Builder app gives visitors a way to submit custom forms on your website to ask for new orders, wholesale pricing, or any other inquiry. You just need one click to install the app, and you can add your own branding to the templates.
Pricing: A Free plan is available. The Pro plan is $10/month for more features with a 6-day free trial.
Photo & Social Reviews - Collect and display reviews
Social reviews can help convey trust and encourage customers to make purchases, so what if you can collect and display all kinds of reviews on your site? It is sure a powerful selling method. With Photo & Social Reviews by Kudobuzz, you can collect and display reviews from Google, Facebook, Amazon, and Etsy in the photo, video, or text forms. These are also content that can improve your site's SEO and enhance your marketing effort.
Pricing:
Coffee plan: Free for 100 orders per month
Breakfast plan: $12.99/month for 500 orders per month
Lunch plan: $19.99/month for 1500 orders per month and advanced features.
Must have Shopify apps for customer support
Now, since traffic is coming to your Shopify store, you will need effective methods to take care of visitors and convert them into customers. Not to mention they are guaranteed to have many questions about price, shipping, rewards, and more, so having these Shopify apps to support customers can make your work definitely easier.
Shipway - Post purchase automation app
Shipway is an awesome app for those who want to offer a premium post purchase experience. You can offer tracking, notifications & order review services. This Shopify app will let you share real time tracking updates, whatsapp/email/sms delivery alerts and ask customers to drop a review after purchase. A branded tracking page and order look up creates a sense of transparency and trustworthiness among the customers. Shipway also lets you measure customer satisfaction rate using a net promoter score.
For dropshipping stores, Shipway is awesome, since it integrates with 500+ shipment carriers from around the globe.
Pricing: Shipway lets you get started for free up to 500 shipments. Their paid plans starts at $9.99 per month, pricing as low as 1 cent per shipment.
Return Magic - Product return solution
No matter what you sell, there are always dissatisfied customers who would want to return products. In fact, the average return rate in the eCommerce field is about 30%, so you should prepare for that. The Return Magic app helps you deal with the return process efficiently by letting you automate gift card or money refunds, generate and print return labels, offer exchanges, and create automation results to personalize the returns process. This will create a good and comfortable return returns portal for shoppers, which can still come back and buy again.
Pricing: 30-day free trial then $10/month for the basic plan with under 10 returns a month. The price goes up based on your store's number of returns.
Shoelace - Retargeting customers
Your existing traffic is a valuable source of revenue that you should pay attention to and support whenever you can. With Shoelace, you can create retargeting ad campaigns on Facebook and Instagram that make customers remember how great your store is. These ads can educate the audience and motivate them to come back to your site. The ads will be valuable information that is relevant to different stages of the buying process, so it is an effective way to build stronger, long-lasting relationships with your customers
Pricing: It takes $79/month to install the integrations and the pricing plans start at $249/month. The more advanced retargeting method for your ad, the more expensive the plans get.
Point of Sale - In-person sales
If you not only sell online but also in person, then Shopify POS is a great way to handle transactions. If you use Shopify Payment, it will be a powerful combination to receive sales money quickly with no transaction fees. So Shopify created Point of Sale as an official app for you to sell everywhere and create a seamless shopping experience. It has all the essential features for you to sell offline like accepting many payment methods, processing payments through phones, tracking your sales performance. The app also has a sleek design (yay dark mode!) for easy use.
Pricing: Free to install and best for selling at markets, pop-ups, or fairs. The Pro plan is $89/month for each location and best for selling at a brick and mortar store.
HelpCenter app - Customer service solution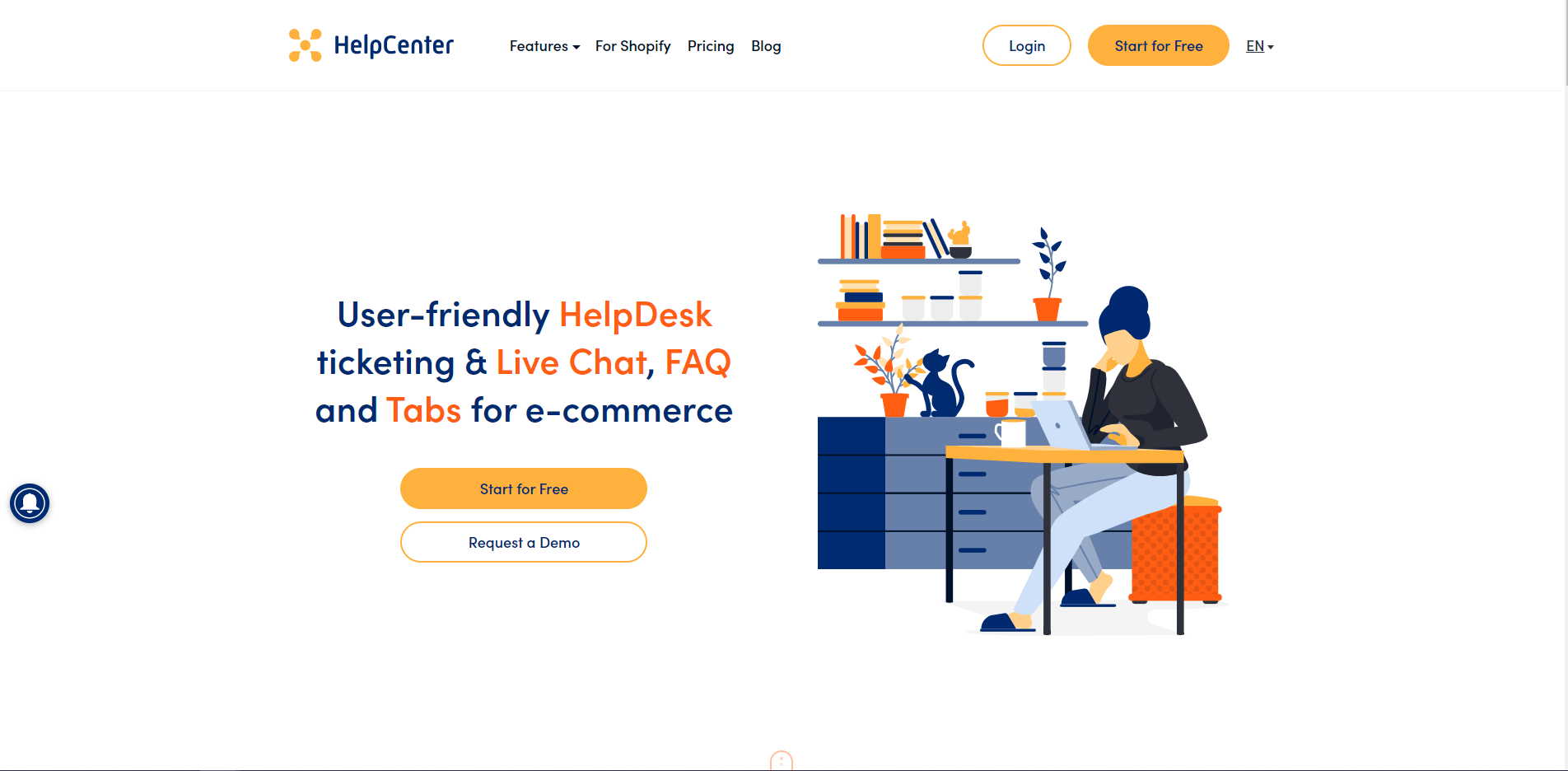 HelpCenter app is one of the easiest solutions on Shopify to enhance and automate your customer service and customer experience. HelpCenter app is free to sign up and comes with a list of features including live chat, product description tabs, help desk ticketing system, and an FAQ builder. An omnichannel solution where all inquiries from emails, live chat, and Facebook Messenger are all under a single HelpDesk.
With the HelpCenter app even small and medium sized businesses can easily add these solutions to their Shopify store. Thanks to its seamless integration with Shopify, HelpCenter can be easily downloaded and added within minutes. It offers drag and drop editing for easy processing with no coding skills necessary.
The HelpCenter app is very easy to use and implement, and an excellent customer support team is there to help and guide you through each step of the process. An additional bonus is that the app works great with several Shopify stores under the same account.
Pricing:
$0 / Forever Free for basic features and 50 tickets quota per month
$3.99 / Month for a full FAQ page + basic Product Tabs and 3500 tickets/year
$3.99 / Month for a full Product Tabs feature + basic FAQ page and 3500 tickets/year
$9.99 / Month for 17000 tickets/year + basic FAQ and Product Tabs features
Must have Shopify apps for inventory management
Through time, you will be able to find many more products for your Shopify store. Hundreds or even thousands of items can require much time and effort to manage. Well, with these must-have Shopify apps for inventory management, that headache can go away with a click and let you keep growing your business.
Outvio - Shipping, Tracking and Returns
Outvio is an all-in-one solution that helps online shops optimise and automate after-sales processes, such as fulfillment, shipping, order tracking, delivery notifications, returns and exchanges. This powerful tool helps to ease and speed up the picking and packing process with tools that minimize human error. With Outvio, you can print hundreds of shipping labels in seconds, choose the best shipping rate for every order, and much more.
Outvio is a must-have tool for any eCommerce that wants to fully brand their delivery notifications, customize their own tracking page and offer a branded and automated self-service portal for returns and exchanges. It is the perfect solution for online shops that want to keep their brand in the spotlight by making informed decisions, using professional tools and keeping a consistent brand image throughout the selling process. With Outvio, you can make informed decisions based on solid sales, fulfillment, shipping, and customer behaviour analytics.
Pricing: - 14-day free trial
Launch: starting from $29/month
Grow: starting from $99/month
Conquer: starting from $199/month
DataFeedWatch - Multichannel listing
DataFeedWatch is the easiest multi-channel listing software for Shopify stores to create, optimize, and manage product feeds for 1000+ sales channels and marketplaces in over 50 countries.
Thanks to the app's seamless integration with Shopify, connecting your store to DataFeedWatch is a breeze. It helps you to optimize your listings and keep track of their performance for all your favourite sales channels such as Google Shopping, Amazon, Facebook and Instagram, Criteo, Shopzilla, and many more. All in one intuitive and centralized platform.
No inventory size is too big. DataFeedWatch is ready to process a hundred or even a million products and makes sure that your feed gets refreshed on a daily basis so your customers are always presented with up-to-date and accurate product listings that make them click.
Pricing: From $39/month. 15-day free trial. Additional charges may apply.
AfterShip - Shipping tracking
If you want to track all of your shipping processes from one place, the AfterShip app is the choice you need. It can provide all the information your customer needs regarding the delivery. With the app, you can generate a tracking page for each individual shipment and customize this page with your store's URL , Instagram photos, and brand logo. It is a convenient way for customers to reach out about their shipments too.
Pricing: 14 day free trial
Free for 50 shipments quota per month
Essential plan: $9/month for 100 shipments quota per month
Growth plan: $29/month for 500 shipments quota per month
Pro plan: $99/month for 2,000 shipments quota per month
Instagram Shop - Shoppable Instagram feed
Instagram is one of the most popular social media platforms for selling because almost everyone is using it. But it is also hard to sell because you can't add product links to the posts. Instagram Shop by SNPT can fix this problem. The app lets you customize your Instagram feed so you can show pictures from your accounts and tag relevant products. This way, customers can see your Instagram photos and shop at the same time. Your Instagram pictures would also link with a 'Buy' button to purchase directly.
If your pictures are from customers, it is also a good social proof for your products. You manage your products and marketing effort better through that. This is why Instagram Shop is one of the must-have Shopify apps for your store.
Pricing: Free to install.
TradeGecko - Inventory management
TradeGecko is a popular inventory management app that lets you manage orders and control inventory as your business keeps growing. It helps you manage both retail and wholesale channels with flexibility in customizing options. You can edit your branding and price lists at ease from the dashboard. One more notable thing is that TradeGecko integrates with accounting software like Xero or QuickBooks Online.
Pricing: 14-day free trial
Founder plan: $39/month for 1 user and 50 orders/month
Lite plan: $99/month for 2 users and 50 orders/month
Small business plan: $249/month for 5 users and 500 orders/month
Business plan: $699/month for 8 users and 1500 orders/month You save more if you sign up for an annual subscription.
Shopify Multi Carrier Shipping Label App

The Shopify Multi Carrier Shipping Label App is an end-to-end shipping app that allows you to display exact shipping prices at checkout, print labels with a single click, and track orders directly from the Shopify dashboard, saving you time and cost.
This app, as the name implies, supports all major carriers such as UPS, USPS, FedEx, DHL, Stamps, Aramex, Blue Dart, Australia Post, Canada Post, and others. Not just that you get to control customize the delivery costs for each shipping service based on your needs & get access to multiple parcel packing methods. For the approved shipping carriers, the app displays the number of days it may take for customers to receive their products at the Shopify checkout page.
Using this app, you can request carrier pickups directly from your Shopify dashboard and print manifests for all of your shipments in a click.
Pricing:
Even before you buy any subscription plan this app gives 14 days free trial and familiarizes you with the settings and features. Then based on your requirement you can choose from their $9/mo, $29/mo, $49/mo, and $99/mo subscription plans.
Read more:
Must have Shopify apps for subscriptions
Subscriptions on Shopify allow your customers to continuously receive your product on an ongoing basis. They're used to increase revenue and boost customer lifetime value. They're also in demand. Consumers want hassle-free shopping experiences. With subscriptions, they can find something they like and set it and forget it. That's good for them and good for you. If you want to grow rapidly, subscriptions are the way to go.
Ordergroove Subscriptions - Sell subscriptions in minutes
If you want to start selling subscriptions, check out Ordergroove. The app has fantastic reviews, and huge brands like Birchbox, OLLY, and Honest use it to run their subscription programs. However, Ordergroove isn't just for big players. Anyone can use the app and can get started in just a few clicks.
What sets Ordergroove apart from other subscription apps is that it enables you to promote your subscriptions all over your site, including your product pages, quick views, and at checkout. It can also prompt subscribers to add additional items to their orders to drive up your customers' order value. Your customers will also have complete control over their orders, with the ability to pause, skip, and swap products, all of which help prevent them from churning and extends their lifetime value.
Pricing:
Starting at $15/month. Custom pricing for large programs.
Final words
Shopify is one of the most robust eCommerce platforms to start selling online, and its apps are one of the reasons for its effectiveness. So, if you want to set up a business, the above apps can help you enhance not only the store's functionality but also the customer's experience. From boosting the revenue to streamlining the selling process, making a profit is easier than ever.
So, have you picked one or more apps for your Shopify store through my article? Remember, the best app is the most suitable for your own needs. If you have any thoughts, feel free to share them in the comments section below. And, as always, best of luck on your eCommerce journey!
Website Support
& Maintenance Services
Make sure your store is not only in good shape but also thriving with a professional team yet at an affordable price.
Get Started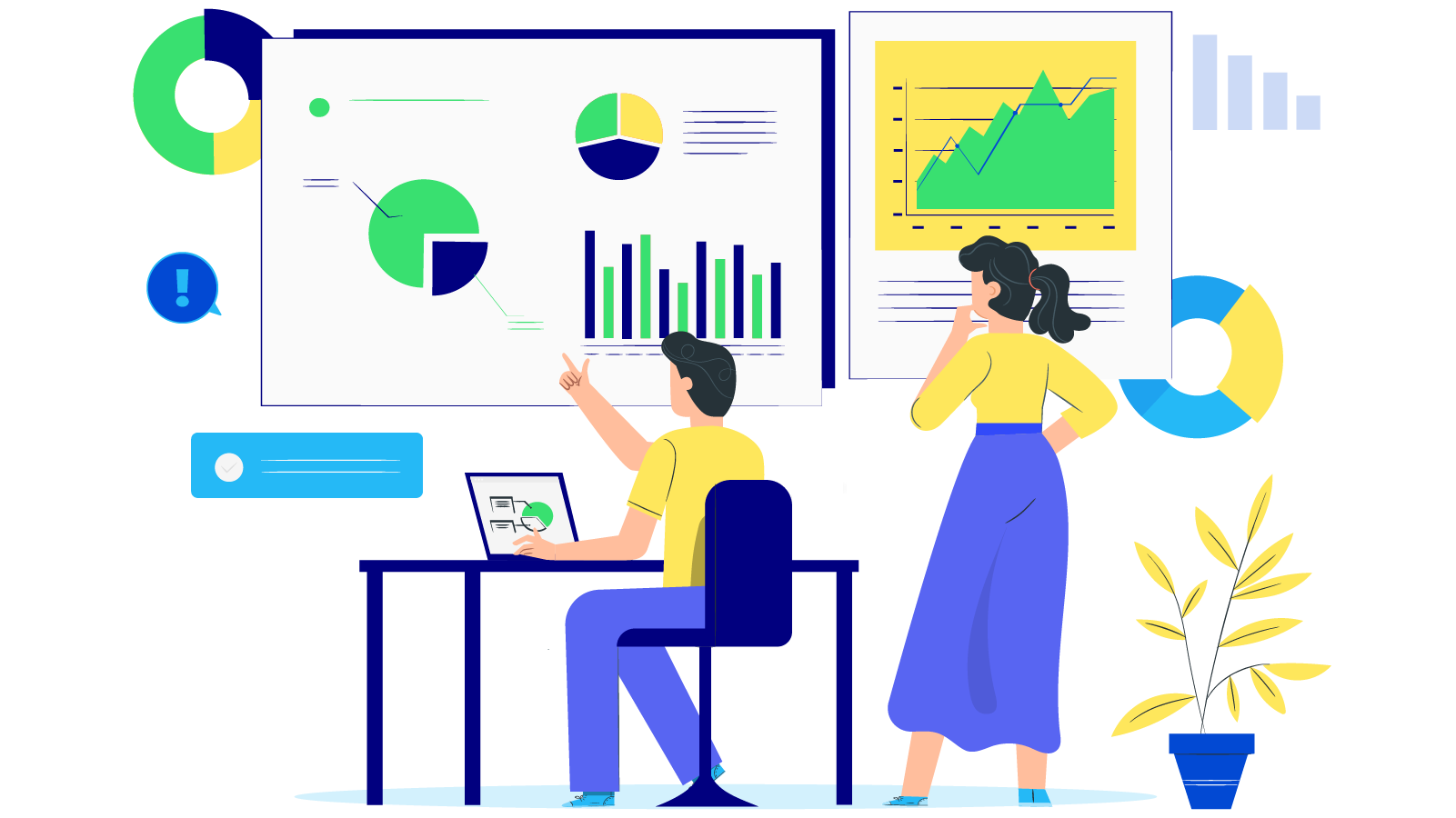 ---
---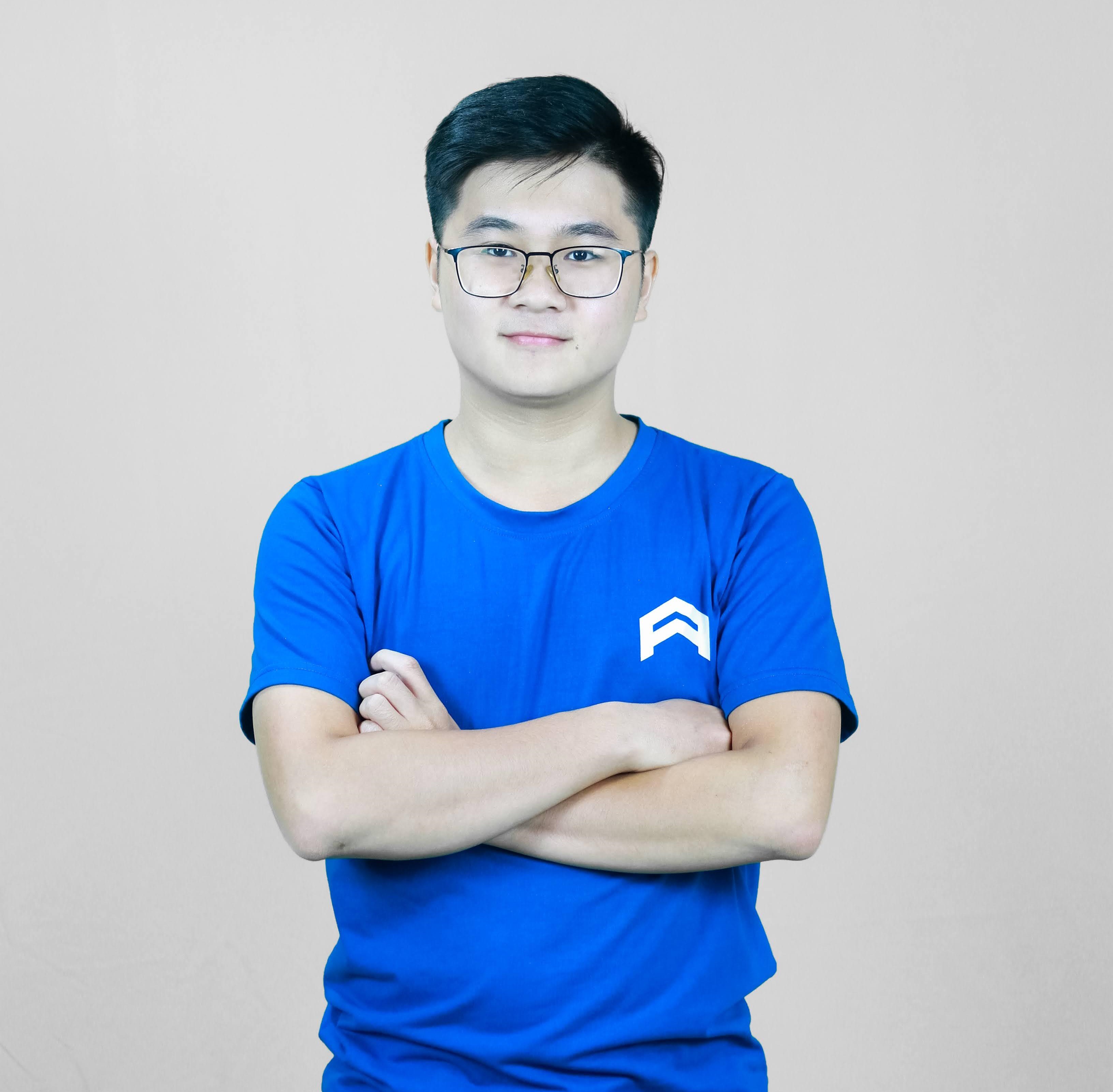 As the CTO of Avada, a company specializing in Marketing Automation Platform, I have over 10 years of experience in software development. I have successfully led Avada's technical team in creating innovative products for our clients.
New Posts



Subscribe
Stay in the know
Get special offers on the latest news from Mageplaza.
Earn $10 in reward now!