Top 11+ Best Free Website Builders to Choose
The Most Popular Extension Builder for

Magento 2
With a big catalog of 224+ extensions for your online store
Having a business website is undoubtedly critical in today's digital ecosystem. It's almost impossible for an enterprise to succeed without setting up some digital presence, no matter if it is a website, blog, social media channel, or local listings online.
But you might think that there is no such thing as a free lunch, right? But a free website builder? Yes, that we can help you with!
In this guide, we've compiled the 11+ best free website builders, so you don't need to spend a fortune to establish a spectacular website!
Ready to explore?
Let's get started!
Table of Contents
What is a website builder?
A website builder is a platform or tool that allows you to construct a website without having to design it or write any code lines.
A site builder is typically engineered to have a user-friendly interface, with a number of drag-and-drop functionality, preset styles, and templates to choose from. In this way, you can start creating your layout, style, and integrating your brand's elements and content through a bit of invested time and some pointed tutorials.
Website builders typically exist in both online and offline formats, and the main difference lies in an internet connection.
Online website builder. Instead of downloading any builder's software, an online website builder is hosted on the cloud, which you can access anywhere and anytime with an internet connection.

Offline website builder. Offline builders work as downloadable software programs, where your computer hosts your files until you are ready to upload them to your web host. In reality, you can work on your site offline, but it will require a little more technical know-how and experience. Besides, you need a plan from a web host, which you need to buy separately.
A website builder basically works like this:
From your website builder's library, select a template that best fits your needs.
Edit the template's built-in elements.
Add your own content (texts, images, videos, and social buttons) to personalize your site.
Publish!
Benefits of using a website builder for your business
Reduced time
Designing your own website or hiring a website developer both have the same drawback: it takes a lot of time to get the finished product ready.
If you design your own website, you need to spend a lot of time writing code and testing to ensure it works properly. Or if you hire a website developer, he most likely has other clients, which means you might have to wait several weeks for your finished website.
Meanwhile, a website builder can create a viable, good-looking, and functional site in a matter of hours.
Reduced cost
It's no surprise that it's far cheaper to utilize a savvy website builder than hire a web developer or do the work on your behalf.
Some website builders are free, while some cost $5-$40 a month, and some come free with other services like Artkai you need, such as hosting. In any case, the cost of a website builder is much easier to fit into a tight budget than bringing on a skilled professional.
Less room for errors
As the website builder is pre-coded, there is less room for errors. The pieces you add together will work because they are designed to complement one another. You are not creating new "pieces of a website" with the hope that they integrate perfectly; you are incorporating pieces that have been tested countless times before.
Little technical or design skills required
Let's face it - we are not all computer whizzes. And that's fine!
You don't need to be a web dev professional, graphic design guru, or even understand HTML to use a website builder. One outstanding point of website builders is their template catalog. These templates come integrated with crisp designs, color theory, and functional processes. They do most of the work so that you don't have to.
Low maintenance hassle
As your business grows, your website also needs to evolve, whether it's updating content, including more pages, or adding more products to your inventory. Thanks to the website builder's drag and drop editor and user-friendly interface, making changes and updates to your website is easy.
More options and flexibility
You're worried that you will get stuck with a cookie-cutter site that looks like every other .com out there? Don't.
An excellent website builder helps you stand out from the crowd. With a comprehensive range of choices, layouts, attractive design elements, and customization options, you can make yours one of a kind.
In addition to selecting from a wide range of starter templates, you can also decide on:
Fonts
Backgrounds
Color options
Formatting
Elements to include on each page (texts, images, videos, mailing list sign-ups, social share buttons, CTA buttons, etc.)
The placement of those elements
7 criteria for a good free website builder
What makes a good website builder is often subjective due to the needs and experience of the user. However, there are several ubiquitous characteristics shared by website builders that most everyone agrees are measurements of their quality.
You can find the essential features below:
Ease of use
A good website builder is supposed to make the process of setting up a website easy. When you're hesitating among many choices, make sure you select one that has an intuitive editing tool so you can quickly shape your website to look and feel how you want it to.
Drag-and-drop functionality is a useful feature to look for, as you can move elements of the page around with a few clicks - something anyone can do, regardless of their level of web design experience.
Moreover, the editing tool should include features that allow you to add new content, change colors, and upload any media without any new skills.
High-quality templates
As a matter of fact, your audiences can spot a cheap-looking website from a mile away. This is your chance to create a strong first impression, so pick a website builder with clean, modern, mobile-friendly, and customizable designs. In general, website builders involve a focus audience in the creation of website templates in order to take into account the opinion of the audience already at the stage of developing templates.
Customization options
Templates and themes are great for making the website creation process more accessible, but you want to make those things unique. A good website builder needs to provide plenty of options to customize your website.
You are able to add new pages, upload your own images, change colors, add buttons, and icons in the shapes and sizes you desire. The point is to create something that represents your specific brand. So, go with a website builder that gives you a spacious room to customize the template you pick to turn it into something wholly yours.
Responsive options
It's hard to know exactly which devices that people browse your website. For your website to work well on every device, it needs to be mobile-friendly. And the best way to do that is to build a responsive website.
The website builder you go with had better offer an easy way to make your site responsive. All elements should be automatically arranged to make them look good on whatever screen size a visitor views them on.
Related topic: 25+ Best Magento Responsive Themes
Analytics and SEO tools
One of the most critical facets of a company's growth is keeping track of their performance on the web. Nowadays, with analytical tools, business owners can track every interaction a potential customer has with their website.
Moreover, Search Engine Optimization (SEO) tools assist with visibility on search engines, which means a company has a greater likelihood of "popping up" on a given search.
That brings us to our next point: a great website builder should integrate these elements and work to explain them to the user.
Social share features
A best-case scenario is that customers connect with you in more ways than one. Your site builder should enable you to link to and display social media icons to help visitors - whether they are Facebookers, Instagrammers, or Tweeters - engage with you further. Make sure whatever builder you select can seamlessly integrate your social media platforms.
Related topic: 10 Best Free Social Media Management Tools for Business
Good customer support
In case you face any issues while crafting your website, or once it goes live, you want to get ahold of someone to help fast. Find a website builder that offers 24/7 support and has a reputation for being helpful when customers need it.
Hopefully, you won't ever need customer support, but it's necessary to know it's there and reliable if you ever do.
Top 11+ best free website builders to choose
1. Shopify
Back in 2004, a German youngster living in Canada decided to sell snowboards online. He set up his own E-commerce solution and soon realized that others could also use it.
Fast-forward several years, and Shopify has become one of the best E-commerce tools on the market today with over 800,000 online stores, offices around the world, $63 billion worth of sales, and more than 3,000 employees.
Shopify is the fast-and-easy website builder tool for E-commerce - after you choose your theme, there is very little design and customization, for better or worse. In reality, Shopify is built for people who want to focus on more business than site-building. It offers all the features a retailer needs, like promotion capabilities and upsells options, but its design options are a bare minimum. The templates look attractive enough, but Shopify is not for you if you love a site with an original or unique appearance.
Pros:
User-friendly interface
Lightning-quick setup (although it will take longer if you have a lot of products)
All the sales features you require, some built-in and the rest available via add-ons
An all-inclusive package includes hosting
Great for social media integration
High customer satisfaction scores
24/7 phone support
Cons:
Not ideal for customization, due to limited design options and templates
Shopify charges a transaction fee unless you use Shopify Payments (not available everywhere)
Content doesn't automatically reformat when you switch themes
Apps can add up as you add extra features and become costly
Pricing plans:
Basic Shopify: $39/ month
Shopify: $105/ month
Advanced Shopify: $399/ month
Shopify Plus: $2,000-$40,000/ month
Recommended for:
Serious retailers that want to focus on sales rather than design
New sellers or amateur that get their wet feet in E-commerce
Learn more:
2. BigCommerce
First founded as an Australian company by two Texans, BigCommerce rapidly expanded their presence to San Francisco, Austin, and London. Until now, BigCommerce has powered more than 100,000 stores and has generated sales of over $17 billion, making it one of the biggest E-commerce platforms in the world.
BigCommerce is specifically designed for big retailers, so new stores and startups would be paying for features and extras they don't need and can't use. But for most retail enterprises, it has everything.
Pros:
Most scalable website builder
More built-in features than any competitor
No transaction fees
Solid SEO features
Advanced sales options such as cart abandonment tools, product reviews, and coupons
Unlimited product variants
Cons:
Steep learning curve
Expensive
Pricing plans:
Basic: $29.95/ month
Plus: $79.95/ month
Pro: $249.95/ month
Recommended for:
Established E-commerce brands looking to expand
Enterprise retailers
Read more: Magento 2 vs. BigCommerce: Which One is Better?
3. Squarespace
If you desire to create professional websites, Squarespace should be your very first option. This builder has the best quality features and designs on the market, and although it can take time to get used to, the final results are worth your patience.
Squarespace's latest version 7.1 introduces new features like a Cover Page Builder, Getty Images, and G Suite. Nevertheless, the most critical aspect is the editor's usability. It's now possible to edit live content without switching back and forth between the site manager and preview mode.
Pros:
A vast selection of out-of-the-box features
Excellent visuals and well-designed templates
Mobile-responsive templates
Available integrations with popular apps, including MailChimp, Open Table, and ChowNow
Mobile editor
24/7 customer support
Cons:
Lack of flexibility, as you can't install plugins or additional modules
Only 60 templates. Although you can add custom CSS to make your website look unique, it will require a bit of coding knowledge.
Pricing plans:
Personal: $12/ month (when paid annually)
Business: $18/ month (when paid annually)
Basic Commerce: $26/ month (when paid annually)
Advanced Commerce: $40/ month (when paid annually)
Recommended for: Artists, fashion designers, photographers, entrepreneurs, and anyone that loves design and wants their site to look as good as the content they are showing off online.
4. Duda
When the first iPhone made its mark to the public, Duda's founders had an idea of how essential mobile websites might become as a result. Established in 2008, this builder has specialized in, you guessed it, mobile sites.
However, Duda wants to be more than that. It combines robust team collaboration features with client management tools for rapidly building and monitoring multiple websites. After all, Duda is a solid middle ground between customization and convenience.
Pros:
Easy drag-and-drop editor
A fantastic range of widgets and apps
Excellent for multilingual websites
Thorough customization options (when compared to other "fast" builders)
More than 90 templates, most designed well
Cons:
Quite expensive plans
No app store available
Overwhelming interface with so much built-in functionality
Pricing plans:
Basic: $14/ month (when paid annually)
Team: $22/ month (when paid annually)
Agency: $44/ month (when paid annually)
Site For Life: $299
Recommended for:
Small businesses websites with interactive elements like videos, pop-ups, and promotions
Beginner business managers who want to dabble in design
5. Wix
Consistently ranked as one of the most outstanding website builders for small enterprises, Wix is the defending champion for good reasons. With a user-friendly interface and affordable pricing plans, Wix wins over website managers of many different business models and industries and powers over 110 million users worldwide.
The fully hosted platform offers a simple drag-and-drop editor, and an extensive collection of professional-looking templates that are well-suited for online stores, small businesses, or personal portfolios.
Pros:
Easy-to-use drag-and-drop functionality
Wide range of professional-looking templates
Attractive design options (e.g., animated effects)
Endless scope for customization
Majority of features are available on the free plan
Built-in Google Analytics and SEO tools to monitor your site
The all-inclusive package includes SSL (Secure Sockets Layer) and hosting
Cons:
A free plan domain name looks like this - accountname.wix.com/customname - which is not catchy enough
The free plan doesn't come ad-free, and each page of your site has a prominent Wix ad
You cannot change your template once your site goes live
It requires a slight learning curve
There is no live chat option
Pricing plans:
Free
Connect Domain plan (with ads): $4.50/ month
Combo plan: $8.50/ month
Unlimited plan: $12.50/ month
VIP plan: $24.50/ month
Recommended for:
People who desire to design their own website, but still need some guidance
Those with some web design experience that want a simple editor
Read more: Magento 2 vs. Wix: Which E-commerce Platform to Use for Online Store?
6. Weebly
This open-source SaaS offers domain registration, web hosting, web design, and E-commerce functions, making it suitable for businesses and startups. Weebly is a particularly flexible website builder, compatible with every platform and device, and indeed easy to get started.
Combine this ease of use with its excellent SEO tools, plus a lot of room for growth to scale your business, Weebly stands out as the best free website builder for small businesses. If you are in the USA, you can even sell from your free Weebly site, even though you need to pay a 3% transaction fee on each sale.
Pros:
Simple drag-and-drop functionality
A decent selection of mobile-responsive templates
Good SEO prompts - ideal for enterprises that want to be found via Google
A reasonable free plan domain name - yoursite.weebly.com
Thorough onboarding - a great help for first-timers
Inclusive package includes hosting and back-end support
Social media integration
More design features, such as sliders, contact forms, and photo galleries
An available App Center with additional features
Cons:
Limited features on the free plan
Pop-up ad in the left corner is quite distracting
Not as much creative freedom as Wix
Limited blogging tools
Pricing plans:
Free
Connect: $5/ month (when paid annually)
Pro: $12/ month (when paid annually)
Business: $25/ month (when paid annually)
Recommended for: people who love more design options, but still want something simple and user-friendly.
7. WordPress.com
Causing a slight degree of confusion, there are in fact two different versions of WordPress - WordPress.com and WordPress.org (read our beginners' guide).
While WordPress.org is specifically for anyone that is not scared of diving into technical terrain, Wordpress.com could be a great starting point for you to set up a website. You can build everything from a blog to a fully-fledged online store. You can also place assets like videos, contact forms, and embedded content on many WordPress pages.
WordPress provides an easy-to-understand back-end interface with minimal to no coding needed for those that are less experienced in web page building.
WordPress will show you many templates that you can preview and test out when you first get started. Once you choose a theme, WordPress will offer you a tutorial on how to edit your website. You can adjust your template at any time quite quickly.
If a template or the WordPress platform itself doesn't have something you are looking for, such as an intricate customer relationship management system, you can quickly get a plugin. A plugin is like an add-on feature, which is compatible with WordPress but generally managed by another company.
Pros:
Excellent website builder for blogs, especially the option to use extra SEO plugins like Yoast
Countless themes, features, and customization options
An enthusiastic community that offers tons of feedback and support
Best domain name format of any free plan
Cons:
The learning curve may be required
Limited range of plugins
Pricing plans:
Free
Personal: $4/ month (when paid annually)
Premium: $8/ month (when paid annually)
Business: $25/ month (when paid annually)
E-commerce: $45/ month (when paid annually)
Recommended for:
Businesses whose SEO and content strategies depend heavily on blogs
More experienced users, especially those with prior experience in WordPress
Designers that want the utmost customization at the cost of time
Explore more:
8. Boxmode
Boxmode offers everything you need to build your very own solid website in a specific business niche. It's not just an ordinary drag-and-drop website builder with a primitive set of tools. Once you try this scalable platform, you'll understand that it has much more compared to its competitors. Boxmode has a library of great integrated industry-specific tools, templates, and widgets to improve your website's performance.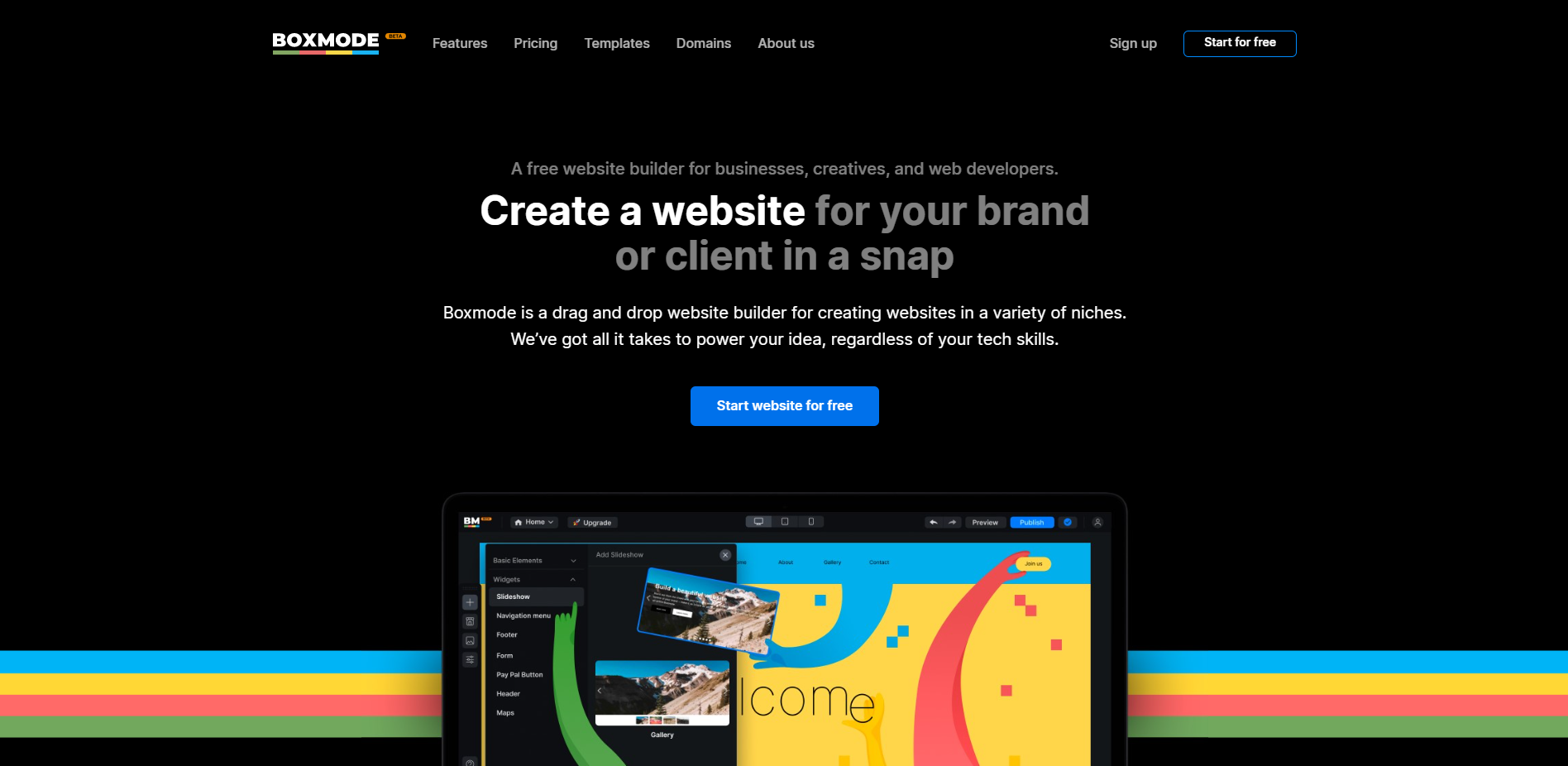 The scalable website building platform is designed as a community-driven targeted solution, a "cure" if you want, to "heal" pain points of businesses, web developers, and creatives alike. The dev team is constantly working on expanding the platform's functions. Unbox your online presence with Boxmode!
Pros:
Time-efficient website builder
User-friendly interface
Customizable widgets
Quick and easy setup
Can be integrated with Unsplash
Rich library of niche-specific templates
Strong supportive community
HTML iFrame
Cons:
No font-preview option
A small number of widgets
No data export feature
Pricing plans:
Free: free Boxmode domain, ready-to-use templates, SSL certificate, basic SEO settings, blog functionality, email support, 500MB of storage, unlimited bandwidth.
Lite ($4.5/month): free custom domain for 1 year, no Boxmode branding or ads, domain mapping, chat support, 1GB of storage.
Growth ($7.5/month): advanced SEO and marketing tools, project analytics tools, HTML iFrame, 5GB of storage.
Recommended for: Small growing businesses engaged in web design, marketing, real estate, eCommerce, education, fashion, health & beauty, restaurant business, and similar niches. It will also be a great fit for barbershops, churches, and portfolios.
9. Jimdo
Based in Germany, Jimdo is an excellent candidate for international companies, with options to generate a website in more than nine languages. Jimdo is compatible with mobile phones and tablets, and there is a mobile app you can use to establish a mobile-optimized site, as well.
With 500MB of space and no page limit, you are likely to have more than enough space to build your site. It even offers HTTP/SSL encryption, meaning that your visitor's information will be kept secure. You're also able to integrate your site seamlessly with social media accounts.
Pros:
Charges the least to remove ads from your site
No banner of pop-up ads, just a note in the footer
Available mobile app for Android and iOS
Passionate customer support team
Mobile-responsive templates
Cons:
Challenging to use drag-and-drop functionality
Email support only
Customization options are limited
No credit card gateway available, only manual payments or PayPal
Pricing plans:
Play: free
Start: $9/ month (when paid annually)
Grow: $15/ month (when paid annually)
Unlimited: $39/ month (when paid annually)
Recommended for:
Businesses or start-ups on a tight budget
Freelancers or users in general with no web design experience looking for small portfolio sites
10. TRIBE
If you want to build your e-commerce store at zero cost then Tribe is the best option for you. It is a customizable e-commerce platform built in the laravel framework. Tribe comes with a Drag and Drop CMS builder that allows you to design the front-end of your e-commerce store. Also, the platform is rich with advanced e-commerce features such as intuitive User-interface, shipping management, multilingual, multiple payment gateways, tax management, and many more.
This platform is SEO-friendly and has an easy learning curve. Unlike some other free e-commerce solutions, Tribe doesn't come with any transaction fees or recurring costs. The software is available at zero cost and there will be only charges for additional customizations.
Pros:
Zero Setup cost & recurring fees
Fully Customizable platform
Integration of social media accounts
Sell Unlimited Products
Marketing features such as discount coupons, product review, etc
Analytical reporting dashboard
SSL Authentication
Customer support team
Cons:
Mobile apps are missing
Themes are limited
Addons are not available
Pricing plans:
Support Service:- $12 USD/hr.
Design Service:- $15 USD for non-exclusive rights and $20 USD for Exclusive rights.
Migration Service:- 15 USD/ Hr
Recommended for: Entrepreneurs who want to commence their online e-commerce business with the right technology under the budget.
11. SITE123
Living up to its name, SITE123 allows you to build a complete site as quickly as one, two, three. The builder stands out as particularly helpful with its free image library, professional fonts, and creative DIY plans for generating multiple pages (which are unlimited).
As it offers web hosting domain registration, Google Analytics, 500MB storage space, and is ad-free, you won't feel pressured to switch to a premium plan.
Pros:
Easy and quick design interface suitable for beginners
Full access to the SEO settings
Plugin library for extra features
Stellar 24/7 help and support via live chat
The premium plan allows you to change the coding
Cons:
Free domain name ends with ".me," instead of the stronger ".com"
Limited choice of website templates
Little creative freedom
Basic designs and features only - nothing really outstanding
Pricing plans:
Free
Premium: $7.80/ month (when paid annually)
Recommended for: users who just want a simple site with basic functionality
12. Webnode
Webnode is a Swiss company launched in 2008 as a global website builder that focuses on "user-friendly, quality, and visual appeal." Webnode has helped more than 22 million users to create and launch websites.
Webnode is a popular choice for both professionals and personal brands - it's easy to use, and you can entirely create a website in a different language or on a different platform to suit your business's needs.
Pros:
Easy interface
Hundreds of basic templates to choose from
HTML/CSS coding available
Supports up to 20 languages
Compatible with Android, iOS, and Mac devices
Free statistics to track your site's success
Great for SEO
Excellent backup & restore feature
Cons:
Functional templates but not modern
Limited E-commerce features
Not ideal for advanced blogging
Limited ability to fine-tune the design
Pricing plans:
Free
Limited: $3.95/ month
Mini: $5.95/ month
Standard: $11.95/ month
Profi: $19.95/ month
Recommended for: Small company professionals, bloggers, online store owners who want to create a fast and easy website.
13. Mozello
Emerging in 2015 from Latvia to fight for a firm foothold in the increasingly competitive field of DIY website builders, Mozello is considered a young company. The focus of Mozello is on generating a minimalist tool that provides anyone looking to set up a website with all the crucial features they need to promote their business or brand.
Its infrastructure displays affordable cloud-hosting packages for newbie site builders. Pages are guaranteed to stay up and running even when a problem occurs in one location, thanks to simultaneous hosting on multiple servers in different datacenters.
Pros:
Allows users to create a multilingual site for free
Simple steps to set up a website
E-commerce feature is enabled on the free plan
Excellent contact form
Cons:
Limited customization options
Complex drag-and-drop system
No SSL security
Limited customer support
Pricing plans:
Free
Premium: $7/ month (when paid annually)
Premium Plus: $14/ month (when paid annually)
Recommended for:
Anyone looking to create a simple business website, blog, or online store, but don't have much experience
Businesses that want to build a multilingual site
14. WebStarts
Founded in 2007 by Adam Barger, WebStarts has become a leading website builder and hosting platform with a drag-and-drop editor.
In his bio on WebStarts, Adam Barger says that he was frustrated with the high cost and long wait times of having professional designers maintain his website, he went in search of a DIY website builder. He wants something that everyday people could create unique pages without knowing any line of code and without the harsh limitations of other site builders.
Best of all, whatever you see when designing is exactly what your audiences will see when you publish the site. This can certainly take some of the guess-work out of the process.
Pros:
An extensive collection of beautiful templates
User-friendly drag-and-drop interface
Available video tutorials for assistance
No cancellation fees
Includes analytics, email marketing, and business email
Cons:
Limited customer support
No money-back guarantee
Some features require extra costs
No mobile-optimized view on mobile devices on the free plan
Pricing plans:
Free
Pro Plus: $7.16/ month
Business: $19.99/ month
Recommended for:
Small business owners that desire to promote their online presence inexpensively
Brick-and-mortar businesses that want to extend their coverage to the Internet and attract more customers.
15. Strikingly
Specializing in one-page sites, Strikingly is a niche website builder that is not for everyone. However, with an in-depth editor and enthusiastic support team, it is a great choice for personalizing a simple website.
Thousands of websites have been launched through this builder, and users can start by selecting from countless templates contributed by site owners worldwide. You can find website designs suited for E-commerce stores, startups, blogs, events, product launches, and personal branding.
Pros:
Simple interface for beginners
An in-depth editor offers various customization options
Subtle advertising on the free plan
Excellent 24/7 customer service (called "Happiness Officers") via email or live chat
Ability to sell one product per free plan
Cons:
No SSL certificate on the free plan
One-page sites only
Limited ability to edit templates
Basic features only
Pricing plans:
Free
Limited: $8/ month
Pro: $16/ month
VIP: $49/ month
Recommended for: one-page sites like landing pages or quick explainers
16. GoDaddy
Although GoDaddy is well-known for its hosting and domain services, it also has its own website builder for users who want to purchase domains and design their site simultaneously.
In September 2019, GoDaddy introduced its new and improved website builder, called Websites + Marketing. It was a move away from its old editor, GoCentral, with a new emphasis on helping small business owners and enterprises grow their online presence.
Pros:
Lightning-fast site setup
User-friendly interface
Various customization options
Easy to add features like messaging and pop-ups
Website editor can be used on mobile devices
Unlimited storage on the free plan
Cons:
SEO is not exactly "optimal"
Limited live chat support
If you're serious about social media, SEO, and email marketing, you have to buy the premium plans
Pricing plans:
Free
Basic: $10 (when paid annually)
Standard: $15 (when paid annually)
Premium: $20 (when paid annually)
E-commerce: $25 (when paid annually)
Recommended for: those who want an easy site editor
17. IM Creator
IM Creator is still a relatively new face in the website building industry. Nevertheless, it clearly understands how to make a good first impression.
Founded by a former Wix employee, IM Creator has continuously struggled to reach the dizzying heights of the popular drag-and-drop platform. It even offers a Whitelabel plan called IM XPRS, allowing professional web designers to set up client websites.
Pros:
Eye-catching designs
A number of basic features
Students, NGOs, and charities can apply to use a premium and ad-free theme free of charge
Unlimited storage and bandwidth
Unlimited web hosting and domain services
Fully responsive and mobile-friendly
Cons:
The clunky domain name (im-creator.com/free/yourname/your site)
No E-commerce feature
Pricing plans:
Free
Premium: $8/ month
Unlimited licenses & Whitelabel: $350/ year
Recommended for:
Small businesses or personal projects
People who have an eye for design but lack coding experience
Professional designers, resellers, and hosting companies
The bottom line
There you have it! Since all of these 11+ website builders are free, try out a couple if you are not sure of the best fit. Besides, it's crucial to consider your own business needs to choose a perfect one.
Hopefully, this blog post helps you find the right solution for your business. If you know any other good free website builders that we haven't mentioned, please let us know in the comment box below!
Haley is a content creator at Mageplaza. When not working, she spends time on travel adventures, books, and food tasting. As growing up, she wants to read, learn, and experience more things to adapt herself to this ever-changing world.
Website Support
& Maintenance Services
Make sure your store is not only in good shape but also thriving with a professional team yet at an affordable price.
Get Started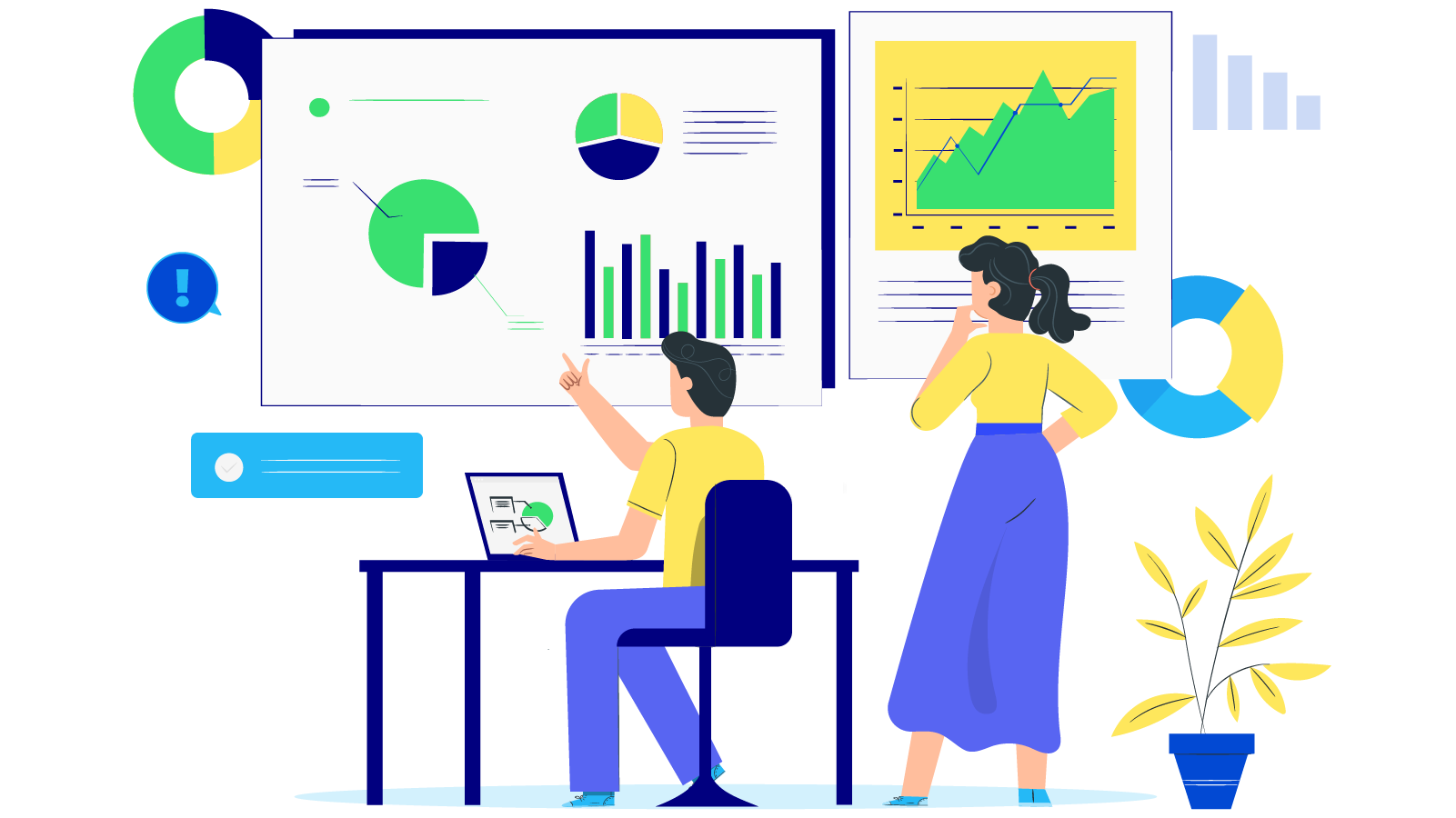 New Posts



Subscribe
Stay in the know
Get special offers on the latest news from Mageplaza.
Earn $10 in reward now!