Magento 2 Free Gifts allows store owners to offer free gifts with purchase - 'surprise and delight moment' attached with specific products. This module is an effective solution to build customers' retention and boost sales significantly for online retailers.
Buy to get the Holiday Shopping Season Guide & Checklist for free
You've just added this product to the cart:
Free Gifts
You've just added this product to the cart:
Free Gifts Pro
Benefits and Applications
Free gifts work as an additional incentive to motivate customers' purchasing behaviors.
It is common that the latest products which have just been released require more attraction from potential customers. One of the effective marketing strategies is the giveaway campaign. Attaching free gifts will help new products become outstanding and more attractive when coming out the market.
It is a good way to show the understanding of customer demand by offering personalized freebies. For example, customers who buy shower gel will feel satisfied when they get perfume gift with the same scent. Another way to provide personalization may be giveaways which are printed with customer's name, or offering a list of gift options.
According to Doug Guyer, co-Founder and President of IDR Marketing Partners, a network of over 700+ Online Retailers, relevant giveaways brings buyer "surprise and delight moment" which significantly leaves the profound impression on the buyers. These customers tend to rebuy and become loyal to online retailers. This is regarded as an ultimate "win-win scenario" for both sides.
The "surprise and delight moment" of free gifts also leads buyers to share their experience with their friends. In other words, this gives way to brand recognition and product association towards new potential customers.
Almost 90% of free gift receivers tend to buy more frequently from the online retailers.
65% of free gift receivers share their experience with others online, and about half offline
4 out of 5 American buyers share the gift-receiving experience with others offline about the shopping sites they visit.
"Buy one, get one", "two for the price of one", "two for one" or "2 for 1" is the common forms of this free-gift application. For example, a store encourage customer purchasing by offering the promotion "Buy MacBook Air get a free pair of Beats Solo3 Wireless headphones"
Getting a bargain is a very satisfying experience and customers often are attracted by a discount- particularly if the competitors are not offering the similar one. For example, buy iPhone XS Max get Apple Watch Series 4 with 50% off.
In this case, if a customer pays for X, he/she will gain a chance to select specific gifts from an available giveaways list. Because of receiving the preferred gifts by their own selection, customers will feel much more satisfied. For example, buy a MacBook Air, customers will be allowed to choose one gift from the list including Bag, Mouse and Headphone.
When the total of the purchase reaching a specific amount, the customer will be awarded a free gift. This encourages customers to collect their necessary items in one time to earn their winning reward. For example, one Chanel lipstick will the gift offering to the order with a total from USD300
Add unlimited free gifts
Magento 2 Free Gifts by Mageplaza allows store owners to create a diversity of free gifts with no quantity limitation. From the backend, admins can choose any available products to set as additional gifts. Besides, the number of gifts for each main item can be set freely.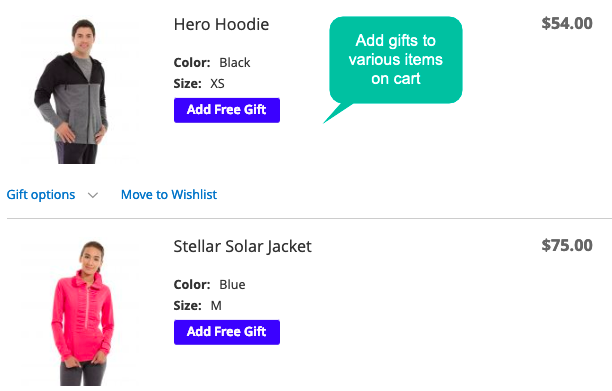 Rule-based free gifts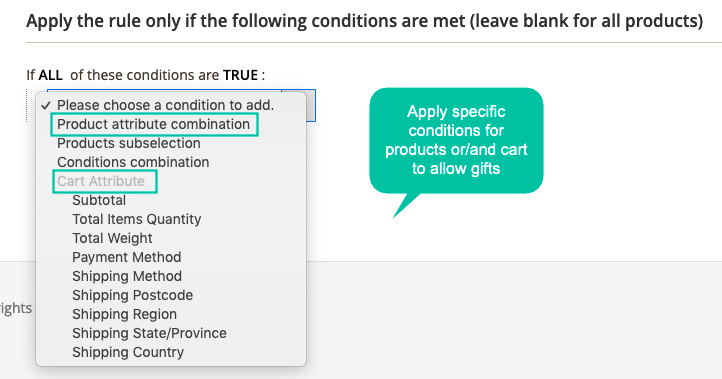 It is logical that to create a free gift a specific condition is needed. In this case, Mageplaza Free Gifts for Magento 2 assists admins to set rule for awarding gifts when a customer places particular products in the shopping carts. The rules can be classified into 3 types:
Set rules based on product attributes: Apply gifts based on product category, SKU and more. For example, get gifts (mouse/laptop case) for Laptop category, or for only Macbook.
Set rules based on cart attributes: This module allows approving gifts to products according to specific conditions of the cart. For example, with subtotal more than 100$, customers can get a free iPhone case.
The combination of both above cases.
Manually or Automatically add Gifts
Magento 2 Free Gifts extension by Mageplaza allows admins to choose the action for adding gifts: automatic or manual. In case, admins set automatic option, when customers add products to their carts, the gifts will be automatically added.
Otherwise, if the option is manual, the gifts will be manually added by customers by selecting gifts they want from an available list. Also, admins can set the number of gifts allowed to choose.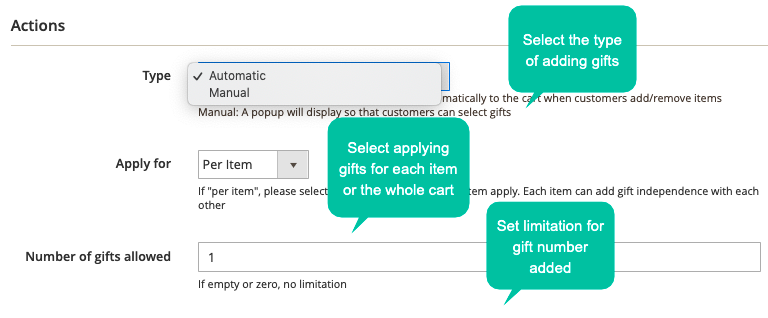 Easy to select attributes or change gifts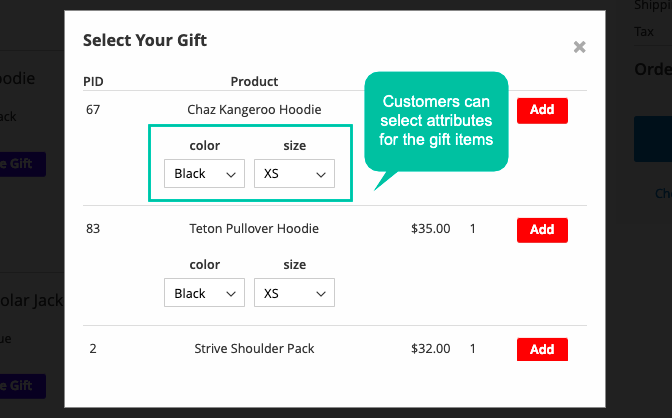 Not only do customers can choose their preferred gifts from an available list but they also can select attributes for the attributes of the gifts, for example, color and size. Besides, if later the customers change their mind, they can re-select gifts freely. This feature brings the flexibility and convenience for customers to gain their most satisfactory winning gifts.
Compatible with One Step Checkout
Magento 2 Free Gift by Mageplaza is properly compatible with M2 One Step Checkout extension. On the checkout page, customers can clearly notice the appearance of gifts added to the main items they have picked.
That both main and extra items are displayed in the shopping cart helps customers to manage their shopping cart easily.
Learn more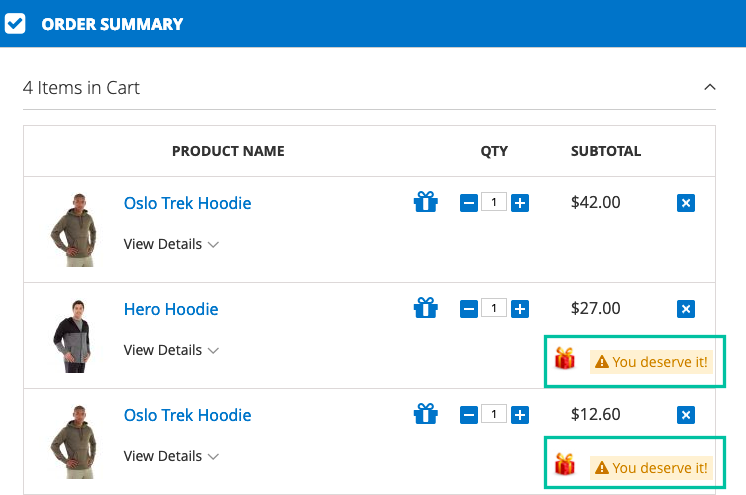 Full Free Gift Features
Free Gift for store admins
Gift rule setting
Set name for a rule
Enable/ Disable a rule
Set state for a rule
Set visibility for website or customer groups
Set timeframe for a rule
Set priority for a rule
Set cart conditions to apply a rule
Select action type for a rule: automatic or manual
Restrict the number of gifts
Show/ Hide a notice under gift item name
Three sales price type for a gift
Add gift information to a gift list: name, SKU, original price, sales, price type
Set to apply free shipping
Delete gift from the gift list
Compatible with Mageplaza extensions: Gift Card Module, Gift Wrap, OSC, Coupon Code...
General configuration
Enable/ Disable the extension
Select image for gift icon
Set content, button color, text color for message label
Rules management
View all rules via the management grid
Set status, state, visibility and priority to a rule from the management grid
Edit the details of a gift rule via the management grid
Free Gift for shoppers
Chances to win various types of gifts
Gain more benefits and satisfaction during shopping
Flexible to choose preferred gifts from an available list
Able to choose attributes of a gifts
Able to change and re-select gifts
Review all gifts right on the checkout page
FAQs
From the admin backend, you just need to configure the condition as follows: Create the rule with the condition as MacBook Air Category, then add the gift as Air Mouse.
Yes. You can do it easily. Firstly, you select the condition as " If an item is found in the cart with SKU as WJ04 (SKU of Ingrid Running Jacket)", then you add the gift as Diva Gym Tee with gift-price type as percent and gift price is 70%.
You can do it easily. Firstly, you select the condition as " If an item is found in the cart with SKU of Y", then you add the gifts as A, B, C with gift-price type as free.
You can do it by configuring the condition and action for this case. In the condition section, select Subtotal equals or greater than 500$. In the action section, add the gift list you allow them to select.
You can do this with ease by selecting condition: Shipping Country is Vietnam. After that, you add the selected gifts.
Yes, you can do this with ease. From the admin section, please select the condition Total items quantity as 4, then add the gifts you want to the gift list.
Can't find your feature?
Are you looking for a feature in Free Gifts. Tell Elle your wants and needs.
Chat with Elle
Are you an agency?
Do you often visit us for purchasing extensions and technical support? Speak to April to learn about your exclusive benefits on Mageplaza
Chat with April