Shopify


API Integration

Service
by Avada Commerce
Looking to streamline your Shopify store's operations and increase efficiency?
Our powerful Shopify API integration service can help automate workflows and seamlessly connect your store to your favorite tools and platforms!
Talk to us now!
Why is Avada Commerce your trusted choice?
Avada Commerce has proved its power in the Shopify app market with a huge number of merchants worldwide. As a part of Avada Commerce, Mageplaza believes that all clients will be satisfied with our Shopify services.
What is Shopify API integration?
Shopify API integration is the process of connecting your Shopify store with other platforms and tools using API (Application Programming Interface).
This process allows data to be shared smoothly between your Shopify store and other systems, such as an inventory management system, accounting software, or email marketing platform.
Shopify API also lets developers build custom integrations and apps that can extend your store's functionality and features.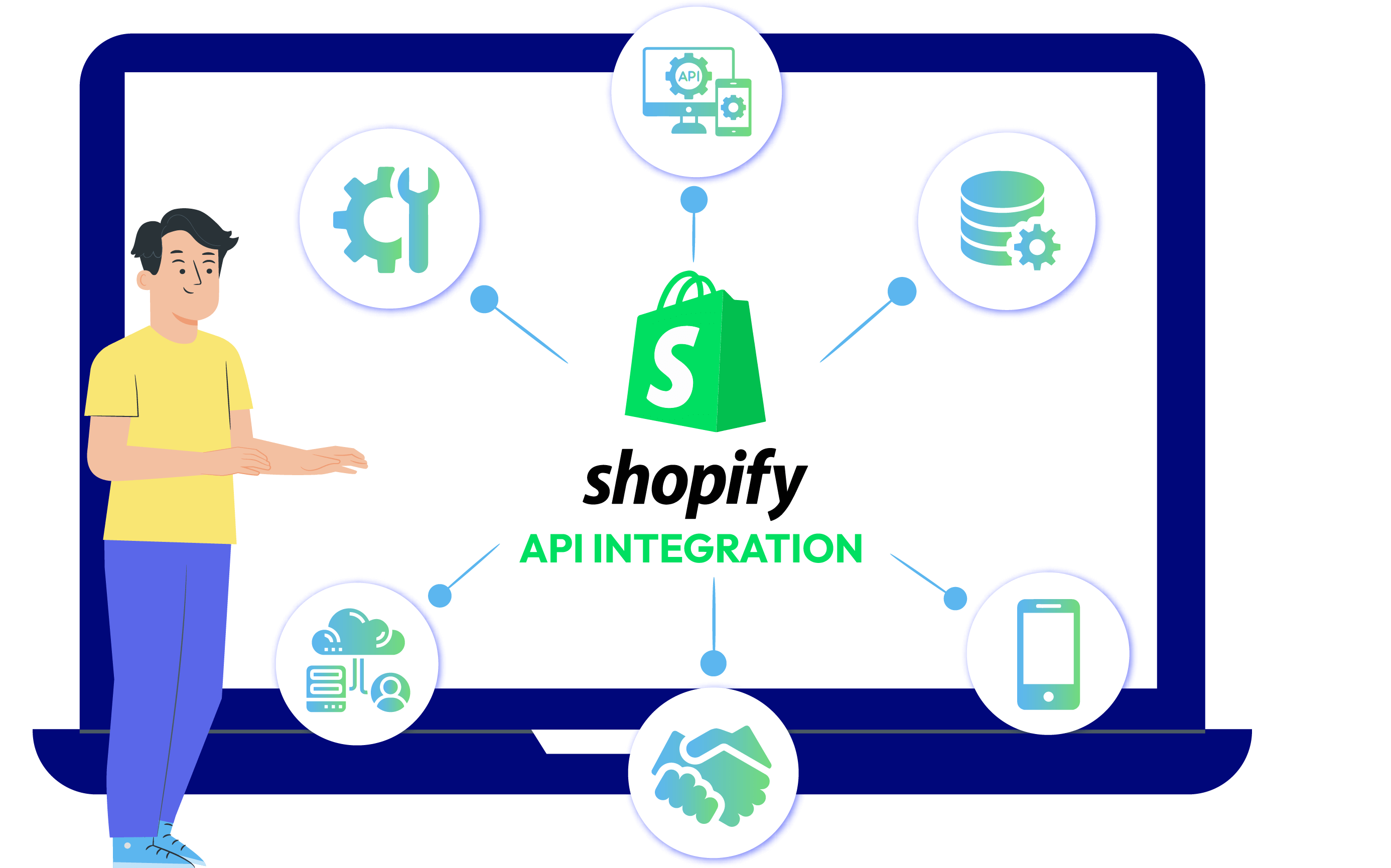 Benefits of Shopify API integrations
By using our Shopify API integration service, you can:
Sync orders in real-time across all your channels
Collect and manage customer data in one place
Automate tasks to create a smooth, effortless transition
Integrate with other platforms to streamline your business processes
Gain insights into your business operations and make informed decisions
Our Shopify API integration services
We offer a wide variety of Shopify API integrations for you. Try them today and make your business stand out from the crowd!
Inventory management integration
Inventory management integration helps you manage stock levels, track orders, and ensure timely and accurate fulfillment. As a result, you can avoid stockouts and backorders, improve customer satisfaction, and boost sales.
Shopify shipping API integration
With Shopify shipping API integration, you can create shipping labels, track shipments, and manage orders seamlessly. You'll save money on shipping costs and improve customer satisfaction with fast and reliable shipping.
Marketing integration
By connecting your store with email marketing, social media, and other marketing tools, you can send targeted and personalized campaigns, analyze data, and optimize strategies. It's easier to boost brand awareness, customer engagement, and sales.
Customer relationship management integration
With this common Shopify API integration example, you can manage and analyze customer data more efficiently. This integration helps you track customer behavior, segment customers, and personalize marketing campaigns.
Social media integration
Integrating your Shopify store with social media platforms can help you sell products directly on social channels and drive more traffic to your store. You'll reach new customers, engage with your audience, and grow your business.
Accounting and bookkeeping integration
This integration helps you streamline your bookkeeping processes, track your financials, and generate accurate reports. With accounting and bookkeeping integration, you can reduce manual data entry, save time, and avoid errors.
Payment gateways integration
You can accept credit card payments, PayPal, Apple Pay, and other payment methods seamlessly. Integrating your Shopify store with popular payment gateways helps you increase customer trust, reduce payment errors, and improve your overall sales.
Reporting integration
With reporting integration, you can track your sales, monitor your website traffic, and analyze customer behavior. This Shopify integration allows you to identify trends, spot opportunities, and make data-driven decisions to grow your business.
CMS integration
With a Shopify-CMS integration, you can manage and organize your content, including blog posts, product descriptions, and other website pages, while Shopify handles your e-commerce functionality, such as product inventory, payments, and shipping.
Which platforms do you want to integrate with your Shopify store?
We can help you with anything!
Our Shopify API integration process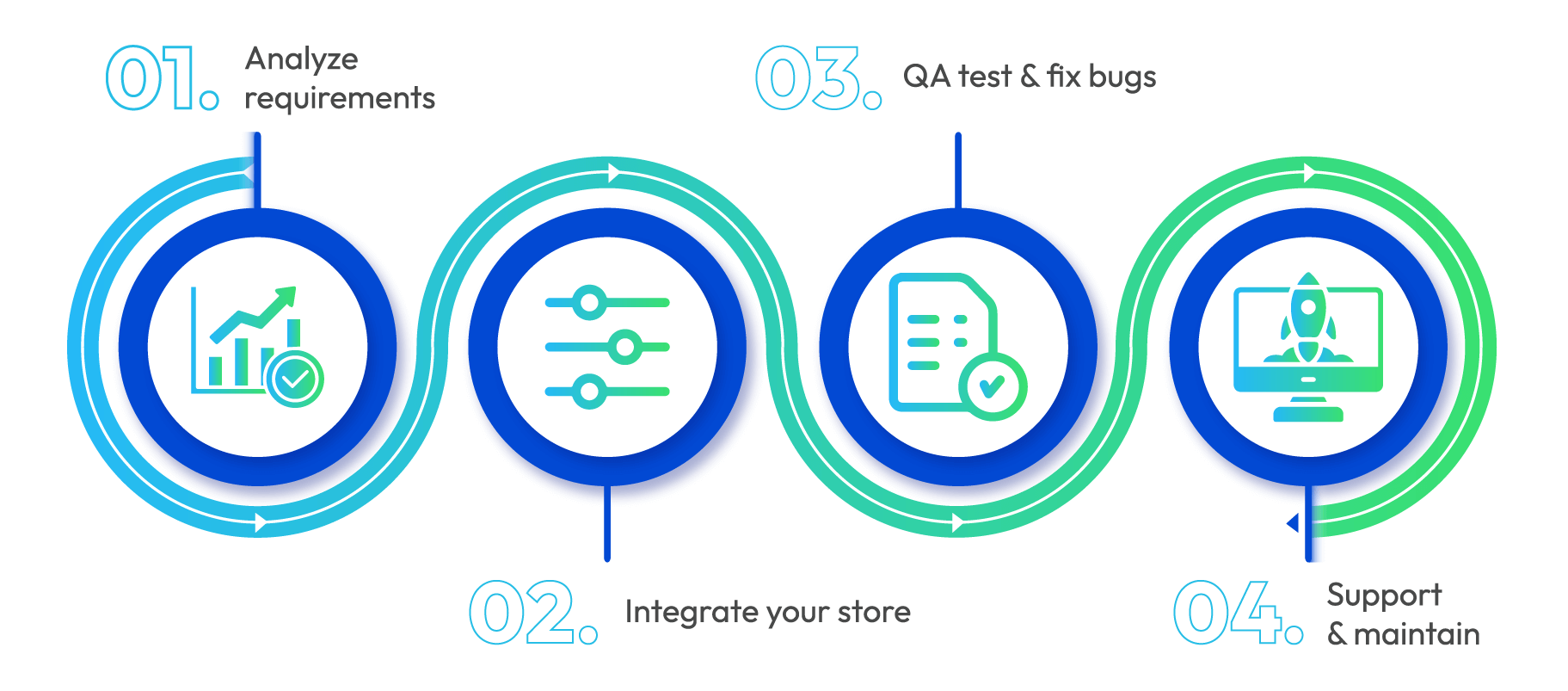 Why Mageplaza for Shopify API integrations?
Ensure the best of Shopify API integrations
When hiring us, you can rest assured of qualified developers and professional project management.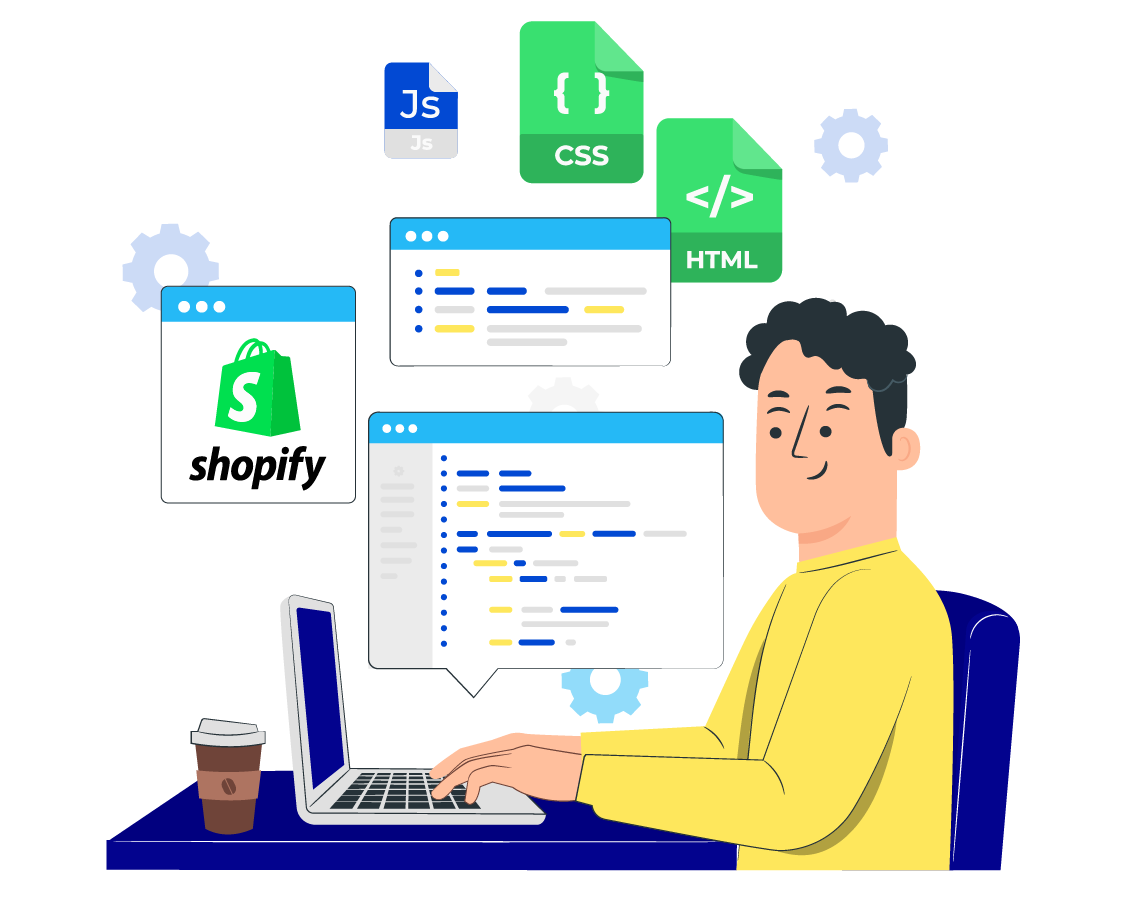 Integration experts
Mageplaza has years of experience in eCommerce and API integration. Our team of experts has helped numerous businesses integrate their Shopify stores with various platforms and systems.
Quality
At Mageplaza, we pride ourselves on providing high-quality integration services to our clients. We follow industry best practices, use the latest technologies, and ensure that our solutions are robust and reliable.
Quick turnaround time
We understand that time is money, and our solutions are designed to be delivered quickly and efficiently. We work closely with you to meet your timelines and deadlines, ensuring that you can start seeing the benefits of our Shopify API integration services as soon as possible.
Security
We take security seriously and ensure that our solutions are secure and compliant with industry standards. We'll sign NDA contracts to follow strict protocols and protect our client's data and systems.
Support
We provide FREE two-month support after the integration implementation. Our support team is available 24/7 to answer any questions, address any concerns, and provide technical assistance.
Cost-effective plans
We offer cost-effective plans that are designed to provide maximum value to clients. Our pricing is transparent, and there are no hidden fees or charges, ensuring that clients receive a fair and competitive price for our services.
Contact
Are you looking for Shopify API integration experts?
Integrate your Shopify with any third-party platform today! Speak with our experts now to discuss your specific business requirements.
Frequently asked questions (FAQs)
The time it takes to integrate Shopify with other platforms using Shopify API Integration Service depends on various factors, such as the complexity of the integration, the number of platforms involved, and the customization required. At Mageplaza, we work closely with our clients to understand their requirements and timelines and provide quick and efficient integration solutions.
The Shopify API price depends on various factors, such as your specific requirements, the complexity of the integration, the number of platforms involved, and the customization required. We offer cost-effective plans that are designed to provide maximum value to our clients. We provide transparent pricing, and there are no hidden fees or charges.
No, you don't need to have the technical knowledge to use Shopify API integration service. Most Shopify API integration companies will help you from A to Z. All you need to do is tell us your specific requirements, and we'll complete them as soon as possible!
Yes, your data is completely safe with our Shopify API integration service. We take data security seriously and use industry-standard security measures to protect your data. We also adhere to best practices and guidelines for data protection and privacy, ensuring that your data is safe and secure at all times.
And before implementing the API integration process, we'll sign NDA and other contracts to ensure that your data is well-protected.
Yes, integrating your warehouse management system with Shopify through API allows for automated inventory updates. By syncing inventory levels in real time, you can ensure accurate stock information is reflected on your website, avoiding overselling or stockouts.
Absolutely yes! This popular Shopify API integration example enables you to synchronize orders seamlessly with popular accounting software such as QuickBooks, Xero, or Sage. This integration streamlines the financial aspect of your business, ensuring accurate and up-to-date accounting records.
Yes, Shopify API integration allows for the integration of custom payment gateways. While Shopify offers numerous built-in payment options, if you have a specific payment gateway you prefer to use, it can be integrated with the help of developers or service providers experienced in Shopify API.
Yes, Shopify API integration supports real-time shipping rate calculation from various shipping carriers. By integrating with carriers like FedEx, UPS, or DHL, you can provide accurate shipping rates to your customers based on their location, package weight, and other relevant factors.
Yes, Shopify API integration allows you to track and fulfill orders from multiple sales channels. Whether you sell through your Shopify store, marketplaces like Amazon or eBay, or social media platforms, you can centralize order management and streamline fulfillment processes.
Yes, Mageplaza offers ongoing technical support after the integration is complete. This support can include troubleshooting, updates, maintenance, and addressing any issues that may arise with the integrated systems. Discuss the support options and service level agreements with us to ensure continuous assistance.