Shopify


Theme

Development
by Avada Commerce
If you want an aesthetic, captivating, and high-converting storefront for your Shopify site, you've come to the right place!
Welcome to our Shopify theme development services!
Talk to us now!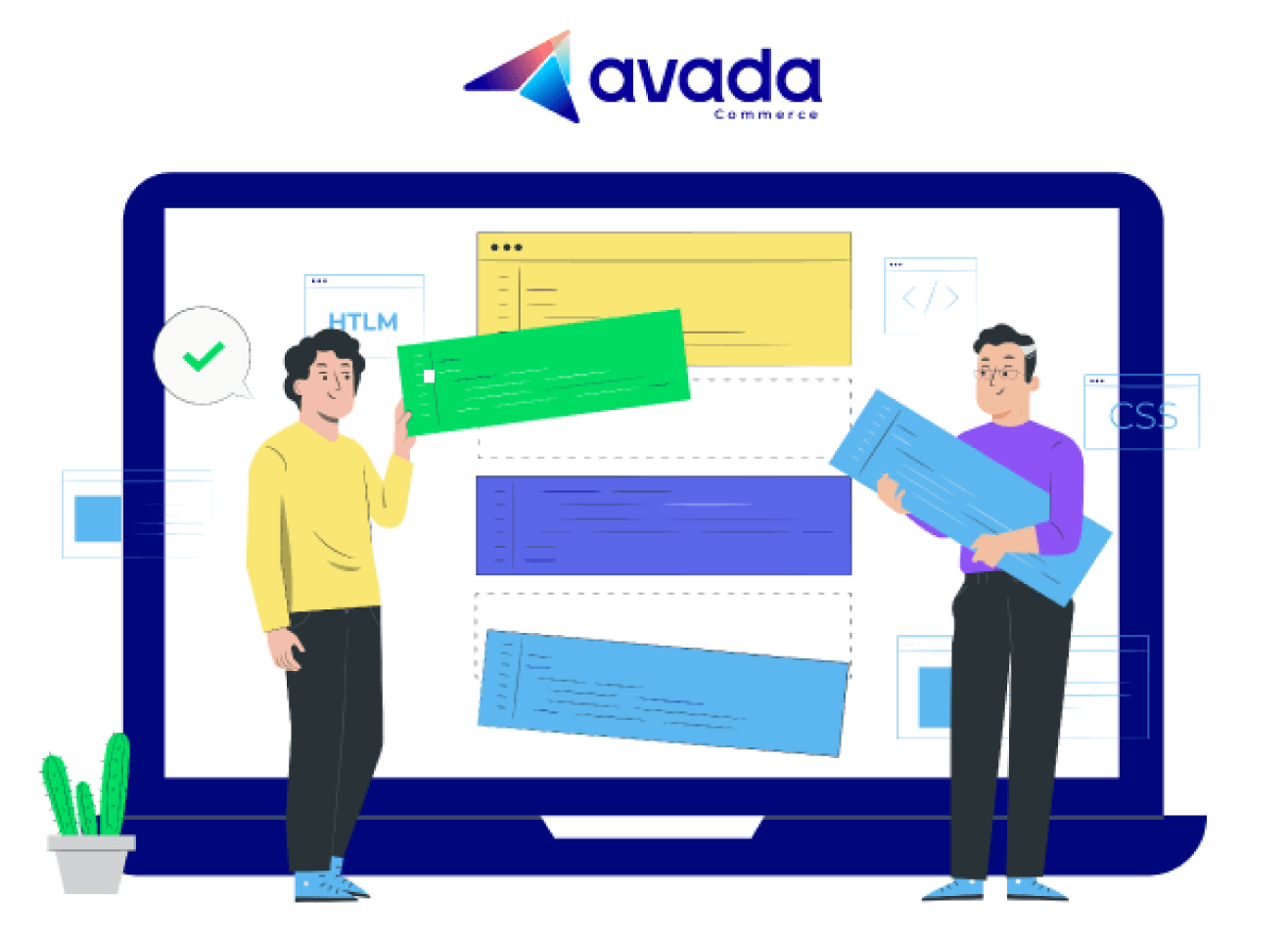 Why is Avada Commerce your trusted choice?
Avada Commerce has proved its power in the Shopify app market with a huge number of merchants worldwide. As a part of Avada Commerce, Mageplaza believes that all clients will be satisfied with our Shopify services.
Develop a pixel-perfect Shopify theme for your business
Are you tired of the age-old themes of your Shopify store? Are you planning to launch a new Shopify store with a unique look and feel?
If the answers are yes, you should seek help on Shopify custom theme development.
From making minor tweaks to existing Shopify themes to developing Shopify themes from scratch, our dedicated developers have you covered. In addition to working on your store's appearance, our Shopify theme developers focus on customizing it to deliver a better user experience and rocket your conversion rates.
Since 2014, our Shopify theme development company has empowered a number of clients across different industries. Will you be the next one?
Benefits of Shopify custom theme development
Custom Shopify theme development offers numerous benefits that can help enhance the performance and success of your online store. Some of the benefits of hiring our Shopify theme developers include:
Unique and personalized design
Shopify custom theme development allows you to create a unique design that matches your brand and business needs. As a result, you can stand out from competitors and establish a strong brand identity.
Improved user experience
Custom Shopify themes can be designed to optimize your store's user experiences. It'll help increase conversions, and reduce bounce rates, ultimately leading to more sales.
Enhanced functionality
Our experts will develop custom Shopify themes with advanced features and functionalities not available with standard Shopify themes. It can improve the overall performance of your store.
Faster load times
Custom Shopify themes come with efficient coding and streamlined assets, resulting in faster page load times. You'll enjoy enhanced user experiences and better search engine rankings.
Shopify theme development services
Shopify custom theme development by Mageplaza includes a wide range of services to elevate your website's performance, engagement, and conversion rates. Here are some of the main services for your Shopify store:
Want to build an awesome Shopify theme for your store?
We are just a form submission away!
Our theme development process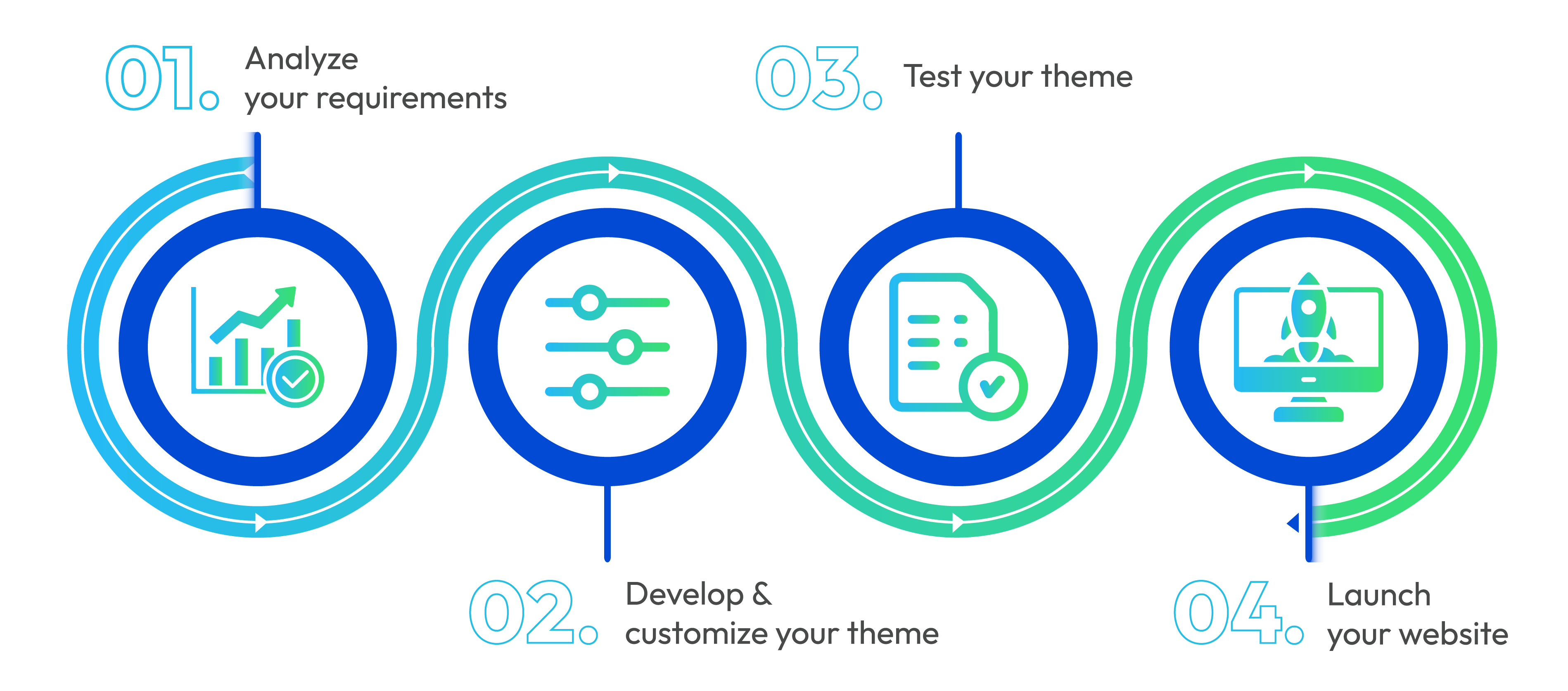 Why should you use our Shopify theme development services?
Our focus on customer satisfaction, quality, and innovation has earned us a reputation as a trusted and reliable Shopify development partner. Here are why you should trust our Shopify theme development services:
Expertise
Mageplaza has a team of experienced Shopify developers with extensive knowledge of Shopify's theme engine, HTML, CSS, and JavaScript. We can create custom Shopify themes that are optimized for performance, usability, and SEO.
Customization
Mageplaza offers a range of Shopify theme customization options to help clients create a store that reflects their brand identity. We can customize everything from the layout and design to the navigation menu and checkout process.
Responsive design
Mageplaza's Shopify themes are designed to be responsive, meaning they will look great on any device, whether it's a desktop computer, tablet, or smartphone.
Fast load times
Mageplaza's Shopify themes are optimized for fast load times, ensuring that your website loads quickly and efficiently for a better user experience and higher conversion rates.
SEO friendly
Mageplaza's Shopify themes are designed with SEO in mind, making it easier for clients to optimize their websites for search engines and improve their search engine rankings.
Quick turnaround time
Our Shopify developers work efficiently to launch your Shopify store as quickly as possible. We understand the importance of meeting deadlines and strive to deliver high-quality work in a timely manner.
Cost-effective plans
Our Shopify theme development services are cost-effective, as we offer a range of pricing options to suit different budgets. We also provide a fixed price quote for our services upfront, so clients can plan and budget accordingly.
Ongoing support
We not only develop Shopify themes but also support you after completing the task. We offer maintenance and updates to ensure that your website always runs smoothly and efficiently.
Technologies and tools
We always stay up-to-date with the latest trends and innovations in Shopify development, so you can be sure to receive the most advanced and effective solutions for your online store.
Contact
Let's make a new Shopify theme!
Our Shopify theme development services won't let you down! Leave us a message and we'll find a way to help you with any Shopify need.
Frequently asked questions (FAQs)
The cost of Shopify theme development services varies depending on the scope and complexity of the project. Mageplaza offers a range of pricing options for different budgets and requirements. Contact us now for a custom quote based on your specific needs.
The timeline for developing a custom Shopify theme depends on your requirements, the scope, and the complexity of the project. Mageplaza's team of developers will work efficiently to deliver high-quality work within a reasonable timeframe. You can contact us for a more specific estimate based on your project requirements.
Yes, Mageplaza's Shopify themes are designed to be responsive and optimized for all devices, including desktops, laptops, tablets, and smartphones. This ensures a seamless user experience and improved website performance.
Yes, you can make changes to your Shopify theme after it has been developed. Mageplaza offers ongoing support and maintenance services to ensure that your Shopify stores remain efficient and up-to-date.
The development progress will be updated regularly via email or via chat, whatever suits you the most. Our support team is available 16 hours per day, so you can ask for the latest information with ease.
Shopify Theme Development service ensures your online store stands out with a unique and professional design. It allows you to customize the appearance, layout, and functionality of your Shopify store to create a seamless and engaging shopping experience for your customers.
Yes, Shopify offers a range of pre-built themes and templates that you can use for your online store. However, if you want a fully customized and personalized design that reflects your brand identity, matches your specific requirements, and provides a unique user experience, opting for Shopify Theme Development service is recommended.