Edit Order for Magento 2
v1.0.1
Edit Order for Magento 2 brings a great improvement in editing orders with the pop-up support, avoiding page redirection and order cancellation. All information related to an order can be modified on only one page - the View Order page more quickly, easily and conveniently than ever!
You've just added this product to the cart:
Edit Order
You've just added this product to the cart:
Edit Order Pro
Problems and Solutions
In Magento Default, editing an order makes the order cancelled unexpectedly. This causes a lot of inconvenience in order management.
Because in Magento 2 Default, store admins are redirected to another page to make any changes in order information, this makes the process time-wasting and worsen admin experience.
Changing status of order manually while viewing order page is not possible in Magento 2.
In fact, for many reasons both from stores and customers, the store admins would like to change the billing/shipping address, shipping/ payment method to make order process more practical. For example, changing customer address requires changing billing/ shipping address and shipping method.
Edit Order extension process all edit actions via pop-up. Therefore, store admins are kept on View Order Page without any redirection
With Edit Order module, store admins can make changes to all details related to an order without any limitations. All order fields displayed on View Order Page are properly editable thanks to Edit Order.
The edit function is improved significantly improve the efficiency in order management and enhance admin experience.
Order edit via pop-up without cancellation
One of the most outstanding features of Edit Order is allowing to edit all information related to an order via Popup easily. All edit actions still keep store admins on View Order Page, not any redirection.
Therefore, this makes the update process become convenient and time-saving.
Most importantly, with Edit Order extension, the order is not cancelled after modification, the order ID is kept unchanged.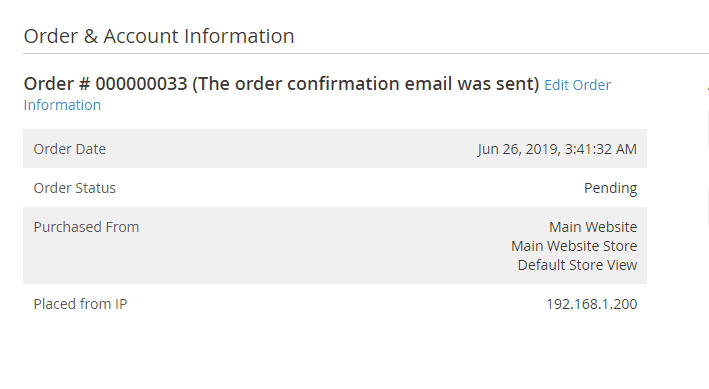 Easily modify order's general information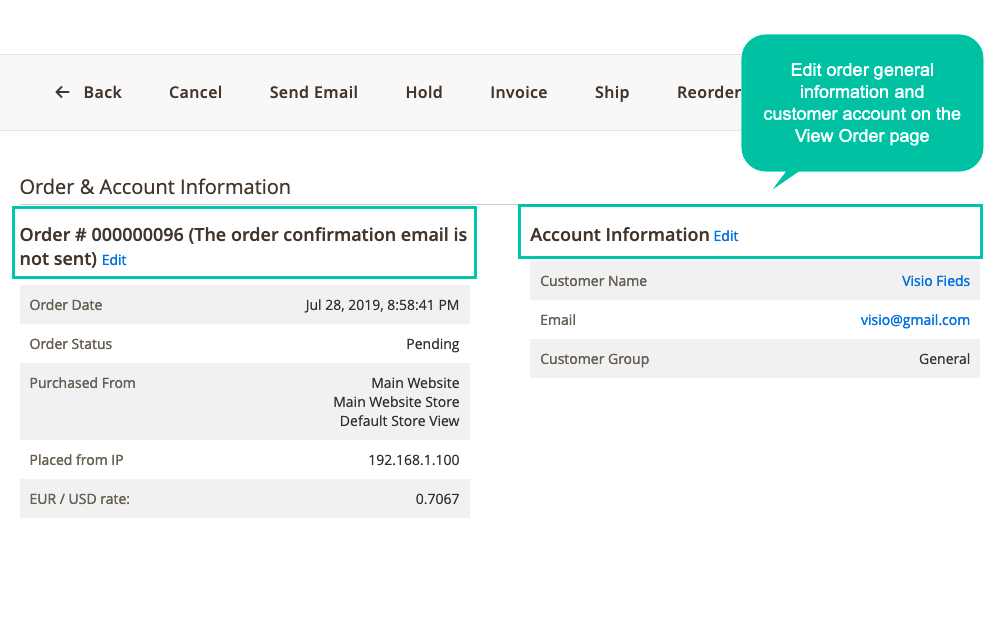 With Edit Order, the general information of order and customer account can be renewed easily. One click to show the editing popup, store admins can change order number, order date and order status quickly.
In addition, all key information of a customer account can be modified with ease including:
Name: name prefix, first name, middle name, last name, name suffix
Date of birth
Tax/ VAT number
Gender
Allow saving information to customer
Noticeably, admins can switch a customer to other customer group for specific reasons and purposes.
Edit order's billing & shipping addresses
The change of billing and shipping address occurs commonly to every online store. The reason for changing shipping address mostly is that the customer would like the order package to be shipped to another place. Meanwhile, the billing address modification often result from the connection of credit/debit card.
Edit Order extension supports store admins to renew this necessary information easily right on the View Order Page without any redirection or any complicated operations. The pop-up of all address fields facilitates successful modification.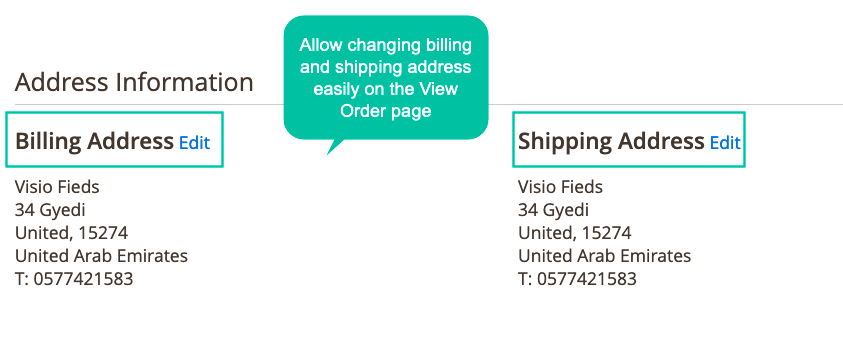 Change payment/shipment methods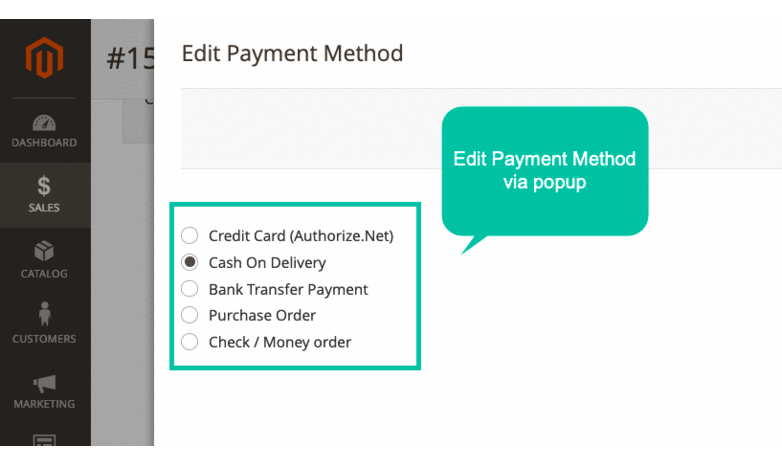 In fact, the update in payment method is very necessary in many circumstances for specific reasons related to stores and customers. With Edit Order extension, the payment method of an order can be changed quickly right on the backend view order page, without any redirection and cancellation. A list of payment choices are displayed on the popup, which allows the store admin to make change easily.
When shipping address has changed, it is logical to change the shipping method accordingly. Also on the View Order page, store admins can open the editting popup to modify shipping method via an available selection list.
Edit items ordered on View Order Page
Easy to update cart items of an order right on backend View Order Page without cancelling it. With one click, the editing popup appears and allows you to edit a shopping cart at the backend easily. Many modification with ordered items can be made easily:
Add or remove cart items
Update product price
Increase or decrease item quantity
Update tax
Update discount
The convenience of updating ordered items without cancellation facilitates store admins significantly.
All-in-one quick edit popup
Quick Edit function upgrades the convenience to the highest with once submit time to edit all components of an order via the only one popup. On View Order Page, Quick Edit button are ready to show you the all-in-one popup listing all order data fields.
The interesting feature is that all separate sections are gathered in one popup only. The collapsible list allows toggling between showing and hiding the collapsible editable fields. Then, all modifications can be saved with one and only submit click:
Edit order information
Edit customer information
Edit billing address
Edit shipping address
Edit payment method
Edit shipping method
Edit items ordered
Full Features List
General Configuration
Enable/ Disable the extension
Select order status to apply the extension
Edit Billing and Shipping Address
Edit billing address: customer name, company, address information, phone number, zip/ postal code, VAT number
Edit shipping address: recipient name, company, address information, phone number, zip/ postal code, VAT number
Edit Payment method and Shipping method
Select new payment method via a popup list
Select new shipping method via a popup list
Edit Logs
View all editing information: ID, Editor, Order Number, Overview Detail, Created Date, Action.
Access to Order View Page to re-edit
Edit Items Ordered
Add or remove cart items
Update product price
Increase or decrease item quantity
Update tax
Update discount
Quick Edit
Edit all order information via Quick Edit pop-up
Once submit time
Edit Order Information
Edit order order number
Edit order date
Edit order status
Edit Customer Information
Edit current customer or change customer
Edit customer name
Change customer group
Change customer's VAT number
Change customer's tax number
Change customer's Date of birth
Create account for guest customer
FAQs
All the information sections on the View Order page can be edited by the extension including: Order Information, Account Information, Billing Address, Shipping Address, Payment Method, Shipping Method, Item Ordered. In conclusion, every data related to an order can be modified right on one page by Edit Order extension.
No, the extension uses popup to edit information so you will be kept on the View Order page for any modification.
At the general configuration of the extension, you can select at the drop-down list any status you want.
Yes, definitely. Editing history is recorded at the Manage Logs section so you can view editor, order number, edited field, created date. Besides, you can view the details of each editing log.
Can't find your feature?
Are you looking for a feature in Edit Order. Tell Elle your wants and needs.
Chat with Elle
Are you an agency?
Do you often visit us for purchasing extensions and technical support? Speak to April to learn about your exclusive benefits on Mageplaza
Chat with April