10 Best eCommerce Platforms for Dropshipping in 2023 (+ Pricing)
The Most Popular Extension Builder for

Magento 2
With a big catalog of 224+ extensions for your online store
Selecting an appropriate eCommerce platform for dropshipping is the first step towards your successful journey. However, with numerous dropshipping platforms available, it can be challenging to make a decision. This article highlights 10 best eCommerce platforms for dropshipping in 2023 with user reviews and pricing to help you make an informed choice that aligns with your business needs.
Table of contents
Best eCommerce Platform for Dropshipping in 2023
Magento
Magento is an excellent choice for those entering the world of dropshipping. This eCommerce platform offers a wide array of powerful features and tools, making it easy to create a professional and visually appealing dropshipping store with an intuitive interface. It ensures smooth operations, delighting customers with exceptional online shopping experiences.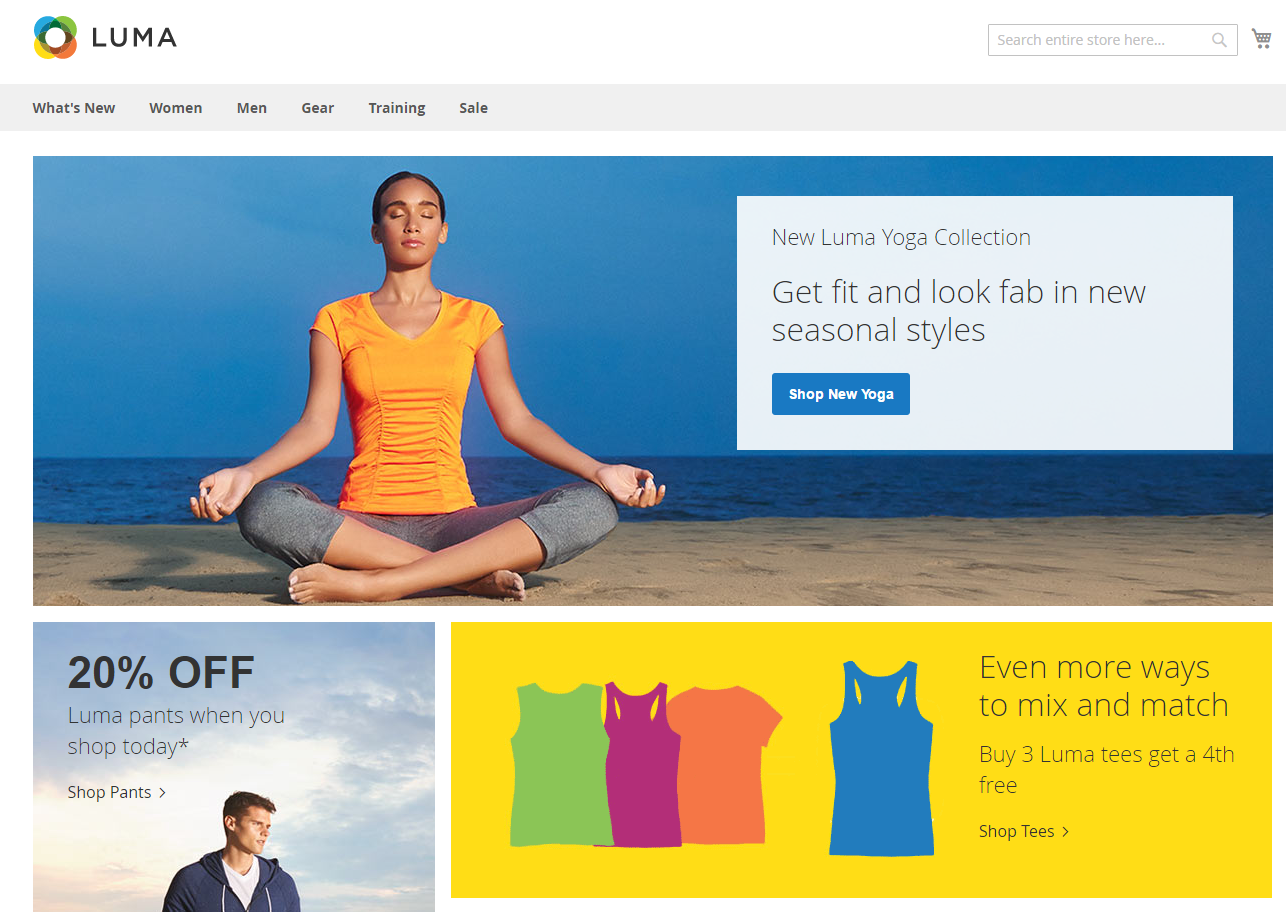 Several unique features that other platforms do not have. It would be remiss not to mention the multitude of features that Magento offers. This platform allows transactions across multiple stores and supports different locations, languages, and currencies. For example, you can adjust the price of a specific item based on existing customer data, using tracking tools to monitor customer purchasing trends.
Modify the source code to meet your requirements. Magento is one of the most robust and powerful self-hosted platforms available, enabling you to modify formats and achieve useful features tailored to specific requirements. Additionally, Magento permits to integrate source code for different purposes.
Offer a comprehensive set of SEO customization tools, making it easier for your dropshipping store to be found in the world of eCommerce. These tools include index management, granting control over which links are displayed on Google. Additionally, there are numerous other tools like variants of HTML/XML sitemaps, etc.
Automatically scalable to handle high traffic. When building an eCommerce platform for dropshipping, it's important to accommodate a significant number of customers on your website who browse, select, and purchase products. Magento 2 understands this and automatically enhances processing speed when a large number of users access the site.
Seamlessly integrate third-party services. The Magento Framework seamlessly integrates various third-party tools onto your website, including useful extensions, partner plugins, payment gateways, database software, delivery and order tracking apps, and more. This empowers dropshipping sellers to sell their products without concerns about fragmented or uncontrolled processes.
Pricing:
Magento Open Source: Free to use
Magento Commerce: From $1,988/month
Magento Commerce Cloud: From $2,800/month
WooCommerce
WooCommerce, a useful WordPress add-on, which comes at no cost, can be your ticket to transforming your website into an impressive eCommerce dropshipping shop. Many dropship sellers choose it because it's scalable and easy to customize. With WooCommerce, you can create a unique online store and handle different levels of traffic.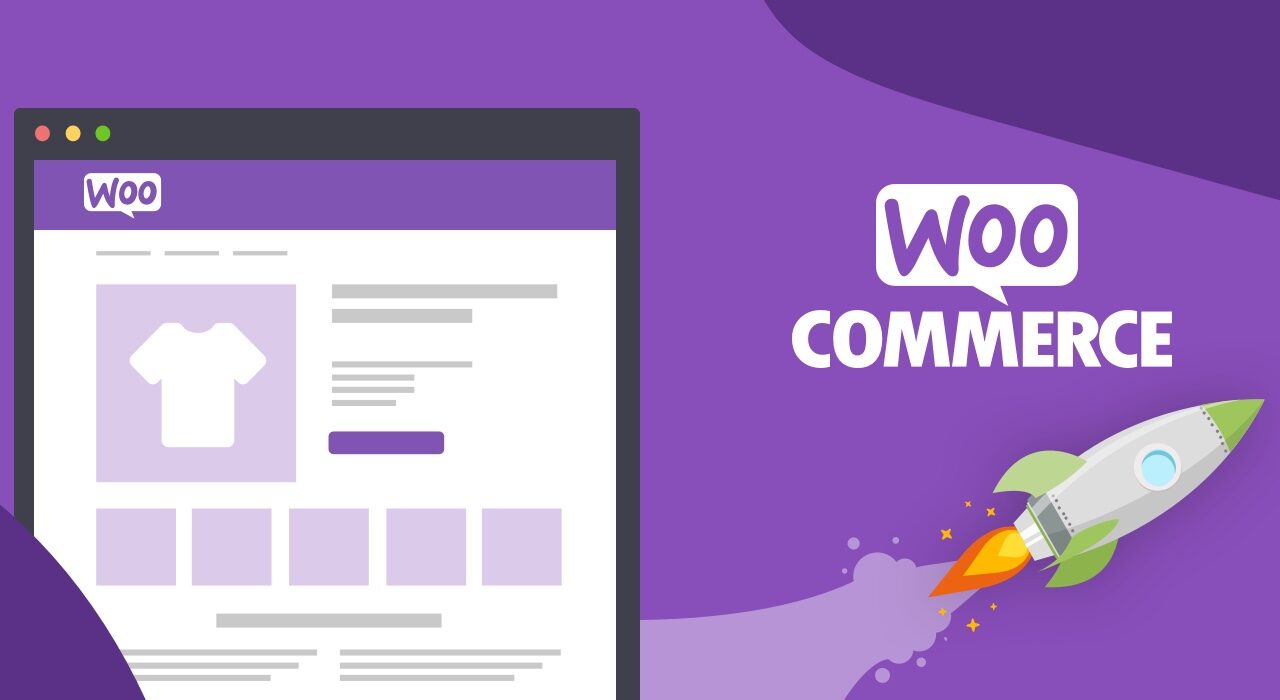 Own a vast online community. You can access WooCommerce's community to receive free support from experienced users or advice from them - something that might cost you a significant amount if you were to hire an expert for assistance. Additionally, there are numerous support forums and other resources provided directly by WordPress to ensure that you always receive answers to your questions and concerns.
Enjoy significant freedom in customization and control. Unlike some other well-known eCommerce platforms for dropshipping, with WooCommerce, your creative boundaries are expansive. You're free to customize and experiment to your heart's content, and notably, you maintain full ownership of your store throughout your journey.
Integrate analytics tools. WooCommerce provides an analytics suite for online merchants, displayed in a clear and intuitive interface. Businesses can seamlessly integrate WooCommerce with external analytics services such as Google Analytics to fine-tune and meet customer expectations.
Pricing:
Free to use
WP theme: $59 - $69 one-time
Plugins: From $25 each
Hosting server: $10 - $50/month
Domain: $10 – $20/year
BigCommerce
BigCommerce is one of the best eCommerce platforms for dropshipping due to its user-friendly interface, which makes it easier for users to establish and operate a new dropshipping store.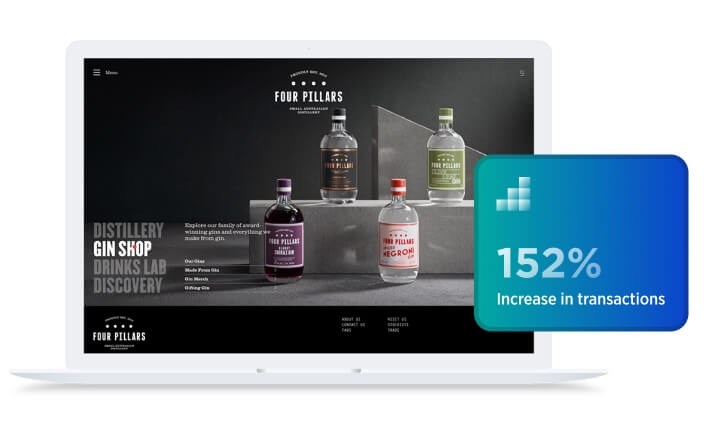 Design user-friendly for both tech-savvy and non-tech users. This eCommerce platform offers a variety of themes for dropshipping businesses to quickly build their own website and provides numerous tools for promotional campaigns.
Provide a wide range of essential features and tools built-in reducing reliance on third-party apps and plugins, which often come with extra costs. These features are optimized to enhance operational performance and simplify eCommerce management. Furthermore, BigCommerce offers its users the mobile app for more convenient management, tracking, and updates of their eCommerce site.
Provide advanced reporting and analytics tools are provided in all solution packages. BigCommerce's reports encompass customer, sales, financial, and marketing insights, among others. For businesses requiring more data, the platform offers a vast app library, enabling integration with third-party software.
Support for creating and managing multiple stores is available. This is especially beneficial for businesses engaged in dropshipping across various niches.
Pricing:
BigCommerce offers plans by month or by year (which will save you 25% compared to the monthly package).
Standard
Plus
Pro
Enterprise
Monthly
$39
$105
$399
Contact for custom pricing
Annual
$29
$79
$299
Shopify
Shopify has consistently been voted the best eCommerce platform for dropshipping because it is user-friendly and easy to use for new ventures. With its intuitive drag-and-drop interface, sellers can easily design their online stores. In addition, Shopify is a massive online dropshipping marketplace packed with a variety of built-in plugins and marketing tools.
Offer various intelligent and specialized management features specialized for dropshipping. With Shopify, creating an online store becomes a breeze thanks to its robust but easy to use features. You can customize the look, add products, and manage everything with drag-and-drop actions. The Admin interface is organized logically, so it helps you optimize your store.
Integrate omnichannel sales, but manage all these channels on a single interface. This allows seamless integration with various channels, such as Instagram, Facebook, Pinterest, Amazon, eBay, and more, enabling multi-channel selling without requiring an extensive workforce to manage all these sales channels.
Intuitively designed, beautiful, and easy to use. With hundreds of different themes available, ranging from free to visually stunning paid options, Shopify ensures your store looks inviting. Moreover, you can easily carry out tasks like product listing, order processing, and promotional program creation because this eCommerce platform does not require programming knowledge.
Impressive security and data backup capabilities. The Shopify platform operates on PCI (Peripheral Component Interconnect) compliant servers, enabling merchants to accept credit card payments securely. Secure Socket Layer (SSL) encryption is activated on all Shopify websites to safeguard visitor data. Additionally, the backup system empowers businesses to regularly store and preserve data by exporting it to CSV files.
Learn more: Top 16+ Best Shopify Themes for Dropshipping
Pricing:
You can choose between monthly or annual billing options.
Basic

(For individuals and small businesses)
Shopify

(For small businesses)
Advanced

(For medium and large businesses)
Monthly
$25
$65
$399
Annually
$19
$49
$299
Note:
You can get the first three months for only $1 each before deciding on a plan.
Different plans come with varying transaction fees, which is an important factor for dropshipping businesses to consider. You can evaluate the features of each package and their respective costs to determine the option that best fits your business's needs.
Shopify Custom Development Services
Turn your basic Shopify store into a powerful, sales-driven, and unbeatable selling tool with our custom development services.
Learn more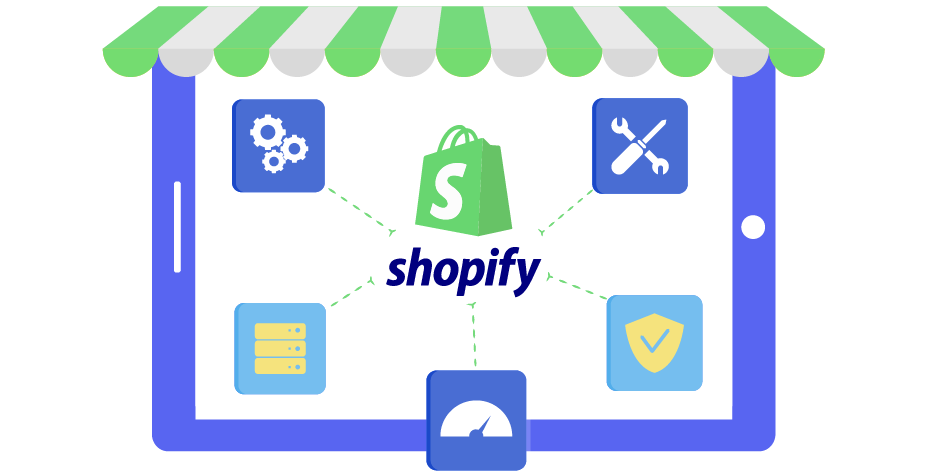 Shift4Shop
Shift4Shop is rated as the best eCommerce platform for dropshipping in terms of offering an unlimited free plan packed with premium features that others charge a premium for.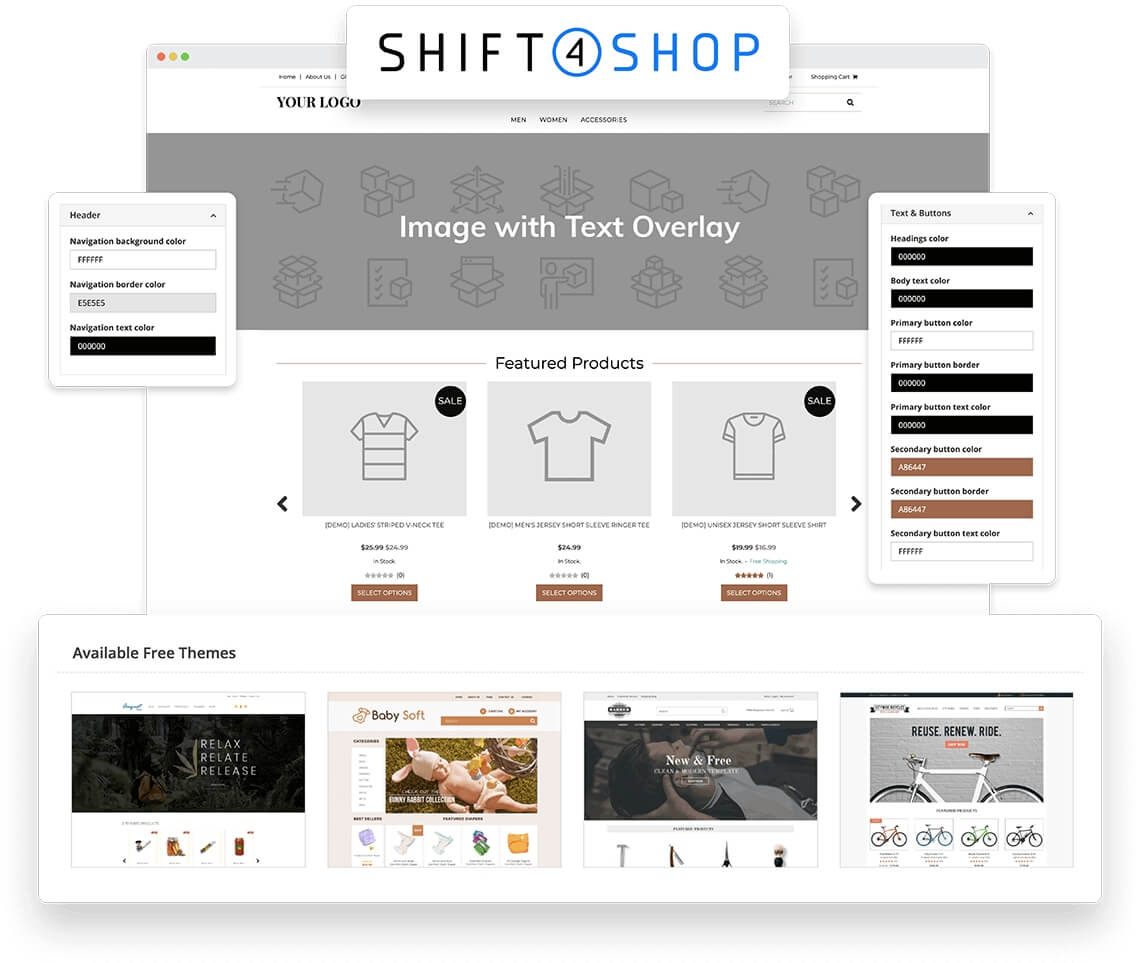 Packed with a range of functionalities, such as drag-and-drop capability, direct editing of HTML and CSS code, essential features, and advanced design tools.
Do not impose transaction fees on any of its packages, meaning you won't have to allocate extra funds for processing each online store transaction.
Provide advanced eCommerce features, such as wholesale customization and loyalty programs, even with their Basic package, and at a better price.
Pricing:
Enterprise-grade plan with unlimited access for $0 (as long as you process at least $500 per month).
New customer:start with PayPal for only $29 per month.
SquareSpace
What makes Squarespace one of the best eCommerce platforms for dropshipping is its empowerment of not only individuals but also small businesses, granting them the ability to transcend limited technical knowledge to create. Users simply need to focus on the aesthetics of their website and their core business, without the need for extensive coding expertise.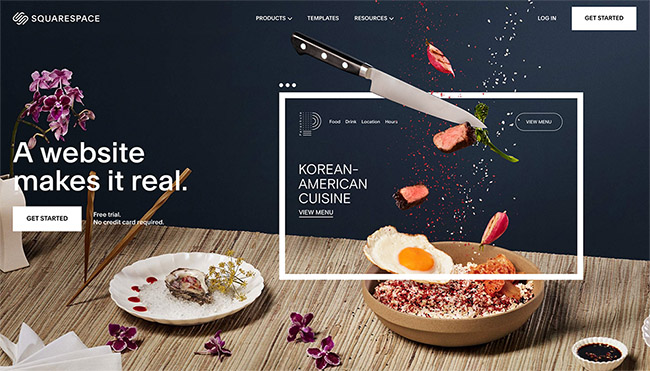 Easy website creation with numerous available design templates. Squarespace offers users a range of stunning and flexible website templates, along with features that allow customization of their site's interface. All of these templates are optimized to adapt to any mobile device's format.
Free custom domain. All annual Squarespace plans come with a free domain for the first year. After the initial year, Squarespace renews domain registration at the standard price plus applicable taxes.
Impressive blogging capabilities. Squarespace enables users to utilize multi-author functions, schedule posts, and rich commenting capabilities. You can also set up your blog for Apple Podcasts, Apple News, and similar services. Importantly, you can add and manage as many blogs as you want on your Squarespace page, a feature not present in other website-building tools.
Pricing:
For Squarespace, there are 2 options to choose: monthly or yearly payment (save 25-30%).
| | Personal | Business | Commerce | Advanced Commerce |
| --- | --- | --- | --- | --- |
| Pay Monthly | $23 | $33 | $36 | $65 |
| Pay Annually | $16 | $23 | $27 | $49 |
Zyro
Zyro is a rapidly growing eCommerce platform in the dropshipping market, despite being relatively new. It is considered the best eCommerce platform for dropshipping that targets users with limited knowledge of website creation by providing all the necessary tools for easy web building without requiring any coding. Zyro employs an intuitive interface and pre-built elements, or blocks, to arrange and create a visually appealing and vibrant website.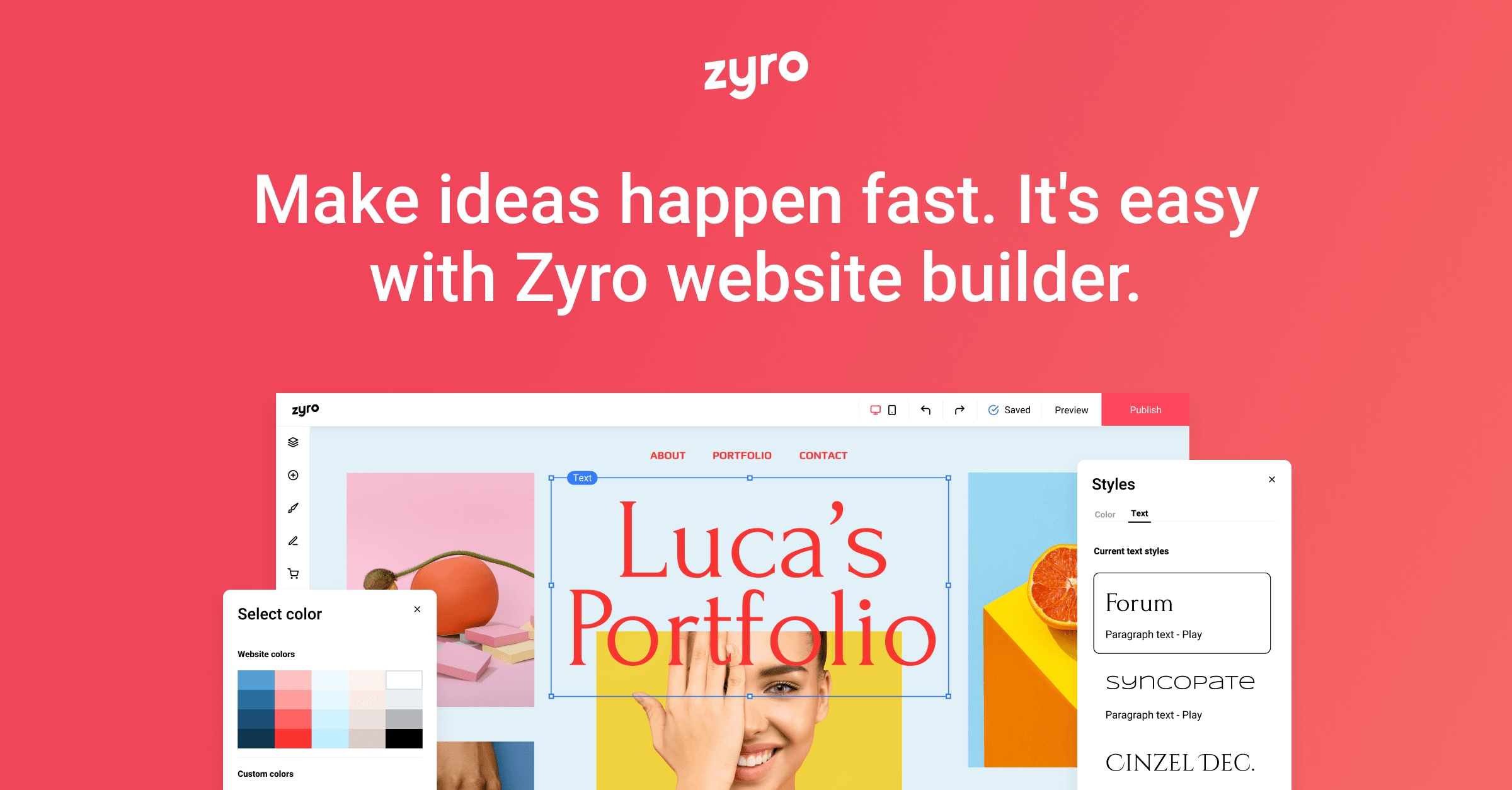 Provide AI-powered tools for intelligent analysis and task automation. This is something we haven't seen in other eCommerce platforms specialized for dropshipping. For instance, Zyro offers the AI Writer to craft topic-specific content for your website, and the AI Heatmap tool helps predict which parts of a page will capture visitors' attention. With these tools, you can save costs for your dropshipping store, while essential tasks run smoothly and efficiently.
Prioritize speed and availability. Every Zyro-created website benefits from Hostinger's advanced server infrastructure, one of the world's largest web hosting companies. Additionally, Zyro utilizes Cloudflare as a proxy, ensuring rapid response times across most regions worldwide.
Automatically adapt to both desktop and mobile devices. This eliminates the need to adjust for different devices. Moreover, Zyro offers plenty of pre-designed templates. All you need to do is drag, drop, and customize content using Zyro's user-friendly CMS interface.
Ample storage and bandwidth. Even Zyro's BASIC plan provides significantly higher limits for storage and bandwidth compared to many other eCommerce platforms.
Pricing:
For all Zyro plans, you will get a free domain for 1 year, free email for 3 months, and a 30-day money-back guarantee.
Website plan suitable for Creating a professional portfolio, blog, or personal website: $2.59/month
Business plan to start selling with eCommerce: $3.59/month
Square Online
Square Online is a dedicated selling platform tailored for small and medium-sized businesses. It allows you to build a store for free and seamlessly integrates essential eCommerce features such as product selection, free store templates, website search, and integration with social media platforms like Instagram or Facebook.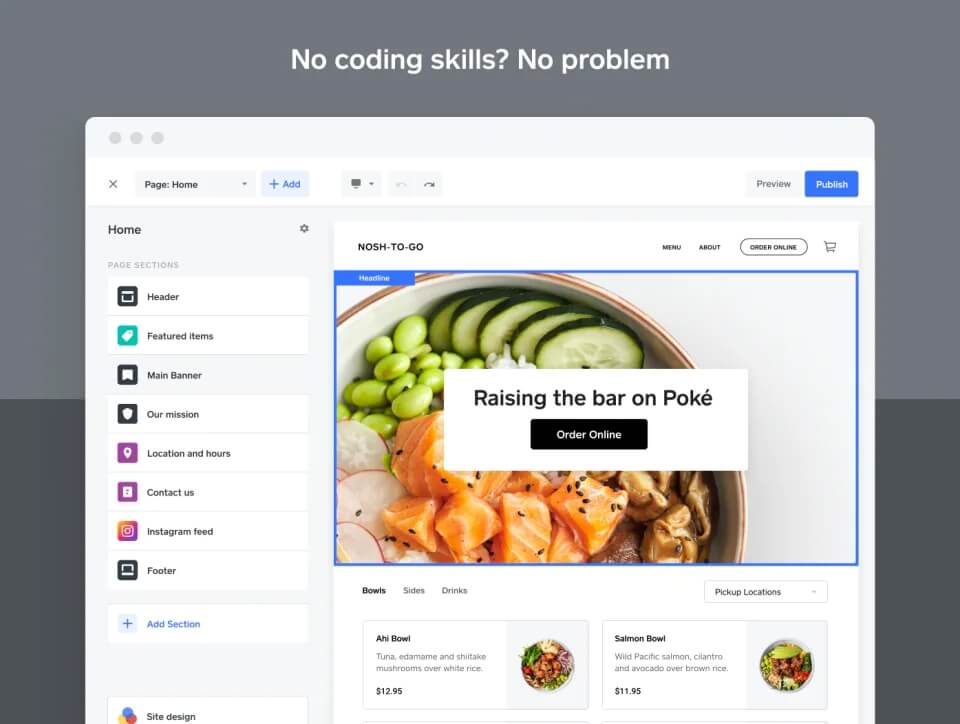 Allow to list unlimited products. You can list as many products with different options, such as sizes and colors, and extras like a personalized monogram, as you want. You can also use photos, GIFs, and 360-degree spinning images to showcase your products from all angles.
Integrate with Social Media. Square Online is highly versatile in how you connect with customers, as this eCommerce platform allows you to sell through Instagram or on your own website.
A module available for reporting and analyzing data with an impressive amount of information. You can get statistics on traffic, sources, popular pages, overall sales, item-specific data, and coupon usage.
Pricing:
Square Online offers 3 plans and each plan will have additional processing fees for each payment made.
Free plan from $0/month
Plus plan: From $29/month
Premium plan: Custom quote
OpenCart
OpenCart is an open-source CMS designed for developing eCommerce websites. It enhances user interaction and friendliness, saves costs, and optimizes search tools. With over 20 years of experience, OpenCart remains a top-quality eCommerce solution for dropshipping sellers and businesses.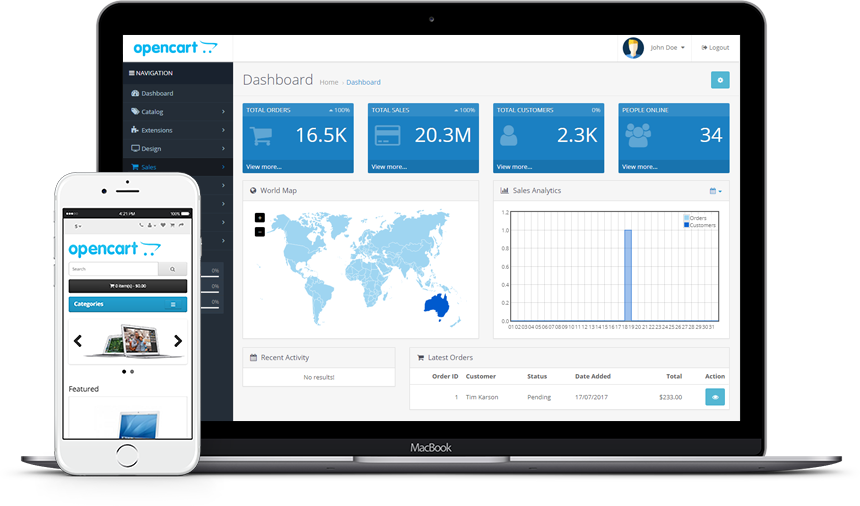 Easy installation and customizable according to the user's development needs. As OpenCart is open-source, you will have high autonomy in managing your dropshipping website. You can control what works and what doesn't, and even design features to suit your website's specific requirements.
Customize themes for your online store. OpenCart's self-built Theme mode lets you arrange products on your storefront logically or to your preferences. You can even create your own interface.
Features a Multishop sales support function. This means you can open multiple stores and efficiently manage them using a user-friendly system.
Pricing:
OpenCart is a free open source eCommerce platform
Premium Support: $99/month
Yo!Kart
Like a multivendor, Yo!Kart is an agile eCommerce platform designed to bring virtual markets ready for launch, similar to eBay, Amazon, or even Etsy. What sets Yo!Kart apart is its ideal fit for businesses of all scales, offering essential eCommerce features, robust integration, and an intuitive user interface. This makes it highly scalable and a sought-after self-hosted platform for companies worldwide.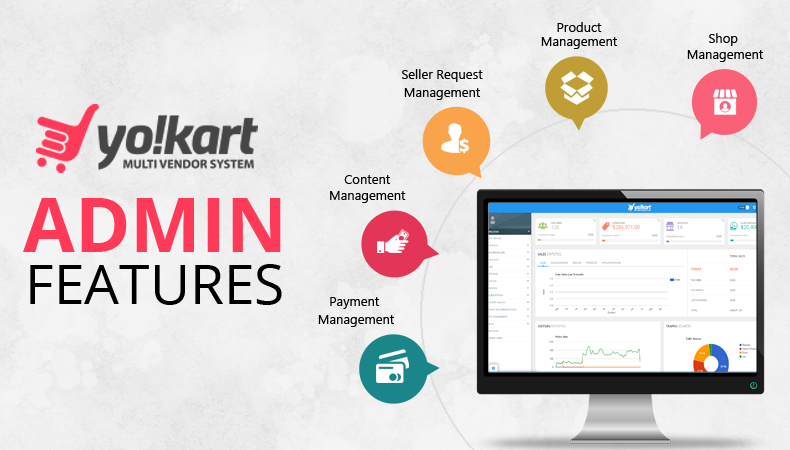 Highly customizable options are available for front-end designs. You can customize features and techniques within Yo! Kart to optimize design and aim for seamless integration of local payment gateways, providing users with the best possible online shopping experience.
Accompanied by rich features on mobile applications for both Android and iOS platforms. These special apps offer push notifications, social sharing, voice search, and various intuitive app features. While many might assume these features come at a high cost, Yo! Kart ensures quality packages tailored for diverse business needs.
High loading speed even when handling millions of products. For dropshipping businesses, bandwidth and page loading speed are crucial factors. As the number of products grows, expanding bandwidth becomes a potentially costly concern. Yet, Yo! Kart alleviates this worry by efficiently managing large product quantities while maintaining an ideal page loading speed.
Pricing:
There are various options available based on individual features, benefits, and even business scalability provided by these options:
GoQuick plan: $1249
GoQuick Boost plan: $2499 (plus Android and iOS app)
GoCustom plan: $6249
GoCustom Prime plan: Custom quote
All plans are Self Hosted with Lifetime License
Evaluations of the Top Platforms for Dropshipping
To gain a more objective assessment of various eCommerce platforms, let's take a look at their ratings on reputable G2 review site. It's important to emphasize that this is a comparative table, and the evaluations are for reference purposes.
WooCommerce
BigCommerce
Magento
Rating
4.4/5 with 1,083 reviews
4.2/5 with 462 reviews
4/5 with 496 reviews
Top Features
- User-friendly
- Automate promotion and sales processes
- Customizable
- Website Building
- User-friendly
- Good customer service
- Customizable
- Website Building
- User-friendly
- Easily design and develop website with advanced features
- Secured
Shopify

Shift4Shop

SquareSpace

Rating

4.4/5 with 4,377 reviews

3.9/5 with 33 reviews

4.4/5 with 1,034 reviews

Top Features

- User-friendly




- A lot of ready-to-use features




- Reliability and scalability

- Several services




- Wonderful performance




- Easy to use

- Customizable Website Building




- Easy to use




- Intuitive themes
Zyro

Square Online

OpenCart

Yo!Kart

Rating

4.4/5 with 37 reviews

4.3/5 with 15 reviews

4.3/5 with 102 reviews

4.6/5 with 26 reviews

Top Features

- User-friendly




- Fast performance




- Easy to set up and build website

- Decent transaction fees




- Simple to use




- Best pricing

- Easy to configure




- Lots of add-ons and expanded features




- Easy to administrate for local staff

- Excellent customer service




- Unique features




- One time purchase
Choosing the Best Ecommerce Platform for Dropshipping Based on Specific Criteria
In a lineup of eCommerce platforms evaluated as best for dropshipping businesses, how do you pick the right fit from A to Z? This will depend greatly on the specific needs of the online store for dropshipping that you operate.
However, when choosing a dropshipping platform, you must ensure that they have the following features:
Easy Website Setup and Management: A platform should allow the creation of a website where customers can access and purchase products with ease. Look for platforms with drag-and-drop interfaces to build an online store without coding.
Scalability: A platform that easily scales to support more website visitors helps you avoid frustrating experiences like slow page loads and data errors, preventing potential customers from quickly leaving your site.
Order Management Tools: You need control over the number of orders customers place on your website, while also tracking the progress of order fulfillment.
Marketing Tools: Optimizing SEO, crafting marketing emails and messages, planning promotions, creating special offers or coupons, and analyzing the effectiveness of promotional activities all contribute significantly to building an effective marketing strategy to reach more potential dropshipping customers.
Security of Seller and Buyer Information: This platform should ensure secure and reliable transaction and payment processing, safeguarding personal information of both customers and sellers.
Diverse Payment Plans: Offering various service packages aligns the cost reasonably with each stage of development and your store's scale. Remember, optimizing cost and revenue is crucial when running a business.
Multi-Platform Integration: Integrating with multiple platforms, such as social media, widens your dropshipping sales cycle, reaching a broader customer base and reducing risk associated with relying on a single platform.
Integration with Dropshipping Plugins: A platform with the capability to integrate dropshipping plugins optimizes the buyer's experience and simplifies dropshipping store operations, minimizing labor costs and errors.
Large User Community: An eCommerce platform with a vast user community makes it easy to find information and receive support for any operational questions you have regarding your online store. While not mandatory, a strong community is a noteworthy advantage to consider.
Customer Support Services: Choose a platform that offers 24/7 customer support, accessible through your preferred communication channels, promptly addressing your concerns and queries.
What's the Best eCommerce Platform for Dropshipping Business?
If you're a beginner, consider Shopify, Yo!Kart, OpenCart, or SquareOnline. These platforms prioritize simplicity and user-friendliness while still offering unique features to optimize your dropshipping store without requiring much time and effort.
For those with web design experience, consider platforms like Magento or WooCommerce if you're already using WordPress. These platforms not only provide advanced features but also excellent SEO support for your dropshipping venture.
If you plan to expand your store's scale and not focus solely on the dropshipping model, BigCommerce and SquareOnline are excellent choices.
Moreover, if you're aiming for a minimal workforce for your dropshipping store, Zyro might be the most suitable option.
Learn more: 12+ Best Dropshipping Suppliers, Companies
Ecommerce Platform Market Share in 2023
Dropshipping business owners should pay attention to the market share of different eCommerce platforms because it directly impacts their potential customer reach and business success. Market share is the percentage of all industry sales that a particular platform commands.
Knowing the market share helps dropshippers to allocate their resources wisely, such as time and marketing efforts.
According to the report published July 2023 by Statista, WooCommerce is the eCommerce platform with the highest market share with 38.74%. However, most of the reason comes from the huge number of available users of Wordpress - the CMS that WooCommerce is integrated into.
Following WooCommerce is Squarespace Online Stores with 14.49%, Shopify with 10% and WixStores with 6.44%.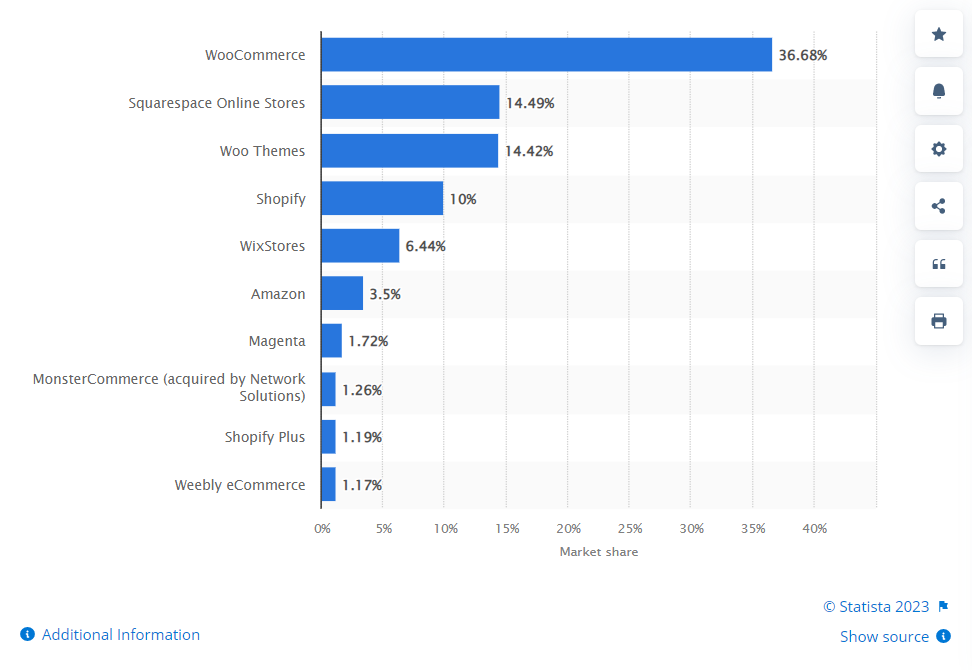 However, what is interesting is that when it comes to eCommerce Usage Distribution, WooCommerce, Shopify and Magento are the platforms with the most distribution.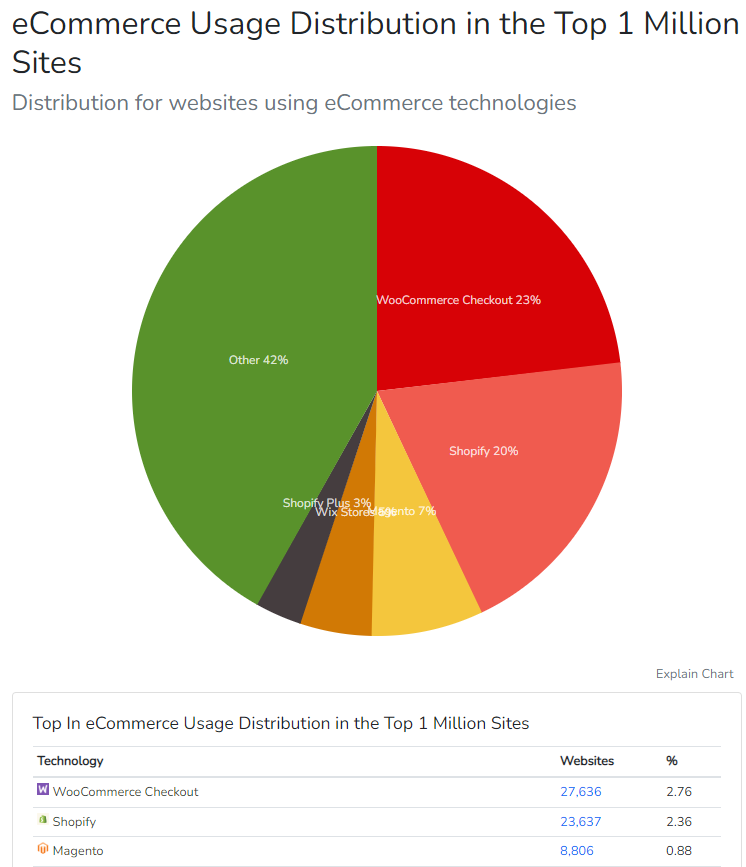 Note that market share is only one factor for you to care about how to allocate resources most appropriately. That shouldn't be a key factor to choose when in the dropshipping business.
Learn more: 13+ Best Dropshipping Products That Can Bring More Profit in 2023
Conclusion
Among various business models, dropshipping is a favored choice for many, because it requires no capital investment, production facilities, or warehouses.
If you're considering becoming a dropshipper, selecting the right dropshipping platform will be a pivotal step towards success. Therefore, be meticulous in choosing the platform for your online store, as you wouldn't want to incur costs, time, and effort switching between different platforms to find the most suitable one for your store.
We hope the information about the best eCommerce platforms for dropshipping in this article will assist you in making the most appropriate choice.
Related Posts:

Sam is the CEO and Founder of Mageplaza, pursuing a simple and healthy lifestyle. He is a friend, a husband, and a father to two children. As a trainer and an aspiring influencer, he is also a big fan of sports and travel. Sam is exceptionally knowledgeable about e-commerce, especially Magento and Shopify, with 10 years of experience in the field.
Website Support
& Maintenance Services
Make sure your store is not only in good shape but also thriving with a professional team yet at an affordable price.
Get Started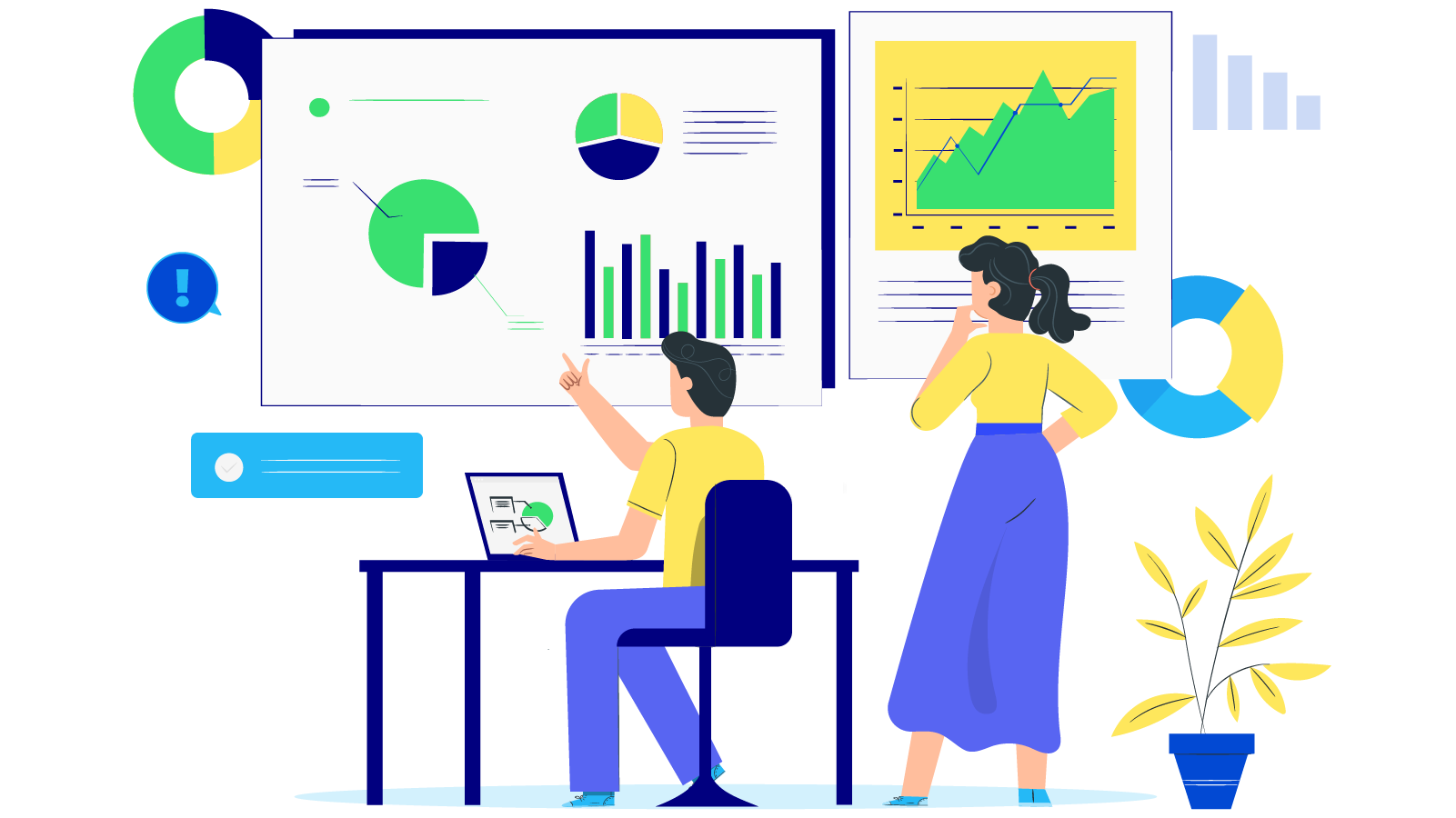 New Posts



Subscribe
Stay in the know
Get special offers on the latest news from Mageplaza.
Earn $10 in reward now!