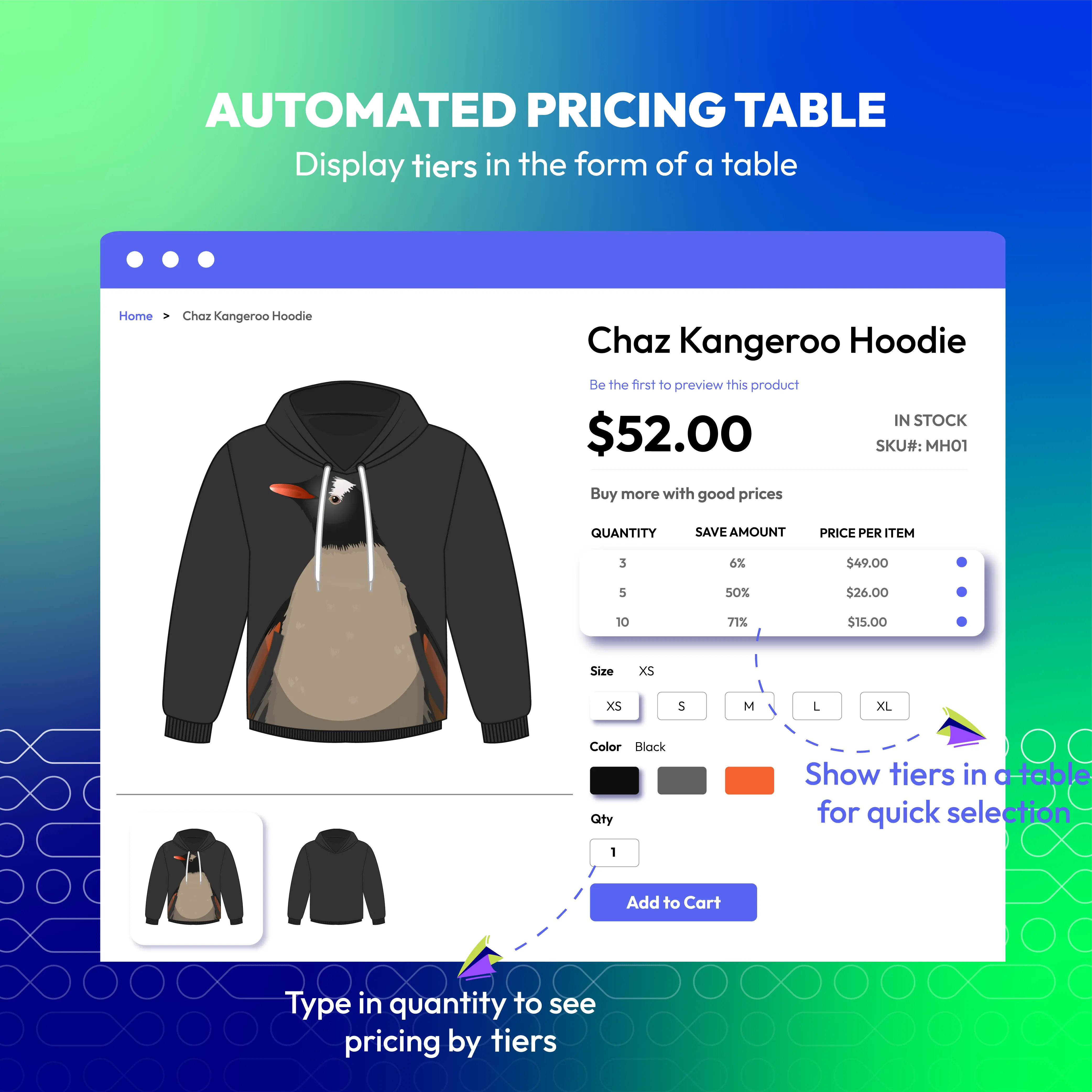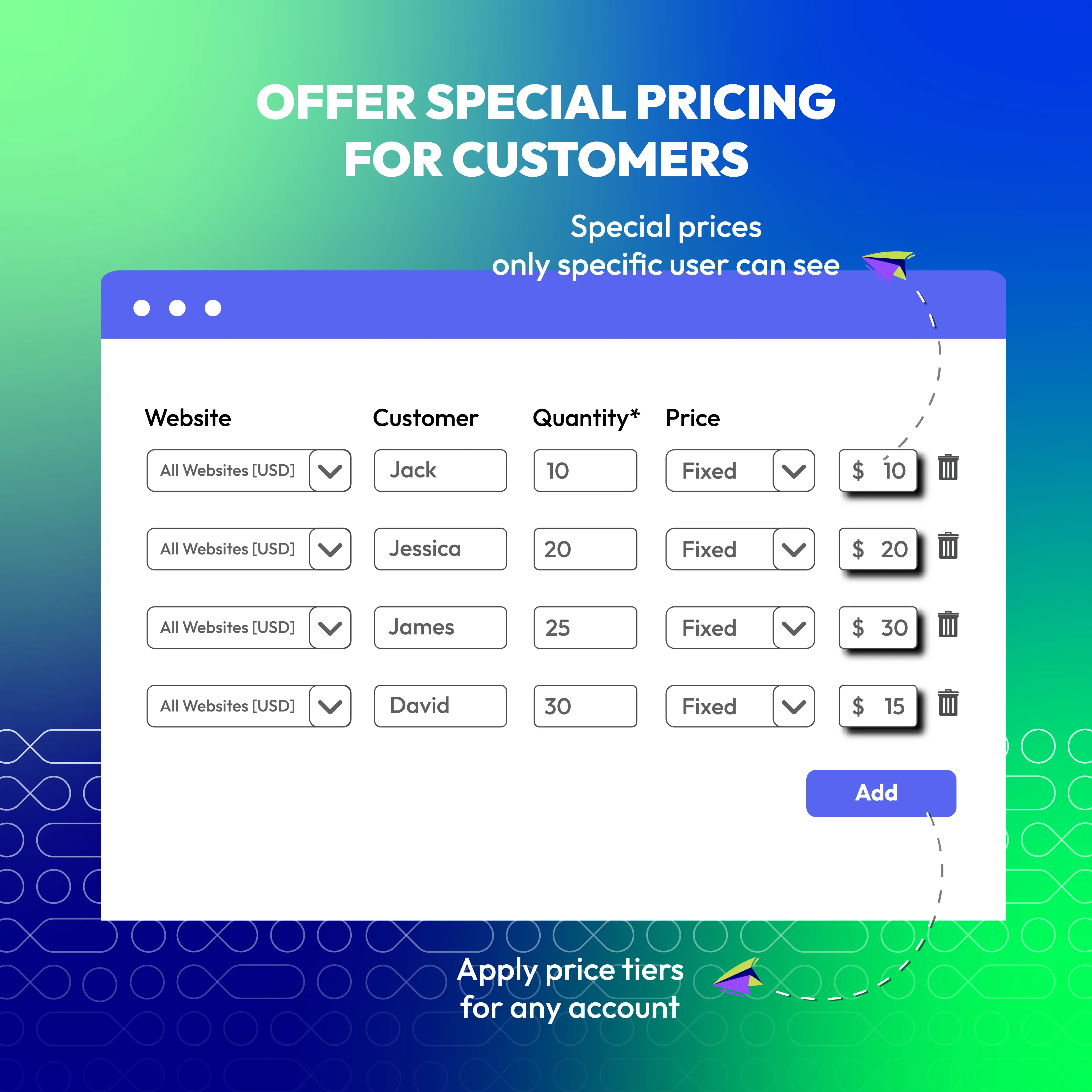 60-day Money Back
Frequent Update
365-day Support
Tier Price for Magento 2
v4.0.3
Magento 2 Tier Price extension allows store owners to offer tier prices to customers more attractively via the automated pricing table and sounding notice. Customers will have a better shopping experience thanks to this tier-price innovation.
CE/EE/B2B/Cloud/ Adobe Commerce 2.2.x, 2.3.x, 2.4.x
Chat now
Problems
By Default, Magento comes with limited possibilities to select the price form of tier prices. There is only one option is fixed final price so store owners cannot manage or compare easily the discount prices (such as the discount percent or discount amount)
In Magento Default, the tier prices are displayed at the form of lines only as separate sentences with small-sized letters, so it seems not clear to compare options and not eye-catchy.
In case the store would like to offer a special tier price for only some customer, it is impossible in Magento Default. This causes the inconvenience for store owners to show the priority towards important customers.
Solutions
Better Tier Price supports various forms of price: fixed price, fixed discount amount and discount percent, so the store owners can manage, compare the discount strategies clearly and exactly.
Customers can be easily attracted by the sounding title of the tier price section. The appealing title such as "Buy More, Great Benefits" or "Buy More, Save More" will motivate customers to make the purchase with a larger quantity. As a result, this increases the sales of online stores effectively.
Customers do not have to fill in a quantity manually after reading the tier price notice as in Magento Default. With Better Tier Price, after customers select a tier option, the quantity will change automatically. And the next step is just going checkout!
Pricing

Choose your suitable edition
Community
Crafted for a great webstore start
$

99

first year
Supports for Magento 2 Community Edition
Enterprise
Great for an enterprise solutions
$

299

first year
Supports for Magento 2 Enterprise Edition
Highest priority support
Yes, definitely. You can apply Better Tier Prices for all product types.
In Better Tier Price, there are two ways you can select. The first one is showing tier prices in lines (as in Magento Default), the second is displaying the tier prices as a table with columns (this is easier to make price comparison).
There are three types of tier prices: Fixed price, Discount Amount, and Discount Percent.
Yes, the title for the tier price section can be set easily from the admin backend.
The pop-up will appear when you click on Advanced Pricing to configure price tiers, tier groups for a product. Besides, when mas action to update tier prices for multiple products, the pop-up is also supported.
Yes, definitely. At the backend settings, you just need to select the customer group applied for each tier price.
Yes, you can. You just need to add the customer information at the Tier Price for Specific Customer(s) section at the admin backend.
At the Catalog Grid, you can click to select multiple products, then, at the Action box, select Update Attributes > Tier Price to update the tier prices for these products at the same time.
Mass updates
Mass updates save me lots of time, so thumbs up for this feature! But I'm still waiting for more feature updates, as I see no roadmap for this.
Easy to use
Pretty easy to install and configure and it runs as advertised here. I'm also very happy with the free GraphQL provided. Amazing module
Incredible support
I have purchased this module and have no regrets. Everything works perfectly and incredible customer support. I actually purchased another extension after buying this one. It's your support that persuades me to purchase more. Thank you!
Good experience here
The best support on Magento modules. I will buy all the modules that I need with you.
Humberto Alonso
-
Verified Purchase
Recommended!
It's awesome customer support. The best ones that I have ever experienced! Will recommend Mageplaza to our clients.
Humberto Alonso
-
Verified Purchase
Don't see the features you are looking for?
Request feature
Submit your feature requests below
Want to do extension customization?
Custom request
Let us know your requirements
v1.1.2

05 July 2021

Compatible with Magento v2.3.7
Fixed minor bugs
v4.0.1

26 May 2021

Compatible with Magento v2.4.2
Compatible with Mageplaza MassProductActions extension
Fixed minor bugs
v1.1.0

17 February 2021

Added reset form icon
Supported GraphQL
Fixed minor bugs
v1.0.3

09 October 2020

Compatible with Magento v2.3.5
v1.0.2

08 July 2020

Fixed error while adding new Tier Group
v1.0.1

19 February 2020

Fixed error while editing Tier Price for specific customer
Fixed other minor bugs
v1.0.0

18 April 2019

Initial Release
For store admins
General Configuration
Enable/ Disable Tier Price extension

Store admins can activate the extension via click Yes at the enable field in the admin backend. If they want to disallow Tier Price module, they can easily click No

Enable pricing table

You are allowed to turn on/ turn off the pricing table by simply select Yes/ No option from the admin backend.

Auto change the qty according to the tier option

When customers choose the tier option, the quantity will change automatically. The customers can quickly go to the checkout process instead of filling in a quantity manually.

Allow showing only the best discount

With the help of Better Tier Price, store owners are capable of only showing the optimal price options to customers.

Set the specific customers to apply exclusive tier price

One of the most useful features of Magento 2 Tier Price extension is that it allows admins to offer special tier prices for only some particular customers. It is a great way to show the store's appreciation to the important customers and build good relationships with them.

Set the title for the tier price section at the frontend

Store admins are able to add the sounding and appealing title for the tier price section in store view from the admin backend.
Product Price Configuration
Add the tier prices for a product based on customer groups

When store admins select customer groups to apply the tier group, the tier prices for an item will be added accordingly.

Add a new tier group

From the admin backend, store owners are allowed to add a new tier group with ease.

Quickly configure by selecting available tier groups

Better Tier Price extension offers various tier groups which help store owners can easily set suitable price actions to the appropriate groups conveniently.

Add the tier prices for specific customers

By entering the customer information at the Tier Price for Specific Customer(s) section at the admin backend, store admins can set the tier price for particular customers with ease.

Mass action to update the tier price configuration for multiple products at once.

Better Tier Price extension helps store owners to change the tier prices of various products at the same time. Hence, admins can save a great deal of time and enhance their workflow efficiency dramatically.
Tier Price for customers
Get clear notification about tier prices by table layout and title

The first striking feature of Better Tier Price is displaying the price tiers via a clear form of the table and sounding title. Therefore, customers can easily make the comparison and buy items quickly.

Process purchase quickly via automatic quantity change

Process purchase quickly via automatic quantity change

With the support of Better Tier Price module, the number of products will be filled automatically after customer choose a tier price option. Consequently, the workload of customers will be minimized.

Have a better shopping experience at the store site

The attractive tier price offers via automated pricing table and appealing notification coming from the extension are more likely to make customers content during their shopping time.

Form reset button for customers
Why choose us?
Mageplaza provides consistent and customer-centric extensions for your Magento 2 store.
We don't sell products for one time. We provide lifetime solutions which help our customers thrive with their businesses.
60-day Money Back
Extensive 60-day money-back period. You love it or get a full refund no questions asked.
Extensive Support Timeframe
Mageplaza provides support 16 hrs/day, 5.5 days/week to guarantee the seamless operation of our extensions on your store.
Install via Composer
Simple installation via composer helps you save time and eliminates technical issues during future updates.
Frequent Updates
Intensive update roadmaps ensure great performance, bug-free, highly compatible, and innovative extensions.