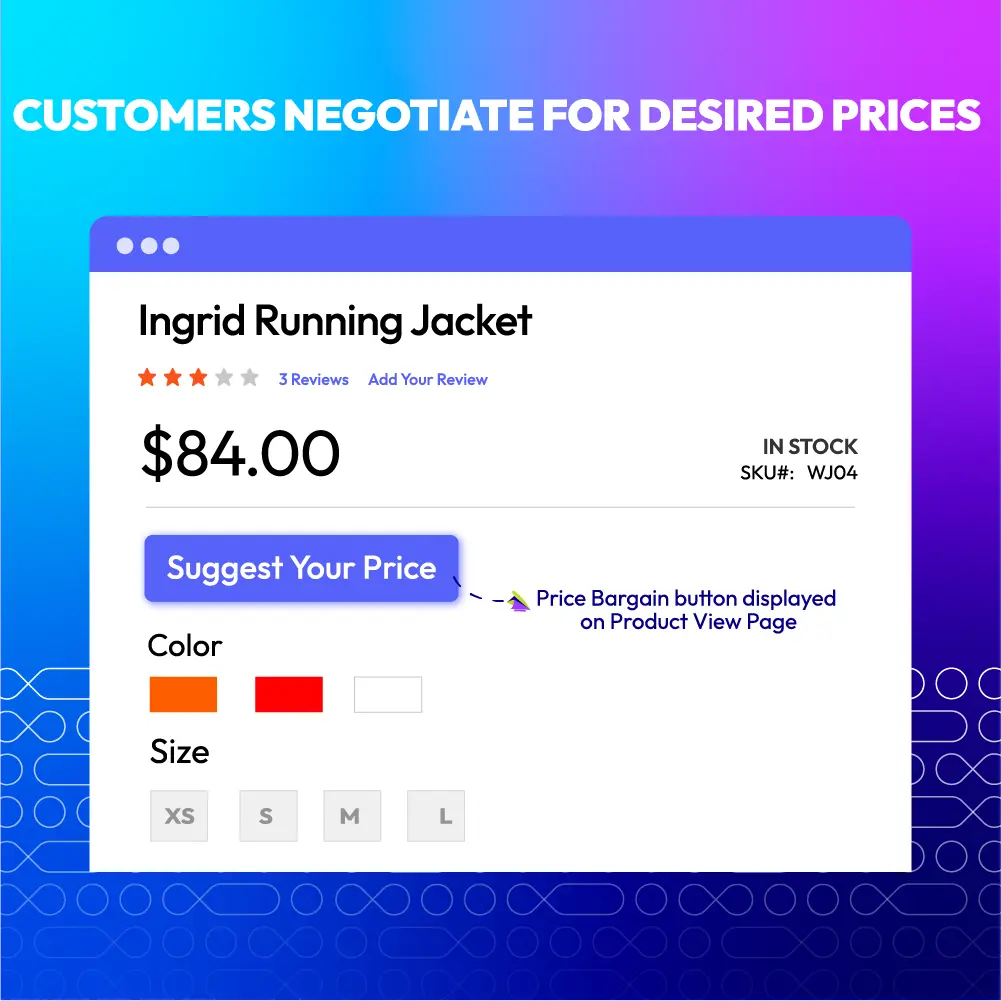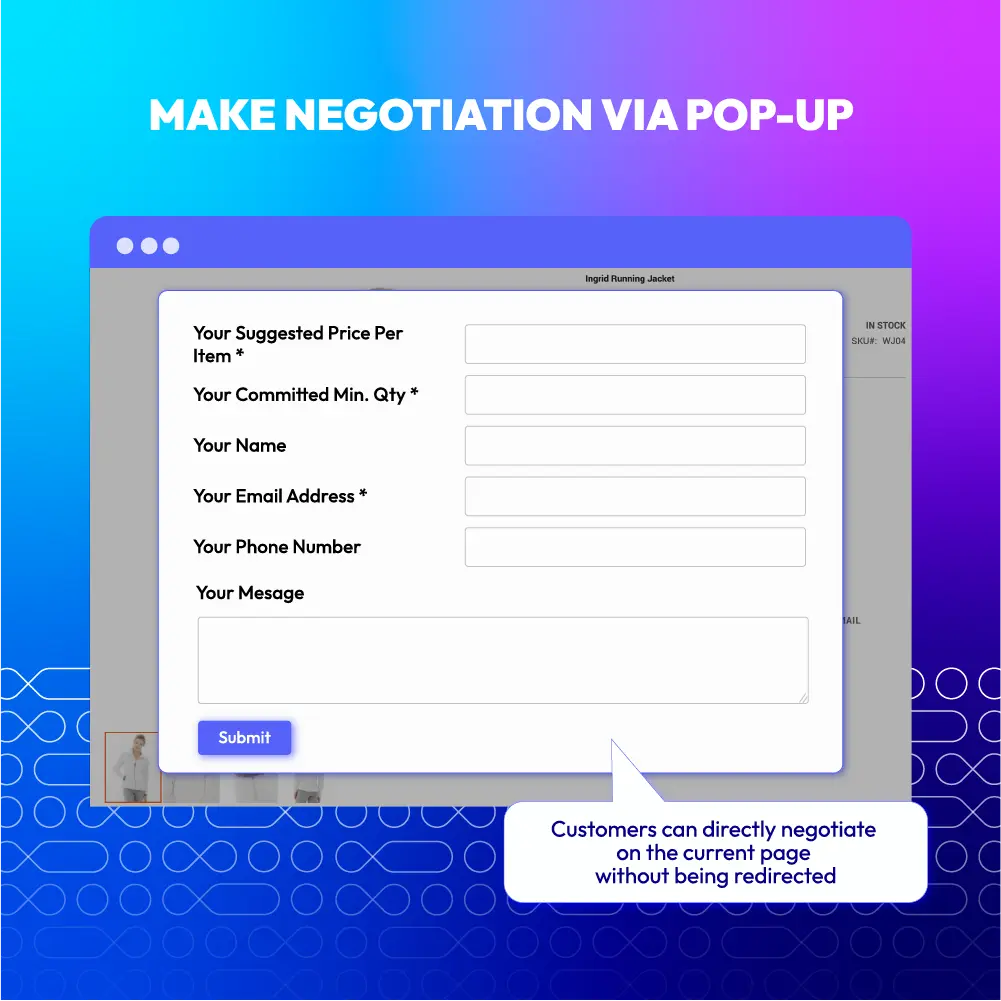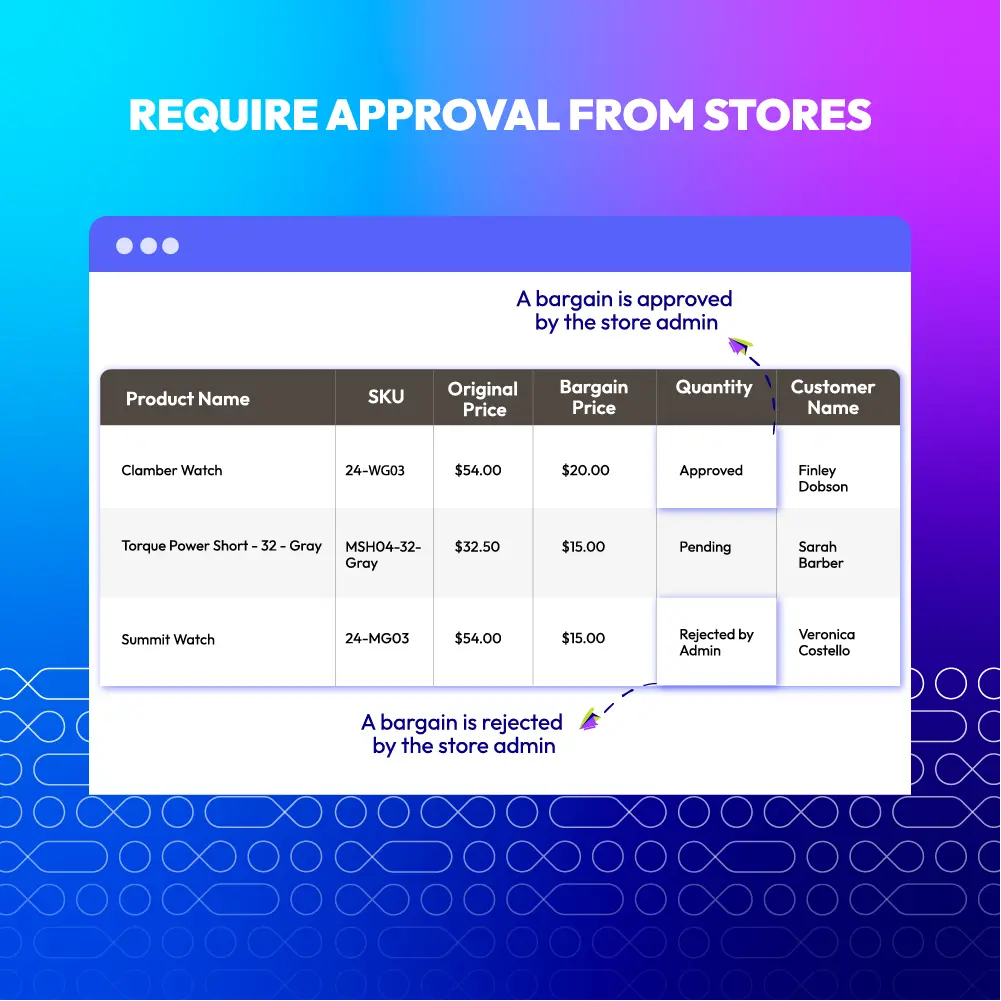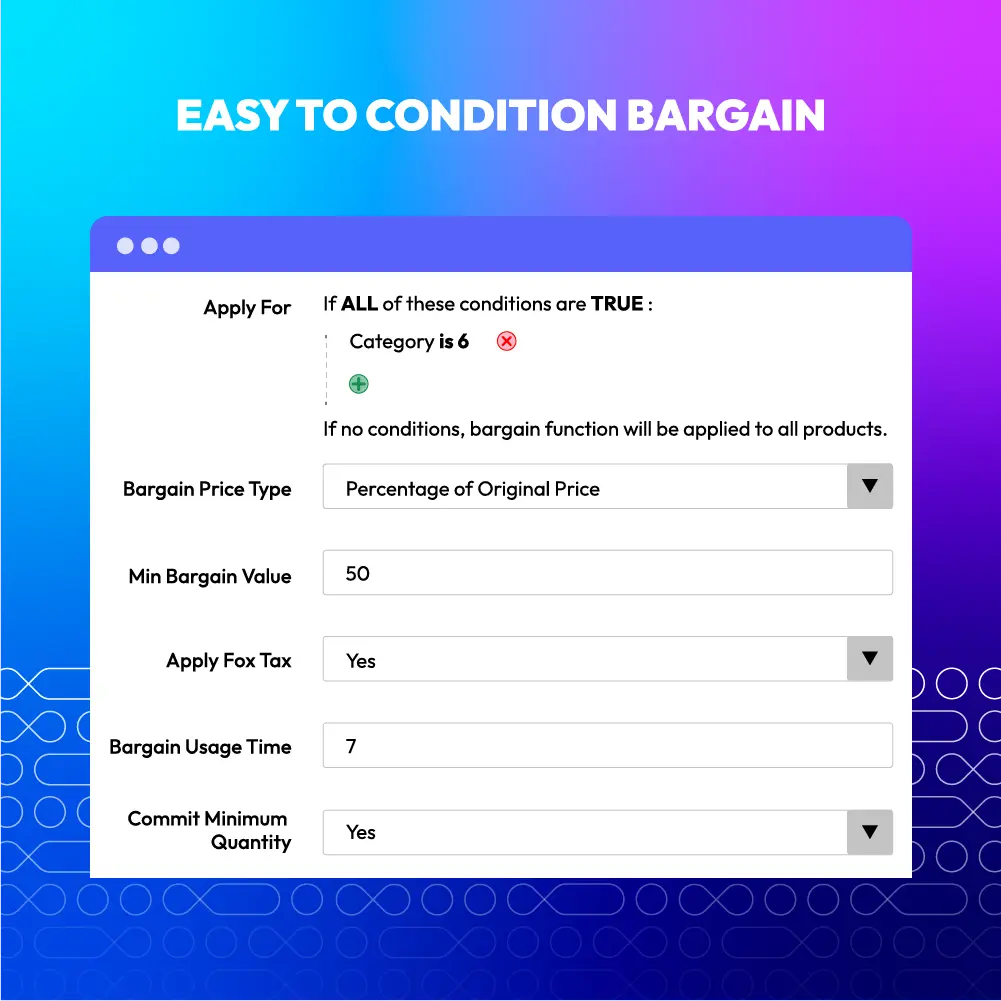 60-day Money Back
Frequent Update
365-day Support
Name Your Price for Magento 2
v4.1.1
Magento 2 Name Your Price by Mageplaza is the interesting extension which allows customers to make a negotiation for lower prices for their desired products. This functional module motivates customers' purchase and increases the conversion rate for online stores effectively.

CE/EE/B2B/Cloud/ Adobe Commerce 2.2.x, 2.3.x, 2.4.x
Chat now
Problems
Problem 1: Price plays an essential part in a customer's purchase decision process. Sometimes they may desire to buy an item, but then the price is what is holding them back. If customers know that they can bargain, they'll be more willing to stay and give their suggestions.
Problem 2: If a customer is buying in large quantities, they would like to have a better price. If two parties can meet halfway, the purchase will be made. Not only are the customers happy when buying a good deal, but you're also benefited from a sales boost.
Problem 3: It is not easy to effectively maintain communication with your customers. If you can show your customers that you're always listening to them and giving them a chance to easily reach out to you, you'll definitely earn their trust.
Solutions
More chances to get better prices
Significant benefits to wholesales group
Greatly improve customer experience
Decrease abandonment rate and convert conversion rate
Build up the good relationship with customers
Professional and customer-oriented shopping site
Customers negotiate for desired prices
Show your wanted price is much easier than ever! With Name Your Price by Mageplaza, customers easily discuss and make a deal with stores for a lower or affordable price.
When customers view products on the Product View Page, they will see a Price Bargain button. This is the offer from the store that the customers can express their expectation for lower prices. This is an effective button which keeps customers concerned about the product even though at the current time they can not afford or are not willing to make the purchase.
Make negotiation via pop-up
To improve user experience on store site, Mageplaza Name Your Price supports popup feature. Customers can directly negotiate on the current page without being redirected.
Besides, the popup included necessary information which can make sure for a bargain discussion with adequate details. The fields displayed on the pop-up are:
Customer's name
Customer's email
Customer's phone number
Quantity to request bargain
Expected bargain price
Customer's message
Especially, with the message field, the customers can clarify their expectation as well as the conditions they accept to get the lower price in details. Note that you can use static form by turning off pop-up.
Require approval from stores
For each price request from customers, the approval from admins is needed. Name For Price supports store owners to approve or reject any bargain with ease.
From the admin backend, store admins can view details of each request such as customer name, customer email, product name, SKU, especially bargain price and customer's message. Depending on that, store owners can make the decision about whether they can accept or reject this negotiation.
Besides, store owners can send a response to the customers to clarify their approval decision or negotiate more to reach a mutual agreement for another price.
Easy to condition bargain
A noticeable feature of Name Your Price is setting conditions for the bargain. This works as an essential part of the negotiation between customers and store owners. Here are the conditions which require customers to follow:
Employ bargain to specific products: Store owners can select specific products to allow bargain by setting product attributes condition.
Minimum Bargain Value: The store owners set the minimum for the bargain price based on a fixed amount or a percentage of the original price. This ensures the suggested price is not too low compared to the original one.
Valid Bargain Time: The price of item fluctuates with the real situation, so store owners need to set a specific time for the approved bargain price. Requesters are allowed to make purchases with the good prices in a period of time.
Committed Minimum Quantity: The customers are required to authorize bargain by filling in a minimum purchase quantity. In case the request is approved by the store owners, the customers are accepted to buy with the lower price but with this quantity at least.
More Features

Check out more details of Name Your Price
Customer groups
Apply bargain function for specific customer groups
Bargain grid
View, approve or reject bargain request via a grid
Email notification
Admins and customers are notified of price bargain via emails
Tax included
Allow/ Disallow the bargain price including tax
Customize bargain label
Admins can change the label for Price Bargain Label easily.
Extension compatible
Avoid sending emails to spam box with Mageplaza SMTP
Pricing

Choose your suitable edition
Standard
Crafted for a great webstore start
$
99
first year
Supports for Magento 2 Community Edition
Enterprise
Great for an enterprise solution
$
299
first year
Supports for Magento 2 Enterprise Edition
Highest priority support
There are two types of form available. The static form which is below the Price Bargain button and the form as pop-up. From the admin backend, please select Yes or No at Display Form section.
The default value includes bargain price and customer email. In addition, you can select to add more the fields: Customer's Name, Customer's Phone Number, Customer's Message.
Yes, absolutely. The store admin will receive an email which will notice about a new bargain request.
Yes, definitely. For each admin decision, the customer will get to know clearly via notification email.
Yes. They can do it easily by clicking on the cancel button on the Product View Page.
There are 5 types including Pending (waiting for admin's approval), Approved (when the admin accept the bargain), Reject (when the admin disapprove the bargain), Closed (the bargain is closed) and Cancelled by Customer (when customers cancel their bargain)
Yes, for each request, admin can send a response to the price bargain request of any customer from the backend request grid.
Yes, it can be done easily. From the admin backend, the admin only need to fill in the number of days which requires customers to buy at this period of time with the accepted price.
Yes, the admin can set the label for Bargain Price button easily from the admin backend.
You can install Mageplaza SMTP to avoid emails being sent to spam box and reach to customers successfully.
Perfect
For a wholesaler like us, this is the perfect solution as my customers can request their own price and we can have time to consider the negotiation. Thanks Mageplaza.
Zikova
-
Verified Purchase
INCREDIBLE SUPPORT
Thanks for GREAT support. I haven't experienced any other extension or provider that's even close to your support levels. FIVE BIG STARS!!!
Abigail
-
Verified Purchase
Must-have extension
Trust me this extension is a must-have for any wholeselling business. It's easy for customers to nominate the price and for business to reply to it. The negotiation process gets easier. Highly recommended.
Good for wholesales
It's easy to set up bargain conditions and approve or disapprove customers' prices. I'm wholeselling so this function is necessary and my customers are relieved having it. Thanks for such an amazing extension.
Blake Campbell
-
Verified Purchase
Must buy!
I would recommend this purchase as an excellent option. It's really useful for your website for making negotiation with customers. I really love it. Thank you, guys!
Want to do extension customization?
Custom request
Let us know your requirements
v4.1.1 (Magento v2.4.x)

27 June 2023

Compatible with Magento v2.4.6
Fix minor bugs
v1.1.0 (Magento v2.3.x)

09 August 2021

Compatible group, bundle products
Added API/GraphQL
Fixed minor bugs
v4.1.0 (Magento v2.4.x)

09 August 2021

Compatible with Magento v2.4.2
Compatible group, bundle products
Added API/GraphQL
Fixed minor bugs
v4.0.0 (Magento v2.4.x)

18 February 2021
v1.0.2 (Magento v2.3.x)

23 July 2020

Compatible with Magento v2.3.5
v1.0.1 (Magento v2.3.x)

17 June 2020
v1.0.0 (Magento v2.3.x)

15 August 2019

Initial release
Name Your Price's Full Features List
Name Your Price for store admins
General Configuration
Enable/ Disable the extension
Select Customer Groups to apply the bargain function
Set the conditions (product, cart) to apply bargain
Set the type of bargain price: Percentage of the original price or fixed price
Set minimum of bargain value
Allow/ Disallow applying bargain for tax
Set valid time for bargain usage
Require stating minimum quantity to authorize bargain
Compatible with other extensions: Call for Price, Quantity Dropdown, Hide Price, Tier Price,
Display
Set fixed bargain form or pop-up
Select additional fields: Name, Phone, Message
Change the label for Price Bargain
Notification Email
Enable/ Disable sending notification via emails
Select General Contact
Set Sender to send notice to customers
Add Admin Email to receive bargain notice
Select templates of Confirmation Email, Approval Email, Rejection Email
Bargain Requests
View all bargain requests on a grid
Allow editing each bargain request
Allow sending responses to customers
Work well with group and bundle products
Name Your Price for customers
Get chances to buy the preferred products with lower prices
Significantly beneficial to wholesales group
Enhance customer experience
Why choose Mageplaza Magento 2 Name Your Price
Mageplaza provides consistent and customer-centric extensions for your Magento 2 store.
We don't sell products for one time. We provide lifetime solutions which help our customers thrive with their businesses.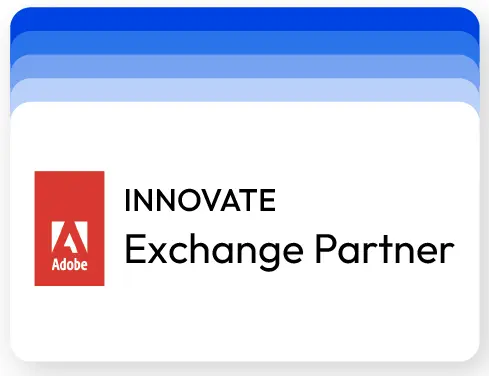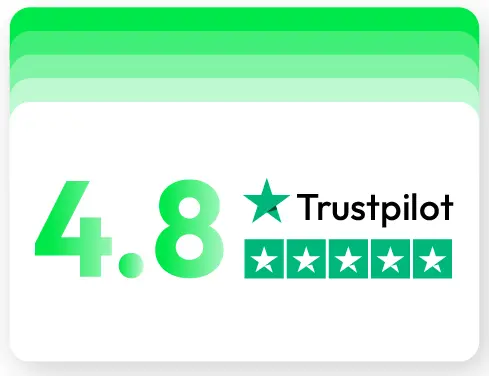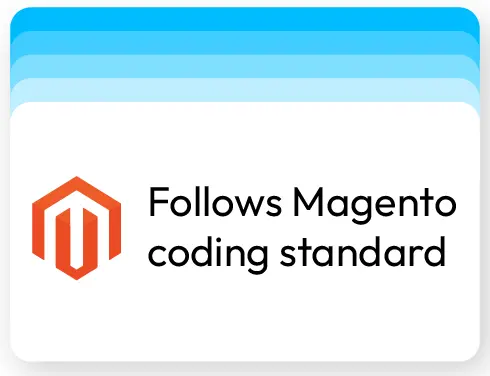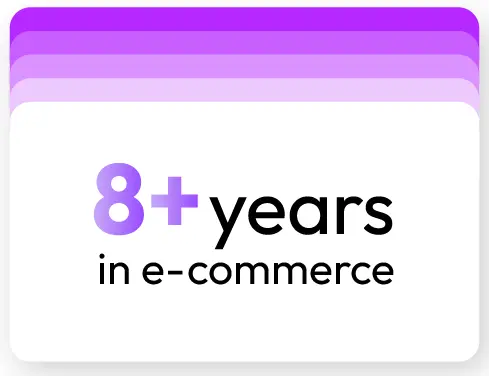 60-day Money Back
Extensive 60-day money-back period. You love it or get a full refund no questions asked.
Extensive Support Timeframe
Mageplaza provides support 16 hrs/day, 5.5 days/week to guarantee the seamless operation of our extensions on your store.
Install via Composer
Simple installation via composer helps you save time and eliminates technical issues during future updates.
Frequent Updates
Intensive update roadmaps ensure great performance, bug-free, highly compatible, and innovative extensions.