Name Your Price for Magento 2
v1.0.0
Magento 2 Name Your Price by Mageplaza is the interesting extension which allows customers to make a negotiation for lower prices for their desired products. This functional module motivates customers' purchase and increases the conversion rate for online stores effectively.
You've just added this product to the cart:
Name Your Price
Name Your Price, Name Your Benefits
When customers see that the price is higher than their expectation and or is unaffordable, they can give their own price suggestion and negotiate for the lower price. They can explain their reason, their condition why they think their suggested price is reasonable. Therefore, this increases the opportunity for the customers to gain the better price and make their purchases as expected.
With the customer group as wholesalers, they often make a large purchase each time for each product. As a result, they definitely would like to make the negotiation with store owners for lower price as the priority policy.
Allowing customers to raise their suggestion about the expected price is the way showing that the store is always ready to listen to their valued customers.This helps customers feel appreciated.
The cart abandonment due to the displayed price will decrease sharply when customers think that they can suggest the lower one. Moreover, when their price negotiation is approved, they will be willing to make a purchase without any reluctance.
This function works as the bridge between customers and store owners. Both sides can share, discuss with each other with the aim to reach the final win-win agreement. Therefore, the relationships between shoppers and stores will be tightened and maintain for a long time.
Negotiation functionality helps the e-commerce store site look as a utility and customer-oriented platform. This will attract customers and motivate them to go shopping and contact for any help.
Customers negotiate for desired prices
Show your wanted price is much easier than ever! With Name Your Price by Mageplaza, customers easily discuss and make a deal with stores for a lower or affordable price.
When customers view products on the Product View Page, they will see a Price Bargain button. This is the offer from the store that the customers can express their expectation for lower prices. This is an effective button which keeps customers concerned about the product even though at the current time they can not afford or are not willing to make the purchase.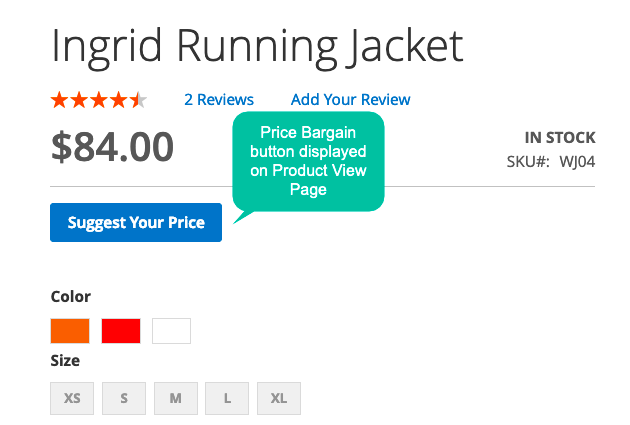 Make negotiation via pop-up
To improve user experience on store site, Mageplaza Name Your Price supports popup feature. Customers can directly negotiate on the current page without being redirected.
Besides, the popup included necessary information which can make sure for a bargain discussion with adequate details. The fields displayed on the pop-up are:
Customer's name
Customer's email
Customer's phone number
Quantity to request bargain
Expected bargain price
Customer's message
Especially, with the message field, the customers can clarify their expectation as well as the conditions they accept to get the lower price in details. Note that you can use static form by turning off pop-up.
Require approval from stores
For each price request from customers, the approval from admins is needed. Name For Price supports store owners to approve or reject any bargain with ease.
From the admin backend, store admins can view details of each request such as customer name, customer email, product name, SKU, especially bargain price and customer's message. Depending on that, store owners can make the decision about whether they can accept or reject this negotiation.
Besides, store owners can send a response to the customers to clarify their approval decision or negotiate more to reach a mutual agreement for another price.
Easy to condition bargain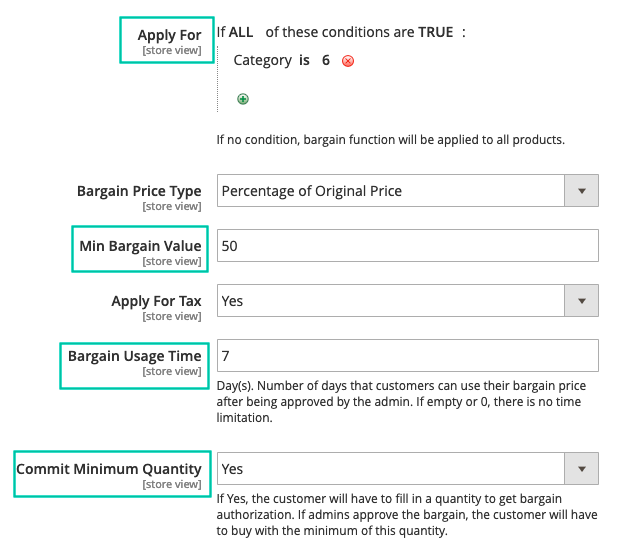 A noticeable feature of Name Your Price is setting conditions for the bargain. This works as an essential part of the negotiation between customers and store owners. Here are the conditions which require customers to follow:
Employ bargain to specific products: Store owners can select specific products to allow bargain by setting product attributes condition.
Minimum Bargain Value: The store owners set the minimum for the bargain price based on a fixed amount or a percentage of the original price. This ensures the suggested price is not too low compared to the original one.
Valid Bargain Time: The price of item fluctuates with the real situation, so store owners need to set a specific time for the approved bargain price. Requesters are allowed to make purchases with the good prices in a period of time.
Committed Minimum Quantity: The customers are required to authorize bargain by filling in a minimum purchase quantity. In case the request is approved by the store owners, the customers are accepted to buy with the lower price but with this quantity at least.
Full Features List
For store admins
General Configuration
Enable/ Disable the extension
Select Customer Groups to apply the bargain function
Set the conditions (product, cart) to apply bargain
Set the type of bargain price: Percentage of the original price or fixed price
Set minimum of bargain value
Allow/ Disallow applying bargain for tax
Set valid time for bargain usage
Require stating minimum quantity to authorize bargain
Compatible with other extensions: Call for Price, Quantity Dropdown, Hide Price, Tier Price,
Display
Set fixed bargain form or pop-up
Select additional fields: Name, Phone, Message
Change the label for Price Bargain
Notification Email
Enable/ Disable sending notification via emails
Select General Contact
Set Sender to send notice to customers
Add Admin Email to receive bargain notice
Select templates of Confirmation Email, Approval Email, Rejection Email
Bargain Requests
View all bargain requests on a grid
Allow editing each bargain request
Allow sending responses to customers
For customers
Get chances to buy the preferred products with lower prices
Significantly beneficial to wholesales group
Enhance customer experience
FAQs
There are two types of form available. The static form which is below the Price Bargain button and the form as pop-up. From the admin backend, please select Yes or No at Display Form section.
The default value includes bargain price and customer email. In addition, you can select to add more the fields: Customer's Name, Customer's Phone Number, Customer's Message.
Yes, absolutely. The store admin will receive an email which will notice about a new bargain request.
Yes, definitely. For each admin decision, the customer will get to know clearly via notification email.
Yes. They can do it easily by clicking on the cancel button on the Product View Page.
There are 5 types including Pending (waiting for admin's approval), Approved (when the admin accept the bargain), Reject (when the admin disapprove the bargain), Closed (the bargain is closed) and Cancelled by Customer (when customers cancel their bargain)
Yes, for each request, admin can send a response to the price bargain request of any customer from the backend request grid.
Yes, it can be done easily. From the admin backend, the admin only need to fill in the number of days which requires customers to buy at this period of time with the accepted price.
Yes, the admin can set the label for Bargain Price button easily from the admin backend.
You can install Mageplaza SMTP to avoid emails being sent to spam box and reach to customers successfully.