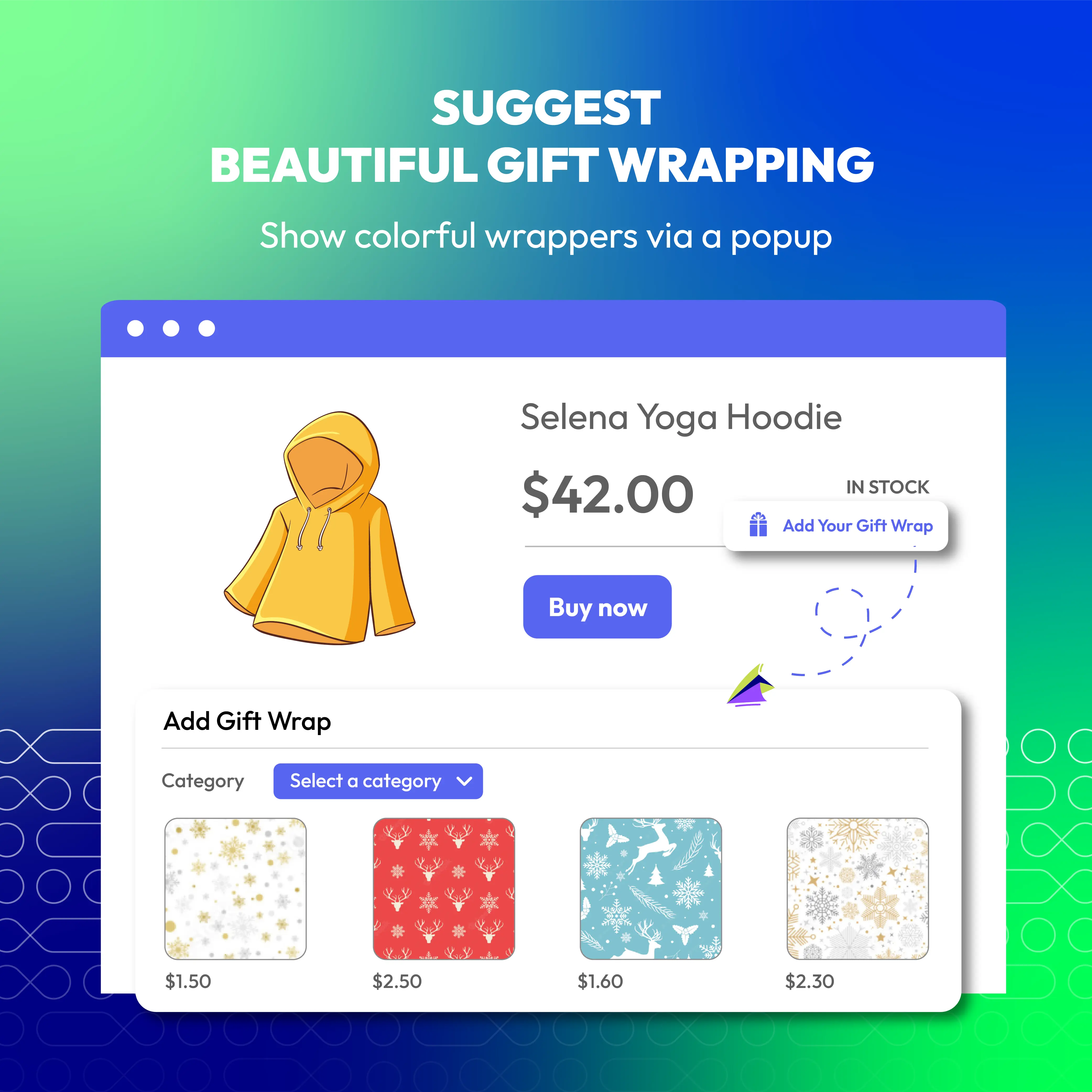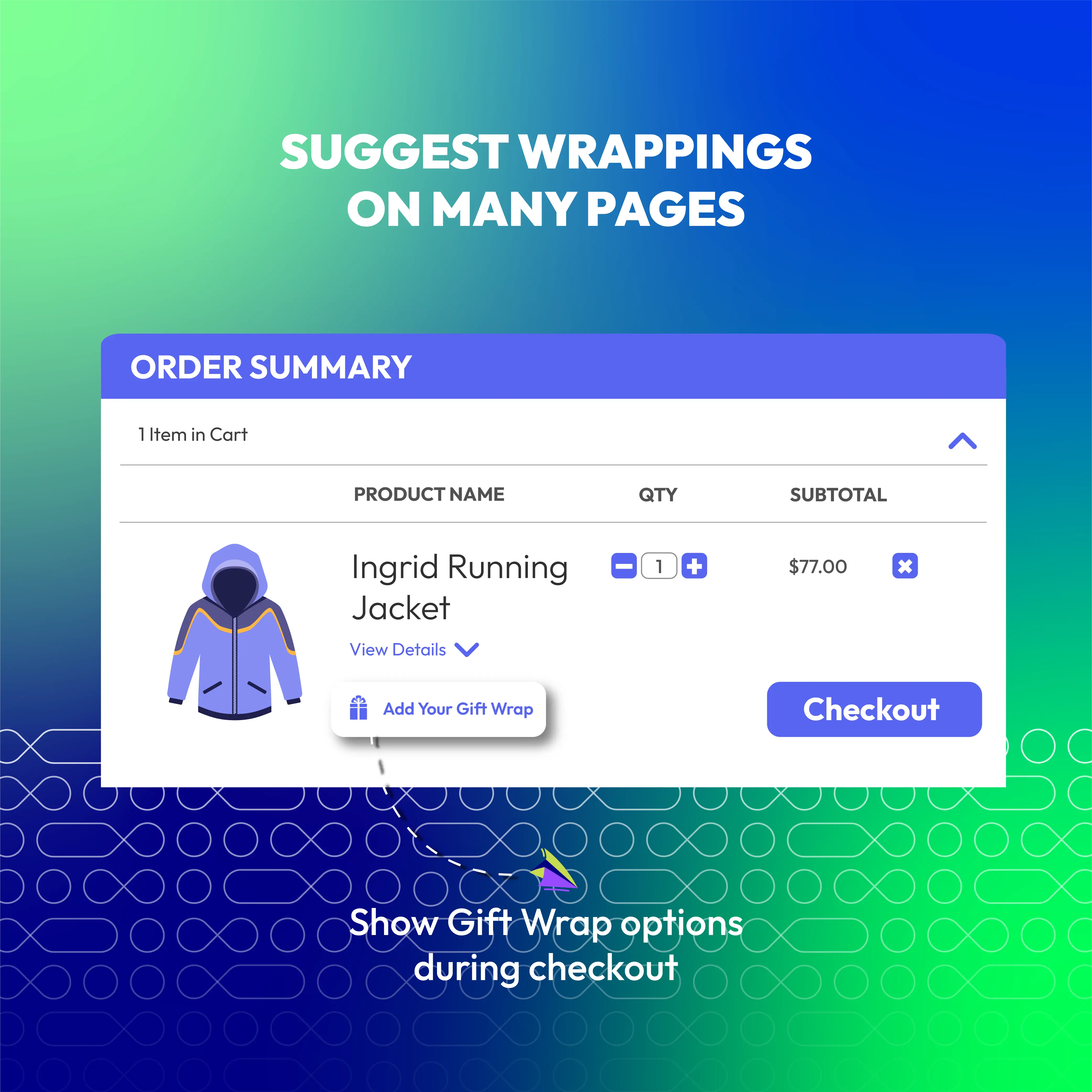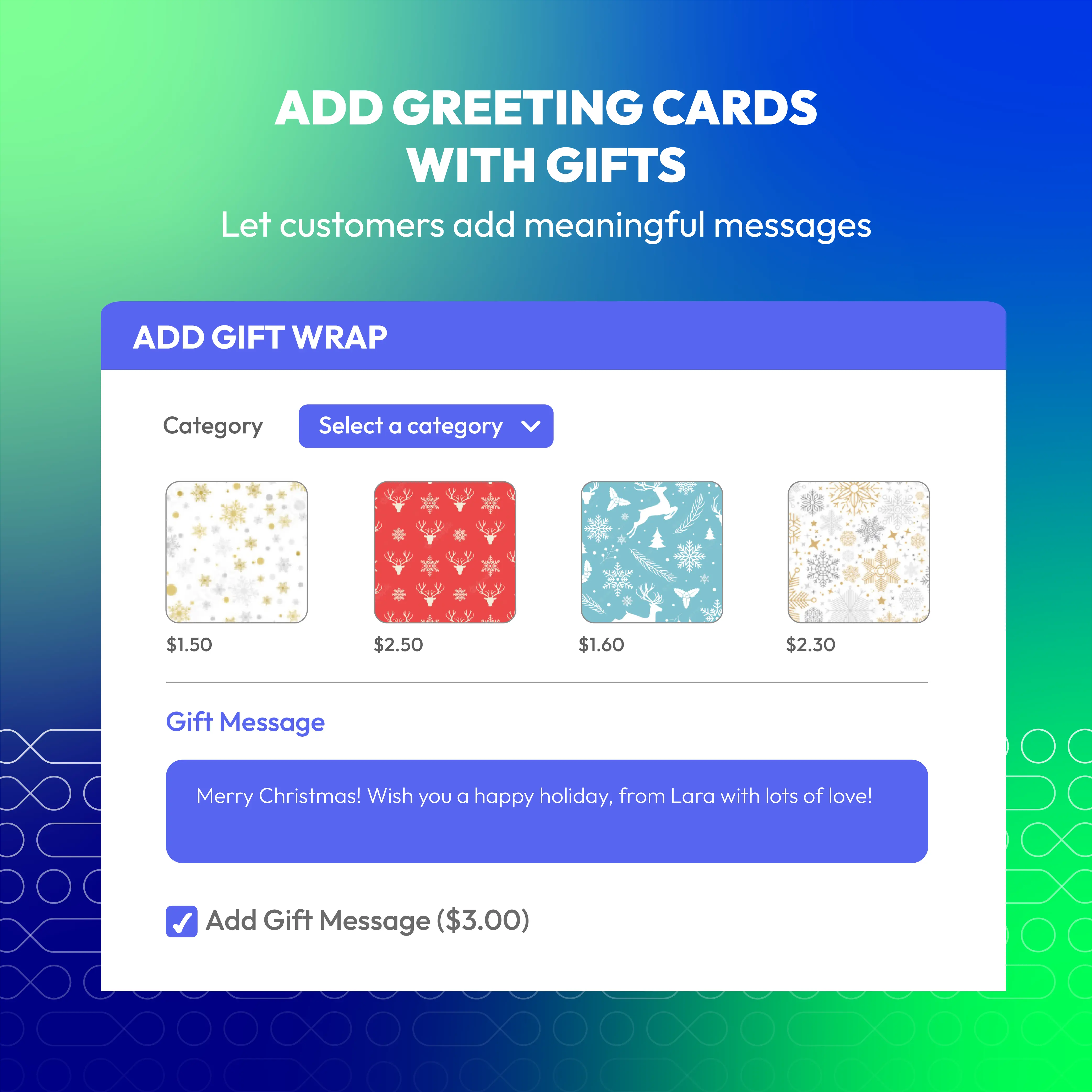 60-day Money Back
Frequent Update
365-day Support
Gift Wrap for Magento 2
v4.1.4
Magento 2 Gift Wrap extension helps customers wrap their purchased items as lovely gifts and attach the message gift to send to their beloved. Gift Wrap extension definitely brings the great shopping experience for shoppers on special occasions.
CE/EE/B2B/Cloud/ Adobe Commerce 2.2.x, 2.3.x, 2.4.x
Chat now
Problems
The gift wrap service which is added to online stores will motivate customers to make their purchases online in the holiday or personal special occasions. Instead of visiting a physical store to wrap the items, customers now can pick any items, select preferred wrappers and have the presents delivered to their loved ones with ease. Therefore, online stores supporting wrapping services will have great opportunities to increase sales significantly.
Adding extra service to meet customer demand is the way to show that the stores would like to take good care for their shoppers and bring them good experience as best as possible. Have you had the solution?
Solutions
Decorate the purchased item
Deliver meaningful messages
Save a lot of time
Remain an emotional experience
Pricing

Choose your suitable edition
Community
Crafted for a great webstore start
$

199

first year
Supports for Magento 2 Community Edition
Enterprise
Great for an enterprise solutions
$

399

first year
Supports for Magento 2 Enterprise Edition
Highest priority support
The invitation is allowed to display on Product Detail Page, Shopping Cart Page, Checkout Page.
Yes, a pop-up will display when customers click on "Add Your Gift Wrap" or "Change Your Gift Wrap" button. Customers can select their favored wrapping paper with ease.
Yes, there is an "Add a message" section on the gitt wrap pop-up, which allows customers to add the the message card with their gifts easily. Admins can set fee for gift message.
Yes, admins just need to create categories with specific names then add the wrappers into these categories such as Birthday, Christmas, and so on. Customers can find out easily the wrappers when they are sorted out clearly.
The items can be wrapped individually or together (in one gift box)
It depends on the setting of admins from the backend configuration.
Yes, the button of "Change Your Wrapper" will appear and allow a customer to change the current wrapper to another one.
Yes, all the information related to wrapping orders will be recorded in the backend management order grid
Glad
Customers have been asking for this service for a while now, so I'm glad to find this extension. It does what it says, no complaint so far.
FRIENDLY SUPPORT
Their support team is the best. They're patient and help me deal with every question. Many thanks!
Justin
-
Verified Purchase
Great support
All my problems and questions have been solved now. Thank you so much for your quick reply and help!!!!
George A. Martin
-
Verified Purchase
Nice
I'm using a lot of extension from Mageplaza. And Gift Wrap is also a great one. It's easy to use and working perfectly. Besides the support is excellent as well, answering my questions quickly and with good details. Thank you
Anne W. Bailey
-
Verified Purchase
Must buy!
This module is amazing for boosting UX. Plus the price is affordable only 199 bucks. Couldn't ask for more! Thank you Mageplaza!
Maria C. Brown
-
Verified Purchase
Don't see the features you are looking for?
Request feature
Submit your feature requests below
Want to do extension customization?
Custom request
Let us know your requirements
v4.1.3

12 September 2022

Compatible with Magento v2.4.4
v1.2.1

29 November 2021

Fixed error show gift wrap amount on Sale Guest View layout
v4.1.1

29 November 2021

Fixed error show gift wrap amount on Sale Guest View layout
v4.1.0

23 July 2021

Added Post Card & Wrap chart
Fixed minor bugs
v1.2.0

23 July 2021

Added Post Card & Wrap chart
Compatible with Magento 2.3.7
Fixed minor bugs
v4.0.1

05 April 2021

Compatible with Magento 2.4.2
Fixed bugs with Paypal Express
Fixed bugs Magento multi store
Fixed minor bugs
v1.1.2

24 July 2020

Compatible with Magento v2.3.5
v1.1.1

23 June 2020

Compatible with Full Page Cache
Fixed minor bugs if Gift Wrap empty or module disabled
v1.1.0

26 February 2020

Added RestAPI & GraphQL
Fixed minor bugs
v1.0.1

30 December 2019

Compatible with Magento 2.3
Improved code style & performance
Fixed minor bugs
v1.0.0

05 March 2019

Initial Release
Gift Wrap for store admins
Gift Wrap Configuration
Enable/ Disable the extension
Add the label for Add Gift Wrap button
Add the label for Change Gift Wrap button
Select tax class customers have to pay for
Upload Gift Wrap icon
Select Gift Wrap type: Per item, Per cart, Both
Add a notice to customers when wrapping all items in one gift box.
Allow/ Disallow showing gift wrap invitation on Product View Page
Enable/ Disable adding the gift message
Set max characters for the gift message
Set fee for the gift message
Select pages to show gift messages: Shopping Cart Page, Checkout Page, One Step Checkout
Manage Wrap Categories
Set a new category for wrappers
Enable/ Disable the category
Adding an internal description for the category
Adding store view(s) for the category
Adding customer group(s) for the category
Set the sort order for the category
Edit or Delete the information of a category
Manage Gift Wrappers
Create a new gift wrapper
Enable/ Disable the wrapper
Set the fee as fixed or counted by the quantity for the wrapper
Set fee for the wrapper
Set description for the wrapper
Upload the image for the wrapper
Select the category for the wrapper
Set the sort order for the wrapper
Edit or Delete the information of a wrapper
Manage Wrapping Orders
View customers who order wrapping service
View order ID, order status, gift wrap, category, image
View product list
View order date
View gift message
Gift Wrap for customers
Wrapping the items as gifts to send to friends
Select the favorite gift wrapper
Change the wrapper
Have better shopping experience on the store sites
Why choose us?
Mageplaza provides consistent and customer-centric extensions for your Magento 2 store.
We don't sell products for one time. We provide lifetime solutions which help our customers thrive with their businesses.
60-day Money Back
Extensive 60-day money-back period. You love it or get a full refund no questions asked.
Extensive Support Timeframe
Mageplaza provides support 16 hrs/day, 5.5 days/week to guarantee the seamless operation of our extensions on your store.
Install via Composer
Simple installation via composer helps you save time and eliminates technical issues during future updates.
Frequent Updates
Intensive update roadmaps ensure great performance, bug-free, highly compatible, and innovative extensions.