How to create coupons usage report in Magento 2

Coupon is the encoded serial that allows getting the discount when customers apply it in the checkout process. You can come back the Create Coupon Codes in Magento 2 to learn how to create a specific coupon code in an easy way. There is a way to create mass coupon codes, customers can apply coupon by clicking that you provide, learn more.
From Shopping Cart Price Rule settings, allow you to generate multiple coupons at the time, but you might have some difficulties to manage them without any confusion. Therefore, we will support you do it effectively with Coupon Usage Report in this post or contact with our Magento support service.
Do you know? Mageplaza Multiple Coupons can help you applied multiple coupons to Checkout or Shopping Cart page
What is the Coupon Usage Report?
Coupon Usage Report is the powerful tool to filter all coupon by time period, order status, and price rule. Depending on your choice, the corresponding coupons will be shown on the coupon report.
Create Coupon Usage Report
Step 1: Enter your Magento 2 backend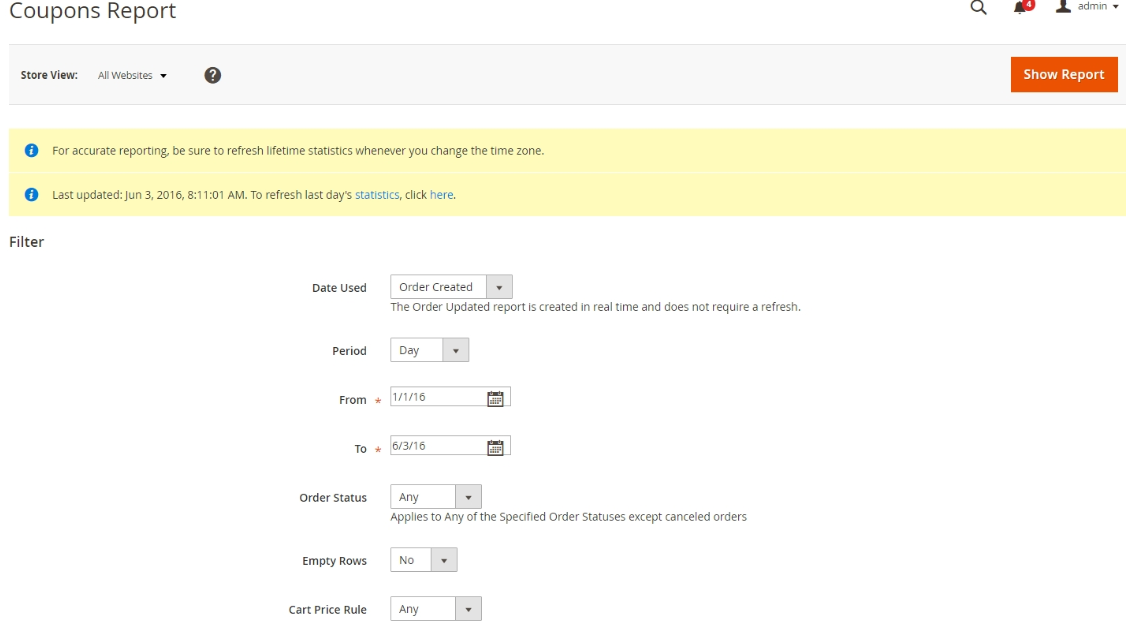 On the Admin Panel, Report > Sales > Coupons.
If there are multiple store views, in the upper-left corner, choose the Store View for showing the coupon report.
Step 2: Create the Coupon Usage Report
See the message at the top page, click Statistics link to renew the data of the day.
Start refining the data:

Select Date Used from the dropdown: Order Created and Order Updated while the Order Updated report is created in real-time, and does not ask for a refresh.
Set the Period for the report: Day, Month, or Year.
Zone the period of time by From and To field.
To follow the report with certain order status, set Specified for the field and choose the status you need. If leave Any, apply to all the Specified Order Statuses except canceled orders.
Create omit row without data from the report, choose No in the Empty Row field.
Set Cart Price Rule to

Any option is showing all coupon activity from all cart price rule.
Specified option is for only one cart price rule.

Show Report when complete all and the report will appear the below.
Step 3: Save configuaration
Don't forget clicking Save Config to save all changes.
---
Back
Ask Mageplaza
---
Looking for more information?
magento-2-tutorial
how-to
create
coupon
useage
report