Three powerful applications of free shipping bar and how to configure
The Most Popular Extension Builder for

Magento 2
With a big catalog of 224+ extensions for your online store
Free shipping is considered as a growing trend in the e-commerce industry to remain competitive and increase customers' shopping cart size. There are some reasons behind offering to deliver without cost. The first one is that customers like to get something free. High transport expense often causes the cart abandonment, which negatively affects the stores' turnover. Free Shipping Bar extension was born as a solution to increase the number of sales and lead to a reduction of the bounce rates. It works as a reminder informing visitors the benefit of getting products without paying an extra fee on shipping or the lacking amount of money to reach the threshold for free delivery. When shoppers have an awareness of being offered free stuff, they are willing to buy a little more. With a considerable amount of "a little more" from buyers, online stores can increase its revenue.
Main content
What is free shipping program?
Nowadays, free shipping notion has become a common word used in the e-commerce industry. It is a marketing strategy for online businesses where customers don't need to pay the additional delivery charge for their orders. Buying products without paying shipping cost will bring advantages for both merchants and shoppers. Purchasers will get their orders shipped without pay delivery fees, which encourages them to buy more, while the store owners get their revenue increase incredibly. There are some kinds of free shipping programs which business doers often apply.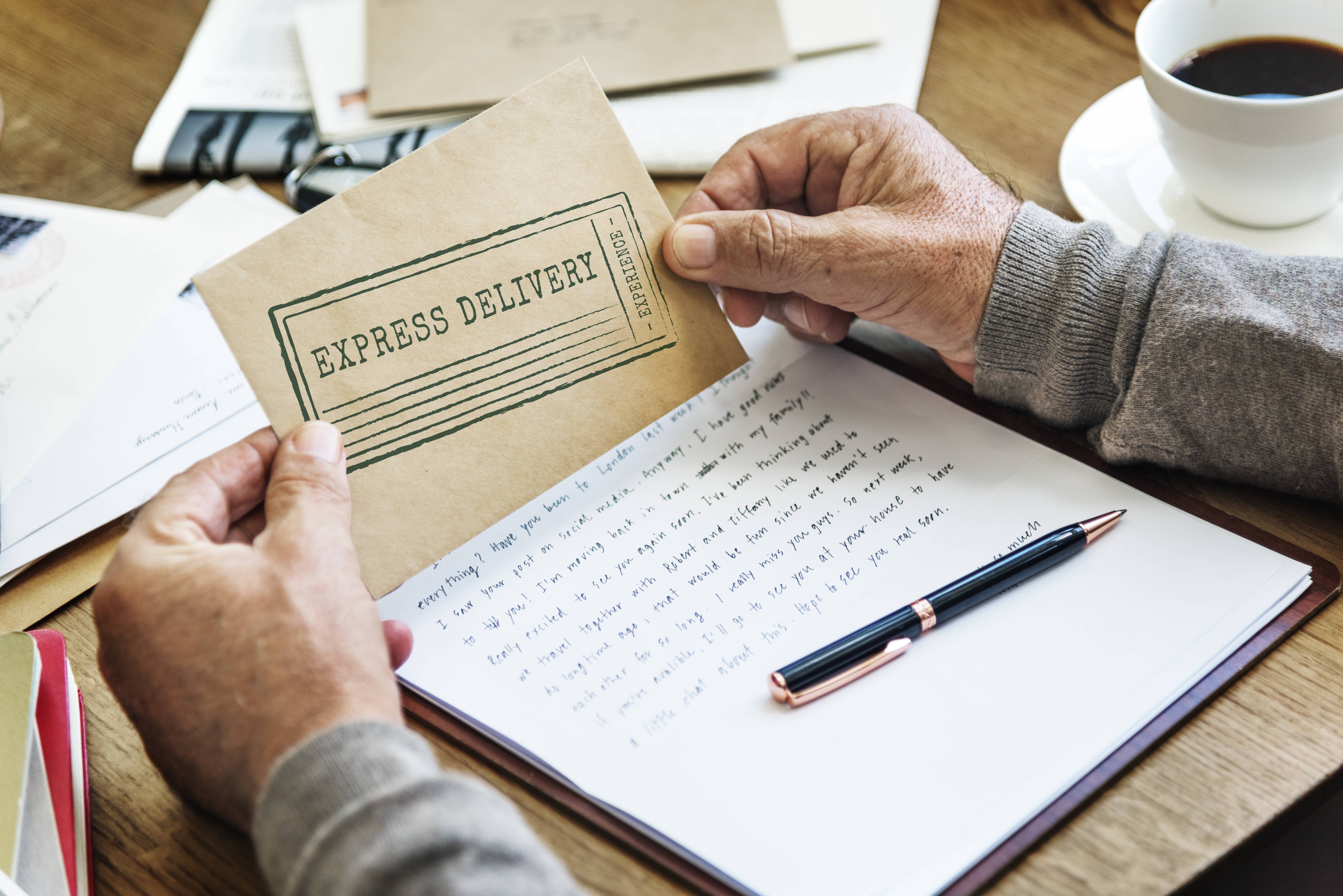 Ship everything with no fees: retailers offer free delivery for everything in their shop, which often uses shops selling expensive but small items such as jewelry.
Ship some items without paying any transportation fees: shop owners set promotion for some products with no delivery cost. These items may bring high profit for them swallow this extra fee.
Free delivery above a threshold of minimum amount: Shop admins set the threshold value that the total amount of purchases must reach to have the shopping cart shipped without delivery cost.
Free shipping at specific periods of a year: the demand of shopping at some occasions such as Black Friday, Valentine's Day, Christmas is higher than other periods in a year, which increases the competition among online shops because no one wants to be left behind. So they attract customers by multiple promotions, including delivering without charge program.
Membership and loyalty program: No shipping payment is a benefit for buyers who joined a membership or loyalty program, which helps increase loyal customers.
Ship freely to some locations or pick up at store: it can be used to ship to large countries like China, the USA. Some big e-commerce which has lots of stores located all over the world can use this strategy.
Benefits of the free shipping program
Improve sales and conversion rates
Business marketers use lots of strategies to increase traffic to their websites but lose customers due to over shipping charges. According to the survey made by Baymard in 2018, the main reason why online shoppers abandon the checkout process is the high cost in shipping and other fees.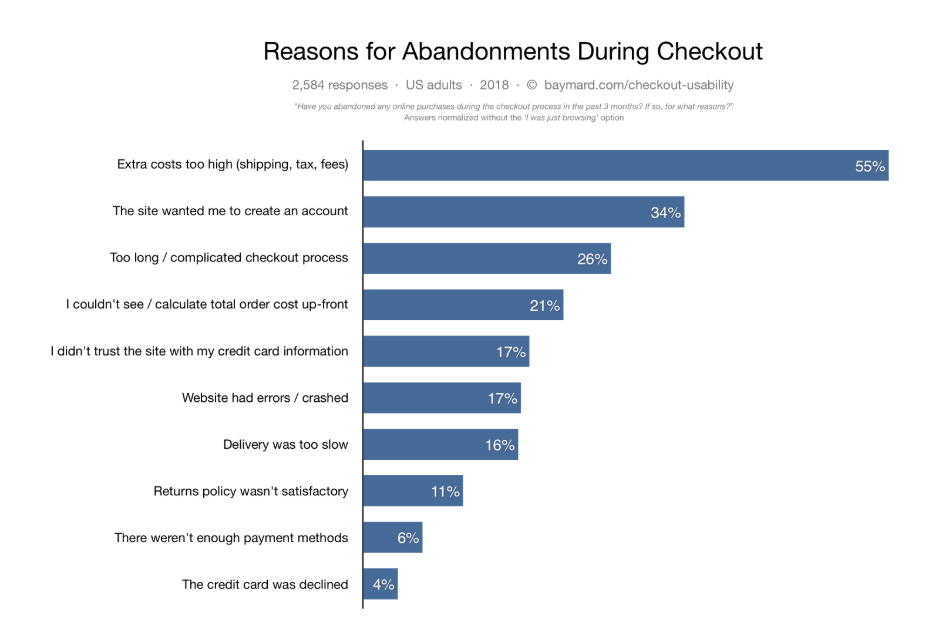 This is not a good signal for sales performance. However, by displaying the free delivery offer on any pages, at any place on your online stores may bring customers back for further purchase because it raises the willingness to buy.
Improve the Average Order Value
Business often sets a specific threshold on order value for a customer to get this promotion, which encourages visitors to purchase more on your site to reach the threshold as most shoppers want to have free stuff. Mageplaza Free Shipping Bar will show the message which automatically calculates based on the customers' shopping cart total. This alarm tool pushes store users to buy more to accomplish the targeted amount.
Increase Customer Loyalty
Customers in the loyalty program can be offered the benefit to deliver their order without paying any extra fee, or they can buy a package of free shipping at a reasonable price. It could be an attractive offer which stimulates visitors to register your loyalty program. The members will be multiple gradually, thanks to this strategy.
Gain competitive advantages
Offering free delivery helps online stores remain competitive in today's market. The e-commerce market has excessive growth with a boom of online shops. To stand firmly in the competitive road, your store needs to gives customers the benefits that they take seriously while free delivery is one of them. Moreover, some major e-commerce such as Amazon, Walmart, Wayfair often gives their consumers a chance to have products shipped with no payment. Following this trend also make your store's performance trusted in customers' eyes.
Three powerful applications of Free Shipping Bar
Case study 1: Apply during a short marketing campaign.
Problem
Shipping freely is considered as a powerful tool in online stores' marketing strategy, which helps them increase incredibly the sales number. So store owners want to apply it year round to attract more customers, which supports to increase their sales. But offering free delivery year round does not get the big lift in conversions while it also causes a severe problem on the financial statement. Seasonal shipping freely can provide a welcome boost in sales. There are three reasons to explain this situation. Firstly, displaying free shipping bar all the time on your e-shop will make clients feel cheated. They think that the transportation fees include the product price and there is no promotion on your store. Secondly, when customers get used to freeing delivery, they need to be lured in purchasing products for another reason. Shop owner needs to launch other promotion campaigns like a buy one gets one free or a discount on product collection. The last reason is that applying the seasonal free shipping strategy promotes shopping doers to purchase more as they are afraid of missing this chance. This promotion will close as soon as the special occasion ends.
Solution
For some special periods during a year such as Christmas, New Year, Black Friday, etc., online shops can offer free delivery, which helps increase their revenue. It's a seasonal push by delivering freely for a day, a week or a month. Informing ship without fees on the Homepage will attract visitors instantly when they visit your website. They will enjoy their shopping trip as they don't need to pay any extra charges for delivery - if the store owner applies to deliver with no fee for all items. Or they try to add more products on their cart to reach the threshold for delivery freely. Free delivery can be considerable incentives to your customers. Delivery without paying transportation in off-peak periods is a good idea. Online stores will have a competitive advantage as no many rivals use free delivery during this time. Moreover, it can save the transportation expense as in the peak season, and the couriers may increase the cost quotation.
Case study 2: Display the free shipping bar in different places
Hypothesis
Free Shipping Bar message often places in the promo bar at the top of the page which attracts most viewers' eyes quickly. If there are many promoting messages in the promo bar, this free delivery message can be missed and does not influence the buying decision. So the question of where to display this bar will be raised in store owners' mind. In the AB test from Growth Rock, they tried to place the notice of shipping without fee below the Add to Cart button on the pages of product detail. The result they got is a 19% increase in orders with 99.9% statistical significance. The test ran for two weeks and recorded over 1500 conversions.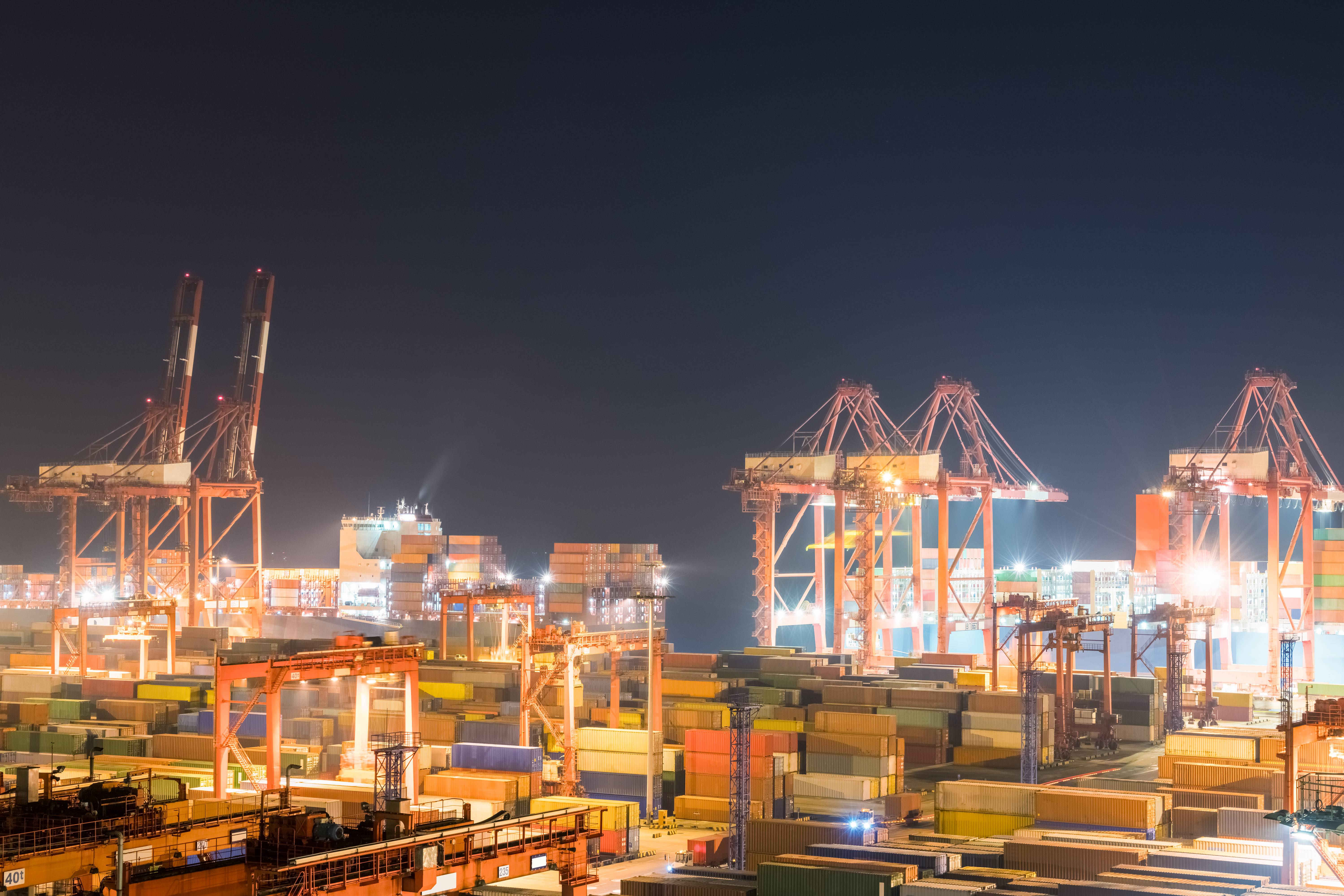 Implications
Thanks to the AB test from Growth Rock, shop admins will keep in mind that other promotional banners can hurt the effectiveness of the free delivering message. So if you launch some marketing campaigns at the same time with a discount for product collection, buy 2 get one free, free shipping, etc., it may make buyers confused and forget some benefits of your store. Placing this bar on the Product Page or under Add to Cart Button will bring a positive result. The main idea is that business doers must try displaying the bar in different positions to find out which is the best place. It will be the right solution with Magento 2 Free Shipping Bar as it suggests five areas to display free delivery message: on The top of the page, Fixed bar at the top of the page, The top of the content, Fixed bar at the bottom of the page and you can show it anywhere that you want.
Case study 3: Apply for some specific kinds of products
Situation
Offering free delivery can cause financial problems for some online stores. If they increase the product price to cover the transportation expenses, customers may find their goods cost too high and not purchase genuinely. For the other e-shops, the delivery cost does not exceed negatively affect their revenue. There are four types of ecommerce companies: high-margin products with packages that are quickly shipped (clothing, cosmetic), low-margin items that can be packed in small containers to ship (digital cameras, smartphones), high-margin goods but difficult to transport (home furniture), and low-margin products also ship hard (grocery products, large electronics). If you apply the same free delivering method for all different kinds of products, you will lose your profit margin. In this case, free delivery does not play a useful tool to increase your sales, and it becomes a negative impact on your site. Forrester Consulting, on behalf of UPS, researched the influence of free shipping on different kinds of goods. You can refer the below picture.
Implications
For the first kind of product, delivering without additional fee promotion is considered a valuable tactic to maintain market share and increase the conversion rates. But in this segment, the competition is high as shop owners face with the free delivery strategy by other sites. Moreover, customers have high service expectations as they can easily find the alternative one. So deliver freely needs to be launched whenever shop admins think it's necessary.
The second one can apply for shipping promotions only if the rivals force it or use for high-value shoppers that you think you can lose them for other stores.
Retailers are challenged with shipping fee for the third kind of products as they are expensive and hard to deliver. But the shipping promotion can have a powerful influence on customers' buying decision. For this reason, merchants can apply shipping freely for loyal customers or in the membership program. This strategy will help stores convert potential clients to loyal customers.
The last one is the most difficult for business doers. To tackle this challenge, retailers can choose pick-up at the store instead of the deliver with no fee program or limit the distance to apply shipping promotion like deliver freely for 100km.
How to configure Free Shipping Bar extension
Backend
Firstly, you go to the General Configuration with the below path: Store > Settings > Configuration > Mageplaza > Free Shipping Bar.

Please choose Yes in Enable row to allow this module to work.
To configure Free Shipping Bar block, you choose Marketing > Free Shipping Bar Management.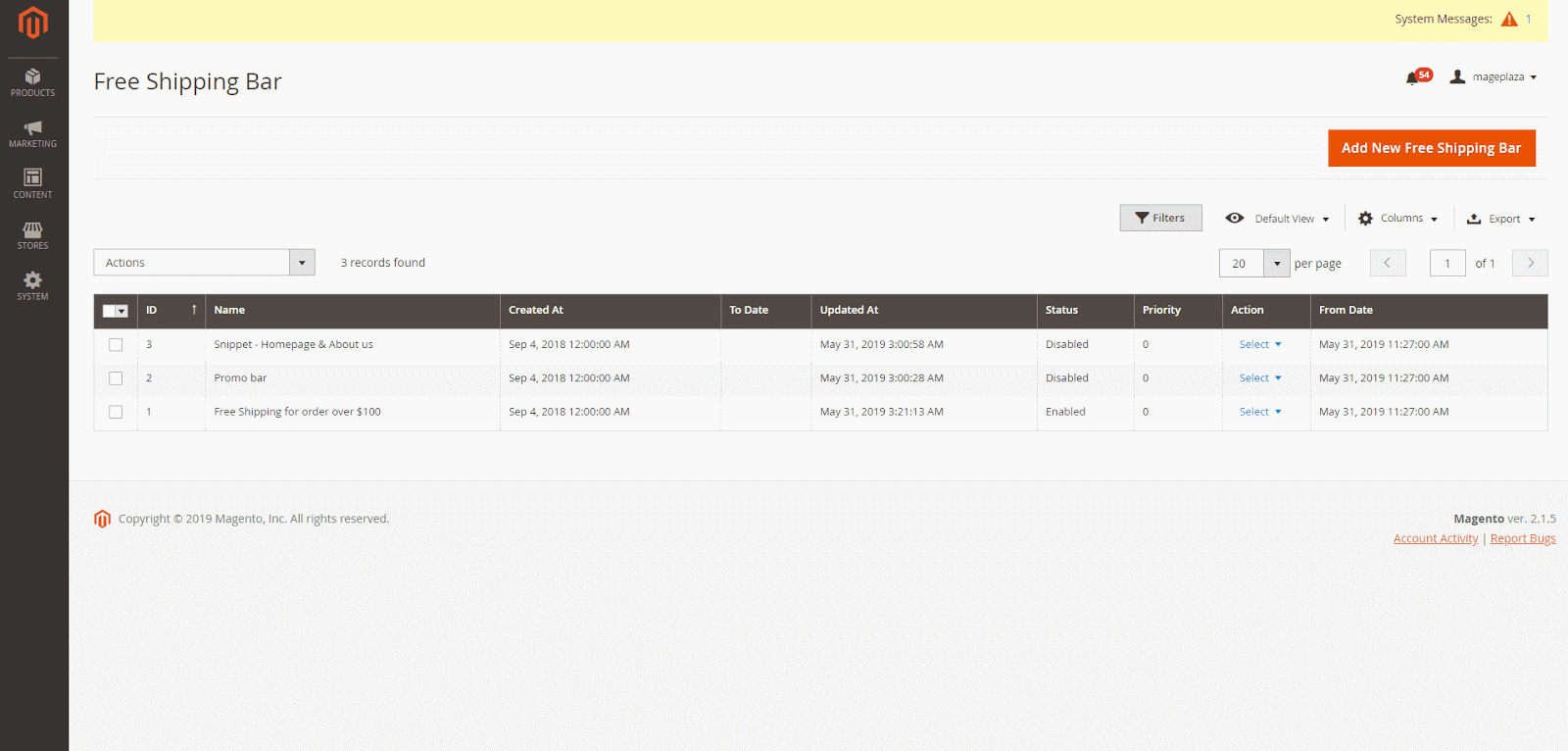 Secondly, you can choose to revise some free shipping bars created in the managerial grid. You click the Select button at the rule that you want to change. Otherwise, if you want to add a new form, you select Add New Free Shipping Bar on the top right corner of the page. A new page appears with three steps: General, What to display, Where to display. In General, you need to fill some information below.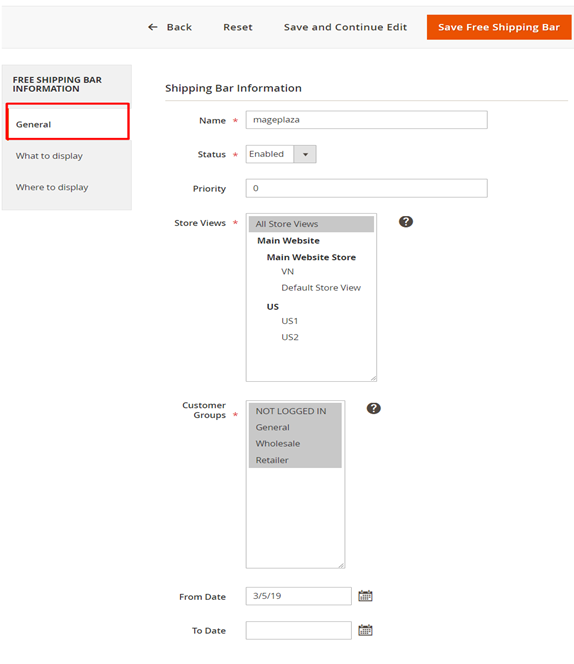 In the first row, you can put the name of Free Shipping Bar, which is only shown in the backend for admins to use easily.
Please choose Enable to accept displaying the Free Shipping Bar on the backend.
You can set the Priority, Store View, and Customer Groups as your intention.
To display Free Shipping Bar in a period, you need to fill From Date when you want to start showing it, To Date that you want to finish this promotion
Next step is to complete What to Display.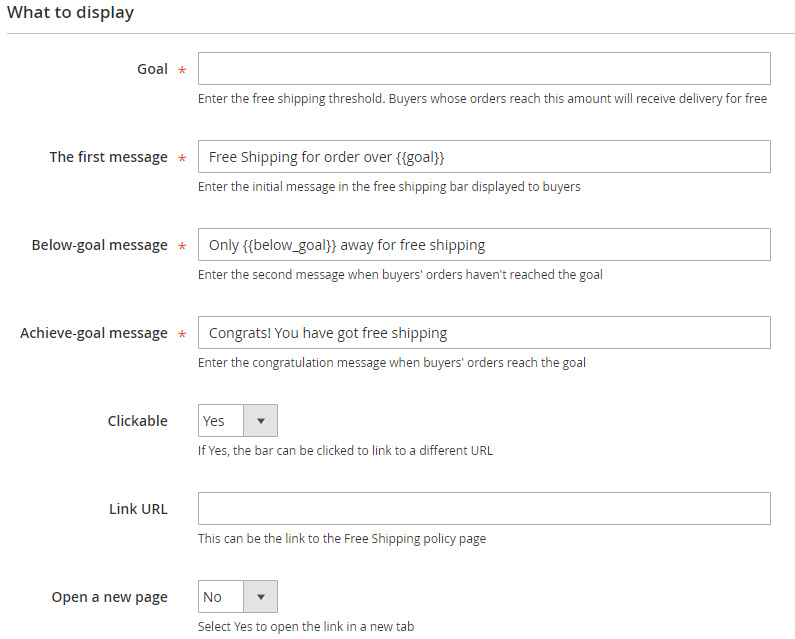 Goal is the field that you enter the subtotal value for free shipping. You can refer here to know more about setting the minimum amount for free delivery.
In The first message section, you enter the content informing customers the minimum value of their order to get free delivery.
The Below-goal message informs the lacking amount of money to have this benefit.
Achieve-goal message is the last one to congratulate buyer on getting the free ship.
You can navigate to the page containing the filled link in the item if you choose Yes in Clickable
If you choose Yes in Open a new page, a new tab appears when you click on the Free Shipping Bar There are six available temples, and shop admins can change it if they like. All changes are displayed instantly in the Preview Template section.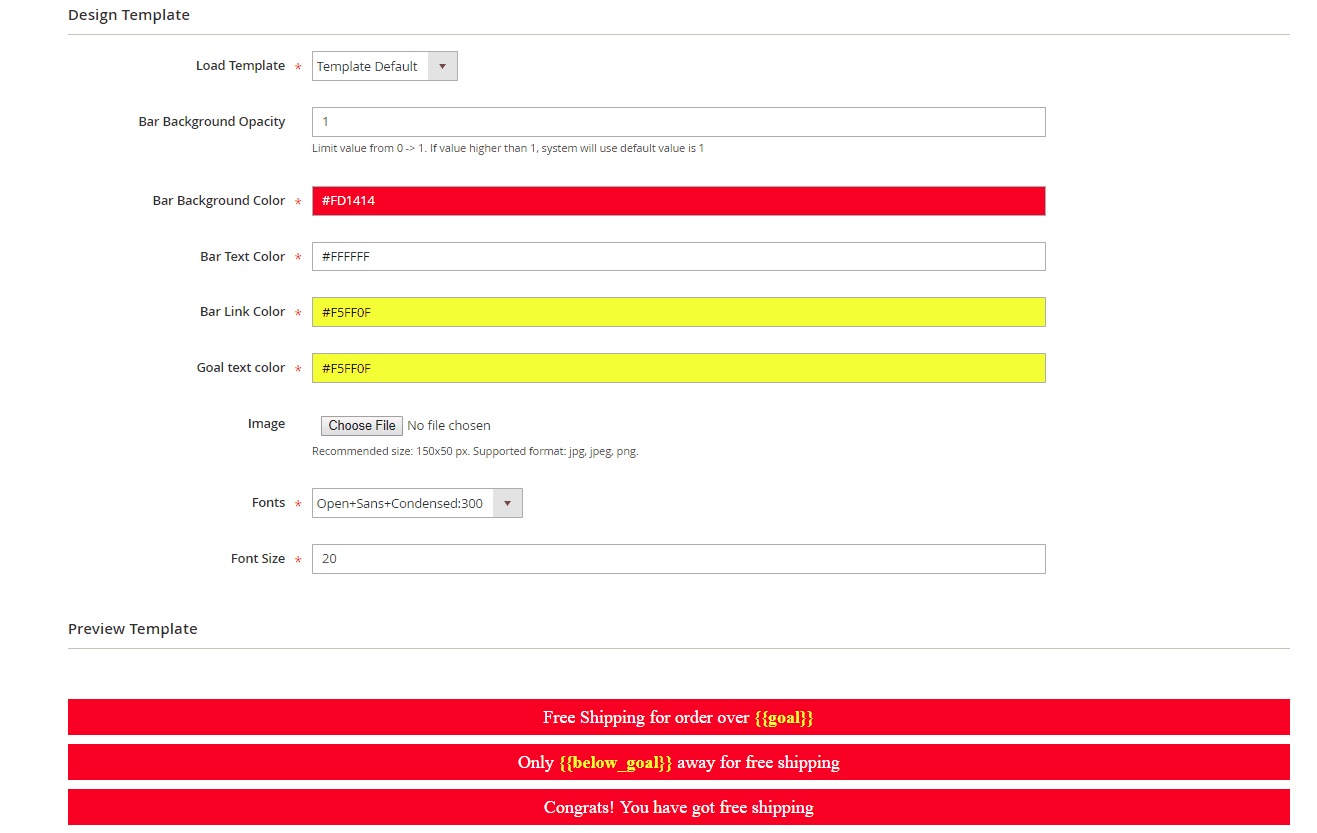 The final step is Where to Display. Admins can choose the place to show Free Shipping Bar.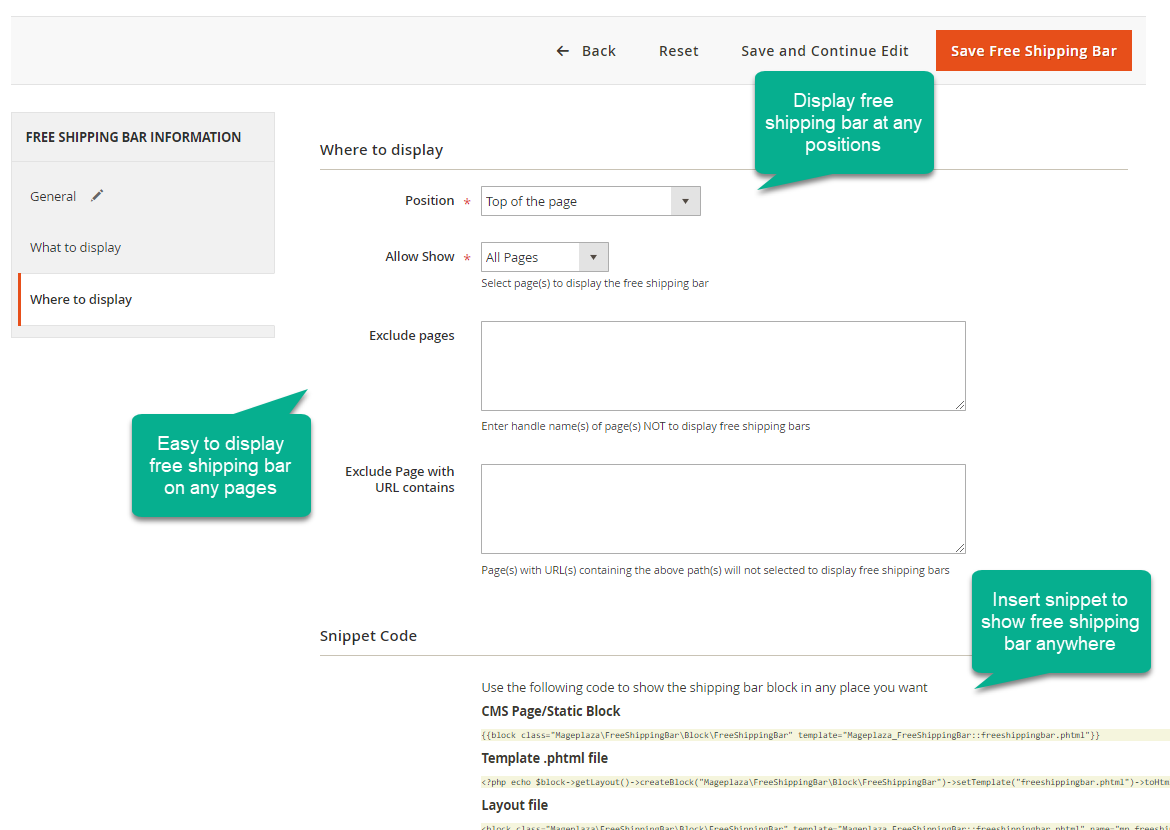 You can choose five positions to display Free Shipping Bar: The top of the page, The top of the content, Fixed bar at the top of the page, Fixed bar at the bottom of the page, Insert Snippet. If you want to display the Free Shipping Bar in any place you wish to, you need to use the below code.

The code for CMS Page/Static Block is added into the page in the Content > Page section, while Template .phtml file needs to be inserted into the .phtml file of Magento. The last one is Layout file which you insert into a .xml file.
Frontend
Free Shipping Bar will be displayed depending on your setting at the backend. It is fixed at the top of the page and not slipped when visitors scroll down if admins choose The top of the page, while Fixed bar at the top of the page allows the bar to move when customers scroll down.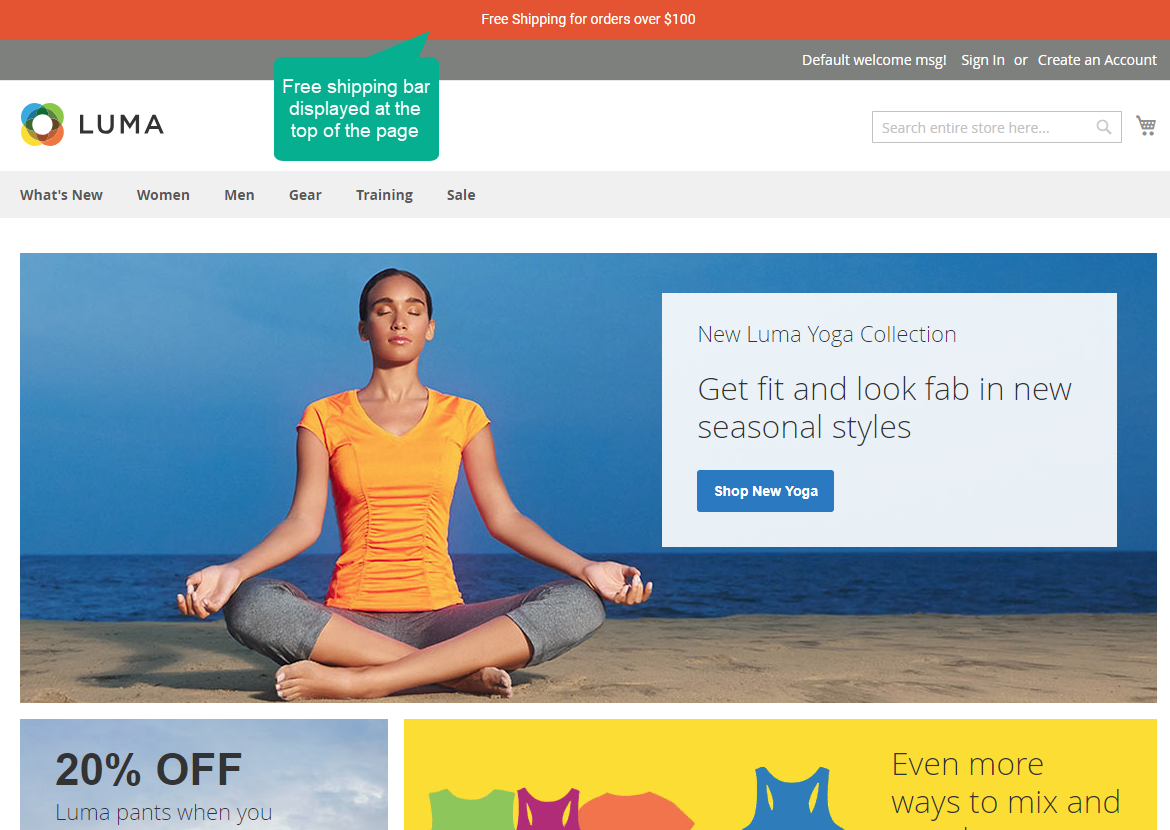 You can choose other positions to display the Free Shipping Bar to make it more attractive. Free Shipping bar is placed at the bottom of the page and slips when customers scroll down.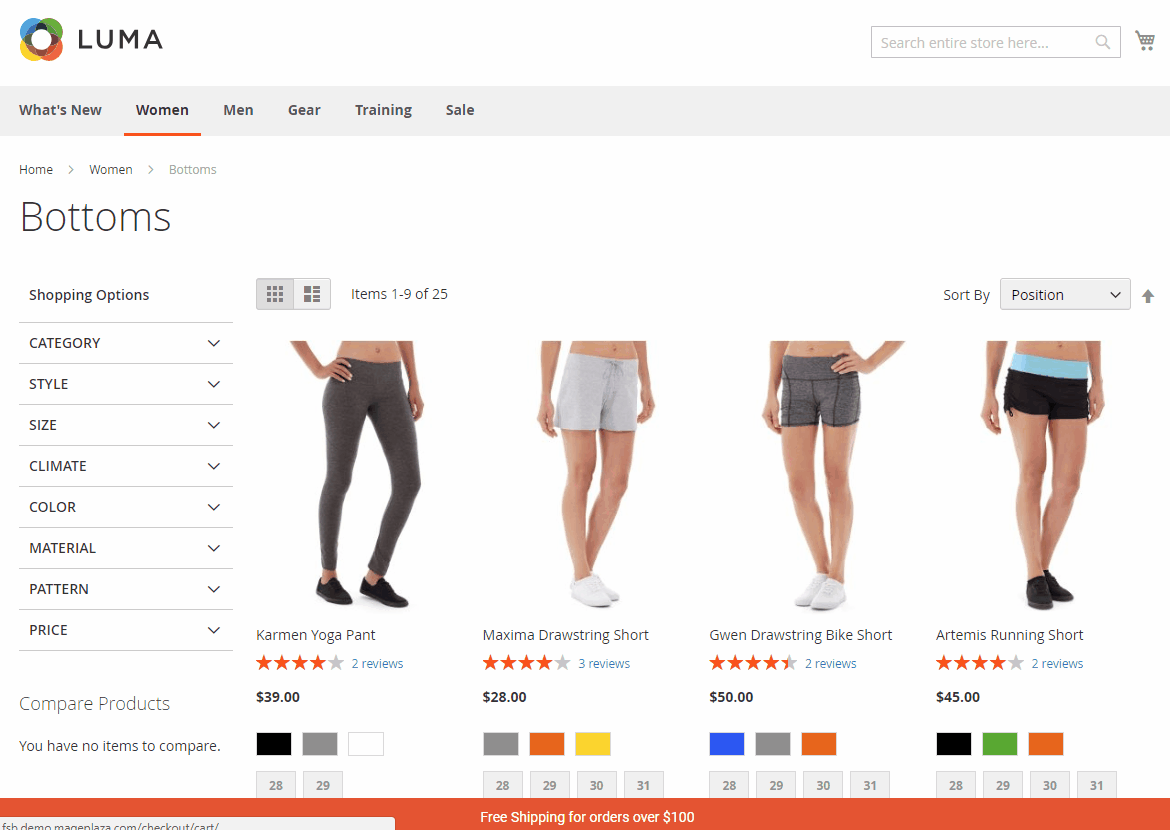 It also can display at the top of the content when you choose The top of the content at the backend.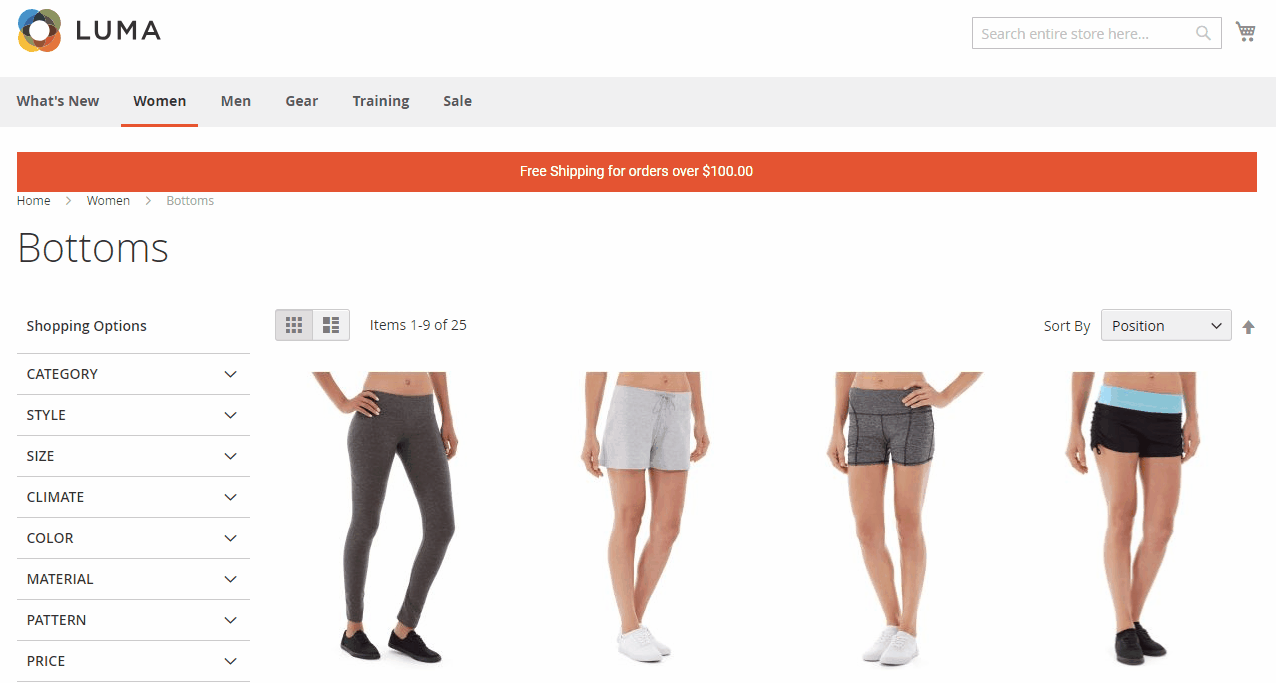 Moreover, three messages will appear if you set them at the backend. The first message works as an announcement about the free shipping threshold. The second message motivates customers to add more items in their cart to get free shipping. It can be automatically calculated the lack of money to reach the goal. The congratulated message shows when customers get free shipping.
Realted posts:
Conclusion
To sum up, delivering goods without any fee will raise the shopping passion in customers. It brings utmost benefits to attract visitors at their first sight when they enter your website. Free Shipping Bar extension supports online shops to decrease the bounce rate and increase their revenue. This extension made by Mageplaze has brought lots of advantages to many online stores all over the world. Why don't you apply it to your store and enjoy the benefits it brings to you.
EXPLORE FREE SHIPPING BAR FOR MAGENTO 2

Marketing Manager of Mageplaza. Summer is attracted by new things. She loves writing, travelling and photography. Perceives herself as a part-time gymmer and a full-time dream chaser.
Website Support
& Maintenance Services
Make sure your store is not only in good shape but also thriving with a professional team yet at an affordable price.
Get Started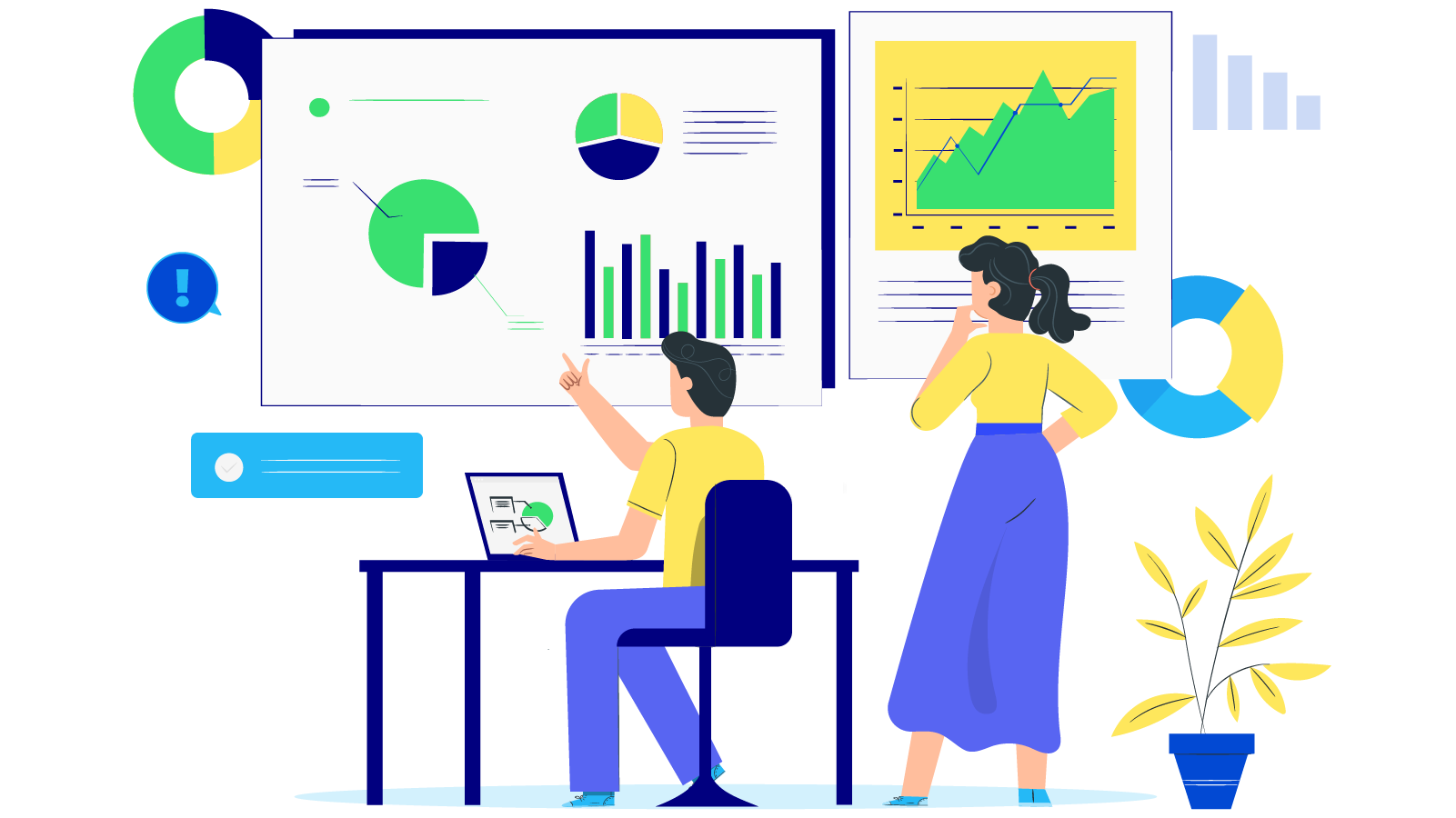 New Posts



Subscribe
Stay in the know
Get special offers on the latest news from Mageplaza.
Earn $10 in reward now!