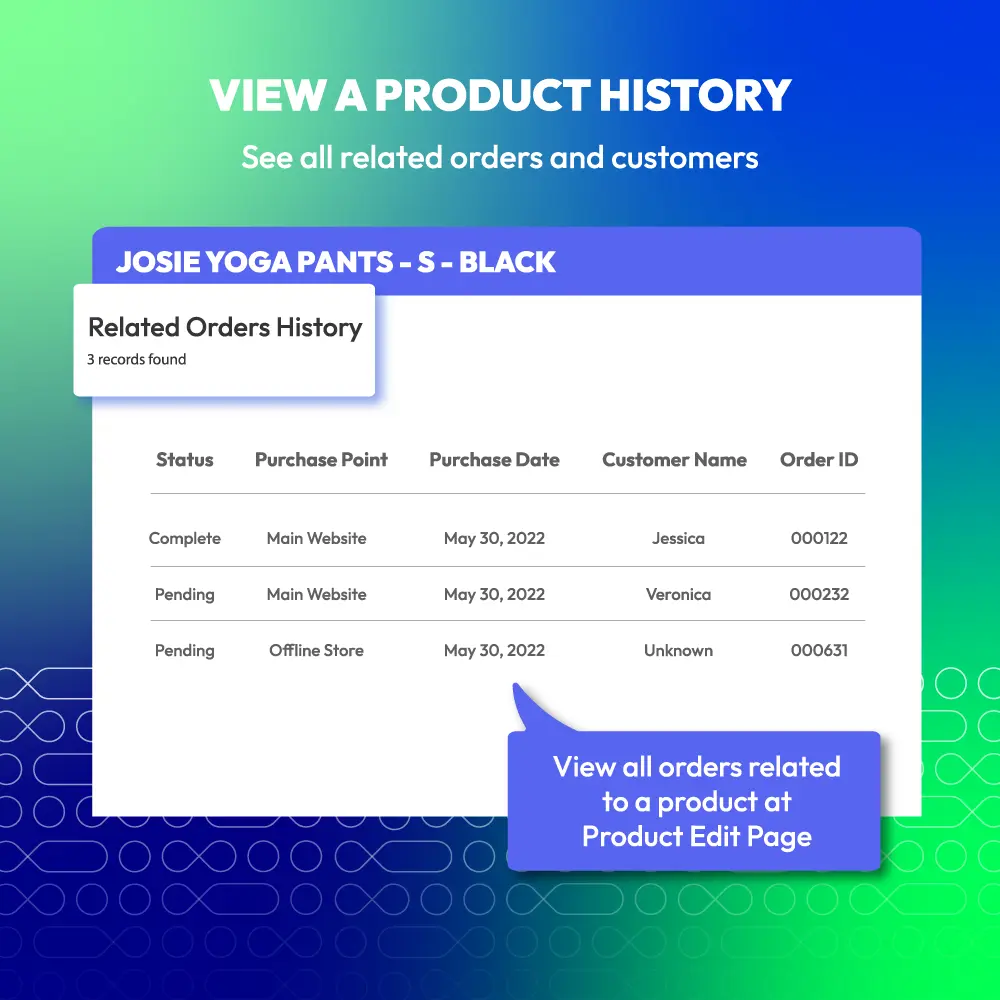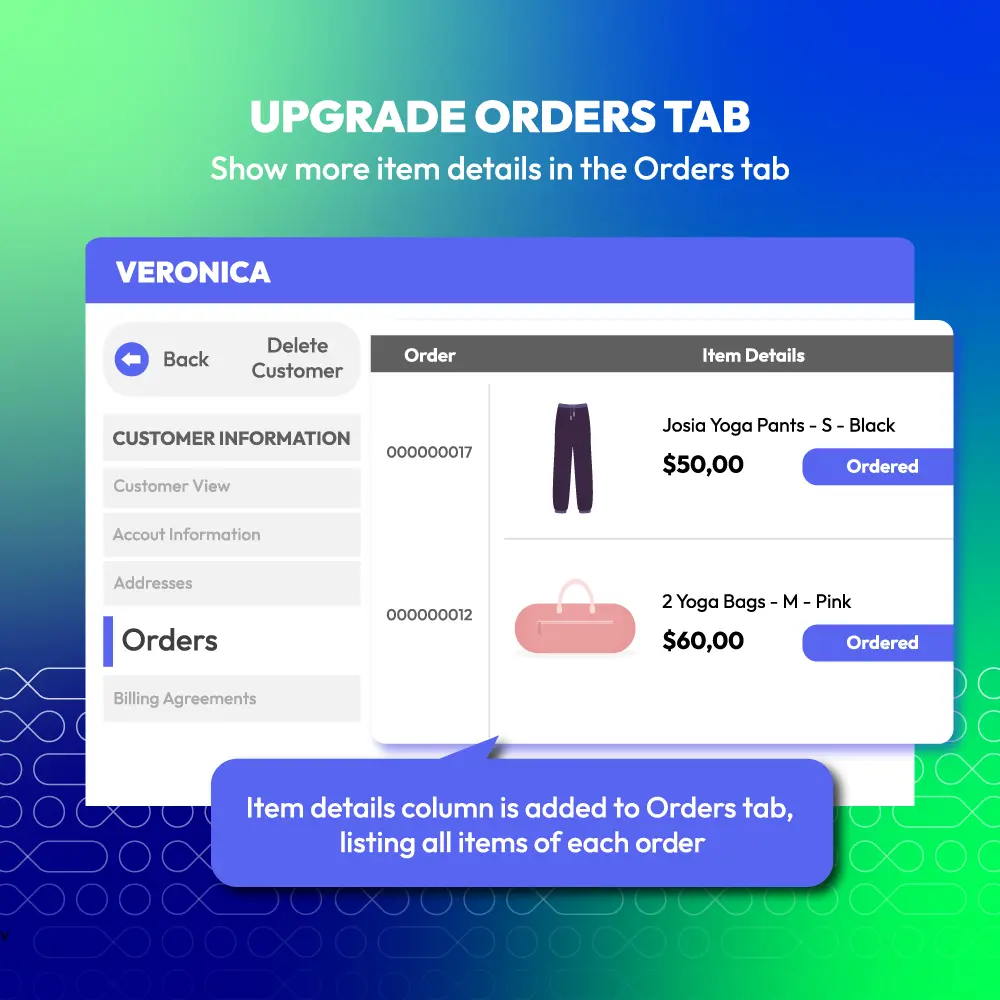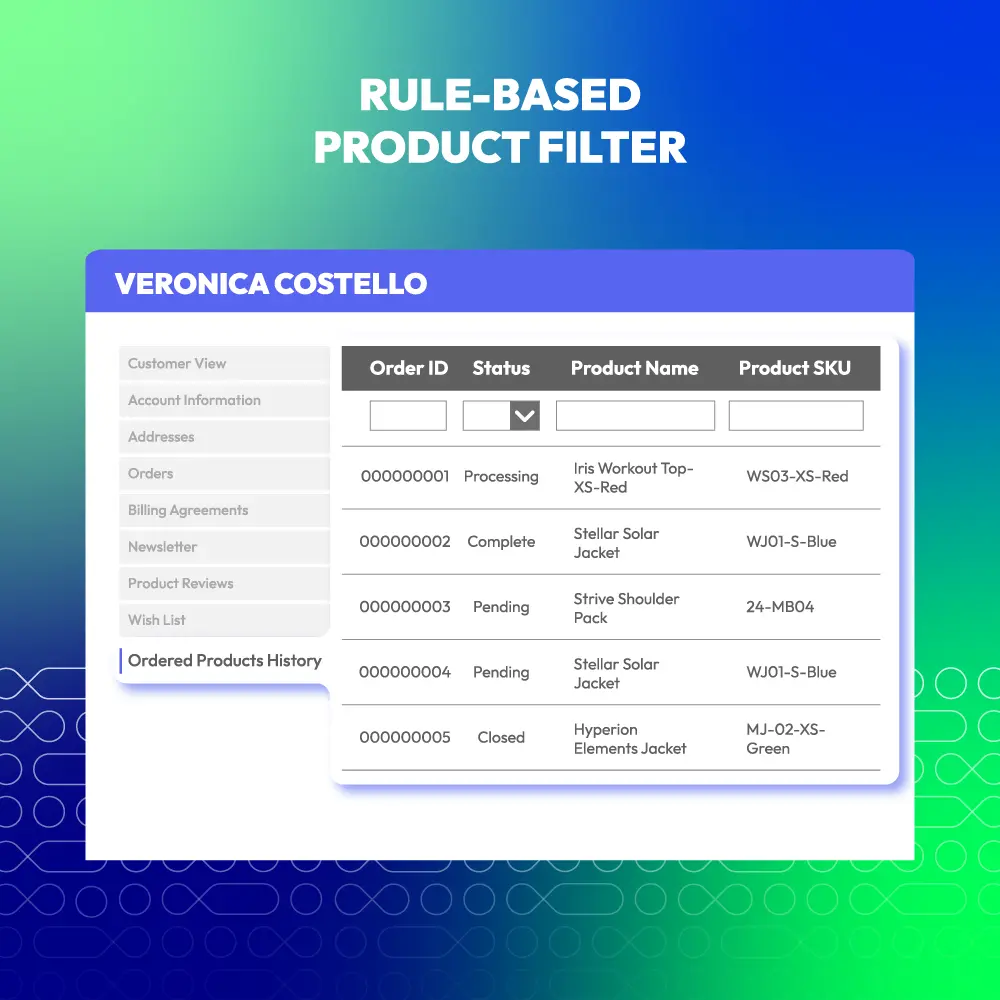 60-day Money Back
Frequent Update
365-day Support
Order History for Magento 2
v4.0.3
Magento 2 Order History extension allows store admins to access order details via Customer and Product Edit Pages at the backend easily. Online stores can view and manage any orders related to a customer or a product much more conveniently.

CE/EE/B2B/Cloud/ Adobe Commerce 2.2.x, 2.3.x, 2.4.x
Chat now
Problems
In Default Customer Detail Pages at the backend, stores admin cannot view details of orders such as which items, quantity, amount, total, etc. Therefore, it is very inconvenient when you have to open the orders section on another page and check for details.
On the Product Edit Page, store admins cannot follow the orders, sales, customers related to a product, while the information is very necessary.
Solutions
More ways to access order details
Minimize redirection actions
Easier to make the assessment
Enhance experience at store backend
Better shopping experience
Pricing

Choose your suitable edition
Standard
Crafted for a great webstore start
$
79
($99)
first year
Supports for Magento 2 Community Edition
Enterprise
Great for an enterprise solution
$
279
($299)
first year
Supports for Magento 2 Enterprise Edition
Highest priority support
The Related Orders section is added on this page, so admins can view order directly when they are viewing or editing a product.
With Order History, the Item Details column is added to the Order tab. Besides, Ordered Products History tab is added, listing all the items purchased by a customer.
Must-have for Magento 2 stores
This order history view is a tracking method to see product performance, so it's a must-have for any Magento 2 store. Wondering why there're only a few reviews of it.
Agasy Martir
-
Verified Purchase
EXCELLENT SUPPORT
This is the best support I have received, Mageplaza was awesome. I would never use any product from other company again. The support service means everything and this was 100% perfect !! Well Done.
Great
Order history can be managed better with Iteam detail collumn. I love this extension and I actually recommended this for some business partners of mine. Wish you guys lots of success.
Negga Chatwins
-
Verified Purchase
Works well with Delete orders
I purchased Delete orders a while back and luckily this works well with it. This module allows me to keep track of orders and customers easily. The filters work fine and I love the data reports as I can view and store the results. Thank you for this great extension.
Julian
-
Verified Purchase
Good extension
Mageplaza customer helper reached out to me and gave me clear instructions about the setup process. The extension works great, making it easy to check and manage order history as well as look at the data afterward.
Robert Greyson
-
Verified Purchase
Want to do extension customization?
Custom request
Let us know your requirements
v4.0.3 (Magento v2.4.x)

01 August 2023

Compatible with Magento v2.4.6
Fixed some minor bugs
v1.0.3 (Magento v2.3.x)

27 October 2021
v4.0.2 (Magento v2.4.x)

27 October 2021
v4.0.1 (Magento v2.4.x)

06 June 2021
v4.0.0 (Magento v2.4.x)

22 January 2021
v1.0.2 (Magento v2.3.x)

22 January 2021

Improved compatible with Magento v2.3.6
v1.0.1 (Magento v2.3.x)

05 May 2020

Fixed error with Single Store mode
v1.0.0 (Magento v2.3.x)

08 July 2019

Initial Release
For store admins
Enable/ Disable the extension

From the backend, stores admins can select Yes to turn on the Order History module. If they want to turn off Order History extension, they can easily select No.

Show/ Hide Ordered Products History on Customer Details Page

Store admins are allowed to display/ hide the purchased products list of a customer on the Customer Order History Details Page.

Show/ Hide Item Details at the Orders tab

It is able for store admins to choose whether to add the Item Details column to Orders History tab, displaying all items of an order, or not.

Show/ Hide Related Orders History on Product Edit Page

With Order History extension, store admins can display/hide the related orders lists to a product on the Product Edit Page.

Admins can search, sort and filter the order data easily

One of the striking features of the Order History module is to assist admins in searching, sorting, and filtering the order data with ease.

Export data to CSV or Excel XML easily

Magento 2 Order History allows store admins to export the order data to the CSV or Excel XML file easily.

Properly compatible with Export Orders, Same Order Number, Archive Orders, Mass Order Actions
Benefits to admin works
More ways to access order details, minimize redirection actions

With the support of Order History, store admins can view the details of orders via the Customer Detailed Page or Product Edit Page easily. Hence, they can minimize lookup actions and collect information effectively.

Easier to make the assessment

Thanks to the Order History for Magento 2, admins can know instantly the orders, the items, the total amount the customers has purchased. As a result, they can assess the related information to any element of orders/ customers/ products.

Enhance experience at store backend

Mageplaza Order History brings an expanded picture of customer/ product/ order to store admins. Therefore, it helps admins to get information quickly and easily in a shortened time.
Why choose Mageplaza Magento 2 Order History
Mageplaza provides consistent and customer-centric extensions for your Magento 2 store.
We don't sell products for one time. We provide lifetime solutions which help our customers thrive with their businesses.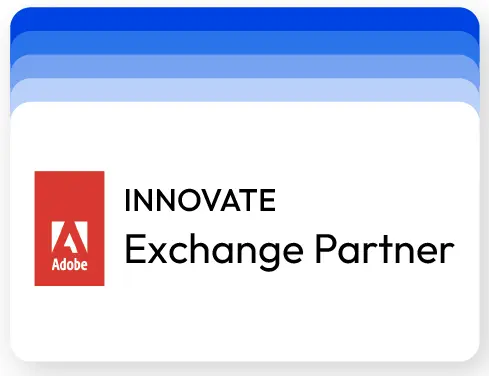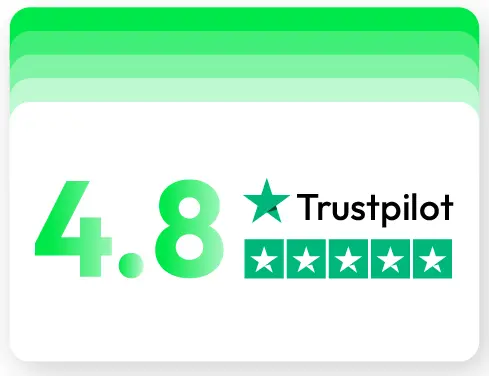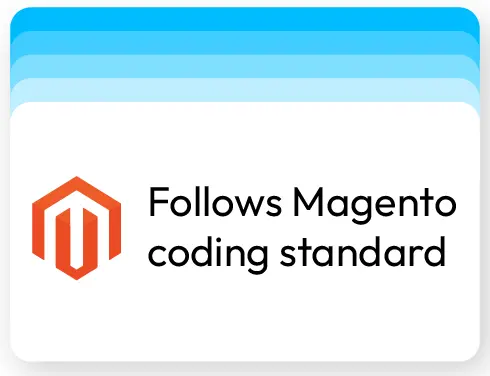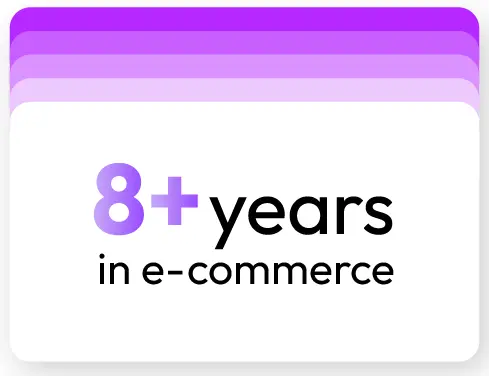 60-day Money Back
Extensive 60-day money-back period. You love it or get a full refund no questions asked.
Extensive Support Timeframe
Mageplaza provides support 16 hrs/day, 5.5 days/week to guarantee the seamless operation of our extensions on your store.
Install via Composer
Simple installation via composer helps you save time and eliminates technical issues during future updates.
Frequent Updates
Intensive update roadmaps ensure great performance, bug-free, highly compatible, and innovative extensions.