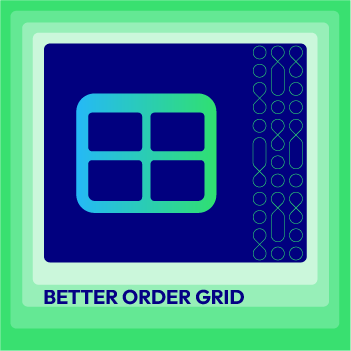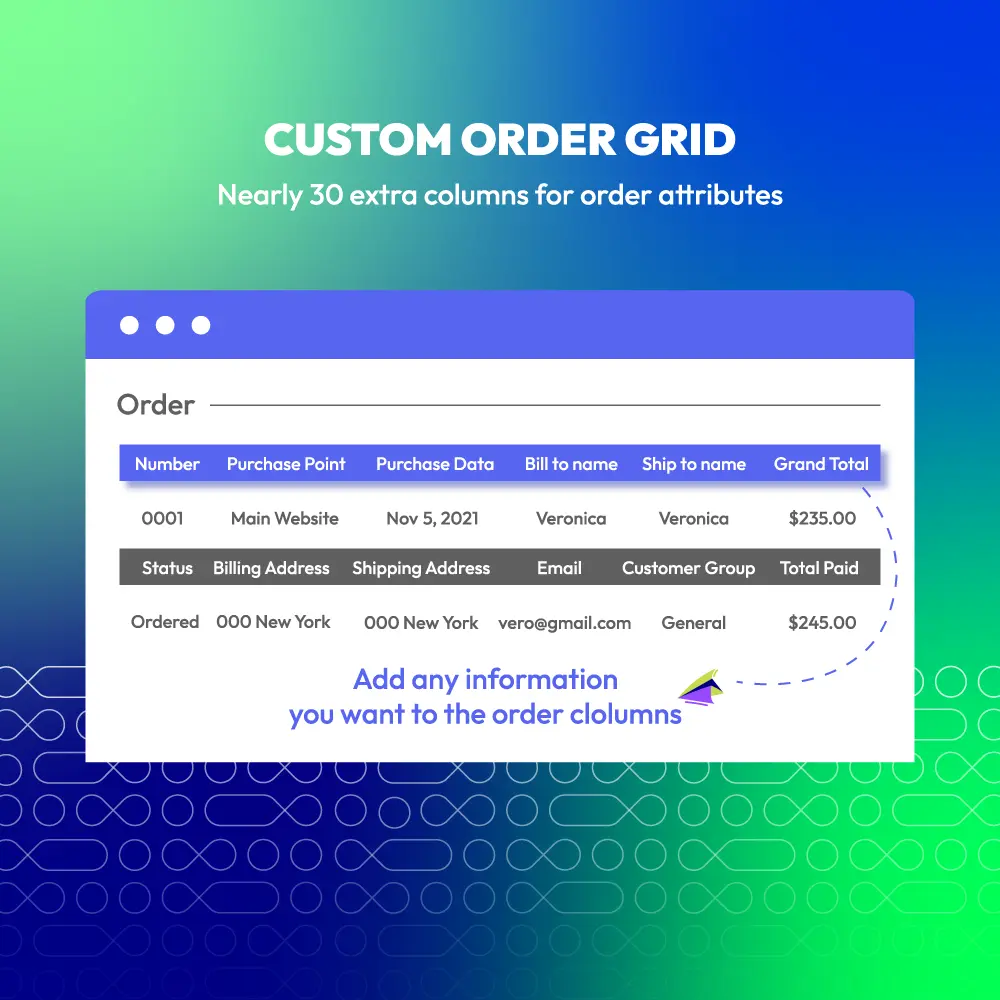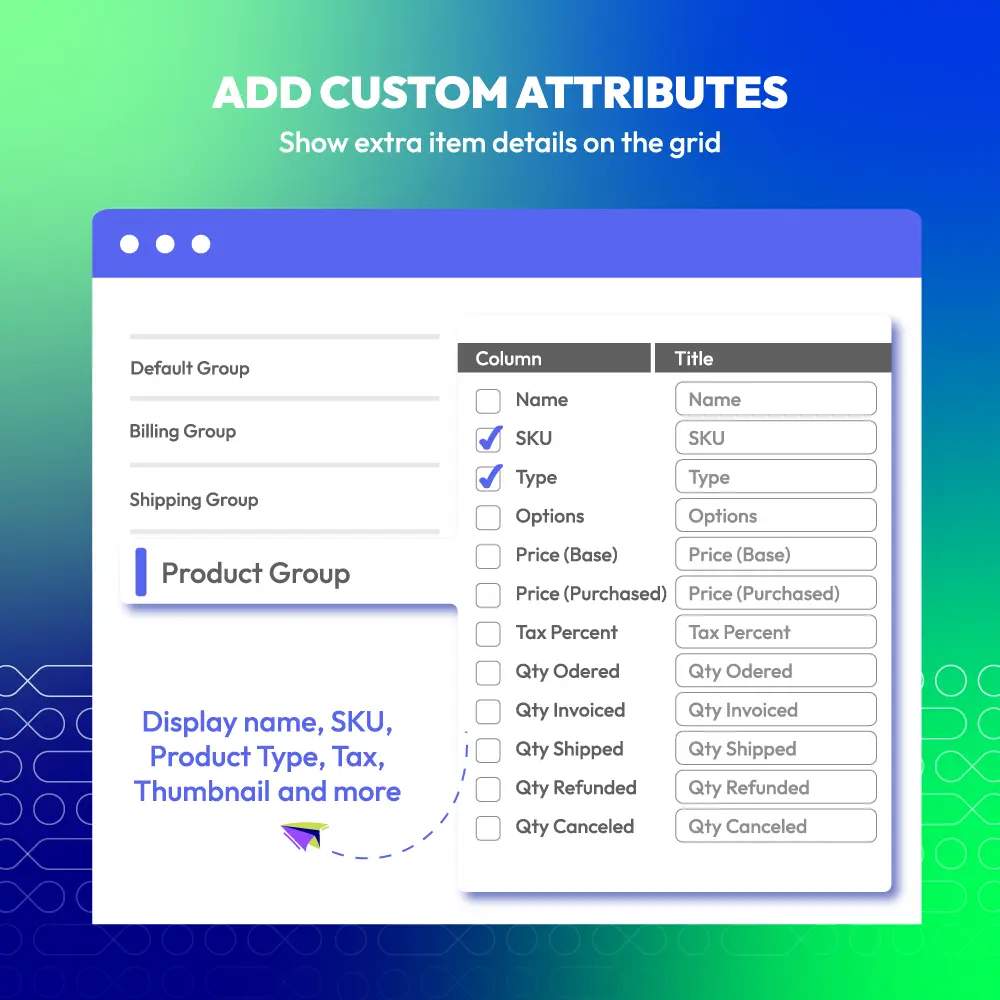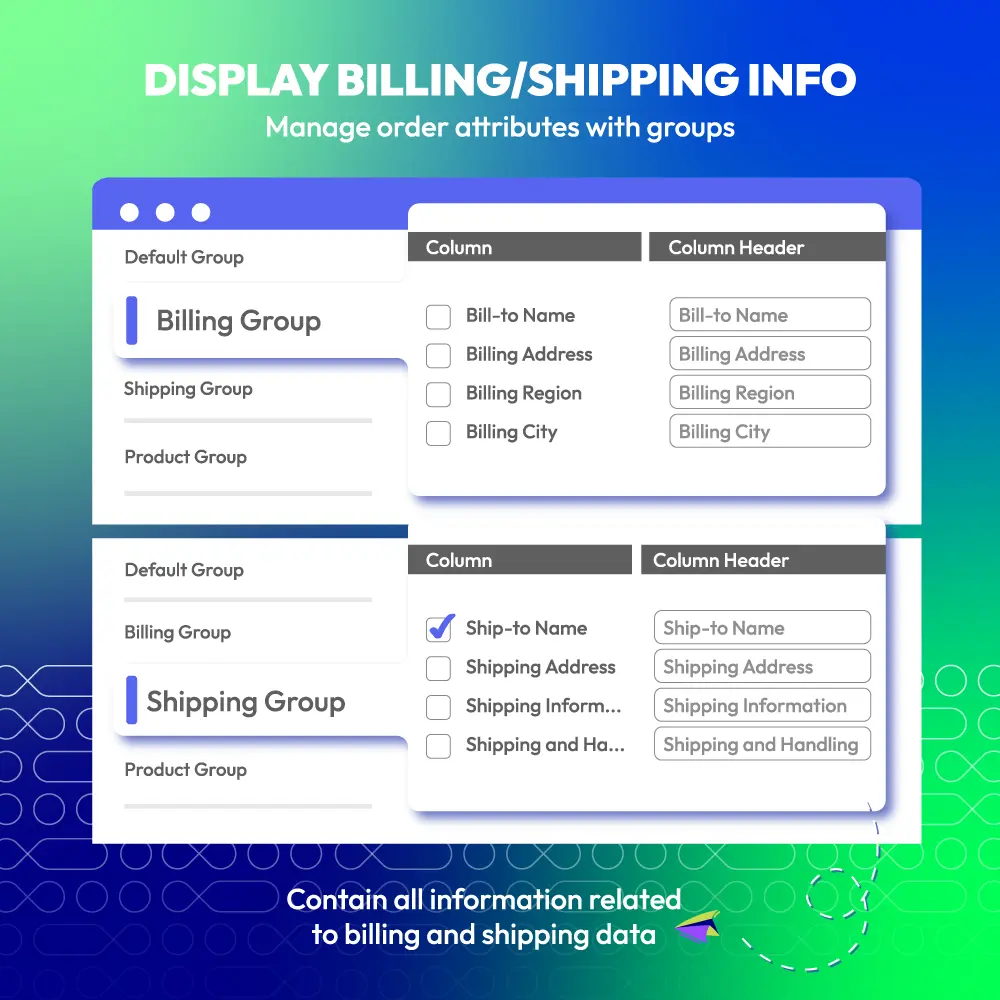 60-day Money Back
Frequent Update
365-day Support
Better Order Grid for Magento 2
v4.0.4
Magento 2 Order Grid extension adds more columns, attribute to order grid and group them logically. Order Grid extension helping admins easily view order grid, manage and process orders.

CE/EE/B2B/Cloud/ Adobe Commerce 2.2.x, 2.3.x, 2.4.x
Chat now
Problems
With the default Magento 2 store, the number of columns containing order information stops around 20 only. The problem is that the store admins would like to show more details of orders at the order grid, because the more details, the better they can manage orders from customers.
The attributes of order shown at the backend is not organized well. It would be better if the attributes could be grouped when they are related to the same criteria.
Solutions
Add many more information columns at the order grid
Nearly 30 columns related to customer, billing, shipping and purchased items
Not miss any necessary information of orders
Process orders better and effectively
Group the order column logically and neatly
Sort out attributes and group them into Default Group, Billing Group, Shipping Group and Product Group
Hide or show any columns as store admins want
Magento 2 Order Grid Highlight Features
Custom order grid with extra nearly 30 columns
Magento 2 Order Grid allows store admins to show various extra columns at the order grid.
Besides around 20 default order attributes available at the order grid, Extended Order Grid supports nearly 30 new ones, which allows store admins to select and show any necessary information they want.
Display order grid with billing/ shipping information
Although there are a lot of attributes for orders, Magento 2 Order Grid extension help store admins easily manage by dividing them into 4 main specific groups: Default, Billing, Shipping, Product.
Billing Group and Shipping Group contain all the information columns related to billing and shipping data of orders. The extra information includes:
Shipping/ Billing company
Shipping/ Billing city
Shipping/ Billing country
Shipping/ Billing region
Shipping/ Billing postcode
Shipping/ Billing telephone
Shipping/ Billing fax
Add custom attribute to order grid
The orders become much more clear and informative with extra item details shown on order grid. The item details belong to Product Group:
Name
SKU
Product Type
Product Options
Thumbnail
Price
Tax
Quantity
Row Total
The selected item attributes will be displayed at the table format clearly, allowing admins to view and compare information easily.
Hide/ show orders on grid by status
Another noticeable feature of Extended Order Grid extension is using status to hide or display orders at the backend grid. From the setting, store admin can select the status, then the orders with selected one will be hidden from order grid.
Canceled
Closed
Complete
Suspected Fraud
On Hold
Payment Review
Paypal Canceled Reversal/ Reversed
Pending
This helps admins to filter to view orders with particular status they are concerning.
More Features

Check out more details of Better Order Grid
Change column header
Allow/ Disallow adding editing section of column header
Work well with filter function
The added attributes appear at filter section to sort orders
Extension compatibility
Fully compatible with Order Attributes, Order Labels, Mass Order Actions, Order Export
Pricing

Choose your suitable edition
Standard
Crafted for a great webstore start
$
89
($129)
first year
Supports for Magento 2 Community Edition
Enterprise
Great for an enterprise solution
$
289
($329)
first year
Supports for Magento 2 Enterprise Edition
Highest priority support
Frequently Asked Questions (FAQs)
After configuring the Configuration, go to Orders and click Columns. Here, you can change the column header or hide columns as you want.You can refer to our guide here
Yes. Our Column is divided into 4 groups (Default Group, Billing Group, Shipping Group, Product Group). Select the group and uncheck the checkbox to click / hide the column according to your wish.
Customizing order grids in Magento 2 requires coding skills. You can create a custom grid without touching the code by using Magento 2 Order Grid extension.
Go to Stores > Configuration > Mageplaza > Better Order Grid. Start to config the grid. For further guidance, please check user guide.
Go to Dashboard > Sales > Orders. Head to the Column tab in the menu bar. You can start to add more columns or move columns out of the grid.
Neat grid
This works right away after installation, we love how neat and informative the grid has become!
PROFESSIONAL
This was an exceptional customer Service experience. The team went above and beyond to ensure that the module integrated with our system perfectly!
Bentley
-
Verified Purchase
Great Extension & Support
I had a little incompatibility with my 3rd party theme at the first time. Then I contacted support. Support Teams help me in 10 minutes and make it faster performance too. Love
Sorasak
-
Verified Purchase
A MUST HAVE EXTENSION!!
Order Grid is a GREAT enhancement to the out of the box Magento order grid which is very limited. If you are looking to take full control of your order grid, I highly recommend Mageplaza's Order Grid extension.
Happy experience
Better Order Grid betters my work at the admin backend so much. I can grab all the information I need to view orders. It saves a lot of my time. Thanks
Aaron Sharp
-
Verified Purchase
Want to do extension customization?
Custom request
Let us know your requirements
v4.0.4 (Magento v2.4.x)

25 August 2023

Compatible with Magento v2.4.6
Fixed some minor bugs
v4.0.3 (Magento v2.4.x)

27 June 2022
v1.0.6 (Magento v2.3.x)

27 June 2022
v1.0.5 (Magento v2.3.x)

27 October 2021
v4.0.2 (Magento v2.4.x)

27 October 2021
v1.0.4 (Magento v2.3.x)

24 July 2021

Compatible with Magento 2.3.7
Fixed minor bugs
v1.0.3 (Magento v2.3.x)

09 June 2021

Compatible with Magento 2.3.5
Fixed minor bugs
v4.0.1 (Magento v2.4.x)

09 June 2021

Compatible with Magento 2.4.2
Fixed minor bugs
v1.0.2 (Magento v2.3.x)

09 April 2021

Improved compatible with Magento v2.3.6
Fixed minor bugs
v4.0.0 (Magento v2.4.x)

23 March 2021

Supported Magento v2.4
v1.0.1 (Magento v2.3.x)

22 January 2021

Improved performance
Compatible with Percona database
Fixed reindex item error
Fixed filter error with product name & SKU
v1.0.0 (Magento v2.3.x)

31 May 2019

Initial Release
For store admins
Enable/disable module
Manage rules in a grid with basic rules' information
Perform actions on rules in the grid: delete, change status, edit, quick edit.
6 premade size chart templates are ready to use
Create a new size chart rule based on catalog rules
Create size charts for individual product
Create size charts for the whole category
Ability to select a position to place Size Chart link
3 size chart display styles: Inline size chart, pop-up size chart and display in product tab
Supports HTML to create/edit size chart templates
Insert photos, videos, link inside size guides
Ability to set priorities for size chart rules
Ability to change size chart label
Ability to change size chart icon
Ability to change colors of the size chart label, background and border of the popup
Compatible with orther extensions: Better Popup, Product Alerts, Product Questions, Shop by Brand.
For shoppers
Size guide indicator is easy to find
Clear size charts are provided visually and informatively
See size charts as in-line charts, popups or in a product tab
Get precise instructions to find a size
General Configuration
Enable/ Disable Order Grid extension

From the backend, stores admins can select Yes to turn on Better Order Grid. If they want to disallow Order Grid extension, they can easily select No.

Allow/ Disallow adding editing section of column header purchase

Admins can allow changing the column header or not as they want.

Select status to hide orders at grid

One of the most striking features of Magento 2 Order Grid is using status to hide or show order at the backend grid.

Compatible with Percona database
At Order Grid
Extend order grid with nearly 30 extra order attributes

Extended Order Grid allows store admins to display various extra columns at the order grid.

4 groups containing order attributes at columns tab

The columns are divided into four groups, including Default Group, Billing Group, Shipping Group, and Product Group.

Click to show any order-attribute column

Store admins can click on each group and select the order attributes which they want to display.

Change the header of any column (if allowed)

At the Extended Order Grid from the backend, store admins can edit the column header (if allowed).

Filter function works well with the extra selected columns

Extended Order Grid comes with the great filter function that helps admin view particular columns they are concerning.
Benefits to store admins
Do not miss any necessary information

With the support of Order Grid extension, store admins can easily select and show the important attributes in the order gird. As a result, it is likely for them to get the necessary details of orders.

Show or hide any column they want

Store admins can manage the order grid better and logically through displaying or hiding any columns as they want.

Change the column name

It is easier for store admins to change the column name according to their wishes.

Manage orders better and effectively

When the details of orders are shown clearly at the order grid, store admins will manage order better and process them effectively.
Why choose Mageplaza Magento 2 Better Order Grid
Mageplaza provides consistent and customer-centric extensions for your Magento 2 store.
We don't sell products for one time. We provide lifetime solutions which help our customers thrive with their businesses.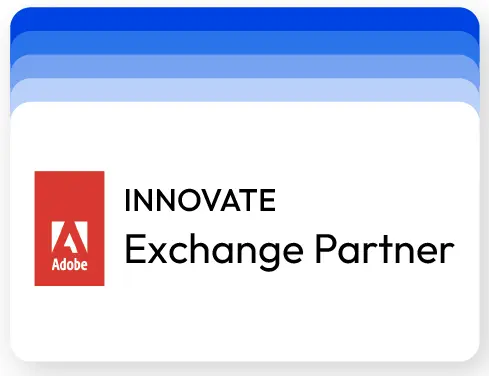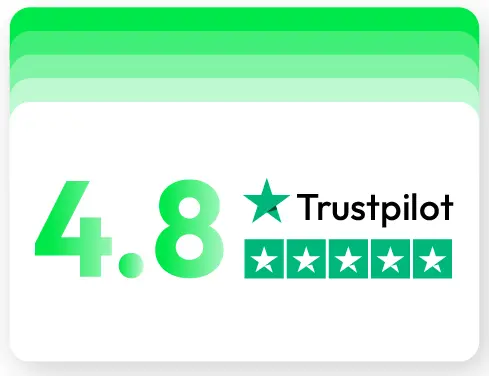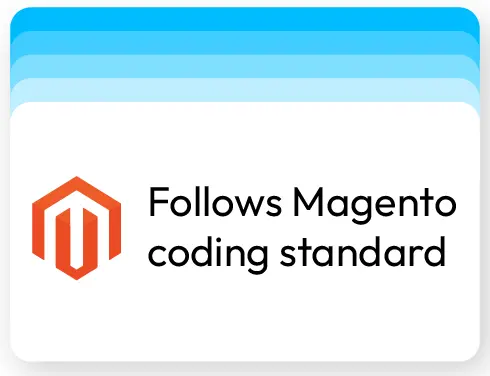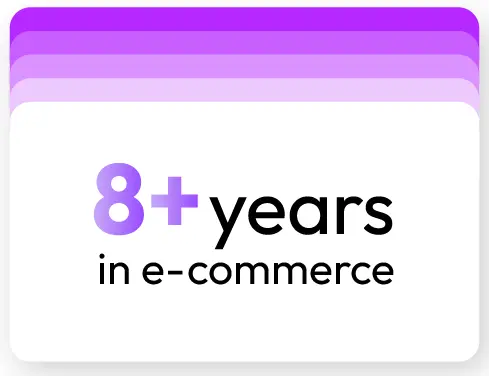 60-day Money Back
Extensive 60-day money-back period. You love it or get a full refund no questions asked.
Extensive Support Timeframe
Mageplaza provides support 16 hrs/day, 5.5 days/week to guarantee the seamless operation of our extensions on your store.
Install via Composer
Simple installation via composer helps you save time and eliminates technical issues during future updates.
Frequent Updates
Intensive update roadmaps ensure great performance, bug-free, highly compatible, and innovative extensions.