Customer Approval for Magento 2
v1.0.1
Magento 2 Customer Approval extension is a solution which helps store owner to approve or reject new account registration from customers in specific cases. This is regarded as an effective control method of customer accounts in e-commerce stores.
You've just added this product to the cart:
Customer Approval
You've just added this product to the cart:
Customer Approval Pro
Benefits and Practicals of Magento 2 Customer Approval
There is a problem that there is no control to the account registration of any visitors. Therefore, creating a fake account and easily access store site is a common issue.
No control to customer accounts so stores can face the bad access and attacks from any customer accounts.
If any new accounts which have been registered from customers are informed with details to store owners, stores can control better the site access and reject any suspicious accounts to avoid potential risks. Therefore, this protects the store site and reliable customer better.
In case a customer who already can access store site has bad behaviors, the store owner can easily set that customer's account to "not approved" status. From the next time, the account will be prevented from login.
Account verification will show the credibility of a store to the customers. This helps customers feel the professional system of an online store and pay more attention from the first visit.
Auto or manual approval
One of the most noticeable features of Mageplaza Customer Approval module is that the store owner can give accept customers' account registration automatically or manually.
In case the approval is automatic, customers will be approved immediately when finishing account registration and can log in easily. By contrast, if store owners would like to control carefully visitors, the approval can be managed manually from store backend.
This flexibility in the approval methods supports stores in specific purposes and strategies, suitably in various types of business, various strategies in different periods.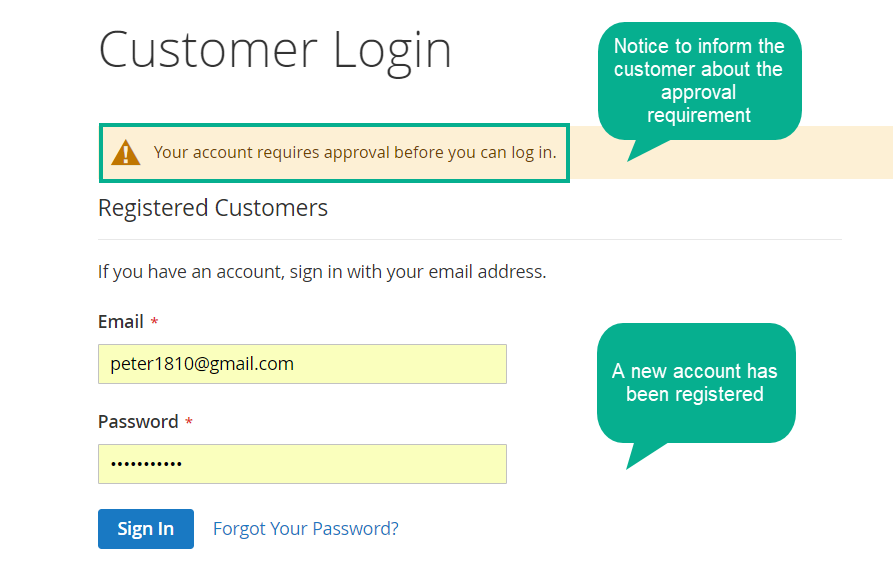 Error Notice or redirect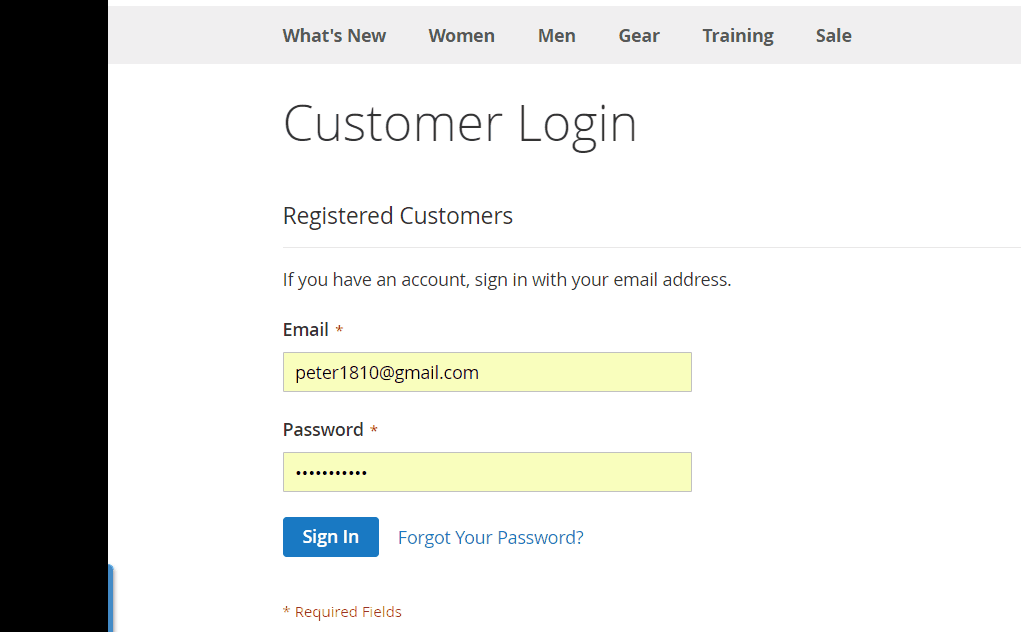 What will happen when customers try to log in without approved accounts? Magento 2 Customer Approval extension offers two options with different actions: Error Notice or Redirect.
Error notice In case a customer uses their accounts which have not received permission to log in, an error notice will appear to notify them with a specific message. Admins can set any messages with ease from the backend.
Redirect visitors to another page In another way, customers whose accounts have not approved yet can be redirected to a specific page configured by the store admin. This is the page which is allowed to freely access without accounts or a simple notice page.
The store owner can choose redirected URL which suits a particular purpose such as introduction or marketing and so on. This navigation can avoid customers to feel disappointed or annoyed by their login failure. They take time with the recommended page and wait for the account acceptance.
Mass or Partial Approval
Another feature of Customer Approval extension is multi-select to approve or disapproved many accounts on the backend list. From admin backend, admins can select one, many or all customer accounts. Then, the select accounts can be approved or disapproved by just one click on a button as Approve or Not Approve quickly.
This helps admin can save a deal of time significantly in case there are a number of customer accounts waiting for verification. Moreover, it is very easy to change the status of already-approved accounts to prevent from login for some reason.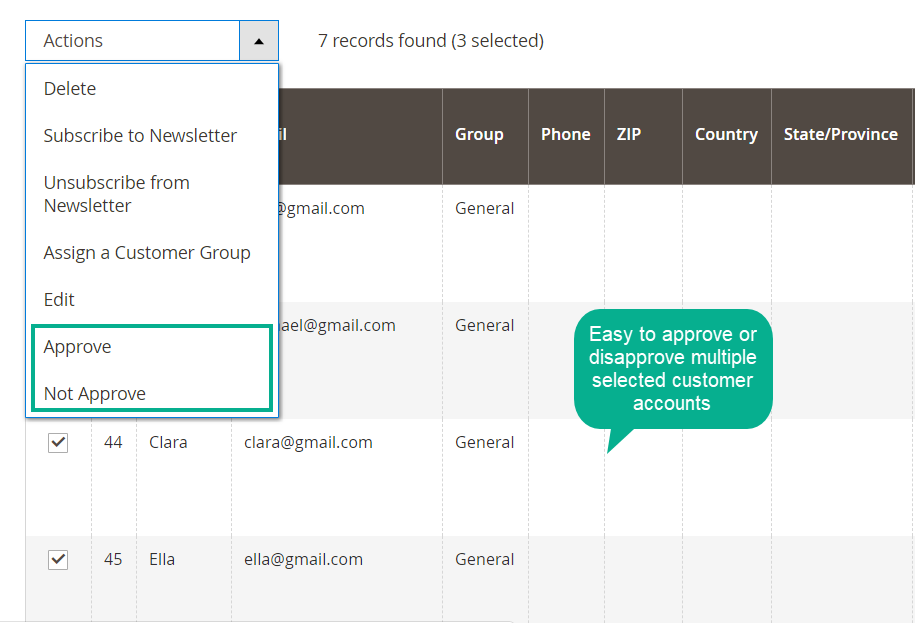 Instant notification emails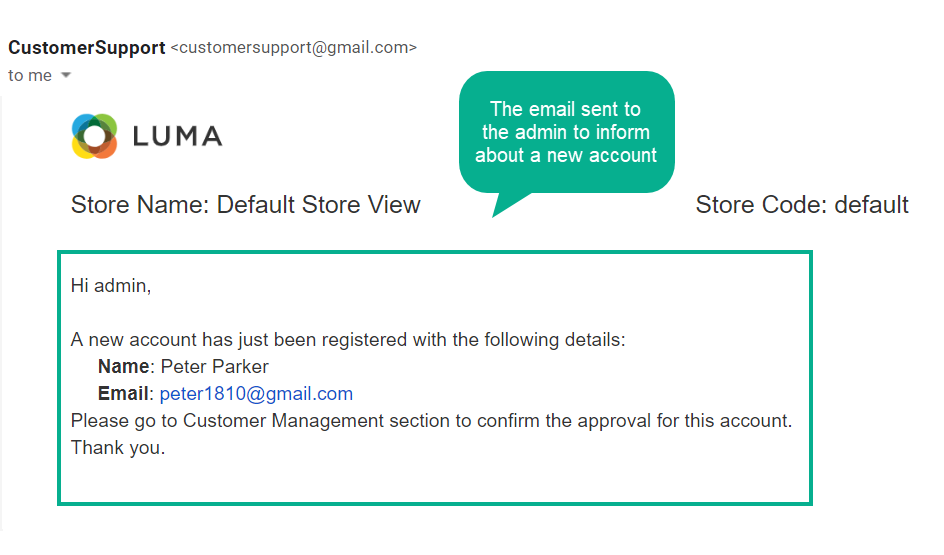 Notification emails are supported in Customer Approval Magento 2. Both customers and admins can be informed instantly on any account updates.
With admins, when a new account has been registered, they will receive emails with details of customer accounts and remind them of approval.
Besides, with customers, they will receive the notification emails accordingly when they register accounts successfully and when the accounts are approved or not approved.
API is supported
API is generated to support data among systems in stores. API can help systems in collecting the list of approved customer accounts, approving or not newly registered emails.
API access the extension components so the delivery of functions and information is more flexible. Through API, businesses can update workflows to make them quicker and more productive.
Full Magento 2 Customer Approval Features
For store admins
Enable/ Disable the module
Set account approval to be automatic or manual
Set notification after an account is registered
Show error notice when an account is not approved
Redirected to another page when an account is not approved
Enable sending emails to admins when customers register new accounts
Select the sender and input recipients of admin notification emails
Select email templates for admin notification emails
Enable sending emails to customers when they register successfully
Enable sending emails to customers when their accounts are approved
Enable sending emails to customers when their accounts are not approved
Compatible with other extensions: reCaptcha, Membership, Backend Reindex, Login as Customer
For customers
Be informed after registering new accounts
Be informed when the accounts are approved
Be informed when the accounts are not approved
FAQs
Yes, for each period of your campaigns, you can set the approval to be automatic or manual from Auto Approve section of Customer Approval.
You can set the message to customers at After-registration notification section.
From the backend, kindly enable the function sending admin notification emails. You just need to add your emails on recipients part.
You can do configure this at Approve Notification section.
You can do configure this at Not Approve Notification section.
Yes, you can do it easily via Redirect CMS Page section from the backend.
Can't find your feature?
Are you looking for a feature in Customer Approval. Tell Elle your wants and needs.
Chat with Elle
Are you an agency?
Do you often visit us for purchasing extensions and technical support? Speak to April to learn about your exclusive benefits on Mageplaza
Chat with April